Ten vie for five Commissioner slots
Chairman Mathews bows out; Stevenson steps up; election brings Rollins-Willis rematch
By Robert Lynch; November 29, 2023
Current Chairman Jim Mathews won't be on the ballot; but ten people, including Fire Chief Greg Stevenson, will be there, competing for all five seats on Enfield's newly-formed Board of Fire Commissioners, according to a list of candidate nominees released by Fire District officials late Tuesday.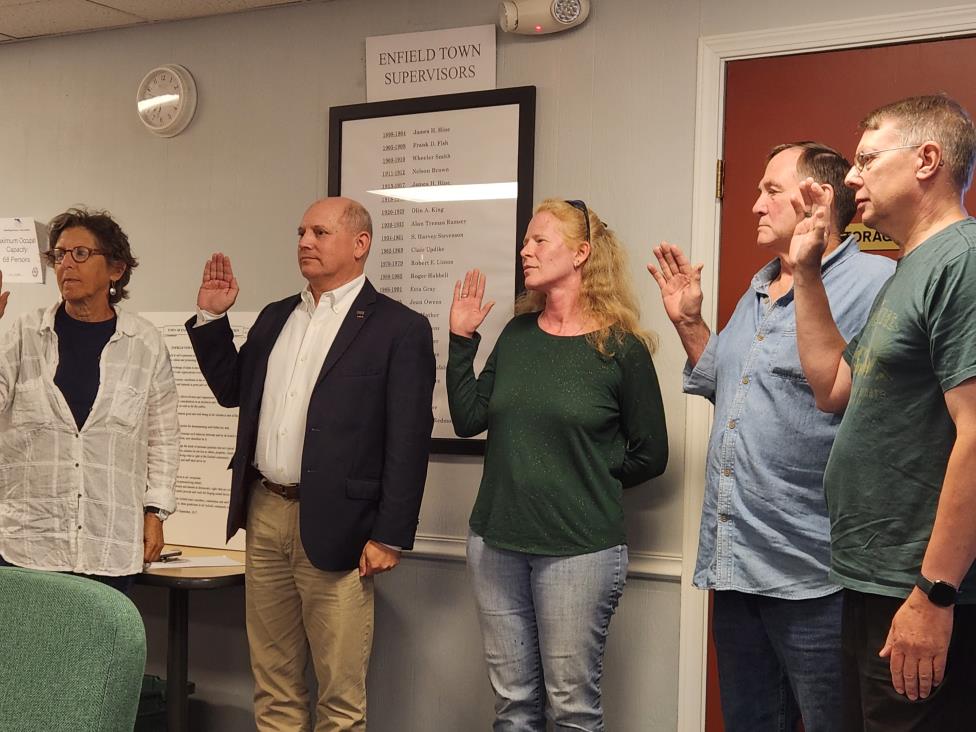 Joining Chief Stevenson as candidates for the Fire District's December 12th election will be three interim appointees to the Commission named by the Enfield Town Board in August; Robyn Wishna, Marcus Gingerich, and Enfield Highway Superintendent Barry "Buddy" Rollins.
In an interesting political twist, one of the candidates competing against Rollins will be Chris Willis, the Black Oak Road resident who earlier this month lost to Rollins in the Highway Superintendent's re-election race.
The candidate list's major surprise came in Chairman Jim Mathews' decision not to seek voter approval for what could be as long as a five-year term of elective office.
"The reasons are multiple, but the simplest is that I just can't devote the time that's required to do this job correctly," Mathews wrote this Town Councilperson in an email late Wednesday, responding to the question as to why Mathews chose not to seek election. "I think this is an incredibly important moment for the Town and for our fire and life safety agenda," the current Chairman continued. "In many ways, I think I bring the right mix of background and skills to do the job well…but the most important qualification, in my view, is time. And that I have nearly zero to contribute," Mathews said.
A transplant to Enfield in 2018, Jim Mathews was elected Chairman by his fellow Commissioners during their inaugural meeting August ninth. Formerly an active firefighter and medic in Fairfax County, Virginia, Mathews serves currently as President and CEO of the Washington-based Rail Passengers Association. His job has led to much out-of-town travel, including his flights abroad that have occasionally forced him in recent months to miss Fire Commissioners' meetings altogether or to attend them remotely.
A second appointed member of the Board will also not compete in the December election. Geoffrey Hollister, who brought experience as a former Fire Commissioner in the Richford Fire District, chose not to submit his name by the election's November 22nd filing deadline. Hollister conducted Commissioners' meetings in Mathews' absence. But at times during the Enfield Fire District's formative discussions in recent months, Hollister expressed frustration concerning the lack of guidance as Commissioners struggled to piece organizational affairs together.
But Superintendent Rollins clearly is running. He's been criticized by some in Enfield's firefighting community for harboring alleged anti-firefighter bias. On the other hand, entering the contest clearly on the side of the Enfield Volunteer Fire Company (EVFC) and its volunteers is Fire Chief Greg Stevenson.
Chief Stevenson, who's made no secret in recent months of his interest in a Commissioner's slot, will need to relinquish his position of Chief should he win election as Commissioner. Fire Company elections are said to be scheduled next week.
Aside from Wishna, Rollins, and Gingerich, each of whom plan to run; and Mathews and Hollister, who will not do so, only long-time Enfield volunteer Larry Stillwell stands among those candidates for Commissioner that were considered by the Town Board for interim appointment last August and who retain continued interest and have filed plans to run.
In addition to Stevenson, Wishna, Rollins, Gingerich, Willis and Stillwell, the candidate field includes former Town Councilperson Robert Harvey; Enfield Codes Officer and former Fire Company Assistant Chief Alan Teeter; the Fire District's volunteer Secretary, Alexis Comparetta; and Weatherby Road resident Donald Gunning.
As posted on the Enfield Town website, the Enfield Fire District election is set for Tuesday, December 12th, with voting hours from 3 PM until 9 PM at the Enfield Fire House. Enfield registered voters will elect all five commissioners. And the candidate who receives the largest number of votes will receive the longest term. The highest vote-getter will secure a five-year term of office. The fifth-position winner will gain just one year in office, and will have to run for a full, five-year term the following year, in 2024.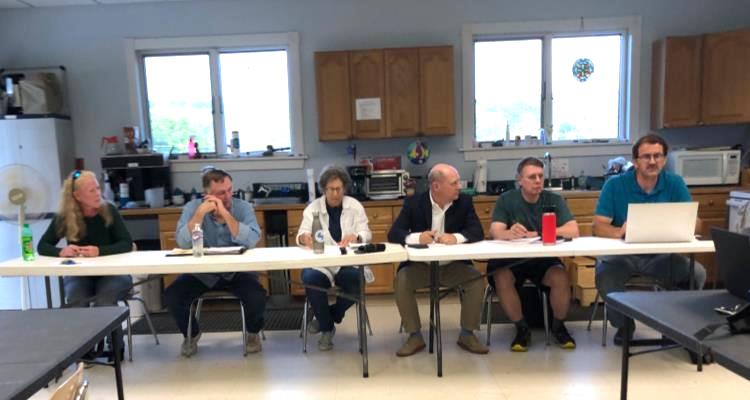 State law clearly states that part of the election procedure. But the controlling statutes leave a gaping procedural hole. It's the question of whether Enfield voters next month get the opportunity to vote for just one candidate or for as many as five, one to fill each position of Commissioner.
The statute appears silent, and sources indicate lawyers are divided on an interpretation. The statute directs the Fire District's Secretary—presumably, a stand-in for Comparetta, as she is also a candidate—to prepare the ballot. But the Secretary would still need to act on solid legal instructions. And conflicting legal opinions as to the number of votes anyone is allowed to cast could plunge the matter into court prior to the fast-approaching Enfield election. Expect this legal issue to play out within days.
A couple of those who were expected at first to enter the race for Fire Commissioner have chosen to remain on the sidelines. Enfield firefighter, EMT and Fire Company Secretary Ellen Woods declined to file. Likewise, Roy Barriere, a former Town Supervisor who'd expressed tepid interest at the time commissioners were appointed, has chosen not to apply. Long-time EVFC President Dennis Hubbell has also stayed out of the race.
But Jim Mathews impending departure from the Enfield Board of Fire Commissioners—and to perhaps a lesser extent, Geoff Hollister's forthcoming exit as well—will bring a marked change to the restructuring of fire services in Enfield.
The Town Board created the Enfield Fire District in June of this year and transferred fire protection service to it in August with its appointment of the five interim commissioners, including Mathews and Hollister. And from then on, Mathews largely took over, guiding a majority on the Board to his point of view. Mathews' leadership—for better or worse—led to the successful October 31st referendum that approved the Fire District's purchase and eventual bonding of more than $1 Million in fire apparatus, trucks acquired from the EVFC. Jim Mathews' fingerprints were all over the bonding resolution.
"My favorite thing that I ever did in my life was join the Fire Department," Mathews said during introductory remarks after having been tapped as the Board of Commissioners' chairman August 9th. And as to being Commissioner, he continued, "My wife said to me, 'Jimmy, is this a good idea?'" His reply to her, "I raised my hand for this. We'll see. Maybe it was; maybe it wasn't. But I want to try."
Jim Mathews tried. And now he's lowered his hand.
"It's a job I would love to do, but only if I can devote myself to doing it properly," Jim Mathews closed his message to this writer on Wednesday. "The Town, and my neighbors, deserve better."
Ten people, including three of Jim Mathews' current colleagues, similarly want to give it a try for the next five years. Enfield voters will decide who among them earns that opportunity.
###
ICSD eyes new bus barn; likely lots more
Capital cornucopia could enter the nine figures
by Robert Lynch, November 26, 2023
It started with a handful of new electric buses and meeting their unique needs. But aspirations have grown quickly, and grown big. Based on a pair of Ithaca School Board meetings in mid-November, with plans likely to be finalized within the month, the Ithaca City School District stands ready to propose up to $125 Million in new capital spending. At minimum, the bond issue would bolster electrical charging capacity at the district's transportation facility. At most, it would build a whole new maintenance garage and also undertake a still loosely-defined package of capital projects. It's spending that, no doubt, a good many Ithaca tax dollars would someday need to replenish.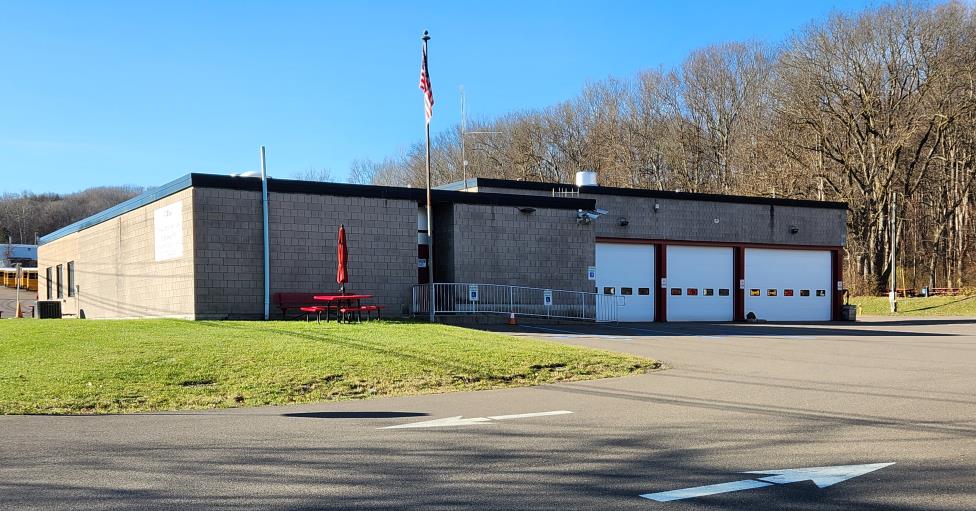 At a November 14th meeting of the Ithaca Board of Education—one that the local media chose to ignore—Board members heard a consultant lay out a range of capital investment options for the District. Two days later, at a committee meeting gaining even less public attention, those choices found themselves refined with Board member sentiment trending ever-more-solidly toward the most costly of the options. Replacement of the bus garage at the foot of Bostwick Road would become the key component in either of the two most likely alternatives to face voters.
"The bus garage is a little bit old, built in the 1960's," Christopher Glaubitz, Senior Project Manager for Tetra Tech consultants, told the School Board November 14th. "It's been serving you very well for many, many, years," he said. Yet in his mixed assessment, Glaubitz described the building's infrastructure as "still serving you well, but aging."
The School District's bus garage was built in 1967 to service just 26 buses. It now must handle 88. Moreover, the anticipated electrification of the School District's fleet—set by state mandate to be complete by 2035—will force heightened maintenance. And electric buses must also be kept clean. A new bus wash is part of each of the current capital alternatives. So is a major upgrade in electrical capacity to handle all of the new chargers. There's a problem, however. The utility can't deliver the required transformers for two more years.
But beyond what's just been described, options depart. And they grow in cost exponentially. Glaubitz initially presented the School Board five choices. But by the time a joint committee work session had convened two nights later, those five had been narrowed to just three: 1) minimally upgrade the bus garage for electrification at $15 Million; 2) build a larger garage with space to merge the Grounds Department into it at $40 Million; or 3) think the big picture and bond $125 Million over a 10-year period. This third, larger option would fund a menagerie of things. It would build the garage, repair roofs, upgrade bathrooms and cafeterias, and even replace public address systems and clocks.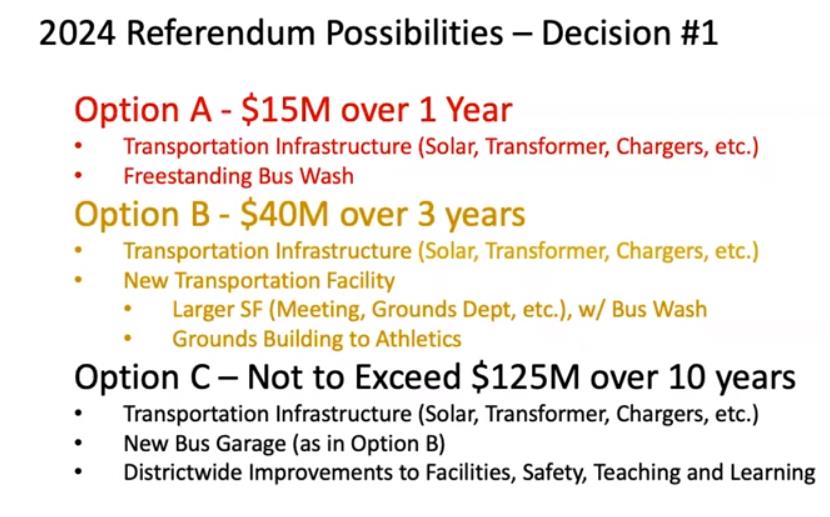 "$125 Million sounds like a lot of money," Glaubitz admitted at the committee meeting. "It is a lot of money." But then the consultant reminded Board members of the District's 5,000 students to educate and more than one million square feet of space to maintain. "So, we're talking a lot of large numbers," regardless, he said.
"Yes, we should have our community thinking about the next capital projects if we want your Superintendent sitting in a meeting with others who have not thought that way and are freaking out," Superintendent of Schools Dr. Luvelle Brown told the School Board during its meeting. "Because not thinking like the way we are," Brown cautioned, could lead to increased taxes, forfeited opportunities for state aid, and "deferred maintenance where our roofs are leaking, and our spaces are antiquated, and we have entire facilities that were built in the 1960's and have not expanded."
Dr. Brown clearly favors the $125 Million, think-big choice. And it's not like the Ithaca City School District hasn't walked that path before. An earlier School Board proposed, and ICSD voters compliantly approved, a $120 Million capital program in 2019. Among other things, the 2019 spending paved the district's sprawling school bus parking lot. Another $98 Million initiative, officials reminded the Facilities and Finance Committees November 16th, won similar approval in 2008.
State law requires any of the capital options to receive voter approval. Consultant Glaubitz said the District could either schedule a referendum to coincide with the annual School Board and Budget elections in May, or perhaps hold the vote later, next autumn. Amanda Verba, the Ithaca School District's Chief Operating Officer, told the joint committee meeting she definitely favors a springtime vote.
"People really pay attention during budget season," the District's top fiscal administrator told the two committees. "So to educate them on a capital project, a referendum vote, that's when people are tuning in."
"There are other strategies to do a referendum at another time of the year," Verba acknowledged. In Ithaca, "that's not been our method because we really, truly believe in really capitalizing on that time when people are just thirsty for information about the School District."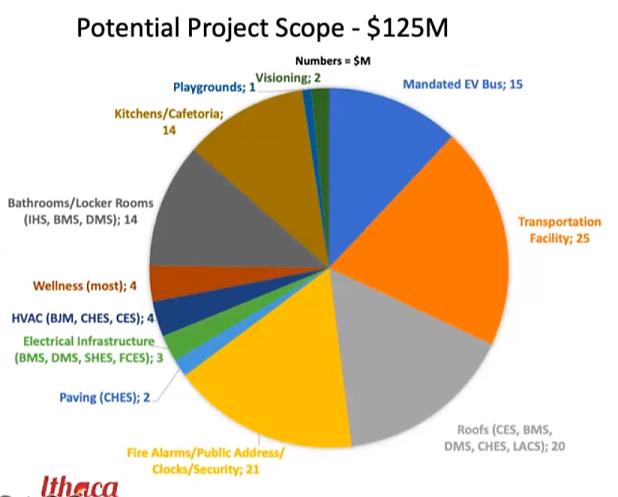 There may also be another strategy at play. Teachers and parents most predictably turnout for School Board and budget elections. And much of the envisioned capital spending would directly benefit those key constituencies. In political terms, it's called vote banking.
If the School Board wants a springtime referendum, as most in charge seem to favor, its members will need to move quickly to finalize plans and settle on a preferred option. The consultant said that a May referendum would require Board action no later than December. The Ithaca School Board has voting meetings scheduled for November 28th and December 12th. The December date appears the more likely for the Board to act.
Any major capital initiative, including a new bus garage, would also need approval from the State of New York, its Education Department accustomed to micro-managing local capital spending. But once approved, bounty flows from Albany's coffers. Glaubitz told Board members that state aid would fund 58.1 per cent of any capital expenditure. That fact makes capital investment a taxpayer bargain and encourages districts to bundle as much work as possible into capital packages. It costs the local taxpayer just 42 cents on the dollar to pay off a capital debt, as opposed to incurring the cost as a routine repair, Glaubitz explained.
Even though she leaned toward approving the $125 Million bonding outlay at the committees' meeting November 16th, Board member Erin Croyle expressed real-world reservations.
"I would love to give all the money in the world to the School District, I just would" Croyle told colleagues. "I don't want to take money away and not have capital improvement projects," she submitted. "But I also know that it's different now than it was in 2008, and people are hurting. Inflation is high and raises aren't keeping up with it, and the tax burden hurts more than it has in a long time."
"And so when we think about that, benefits to the students," Croyle added, "what's more beneficial; having certain things done at our schools, or having families have more money to buy shoes for school or rent equipment or musical instruments or lessons or all the things that enrich our students' lives?"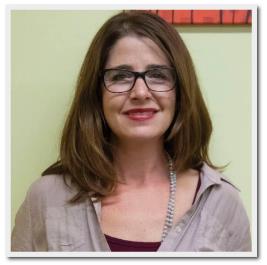 Croyle asserted that even families on six-figure incomes struggle. Yet later in the same meeting, the Board member retreated a bit from her earlier reticence. She acknowledged that even a $125 Million bonding package may not prove sufficient to meet all the Ithaca District's capital needs, and that still more spending might be required.
"It's clear now that this is money that we need, regardless," Croyle remarked, concluding it's better to bond all at once, rather than to incur debt piecemeal. "This is just how we work. And so rather than doing it one year at a time and voting, we just want to do it for ten years. And hearing this now and hearing how much our buildings are aging, I actually am wondering, it does not exceed $125 Million, but what if we need to? (Do) we then have another referendum? How does that work?"
Erin Croyle serves as just one of nine members on the Ithaca Board of Education. But with the Superintendent on the side of nine-figure spending, and with only glancing concern having been voiced during Board member discussions on the 14th about fiscal overreach, odds are a $125 Million bond resolution will face Ithaca City School District voters next May.
Remember, this all started with the needs of electric buses and their impact on the Bostwick Road transportation facility. Last July and August, the first five electric buses arrived to join the ICSD fleet. Their purchase proved a relative bargain, as electric buses go. Operating Officer Verba advised the committees that electric vehicles cost a lot more; "upwards of $450,000" apiece, she said. That's compared to about $175,000 for a diesel-powered bus. But the District mitigated its outlay this one time with a $200,000 rebate on each of five traditional vehicles traded in.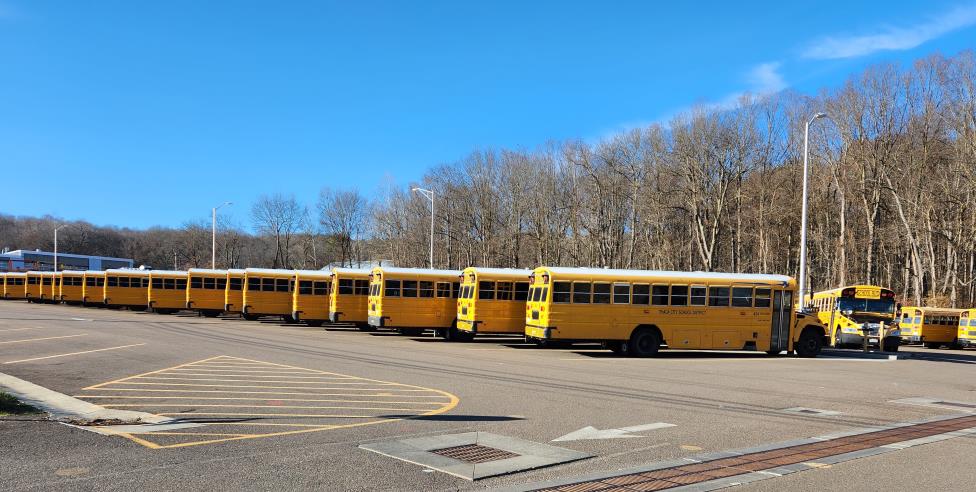 And if a new bus garage gets built, where would it go? It'll most likely be on the same Bostwick Road site, east of the present building. It would occupy space where a couple of sheds set for demolition now stand. One Board member asked whether alternate sites had been studied. Glaubitz said he'd mention the (presumably dreaded) "D Word," Danby. There's ample space to build in that out-of-the-way locale; but still, he said, "it's out there." Guaubitz's remark received no follow-up.
And another Green Energy option earned brief mention. Because of all the energy a full fleet of electric buses will draw from the grid, solar panels must sprout somewhere on the School District's transportation facility site. Administrator Verba suggested a solar canopy could be built atop the buses parked in that recently-paved parking lot.
###
Expanded: EVFC Gives Up Funding Fight
$20K ARPA denial reveals how Town Board does business
Reporting by Robert Lynch, November 17, 2023; expanded coverage November 23, 2023
"I think you know that usually when we hold a vote, we make a decision, I accept the results, and I say it's done. Maybe I didn't prevail. But Democracy worked—the Rule of Democracy worked. I believe in the Rule of Democracy. And I also believe in the Rule of Law."
Councilperson Robert Lynch, Enfield Town Board meeting, Nov. 16, 2023
****
A three-month financial tug-of-war between the Enfield Volunteer Fire Company (EVFC) and a majority of the Enfield Town Board ended November 16th when Fire Company officials dropped their appeal to keep $20,000 in earlier-awarded federal pass-through moneys that they'd hoped to spend on equipment and perhaps take first steps toward providing bunk room sleeping quarters for volunteers.
The Town Board had granted the pared-down allocation with funds from the federal American Rescue Plan (ARPA) late last May, but then rescinded the award November 8th, a majority then arguing that Enfield's subsequent transition to a Fire District had altered the equation, and that the money would be better spent paying the attorney who oversaw the Fire District's formation.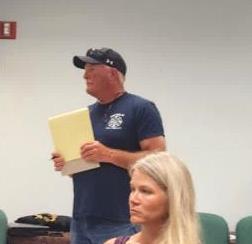 "Unfortunately those that voted to rescind ARPA funds to the Enfield Fire Company are not going to change their minds," EVFC President Dennis Hubbell wrote this writer, Enfield Councilperson Robert Lynch, who'd invited Hubbell to attend the Thursday meeting and plead the Fire Company's case. Lynch read portions of the email's contents aloud at the meeting. "I've seen it for 48 years, give the Fire Company money and then take it away. Nothing changes just the people," Hubbell wrote.
The November 16th Special meeting had been called to transact other business. The funding issue wasn't on that night's brief agenda. But upon this Councilperson's initiative, it became the main point of disagreement. And the discussion that emerged concerning the procedure the Board had followed a week earlier to claw back the ARPA money drew a bright line between transparency and expediency and once again put this lone Councilperson at odds with the Town Board's majority.
Councilperson Lynch had provided the only dissent November 8th when the Town Board's majority voted to reclaim and redirect the earlier-granted ARPA award to attorney Brad Pinsky and his law firm. At now this later meeting, Lynch pressed his argument before the Town Board that the November 8th action had been procedurally defective and outright illegal; that Councilperson Jude Lemke's on-the-spot scripting and introduction of the rescission had violated a provision of New York's Open Meetings Law that supposedly requires Resolutions be posted online 24 hours in advance of a meeting.
"That Resolution regarding the ARPA funds for EVFC was written on the fly," this member told the Town Board. "It was written by one of our Councilpersons. And it was put to the floor and a vote was had. And I would argue that people who would advocate either for or against this decision were not notified, were not given notification."
"And people, particularly people from the Enfield Volunteer Fire Company, were not able to come here, sit in these chairs, and state their case that they should continue to have their ARPA funding," Lynch continued. "And I think that what we did constituted an abuse of the Open Meetings Law; was null and void and being contrary to law."
Town Supervisor Stephanie Redmond disputed Lynch's claim and quoted an opinion by a municipal association attorney who'd said that an exception in the law permitted Lemke's sudden move.
Redmond related the opinion of Lori Mithen-DeMasi, General Counsel for the New York Association of Towns. According to Mithen-DeMasi, the section of the Open Meetings Law cited by Lynch was "irrelevant" to Lemke's Resolution since the Board's action slipped through the law's loophole permitting a Resolution be drafted and submitted "whenever it's practicable." Of course, only Redmond would know how well she'd placed the issue at hand in proper context for the attorney. "Practicability" in this instance, it would seem, requires some sort of sudden, unforeseen need. Lemke's motion had been bandied about in Town Board meetings twice since September.
"What we did," Redmond claimed the association attorney had affirmed regarding the Board's action, "was substantive." Moreover, "it was, you know, whole, and yes, she said it was fine," Redmond said.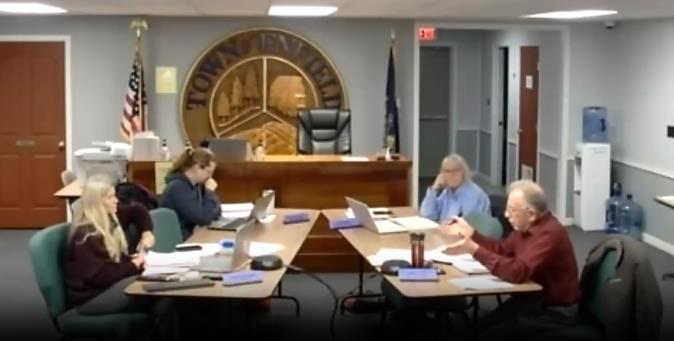 "I'm not a lawyer," Lynch acknowledged. "I'm not going to dispute her decision. But I think on the spirit of the law, it was wrong. Because we knew how passionate that persons from the Enfield Volunteer Fire Company were going to be about this matter. They were blindsided. I was blindsided. I didn't know it was coming…."
Supervisor Redmond interrupted. She insisted that Lynch—as well as the EVFC—should have braced themselves for Lemke's Resolution, purely on the presumption that a matter discussed at a prior meeting would automatically be raised at a session subsequent. (September's tabled discussion had not been listed on either the October or November agendas.)
"Denny was here in the meeting before," Lemke remarked, "and we had a whole conversation." "And then you asked us to table it until the next meeting," Lemke told Lynch, "and we brought it at the next meeting and passed it. And the whole Fire Department—Denny was here; the Chief was here."
One can excuse Jude Lemke for getting her meeting dates and discussions mixed up. When Lemke first raised the issue in September, no Fire Company representatives attended. Lynch sought postponement to allow Fire Company input. October's discussion came only when Company President Hubbell had brought up the matter during floor privileges, his question prompting an icy exchange with the Supervisor and Lemke that ended with Hubbell walking out of the meeting. The Board discussed the matter no further that night or during October. Instead, it waited until November 8th, when, again, no Company officials attended, and the agenda referenced no potential action.
"We had talked about it in a previous meeting, so I thought we had all understood this was going to happen," Redmond remarked at the most recent Thursday session, the Supervisor suggesting all parties involved—Lynch and the EVFC included—should have expected action November 8th. "And it was wonderful (for) Jude to, you know, draft that during the meeting," Redmond took care to mention.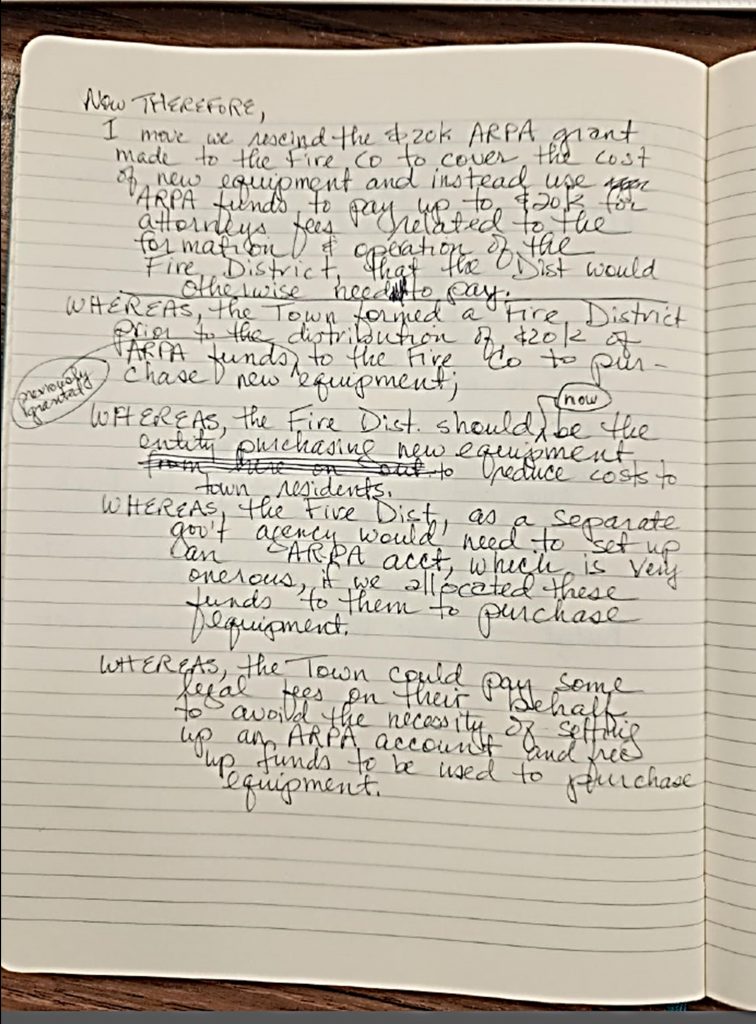 The Supervisor stretched meeting rules further, maintaining, in her opinion, that Lemke's Resolution wasn't needed at all, since paying the attorney $15,000 was part of the "audit claim" the Board also adopted that night.
But the Supervisor's assertion stands facially untrue. An "audit claim" relates to payment of monthly bills. It does not deal at all with rescinding an ARPA award to the EVFC. The Board needed Lemke's hand-written Resolution to take care of that.
"Nothing we've got to do about it now," Lynch said regarding the procedural breach. "The issue is settled. The Fire Company has washed its hands of the ARPA. You know, having another vote isn't going to accomplish anything. But I think for future reference, and for future conduct of this Board, we should be a little more scrupulous about posting our Resolutions in advance."
To resurrect the issue now, in view of President Hubbell's position, this Councilperson stressed, "It would be a moot point."
And washing his hands of ARPA is clearly what Denny Hubbell wants to do.
"Unless the EVFC Board of Directors tells me different I am done dealing with this ARPA issue and do not plan to attend the Town Board meeting," Hubbell wrote in his message to Councilperson Lynch. "I've said this from the beginning and I'll once again say it 'You're going to wish you put that money in the center of Town and burned it!'"
"It's the devils bank roll," The Company president described ARPA as he concluded his pointed critique.
"And those are his words," this Councilperson told the Board. "I think it's unfortunate. That's the decision. The ARPA issue is done with."
The Enfield Town Board had assigned the $20,000 American Rescue Plan award to the EVFC during a hastily-convened May 27th Enfield Town Board meeting. Board members had been given bad advice that Congress might imminently claw-back unspent portions of the nearly $350,000 ARPA allotment Washington had provided Enfield. That night, the Board split much of the unspent allotment among three nonprofit agencies: the EVFC, the Enfield Community Council, and Enfield Food Distribution, operator of the Enfield Food Pantry. The Fire Company received $25,000 less than had the other two groups. Councilperson Lemke had then persuaded the Town Board's majority that they should subtract from the Fire Company's share the $25,000 earlier granted to it during the previous fall's budget process for the purchase of volunteer protective equipment, so-called "turnout gear."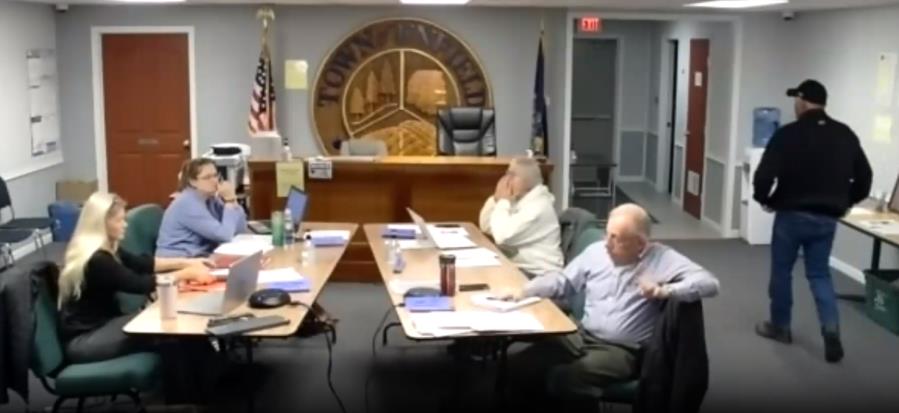 But one month later, the Town Board transferred its oversight of the Fire Company to a Fire District governed by a Board of Commissioners. The Fire District took over in August. And during a September 13th Town Board meeting, Lemke advanced the idea that the earlier-awarded $20,000 ARPA grant to the EVFC should be redirected to pay Pinsky's bill instead.
Lemke's opinion, supported by the Town Board's majority, had guided her to draft the Resolution later adopted November 8th and had prompted the testy exchange with Hubbell at the October 11th meeting.
President Hubbell has maintained that the Town Board should hold to its earlier promise and that the Fire District's creation does not preclude the EVFC from purchasing assets or from receiving the federal money.
To date, the Enfield Board of Fire Commissioners, as a group, has not weighed in on the controversy.
What was likely the Fire Company president's final comment on the matter came the following Monday, November 20th, when Hubbell addressed the Board of Fire Commissioners.
"We did get stripped of our ARPA money," Hubbell informed the Commissioners who now oversee fire services. "I gave up arguing with the Town about it," he continued. "It wasn't worth the aggravation of getting our part of the money."
"I don't want anything to do with it," Hubbell said of the $5,000 in ARPA money clawed back from the EVFC, but not yet paid to the attorney. It's likely Hubbell holds a similar attitude regarding the Town Board, itself.
****
The November 16th Enfield Town Board meeting was short, lasting just 30 minutes. And as its major decision of the evening, the Board awarded the lower of two bids for renovation of the Town Clerk's Office. Cooley Construction Corporation of Trumansburg, low bidder on two other recent Town renovation projects, bid $45,780 to do the work, more than $2,100 less than did a competing bidder. Since Cooley's bid had overlooked the need for lighting replacement, about $800 must be added to the project cost to cover the lights. Nevertheless, the low bid fell within the project's budget.
The Clerk's Office renovations, funded with another portion of Enfield's ARPA allotment, will replace carpets, outdated wood paneling, remove unneeded ductwork, and improve office security. Town Clerk Mary Cornell has requested that contractors delay the work until spring, after tax-paying season has mostly ended.
###
Relaxing Downtown's flycar arm-twist
Committee urges softer sell for Rapid Response buy-in
by Enfield Councilperson Robert Lynch; November 18, 2023
Safely sequestered in our Enfield Town Board meeting room, somebody this fall tossed out the question: If Tompkins County wants us to contribute toward a Rapid Medical Response System, its flycar network, how could they force us to pay? Unlike the State of New York or Uncle Sam, County Government, to our knowledge, holds no legal power of compulsion. We could just blow off the bills they'd send us. Let them sue us if they'd like, only to be laughed out of court.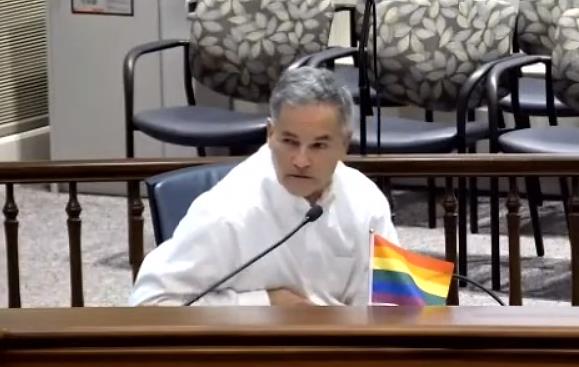 But what Downtown's now come up with, based on a Resolution that reached a County Legislature committee this week, is an attempt to persuade local towns like Enfield to negotiate a "Memorandum of Understanding" that would offer voluntary municipal consent for some sort of cost-sharing plan. Funding details would emerge from the talks, one presumes. There'd be a "We are all in this together" mindset, sort of like a campaign for the United Way or Public Radio. (Ignore the fact that we'd not be all in this together; more on that later.)
This newfound initiative toward heavy-handed moral-suasion preoccupied the Public Safety Committee's Thursday meeting. And it had a tough time. Legislators debated it for some 35 minutes. I, an Enfield Councilperson, first argued that towns like ours are too broke to pay anything. Two separate amendments then weakened the Resolution's scope and immediacy. And Enfield's legislator on the Committee, Anne Koreman, voted against the whole proposal, neutered though it was.
"I feel like the negotiating strength of our County Administrator has essentially been gutted," Chairman Rich John, the author of the pay-your-share Resolution, remarked after the two weakening amendments passed his committee, 3-2.
Nonetheless, John indicated that when the amended Resolution reaches the full Legislature within weeks, he will attempt to add back in the tougher language that his committee colleagues chose to strip out.
As envisioned by staff from Tompkins County's Department of Emergency Response, and guaranteed initial funding in the County Legislature's budget, what officials now describe as "Pilot Rapid Medical Response" or "PRMR" would position three, County-equipped and EMT-staffed emergency "flycar" SUV's about Tompkins County during daytime, weekday hours. The emergency medical technicians onboard would respond to 911 calls when local fire department rescue squads, for lack of volunteer staff, could not do so. Enfield Fire Chief Greg Stevenson has cited understaffing as his department's Number One shortcoming. Other fire departments have a similar problem. PRMR, it's presumed, would fill in the gap. It's a two-year pilot program. It could begin as soon as January.
When County lawmakers committed themselves to the flycar service during the budget process, they appropriated one-half of the expense as their own obligation, but left the other half to come from the Contingency Fund unless local towns chose to shoulder that burden.
"It does make sense to me that we do have some sort of cost-share that the residents of the county who are getting the principal benefit of this new service help to fund it in some measure more than other members of the community who are not seeing any benefit," John told the committee.
Those who allegedly would not benefit from the service, John maintains, are City of Ithaca residents. As he sees it, paid Ithaca firefighters, who double as medical responders, amply serve them.
"This is inherently geographical," John maintained. "If we were just looking at the City itself, we would never be having this discussion."
Perhaps so; perhaps not. When pointedly asked by this Town Councilperson at an Enfield Town Board meeting in October, Michael Stitley, Director of Tompkins County's Department of Emergency Response, confirmed that if summoned, PRMR cars would, indeed, respond to Ithaca City emergencies.
Rich John advanced a second argument behind his perceived need for a Memo of Understanding. It's that if the County begins providing a free service, namely the flycars, and the towns don't promise to keep providing what they already do, municipalities could cut their own rescue squad subsidies as a money-saving move.
"What I would really regret having," John said, "is that the County starts funding this and various towns reduce their services as a way for them to save budget money and we don't end up with a net improvement in the overall system, which is what we're trying to accomplish."
But cost-sharing, if imposed by either agreement or by edict, could impact town budget planners in a different way. In his public comment at the meeting's start, this Councilperson, Robert Lynch, argued that many towns, including his, are "flat-broke," and that if faced with a choice, Enfield might just choose to hire its own EMT to sit in Enfield's own fire house, and use the Fire Company's own flycar to answer Enfield calls.
Some cost-sharing funding models, advanced in late-September by the Department of Emergency Response, carried options that could charge towns as much as $58,000 annually to participate in PRMR.
"I want to get going on this," Lansing's Mike Sigler told the committee. He voiced concern that negotiating a Memo of Understanding with each and every Tompkins County town could take as long as four months to complete and would likely delay the system's launch beyond January.
"If we start without a Memo of Understanding, we may never get one," Rich John countered. "And what do we do then?"
But though he didn't use the words, Sigler admitted that achieving municipal unanimity could be like herding cats.
"If Enfield's out—I don't know if they are (referencing this Councilperson's concerns)," Sigler said; but then "Lansing seems to be more inclined," then what? "It can't be an all-Lansing share, either."
Danby legislator Dan Klein did not attend Thursday's meeting. But Chairman John said Klein had told him that based on Klein's own conversations with "representatives of the various towns" there appears to be "some receptivity" to cost-sharing.
"There's not in my district," Anne Koreman quickly asserted. Not in Enfield, Ulysses, or Trumansburg, she said. "None of them are for contributing." Koreman reported. "They think the County should do this. I haven't heard any municipality that's receptive to chipping in."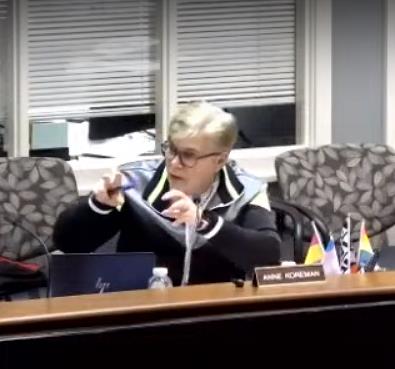 As for Enfield, Koreman said, "They have the vehicle; they just don't have the staff. They're all volunteer."
And as to Enfield's cost, Koreman said, "For them to pay 50-60 Thousand Dollars is ridiculous when they could do it some other way."
To Rich John's argument that Ithaca City residents deserve a free pass on funding because their Fire Department serves them instead, Koreman drew an analogy to the Sheriff's Department. City residents have the Ithaca Police Department. Some villages have their own police forces too. But coverage by Sheriff's deputies is universally-shared. It isn't apportioned town-by-town, with the City excluded, based on alternate services or on each community's relative need.
Rich John suggested that Koreman had chosen a bad example, and for a few moments he broadened the discussion far beyond flycars to invite a much-wider debate.
"And I think there's significant issues historically with exactly that," Rich John answered Koreman regarding Sheriff's services, the Fourth Ward legislator clearly laying claim to his Ithaca-based constituency. "City people are very resentful of paying county taxes for a Sheriff's Department that historically hasn't been doing patrols in the City; they don't provide a benefit."
Another argument, reserved for another day. Just beware it may happen.
At Sigler and Koreman's request, the committee stripped from John's Resolution a key paragraph that would have required the County Legislature to approve a (presumably completed) Memorandum of Understanding prior to commencement of PRMR's flycar service. A second adopted amendment deleted prefatory clauses, each of which would have sought through negotiations to "allocate the financial burdens and system benefits of the PRMR to County residents on an equitable basis."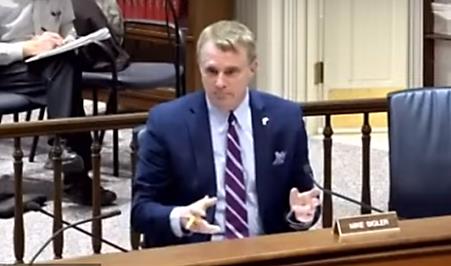 Those deletions, according to Rich John, "gutted" what he had written. Expect him to move for their reinsertion when the Resolution reaches the full Legislature, likely sometime in December.
"If we're giving something of value to other municipalities, which we are, substantial value, we should be clear of what we're asking for in exchange," the Chairman remarked at one point.
John's transparently City-centric transactional statement, its underlying rationale readily apparent, can easily sting those in rural places like Enfield. Our residents are part of Tompkins County, not some poor relation to it tossed somewhere over the county line. We, the rural residents are being gifted nothing. Rather, we stand as recipients of a necessary community service, assigned intelligently as needs dictate.
"I think there's a conversation that needs to take place amongst all the parties to determine what the level of services should be in their communities and what their long-term commitment is to achieving those," Groton's Lee Shurtleff remarked. He'd joined John in both supporting the core Resolution and in opposing the amendments perceived to weaken it.
And Shurtleff had a warning for towns that might not choose to contribute to an emergency medical service, either one run by the County, or by the municipalities themselves. There's a move in Albany, the well-connected Shurtleff said, to define Emergency Medical Services as an "essential service;" something local governments—maybe the counties; maybe the towns—must provide, and of course, pay for at their own expense.
"They may be mandated to provide something that they're not doing today," Shurtleff warned the towns. "They're not completely off the hook yet on this."
###
Updated Election Results bring no surprises
Knutsen-King wins Justice; other leads hold
by Robert Lynch; November 15, 2023; further updated November 16, 2023
Update (Nov. 16): A Board of Elections spokesperson said Thursday that an additional hand-counting of certain ballots will occur Thursday with results announced when the counting will be determined "official." Those ballots hand-counted will be those that "did not scan," according to the spokesperson. She could not say whether any Enfield ballots were among those requiring a hand-count.
Heather Knutsen-King, clerk of the Enfield Justice Court since early this year, will don the robes of Town Justice herself at the start of 2024.
Knutsen-King, the Harvey Hill Road Republican nominee for Justice, continued her lead over Independent candidate Cortney Bailey in updated General Election results released late Wednesday by the Tompkins County Board of Elections.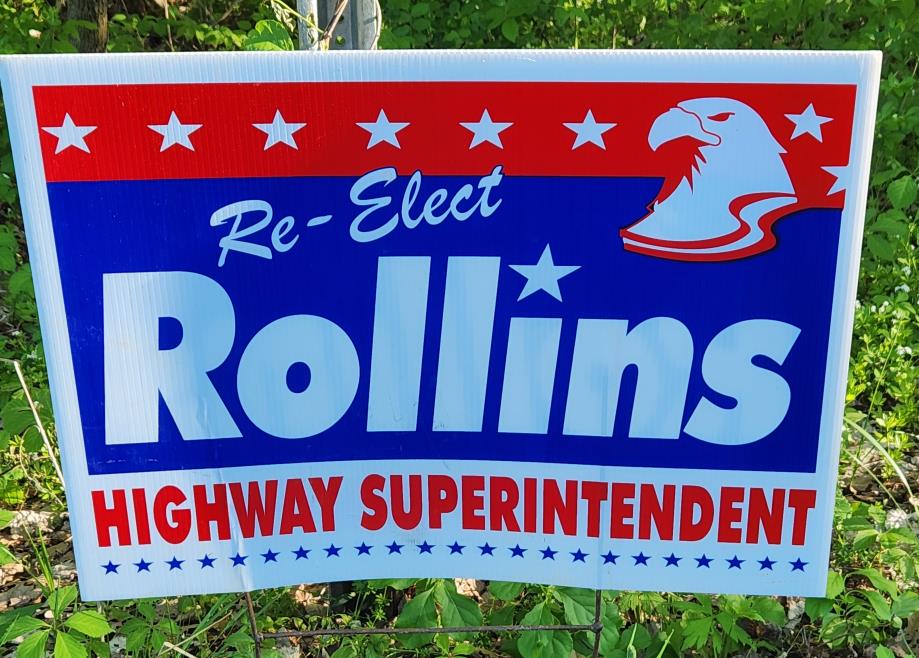 The updated count, which includes absentee ballots mailed by Election Day, yet not received by the Board until several; days thereafter, shows Knutsen-King winning the open Justice position with 305 votes (53.0%) compared to Bailey's 271 votes (47.0%). No Enfield voter wrote-in any other candidate's name for the office. 93 voters left the Enfield Justice column blank.
The Enfield Town Board late last December appointed Knutsen-King as court clerk to succeed Tiffany Poole, who'd resigned that month concurrently with the retirement of her mother, former Town Justice Betty Poole, who'd served on the Enfield bench for 29 years.
When the Town Board appointed Knutsen-King, she sought the appointment with a novel resume, having served for 31 years as a veterinarian's assistant in Oneonta. Marriage brought her to Enfield. Knutsen-King told the Town Board her knowledge of the Justice position grew from her father's service as a Town Justice in the Town of Schoharie. She'd told the Board she'd consider seeking the judicial office she's now earned the right to hold.
Judge Thomas Schlee, one of the Town of Ulysses' two sitting Justices, has presided over the Enfield Town Court following Judge Poole's retirement. Whether Knutsen-King could move into the position prior to year's end remains an open question.
In the race for Enfield Highway Superintendent, the results first reported election night held firm through the post-election absentee ballot count. Seven-term Republican incumbent Barry "Buddy" Rollins, running with Democratic cross-endorsement, won in a landslide over independent Republican Chris Willis. Updated returns gave Rollins 471 votes (71.8%) to Willis' 184 votes (28.0%).
Highway Superintendent may have been the marque race in this year's Enfield elections. Very few people—just 15—left the ballot line for Highway Superintendent blank. Just one voter wrote in another person's name.
All ballot-listed candidates for the Enfield Town Board ran unopposed, and there were no write-in surprises. Incumbent Democratic Supervisor Stephanie Redmond secured her second, full, two-year term with 438 votes (220 others left the Supervisor's blank). Incumbent Town Councilperson Robert Lynch (this writer) won his second, four-year term with 459 votes. He'll be joined by Democratic Councilperson-elect Melissa Millspaugh, who secured 399 votes. A total of 52 voters wrote in other candidates' names. The Wednesday tallies did not reveal those candidates' identities.
The biggest winner in the Enfield elections was incumbent Town Clerk Mary Cornell. 620 of the 673 Enfield voters in this year's election cast their ballot for Cornell, who ran unopposed with both Democratic and Republican Party endorsement.
Wednesday's results, which will likely constitute the final vote count, must still be certified. If any further ballots add to the totals, they will likely be few. No challenges to the results are expected, making certification otherwise routine.
###
Cargill: Dirty Mine or Job Hub?
Tompkins Legislature asks Hochul to take a hard look… but little more
by Robert Lynch; November 11, 2023
Stephanie Redmond, Enfield Town Supervisor, and Mike Sigler, Tompkins County Legislator for northern Lansing, live on opposite sides of Cayuga Lake. And most assuredly they have contrasting views on what the mega-corporation Cargill should do with its long-held underground salt mine that snakes under their lake. And that's whether or not the company chooses to sell the mine to someone else.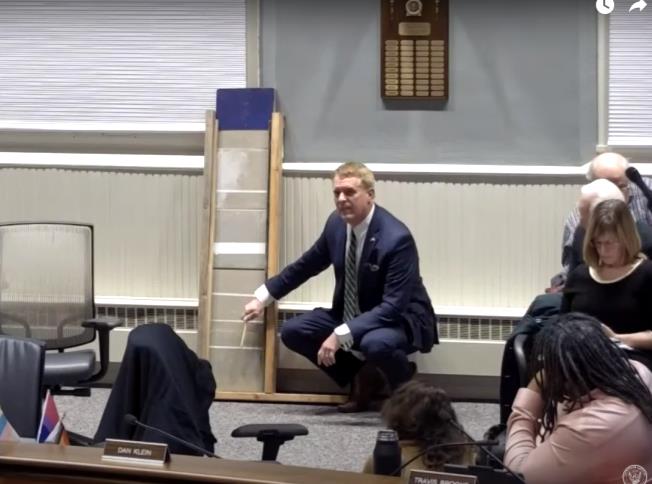 Redmond is program manager of CLEAN (Cayuga Lake Environmental Action Now). She's become their chief spokesperson. And CLEAN makes no apologies. It wants tougher oversight of Cargill's underground mining. Sigler, on the other hand, has become the de facto cheerleader for Cargill, his hometown employer; creator of 350 local jobs and he claims an annual contributor of $400,000 in taxes to the Lansing Central Schools.
Last Wednesday, while Redmond was unavoidably indisposed , presiding over her monthly meeting of the Enfield Town Board, Sigler sat—he sometimes stood—in County Legislative Chambers. He spoke as the principal opponent of a messaging Resolution, passed by the Legislature that night, that urges Governor Kathy Hochul and New York regulators to demand Cargill conduct a full Environmental Impact Statement of its Lansing mine's operations. The resolution also presses Cargill—or any future owner for that matter—to conduct an "end of life plan" to protect local residents should the Lansing mine ever close, or maybe even collapse.
The Resolution cleared the Legislature eleven votes to three. Redmond won, I guess. Yet what lawmakers finally adopted that night became so weak that one wonders whether the Enfield Supervisor would even welcome it. You'd have to ask her.
It was back in September that Stephanie Redmond and other environmental activists went before a County legislative committee urging pro-active measures after they'd learned that Cargill might put its mine up for sale. The committee didn't act that day. But it eventually did place before the Legislature an ever-evolving Resolution that became quite transparently an exercise in incremental timidity.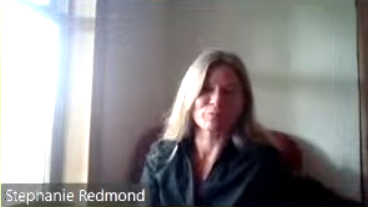 The Resolution's bold, original title, urging Hochul "to protect Cayuga Lake water quality by opposing all future salt mining in the underlying public lands," (that is, under the lake), was the first to go. Committee Chair Anne Koreman changed it out Wednesday for a long-winded substitute that only calls for an Environmental Review, a closure plan, and a "Surety Bond to ensure safe closure."
Then, legislator Deborah Dawson stepped in with her amendment, accepted as friendly by all, to further water down things. Koreman's Resolution had specified a $1 Billion bond. (CLEAN's website wants $10 Billion, by the way.) Dawson's revision would let experts recommend an appropriate bond total. So what emerged from Wednesday's action was a Resolution to be sure, but a Resolution missing a few teeth.
Over and over during more than a half-hour of discussion, legislators on the Left and on the Right made clear they were not calling for the closure of the Cargill mine. No one suggested that it be shut down, aside from several of the five members of the public who addressed the meeting on the matter under privileges of the floor. Had Redmond not had her "other job" to do, the one in Enfield, she might have become advocate number six.
"This Resolution, as it's written, does not feel like we're kicking Cargill out the door," Legislature Chair Shawna Black observed during the evening's discussion. "It sounds like we want to do our homework, and we want to know if there's been damage done to the land," Black continued. "And if there is, then there should be some accountability."
"This Resolution simply asks that as Cargill seems to be preparing to sell the mine that there be a full, independent, and public evaluation of what the risks might be that are posed by the mining that's already occurred, and based on those findings there should be a mine closure plan," Dawson stated. In her opinion and that of others, too many of the findings that Cargill compiles itself get kept secret; too many documents reach the public heavily redacted.
Lansing's Sigler, for one, insists there's been no environmental damage. And he concludes there cannot be. He stood up from his desk, went to the wall, and stood by a vertical profile he'd prepared depicting Cayuga Lake on top and all the layers of salt beneath it. Sigler waved off CLEAN and its allies who allege Cargill's mining may be leaking salt into the lake. How could it happen, the Lansing Republican argued. Cargill's now mining a full 2,500 feet beneath the surface.
"The problem I think we have right now," Sigler said, "is even though this is a much softer Resolution from where we started, a lot of people are thinking this is for a mine closure, and I don't blame them."
"And this group," Sigler continued, presumably referring to the Resolution's writers and those supporting them, "has also teamed with CLEAN, which is very clear on what it wants to do, and that's mine closure. It says that on the website. It's hired a PR firm out of New York City to push that idea of a mine closure. That is its goal."
Sigler also referenced two unnamed State legislators—most likely Senator Lea Webb and Assemblymember Anna Kelles—who'd joined CLEAN's activists on a conference call and are already talking about job retraining for Cargill workers and bailout money for Lansing taxpayers should the mine actually close.
Sigler, one will recall, is opposing Senator Webb in next year's elections.
"Part of the problem I have with CLEAN," Sigler continued, "is if you go to the website and you read about them, they call Cargill one of the worst companies in the world, if not the worst company in the world. That has not simply been my experience with Cargill."
Sigler claimed the mine's owner spent $5 Million to cover its surface salt, even though environmentalists purportedly acknowledged it would cost too much to do that. "Since Cargill has actually taken over the site, the lake has been less salinated, not more salinated," the Lansing legislator maintained. "And there is simply no hydronic connection between the mine and the lake and between the mine and the aquifer."
Dawson pushed back on Sigler's logic:
"I don't quite understand, if you're as sure as you are that this mine is faultless, why you would resist having that evaluated by an independent agency and getting the information out in the public so that if CLEAN is crying Wolf, everyone will know they're crying Wolf."
"If you talk about a closure plan, that could be five months, five years, 50 years, 100 years, who knows?" Dryden's Greg Mezey observed, "It's just asking for how do things get wrapped up when it's time to wrap this thing up."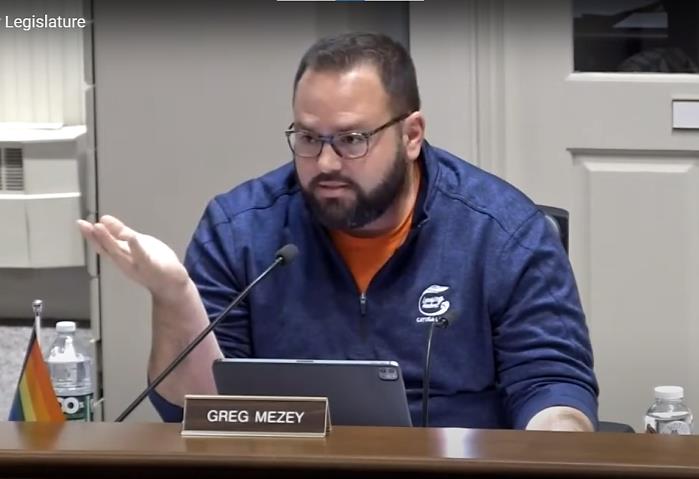 Mezey, like Ulysses' Anne Koreman and just about every other legislator, bent over backwards to stress that what they were to adopt that night did not seek to close the mine. And an observer can read the politics. The intentional softening of what began as CLEAN's unapologetic hardline advocacy may have evolved based on a careful counting of noses. Jobs carry votes, and the Resolution Koreman introduced would have gone nowhere had it not earned at least eight votes to pass.
Both Enfield's legislators, Koreman and Republican Randy Brown, supported the call for the Cargill mine's deeper environmental study. Ithaca's Rich John and Groton's Lee Shurtleff joined Sigler in dissent.
Shurtleff asked whether there'd ever been an economic impact study of a potential Cargill mine's closure. Koreman responded it wasn't "germane" to the Resolution. Shurtleff begged to disagree.
"I see the direction that this Resolution's going in and what I think the end game is for some," the Groton Republican stated. "And it's hard for me to ignore the economics of this."
Stephanie Redmond missed it all. She had her own meeting to run. But she and CLEAN's most zealous advocates should heed what transpired downtown Wednesday night. The message was clear: It may be reasonable and prudent to demand a wealthy corporation bankroll a broader study of its actions so as to ensure a clean lake. But shutting down a salt mine and idling 350 angry workers in tough economic times is very much a step too far. And that goes even for Tompkins County's most environmentally-conscious liberals. Proceed at your own risk.
###
Town Board Claws Back EVFC Funding
On-the-fly action raises legal question
by Robert Lynch; November 10, 2023
An earlier-outstretched hand was abruptly yanked back Wednesday as the Enfield Town Board rescinded a decision it made six months earlier to provide $20,000 in American Rescue Plan (ARPA) funding to the Enfield Volunteer Fire Company (EVFC). Instead, the Board redirected much if not all of the clawed-back cash to pay an attorney's legal bills.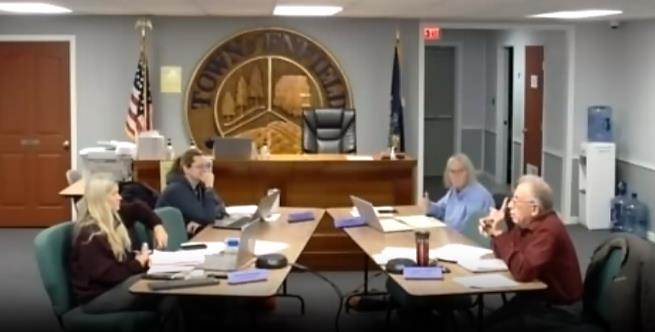 Wednesday's unscheduled action eclipsed what was expected to be the headline of the night; namely the Town Board's approval of Enfield's final $2.3 Million 2024 Budget, a spending package carrying a tax levy increase of slightly over seven per cent.
Acting without the legally-mandated 24 hour advance notice that would have informed the public of its pending action, the Town Board adopted, on a 3-1 vote, Councilperson Jude Lemke's motion that rescinded a late-May award of the $20,000 in ARPA funds to the Fire Company. Lemke argued circumstances have changed since the Town Board made its prior decision. EVFC officials would disagree.
"No surprise, been going on for 48 years that I'm aware of," Fire Company President Dennis Hubbell cynically reacted to the Town Board's withdrawal of funding for his organization, after this Councilperson informed him of the decision. Hubbell had walked out of the Town Board's session one month earlier when members had last discussed the potential funding claw-back. The Board had taken no action at that time.
"How many times do we need to cut the Fire Company off at the knees?" this Councilperson, Robert Lynch, blurted out as Lemke introduced her impromptu motion Wednesday. "You heard Denny Hubbell last month… come back and say he was disgusted; he was through with us."
Lynch cast the Board's lone dissent on the $20,000 clawback. He also refused to support the customarily-routine motion that pays Enfield's monthly bills. He did so because the Pinsky Law Firm's $15,000 invoice, which Lemke's motion enabled the Town to pay, lay within that pile of vouchers.
"I will not authorize by my vote paying one red cent to the Pinsky Law Firm," Lynch declared. "And if you want to know why, I can tell you. If you don't want to know why, I'll keep it to myself." No one asked, and the Councilperson did not elaborate.
Lemke's argument, first advanced at a Town Board meeting in September (See reporting, posted here, September 17th) is that the Town Board's transfer of its fire service to an independent Fire District during the summer changed everything. In Lemke's view, the EVFC no longer has charge of fire service spending in Enfield. The Fire District and its Board of Fire Commissioners does.
And in the Councilperson's opinion, any equipment that the Fire Company might buy with the ARPA funds the EVFC would then need to turn around and sell or lease to the Fire District. It would be "very onerous," Lemke stated in her Resolution, for the Fire District to establish its own ARPA account to monitor the equipment purchases, acquisitions which presumably the District would make, not the Fire Company.
Paying Brad Pinsky's legal bill, on the other hand, "simplifies" the accounting, in Lemke's mind. It pays a Fire District expense while circumventing the voluminous paperwork.
"The reason that it works," Lemke told the Board, "is because it's our bill so we can put it through our ARPA account, and it simplifies everybody's life."
"It doesn't simplify the Enfield Volunteer Fire Company's life," Lynch rebutted. "They're going to be livid about this."
Not all agree with Lemke's conclusion, as her Resolution suggests, that every piece of equipment the EVFC buys suddenly needs to become property of the Fire District. The Enfield Volunteer Fire Company remains a separate non-profit corporation even after the Town Board created the Fire District last June. The District's Board of Fire Commissioners has stated it intends for the EVFC to retain ownership of its fire house. And only the two newest fire trucks in the Company's apparatus bay would, for now, be sold to the District. Voters approved the District's purchase of the trucks and the bonding of their cost in an October 31st referendum.
"The VFC does not have to sell anything to the Fire District. The District simply gets all the Tax Revenue going forward," an EVFC officer informed this writer late Wednesday.
"You're under the misconception that whatever we buy… we have to give to the Fire District," President Hubbell told the Town Board during a testy exchange October 11th. "We don't have to give the Fire District anything."
But Lemke's position, best expressed during that earlier October session, is that any ARPA grant to the Fire Company at this point effectively enriches Hubbell's organization at taxpayer expense.
"We would be giving you taxpayer dollars (that is, federal ARPA money) that you would then turn around and lease to the Fire District," Lemke told Hubbell. "So the (Enfield) taxpayer would have to pay to get use of the equipment that they just paid for."
Jude Lemke's Resolution, adopted Wednesday, was crafted on the fly; read by the Councilperson into the record from her hand-written notes. And the Town Board's action on it arguably failed to comply with Section 103 of New York's Public Officers Law. The law was revised several years ago to require at least 24-hours' advanced posting on a town's website of pending resolutions. Lemke's EVFC clawback measure was never posted in advance on the meeting's agenda. It's not there today. No one—most particularly not EVFC officers and supporters—would have known that it was up for action. One day after the meeting, Councilperson Lynch cried foul: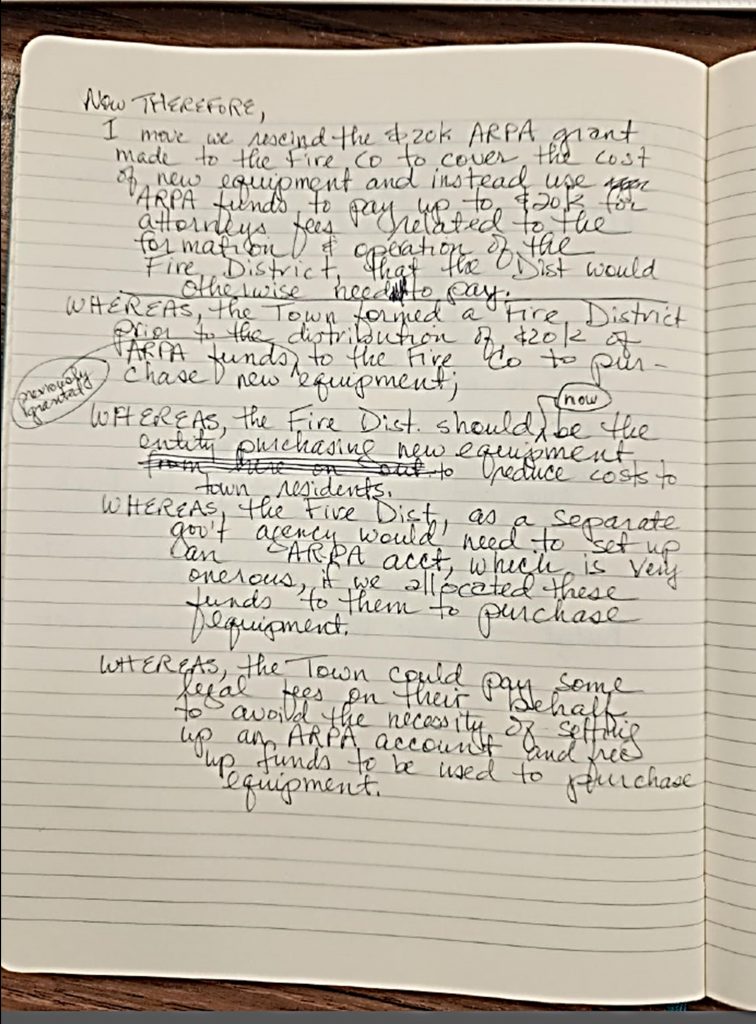 "I would maintain that Section 103(e) was enacted specifically to avoid the kind of situation that occurred last night," Lynch wrote late Thursday in an email to the Town Board. "No one from the EVFC was properly noticed that the matter transacted would be discussed or decided. I, myself, was not advised of the pending action until the meeting convened," the Councilperson insisted.
"EVFC officials should have been allowed to state their case under privilege-of-the-floor and under any other opportunity to comment that we might have provided them before we took action," Lynch's email continued. "What we did constituted an abuse of the Open Meetings Law, of which Section 103 is a part…. I maintain that our action on this matter November 8th was null and void, as being contrary to law."
"This invoice, this voucher… when it was presented to me, I think yesterday afternoon, it blindsided me," Lynch told the Town Board Wednesday. "And I'm sure this discussion is going to blindside the people that are over there in the fire house, who didn't know anything about this meeting tonight, that this was going to be (a) Resolution put on the table and it was going to be discussed and acted on."
Councilperson Lynch suggested the Town Board could cure its error by revisiting the Lemke Resolution at a Special Meeting Thursday, November 16th, a session already scheduled to address unrelated items.
Last May 27th, the Town Board, acting hurriedly under the mistaken impression that Congress might itself claw back any ARPA money sitting idly by in municipal bank accounts, quickly allocated what were initially intended to be equal amounts—$45,000 each—to the Fire Company, the Enfield Community Council and the Food Pantry. But during deliberations, Lemke persuaded the Board's majority to subtract $25,000 from the Fire Company's share, Lemke arguing that the deletion was funding that the EVFC had already been given during budget time the prior fall.
Originally, Hubbell had sought the EVFC's slice of ARPA funding as "seed money' toward construction of a fire house bunk room. But federal rules require spending on firm commitments, not lofty dreams. So more recently, the Company president has broadened his equipment request.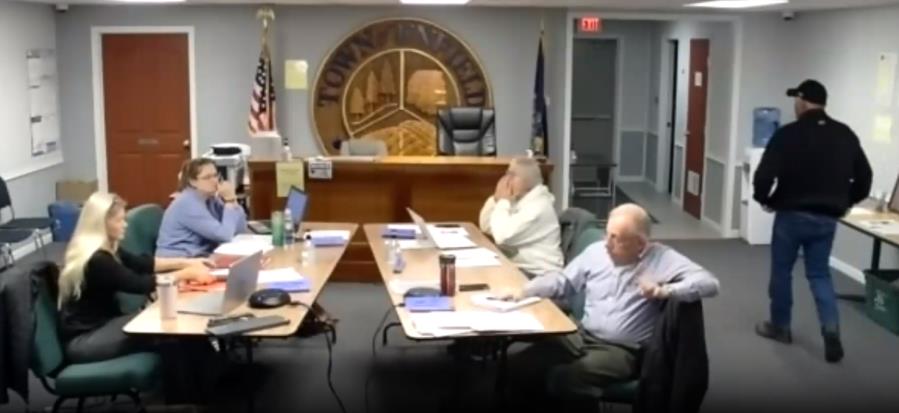 "I'm disappointed that the Town has decided to give our share of the ARPA money to whomever they want," Hubbell chided the Town Board in October. "Were we ever asked about anything else?" he said, upon learning that the bunk room was a non-starter. "You (the Town Board) decided where our money was going to be spent."
"You're talking out of both sides of your mouth," Supervisor Stephanie Redmond chastised Hubbell during the October 11th exchange. She'd readily bought into Lemke's argument, telling the Company president, "It's really inappropriate to say that you're not going to raise taxes and then do this kind of thing that will raise taxes."
"I'm done. Do what you want to with it," Hubbell closed his exchange with Redmond and Lemke as he abruptly walked out of the room.
The Town Budget proved easier for the Enfield Town Board to resolve Wednesday. Supervisor Redmond held a Public Hearing open for 15 minutes. No one from the public chose to comment. The four Board members present then approved the Final 2024 Budget unanimously, making only three last-minute changes, just one of which affected the budget's bottom line.
The Town Board at a trio of meetings in October had resolved their differences and reached the budget's $2.3 Million total with minimal controversy. As finally amended, the combined Town and Highway Department tax levy will rise next year by 7.12 per cent. Most Town workers will get five per cent raises. Pay for the Supervisor and Town Board members will rise by only three per cent.
Through a series of adjustments, trade-offs and compromises, the Board had reduced the levy increase from the original 11.44 per cent that was projected by Supervisor Redmond in her Tentative Budget, unveiled October 2nd.
Councilperson Lynch said this year's budgeting challenges will lead him to again propose next spring—for the third straight year—that Enfield reclaim its proportionate share of sales tax revenue, rather than let Tompkins County use it to reduce the county side of the property tax bill.
"We need a growing source of revenue," Lynch said. "I think what we need is the money from a growing source to help us do common-sense budgeting next year." He termed as "insignificant" the minor reduction in revenue from solar farm PILOT agreements that reclaiming the sales tax money might cost Enfield.
In other business:
Tapping $7,000 in unassigned ARPA funds, the Town Board revived the Enfield Town Newsletter, a quarterly mailing that beginning in January will be enclosed with the Enfield Community Council's own newsletter and continue on a two-year trial basis. The Community Council's Deborah Teeter will edit the document. Town officials will contribute articles. The newsletter was a regular Enfield fixture until Town officials discontinued it more than a decade ago.
The Town Board opened bids—but had mixed results—on efforts to remodel the Town Clerk's Office and to purchase a stand-by Highway Department generator. Cooley's Construction $45,780 bid for the Clerk's Office work fell under budget and may be awarded later this month. A lone $63,000 bid for the generator came in more than $13,000 over budget and was rejected. The Board will rebid the generator.
And at Town Clerk Mary Cornell's urging the Board approved a Town-wide mailing reminder for dog owners to license their pets. The survey comes on the heels of a dog enumeration launched a year ago. Once again, the Board used ARPA funds, this time $2,000, to cover the estimated postage.
###
Rollins rolls up big Highway win
Knutsen-King leads Bailey for Justice by 33
By Robert Lynch; Posted November 7, 2023; Updated November 8, 2023 @ 2:25 PM
As he did in the primary, Republican Enfield Highway Superintendent Barry "Buddy" Rollins coasted to a big re-election win in Tuesday's elections, the incumbent beating back an Independent rival to secure himself an eighth consecutive two-year term to remain in charge of Enfield's roads.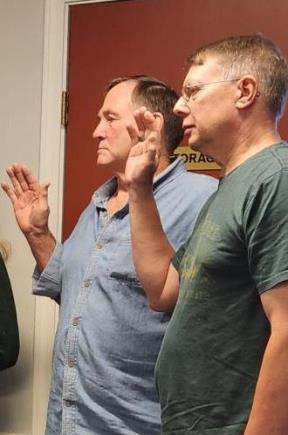 Meanwhile, Republican Heather Knutsen-King, Enfield's Town Court Clerk since the start of the year, holds a likely insurmountable lead over Independent Cortney Bailey for the right to move up to Town Justice herself. The Harvey Hill Road resident now holds a 33 vote lead over Bailey based on machine totals tallied at Enfield's single polling place, supplemented by early votes and tallied absentee ballots reported by the Tompkins County Board of Elections Tuesday night.
Rollins' win over Independent challenger Chris Willis was mammoth. Rollins secured 467 votes (72.1%) in those combined tallies, running on both the Republican and Democratic lines, compared to Willis, who only received 181 votes (27.9%).
A Board of Elections spokesperson early Wednesday afternoon reported that additional absentee ballots were currently being counted and that revised tallies could be released later in the day. Some absentee ballots remain in the mail, and their count could decide any close races in future days.
All races for the Enfield Town Board were uncontested in Tuesday's elections. And the results brought no surprises.
Supervisor Stephanie Redmond won the right to a second full term of office, after her appointment to fill a Supervisor's vacancy in 2021. Redmond secured 431 votes, according to the combined results released Tuesday. Yet as many as 220 voters, 51 per cent as many as those who voted for Redmond, left their ballots blank for Supervisor. Fifteen additional voters wrote someone else's name in.
For Councilperson, Democrat Robert Lynch (this writer) secured 454 votes to win his second, consecutive four-year term on the Town Board. Democrat Melissa Millspaugh, the second unopposed candidate for Councilperson, secured 392 votes. There were 52 additional write-in votes for Councilperson, according to the updated numbers.
Councilperson-elect Millspaugh will succeed one-term incumbent James Ricks, who initially sought re-election to the Enfield Town Board this year, but later withdrew for health reasons. Ricks remains on the Town Board, but his medical issues have prompted his many absences in recent months.
Enfield voters granted Town Clerk Mary Cornell, also unopposed, another term of office. And Enfield voters favored Democrat Deidre Hay over Republican Cheryl Insinga for State Supreme Court Judge. Machine totals gave Hay 339 votes (58.7%); Insinga 239 (41.3%). Though Hay also won in Tompkins County, Insinga won the judgeship based on votes throughout the Sixth Judicial District.
Barry "Buddy" Rollins has served as Enfield Town Highway Superintendent since 2010. He's been re-elected six times, and now, again, on Tuesday. His opponent, Christopher Willis, lives on Black Oak Road, reportedly runs a construction business there, and once worked on Rollins' crew. Willis launched a Republican Primary challenge to Rollins earlier this year, but lost the intra-party contest badly. He then secured only 17 votes to Rollins' 48 in a light Primary turnout.
The nearly three-to-one margin of victory Rollins earned in the Republican Primary was largely mirrored in Tuesday's General Election, when all voters, not just Republicans, could ballot. After his Primary loss, Chris Willis chose to pursue an Independent candidacy, which led to Tuesday's rematch.
Though absentee ballots could still flip the race for Enfield Town Justice, Independent challenger Cortney Bailey faces an uphill climb. Thirty three (33) votes currently separate Knutsen-King and Bailey, a margin narrowed from the 39 vote difference reported from same-day machine tallies at the Enfield Community Center Tuesday. Election night, Bailey said she's counting on absentee votes to potentially reverse the results.
Heather Knutsen-King has served as Enfield Court Clerk since the Town Board appointed her to the post at the end of 2022. The Enfield Town judgeship, itself, has stood officially vacant since that time when long-time Town Justice Betty Poole retired. Poole's clerk, her daughter, resigned at the same time. Since then, Knutsen-King has clerked for a temporary justice on loan from Ulysses. If elected, Knutsen-King would likely assume office in January.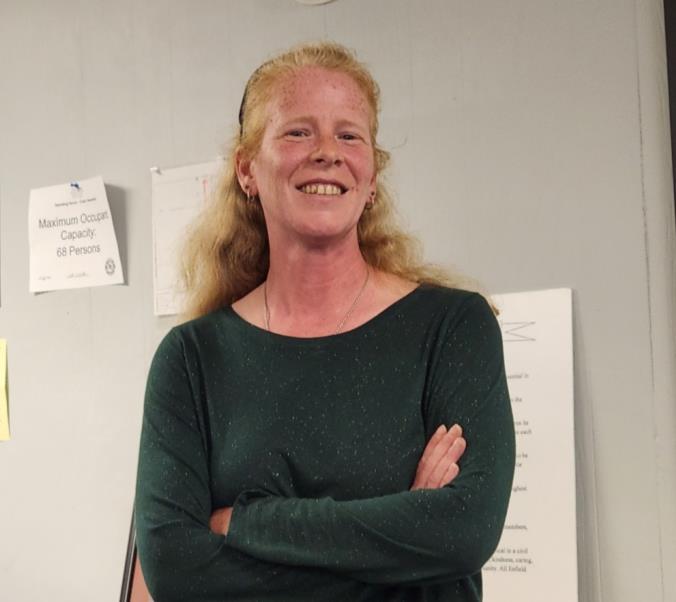 Cortney Bailey, meanwhile, serves as President of the Enfield Community Council and has also served since August as the Town Board-appointed Treasurer of the newly-formed Enfield Fire District. If elected Town Justice, state law permits Bailey to continue as Fire District Treasurer.
The Board of Elections spokesperson, contacted Wednesday, could not state how many Enfield absentee ballots remain in circulation and uncounted. Therefore, Bailey's continued ability to close the 33-vote gap—admittedly, a daunting task—remains unknown.
An inspection of Tuesday's Enfield voting results suggests a degree of voter dissatisfaction with either the existing choices the ballot provided, or perhaps voters' lack of sufficient opportunity to choose among additional candidates given the number of offices that stood uncontested.
As noted, more than half as many as voted for Stephanie Redmond for Supervisor left the Supervisor's column blank. And the default to apathy also filtered down to the Town Councilpersons' races, also uncontested on the ballot.
Voters were given two choices and two choices alone for Councilperson. Sixty-eight per cent of the 666 participating Enfield voters (as per Tuesday night's tally) voted for Lynch. Fifty-nine per cent voted for Millspaugh. But a full 434 combined voting opportunities in those contests went unused. Results make it impossible to determine how the so-called "Undervotes" were apportioned between the candidates. Did those who abstained from their opportunity choose one candidate, but not the other; or did they vote for neither?
****
Around Tompkins County, all seats on Ithaca's Common Council, as well as the downsized office of Ithaca Mayor were decided in Tuesday's balloting. Perhaps most significant, centrist Democrat First Ward Alderperson Cynthia Brock was beaten by her more liberal challenger, Democratic Party nominee Kayla Matos.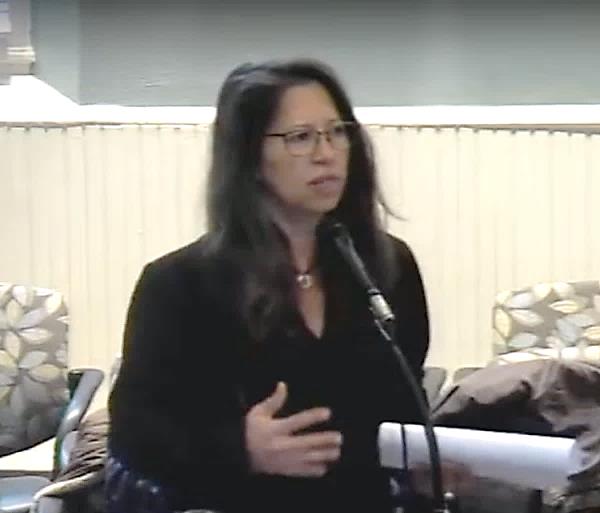 Brock lost the Democratic Party's nomination to Matos in June. Tuesday, she fell short again, securing only 652 votes (46.1%) to Matos 761 (53.9%) Uncounted absentee ballots are unlikely to close the gap.
The Brock-Matos contest was viewed by some as a bellwether election regarding the future of Ithaca politics. With Matos' win, expect Ithaca City politics to take yet another lurch to the left.
As expected, another Democrat, Robert Cantelmo, won the now much-less-powerful office of Ithaca Mayor, Cantelmo swamping a Republican opponent, leaving Janis Kelly in the single-digits.
In Newfield, Incumbent Democratic Councilpersons Casey Powers and Heather McCarty coasted to easy reelection wins as each secured another four-year term on the Newfield Town Board.
Unofficial results posted Tuesday evening at the Board of Elections gave Powers 488 votes and McCarty 483 votes, respectively. Their Republican opponents, Christopher Hyer and Chad Rylott trailed, with Hyer securing 251 votes and Rylott 234.
Powers' and McCarty's wins maintain a three-votes to one majority among partisans on the Newfield Town Board, with Supervisor Michael Allinger serving as an Independent. Allinger's office was not up for election this year.
And in Caroline, where a first-ever zoning law has polarized the electorate, the pro-zoning forces, incumbent Democrats, appear to have the continued upper hand.
Unofficial results Tuesday placed incumbent Democratic Supervisor Mark Witmer in the lead toward another term, Witmer securing 734 votes to Independent challenger Tonya Van Camp's 646 votes.
Meanwhile in the race for two full-term Town Council seats, Democrats Kate Kelley-Mackenzie and Tim Murray lead "Connecting Caroline" independents Kathryn Mix and Megan Slatoff-Burke. Nonetheless, first results show only 29 votes separating Democrat Murray from Connecting Caroline's Mix. Some absentee votes must still come in. A two-year vacancy-filling Councilperson's race was also decided in the Democrats' favor, Michele Brown beating Republican Shari Conover, 747 votes to 613.
Democrats have generally led the initiative toward establishing zoning in Caroline. With Tuesday's apparent wins, the march toward zoning will likely continue.
###
Fire Budget Adopted; Buddy Votes No
by Robert Lynch; November 3, 2023
With Highway Superintendent Barry "Buddy" Rollins firmly in opposition and with a second Fire Commissioner agonizing amid indecision, the newly-formed Enfield Board of Fire Commissioners late Thursday adopted its first-ever budget, a 2024 plan that would spend over $483,000 next year, a total boosted a full 24.1 over a draft budget that had gone to Public Hearing, but was later revised.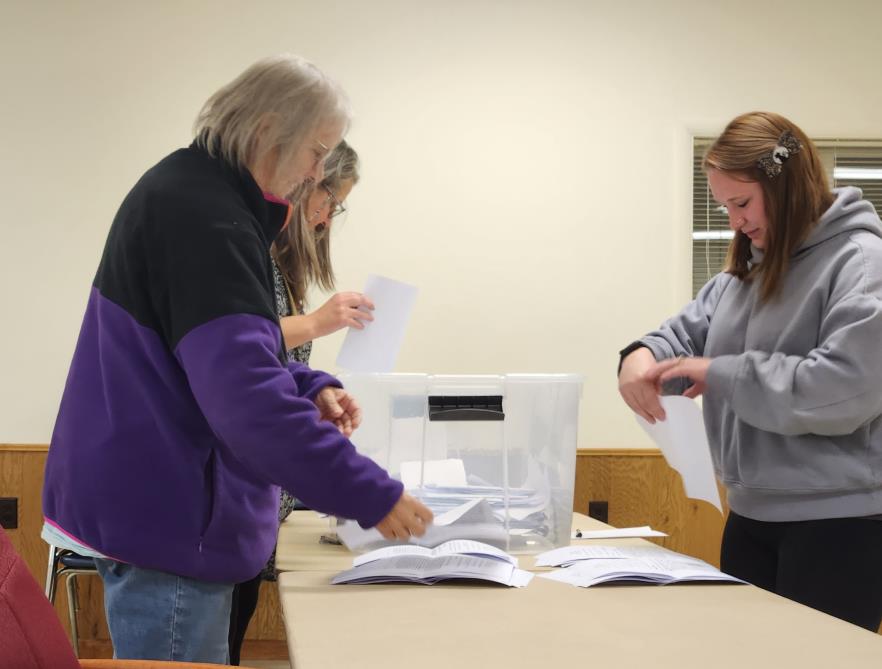 Meanwhile, Thursday, Fire Commissioners waived off until a meeting next week what may become their next controversy: potential legal action on an anonymously-written mass mailing that some may view as harmless outreach, but others see as a crime worthy of prosecution.
As for the budget, "the optics of it raise some questions," Fire Commissioner Marcus Gingerich remarked. His comment alluded to the double-digit increase in the budget's bottom line, a change Commissioners made only four days after the October 19th Public Hearing when residents got their lone opportunity to comment.
"This has taken a huge jump" from what was initially proposed," Gingerich observed at Thursday's meeting. "It kept climbing and climbing."
Gingerich cast his vote to support the budget only after taking long, pregnant pause. Voting much more readily for the budget were Commissioners Geoff Hollister, Robyn Wishna, and Chairman Jim Mathews. The Chairman blamed higher than first-expected legal fees and a last-minute recalculation of projected bonding costs for the sudden budget elevation, changes penciled-in at an earlier, October 23rd meeting, held days after the hearing.
Casting his no vote, Fire Commissioner and Enfield Highway Superintendent Rollins focused on what he alleges is a lack of transparency and accountability among Enfield Volunteer Fire Company (EVFC) leadership concerning Company finances. Rollins zeroed-in on the $76,000 the EVFC received from the sale of a two-decade old pumper truck that the fire company offloaded several months ago to a fire company in Pennsylvania. Rollins maintains the proceeds should have been used, instead, to pay down the cost of the new pumper the EVFC bought to replace it, the one Commissioners must now, themselves, pay for.
That new pumper, most notably, took center stage in a referendum just two days before Thursday's meeting. In a close-vote, Enfield voters on Halloween approved resolutions that allow the Enfield Fire District to purchase and subsequently bond both the new, $830,000 pumper, as well as a tanker truck that the EVFC bought in 2020 and still has $220,000 in unpaid debt . As approved by voters, the new Fire District will incur $1.05 Million in first-ever bonding obligations.
In Tuesday's referendum, bonding on the more-expensive pumper passed by only eight votes. Voters approved the truck's up to 20-year bonding commitment, 77 votes (52.7%) to 69 (47.3%)
The margin of support for the less-expensive tanker's bonding was only slightly larger, 79 (54.5%) votes in favor, 66 (45.5%) opposed, a 13 vote margin. On social media, opponents of the bonding later complained that had the public been given more time to know of the election and to have studied bonding's impact, the bonding resolutions might have lost at the polls.
Gingerich remarked Thursday that the closeness of Tuesday's voting "supports that there's a lot of people out there with serious concerns."
"I don't think we realized how much the new Fire District would add to the bottom line," Gingerich, a non-firefighter, observed.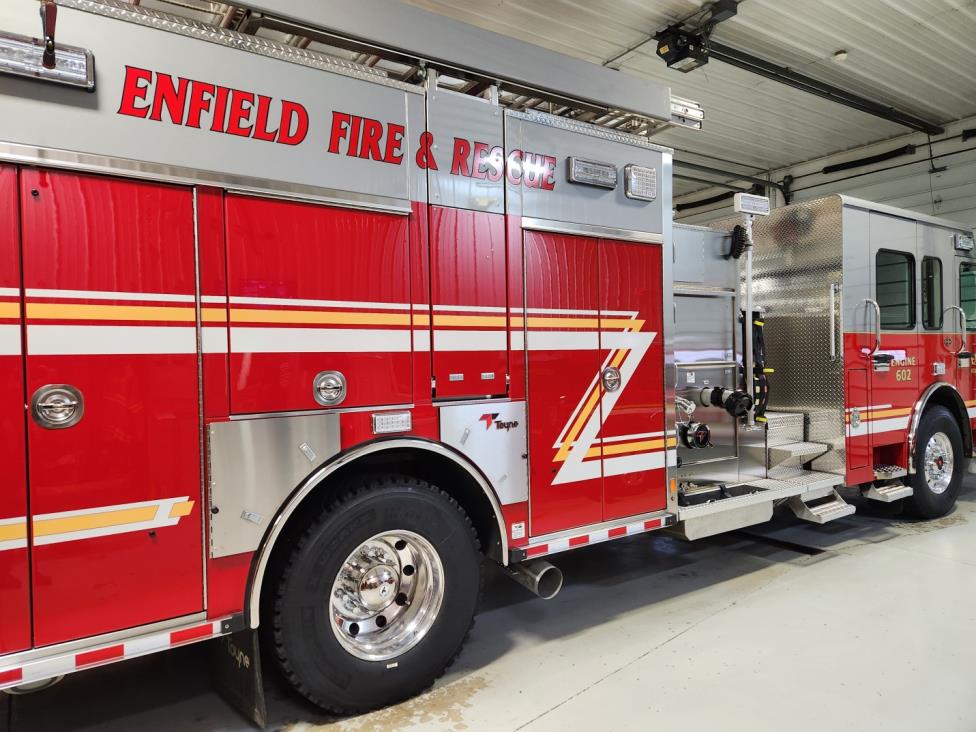 What drives the current budget increases may not so much be the District's own establishment as it is cost of the new pumper truck. Commissioners advanced the bonding option in their attempt to minimize the upfront cost of the vehicle and to spread its debt payments over a longer number of years, for as long as two decades.
The Enfield Town Board transferred fire service oversight to its newly-established Fire District in June. The District took effect in early August, and shortly thereafter the Town Board appointed its current five interim Fire Commissioners. Each will serve until year's end. A December election will choose permanent replacements.
"At the eleventh hour to question about the bottom line and complain about optics suggests you think things might not be on the up and up," Fire Commissioner Robyn Wishna, an EVFC volunteer, declared. Her remark came in reply to Gingerich's comment over public perceptions.
Gingerich clarified that he was not alleging impropriety, but only that multi-year firefighting expenses keep rising, and he's not exactly sure quite why.
"Marcus, if you're truly concerned, we should take up those concerns at a subsequent meeting," Mathews advised. Zooming into the meeting from a motel in Augusta Maine, the Chairman sought to confine matters that night strictly to the budget and the budget alone. State law required that the Board adopt its 2024 spending plan no later than that evening.
"We're in a position where we have to act," Mathews cautioned. "We are under the gun right now."
In casting his lone dissent, Commissioner Rollins objected to how the EVFC stockpiles its money and how it allegedly hides its internal finances from public scrutiny. Rollins' objection continues a decades-long, running argument between the Enfield Fire Company and its critics. And it's likely the stand-off will continue for as long as Buddy Rollins sits on the Enfield Fire District's governing board.
"I have requested some financial information," Rollins told fellow Commissioners Thursday. But all I've been told, Rollins said, is "why are you asking for this?"
The answer to Rollins' frustration came from Enfield Volunteer Fire Company President Dennis Hubbell, who addressed the Commissioners shortly thereafter. In effect, Hubbell said that what Rollins sought was none of Rollins' business.
To answer Buddy's question, "Our counsel says no" Hubbell told Commissioners. "It's firemen's money; we don't have to provide any documentation," Hubbell asserted.
At the September 23rd meeting, Hubbell had said that the $76,000 in fire truck proceeds were put into the "Firemen's Fund," used for various expenditures, including to purchase portable radios.
To expedite Thursday's meeting, Chairman Mathews recommended that attorneys for the Commissioners and the EVFC meet to resolve the access issue Rollins had raised. That could prove dicey in itself, as the Commissioners' lawyer, Brad Pinsky, and EVFC counsel Mark Butler, are said not to like each other.
By trimming Thursday's agenda to its budgetary bare bones, Mathews and the Commissioners deflected what could now become Enfield's next controversy. It's one involving a mass mailing of postcards to community residents over the past weekend. Listed on Thursday night's initial agenda was an item of "New Business" that Commissioners entitled, "Fraudulent mailing; referral to law enforcement."
The mailing involved a batch of anonymously-authored postcards that were found in Enfield residents' mailboxes the weekend before the October 31st referendum. The cards referred to the bonding referendum, but urged no specific vote on it, either for or against. The cards also encouraged persons to run for Fire Commissioner in the upcoming December 12th election. It notified residents of forthcoming Board of Commissioners meetings and provided Commissioners email addresses.'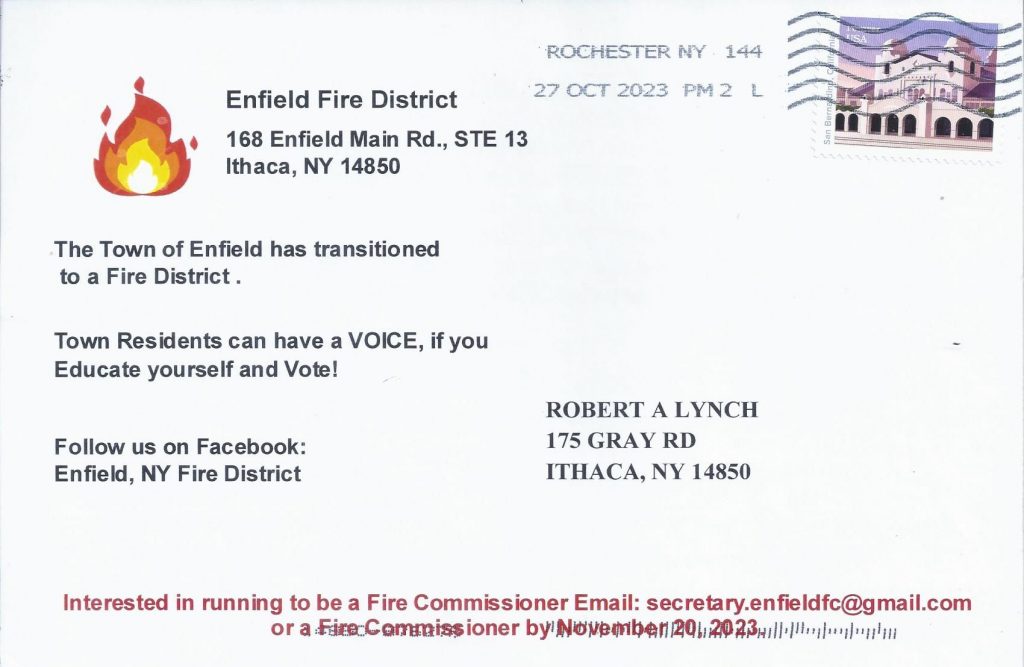 The legal concern, voiced by some—most particularly by key players within EVFC leadership—is that the person or persons behind the postcards' circulation misleadingly indicated that the mailing had originated from the Enfield Town Hall and that the Fire District's Commissioners had authored it. Neither implication was true. Commissioners said they knew nothing of the advisory until they, too, opened their mail boxes.
"None of us knew anything about the post cards," Chairman Mathews wrote in an email to all Commissioners Monday, the day before the referendum. "I find it both suspicious and disturbing," he remarked.
Exactly what action the Board of Fire Commissioners may take, or what legal liability the postcards' true author or authors may face, remains unclear. But expect Commissioners to take up the matter at their next meeting, Monday, November 6, when they handle matters postponed from Thursday's agenda.
****
The Final Enfield Fire District Budget approved by Fire Commissioners Thursday calls for the Fire District to spent $483,691 next year. As such, total spending will rise nearly $94,000 from the $389,736 budget figure Commissioners had earlier aired at the October 19th Public Hearing. Driving much of the last-minute increase is the revised annual debt service for bonding the two fire trucks. Originally, Commissioners had projected $65,000 in annual loan payments. Four days later, they'd revised the debt service upward to nearly $100,000.
By contrast, the current year's Enfield Fire Budget, one coming at the end of a three-year fire contract with the Town Board, holds closer to the Public Hearing's budget number. Figures shared at Thursday's meeting projected a 2024 Enfield Fire Tax Rate of $1.78 per $1,000 assessment. For the year now ending, the Fire Tax is $1.72.
###
Post-Hearing changes boost Fire Budget 24%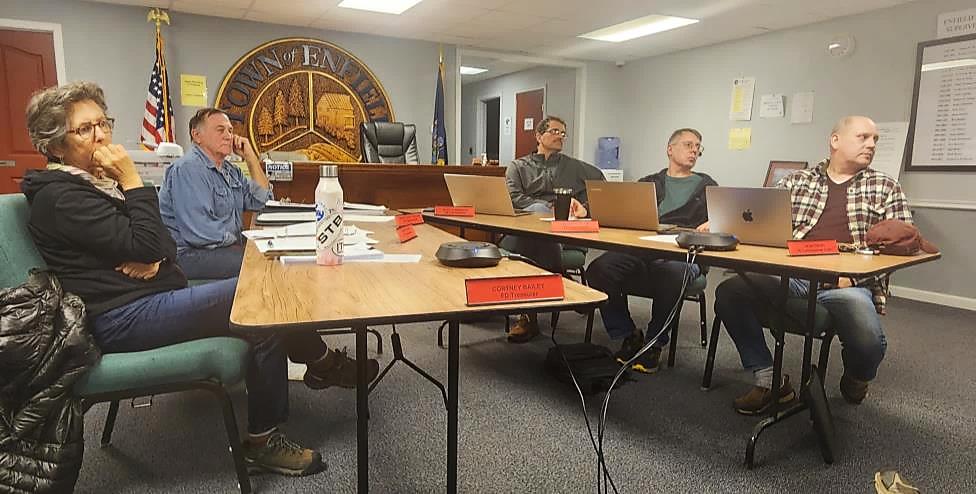 Reporting and Analysis by Robert Lynch; October 24, 2023
Jim Mathews had it right: "We're trying to build the airplane as we fly it," the Chair of Enfield's newly-formed Board of Fire Commissioners advised his fellow board members Monday. And quite clearly, when the Commissioners "flew" their proposed 2024 Budget into a Public Hearing four days earlier with town residents on board, a wing and a propeller still lay crated in the hangar.
Monday night, realizing they'd grossly underestimated expenses, including bonding costs and legal bills, Fire Commissioners made a significant upward adjustment in the budget that had been presented at the Public Hearing the prior Thursday, when the bottom-line of next year's budget had been predicted to stand similar to that for 2023.
Instead, the earlier-offered $389,736 tentative spending plan had grown to one totaling $483,691. Projected spending had risen 24.1 per cent in just four days. It's apparently legal to make adjustments like that. But in some Enfield circles, it may not sit well.
The Fire Commissioners won't finalize or adopt their 2024 Budget until their next meeting, November second.
"If we bump this up 25 per cent is this still valid?" a skeptical Commissioner Marcus Gingerich asked Zach Longstreth, the evening's stand-in legal counsel, Gingerich questioning the legal limits of a post-hearing budget increase.
"Yes," said Longstreth, "you didn't bind yourself to this number," the attorney said, referencing the earlier total.
"It's affecting the reality we encountered, and we're doing it in public," Mathews explained. He sought to calm Gingerich's jitters.
Yes, Commissioners amended their budget at a public meeting, but not at or before the Public Hearing. There's a difference. Yet Mathews and other Commissioners seemed oblivious to that distinction.
What principally drove Monday's budget revision was the realization that the Commissioners had vastly underestimated the annual cost of their bonding two new fire trucks. That bonding option will go before Enfield's voters for approval in a quickly-called referendum set for Halloween.
The tentative budget presented at the October 19th Hearing had estimated annual loan payments of $65,000. Amended calculations, acknowledged by Commissioners Monday, elevate that projected yearly cost to nearly $100,000, assuming the bonds are purchased immediately; or to about $89,000, should the Fire District delay long-term financing and utilize short-term notes for a year or two. The larger number would raise the bonding expense by more than 50 per cent from the figure cited at the hearing.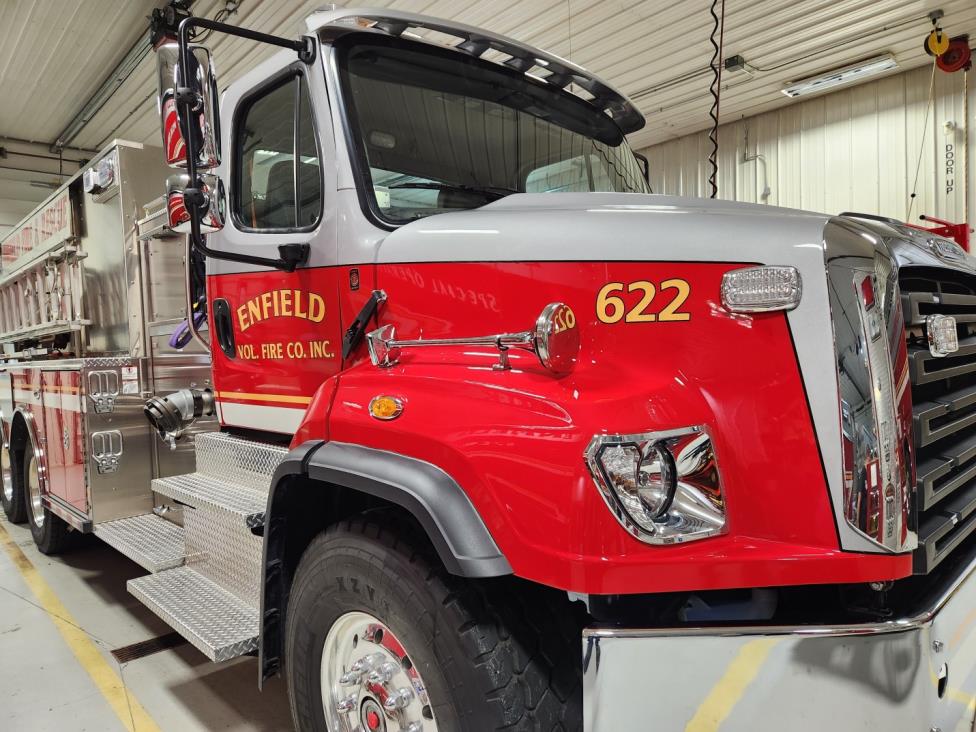 "I feel like we're guessing. I don't like feeling like we're guessing," Chairman Mathews warned his colleagues Monday, uncomfortable that numbers keep changing as the fog of uncertainty lifts little-by-little, meeting-by-meeting. "We could adopt a number, and it could be wrong," he cautioned.
Yet the Commissioners' Chair made the point Monday to walk-back a worst-case scenario he'd first advanced to some surprise at the Public Hearing. Mathews indicated that should voters reject the Fire District's purchases and bonding at the October 31st referendum, it's unlikely Commissioners would give back to its manufacturer or to the bank the new $825,000 pumper engine the Enfield Volunteer Fire Company (EVFC) purchased earlier this year.
"We have to have the pumper," Mathews emphatically stated Monday. "First, it's on the property," he said. "And secondly, we need it for public safety."
With a revised budget total of $483,691, Mathews projected that next year's Fire Tax for Enfield would rise from $1.72 per thousand to $1.94.
"The difference is a lot of money," Mathews conceded, comparing the revised budget total to the proposal aired at the Public Hearing. "But the difference in tax rate is not a lot of money." The Chairman projected the revised budget would cost the typical Enfield taxpayer less than a dollar-a-day for fire protection.
But all through Monday's long meeting, Fire Commissioners made one blind, dangerous assumption. They presumed voters will, indeed, consent to bond $1.05 Million toward fire truck purchases in next Tuesday's referendum. The budget figures hold only if the referendum passes. If it fails, the $89-100,000 debt service line could jump to $185,000, as the Fire District (assuming it still kept the trucks) must fall back onto traditional bank financing.
Commissioners stood so confident Monday of an affirmative vote that Robyn Wishna almost moved to finalize the budget on the spot. Optimism serves its purpose to a point. But the electorate—particularly Enfield's electorate—does not welcome their votes being taken for granted. Most of the Fire Commissioners are political novices. Their naiveté stood on display that evening.
Yet should the bond measure pass, Fire Commissioners might bide their time before marketing the actual bonds. The Halloween referendum would affect two trucks; namely the newly-bought (now) $830,000 pumper, and a less-expensive tanker, one purchased in 2020. The tanker has $220,000 yet unpaid. To shave financing costs a bit, and perhaps also to enable interest rates to cool, Commissioners Monday discussed potentially spreading out truck debt with year-by-year bond anticipation notes. By initially relying on the notes, they'd also forestall incurring a one-time, $11,000 bonding legal fee, the difference between the $89,000 debt payment and one totaling nearly $100 Grand, as previously stated.
But what's also contributed to the Enfield Fire Budget's last-minute increase is the added expense that Syracuse-based attorney Brad Pinsky has quoted for his services. Based on Pinsky's estimates, Commissioners Monday hiked their budget line for legal fees from $15,000 to $40,000, a more than 160 per cent increase.
"I wish we didn't have $40,000 in extra legal fees,' Wishna remarked, the Commissioner apparently combining both Pinsky's charges for what he'd get for his normal work and what he'd also earn as bonding counsel.
For this, the sixth straight meeting, Brad Pinsky, himself, was physically absent from the Fire Commissioners' session Monday. He sent Longstreth, his junior associate, instead.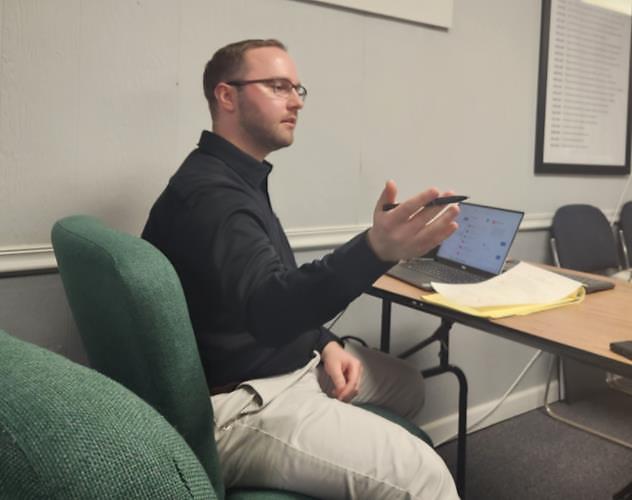 And what Pinsky's office plopped onto Commissioners' desks that night fell short of the mark in some members' opinions. A draft policy manual, quoted by Wishna as 200 pages long, was just mindlessly copied from some other fire district's document. It cited a district in "Allegheny County" in many places. And even though Enfield's Commissioners stripped out the most egregious errors before adoption, the work product so disappointed Wishna that she voted against it. Marcus Gingerich abstained.
"I don't see how you pass a pile of crap and try to clean it up (later)," Enfield Fire Chief Greg Stevenson admonished Commissioners before they accepted Pinsky's draft manual as a place-holder of sorts, Commissioners pledging to make line-by-line amendments later.
"We're paying market rate for an attorney," Chief Stevenson told the Board. The manual "should have been better; it should have been cleaner," he said.
****
Since taking his seat as a Town Board-appointed Fire Commissioner in August, Enfield Highway Superintendent Barry "Buddy" Rollins has remained relatively quiet, that despite criticism from some in EVFC leadership that Rollins harbors open hostility against the Fire Company. But for a time during the Commissioners' three-and-a-half-hour marathon meeting Monday, Rollins broke his silence and clashed with EVFC President Dennis Hubbell over Fire Company accounting practices. It began when Rollins zeroed-in on how the EVFC handled $76,000 in proceeds from its recent sale of the 2002 pumper truck that the company offloaded to make way for the new one.
It seems the EVFC had no obligation to turn the truck's proceeds over to the Fire District's Commissioners, and it didn't do so. Instead, it put the money into the EVFC's "Firemen's Fund," utilized for purchases like portable radios and defibrillators. Rollins would have preferred the money had been put toward the new truck's down payment. And he also questioned why the Fire Company had allegedly not yet accounted for past Town-authorized purchases of protective "turnout gear."
"You bought an $825,000 engine and (had) no way to pay for it," Rollins accused Hubbell.
"Well that's incorrect; that's totally incorrect," the Company President responded. "I don't like that," Hubbell challenging both the Highway Superintendent's allegations and his accusatory tone.
"Where's the money in the budget?" Rollins then asked.
"The Town Board agreed—they signed documents," Hubbell answered, "to back that loan, to back that low interest rate with tax-free money," (The Town Board did, in fact, approve such financing in February.)
"That's not true, either," Rollins fired back. "You twisted that all around; the Town Board deal." The Superintendent continued, "When you stand there and say you paid $80,000 for two SUV's, instead of buying turnout gear for your crew, then that's untrue." Rollins harkened back to the Town Board's last year's budget debate when the EVFC's cash purchase of a command vehicle clouded the company's funding request for more protective clothing.
"He's accusing us of lying," one Fire Company supporter stood up and shouted from the gallery.
Mathews urged everyone to "take a step back," the Chairman assuring that "everyone is acting in good faith," and no one's doing anything "nefarious."
Yet, a 24 per cent budget increase, especially one added-in only post-op to a hearing, could lead some to question the Board of Fire Commissioners' own credibility, let alone its competence. Mind you, it could have been worse. Commissioners rejected attorney Pinsky's recommendation that they tack an extra ten per cent onto everything they had initially budgeted last week. A ten percent increase could have blown the proposed Fire Budget to well over a Half-Million Dollars, and pushed it to within $50,000 of a Statutory Spending Limit that Enfield voters had raised only last month. It's a spending ceiling supposedly good for the next five years.
"That's a big jump. We're going to increase the budget by 25 per cent," Gingerich observed as the budget discussion headed toward its close that night.
"It really makes me sad that everyone hasn't been able to do better," Commissioner Geoff Hollister responded. "And that has to change."
[See related coverage two stories below]
###
Country critics chip away at flycar cost share

by Robert Lynch; October 24, 2023
Rordan Hart is Mayor of Trumansburg. He takes pride in his village's municipal ambulance service. Hart also stands as the driving force behind Tompkins County's Rapid Medical Response Team, a two-year pilot program that will likely, beginning next year, dispatch trained Emergency Medical Technicians (EMT's) to whatever part of the county they're needed during daytime hours to supplement community-based fire department rescue squads.
Rich John is a Tompkins County Legislator from the City of Ithaca. He stands on principle. But now he finds himself standing increasingly alone. John insists that rural communities—specifically rural town governments—should bear at least a portion of the expense for the Rapid Medical Response Team's operations. He says it's for reasons of fairness and equity.
Rordan Hart's and Rich John's opinions met head-to-head at an October 19th meeting of the Tompkins County Legislature's Public Safety Committee. Others joined the discussion. When it ended, Rordan Hart may have won a convert or two. Rich John may have lost one.
"I would encourage the Legislature as much as you're willing to consider it, particularly for 2025, that you entertain the notion of the (Response Team) being a County-run program that's entirely funded from the tax base," Hart told the committee.
In Mayor Hart's view—as well as in the view of leaders in many rural municipalities, including this Enfield Councilperson—Tompkins County stands as the only government capable of funding the flycar network adequately and equitably. County Government has a large tax base, a bulging Fund Balance, and the ability to allocate costs without unfairly burdening one town or village over another.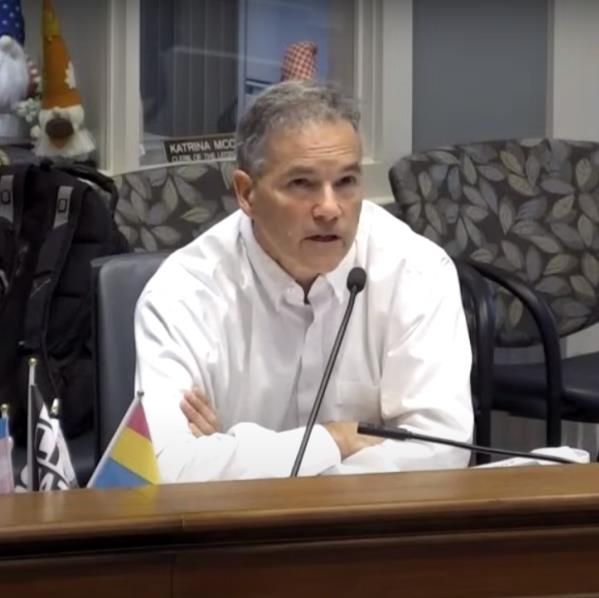 Of the five cost-sharing models Tompkins County's Department of Emergency Response shared with the County Legislature early this month, only one of those choices would have County Government pay the full cost. Another would have the County pick up three-quarters of the tab, with the towns equally dividing the rest. Each of the remaining three options would split the cost evenly between Tompkins County and the rural towns. Under none of the proposals would the City of Ithaca share any of the cost, except, of course, through its residents' own county taxes.
For Enfield, cost-sharing options would incur annual charges beginning at $19,000 (the one-quarter option) up to $58,000. The latter charge would arise if only towns without a municipal ambulance service of their own contributed. That option would exclude from contributions towns like Dryden, Groton, and Ulysses. Those supporting this option argue that communities with ambulance corps already subsidize medical rescue.
"The Town of Ulysses already pays the Village of Trumansburg over $400,000 a year for ambulance service," Hart advised the Public Safety Committee. "It's pretty close to a non-starter that the Town of Ulysses would be willing to pay for a shared services to bolster what they're already paying for." The mayor predicted the towns of Dryden and Ithaca—the latter of which contracts through the Ithaca Fire Department—would take similar positions.
The non-participation of some municipalities, Hart asserted, could bring about the collapse of the whole system. "Towns and municipalities with the least financial flexibility, who are not able to fund their own services in the first place," Hart said, would be shouldering a disproportionate financial burden under such a cost-sharing scheme. "I think that becomes a threat to this program being able to continue at all."
"I think Mayor Hart more or less sold me on his proposal," Ithaca City legislator Veronica Pillar remarked during the meeting. "It does make sense to me to have the County fully fund it."
Also on board is Mayor Hart's own County legislator, Anne Koreman, who additionally represents northern Enfield.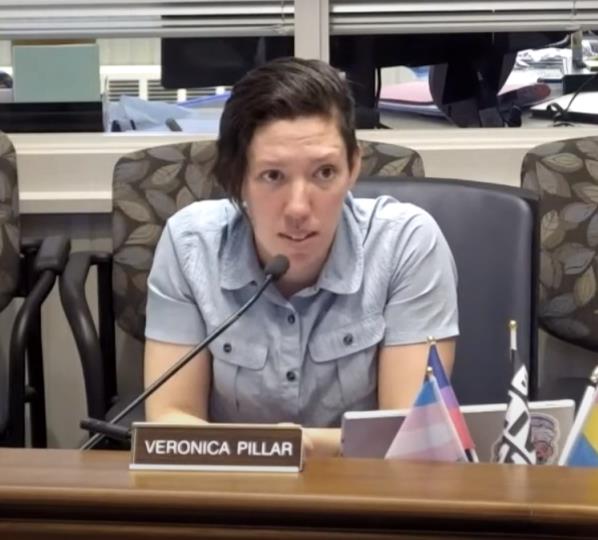 There's "difficulty trying to parse it out," Koreman said, concluding that apportioning the flycar service's need among various municipalities would prove impossible to calculate. She said it would be like dividing up the cost for the Sheriff's Department or the County Library based on usage. "It's a countywide problem, and it affects the whole county," Koreman observed, as the service is planned to go anywhere it's needed and on a moment's notice, whenever a volunteer department finds itself unable to respond.
"I don't want there to be anybody afraid to tell these folks to call 911 for fear they could incur some cost or to unduly burden one municipality," Koreman said.
Not sold, however, remains Rich John. He represents an Ithaca City district. And for his constituents, paid firefighters respond to EMS calls, and ambulance times are short, given residents' proximity of Bangs Ambulance headquarters.
"If I was talking to a hypothetical taxpayer in the City of Ithaca," John said, "it's hard for me to say there's great benefit that's not readily apparent, but you should pay for it."
Rordan Hart maintains City residents would benefit greatly, though the benefit could be shrouded from view. In Hart's mind, all services connect with one another. When T-Burg answers a call, Bangs remains free to more quickly answer 911 emergencies closer to home.
And because of that interconnection, Hart told the committee, the Rapid Medical Response Team "creates a layer of support underneath the entire system that everyone in the county benefits from, at every level of medical service, not just rescue."
"The cost-sharing model unnecessarily overcomplicates the situation," Caroline Supervisor Mark Witmer told the committee. And Witmer fears that charging the Towns money could end up "creating an Achilles' heel sort of situation that could undermine things."
"This is a countywide problem, and it can't be approached in a piecemeal fashion," Witmer reasoned. And to the Caroline Supervisor, total County Government funding distributes the cost "evenly across the County to all residents."
The Tompkins County Legislature has already set aside its own share of the Medical Response system's cost in next year's budget. It's also reserved contingency funds to cover any potential municipal share this first year. Legislators realize that with town budgets already being written for 2024, there'd be little hope of squeezing out municipal money for next year. Any true cost-sharing would likely not commence until 2025, and for years thereafter, were the pilot program to continue as most predict it will.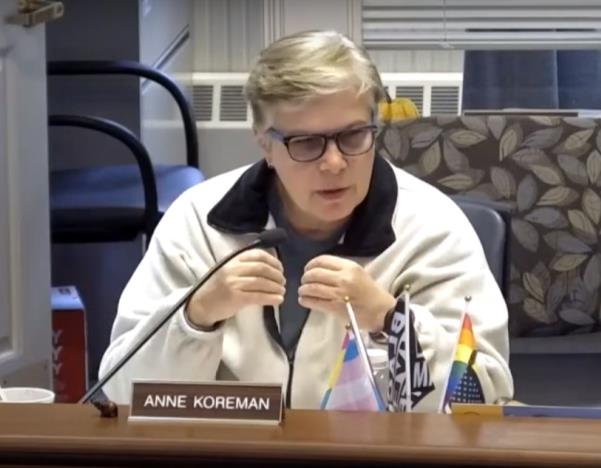 But Rich John defends his preference for cost-sharing on the principle that those who most benefit from a service like this must shoulder a portion of its burden.
"You really do see a wide range of benefit adding this service," John told the committee that he chairs. "There are some areas of the towns with response times of up 20 minutes. (2021 data shows Enfield is one of them.) "With this in place," John predicted of the flycar system, "they're going to see substantially better response times, or should. And that's a great thing. They should pay for that. And they should pay more than someone in the City that's not really going to see any change in their response times."

But Rich John's analysis isn't quite that simple. In response to this Councilperson's question when County officials presented the flycar model at an Enfield Town Board hearing October 11th, Michael Stitley, Tompkins County Director of Emergency Response, explicitly said that the Rapid Medical Response Team would not categorically exclude City-based calls. If paid Ithaca Fire Department EMT's were tied up, he said, the County flycar would respond. The answer confirms Mayor Hart's analysis of interconnection.
Rich John fears, to an extent, the law of unintended consequences. For one thing, he worries, were the County to handle more of the daytime medical calls with its flycar, some rural volunteer services might choose to stand down. And the Ithaca legislator has a second concern:
"We've gotten a response from some of the fire departments saying we're very afraid the towns are just going to come in and raid our budgets to pay their cost-share."
Of course, stop and think about that. Such a concern makes a stronger case for total County Government support. And there's another question to consider. How would the County finance office collect its municipal money? If a town like Enfield refused to pay, would downtown sue us?
###
More on the Enfield Fire Budget Story:
Three Options; None of them Great
Commissioners' Chair warns of fire truck give-back should bonding vote fail
Reporting and Analysis by Robert Lynch; October 22, 2023
"Pay me now or pay me later."
Enfield Volunteer Fire Company Pres. Dennis Hubbell, regarding funding for the EVFC's new pumper.
Last Thursday's was billed as a Public Hearing on the fledgling Enfield Fire District's first-ever budget. But the night's attention focused almost entirely on what this Town Councilperson aptly described as the "Elephant in the Room," an expensive new pumper truck that the Enfield Volunteer Fire Company (EVFC) bought and which now the District and its taxpayers are agonizing over how to pay for .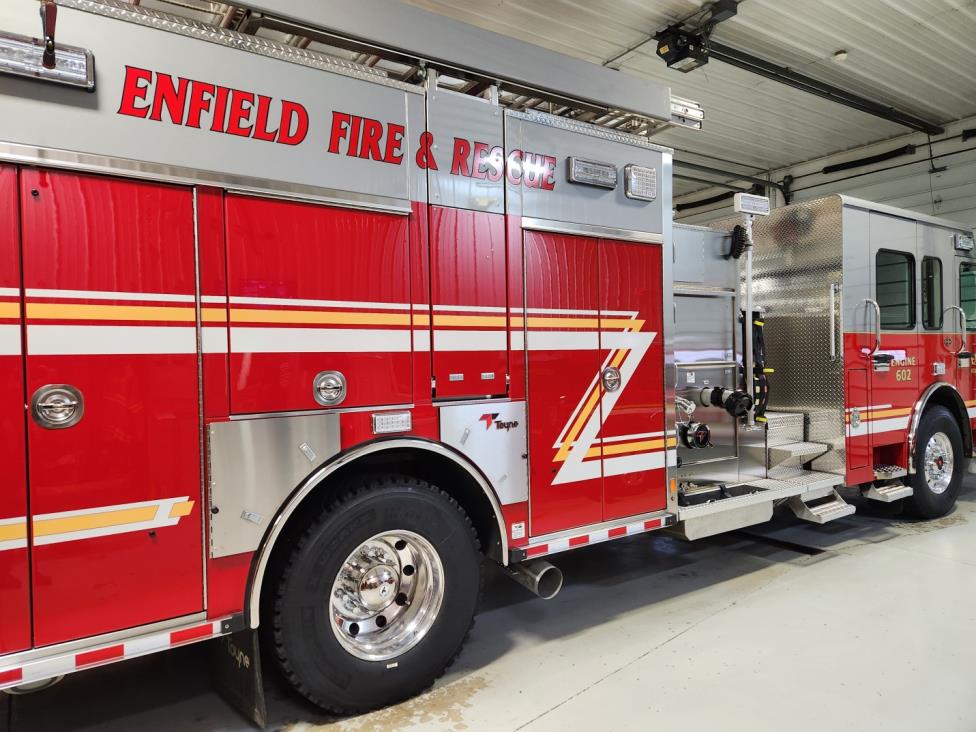 "If we did not bond," Board of Fire Commissioners Chair Jim Mathews warned attendees at the hearing's start, the alternative would be "pretty crushing for our budget."
And if the scheduled Halloween referendum on whether to buy from the EVFC that $830,000 new pumper engine plus another unpaid truck goes down to defeat, Mathews laid out only two remaining choices: "We raise taxes or we give back the truck."
Surrender of the newly-bought engine had never before been stated publicly by Fire Commissioners as a serious option. But Mathews' statement made it one. The Chairman also made clear it's an option he'd hate to pursue.
"I am not suggesting we give the pumper back," Mathews qualified later in the hearing. But, he admitted, "That option does exist. It's a profoundly stupid option…. I'd be profoundly aghast if we gave the pumper back"
And it also may be an option that won't work. That's because when the EVFC bought the engine, executing paperwork that closed earlier this year, it obtained Town Board endorsement to secure tax-exempt financing from a private commercial bank.
In my own three-minutes of speaking time at the Public Hearing, this Councilperson suggested that by sanctioning the Fire Company's expensive purchase in February, the Town Board may have obligated Enfield Town Government—and also Enfield taxpayers—to compensate for any loss the bank incurs should the EVFC default. When I raised that costly, risky hypothetical, EVFC President Dennis Hubbell, across the room, nodded his head.
"That truck ain't going back,' Hubbell said later in the hearing. The company president predicted that were the lending bank to repossess the pumper, it would offload the truck to whoever would buy it, likely at a substantial loss. Used fire apparatus tends to lose resale value quickly as soon as it's driven off the manufacturer's lot, even more so than cars.
"Pay me now, or pay me later," Hubbell remarked concerning the choices he saw as viable: either continuing to pay off the truck under terms of the nine-year loan the EVFC secured, or else taking the bonding route that Commissioners' Chair Mathews supports. Hubbell, himself, stated no public preference.
How things got where they are now deserves some explanation. When the Enfield Volunteer Fire Company executed the pumper truck's purchase, the Enfield Fire District, itself, did not exist. The Town Board created the District in June and transferred the Town Board's own fire service oversight to it beginning on August first. Now, it's the Fire District, with its currently-appointed Board of Fire Commissioners, that must contract with the EVFC for fire trucks, as well as for its fire house, hose, and everything else.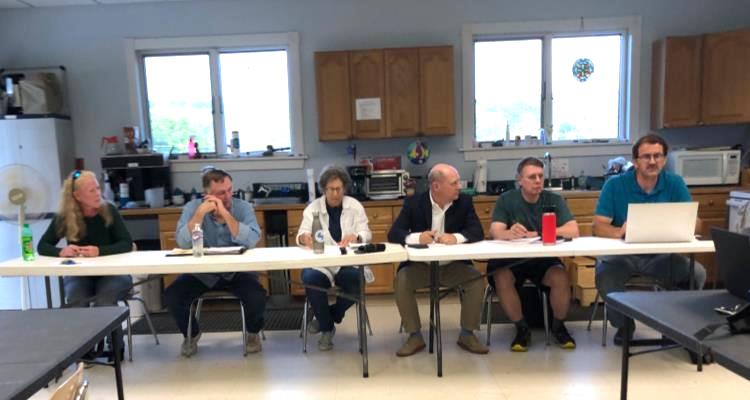 Despite an attorney's initial reluctance, the Fire Commissioners voted unanimously September 25th to put to a referendum the District's purchase and its subsequent bonding of the two unpaid trucks for a total bond obligation of $1.05 Million. In addition to the new pumper, the District would seek to bond $220,000 for a new tanker truck placed into service three years ago and still not paid off.
Because of the attorney, Brad Pinsky's desire to have the bonding question resolved before the Commissioners must finalize their next year's budget during the first few days of November, Pinsky took it upon himself only after the Commissioners' late-September meeting, to schedule the bonding referendum for Halloween.
The Fire Commissioners' draft budget, which was supposed to have been the subject of Thursday night's hearing, tentatively assigns $65,000 toward the trucks' debt service, assuming voters approve bonding the two vehicles. That $65,000 is, itself, an educated guess, since no one knows for sure what the bonds' interest rates may be. At its prior meeting, Pinsky conceded that current bonding rates "suck."
But should voters reject bonding on Halloween, the added debt burden could force budget planners to start from scratch. Instead of a $65,000 bond payment, Mathews warned that paying on the existing loans could cost the District $185,000 next year ($120,000 for the new pumper alone.) The Chairman's estimate, of course, assumes that the Commissioners will not give either or both trucks back.
Paying on those current loans, Mathews cautioned, would mean a "significant increase" in the fire tax, an increase that he, personally, stands unwilling to accept. The Chairman calculated that swallowing those loan payments would inflate the fire tax by 37 per cent over that of the current year.
Enfield needs "a capable front-line pumper to protect public safety," Mathews told the hearing. "The apparatus does not last forever," he cautioned.
Seldom mentioned in the context of Enfield's fire-readiness, however, is that a second pumper engine remains in the fire house on stand-by. It's a truck about 13 years old. Asked after the hearing about whether the EVFC could move the older vehicle into primary status were the newer pumper surrendered, Hubbell hedged. He conceded the possibility, but said there'd be operational problems involved when equipping just one such truck for fighting a fire.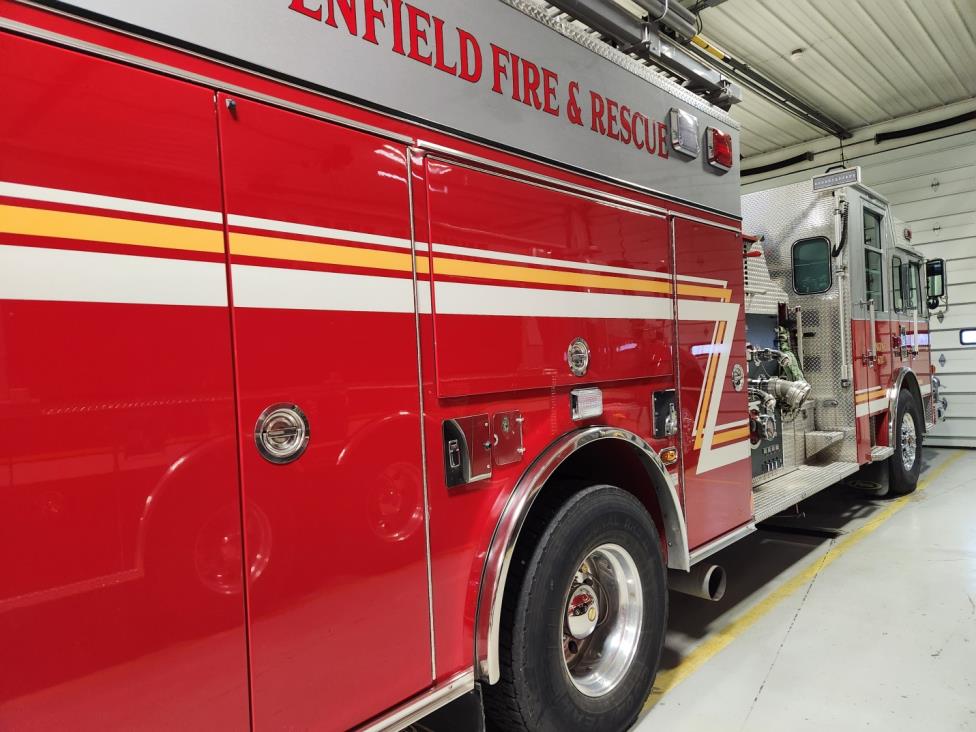 "Our current contract (with the Town) has a clause to have 'modern fire equipment.' We're continually obligated to keep apparatus modern," Enfield Fire Chief Greg Stevenson told the hearing. Stevenson said New York State rules generally regard 20-year old fire apparatus—including the 2002 pumper the EVFC sold just recently to make room for the new one—to stand at the end of its useful life.
About 20 people, many of then known EVFC volunteers, attended the October 19 budget hearing in-person. A few more attended by Zoom, through the Town's online connection that night proved tenuous at best. (The hearing began a half-hour late because of those problems.) Of those attending, only about seven spoke, including this Councilperson, spoke.
"Let's not mortgage the future to salvage the moment," this Councilperson, Robert Lynch, told the hearing. This writer was the only Town Board member to attend that night. Fearing how 20-year bonding would add to the vehicle's total cost and continue payments on the newly-bought pumper until it was "junk," this Councilperson urged everyone to "eat their peas" and, if necessary, absorb the added cost of the new apparatus under existing loans, despite the short-term financial pain.
This Councilperson also warned that the Town Board's February vote to affirm the EVFC's loan application could effectively preclude surrendering the new engine, lest such a surrender obligate Enfield taxpayers. And before voters ballot on Halloween, I said, Fire Commissioners should prepare side-by-side spreadsheets documenting the apparatus' comparative total cost under either the proposed bonding or current bank financing.
After Thursday's hearing, Fire District Secretary Alexis Comparetta said she'd attempt to compile the requested spreadsheet and present it perhaps as soon as the Commissioners' next meeting, October 23.
"Bob is correct," Jim Mathews acknowledged. "There are a lot of legal pitfalls to giving the pumper back." Mathews did not elaborate, but only added that such a giveback "would expose us to a lot of risk."
Not all appreciated my reporter's focus on Mathews' first disclosure that night of the serious consideration he gave a fire truck's potential surrender. Fire Commissioner Robyn Wishna stands among my critics.
"There is no need for inflammatory headlines or statements to make this into something that it is not," Wishna wrote on Facebook in reply to this Councilperson's initial report October 19 of the Public Hearing. "You failed to include the fact that many/most fire districts (not in affluent towns) do bond their trucks—it's a common practice."
Criticism aside, I stand by how I reported this story. I always approach what I write from the objective standpoint of a journalist, not a meeting participant or an advocate. In my judgment, Chairman Mathews' acknowledgement of the truck's potential giveback stood as the most newsworthy statement of the night. Others may disagree. They can write their own accounts.
And yes, directed to Commissioner Wishna's latter point, stand-in legal counsel Zach Longstreth—Brad Pinsky was physically absent for this, his fifth consecutive meeting—said that many, if not most, other fire districts do bond apparatus. But as Wishna also took note, Longstreth said that those districts that don't bond have the resources to pay for their fire trucks with cash.
Whichever route Enfield takes in figuring the finances on its fire trucks, the bank loan that Dennis Hubbell touted ten days earlier as such a bargain is not as cheap as was first thought. Hubbell had on that earlier night told Commissioners that the pumper's nine-year loan carried an interest rate of about four per cent. Not so. The Fire Company's President checked his paperwork. It seems that the bank hiked its rate to 5.99 per cent by the time the documents got signed. The rate's knocked down to 5.74 per cent if paid the way the bank prefers. Hubbell says the EVFC does it the bank's way.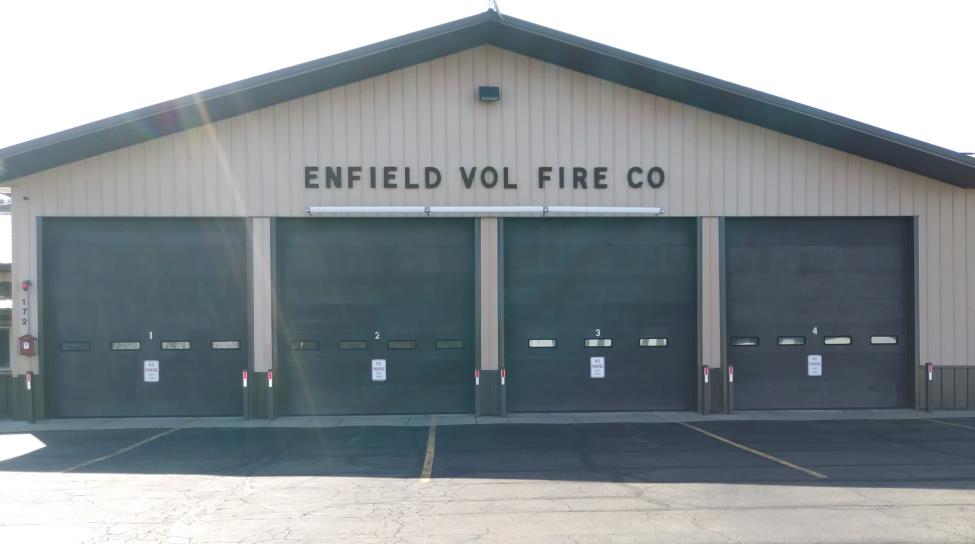 Halloween is a weird day for a bonding referendum. But that's when it'll take place. Enfield voters will cast ballots at the fire house this time, either from 9 AM until Noon; or again, from 6PM until Nine. It's a big deal. $1.05 Million in fire truck bonding lies on the line; your money, your debt.
"There's a lesson well-learned for everyone here," Fire Commissioner Geoff Hollister told Thursday's hearing. "We need a reserve fund. This is a band-aid."
****
Perhaps, but nowhere does money grow on trees, particularly in property-poor towns like Enfield. I have a problem with mortgaging the future when it will likely cost us more in the long run. I have a problem with banking my hopes on elusive "grant money" that may never arrive. I have a problem with bonding things that roll, rather than buildings that remain in place, anchored to the earth. But my vote is my own, and your vote is yours. Please vote on Halloween. Even if you arrive in costume.
###
View more local stories posted under "Latest News"