Democracy and Us on the Other Side of COVID-19
June 2, 2020
You kinda' wonder what would have happened had Andrew Cuomo not tacitly cried "Uncle." I, for one, rather wished the Upstate revolution had played itself out. It would have been fun to watch.
Thursday afternoon, May 28th, Tompkins County and 34 others, all Upstate, stood poised to "graduate" with the dawn of the next day to Phase Two of Governor Cuomo's exceedingly regimented four-step post-COVID-19 reopening process so as to wrestle our citizens from the Albany-imposed bonds that have kept barber shots closed, department stores mothballed, and hundreds of thousands of New Yorkers newly seeking unemployment benefits every month.
These step-by-step, phase-by-phase graduations are expected to occur every two weeks, right?
Not necessarily. Late that Thursday afternoon came the unexpected. Governor Cuomo, amid seeking celebrity accolades from the likes of Chris Rock and Rosie Perez, took to the Albany airwaves for an interview that would rile his Upstate critics more than a tea tax once rankled those strolling the docks of Boston Harbor.
Our Governor, architect of the sometimes-applauded, yet oft-dreaded New York PAUSE, impulsively, and without giving a heads-up to any Upstate local leader, hit the snooze button to postpone many a rural county's groggy-eyed reawakening, Cuomo telling WAMC:
"The reopening in the first five regions ends tomorrow. When the reopening of Phase One ends, we'll give the experts all the data. It is posted on the web but let them analyze it. And if they say we should move forward, we'll move forward."
Experts? What experts? Cuomo continued:
"How many people are getting sick, what the infection rate, what is the transmission rate, what is the hospitalization rate, what is the contact tracing rate, what is the testing rate, all the data points. And we analyze it and then we give it to the international experts. And we are going to ask them to analyze it and if they sign off and say go to Phase 2, andiamo," (For those not raised with Queens-tinged Italian slang, think of andiamo as "Let's go.")
One could quickly imagine the collective 35-county response, in words we Upstaters remain too polite to utter, yet think nonetheless. (Don't use the phrase around children.)
At 9 PM, Oneida County Executive Anthony Picente summoned the reporters. For some 35 minutes, the Utica-based Republican rambled and railed against the Governor's handling of post-PAUSE reopening; Cuomo's lack of communication with local leaders, his impulse-driven decision-making: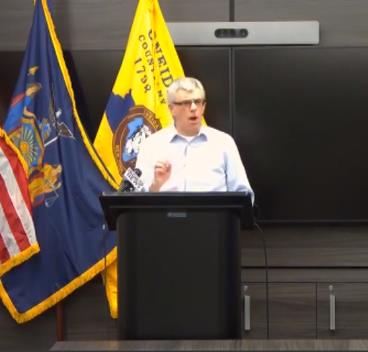 "It's outrageous. It's an insult. It's not an insult to me… It's not an insult to County Government… It's an insult to every business in this community that's been struggling. It's a lack of respect for the business community that has struggled throughout this crisis and has adhered to what the Governor has put in his executive orders day after day…. This is stupid"
Upstate's self-anointed post-COVID Paul Revere was far from over:
"Let me tell you, Governor, it's not a way to do business. It's not respectful to people. Again, you're dealing with people's lives. The same way you ignored people's lives in nursing homes. The same way you ignored people's lives in hospitals. The same way you're now ignoring businesses, businesses that have been struggling."
Executive Picente defiantly pledged to refuse to enforce any prohibition of businesses otherwise allowed to reopen under Phase Two.
"We're set to open, and I'm not going to enforce or tell them they shouldn't," because, in the Oneida Executive's words, "How do you go back and put the toothpaste back in the tube?"
Would the State move in, make arrests; revoke licenses. Picente predicted Albany wouldn't dare, not "after they've botched this so badly."
Picente's Mohawk Valley regional colleague, Montgomery County Executive Matt Ossenfort, echoed the outrage, saying he, too, was "shocked and frustrated."
"Many Montgomery County residents have spent time and resources preparing to reopen tomorrow and many of you have been looking forward to experiencing simple things such as a haircut," Ossenfort was quoted by the New York Post.
As one might predict, officials from Cuomo-friendly Tompkins County took the timid and tepid approach, County Administrator Jason Molino offering only a just-the-facts, Mam assessment:
"Tompkins County residents have done everything expected of them and should all be proud of efforts thus far. Because of these efforts we have kept the spread low and we've saved lives," Molino said.
Huh?
Tompkins County public relations boilerplate followed. "There was no further information on what additional data is being reviewed by the State," a flack wrote. "State officials expressed that the Governor has asked public health experts to review state-wide data."
Double-Huh.
Off to bed. The Upstate Revolution must rest to await a new day. Only on Friday, the muskets never fired (although, presumably, Utica's barber shops did reopen). Why no more war? Answer (to the astute observer), the Governor blinked.
Astride his steed named Executive, our King Andrew strode into a 1 PM New Rochelle news conference Friday—an hour or two later than normal—to utter the magic words Upstate had so eagerly awaited. Cuomo's only allusion to political turmoil was to acknowledge, "It's a busy day and a distressful day on many levels." (Yeah, I guess it was.) But then our leader quickly rolled forward with his (often self-congratulatory) always keyed-to-the-PowerPoint script:
"Yes, everybody wants to open tomorrow. I wanted to open before we ever closed. But you have to be smart and we have seen what has happened, painfully, when cities and states and countries reopen too quickly."
True. True. But tell me, Sir Governor, please, please, can we five regions northwest of the Cannonsville Reservoir, see our Kohl's, our Supercuts, and our McGuire showrooms open again? Don't leave us in suspense. Tell us what you hear from those two health gurus, including from that doctor in London who Executive Picente says has "more degrees than a thermometer?"
If those world-renowned experts ever actually offered their assessments within a purported turn-around time of less than 24 hours—and we're left to assume by Cuomo's implied reference that they did, even though the London guy resides nearly a half-dozen time zones away—the results earned a passing grade. And with his mystical powers of reassurance, the Governor spoke the words that calmed the political seas and swung open T. J. Maxx's door: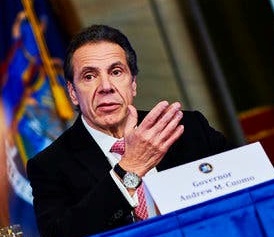 "[These doctors] are literally the best minds you can find on the globe when it comes to this and they have gone through all the data. So I feel confident that where we can rely on this data, and the five regions that have been in phase one can now move to phase two, because their data has been reviewed and the experts say to us it's safe to move forward, because people have been smart and you haven't seen the spike, so they go to phase two."
Hooray for the barber, our new Hometown Hero. And to the stylist whose postings now earn her record numbers of likes on Facebook, mostly from former customers seeking a squeezed-in appointment.
But wait. As usual, our Governor has mixed pain into progress. His executive decrees come laden with the nit-pick of micromanagement. New guidelines for the momentary new normal:
Reopened offices can operate at only half capacity. Ditto for retail stores. Customers and clerks must be masked at all times, and also be socially-distanced. (Remember when it used to be either-or?) Malls stay closed. Barber shops clip by appointment only. Barbers must be masked with a face shield to boot. Barbers must receive a COVID-19 test every fortnight. And the Governor says, you, the patron, should take it upon yourself to interrogate.
"And if I were walking into a barber shop, I would say – I would ask the barber, "Did you get a test before you reopened, when was the last time you got a test?" and if they got a test, they'll have a certification, they'll have an evidence of that test."
Governor Cuomo may choose to ask his barber, but I will not. My doing so would violate Rule One of barber shop etiquette. Never pick a fight with the one who holds the razor.
Furthermore, this dumb question. We're taking special pains to protect the stylist's customers, but what about the stylist herself. Why can't she ask me if I've been tested? Oh, wait, I forgot. Cuomo's mandates have excluded from COVID-19 testing any non-exposed or non-essential individuals, peons like me.
And another dumb question: With the customer mandatorily masked, how does the barber trim a beard? (Oh, wait. Read the fine print. Barbers can't trim beards now. Gotta' let those whiskers grow. Look like Santa.)
But now on to more: There's also the office party prohibition.
Stated Cuomo, "It's 50 percent occupancy in office buildings, signage on markers, et cetera, no meetings without social distancing, don't share food or beverages. I mean, I see people all the time, sharing food and beverages. You really don't want to do that now."
Maybe you don't share food, Governor Cuomo, because you lack friends or co-workers. You only have underlings. And I only shudder to imagine how our Governor plans to enforce his banning the office cake party for Heather's birthday. But I suppose the chief executive has his ways. Beware of the hidden security camera.
In any event, the Upstate war against the delayed Phase Two reopening has, for the moment, proved to be a bust. But wait, the army may need to regroup and fight another day. Coming soon, on June 12th we're supposed to enter Phase Three. That's when Moosewood could reopen for sit-down meals… unless, of course, the Governor changes his mind. It's his right, don't you know. He says it is. Reload.
###