Hometown unity dominates local redistricting's final input round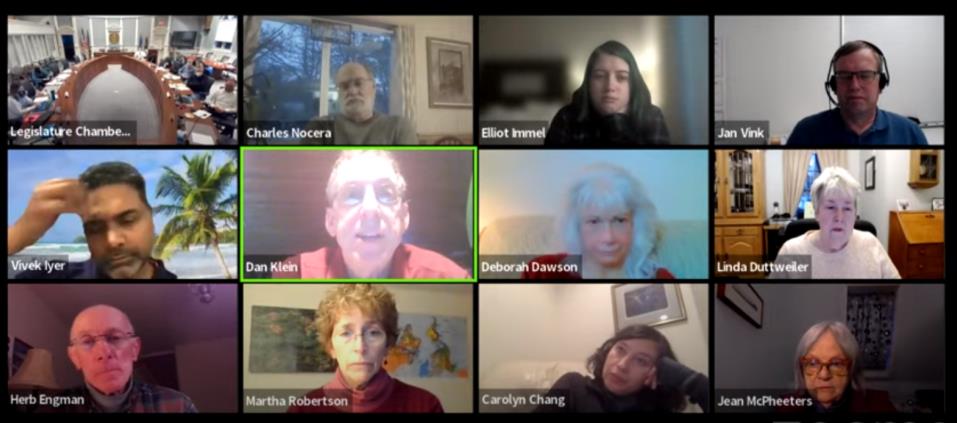 by Robert Lynch, February 23, 2022
Enfield and Newfield had their turn to speak up six weeks earlier. But Tuesday (Feb. 22nd), at the final of four regional public input sessions, one focused this time on the county's eastern flank, the Tompkins County Independent Redistricting Commission heard more of what it had heard at the start: Municipalities, towns and villages, like to be kept whole when represented on the Tompkins County Legislature. And in cases where a town warrants multiple voices in county government, it's better to keep legislators home-grown, rather than to borrow them from neighboring places.
Under constitutional and New York State statutory directives, Tompkins County must redraw its local legislative district lines every decade to reflect population shifts. Those decennial changes have placed more people within the City and Town of Ithaca, as well as within the Village of Cayuga Heights, and also the Lansing Town and Village. Enfield, Newfield and some other rural municipalities have lost residents. Because of that, the unlucky population-losers may increasingly need to share representation with municipal neighbors.
But Tuesday's final comment session dealt mostly with the "slicing and dicing" of existing districts, as one County legislator aptly termed it. And it summoned forth municipal leaders to their politely-placed battle stations. Those in the County's eastern and southern reaches fiercely defended why the redistricting knife should not chop them apart or why what was chopped a decade ago should now be glued back together.
"The towns of Caroline and Danby are pretty good partners in one district," said Danby legislator Dan Klein, whose two southeastern towns have remained bonded since representational districts were first established a half-century ago.
"Our populations are almost identical," Klein said of Caroline and Danby. "The towns have a lot in common with each other. Both have strong senses of identity." And Klein took a gentlemanly jab at the Town of Ithaca, into which Klein's current district now borrows a tiny slice. "The Town of Ithaca: I don't think they have a strong sense of identity," Danby's legislator asserted.
No, fists didn't fly. Instead, former Ithaca Town Supervisor Herb Engman raised a separate grievance; that of fractured representation in his town by too many outsiders. As many as four legislators—five, if you add-in the included Cayuga Heights Village—represent slices of the Ithaca Town. But only two of them represent Engman's own town and nowhere else.
"I don't think those who represent (other) entire towns have much affinity or are able to represent very well a tiny piece of the Town of Ithaca," Engman told the Commission. "It seems to me that with 22,000 people"—the latest Ithaca Town-Cayuga Heights headcount—"we really should be able to have three representatives in the Legislature who are totally within the Town of Ithaca. I would like that carefully looked at to see if that could be worked out," the retired Ithaca Supervisor said.
Not only does Klein presently grab a chunk of the Town of Ithaca. So, too, does Ulysses-Enfield legislator Anne Koreman. But with Newfield, Enfield, and Trumansburg populations having shrunk, cutting Koreman loose from Ithaca might leave her with too few people to represent.
Over on Cayuga Lake's other side, Lansing-Cayuga Heights legislator Deborah Dawson faces the opposite problem; growing pains. "Population has boomed," Dawson acknowledged. And though she, like Klein, sees "a lot of commonality" between the two villages she now serves, Dawson foresees having to sidle north into a new district that would annex southern portions of Mike Sigler's rural Lansing.
"The south part of the (Lansing) Town outside of the village is very Ithaca-centric," Dawson observed. But, "The north part of the Town of Lansing is very 'We're not a part of Ithaca at all'-centric."
Ten years ago, the Redistricting Commission made its numbers work only by recommending a one-seat reduction in the County Legislature, cutting its membership from 15 to 14. Lawmakers adopted the change, but have subsequently found problems coping with its even number. Most notably in early 2020 the Legislature repeatedly tied 7-7 when attempting to elect a Chair. It kept the body headless for the better part of two months.
Retired Dryden legislator Martha Robertson brought that historic deadlock to the forefront Tuesday.
The 2020 leadership impasse "was extremely painful, extremely divisive," Robertson maintained. When choosing a leader, "deadlock doesn't tell you what to do," she insisted.
But other legislative hands, including both Klein and Dawson, saw the 2020 impasse as an anomaly, rarely to recur. And Dawson's reply harkened back to hers and Robertson's political spat in the Chair's election of two years previous.
"I don't think that one disagreement about leadership, which was based on a pretty fraught interpersonal dynamic, should be interpreted as requiring that we have an odd number of legislators," Dawson argued.
But the Redistricting Commission could find returning to odd numbered membership necessary for a more important reason: to answer the concerns of those like Klein and Engman and keep similar communities intact while dividing populations equally. Beginning March 8th, Commission members will begin poring over alternative redistricting schemes that could shrink the Legislature to as few as 13 members or grow it to as many as 17. The County Charter permits membership to go as high as 19. But few expect a number that high. Legislators shudder with thoughts of a 19-member body. They sense it would make their group unwieldly.
Though court decisions mandate relatively evenly-populated districts be set every ten years, any changes the Commission soon adopts could find delay in taking hold. The County Legislature's next scheduled election isn't until mid-decade.
###
County lawmakers lobby for higher home care wage
by Robert Lynch, February 16, 2022
"I support this because it affects people who need help the most. And really, long term, it saves money."
With those words, Newfield-Enfield freshman lawmaker Randy Brown lent his support to another freshman, Ithaca's Veronica Pillar, as the Tompkins County Legislature Tuesday (Feb. 15th) backed Pillar's first-even Resolution, one that endorses a state legislative effort to mandate higher-than-minimum pay rates for home care aides.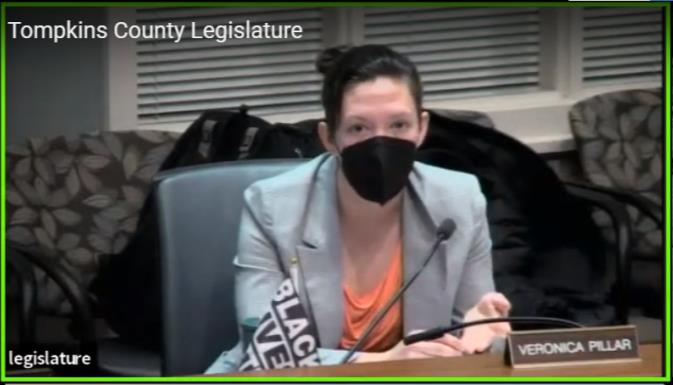 The companion State Senate and Assembly bills, both before committees and awaiting votes, would mandate that home care aides, those involved in feeding, bathing, and otherwise tending the needs of homebound elderly and disabled residents, be paid at least 50 per cent above the prevailing minimum wage. Right now the minimum wage is $13.20 per hour upstate; $15 in New York City and on Long Island. When the proposed legislation would take effect next January, the measures could raise home care aid hourly pay to above $20 locally.
Home care aides "provide a super-valuable resource," said Pillar. "There's a shortage of them right now," she said' reasoning that if pay were higher, more might enter that line of work.
"The people who serve as our health care workers; that is definitely one of the hardest jobs emotionally, physically (and) mentally," said Legislature Chair Shawna Black in lending her support.
Brown, however, put his appeal in personal terms, referring to his own 89-year old mother. "She wouldn't be home if she didn't have people to help her," Brown told legislators.
Only Republicans Mike Sigler and Lee Shurtleff opposed the Pillar Resolution, which holds only the power to persuade those in Albany.
"There's further implications to such legislation," said Shurtleff. He cited issues relating to insurance reimbursement, self-pay situations, and service availability.
As to private insurers, Shurtleff remarked, "they're all over the map on what you can and cannot get." Behind the Groton Republican's argument could be the thought that if home care aides' wages rise too much, those who pay the workers' wages may offer patients fewer opportunities, not more.
Shurtleff raised a second point. With a reported 15,000 bills being introduced annually in Albany, "it's hard to look at each one and consider bringing it forward." As a result, though he applauded Pillar's effort, Shurtleff declined to accord her initiative special treatment.
****
Local legislators received good financial news at Tuesday's meeting. The Tompkins County retail economy has rebounded better than expected from the COVID-19 pandemic, yielding county coffers a record sales tax take.
Tompkins County Finance Director Rick Snyder told the Legislature that the local share of sales tax receipts for 2021 topped $74 Million. The 56 per cent of that share that heads to County Government was more than 21 per cent over that for 2020 and nearly 20 per cent over what the County had conservatively budgeted before the year began.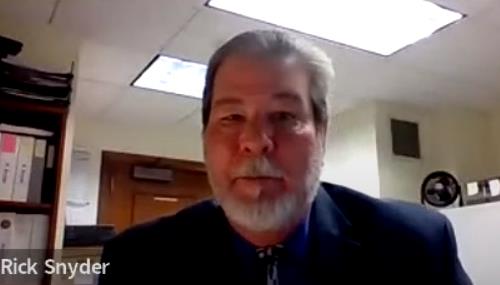 "I can easily say that this is not only the best December on record; but it's the best fourth quarter on record, and is also the best yearly record for sales tax," said Snyder.
Year-end figures brought County Government alone $41.6 Million, compared with $34.2 Million in pandemic-plagued 2020, a financial outlier of sorts. But the figure also topped that of pre-COVID 2019, and stands nearly $7 Million over what the Administration had budgeted for the year recently ended.
One could argue inflation may stand as an unwanted contributor to the higher tax take, since eight per cent of pricier goods brings in more sales tax cash. There's also the inequity in sales taxes themselves.
"Let's always remember that sales tax is very regressive," said Dryden Democrat Mike Lane. "It hurts the lower income people harder than it does upper income people. Sometimes it's the people on the bottom who are struggling to pay the sales tax"
Newfield's Randy Brown raised a second issue of equity; one more complex and an issue some made clear they'd rather not disturb. Brown questioned long-standing, policy under which the City of Ithaca pre-empts a disproportionate share of local sales tax revenue, reflecting the fact that Ithaca businesses sell the lion's share of taxable goods and services.
But Brown maintained the City should exploit its privileged commercial status only so far. "The people in my district (Enfield-Newfield) all come to Ithaca to do their shopping because there's no place to spend their money in their town," said Brown. "Where it's spent doesn't matter because they don't have a choice."
Brown indicated strongly that he'd revisit the sales tax distribution issue at future meetings.
###
Newfield Board seals deal for Sheriff's satellite
by Robert Lynch, February 10, 2022
Yes, Enfield can brag: "We did it first."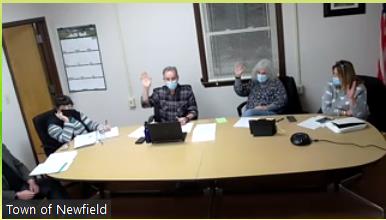 But with striking similarity to what the Town of Enfield first initiated during the fall of 2019, the Newfield Town Board Thursday (Feb. 10th) unanimously authorized Supervisor Michael Allinger to sign an initial one-year agreement with the Tompkins County Sheriff's Department to set up a satellite police station in the Newfield hamlet.
Arrangements for the Newfield outpost were first disclosed about six months ago. At a meeting last August 26th, the Town Board authorized Allinger to commence negotiations with the Sheriff. All the heavy lifting was done between then and now. The rent-free lease agreement between Town and Sheriff cleared the Newfield Board Thursday with little discussion.
The only substantive change between what the Town initially discussed and what finally won approval was the satellite office's location. Back in August, the former Newfield Masonic Temple had been mentioned as a potential office. But instead, the Sheriff will use office space in the lower level of the Newfield Town Hall. The Town will assign deputies a 10 x 12-foot office and make restroom facilities available. In contrast with Enfield, where deputies and patrol car are housed in one joined facility, officers in Newfield will quarter their vehicle in one bay of the Town Highway Department's garage down the street.
Work toward setting up the satellite office is expected to start soon. Town officials at Thursday's meeting did not predict how soon the satellite office would open.
In both Enfield's instance, and now with Newfield, Sheriff Derek Osborne and Town officials have welcomed Town-Sheriff cooperation as a win-win arrangement to improve deputies' response times to rural emergencies. Enfield's arrangement, in operation since mid-2020, has encountered no difficulties and received general community approval.
Though the initial contract runs for a single year, its extension beyond next February appears likely.
In other Town Board action Thursday, and with the encouragement of Town Clerk Karen Miller Kenerson, the Newfield Board kept in place current masking policy at Town offices. Reconsideration of masking rules followed Wednesday's qualified lifting of a statewide masking mandate by Governor Hochul.
"I'm comfortable with how we're acting now," Clerk Kenerson said of current policy, one that requires her customers to mask when transacting business.
"We really have to follow the County Health Department," echoed Councilperson Christine Laughlin, noting that Tompkins County Health officials urge continued indoor mask wearing until the COVID-19 pandemic further abates. Laughlin also noted that government distributions have made KN-95 masks readily available to all.
###
Kruppa: Local mask advisory could lift within weeks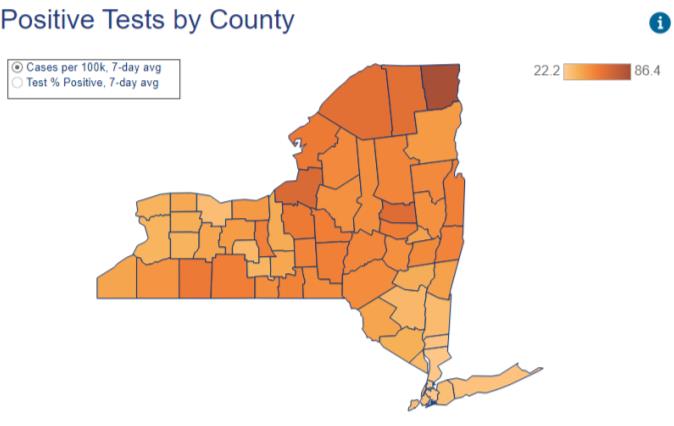 by Robert Lynch, February 10, 2022
Tompkins County's point person on COVID-19 containment said Thursday that the indoor mask advisory he'd issued the day earlier could have a very brief shelf life; perhaps no more than a week or two.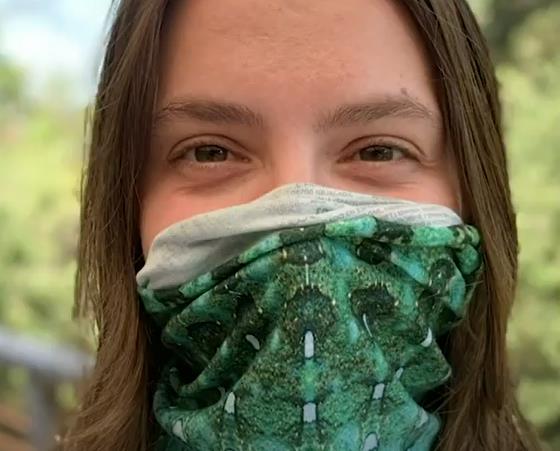 "Within a few weeks, we'll be talking about lifting the advisory," County Public Health Director Frank Kruppa told a morning conference call of municipal leaders Thursday (Feb. 10th), less than a day after Governor Kathy Hochul had lifted New York's statewide mask mandate and the local Health Department had quickly followed with a non-enforceable "advisory" of its own. The local advisory urges those in Tompkins County to keep their masks on.
In line with the Governor's relaxed standards, but in recognition of Kruppa's greater caution, the Enfield Town Board Wednesday night eased its own masking mandate for Town facilities. It marches Enfield in lockstep with County Health Department policy. From here forward, Enfield's mask "mandate" will transition to a mask "advisory," one encouraging mask wearing on Town property, but giving Department Heads—particularly the Town Clerk—greater discretion concerning enforcement.
As adopted by the Town Board in October, the Enfield masking policy is set to expire in mid-April unless the Town Board votes to extend it.
"We are making progress" toward reducing COVID-19 case numbers, Kruppa assured town officials and village mayors during the conference call Thursday. He pointed to statistics showing cases and hospitalizations falling rapidly, yet remaining higher than he'd like to see them.
"Tompkins County remains a high-transmission area," Kruppa and Deputy Tompkins County Administrator Amie Hendrix stated in succession during Thursday morning's call.
Earlier, in his Wednesday afternoon news release, the director had cautioned, "We still have significant spread of COVID-19 in our community due to the more contagious Omicron variant." In that statement, Kruppa had noted the continuation of "double-digit hospitalizations" and a few additional deaths among "immunocompromised and older adults."
The Department Wednesday reported one additional death—Tompkins County's 55th. However on Thursday, for the second straight day, local COVID-related hospitalizations had fallen below double-digits, numbering only eight in the Thursday morning report. Thursday's marked the lowest hospitalization number since December 16th, a date when the Omicron variant was just hitting the area.
The local Health Department's "mask advisory" carries the power of persuasion, yet lacks the regulatory teeth that Hochul's mandate did. The difference in enforceability begged the question, posed by this writer, a conference call participant, as to whether Kruppa would have preferred the mandate to remain in place.
"No," the Director answered, Kruppa indicating he's never been fond of mandates. He said he prefers to take an "educational" approach to enforcement. "This is the appropriate direction," the Director said of the Department's current course of action.
In a summary, distributed to participants after the call, Kruppa and County leaders stated, "We are in concurrence with the governor suspending the State mandate, and we will continue to monitor local disease and put out guidance that is responsive to its prevalence here."
As a practical matter, during the two months since Governor Hochul imposed the stricter masking rules, Kruppa has made it clear his office lacks the resources to impose heavy-handed enforcement.
As to when the current advisory might be lifted, the director pointed municipal leaders to the Centers for Disease Control's county-by-county infection statistics. Those numbers still, as of Thursday, showed Tompkins County—and for that matter, all of New York State—in a "High" state of community transmission, with more than 100 active COVID-19 cases per 100,000 residents.
Kruppa noted that the next category down, the so-called "Substantial" transmission range, takes hold when cases stand at between 50 and 100 per 100,000 people. Though he remained somewhat ambiguous on the call, the Director suggested case transmission might need to fall below the "substantial" benchmark for the mask advisory to lift.
"We will be monitoring disease transmission in our county," Kruppa stated. When transmission levels fall low enough, "we will lift the advisory," he assured participants.
Beginning January 31st, the local Health Department stopped counting active case numbers. Yet the CDC's figures, in its rolling averages tallied through February 10th, showed 360 active cases in Tompkins County, or 352 per 100,000. That's more than three times the minimum number needed to put the county where it currently stands; in the "red" zone of high transmission.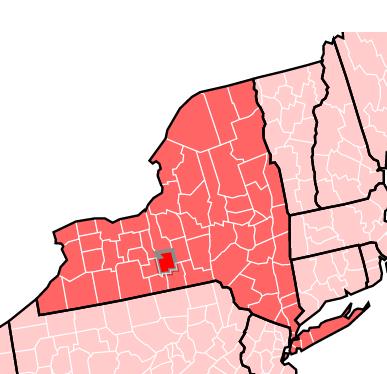 Governor Hochul's lifting of New York's statewide, enforceable mask mandate Wednesday affected only the general population, not children in school. Nor did the Governor lift the mandate for specialized settings like health care facilities, nursing homes, prisons, and transit facilities. Local riders of TCAT buses must remain masked.
Hochul told reporters in her televised address that her administration will test students rigorously and reassess the need for in-school masking after the mid-February winter break. She indicated the rules could change as soon as the first week in March.
"It is not reactive. It is thoughtful," the Governor said regarding in-school masking policy. "We're going to fine tune it," she assured her audience.
Locally, during the conference call Thursday, Trumansburg's conferee, Mayor Rordan Hart, told Kruppa he's heard parental complaints that defy the national trend. Some T-Burg parents, he said, worry the student masks will come off too soon, rather than not soon enough. He cited a special concern among parents of pupils who may come home and infect younger siblings, those too young to vaccinate.
"That's the first time I've heard it come from that direction," Kruppa responded.
And at Enfield's Town Board meeting Wednesday night, a different word of caution. It came from a former Town Clerk who's now a professional E.M.T locally. She worried the Board may have acted too reflexively in softening its rules.
"We are seeing more COVID than ever," Ellen Woods reported during the meeting's closing moments.
###
And now, to the Courthouse:
Republicans file legal challenge to Congressional Redistricting plan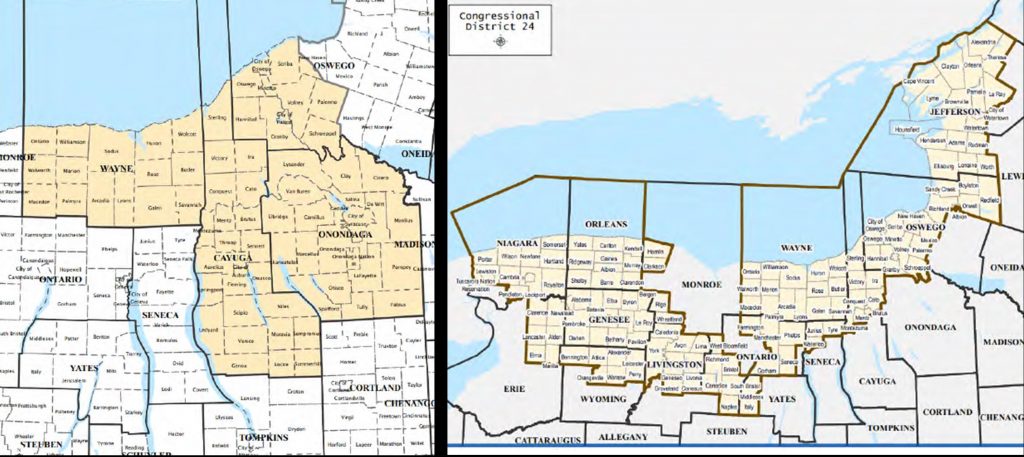 by Robert Lynch, February 4, 2022
Wasting no time, and with clear indication they'd laid plans in advance, New York Republicans have taken to court their fight against the controversial Congressional redistricting maps approved this week by Democratic majorities in the State Senate and Assembly.
"[T]he 2022 congressional map, apart and aside from procedural deficiencies, constitutes an unconstitutional partisan and incumbency-favoring/disfavoring gerrymander," wrote former Enfield and Elmira State Senator George Winner, who joined a pair of big-firm attorneys in a lengthy Petition filed in Steuben County State Supreme Court Thursday (February 3rd). The petition was filed on behalf of 14 plaintiffs, a sizable percentage of which were drawn from Tom Reed's 23rd Congressional District.
The Republicans' legal challenge followed State Senate and Assembly party-line votes Wednesday to approve districting maps that'll guide the next decade's elections for Congress. Democrats hold sizable majorities in both legislative houses, and the redrawn districts heavily favor the majority party. Analysts have predicted Democrats could gain as many as three Congressional seats in this year's elections, even though reapportionment will shrink the Empire State's Congressional delegation by one.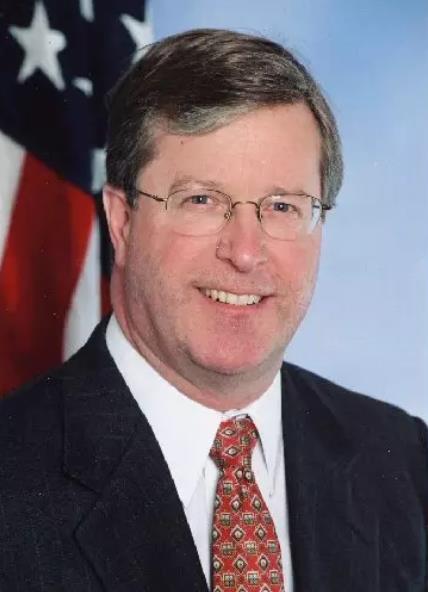 The lawsuit that former Senator Winner helped write dealt only with Congressional redistricting. It did not address a companion set of bills, adopted Thursday by Assembly and Senate, that redrew district lines for State legislative houses. It remains likely Republicans will mount similar legal challenges to the state legislative maps.
Governor Hochul signed both Congressional and State redistricting measures into law late Thursday. But she kept her bill-signing conspicuously low-key. Though Hochul's office released perfunctory texts of her signing statements online, the Governor's Office, as of Noon Friday, had neither referenced the signings on the Governor's official website, nor posted any press release on that site heralding her action.
The adopted Congressional maps would bring a dramatic change to Tompkins County's Congressional allegiances. The maps remove Tompkins County from the Southern Tier district of retiring Republican Tom Reed and place it in a radically-reconfigured 22nd Congressional District , one that would bond Ithaca with the likewise Democrat-leaning Syracuse. The 22nd is one of those that Democrats would hope to add to their quiver, especially since that area's Republican Representative, John Katko, plans to retire at year's end.
Thursday's legal challengers do not like the lines of the new district that Tompkins would join.
"In Congressional District 22, the Legislature removed Republican areas and replaced them with Tompkins County, including the city of Ithaca, to flip the district from a competitive Republican district to a strong Democratic one," asserts the Petition that former Senator Winner helped write. "As a result, Congressional District 22 underwent a massive political swing, changing from a very competitive Republican district to a strong Democratic district," the Petition continued.
Likewise, drawing the Petitioners' ire is District 24, that sprawling—though effectively chopped in two—behemoth that hugs Lake Ontario from the St. Lawrence River to the downstream doorstep of Niagara Falls.
"Indeed, this District now stretches across four media markets, connecting numerous areas, over more than 250 miles, with little or nothing in common," the newly-filed Petition states of the redrawn 24th, a district into which Democrats allegedly "packed" as many Republicans as possible.
"As a result," states the Petition, "the Legislature shifted Congressional District 24 from a highly competitive Democratic district into a very strong Republican district, designed to protect numerous surrounding districts from any serious Republican challenge."
While Democratic observers have discounted the prospects of any Republican challenge prevailing, Republicans during two days of legislative debate gave every indication they'd use the courts to upend the Democrat-drawn maps, since they'd found too few votes to defeat them on the legislative floor.
State Senate Minority Leader Robert Ortt telegraphed the expected legal action Thursday during debate on the state legislative lines. "It's my expectation that there will be," the Niagara frontier Republican said of a likely legal challenge. "The stakes necessitate" going to court, Ortt said.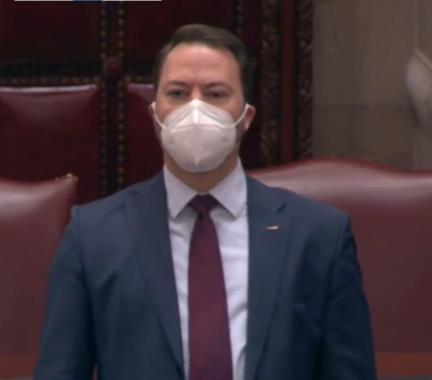 Indeed, the Petition filed Thursday makes clear the litigation was not the product of impulse. The pleading runs 67 pages, draws forth numerous comparison maps, and shows within itself the product of careful legal scripting.
In terms of its courtroom strategy, the Petition—authored by Winner along with a pair of attorneys from the giant national law firm of Troutman Pepper Hamilton and Sanders—makes two main arguments; one procedural, the other substantive.
The procedural prong: "First," the Petition states, "the Legislature had no authority to enact the new map because the Legislature did not follow the exclusive process for enacting replacement maps that the People enshrined through the 2014 amendments."
Petition authors refer to the voter-approved amendments ratified eight years ago that established New York's Independent Redistricting Commission (IRC), the bipartisan body that deadlocked last month and failed to hand forth a single consensus redistricting plan. The deadlock enabled legislative Democrats to intervene and take control. As a result, argued the document's authors, "the congressional map is entirely void."
In the Petitioners' minds, the only binding Congressional boundaries are those that the State Legislature drafted ten years ago, maps that are now outdated because populations have shifted and because the latest U.S. Census dictates that New York must forfeit one House seat in any event.
States the Petition, "This Court should expeditiously adopt a new map—prior to the impending deadlines for candidates to access the ballot—to cure the malapportionment now affecting the post-2010-census congressional map." By its appeal, the Petition asks judges to overrule the Legislature's unilateral drawing of Congressional maps.
But should the State Supreme Court find lawmakers, indeed, had the power they purport to possess, the Petitioners offer a back-up plan:
"[I]f this Court holds that the Legislature somehow had the authority to adopt a replacement map notwithstanding these procedural failures," Petitioners state, "this Court should reject it as a matter of substance, as the map is an obviously unconstitutional partisan and incumbent-protection gerrymander." It adds, "If this Court takes this approach, it should invalidate the map and then send it back to the Legislature to create a new congressional map, (a map) which complies with the law."
For whatever reason, the 14 private citizens bringing Thursday's action hail disproportionately from the current 23rd Congressional District, Tom Reed's home base. The lead petitioner, Tim Harkenrider, lists his residence as Canisteo. Perhaps it explains why parties filed papers in Steuben County. Other 23rd District petitioners include those from Wellsville, Gowanda, and Frewsburg; five plaintiffs in all. Still others joining the suit hail from Syracuse, Ulster and Rockland Counties, and also from Brooklyn.
Democrats' decision to slice away Greater Ithaca from the Tom Reed district prompted one of the Petitioners' many arguments to fault the adopted maps.
"The Legislature gerrymandered Congressional District 23 by 'packing' as many Republican votes into this district as it could, for partisan gain," Petitioners maintain. "The old district included some heavily Democratic areas in Tompkins County, but the Legislature removed those areas placing them in Congressional District 22, in order to flip that district." The argument continued, "As a result, Congressional District 23 became less competitive and shifted from a very strong Republican district to an uncontestable Republican district."
Utica-area Congresswoman Claudia Tenney, who recently announced plans to switch districts and seek to succeed retiring Reed in the 23rd, may secretly welcome those words.
****
The Republican-backed petition filed Thursday faults legislative Democrats for, among other things, refusing to subject their redesign to public hearings, releasing their work product on short notice, and paying little heed to the earlier maps the IRC had drafted despite the Commission's lack of consensus.
"This (legislators') map bears no resemblance to the two maps proposed by the IRC," argues the Petition.
"The Legislature's blatant gerrymandering has caused grave harm to Petitioners," the filing states. Attorneys say those they represent are Republicans, or at least generally vote that way. "Through this map," the Petition continues, "Democrats have essentially guaranteed that they will win more congressional districts—and thus more power—than is warranted by the party's popular support. As a result, representatives will subject Petitioners to laws and policies that do not fairly reflect the public will."
"Allowing this map to be enacted deals a crushing blow to the State's representative democracy and the faith of the People in those governing them." The Petition continues.
In her Thursday signing of the Congressional and State Legislature redistricting bills, Governor Kathy Hochul referenced only procedural necessity. The Governor conspicuously skirted the relative merits of either redistricting scheme.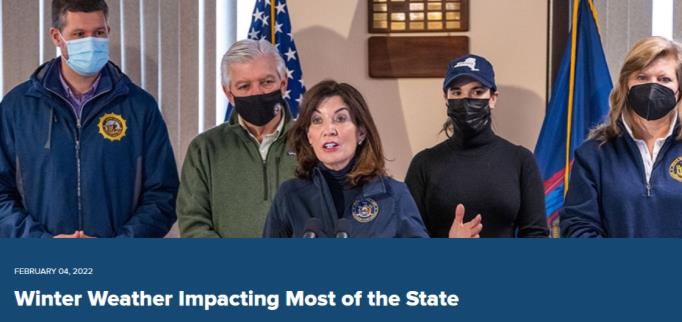 "Signing these bills will allow the boards of elections to begin the process of administrating elections with these new district maps, and will ensure that New Yorkers and candidates for elected office have the information they need with as much notice as possible to exercise their right to vote and participate in our democracy," Hochul's bill-signing documents thereby stated as a boilerplate justification for the Governor's speedy action. Based on the Governor's website, Hochul has said nothing more about the maps, her efforts Friday focusing instead on New York's early-February snowstorm.
Party petitioning for New York's June 28th Primary begins March 1st. Republicans had argued the Legislature could have postponed or shortened the petitioning window. Lawmakers refused to do so.
****
The New York Times has also reported on this story; See: https://www.nytimes.com/2022/02/04/nyregion/redistricting-lawsuit-gerrymandering-ny.html
###
Deja Vu; Day Two
Breaking: Assembly, Senate Approve Democrat-friendly State Legislative maps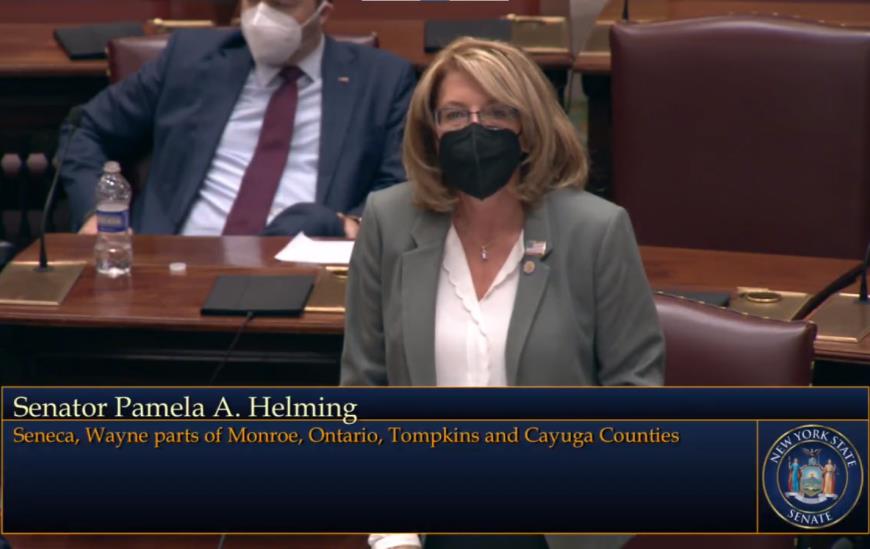 by Robert Lynch; February 3, 2022
The people outside of this chamber are sick of this nonsense."
Ballston Spa Republican Assemblymember Mary Beth Walsh summed up the minority's attitude as the Democrats in first the State Assembly, and then the Senate, muscled through at midday Thursday redistricting plans for their own legislative chambers, maps engineered by majority partisans and released only days before. Their latest votes followed by only one day legislative ratification of similarly-engineered Democrat-favoring maps for Congress.
Like the Congressional redistricting maps approved on Wednesday, the redrawn maps for State Senate and Assembly cleared the State's upper house on a party-line vote of 43-20. Lower house approval, where Democrats hold the larger super-majority, was more lopsided, 118-29.
The controversial maps—which critics contend represent gerrymandering at its worst—now go to Governor Hochul for her expected signature.
Most important to voters locally, the redrawn legislative districts—required every decade to balance populations statewide and reflect the latest U.S. Census—would, for the first time in several decades, place all of Tompkins County within a single State Senate District, one that would swing south from Tompkins and rural portions of Cortland counties and draw its major population core from Binghamton and western Broome County. The new 53rd District would heavily favor Democrats. Several from that party have already announced for this year's election.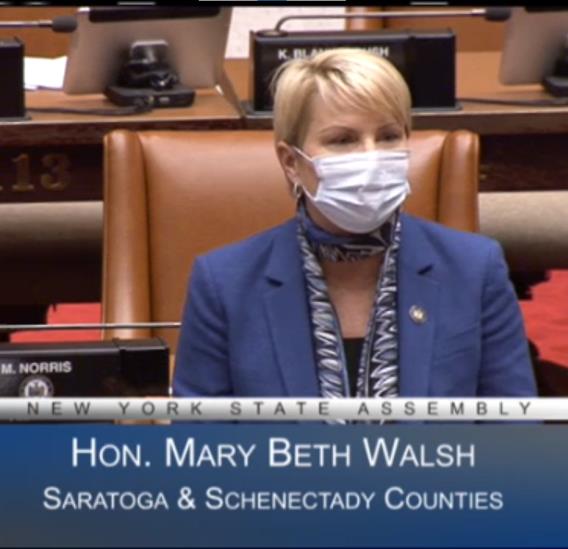 State Assembly lines for the Greater Ithaca area provide far less drama—in fact, no change at all. The legislatively-approved plan would keep the 125th Assembly District, the one held by freshman Assemblymember Anna Kelles, the same as it's been for the past decade. The 125th includes all of Tompkins County plus southwestern Cortland County, including the City of Cortland. Earlier in the redistricting process, Kelles had feared Cortland would be carved out of her district.
"I do not support a map that would separate Tompkins and Cortland completely into separate districts," Kelles had said in early-January as New York's Independent Redistricting Commission (IRC) tried—and then failed miserably—to fulfill a 2014 voter-driven mandate to draw lines without politician influence. IRC efforts to redistrict both Congress and the State legislature imploded late last month as even-numbered Democratic and Republican members of the panel deadlocked, forcing legislative leaders to intervene. Kelles voted in favor of the legislatively-drawn plan Thursday.
****
All three Republicans whose districts slice out chunks of Tompkins County voted against the Democratically-favored maps Thursday. Canandaigua-based Pam Helming, who represents Lansing, delivered among the more fiery critiques.
Democratic leaders "blatantly disregarded the State Constitution and the will of the people of New York State," Helming told colleagues in explaining her "No" vote. "This is why people have lost faith in our state government," she continued; and why, she reasoned, many have exited the Empire State. Those in this state are "sick and tired of politics as usual," Helming asserted.
Suffolk County's Alexis Weik picked up where Helming left off.
"It seems we have sour grapes being harvested by Democrats," Weik observed. "When was the last time Republicans held a super-majority in New York?" she questioned, concluding that the Democratic Party only seeks to fatten its growing partisan imbalance in both houses and cement veto-proof majorities. "This is a disgrace and a shame," Weik said.
Indeed, the State Senate's female membership Thursday seemed the most on fire. This is "partisanship run amok," chided upper Hudson River Republican Daphne Jordan. She called the final maps "a result of the majority's corrupt process."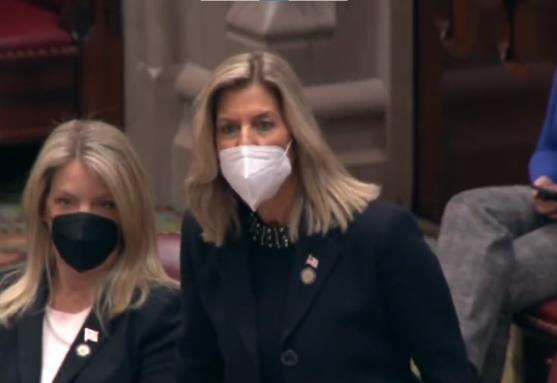 Republican State Senators, with good reason, fear that their rival party's tinkering will cost the GOP two, maybe three seats in this fall's elections, further depleting their shrinking ranks.
"This is a flawed process," said minority leader Robert Ortt. "It is not a transparent process," the Orleans-Niagara County Republican asserted. "New York City is picking up two additional seats." And, he added, "It's a violation of our Constitution."
Republicans have threatened a lawsuit. But for now, it's the Democrats who hold the power to make the redistricting plan prevail.
Majority Leader Andrea Stuart-Cousins defended both the maps and the process that produced them.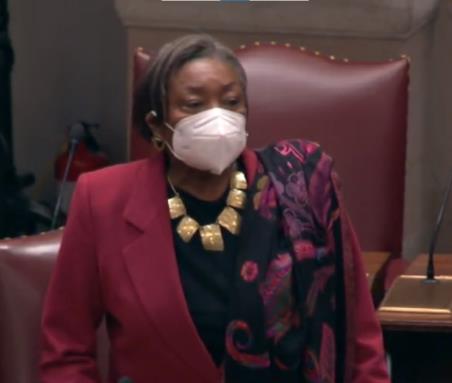 "We didn't do what the former majority did," argued Stewart-Cousins, who said that when the Republicans led the Senate they gerrymandered just as much. To the point, she said, they drew her own district to resemble a bearded old man. (It does!) "We have reflected where there's population growth," Stewart-Cousins said in justifying the Democratic redesign.
But through Thursday's entire debate—and especially from the more passionate Republican voices—a common moral may be drawn: No one party may be assigned exclusive blame for holding gerrymandering's partisan pen.
"You have lost the moral high ground to talk about what other states are doing," Republican Michael Lawler told his brothers and sisters across the Assembly aisle. "You are doing what you say everyone else is doing…. It shows disdain for the voters and a shredding of the Constitution."
Senate Republicans were set to caucus hours after they'd lost Thursday's redistricting vote. No indication yet as to whether a lawsuit may stand in the wings.
###
One Day Earlier, the Congressional Maps:
Legislature passes Congressional Redistricting Bill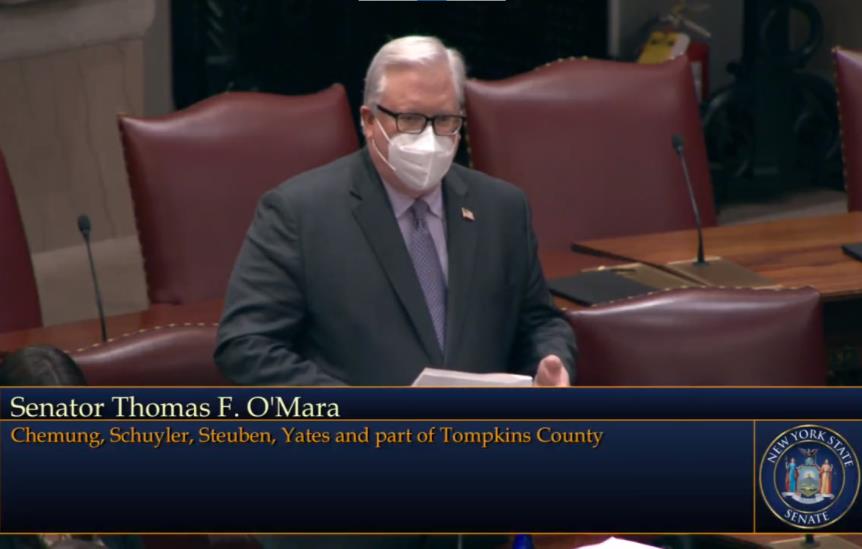 by Robert Lynch; February 2, 2022; additional reporting at 10:00 PM
The New York State Senate late Wednesday afternoon (Feb. 2nd) gave final legislative approval to a controversial redistricting bill engineered by legislative Democrats to reapportion the state's Congressional seats to provide their party's candidates a distinct advantage in this fall's elections.
The Senate, in a vote along party lines, approved the quickly-rushed redistricting plan, 43 votes to 20. Earlier in the afternoon, the State Assembly approved the measure 103-45. The bill now goes to Governor Kathy Hochul for her expected signature.
The legislative redistricting plan was engineered privately by majority Democrats and released to the public only last Sunday, less than three days before both chambers voted. Its submission followed failure by the state's Independent Redistricting Commission, its members equally divided between Republicans and Democrats, to compromise on a single plan that would adjust Congressional district boundaries to reflect the 2020 U.S. Census. Commission Democrats and Republicans had offered a series of competing plans. But their inability to agree on a common map prompted legislators to step in and draw the lines themselves.
Wednesday's Senate debate was marked by a lengthy, polite, but pointed exchange between Democratic bill sponsor Michael Gianaris of Queens and Southern Tier State Senator Tom O'Mara, the Republican whose 58th District covers Enfield and much of Tompkins County. O'Mara carried the charge for the GOP minority in its opposition to the Gianaris bill.
"This process is rushed," asserted O'Mara. "It's a sad day in New York State," he said, when "we can't give the citizens of New York State 72 hours to provide input."
O'Mara and his minority Republican allies wanted hearings. Democrats refused to provide them, Gianaris arguing on the Senate floor Wednesday that the political calendar is just too tight; that legally-set timetables call for party petitioning for the June primaries—those that precede the fall election—to begin as soon as late-February.
"The boards of elections need finality now," Gianaris insisted
"We could adjust our political calendar to get the information correct," O'Mara rebutted his Democratic sparring partner. He recalled when former Governor Andrew Cuomo just two years ago had shortened petitioning windows and lessened signature requirements amidst his fear that canvassers and those they visited might expose each other to COVID-19.
"The political calendar is easily altered by this body," O'Mara insisted, "yet we're racing forward with district lines that will be in effect for the next ten years."
"This was pre-ordained to fail," O'Mara said of the redistricting process. The Big Flats Republican suggested that partisan deadlock on the Redistricting Commission may always have been part of the Democrats' plan; a way for the legislative majority to co-opt the process, seize control, and thwart the will of the voters who'd created the bipartisan commission in a referendum eight years ago.
"It's a travesty," O'Mara said of this turn of events. "The public was clear in 2014 that the public wants politics out of the redistricting process as much as possible," He continued, "The citizens of New York have been left out of the process. They've been ignored."
"If it was designed to fail," Gianaris later told fellow Senators, "it was designed by them," meaning the Republicans, who held the Senate majority when the commission was created. "If you don't like the way it was designed, we (the Legislature) shouldn't have designed it that way."
All three Republicans whose districts cover portions of Tompkins County opposed the redistricting bill, Peter Oberacker and Pam Helming joining O'Mara in opposition. Tompkins County's Assembly Democrat, Anna Kelles, supported the measure in the lower house.
The Congressional redistricting plan ratified Wednesday would reorient Tompkins County's Congressional allegiances northward toward Syracuse, linking Tompkins with Onondaga County, as well as southern portions of Cayuga and Seneca Counties; northern Cortland County, including the City of Cortland; and the Ontario County City and Town of Geneva. (See related story posted here January 31st.) The new district would decidedly favor Democrats; and the only incumbent Congressman residing within it, Republican John Katko, plans retirement at year's end.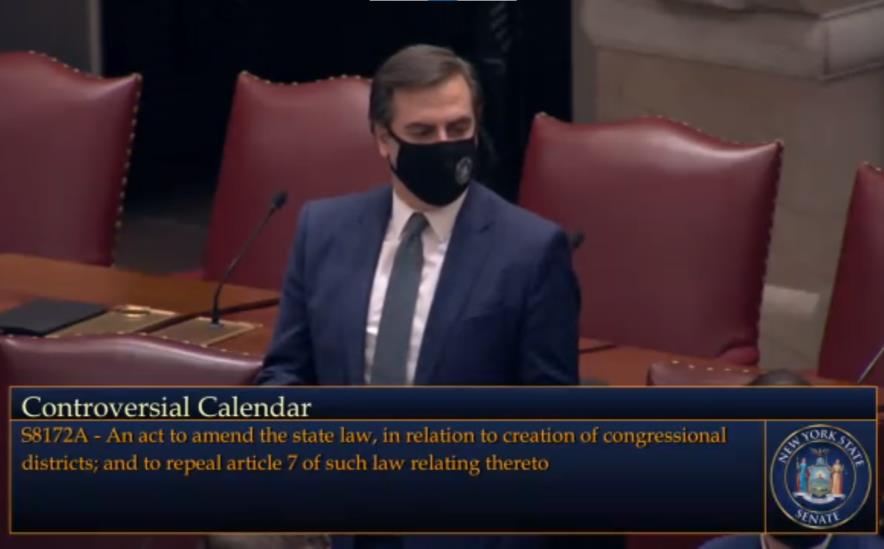 The geographic anomalies of upstate districts—most notably the sprawling, isthmus- connected District 24, (mostly) hugging the Lake Ontario shoreline from Youngstown to Alexandria Bay—never came up in Wednesday's Gianaris-O'Mara Senate face-off, but some downstate districts did. O'Mara questioned his debating rival as to why Democrats had failed to create a majority-Asian district, when he said they could easily have done so.
"You can't look at one district in a vacuum," Gianaris replied, defending the NY-6 District and its purportedly just 44 per cent Asian population. The downstate Senator equated Congressional map-drawing to a jigsaw puzzle, where as you "put all the pieces together," not all goals can be reached.
And why, asked O'Mara, are there no districts with voting-age, majority African-American populations? Instead, adjacent districts are "40 per cent African-American," the Big Flats Senator stated.
Gianaris, in part, explained away the absence by arguing the Census has not released voting-age data. But the Queens Democrat also seemed to side with those who see crowding blacks into a single district as one of gerrymandering's greatest sins.
Such a majority-minority district would diminish the voting strength of African Americans, Gianaris argued.
O'Mara then went on to blast an "egregiously distorted" Long Island district (NY-3) that looking from the map appears to connect Nassau County to mainland Westchester only by suspension bridges.
There was "extensive public input," concerning redistricting options, Gianaris insisted, deceptively leaning not on public reaction to the current plans, but rather on the many hearings the Redistricting Commission had held to gauge opinion on outdated maps Democratic leaders chose to toss into the trashcan. He questioned why, in his words, his Republican colleague was so "riled up."
"We are a little riled up," O'Mara retorted. "Why did this State Senate body not convene one Public Hearing on the map?"
"We didn't have time to do so," answered Gianaris, citing, as always the petitioning clock.
We'll be doing this all over again tomorrow, the downstate Democrat predicted, commenting after the Congressional maps cleared the Senate with members voting the party line.
Likely they will. Similarly-conceived legislative maps drawing new lines for State Senate and Assembly districts could see action as soon as Thursday.
###
Consulting charges unlikely to draw down Community Recovery Fund
by Robert Lynch; February 1, 2022
It was unfinished business; a can the Tompkins County Legislature had kicked down the road during a committee-of-the-whole meeting eight days earlier. And when lawmakers finally acted Tuesday night (Feb. 1st), their decision likely will put more of the County's much-promoted Community Recovery Fund into the hands of human service agencies and leave less syphoned off for bureaucratic overhead.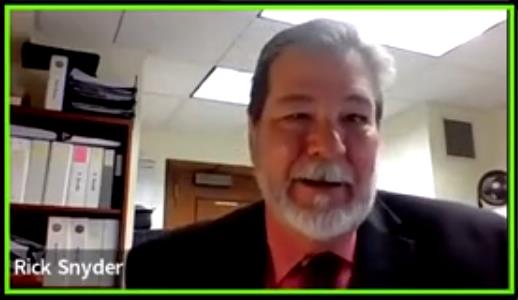 By a 10-3 vote (with legislator Henry Granison excused) the Legislature tentatively decided to tap the County's hefty, eight-figure Fund Balance to underwrite the consulting fees that the Recovery Fund will certainly incur. The Legislature expects its yet-to-be-chosen consultant would sort out competing grant applicants and make funding recommendations. The alternative course would be to pay consultants from the Recovery Fund itself.
As it currently stands, the Community Recovery Fund, set to be distributed to nonprofit service agencies later this year, totals just over $6.5 Million. Estimates given at the earlier meeting of the Legislature's Expanded Budget Committee had pegged consulting fees at between $200,000 to $1.6 Million, depending upon which of four competing bidders the County chose.
"If we would say we're going to pay it from some other source, then we have to find that other source," warned County Finance Director Rick Snyder, who cautioned legislators the money cannot legally be subtracted directly from the catch-all Fund Balance to pay the consultants without first passing through some intermediate account.
Moreover, said Snyder, "I don't want to really keep coming back to the trough time and time again for smaller amounts," like those consulting fees. The Director said he'd prefer one big draw on Fund Balance, tying the multi-Million Dollar Recovery Fund and its consulting costs together in a single transfer.
"I think it should come out of the Seven Million," said Dryden's Mike Lane, one of the three who opposed the extra spending (as did Legislature Chair Shawna Black.) Colleagues quickly reminded Lane that the Recovery Fund no longer carries a full Seven Million total, as lawmakers had pared it down by nearly $500,000 last fall to support county budget add-ons.
As explained in a series of meetings since last summer (see the most recent story, posted here January 26th), the Community Recovery Fund would provide a partial de facto substitute for the federally-supported American Rescue Plan (ARPA), of which nearly $20 Million is headed to Tompkins County in post-pandemic relief. Instead of directly assigning ARPA to fund human service needs, the Legislature last July directed the federal moneys to government operations instead, mostly to new building projects. As roughed-in by the committee last week, legislators would parcel out the Recovery Fund in grants as small as $10,000 or as high as several Million. The Enfield Food Pantry has become a commonly-mentioned beneficiary.
It remains possible that legislators will later reverse course on their Tuesday vote. "I can support the concept tonight, but I don't know how I'll vote on the final Resolution," cautioned Groton's Lee Shurtleff. Newfield-Enfield legislator Randy Brown shared the hesitancy of Shurtleff, his cross-county Republican colleague.
Legislators deliberately declined Tuesday to nail down a fixed-dollar set-aside for the fund's consulting. Some worried they might inadvertently telegraph to potential consultants how much money to expect.
"If we say, OK, we'll set aside a Million Dollars," Budget Chair Deborah Dawson asked, "will we be bidding against ourselves?"
****
Tuesday's Legislature meeting, shorter than most and with a lighter agenda, brought to the public for the first time a statistic that has eluded locals for months. County Public Health Director Frank Kruppa reported that approximately 41,000 local residents have so far received a COVID-19 booster shot. If correct, that number would mean that over half (54%) of the 75,000 already-vaccinated Tompkins County residents have achieved full, boosted protection.
"We never got it from the State," Kruppa said of the long-sought booster statistic, "so we had our data people dig into the system and do their magic and get us that number."
Statistics aside, Deputy County Administrator Amie Hendrix advised legislators that the Saturday, January 29th mall-based booster clinic probably served as the last of its kind for a while. "We're not planning to do another one of those in the immediate future" Hendrix said of the booster clinics.
###
Update to Legislative Redistricting:
Legislative leaders release maps for State Senate and Assembly; Tompkins Senatorial Split may end
(Tuesday, Feb 1st): Two days following release of their proposed redistricting maps for Congress, leaders of the Democrat-controlled State Senate and Assembly Tuesday (Feb. 1st) released proposed redistricting maps for both of New York State's legislative houses. The maps are likely to win adoption.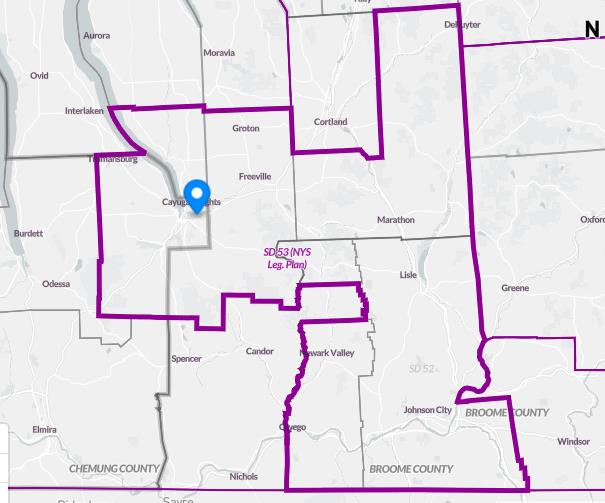 Most notable locally, the State Senate map would, for the first time in decades, place all of Tompkins County within a single Senate District. Similar, though not identical, to the map drawn by Democrats on New York's ill-fated Independent Redistricting Commission, the legislative leaders' map would bind all of Tompkins County with parts of Cortland, Broome and Tioga Counties, including much of the Binghamton metro. It would jettison Elmira- and Corning-based territory, the power base of Republican incumbent Tom O'Mara.
By its design, the 53rd District map is drawn to heavily favor Democrats. And it would not include home turf for any of the three Republican State Senators now representing portions of Tompkins County. All would reside outside the 53rd District.
While the Senate district would include parts of Cortland County, it would not encompass the City of Cortland. And whereas the most recently proposed Senate map by Democrats on the Independent Commission would have joined Tompkins to more of the western reaches of Tioga County, the legislative map would skew more to rural Cortland and northwestern Broome Counties.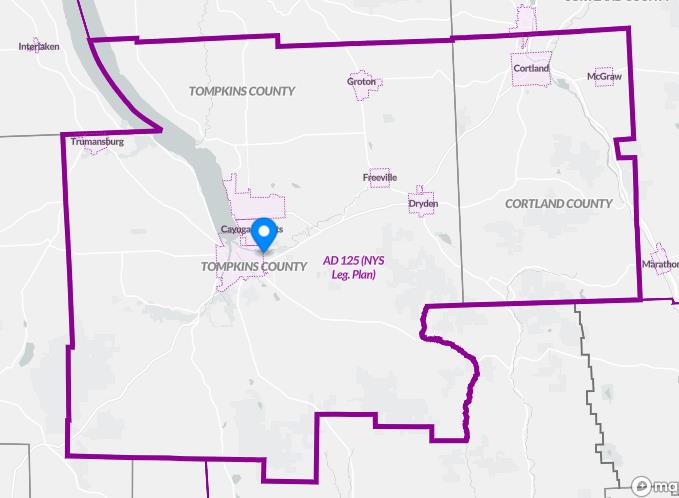 As for the State Assembly, if adopted, the legislative leaders' map would quell late-day jitters by incumbent Democrat Anna Kelles. Whereas some redistricting designs would have chopped the City of Cortland from Kelles' Democrat-friendly 125th District, the legislative leaders' plan—perhaps benefiting from Kelles' own input—would retain 125th District lines as they've been for the past decade. All of Tompkins County would remain included in the Kelles district, as would the City of Cortland and Village of McGraw.
###