"Let's Move On"
James Ricks named to Enfield Board; Supervisor seat still open
by Robert Lynch, posted December 16, 2020, last updated December 21, 2020, 8:25 PM
"I have not heard any negative opinions about James Ricks per se. So we're not talking about James Ricks. But we're talking about the vehicle whereby a political group within this community that wields disproportionate power, sometimes from behind the curtain, has tried to engineer something whereby a person who is so eager and has such a feeling of entitlement to be Supervisor is being elevated to Supervisor via the back door. And I have been told by so many people, often quietly, Stand Your Ground, Bob."
Councilperson Robert Lynch, Dec. 16th, explaining his initial reluctance to appoint James Ricks to the Enfield Town Board.
****
With Town Clerk Ellen Woods officiating and Councilpersons Virginia Bryant and this writer looking on, James Ricks took the Oath of Office late Monday afternoon (Dec. 21st) to become the Enfield Town Board's first African-American member.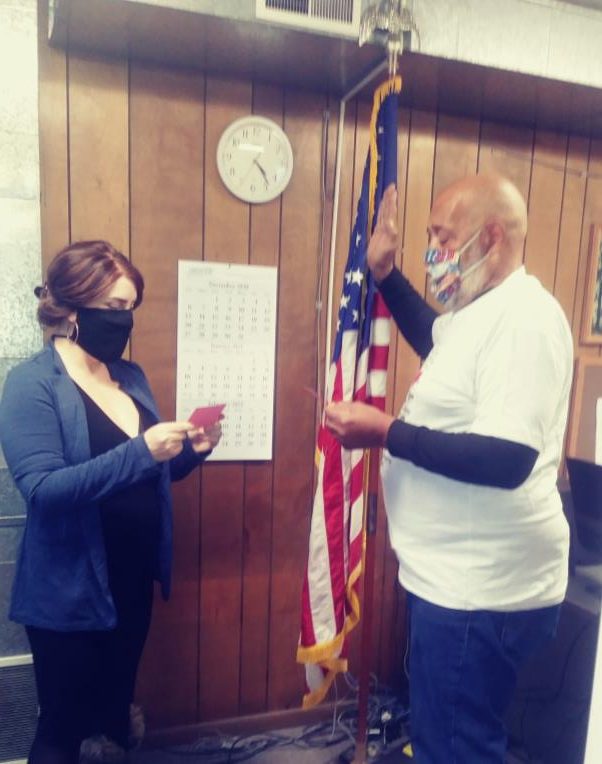 Ricks' appointment to succeed Councilperson Stephanie Redmond, who resigned December 9th—yet who still very much seeks the open post of Town Supervisor—came Wednesday night, December 16th only after two of those remaining on the Board, aided by more than a dozen members of the public, leaned heavily upon the Board's third remaining member, Robert Lynch (this writer) to abandon his earlier plans to delay Ricks' appointment for almost a month.
"In a perfect world, I would rather keep this position open at least until mid-January, the Councilperson position, so that others who might be out there listening, watching tonight who said, boy, I'd like to have a seat on that Town Board, that they might be able to then apply," said Lynch.
But in bowing to the intense pressure placed upon him from both within and outside the Board, the holdout lawmaker retreated. "I don't want to keep this Board in a state of suspended animation for any longer. I will vote for James Ricks to be elevated to the Town Board tonight. Let's move on."
It took some 45 minutes of verbal arm-twisting by colleagues, and by Ricks himself, to force Lynch's change of mind, followed by the Board's unanimous vote. With the Enfield Board two members short—resulting first from Supervisor Beth McGee's resignation September 30th, and then Redmond's potentially strategic departure earlier this month—Lynch held the pivotal third vote to accord Ricks' the legally-required majority.
The Town Board Wednesday never raised the more contentious issue of a Supervisor's appointment. Redmond eagerly seeks the promotion. Members Virginia Bryant and Michael Miles support the elevation as well. But Lynch has urged the Board to keep the post vacant through next year's elections. Once Ricks, a perceived Redmond ally, joins the Board in January, the aspirant could secure the votes she needs to advance.
A 71 year old grandfather and Enfield resident since 2004, James Ricks has never held local elective or appointive office. He describes himself as an activist, having involved himself in social justice and anti-war crusades. He applied in November for the vacant Town Board seat now held by Miles, and was one of only two who'd sought that appointment.
Though the Enfield Board this fall delayed for more than a month filling the prior Councilperson's vacancy, Board members Bryant and Miles this time sensed greater urgency, neither favoring the delay that Lynch had urged, especially with a diversity-enhancing African American eagerly waiting in the wings.
"This is a huge risk and danger," said Miles of the Councilperson's vacancy, "because, you know, we have no Supervisor and a non-voting Acting Supervisor and a razor thin Board and we've had multiple resignations this fall." He added, "And, you know, we're in the middle of a mass pandemic that we haven't seen in a lifetime." Miles warned that one more illness or resignation could make the Board "nonfunctional."
Though Stephanie Redmond remains Acting Supervisor and presides over Town Board meetings, a status held solely because of her prior appointment as McGee's deputy, Redmond cannot cast votes since resigning as Councilperson. Ricks' appointment would return the Board's voting strength to four.
"Get this Board up to speed and move forward as quickly as possible," counseled Bryant. Bryant praised Ricks as a highly-recommended willing learner. "And he's also got the wherewithal to sit on the Board and listen and learn and express (himself) extremely well," she added. "I really feel it's an insult not to appoint him."
Addressing the Town Board's zoom meeting directly, Ricks said he sensed, but could not truly understand, a perceived "undercurrent" of controversy surrounding his appointment; even to the point of "vitriol." Lynch offered an answer:
"James, that undercurrent that I think you're talking about is what I see as political manipulation of this whole process and… that your appointment was being seen as the Second Act in a three act play. (The) goal is to appoint one particular person to Town Supervisor. The first step was Stephanie Redmond's resignation last week. The second would be your appointment as a Councilperson. And then this, the third step, the final step, would be your support of Stephanie Redmond as Town Supervisor, thereby circumventing my potential abstention. And that's what I see as the undercurrent."
"And so you see why you are a key link in the chain," Lynch added. Toward dispelling his own suspicions, Lynch suggested Ricks recuse himself from any subsequent Supervisor's vote. Ricks declined to do so. Bryant termed recusal "inappropriate."
Lynch stressed he finds nothing disqualifying about the newest appointee's record, though he cited the newcomer's lack of governmental experience, a deficiency Lynch pledged to help him remedy. Ricks returned the compliment.
"I've even told people after listening to the meetings, man, like if I was in war, you'd be the guy I'd want in the foxhole right next to me," Ricks said of Lynch, though quickly adding, "But we're not at war here."
****
As many as fourteen Enfield residents, past or present, voiced their opinions at Wednesday's zoom session, providing Ricks'—and also, potentially, Redmond's—appointments lopsided endorsement. Reverend Olivia Armstrong, the only African-American addressing the Board, praised Ricks as "passionate" and "community-oriented."
"You have a good choice. We have a good pick," said Armstrong of Ricks. "He'll fight. He'll go to jail. He'll do anything for the fight for justice."
Former Supervisor Beth McGee weighed in as well, urging Board members, especially its two male Councilpersons, to seize their opportunity to cast aside white privilege.
"A majority of white men serve here as gatekeepers to yet another Councilperson vacancy," observed McGee, who then posed to those men her questions. They included, "What do I lose by making space at the table for people who are different than I am;" and "Why is it important to me to keep people of color outside of the spaces where decisions are made about our community?"
There was yet a further idea McGee posited, one almost lost in the night's deliberations over Ricks. The ex-Supervisor, Redmond's mentor, suggested her former deputy boldly decline the Supervisor's appointment were it offered to her. As McGee would have it, Redmond could continue as Acting Supervisor, yet dispel purported "conspiracy theories" surrounding Redmond's alleged strategic moves.
"The Acting Supervisor doesn't need an appointment to Supervisor to be the incumbent," McGee insisted.
But the former Supervisor's suggestion never met its test. The Enfield Board delayed Redmond's promotion until another day.
What may have been tested, however, were Enfield leaders' nerves, minds and patience. Acting Supervisor Redmond inadvertently sought votes on the Ricks' appointment twice, forgetting that Town Clerk Ellen Woods had already called the roll. At about the same time, Redmond silenced Woods' online mic after the Clerk bluntly chastised the Acting Supervisor for alleged "abysmal, elitist," and abusive treatment.
And focusing on the insular intrigue that surrounded the Ricks and Redmond appointments, last year's losing Supervisor candidate, McGee's opponent, Amanda Kirchgessner, after introducing Reverend Armstrong to the Board, weighed in with her own assessment:
"I think it's really important that you focus on the greater task at hand, which is making sure that the people of Enfield are actually getting their basic needs met right now. So you guys need to get your act together, period; end of story."
###
Why I Changed My Mind
Leadership requires an open mind. I'd intended to complete our Town Board's Wednesday, December 16th Special Meeting standing my ground, not budging on my plans to delay appointing James Ricks (or, for that matter, anyone else) to the Town Board prior to soliciting a new round of applications for Enfield Councilperson. In my mind, transparency demands ample opportunity and public participation, especially when a Town Board, here, by necessity, usurps the voters' prerogatives and elevates a private citizen to public service.
Just as when Mimi Mehaffey resigned in October, and we filled her vacancy with Michael Miles one month later, Enfield cannot safely operate with a mere three-person Board, the bare legal minimum for a quorum.
Yet I would have preferred assessing public interest before three of us on the Board unilaterally make an appointment. Reopening the application process engages the public to its maximum extent, short of a Special Election.
Of course, that did not occur. My two Board colleagues passionately, emphatically supported our immediately filling the Councilperson's vacancy. The public weighed in. James Ricks stood as a ready candidate. He will provide our Board racial diversity; economic diversity as well. I will work with James. I trust we will work together well.
Nonetheless, you, our Town's constituents, deserve an explanation. Some of you may say I "retreated." Well, likely I did. Others may say I "caved." Perhaps. But good leadership demands thinking on one's feet; responding to changed circumstances and expressed public opinion; recalibration; and yes, compromise.
I harbor no political illusions. My change of course that Wednesday night may set into motion a chain of events that elevates Stephanie Redmond to Supervisor through the end of 2021. Don't get me wrong. I hold no animus against Stephanie. It's only that you, my –our –constituents have asked through a petition, emails, Town Board floor privileges and personal interactions, that the office of Town Supervisor remain unfilled through the 2021 Election. I will work to fulfill your preference. It'll be harder now. But work to answer your request I will.
What follows is an explanation of my changed opinion, given impromptu, unscripted, and certainly not planned, before the Enfield Town Board, Wednesday night, December 16th:
****
I'd like to say something at this point, and I think it's something that will be welcome to some of you.
Earlier this year, I had a real rough time, I felt very unwelcome on this Board, even though I was duly elected as a member and I felt I was not given proper respect. As I said last meeting, I have a very thick skin and I don't let it bother me. But it does bother me from the standpoint of the constituents I represent who deserve to have a voice on the Board. And a lot of things that were said and a lot of actions that were taken that I didn't approve of. And I don't think that my views were properly respected.
I also believe that turnabout is not fair play. And just because I may have been slighted in January and March and July doesn't give me the license to do so in December.
I've heard a lot of comments from my colleagues on the Board. I have heard comments, sincere comments from members of the public and I have taken them into due consideration. In a perfect world, I would rather keep this position open at least until mid-January, the Councilperson position, so that others who might be out there listening, watching tonight who said, boy, I'd like to have a seat on that Town Board, that they might be able to then apply and be considered in January.
They may not come forward. They may come forward. But if they do come forward, they have a second opportunity. They can get petitions and go door to door in February and March and April. I think if they're Independents, maybe they do it in May, and get on the ballot and run in the November election.
And I don't want to prolong the agony. I don't want to keep this board in a state of suspended animation for any longer. I probably will abstain in the vote for Supervisor because people have been emphatic in telling me they want to keep the Supervisors position open. I'm sure we're not voting on that tonight. We can't vote on that tonight. If we tried to vote on that tonight, I would definitely abstain. And because we don't have a Councilperson sworn in, I wouldn't be able to—that wouldn't pass.
But I have never heard anybody in the community object to James Ricks as being on the Board. The only concern I've heard people say is that he's a little bit inexperienced. And I think that's true, and I guess we're all going to have to teach him a little bit about governmental operations. And I hope that I can be as much of a teacher as anybody else on the Board.
I won't belabor it. I will vote for James Ricks to be elevated to Town Board tonight. Let's move on.
###