Firing Prompts Floor Debate over Communication Director's Role
by Robert Lynch, November 5, 2022
Dominick Recckio's name never got mentioned. But Deidra Cross's did. Cross, former Trumansburg stringer for the Tompkins Weekly newspaper, insists Recckio got her fired. Others, including Tompkins County, where Recckio serves as its Communications Director, dispute Cross's assertion. The Recckio-Cross firefight wound its way back to the floor of the Tompkins County Legislature November first. This time it took the form of competing speeches, first by Republican Legislator Mike Sigler, and then, some 15 minutes later, by freshman Democrat Veronica Pillar.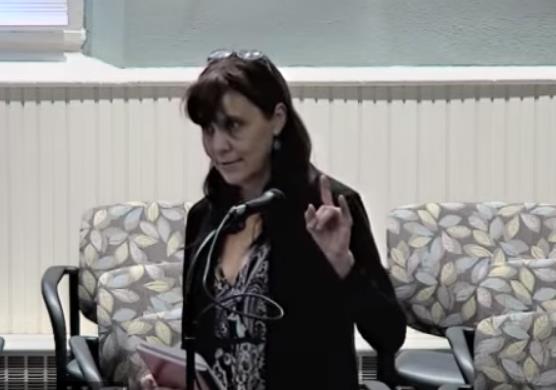 The two contrasting narratives couldn't differ more. Sigler called for appointment of an outside lawyer to review the propriety of Recckio's questionable actions. Pillar defended the Communications Director. She commended him for using the County's stature and soapbox to "push back" on the reporting of words "not helpful," or unbeneficial to humanity's best efforts.
Both statements deserve their complete airing … and in their fullest context. We will do that in a moment.
For those who scrounge for news in the right places (especially on this website), the issue at the heart of the Recckio-Cross controversy becomes this: Where does one draw the line between government advocacy and First Amendment meddling? In April, Deidra Cross profiled conservative activist Rocco Lucente, and Tompkins Weekly published her report. Then in early-August, Cross quoted Trumansburg Mayor Rordan Hart when he alleged that the Ithaca-County collaborative to Reimagine Public Safety had made it harder for emergency crews, including Trumansburg's ambulance service, to answer medical calls.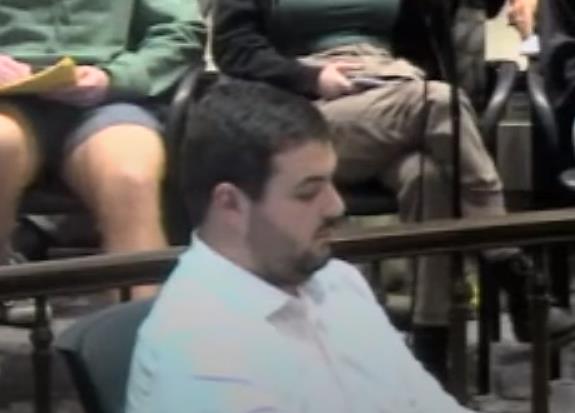 In messages uncovered thereafter, Recckio pushed back on these stories to the Tompkins Weekly editor. And shortly after the Rordan Hart story ran, Deidra Cross lost her job.
Ithaca City Alderperson Jeff Barken laid bare the alleged retaliatory firing on the Common Council floor September 7th. Tompkins County Attorney Bill Troy hastily cleared Recckio of any wrongdoing. From her podium September 20th, County Legislature Chair Shawna Black defended Recckio and chastised Barken in what this writer then described as a "rambling, defensive, nearly 700-word monologue."
But when Cross, herself, trooped to the Legislature in early October, all Hell broke loose. Cross availed herself of three minutes of legislative floor time and brushed ever-so-close to the body's never-mention-an-employee-by-name civility rule.
"See you in court," was Deidra Cross' parting shot. The Legislature's presiding officer answered that she'd welcome it. No love lost. Expect litigation. (See story, posted here, Oct. 6.)
****
So the November first meeting of the County Legislature brought with it dueling perspectives. First, and reading from his prepared text, Mike Sigler (Edited here only slightly for brevity):
Sigler: "[The proposed 2023 Tompkins County Budget, subject to a Public Hearing November 7] makes large strides in public safety. We're adding two Sheriff's deputies in that budget; a homeless coordinator, which we expect, hopefully, will present us with several options on dealing with rising homeless populations; an EMS coordinator, who, I hope, will lead to flycars and better EMS service.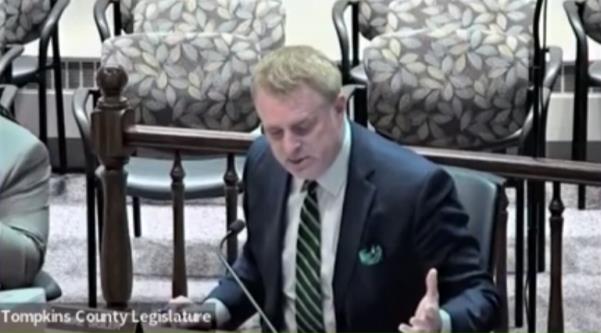 "This has been a solid response from the County. But a response to what is also a good question.
"These additions can be traced back to calls from mayors, town supervisors and City Counselor Jeff Barken. This was reported on by Deidra Cross. And I believe her reporting in this matter really brought a level of awareness that led to some of these additions. And that, frankly, is what good reporting is supposed to do.
"However, while the public was served well by that reporting, Cross was not. She was fired by her paper, and I believe that was in large part because her of reporting. Recently, a trove of emails were FOIL'ed and released by the County. The emails raised concerns about how the County relates to the press. In one email from April 13th, the County raises concerns about [conservative activist] Rocco Lucente, calls into question the veracity of his opinions, and makes disparaging remarks towards him. In my view, this is outside the bounds of how the County should relate to the press.
"In light of these FOIL'ed documents, I would ask the County to hire an outside counsel to review them, interview the relevant personnel, and present the County with not just legal opinions on liability or lack thereof, but ethical questions as well.
"While the decision to fire the reporter who was one of the subjects of these emails was the newspaper's, it did evolve from email complaints about stories from the County.
"At the end of September, I wrote a letter to the Chair of the Legislature. I didn't then and still don't think the situation with Cross, the County, and Tompkins Weekly is as cut-and-dry as I've been led to believe. I've read the stories in question, and I'm not seeing any factual inaccuracies.
"I share the opinion that Reimagining [Public Safety] has undermined services, particularly recruitment. The process was harmed, I believe, at the very beginning by Mayor Svante Myrick, and in some quarters it has just never recovered. And unfortunately for residents, these quarters are our police officers. This opinion from me is not new. I've been vocal about the lack of respect that accompanied Reimagining harming our police. That's been continually denied by the [legislators.] But clearly, I am not alone in this opinion.
"I believe the firing of Cross complicates this situation quite a bit. The Ithaca Voice reports that some are looking at Cross as a citizen and not as a reporter. That strains credibility. Cross was a known reporter. To look at her any other way would be odd. It's clear from her firing that it stems from her reporting and the County's request for correction. I don't think that we can be blamed for the actions of Tompkins Weekly legally. But ethically, I'm not really so sure. We have two sides coming out with very different take-aways…."
[Legislator Sigler concluded his remarks with additional commentary critical of Reimagining Public Safety.]
****
Then later, unscripted, at the conclusion of legislator comments, Democrat Veronica Pillar:
Pillar: "On the topic of partisanship and respect… in replying to Mr. Sigler's speech….
"I'd like to remind folks that respect is one of our four core County values. That's very important. And I see from everyone in this room respect on a continuous basis.
"There are definitely folks that've [I've] interacted with in this community who don't necessarily display this value. In particular, we've definitely got some vocal white supremacists in this county, who might not use that word, but are—you know, every so often, you hear folks repeating and perpetuating harmful, Alt-Right rhetoric that kind of boils down to, like, some people are better than others. Or you see, like, hate symbols being displayed on the Commons, and [by] other folks at other places. I live in the City. So I'm more aware of that.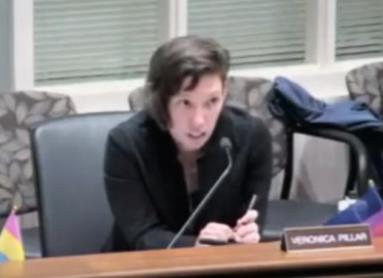 "I once had the displeasure to watch some of these folks rejoicing as one of them set a Black Lives Matter flag on fire in the pavilion in the middle of Ithaca. That's not great. That's not helpful. These are understatements.
"And so when the language and statements that come from some of these folks are not necessarily going to be true and not necessarily going to recognize everyone's humanity—and you know, everyone has a legal right to say whatever they want. But if we notice this kind of rhetoric being, like, put out publicly, I think it's incumbent upon anyone who does to push back and shut that down.
"So if some of our County's employees are doing that, you know, gently, respectfully, keeping in mind that we are here to advance respect and equity and accountability and integrity throughout the county, then I would commend that. I would commend our employees for speaking up. I hope we all would. And I'm disappointed that some would see that as a problem."
****
And there is where we leave it, yet only for now. Two opinions; two standards for what a County Communications Director should do and what he shouldn't. Rordangate, if you wish to call it that, has widened the gap between Left and Right in our legislative chambers. To demarcate the bounds between responsible advocacy and journalistic intimidation, at least in Tompkins County, remains very much a matter of personal, and political, opinion.
And Deidra Cross remains indecision's victim.
###