Enfield Board approves summer Highway staff; Video streaming
by Robert Lynch, July 24, 2020
Highway Department summer staffing, an issue that found itself vying to dominate the news cycle on one local radio station earlier in the week, was quickly resolved Wednesday (July 22nd) by the Enfield Town Board through a unanimous vote.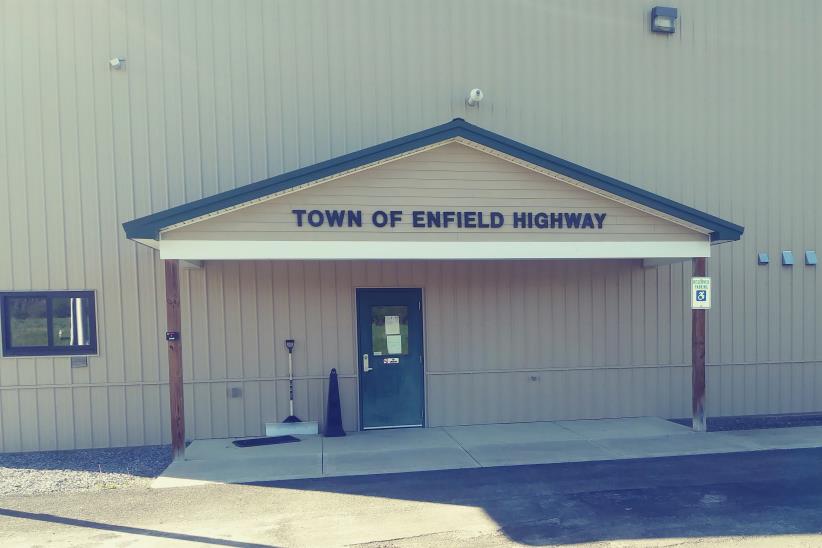 With Councilperson Virginia Bryant excused, the Board voted 4-0 to exempt from the Town's self-imposed hiring freeze retention of a summer part-time employee requested by Highway Superintendent Barry (Buddy) Rollins.
The seasonal position, a traditional fixture to supplement the Town's five-person highway workforce during its prime construction season, became an issue this year only because of the Town's COVID-19-related financial constraints and a Town-wide hiring freeze imposed April 15th.
The position, already funded in the 2020 Budget, prompted brief, yet emotional debate at the Board's July 8th meeting, when Councilperson Stephanie Redmond recommended Rollins hire a young intern through Tompkins County's Summer Youth Employment Program (SYEP), a trainee free to the Town. Rollins countered that the position demanded a more experienced employee and insisted Highway Law permitted him to hire whom he pleased.
The highly-edited Rollins-Redmond exchange, downloaded from Town Board audio minutes, found itself repeated hourly, albeit belatedly, earlier this week on Station WHCU.
But on Wednesday, Redmond altered her prior position, acknowledging that the job requirements fell outside those suited to an SYEP intern and that full Highway Department summer staffing now makes sense.
"We have to move forward in getting projects done in the Town," said Redmond, "because we may have another (COVID-related) shutdown coming up in the fall." She also conceded that the summer hire needed to be skilled in heavy equipment operation and "more than just a flagperson."
While Supervisor Beth McGee suggested Rollins' legal interpretation eliminated the Board's need to act, Councilperson Robert Lynch (this writer) persuaded the Board to adopt the exemption just to "make it crystal clear" Rollins held the authority to hire.
On a second matter, the Town Board authorized Trumansburg video consultant Rene Carver to purchase and install at the Enfield Community Building equipment to enable live web streaming of future Board meetings. The installation would cost $2,500 for equipment; $1,200 for Carver's professional assistance.
Supervisor McGee and Board members have welcomed the increased public attendance since the pandemic forced them to switch to virtual meetings. The Board seeks to encourage continued interest after members return to their normal meeting room.
"It's great to have access," said Councilperson Redmond, noting the benefits that online attendance would provide the disabled, parents with child care needs, and for attendees on winter meeting nights with "bad roads."
###
Enfield Board advances Elective Office Changes to Referendum
by Robert Lynch; July 22, 2020; updated July 23, 2020
In a series of 3-1 votes with one member excused, the Enfield Town Board Wednesday (July 22nd) advanced to Public Referendum two controversial and publicly-opposed local laws that would end the elective offices of Highway Superintendent and Town Clerk when incumbents Barry (Buddy) Rollins and Ellen Woods current terms expire in December 2021.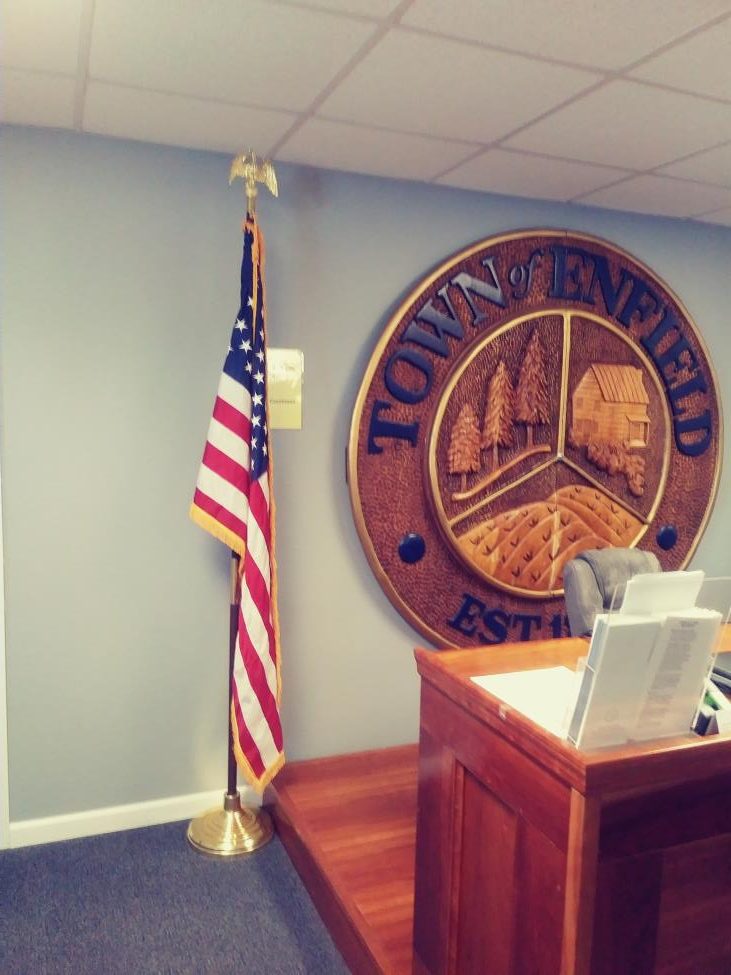 The Board's action, in defiance of public sentiment expressed at Wednesday night's two public hearings, means Enfield voters will decide this November whether the elective offices would become Town Board-appointive positions, taking future control of those offices out of the hands of Enfield voters.
Both Highway Superintendent Rollins and Town Clerk Woods attended the Board's zoom conference meeting and spoke out strongly against the proposed changes. At least 15 Enfield residents also spoke at each of the sequential hearings, most saying without question that they prefer to keep both offices elective. Several more submitted written comments expressing similar views.
To place each of the initiatives on the November ballot, the law required two votes. Each time, the same three people, namely Supervisor Beth McGee, and Councilpersons Stephanie Redmond and Mimi Mehaffey, voted in their favor. Councilperson Robert Lynch (this writer), repeatedly cast the lone dissent. (Councilperson Virginia Bryant had been excused.)
Board supporters of the two ballot measures placed a unique spin on the lopsided public opposition, insisting it actually proved support for holding the referendum, not abandoning it.
"I feel the residents have clearly said they want a choice. So here's your choice," argued Redmond.
"I've heard resoundingly almost to a person that they want the choice. They want to choose. They want to be able to have their voices heard," said Mehaffey, concurring with Redmond's interpretation, but remaining noncommittal as to her vote in November.
"I wonder if you heard the same hearing that I heard tonight," Lynch responded. "Public Hearings have a purpose. And the purpose tonight was for people to say they don't want the change. So why bother?"
Lynch said in light of the Board's action, ignoring public sentiment, "a cynical public is going to say that these Public Hearings were farces."
Lynch presaged the issue would "tear this town apart" in the fall, a term Redmond faulted as evincing "a lack of professional behavior," since to her, constituent input does not tear apart a town unless people are "acting really unprofessionally."
Town Clerk Woods delivered the hearings' most passionate comments as she alleged the Board's majority had declared "open season on myself and the Highway Superintendent." Woods asserted that some Board members have already begun to "wage a destructive campaign of fault-finding" in attempts to adopt laws that other towns, including, recently, Ulysses have found to be "unpassable."
"I have faced constant accusations, most often unfounded, fantastical and baseless, with always exaggerated (claims) and lacking any semblance of grace," Woods said, referring to recent criticisms leveled against her by McGee and other members, often through Town emails. The Clerk added, "I do not trust some members of the current Town Board with my future."
Later in Wednesday's meeting, Woods further alleged that those she described as "the female members of the Board" have undertaken "an elaborate pink-collaring" of her aimed at silencing her voice, degrading her status, and reducing her "imagined value per hour" beneath that of similar professional women.
Other hearing comments often struck a common chord:
"I think this effort is a waste of time and unfortunately, quite misguided," said former Board member Greg Stevenson. "Can it and move on."
"This is a no-go," said former Supervisor Ann Rider, echoing majority sentiment.
It's "taking even more power from people who don't have very much power in the first place, said Gray Road's Cortney Bailey, arguing to keep the positions elective. "Granted, the voters don't always make the best choice, but at least they have a choice this way," she added.
Though Woodard Road's Joanna Green acknowledged "the electorate doesn't necessarily actually have a good handle on who's the most qualified," Green said she'd trust the electorate more than the Board to make the right choices and that Board-made appointments would be "too ripe for cronyism."
Rollins defended his elective position saying he'd prefer "over 3000 residents" of the Town to hire and fire a Highway Superintendent, rather than hand it to a three-member Board majority, many of whom, he alleged, are still learning their own jobs, let alone his.
"Who on the Board right now can honestly say they understand highway work and (highway) law enough to choose a Superintendent?" Rollins questioned.
Only former Enfield Councilperson Becky Sims testified in favor of advancing the office changes to referendum. But even Sims acknowledged she probably would not vote for making the positions appointive. Instead, she favored the referendum so as to enable a ballot initiative of some kind to occur in the interests of democracy.
Supporting the referendums, Supervisor McGee saw November 2020 as a prime opportunity for a vote, given the massive turnout likely in a Presidential election year. McGee further asserted that the "intimidating" and "aggressive" conduct she's sustained at Enfield meetings during her years in office, lead her to conclude that "the only place that a resident can make this choice safely is in the privacy of the voting booth."
McGee again confirmed that she would resign as Supervisor before the November election, a move she's suggested doing since March. She promised to vote on the measures, but only as a citizen, and not campaign either for or against their passage. McGee also accused Lynch and Rollins of making "sexist and misogynistic comments" against female Board members.
But though McGee may have judged his words differently, Lynch remarked before his final votes, that he felt "a little sad" for his colleagues, all of them women. He called those colleagues "good people; honest, able citizens." Yet Lynch predicted they were "writing their defeat in the next election." He also warned Redmond that if she runs next year for Supervisor, as most suspect she will, "You're going to have an uphill climb."
###
Amid fiscal warnings, Tompkins lawmakers extend 17 furloughs through year's end
by Robert Lynch, July 22, 2020
Seventeen Tompkins County employees, each furloughed since May as administrators cut costs to cope with the coronavirus, had hoped to return to work within days. They will not.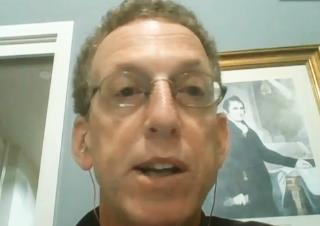 By a vote of 12-2, the Tompkins County Legislature Tuesday (July 21st), adopted Administrator Jason Molino's recommendation and extended the 17 furloughs through year's end. The positions' fate beyond December remains uncertain.
The unspecified 17 staffers stand among 96 the County initially furloughed in early-May, either full-time or half-time. All layoffs had been scheduled to end with this month, but the 17 will now be extended as the Administrator cautioned sales tax revenues could be smaller than he'd earlier forecast and State aid cuts deeper.
"Bottom line: I think you're very much in a financial crisis, just as you are a public health crisis. I don't think that's changed," Molino warned lawmakers.
The extended furloughs, expected alone to save the County $250,000, are key to Molino's mid-year, COVID-wary, budget readjustment. His multi-point cost-reduction effort also includes reducing fourth-quarterly payments to local support agencies and delaying some capital projects. Molino predicted total cost savings of just over $1 Million.
As to the County's alternative financial forecasts, "The mild scenario has gotten worse, while the severe scenario has leveled or gotten a little bit better," Molino observed. Nonetheless, by the Administrator's projections, the "mild" budget option would still cut deeply. It forecasts State aid to the County would tumble by 20 per cent and sales tax receipts fall by more than 15 per cent. Molino's "severe" scenario forecasts a 30 per cent cut in Albany aid and even less sales tax money.
The forecasts still predict college students will return to local campuses this fall. "If students don't return," Molino warned, "it will make economic recovery more challenging."
Molino stressed that continuing to idle the 17 workers does not abolish their positions. The County would provide them health insurance. But ongoing Congressional bickering may deny them federal stimulus checks of up to $600 weekly, a benefit that's softened the impact of their unemployment to date.
Only Legislators Dan Klein and Amanda Champion opposed the extended layoffs in Tuesday's vote.
"There definitely will come a time when we might have to decide to let people go," admitted Caroline-Danby legislator Klein. "But for now I don't think we've looked at all the options of what we could do to keep these people employed, because for me, that is pretty much the top priority."
Making his soft-spoken, yet impassioned plea, Klein suggested the County consider alternatives such as replacing one fewer bridge, delaying a "special project," or awaiting more federal stimulus money to "backfill" the predicted deficit. Klein also suggested tapping the County's significant fund balance.
"We have a responsibility to employees, absolutely, but we also have a responsibility to the taxpayers," countered Dryden's Martha Robertson. "We're going to have to do a lot more things and more painful things, I'm sure," she added. Robertson disputed Klein's suggested use of the fund balance. She warned the County's "piggy bank," its fiscal cushion, could deflate with the souring economy.
Robertson's colleague, Deborah Dawson, agreed. "I wouldn't frivolously cut loose any County employee," she assured colleagues. But "we have to make these carefully considered decisions in order to meet our primary obligation which is to our constituents as taxpayers, by keeping the county fiscally healthy for as long as this crisis lasts." The self-described "budget Debbie-Downer" predicted she'd vote not only for Tuesday's furloughs, but also "for other nasty things in the future."
The five-month extended furloughs would supplement the County's earlier-announced hiring freeze which continues to leave 30-35 vacant positions unfilled. Yet at no time during Tuesday's 45-minute doom-filled, discussion did Molino or any lawmaker dare reference a most glaring exception. In mid-June, amidst heightened sensitivity following the Minneapolis killing of George Floyd, Molino, with tacit Legislative praise, split apart from the freeze and resumed his search to recruit the County's first-ever Chief Equity and Diversity Officer. A singular rarity among rural counties upstate, the Diversity Officer, who would receive more than $130,000 in annual salary and benefits, would scrutinize county decisions for signs of systemic racial bias.
The absence of the Diversity Officer's position in Tuesday's discussion, and the lack of any legislative interest in revisiting its necessity, made clear to any observer that despite promises to eschew frivolity and furlough only with regret, certain sacred cows reside within the County Legislature's stable, positions beyond any cost-cutter's reach, or even beyond their mere mention.
"We're going to have to make really hard choices over the next couple of years," Ulysses-Enfield's Anne Koreman said of the furloughs, concluding Tuesday's discussion. "This is just one of them."
Hard choices, perhaps. But also choices that place certain priorities above others.
###
County Officials err on caution's side in applying tough State masking rules
by Robert Lynch, July 16, 2020
Check all the boxes: Are you sitting in an office? Yes. Is someone else in the room with you, even at six feet? Again, Yes. Well, as Tompkins County health officials see it, socially distanced or not, you'd still better be wearing a mask.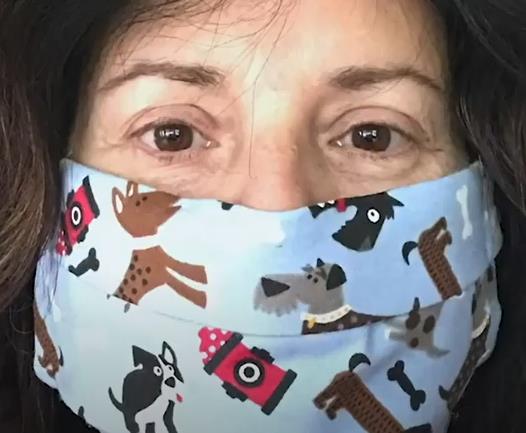 "It's a gray area," admitted Tompkins County Public Health Director Frank Kruppa, in a morning conference call with municipal leaders Thursday (July 16th). But even if socially distanced, one-on-one in a closed office, "I would continue to caution you to wear a mask."
Kruppa's somewhat equivocal, perhaps overly-cautious advice came as local officials wander through bureaucracy's weeds attempting to improvise the limits to newly-codified State Health Department regulations, released Monday, to fight COVID-19. Those rules mandate that every New Yorker, unless under age two or medically-excused, "shall be required to cover their nose and mouth with a mask or face-covering when in a public place and unable to maintain, or when not maintaining, social distance."
The 20-page Health Department edict, fast-tracked without public comment and ever-so conspicuously mirroring Governor Cuomo's myriad of recent Executive Orders, also defines social distancing as six-foot separation, limits public gatherings in some parts of the State to as few as ten people, and imposes maximum fines of $1,000 for individual violations.
While revealing heavy-handed gubernatorial influence with its every word, the renamed and expanded Part 66 of the State's health rules grants increased permanence to the month-by-month Cuomo edicts, sharpens their enforcement teeth, and also may provide Cuomo some bureaucratic cover to blunt newly-raised criticism by civil libertarians of his one-man war against the coronavirus.
Trumansburg Mayor Rordan Hart, whose question prompted Kruppa's mask-leaning recommendation, pushed back to the local health chief, questioning the necessity of masking for "client appointments," where, for example, he said, a lawyer and client sit across an eight-foot table from each other. Hart argued masks impede candid communication.
Kruppa suggested that the meeting room's size and its ventilation system might affect whether masks must be worn. He also acknowledged reality. Authorities could pursue a violation only if someone later complained.
Kruppa and County Administrator Jason Molino addressed enforcement issues mainly in terms of business compliance. Molino speculated that the State had imposed the tougher penalties to force the hand of some larger merchants found previously unwilling to police their patrons.
Again, municipal pushback: The Town of Groton's conferee complained enforcement—and fines—fall on the business, even when it's the customer who refuses to obey the rules. "If someone wants to walk into a store, how do you stop them?" he asked.
When Molino responded with aspirational appeals to community, saying that protecting others is an "individual responsibility," the conferee remained unconvinced. "Responsibility is on the individual," he said, "but the fine is on the business."
"But individuals can be fined too," Molino answered. The County Administrator did not elaborate.
Molino and Kruppa have yet to respond to this writer's questions, posed to them in an email after the call, as to how aggressive Tompkins County health officials intend to pursue individual masking violators, whether offenders stand alone or in groups.
Conferees, including Dryden Supervisor Jason Leifer, raised a second, often-asked question Thursday. When will COVID-19 testing become available locally to the general public? Local authorities hedged.
Two weeks ago, Governor Cuomo crowed that any New Yorker who wanted a COVID test could get one. But Cuomo neglected to mention that universal testing applies only to State-run facilities, the nearest of which are in Syracuse or Binghamton. Local testers limit patient eligibility to persons with COVID symptoms, those in known contact with an infected person, or to narrowly-defined essential employees.
"We're struggling with the reimbursement," Kruppa responded, noting that the local Cayuga Health Systems' drive-through site restricts eligibility because the federal government won't mandate that insurers pay for testing asymptomatic persons.
"It's not that anyone who walks up can get tested," the Health Director conceded.
###
Community Council scrambles to compensate for COVID-closed camp
by Robert Lynch, July 9, 2020
"Logistically, it couldn't happen. The kids would be miserable. It wouldn't be a fun time."
Those the words of Enfield Community Council (ECC) President Cortney Bailey in explaining to her Town Board Wednesday night (July 8th) why ECC has canceled its yearly summer camp amid fears of the coronavirus.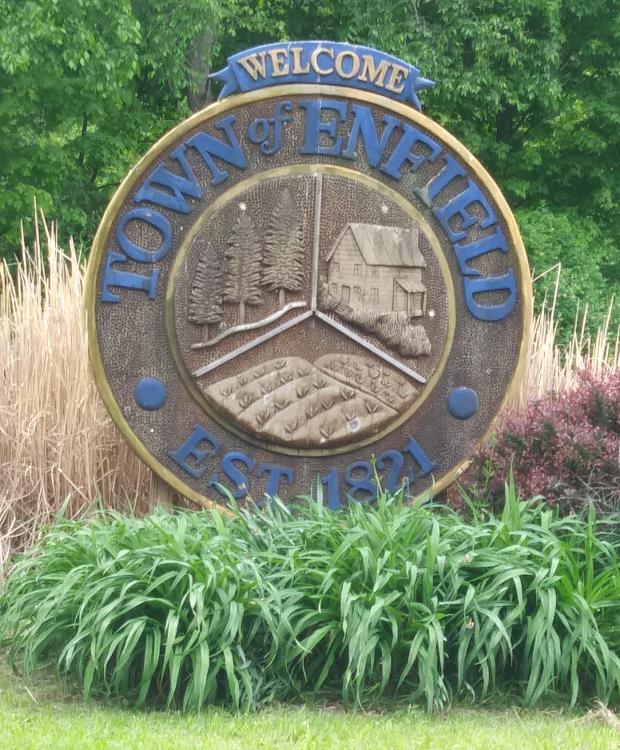 Bailey described the daunting logistics. All participants would need to be masked all of the time. Attendance would be limited to 50 children. There'd be no swimming; no field trips; and worse yet, the unthinkable, she said:
"All it would take is one child who was ill and we would have to quarantine every child, every family of the child, every worker and every family of that worker for COVID."
Instead of summer camp, Bailey said, ECC will sponsor a series of four-day programs, a hybrid of on-line instruction and in-person sessions hosted by the Enfield Youth Program's Educator. All would comply with CDC and State guidelines. The first of the programs, "Nature Explorations," begins July 13th. A program on photography takes place the following week. ECC opens its summer programs to youth ages 10 and older.
But Bailey said it "wouldn't be right not to pay" those who'd planned for the camp that never happened. She advised the Board that expenses remain. Bailey estimated ECC incurred about $6,400 in staff time; another $7,600 in partially camp-related liabilities, plus the $3,900 needed to underwrite the programs that'll take camp's place.
Bailey indicated ECC still plans to hold this September's Enfield Harvest Festival, State rules permitting.
In other Enfield Town Board business Wednesday:
The Board received, but at Supervisor Beth McGee's request, did not open two sealed bids submitted by companies proposing to construct a grant-funded small-scale solar project on Town-owned land near the highway garage. Before bids are opened, the Town will seek legal advice on whether one bid, tendered a few days late, can be considered; and also whether both bids may be defective for their sponsors' lack of mandated pre-bid site inspections. The Board rejected an earlier round of bids in January.
In a process that parallels that of Tompkins County, Supervisor McGee said she will prepare two tentative 2021 budget options for the Board to consider this fall. One would keep departmental spending at current levels; the second would cut current-year spending by 12 per cent.
And the Board began planning for its return to in-person meetings, perhaps as soon as August. The Board may legally meet online only so long as Governor Cuomo permits it, and his waivers granting month-to-month extensions now run only through August 5th. Nonetheless, members agreed they should continue an online presence. They took initial steps Wednesday toward securing the equipment to enable interactive streaming from their meeting room.
###
Inaction kills prospect for speedy reapportionment of Tompkins Legislature
by Robert Lynch, July 7, 2020
With ten seconds of silence at the close of its three-hour meeting Tuesday, the Tompkins County Legislature almost certainly killed any prospect of redistricting itself for nearly five years, perhaps for even a full decade.
Despite the urging of some (including this writer), the Legislature declined Tuesday to begin drafting a local law that would shorten legislators' next terms of office from four years to two years or even less, a change thereby enabling a population-rebalanced Legislature to be seated sooner in the decade. All legislative terms come up for election next year.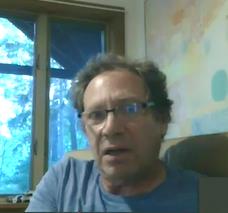 The proposal for shortened terms initially died with a tie vote in mid-June. Any of the six members present Tuesday who'd earlier opposed the measure (a seventh, Mike Sigler, was excused Tuesday) could have resurrected it for reconsideration. But invited to do so at Tuesday's meeting's close, none did.
Lawmakers agree they'll have too little time to reconstruct districts next year. So, without cutting those future terms short, 2025 becomes the earliest voters could elect a reapportioned Legislature.
Inaction has frustrated redistricting's supporters, particularly Dryden's Mike Lane, who's threated to propose weighted voting to rebalance those imbalanced districts should they maintain outdated boundaries longer than needed.
"I feel ever so strongly that this is a constitutional issue of equal protection and that all Legislators should recognize it, and understand their obligation to bring equal voice to the people who reside in the various districts," Lane stated in late-June. "The County Charter provides for redistricting after the Census every ten years. We need to recognize that and take action."
Yet inaction seems the more likely course. Indeed, an opinion by County Attorney Jonathan Wood, shared in a "confidential memorandum" to legislators, but discussed publicly Tuesday, could, further discourage lawmakers from redrawing their lines, even before the next decennial census in 2030.
Wood said Supreme Court decisions indicate unless the highest- and lowest-population districts differ by more than ten percent—and he publicly doubted the 2020 Census would reveal that—maintaining existing lines is "presumed constitutional."
"By 'presumed' that doesn't mean it's necessarily constitutional," said Wood. But barring complications like racial gerrymandering, "it almost always is."
Should new data keep any population differences under ten per cent, therefore, according to Wood's analysis, nothing would need be done, now or later. The attorney even suggested more recent cases have successfully stretched the threshold beyond ten per cent.
"Obviously anybody can sue," acknowledged the attorney. "There's no 100 per cent guarantee." But he concluded a court challenge "more likely than not" would fail and that the Legislature "could make its decision based on what it thought was the right thing to do."
For legislator Lane, that "right thing to do" is balance. But just as with shortened terms, Wood said any initiative toward weighted voting would require a public referendum.
Tompkins County's governing body, then the Board of Representatives, attempted weighted voting some 40 years ago. Members disliked it. Enfield Councilperson Robert Lynch, (this writer) addressing the legislature Tuesday in writing, called it "voting by calculator." He added, "Let's use the better, fairer method, namely proper reapportionment."
On June 26th, the Tompkins County Council of Governments (TCCOG), on which the Enfield Councilperson sits, endorsed reconsideration of speedy redistricting.
However, those opposing the change, including both of Enfield's legislators, Anne Koreman and David McKenna, cite various concerns about shorter terms. They note the lack of a legal mandate, extra election cost, putting county elections out of sync with those for town governments, and potentially creating a repeat of the current year's dilemma in 2031.
###
Absentee Ballots seal Kelles' landslide win in Assembly Primary
Van Houten reverses Primary night upset and tops Kopko for DA
by Robert Lynch, July 6, 2020
A forty-something nutritional epidemiologist and Trumansburg native who'd never held elective office until she ran for county government five years ago, now stands poised to take her seat representing Enfield and all of Tompkins County in Albany.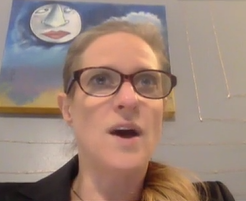 Capping a seven-way, two-county campaign conducted amid the constraints of the coronavirus, a race where the average voter could be forgiven for not remembering every candidate's name, Fall Creek legislator Anna Kelles Monday (July 6th) secured the Democratic nomination to succeed the retiring Barbara Lifton in the New York State Assembly, Kelles' win cemented as the final Absentee Ballots were counted by the Tompkins County Board of Elections.
Meanwhile, in the race for Tompkins County District attorney, the Absentee Ballot count reversed the Primary night upset that machine-based returns had first suggested. With all ballots now counted, incumbent D.A. Matthew Van Houten successfully fought back a challenge from Ithaca attorney Edward Kopko. The final count put Van Houten in the lead with 5,863 votes (51.5% of those showing a preference) to Kopko's 5,518 (48.5%). Just 345 votes separate the two.
In the Assembly race, final tallies from the June 23rd Primary, still unofficial, yet unlikely to significantly change, awarded Kelles a landslide win. District-wide, Kelles secured 5,500 votes (34.9%), both machine-cast and absentee, more than 2100 votes above the total for second-place finisher, Ithaca City Alderperson Seph Murtagh.
The combined Tompkins and Cortland County votes in the 125th Assembly District put Murtagh second with 3,337 votes (21.2%); Assemblyperson Lifton's legislative aide Jordan Lesser third with 2,242 votes (14.2%); Ithaca attorney Sujata Gibson fourth with 1,755 votes (11.1%) and Dryden Supervisor Jason Leifer fifth with 947 votes (6.0%).
Though they each secured more support in their home county than did any competitor, Cortland County's candidates, Beau Harbin and Lisa Hoeschele, trailed badly in Tompkins County and District-wide. Monday's totals put Harbin slightly ahead of Hoeschele, 765 votes (4.9%) to Hoeschele's 734 (4.7%) in the two counties. Cortland County completed its Absentee count last Friday.
In Enfield, legislator Kelles racked up an even bigger win than within Tompkins County overall. Of the 423 Enfield Democratic votes cast, Kelles came in first with 183 votes (43.3%), compared to Murtagh's second-place finish at 74 (17.5%) and Gibson's third-place standing at 62 (14.7%), just ahead of Lesser. More than twice as many Enfield voters backed Kelles as they did Murtagh.
The June 23rd Democratic Primary proved a first-time logistical experiment in the brave new world of mail-in voting. To encourage safety during the COVID-19 pandemic, Governor Cuomo, for the first time, permitted any New York voter to request an Absentee Ballot. Most who voted accepted the invitation. More than two-thirds the Tompkins County votes cast in the Primary were by absentee. Some have proposed officials repeat the procedure come November.
When legislator Kelles carries her race into that fall election, she'll face Republican and Libertarian nominee Matthew McIntyre. During prior debates, Kelles' Democratic opponents had pledged not to wage an independent campaign should a rival become the party's nominee. They have yet to reiterate their adherence to that promise.
In the District Attorney's race, neither a Republican nor an Independent candidate has entered so far to challenge the Democratic Party's nominee.
###
Counted mail ballots signal for Kelles a likely landslide win
by Robert Lynch, July 3, 2020
Barring a last-minute, nearly-impossible statistical surprise, Fall Creek legislator Anna Kelles stands poised to win the Democratic nomination to succeed the retiring Barbara Lifton in the New York State Assembly, based on newly-counted Absentee Ballots in both Tompkins and Cortland Counties.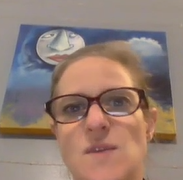 With the tallying of those mailed ballots completed in Cortland and likely to be finished within days in Ithaca, campaign sources report Kelles, the far-and-away front-runner in primary night machine balloting, now leads second place Ithaca Alderperson Seph Murtagh in Tompkins County by nearly 2000 votes, the estimate based on the sum of machine totals and those Absentee Ballots that have been counted so far.
Late Thursday afternoon, the Cortland County Board of Elections completed its Absentee Ballot count. Cortland's combined totals put Kelles solidly in third place, behind Cortland's hometown favorites, Beau Harbin and Lisa Hoeschele.
However, Cortland County's contribution to the overall tally in the 125th Assembly District dwarfs that of Tompkins. Tompkins County's voters, machine-cast and mail-in, comprised a full 88 per cent of the District's June 23rd Democratic Primary electorate.
A spokesperson at the Tompkins County Board of Elections said late Thursday that its office would likely complete Absentee Ballot counting early the following week, perhaps Monday or Tuesday, after pausing for the three-day holiday weekend. The Tompkins Board has not released any partial tabulation of its county's absentee votes.
Though the running totals point increasingly to a Kelles landslide win in the seven-way Democratic Primary, no other candidate has yet to concede, and Kelles has yet to claim victory.
A campaign source indicated that those Tompkins County's Absentee Ballots counted so far include the City of Ithaca, and the towns of Dryden, Danby, Enfield and Caroline. The Board has not released town-by-town breakouts. The source claims front-runner Kelles won every single district counted so far in the absentee tabulation, except two. In those two Dryden districts, Jason Leifer, Dryden's Supervisor, registered first, and Kelles second. Leifer has trailed at best a distant fifth in most other areas.
Cortland County's tallies, modest as they are, prove the home field advantage. In its final counts, Cortland County Legislator Beau Harbin led (machine-vote plus absentee) with 554 votes (29.2%), followed by Hoeschele, also of Cortland, with 502 (26.5%). Ithacan Kelles registered third with 306 votes (16.1%), the only other candidate to break solidly into double-digits. Jordan Lesser, Assembly member Lifton's legislative assistant, garnered just ten per cent, with Murtagh, Tompkins County's second-place favorite, struggling with just eight percent support among Cortland County voters.
The absentee counting from the June 23rd primary has become a first-ever experiment for Tompkins, Cortland, and election boards throughout the state. It could also be a dress rehearsal for this fall. To limit exposure to the coronavirus, Governor Cuomo, for the first time, allowed any primary voter to cast an Absentee Ballot. Public interest exploded, with some 11,000 Absentee Ballots requested in Tompkins County, with exactly 9,309 of them returned. More than 1,300 Democratic ballots were also returned in Cortland County precincts comprising the 125th District. (Cortland also had a Republican Primary for Congress.)
On Primary night, Kelles, a five-year veteran of the Tompkins County Legislature, led with 32.8 per cent of the District-wide machine vote, 13 points ahead of second-place Murtagh. Her Tompkins County share was 36 per cent; her Enfield share 46.6 per cent. Kelles stood then as the candidate to beat. Tallies so far have done nothing to alter that assessment.
###
Local officials, hospital blindsided by Governor's call for universal COVID testing
by Robert Lynch, July 2, 2020
Think before you speak. Good advice. Maybe someone should tell that to Governor Andrew Cuomo.
Wednesday, July first, in a return of his increasingly-regular noontime news conferences, New York's Chief Executive assured all New Yorkers, not just a select few, that if they wanted a COVID-19 test, they could get it.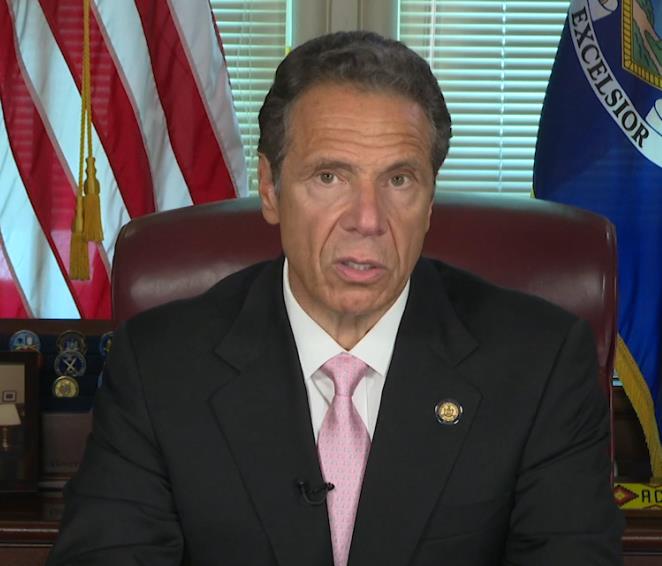 "We're now opening testing to all New Yorkers. We have that much capacity," proclaimed the Governor in prepared remarks delivered in New York City. "All New Yorkers can now go get a test, and what I'm saying to a New Yorker today is, 'Go get a test. It doesn't cost you anything. It doesn't hurt.'"
Only "hurt" depends upon whom you ask. Button-hole a hospital administrator. Cuomo's confident, boastful words stand poised to upend the New York health care system, including the testing facilities set up locally by Cayuga Health System at the Lansing mall, and touted as one of the region's best.
"I don't see in the foreseeable future that our criteria will change," cautioned Amanda Empson, a scheduling supervisor for Cayuga Health's drive-through testing site.
Testing criteria, for now, Empson reiterated, remain as they've been for weeks. Eligible candidates must be those showing COVID-like symptoms; those who've been unprotected around a known COVID patient during the last two weeks; those recommended for COVID testing by a doctor or a contact tracer; or a health care worker, a first responder, or an essential employee.
The general healthy public, for now, despite the Governor's assurances to the contrary, remain out of luck.
Judging by Cuomo's comments, however, the Executive lives in a different state (of mind, at least) where test kits are plentiful and capacity stands in excess.
"We have so increased our testing capacity that we can expand our testing criteria," touted the Governor. Cuomo spoke Wednesday only in the past tense about restrictive, now purportedly abandoned criteria that restricted testing to "people who were exposed to a positive person, people who were essential workers, people who are in nursing homes." Nonetheless, locally, those old rules still apply.
As of midday Thursday, Cuomo had not buttressed his casual assurances with the strength of an Executive Order.
What's more, in a Thursday morning conference call with local municipal leaders, Deputy Tompkins County Administrator Amie Hendrix acknowledged another governmental failure of foresight: Those who most need COVID-19 testing may find it hardest to get.
"Those coming in from out-of-state need a doctor's order to be tested," Hendrix advised her conferees.
Governor Cuomo June 24th imposed a 14-day quarantine on anyone arriving from certain states, like Florida, the Carolinas, and Texas, locales deemed COVID hot spots. Logic dictates that those traveling here from such places would stand first in line for testing. Yet that's logic, not New York. According to Hendrix, out-of-staters first require a doctor's consent, even if by long-distance.
Moreover, the rules are a little "tricky," warned Cayuga Health's Empson. The criteria for testing, she said, do not include out-of-state travel. "Even with permission from a personal care provider, there's not a guarantee they will be tested."
"Take a test. And it's now open to everyone," proudly proclaimed Cuomo on Wednesday. No, sorry; not here, not now.
###