by Robert Lynch, Posted January 17, 2023
Chair Shawna Black, in her "State of the County" Address to the Tompkins County Legislature Tuesday, January 17:
"I am honored to report that the State of Tompkins County is strong…. We're addressing our community's most pressing challenges: mental health, homelessness, food insecurity, climate change, and housing, while maintaining efforts critical to our central service delivery."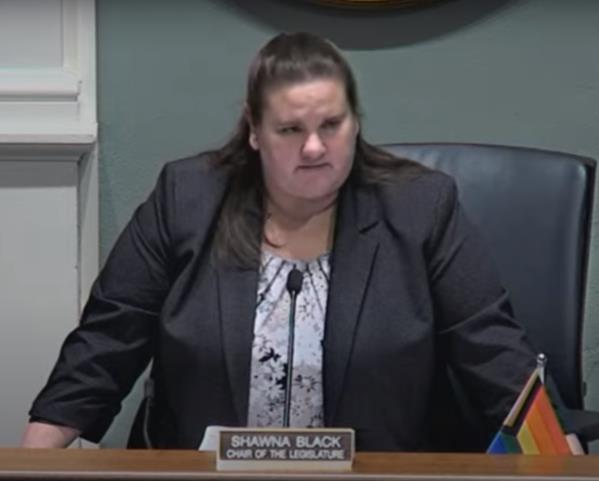 All right, Madam Chair, let's look real closely at that third-listed priority: Food Insecurity. And let's check the record; the official record:
On November 15, 2022, Shawna Black joined three of her legislative colleagues as a committee rejected, two votes to four, Enfield Food Distribution's (EFD's) first-round consideration of even the minimum amount of support it had sought under Tompkins County's Community Recovery Fund. EFD's $1.2 Million request would have built a new, modern, innovative Enfield Food Pantry. EFD's application, more than any other, would have addressed this (supposed) "most pressing challenge" that the Legislature's Chair Tuesday night took such careful pains to showcase.
Only two members of the County Legislature supported the Food Pantry's funding that mid-November day. (Legislator Anne Koreman was one of them.) And once rejected during the Advisory Committee's first round, the Enfield Food Pantry's plea never got a second look, either by the committee, or later, by the full County Legislature in late-December.
Now, let's return to the Legislature Chair's "State of the County" speech:
"A monumental achievement in 2022 was the Legislature's final agreement on $6.5 Million in grant funds through the Community Recovery Fund," Shawna Black crowed to her fellow lawmakers. "The applications to the fund showed us gaps and opportunities across the county," she said.
Black continued. And when she did, the leader of County Government acknowledged a painful truth:
"It's also clear," Black said, "that so many people and organizations are still trying to recover from the impacts of the pandemic. I believe the $6.5 Million in investments will truly be transformative. But we've also heard loud and clear that certain areas continue to need funding, and our constituents are quick to remind us that they feel the County should be doing more."
Yes, they should. But while the $6.5 Million in grant awards may be "transformative" for some, in Enfield, they truly are not. Not a single one of Enfield's home-grown applicants—including the Food Pantry—received any support from the Community Recovery Fund last month.
And yes, Shawna Black, people are speaking out "loud and clear." And many in our corner of the county are speaking with an angry voice. Let's start with Newfield's District-8 rep, Randy Brown, who told his fellow legislators at a meeting in early-January, "Enfield got nothing. It's my failure. It's our failure."
Food Insecurity: Shawna's (supposed) Priority Three as we assess the "State of our County." I believe that priority is well-placed. It's real. And here's proof.
During a mere four hours on a single day, last Monday, we at the Enfield Food Pantry saw as many as 184 hungry families pass through our door and squeeze through the claustrophobic maze that our cramped distribution aisles have become. Patrons' overloaded carts can barely pass between the tables of meat and the pallets of donated produce—lettuce and oranges and what-not tossed willy-nilly into bins and boxes that we, an army of unpaid pantry volunteers, must sort out… so as to give out. It's a place where volunteer dedication attempts as best it can to overcome the handicaps a woeful lack of workable space inflicts upon us.
I know. I was there that Monday. We give our all. We smile as best we can. We try to do the greater good. Yet we could do so much more, if only… if only. If only those downtown who so readily pay us lip service, but nevertheless still cast their votes to our detriment, could see what our rabbit warren of a pantry looks like at distribution "rush hour." If only they could feel the yoke of burden under which our volunteers must labor. And if only they could look into the appreciative eyes of those we serve every week of the year—and could serve so much better with the resources we desperately need.
Food Insecurity: I'm glad it made top-three on Shawna Black's list of local challenges. There's just one problem. It did so in a place far removed from where that challenge is most conspicuously felt; in a place downtown where talk is amazingly cheap.
###