Schill out; Pillar into T.C. Legislature
Brooks, Mezey snag Democratic nominations
by Robert Lynch, June 30, 2021
Leslie Schill, the Ithacan who in March narrowly won the right to complete newly-elected Assemblymember Anna Kelles' final nine months on the Tompkins County Legislature, will serve those nine months—and no more.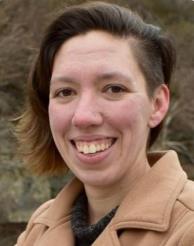 In what became a rerun of that March Special Election reached its climax Wednesday (6/30) when absentee ballots in the district's Democratic Primary awarded the Fall Creek district's next four years in office to Veronica Pillar by a 38 vote margin.
Schill will serve out her current term until year's end, when Pillar will succeed her in the Democrat-heavy Second Legislative District. With no Republicans or Independents in that district's race, and with each candidate having promised not to challenge the Primary's winner, the final tallies from the Democratic Primary settle the contest.
Similarly, in western Dryden, Greg Mezey will succeed the retiring Martha Robertson in the County Legislature. Tuesday's counting of absentee votes awarded Robertson's District 13 seat to Mezey by 21 votes, Mezey defeating Samantha Lushtak, 151 votes (53.7%) to 130 (46.3%). As with Pillar's victory, no other candidates will compete in that district's fall election, and Lushtak, during a pre-Primary candidates' forum, promised to support Mezey should he win.
In the County Legislature's First District, which includes the city of Ithaca's west side, Travis Brooks Wednesday defeated Ithaca School Board member Nicole LaFave to snag the Democratic nomination to succeed retiring Legislature Chair Leslyn McBean-Clairborne. Unlike Pillar and Mezey, however, Brooks will face a Republican candidate, Christopher Hyer, Jr, in November. So voters will not decide that First District race until the fall.
In each of the races won by Pillar, Mezey and Brooks, absentee ballots, counted Wednesday at the Tompkins County Board of Elections could have the reversed the outcomes of early- and same-day machine voting, the machine figures announced Primary night. But in each instance, the candidate trailing in the machine counts had faced an uphill climb to reverse the trend. No one did.
In the only remaining Primary contest for County Legislature, that in the Newfield-Enfield district in which Robert Lynch (this writer) trailed Vanessa Greenlee significantly based on in-person voting, the number of absentee ballots requested and cast in that district counted two few to alter the outcome. But with absentee ballots now added, Greenlee secured the Democratic nomination with 253 votes (76.7%) to Lynch's 76 (23.0%).
In that District 8 contest, Democrat Greenlee now advances to face Republican Randy Brown in the fall. And although Lynch will remain on the November ballot as an Independent candidate, he announced last Thursday that he has suspended his campaign.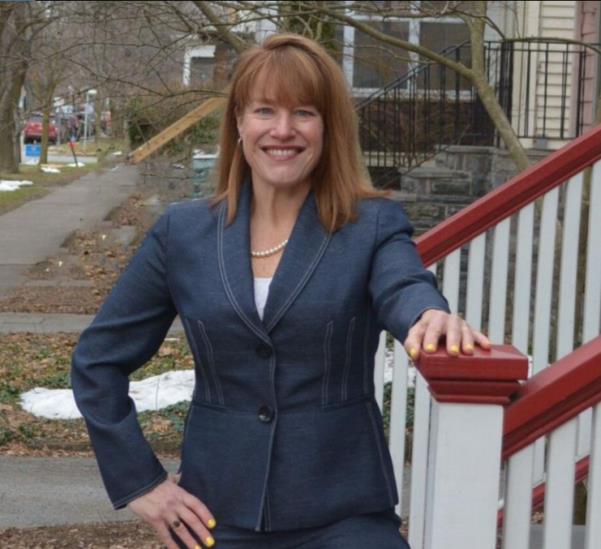 The Schill-Pillar special election last March to fill the Kelles vacancy proved a nail-biter, decided by a mere five votes after absentee ballots were finally counted. In the post-Primary counting this Wednesday, absentee votes fell decidedly Pillar's way, 18 to 11, giving Pillar a final victory of 309 votes (53.2%) to Schill's 271 (46.6%).
Although 52 voters had requested absentee ballots in the Enfield-Newfield district's Democratic Primary, only 19 of those ballots were cast and submitted by the legal deadline. And of those absentee ballots, 12 were cast for Greenlee, and seven for Lynch. Lynch actually beat Greenlee by one absentee vote in his home town of Enfield.
"Based on the enthusiastic response given my message by the hundreds of Enfield and Newfield voters I'd visited during my campaign," said Lynch, "it's hard to fathom the lopsided nature of the results even in this, a low-turnout election."
"But the results are as they are," the Enfield Councilperson conceded. "I will continue to analyze the data. I will interview post-Primary the voters who chose to vote."
"We may never unravel this mystery," Lynch added. "But if we do, I fear the facts could disturb us all. I'll leave it there."
###
Unwanted skylight: Intense West Hill storm tears roof from barn
by Robert Lynch, June 30, 2021
Maybe it's best to think positive: They don't build 'em like they used to.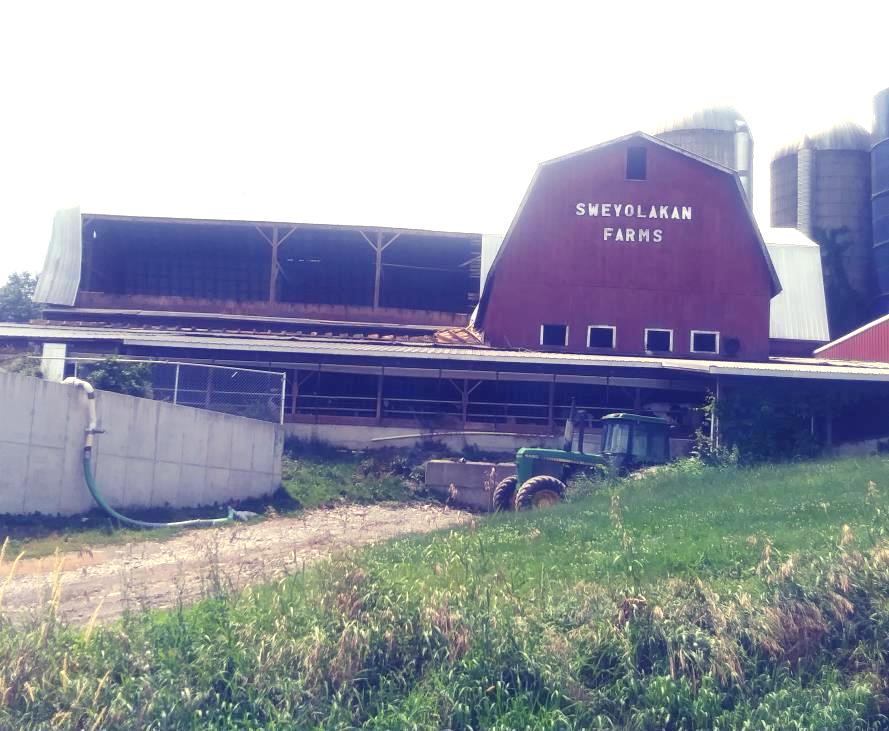 The more than century-old "Sweyolakan Farms" main barn stands—only now minus half its roof—following a violent storm that tore through the 300 block of Bostwick Road late Monday, tearing the eastern side of the hip-roof building's top from its framing beams, but miraculously injuring no one, including the farm hands who were milking dairy cows in the barn's basement at the time.
The same wind gust that removed the barn roof at 380 Bostwick Road, also downed numerous trees at a residence slightly uphill and across the road from the expansive farmstead. Both properties are owned by the Baker family and serve as one of the largest dairy farms on West Hill. Sweyolakan is located just east of the Enfield-Ithaca town line.
"It reminds me of the storm that tore through here in the early seventies," said farm partner Jamie Baker to this reporter Wednesday afternoon. The 1970's storm, perhaps a tornado, flattened trees at the 383 Bostwick Road residence then as well. But that earlier blast apparently never damaged the barns.
Baker credits the sound construction of the late-nineteenth century hip-roof barn for preventing the storm from flattering it or causing more extensive damage.
Though much of the barn's eastern roof is now gone, the solid one-foot diameter oaken beams remained intact. Baker said repair crews may begin as soon as Thursday replacing the destroyed rafters and roofing.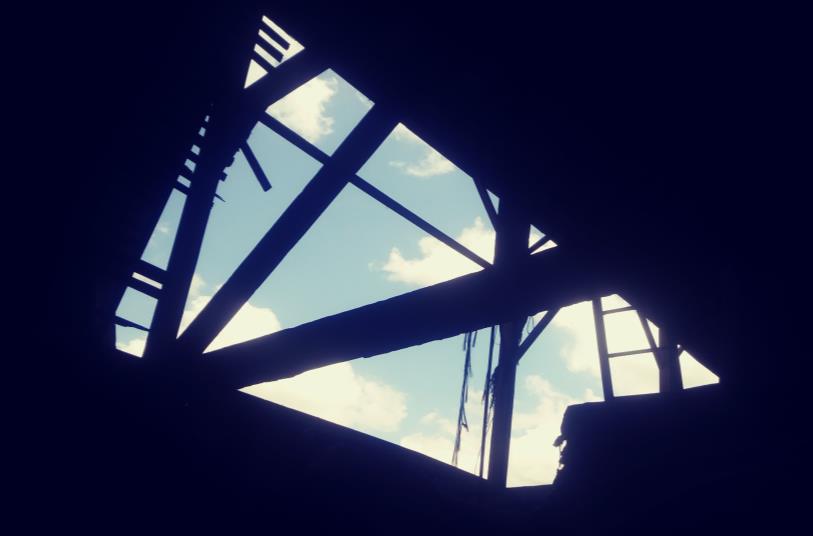 Miracles occur at times like these, though. Baker said a crew of milk hands—the Baker farm milks 24 hours a day—were working in the barn's basement level at the time the storm hit. "They must have heard something," Baker said of his employees. But he was at a loss to know whether they realized at the time what had happened.
Likewise, the farmer acknowledged, the cattle must have been "spooked" by the event. However, he reported no injuries to livestock.
When the old barn's eastern roof dislodged, it flopped over onto structures below. It came off mostly as one piece and Wednesday lay atop an attached, newer structure bottom side up.
Officials have yet to determine the strength and nature of the Monday storm, one of several to tear through Tompkins County this week. National Weather Service officials, said Baker, declined to visit the farm to assess whether the storm was a tornado unless Tompkins County requested they do so. Sparing Baker the bother, Enfield Councilperson Robert Lynch (this writer) volunteered to reach out after his interview. Wednesday, Lynch contacted Jessica Verfuss, Deputy Director of Tompkins County's Department of Emergency response. Verfuss said she would contact Weather Service officials to request an inspection.
###
"Shocking the well"
Enfield Board sets July hearing on extended officers' terms
by Robert Lynch, June 29, 2021
One might once have considered it the "third rail" of Enfield politics: the messing with elected terms of Town Supervisor, Clerk, and Highway Superintendent.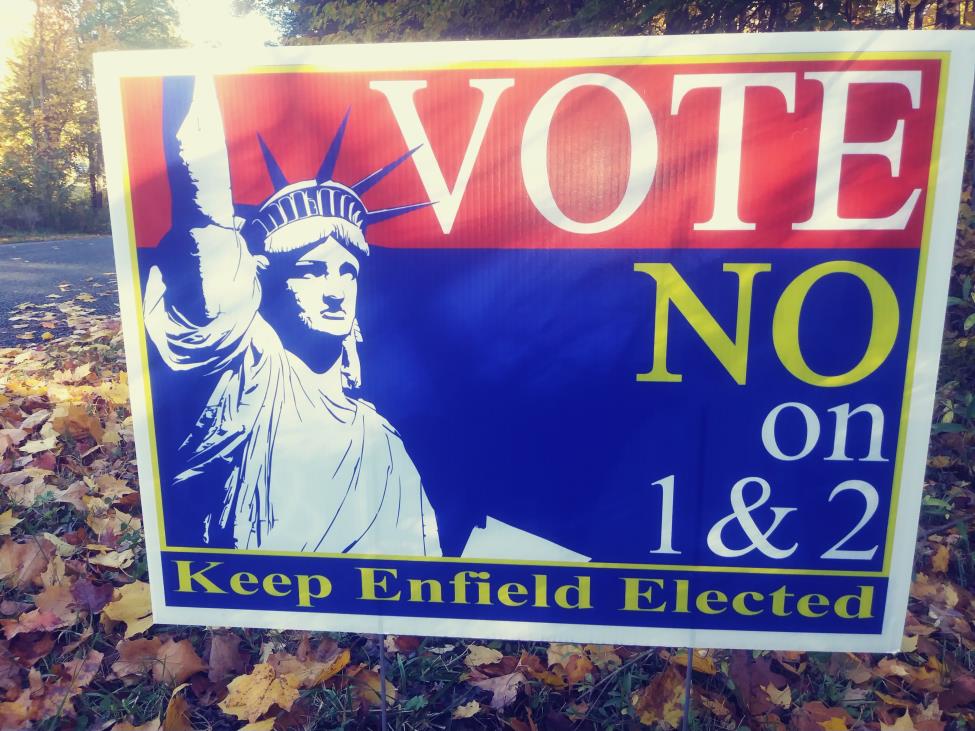 But each issue is its own. And Enfield's Town Board proved the point earlier this month when it voted to set a July Public Hearing on a trio of local laws that would extend those three officer's future terms from two years to four. And it set that hearing June 9th, surprisingly, without conflict.
Last year, an Enfield Town Board super-majority muscled onto the November ballot a pair of proposed local laws that would have eliminated the elected positions of Town Clerk and Highway Superintendent and subjected those jobs to Board appointment. Residents objected, first petitioning during the summer against the referenda, and then defeating the laws by four-to-one margins in the fall.
But this year's laws—proposed in early April by Supervisor Stephanie Redmond, with little advance warning—would not eliminate the elected positions, but rather double in length future terms of those two offices, plus that of Supervisor. The change would not kick in until the elections scheduled for November 2023. Changes would not affect terms to be filled this fall.
Noting the lack of public comment to date on the latest initiatives, and referencing a water consultant's comments earlier in the meeting about cleansing contaminated wells with bleach, Councilperson Robert Lynch (this writer) said the July hearing could amount to "shocking the well."
"Maybe we shock the well," Lynch said, "by encouraging people to come to a Public Hearing to express their opinions. Maybe we need a formal Public Hearing to actually make the people state their preference as to whether these [Local Laws] should be on the ballot this November or not."
Lynch also quoted Newfield Councilperson Casey Powers' comment at a May 27th meeting of her own Town Board when, on an unrelated matter, Powers said that Public Hearings have a valuable, defined purpose, namely "to hear what people have to say."
"I think it's important for Town residents to give their serious thought," the Enfield Board's Jude Lemke said of Redmond's three proposals. "There are pro's and there are con's. It's not an easy decision."
Before the Enfield Board's four present members (Councilperson Virginia Bryant was excused) took their unanimous, uncontentious scheduling vote, the Board opened its meeting for the second consecutive month to invite informal input on the proposed laws. But as in May, no one offered comment.
Lynch, who'd earlier stated his steadfast objection to the changes in term length, now will allow them to go to hearing, but cautioned his revised stance does not necessarily mean he will support the measures' placement onto the ballot or that he'll vote for them if they get there.
Lynch said that Redmond's initiatives were made "more palatable" to him by the fact that, unlike last year's proposals, they would not impact officers whose terms would be filled this fall, nor impact those concurrently elected.
In recent years, both Highway Superintendent Barry (Buddy) Rollins and former Town Clerk Alice Linton have supported the longer, four year terms.
The scheduled Public Hearing on the laws affecting all three Town officers will commence at 6 PM on July 14th and precede the Town Board's regular July meeting.
In other business at the Town Board's June 9th session:
The Board adopted a firm position requesting the Tompkins County Industrial Development Agency (IDA) insist that any so-called PILOT tax abatement plan for the proposed Norbut Solar Farm on Applegate Road also provide a $1,200 per Megawatt Host Community Agreement payable to the Town. Under the IDA's currently-favored plan, Norbut would pay $4,200 per Megawatt, but only under the PILOT, with all proceeds split among three taxing jurisdictions. "The proposed Agreement would provide the Town of Enfield inadequate compensation in lieu of tax," the Enfield Board advised the IDA as to the current plan.
And save this for the Future File. Codes Officer Alan Teeter told the Board that a real estate agent had contacted him with questions about a 30-acre lot off Sage Road as possible site for another "large-scale solar farm." Teeter offered no further details.
###
Lynch Suspends County Legislature Campaign; Outlines 2023 Plans
by Robert Lynch, June 25, 2021
[Note: The following is the text of a news release, sent to the media this date by the Friends of Robert Lynch]:
Enfield Councilperson Robert Lynch, who trailed Newfield's Vanessa Greenlee in the Tuesday (June 22nd) Democratic Primary for Tompkins County Legislator, announced Thursday that he is suspending his campaign for that office, even though he could have competed as an Independent candidate in the November General Election.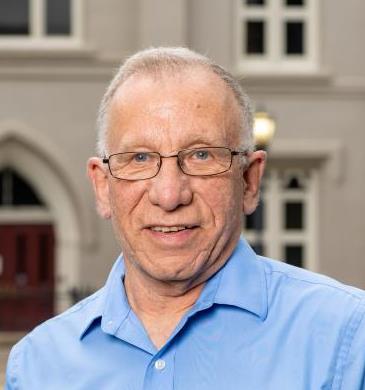 Speaking at a Thursday night online meeting of the Newfield Town Board, Lynch also announced he would seek reelection in 2023 for the position he now holds as one of five members of the Enfield Town Board. If reelected, Lynch's second four-year term as Councilperson would run through 2027.
"The voters have spoken," Lynch told Newfield Board members. "Tuesday, Democrats by a wide margin chose Vanessa Greenlee as my Party's nominee. I finished a distant second. Republicans earlier chose Randy Brown. Greenlee and Brown deserve to face each other, one-on-one, head-to-head, in November, without confusion."
Invoking lines from Robert Frost's classic poem, The Road Not Taken, Lynch said of his County Legislative candidacy, "These past months, I looked down a new road. I took it for a while. But this week I found rocks in my path. I'm turning back now; back home."
Unofficial early-voting and same-day machine tallies released by the Tompkins County Board of Elections gave Greenlee 241 votes (77.5%) in Tuesday's Democratic Primary to Lynch's 69 votes (22.2%). Absentee ballots submitted in the District 8 legislative contest will not be opened or counted until June 30th. The number of absentee ballots requested is too few to alter the election's outcome.
While Lynch announced he has ceased active campaigning for County Legislator, he said he would not, as some Democratic Party officials had urged, file paperwork to remove his name from November's ballot. Lynch said he would remain listed, in part, out of respect to those who'd signed his petitions.
"I've labored too long, going road-to-road, door-to-door, to surrender those 151 nominating signatures on a whim," Lynch said. "And I would betray the trust of those who've signed for me by canceling their preference with my one stroke of a pen. They have the right to vote for me—should they choose."
Though petitioning for his reelection to the Enfield Town Board would not commence for 20 more months, Lynch said he was announcing his future plans early so as to eliminate any doubt.
"Tonight I announce my intention to seek reelection in 2023 to the Enfield Town Board," the one-term Councilperson stated. "I intend to seek no higher office—now, or in the future."

During his three-month campaign to succeed David McKenna on the Tompkins County Legislature, Lynch had stressed a reform agenda. Conceding that he is not a political activist, and equating at times his centrist candidacy to that of President Biden or the late Senator John McCain, Lynch stressed the need for procedural change. Lynch said he sought to "Return the County Legislature to its Roots," and re-instill its "Tradition of Transparency." He urged legislators to hold fewer executive sessions and discuss important matters—most particularly, a $20 Million downtown office project—in public view.
"Even though I will not be our district's next County Legislator," Lynch acknowledged Friday, "I will remain active—indeed, I will double-down—on my efforts to bring County business back into the legislative sunlight."
"I may never work from the inside, but I will from the outside," Lynch said. "Indeed," he added, "I can accomplish procedural reform more freely, now unshackled from any tactical considerations as to how my words or actions might otherwise play on the stump."
During his Thursday remarks to the Newfield Town Board, Lynch argued that the suspension of his active campaign for County legislator provides voters a clearer, less confusing choice for November. His action, he said, makes Greenlee and Brown the only viable candidates, no one else. Eyeing the November match-up, Lynch stated:
"Greenlee is a principled progressive; Brown a committed conservative. I, a political centrist, need not complicate matters and muddy the mix with a middle ground candidacy, fracturing the race, drawing away votes from one person or the other; leaving a less-than-decisive outcome with no one winning a majority. Democracy demands better."
Nonetheless, Lynch told Newfield's lawmakers he'd gained much from his short-lived campaign, having petitioned and canvassed before hundreds of residents in Newfield, a town adjacent to his own. Referring to his initial entry into local politics, a journey he began in 2019 with his Enfield campaign, Lynch told the Newfield Board:
"The road I will take is the one I began two years ago; only now, with the added wealth of having come to know so many new friends, those of you I've met these past months here in Newfield—and that includes you, the members of this Town Board. Newfield and Enfield are twin sisters of a sort. So I will return for regular visits. When I do, I can learn, and maybe also contribute."
With that promise made, Lynch concluded, "Now, I'm turning back; back home. Thanks."
###
Zoom Be-Gone (or maybe not)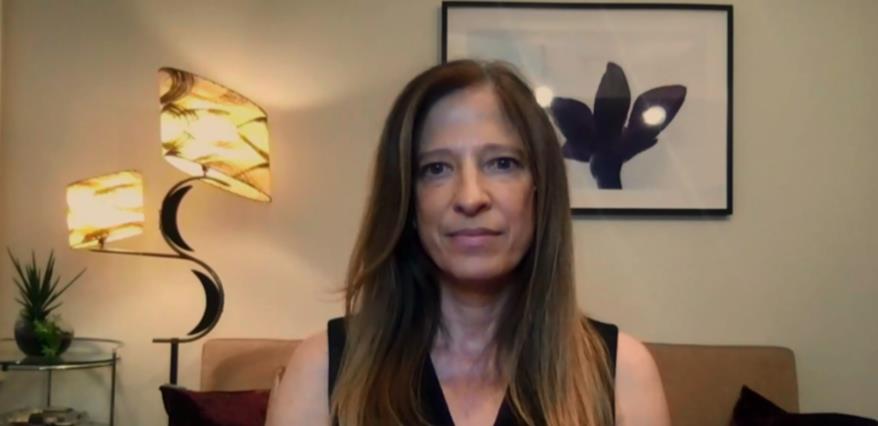 by Robert Lynch, June 25, 2021
If you needed solid evidence that Governor Cuomo wants the COVID-19 pandemic swept from our consciousness like dust bunnies from behind the couch, well ahead of his hoped-for reelection, you need look no farther than to our Governor's hastily-made—and insufficiently-telegraphed—Executive Order of today. And because every local municipal official was left flat-footed by Executive Order 210, those multi-tiled, Town Board zoom meetings—that some love, but others (like me) hate—all must quickly come to an end. How soon? Oh, by the way, we're told, end them immediately!
But wait…. Even though some of us hate having all residents of Enfield invade our visually unkempt living rooms each second Wednesday only to watch this Councilperson attempt to prevent his pet cat from performing ballet on his keyboard, a few select leaders among us love the opportunity to untether themselves from what for us is our white stucco-faced meeting quarters one floor up from the Food Pantry. And for those favoring freedom over formality, the Tompkins County Council of Governments (TCCOG) Thursday offered just the remedy they crave: the prospect, potentially, of zoom meetings forever. Good Grief!
But first things first: On March 12th of last year, as the coronavirus was flooding downstate intensive care wards faster than gypsy moths are now devouring my oak trees and while nursing homes were turning into death chambers, Governor Cuomo ordered his first sweeping suspension of laws. Executive Order 202.1, in part, suspended Article 7 of the Public Officers Law, including the sections that mandated that municipal governments meet in person and that members of the public be given the right to attend.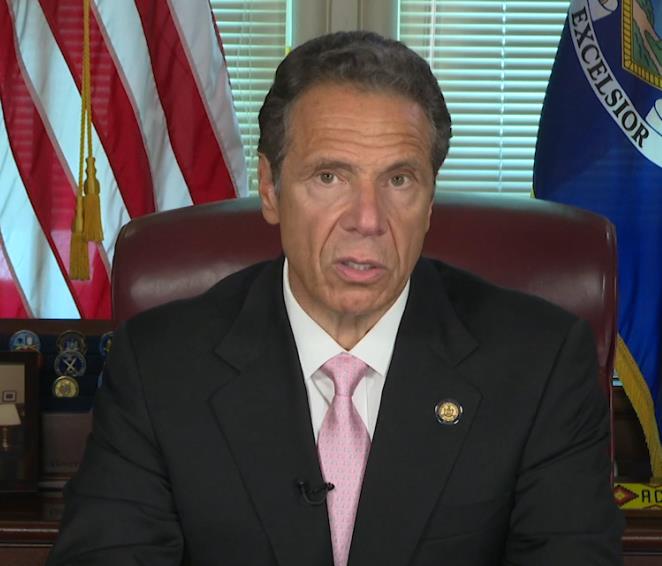 By gubernatorial edict, Cuomo allowed municipal meetings "to be held remotely by conference call or similar service, provided that the public has the ability to view or listen to such proceeding and that such meetings are recorded and later transcribed."
Within days, our take-charge, COVID-cautious then-Supervisor, Beth McGee, took Enfield matters into her own hands. On March 17th, she shuttered the Town Hall and quickly shunted public meetings—our next Town Board conclave was set for April 8th—to a zoom platform. Beth just did it. I, as Town Councilperson, never recall ever being asked. But then, well, you know.
As the virus ebbed and flowed throughout the Empire State during the subsequent 15 months, the zoom-friendly executive order remained in good standing, renewed by the Governor each 30 days as State law demanded its validity required. Cuomo's latest extension in Open Meetings mandates was set to expire July 5th. But with each passing 30 days, the Governor's commitment to those extensions grew ever more tenuous.
"I'm willing to roll the dice and assume the July 5th deadline will be extended, then scurry to meet in-person should it not be," I wrote now-Supervisor Stephanie Redmond in a June 17th email, after I'd heard our County Administration warn that the waivers might end after Independence Day. "I'll take that risk," I told the Board. Good thing I don't play the ponies.
Thursday, June 24th, we, Tompkins County's municipal representatives, met in TCCOG. Matter of factly, Acting County Administrator Lisa Holmes broke the news. The Executive Orders are being lifted. The open meetings exemptions are ending. In-person sessions must resume, effective (yes!) tomorrow, Friday. One day's notice from our State's Executive. So much for Independence Day.
During the pandemic, we in Enfield commissioned installation of a hybrid set-up that would marry online attendance with the real thing. Its first test will likely come July 7th with Enfield's Planning Board; then one week later with our Town Board. How well will it work? We make no guarantees. We haven't "smoke-tested" it yet. Our Board may attempt a trial run within days. Wish us luck.
****
Now, to the second part of this story: Two months ago, a few of us on TCCOG suggested a relaxation of the Public Officers Law, purportedly to update it to match the world of Bill Gates' invention. I was not among them. And the breadth of reforms sought depended somewhat on whom you asked.
But the central complaint surrounded one particular clause that states that "A public body that uses videoconferencing to conduct its meetings shall provide an opportunity for the public to attend, listen and observe at any site at which a member participates."
As Newfield Town Clerk Karen Kenerson would later Thursday evening advise her own Town Board, if a Board member were to teleconference from Albuquerque, she, Kenerson, would need to post in advance that wayward member's location both locally and in New Mexico. With COVID-era waivers jettisoned, the rule, if enforced, would make online meetings impractical. And even were legislators zooming locally, the measure's supporters maintained they'd rather not have strangers invading their living rooms so as to "attend, listen and observe."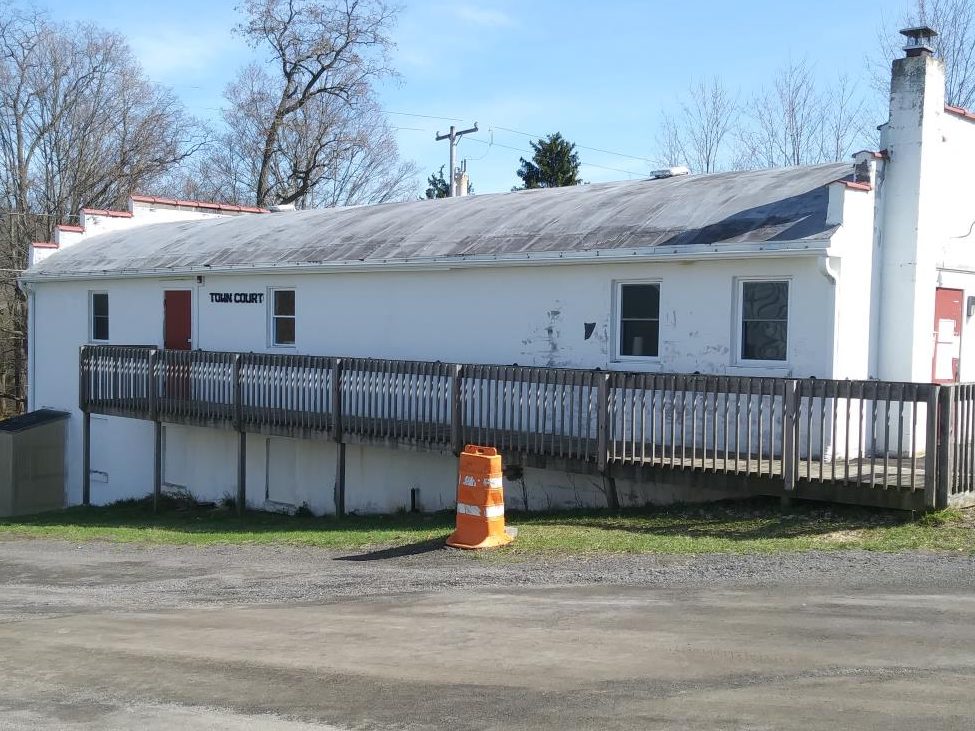 Read literally, however, TCCOG's Resolution Thursday—and it passed—would enable a municipal board, should it choose, to have all of its members stationed at remote locations, and do so for every meeting it held. The Resolution urges "the codification of Governor Cuomo's Executive Order 202.1" by state lawmakers to enable remote meetings. And it would "strike the requirement of public in-person access to every site where a member of a public body may participate in a remote meeting," so long as the public could attend "either remotely or at a predetermined, public location where members are present in-person…."
How many members must be present there? Any? And should remote access be provided the public, it would appear no meeting room need be provided at all. See where this is all heading? I thought I knew. So I spoke up:
"As you might know, there's a lot of constituent distrust in Enfield. We've had a lot of controversies where the constituents in many cases do not trust the judgment of the Town Board to do the right thing. And what constituents are telling me door-to-door is that they want to see all the Board members in the same room. They want to see their body language. They want to see their interaction. And they think that perhaps if all Board members are in the same room and invading each other's comfort zone there may be a little less animosity, a little less infighting, and a little less arrogance."
I proposed an amendment requiring that at least a quorum of Board members meet in person at that "predetermined public location." The City of Ithaca's George McGonigal seconded my amendment, observing that "a significant number of people don't have computers" nor access to zoom. But only I ended up voting for the amendment. And as a result, only I voted against the un-amended Resolution. As some wise guy might crack, "What else is new?"
Prevailing arguments Thursday took several paths. Trumansburg Mayor Rordan Hart argued that the opportunity for remote access would increase interest in municipal board service. The Dryden Village's Michael Murphy said it would give "flexibility" to members out of town, and that even with the law changed, each individual Board could decide itself whether to zoom or not. Said Murphy, "I kind of like letting the Board decide, not the State."
Mayor Hart acknowledged he'd crafted an open-ended Resolution so as not to "over-prescribe to the Legislature" and thereby maybe doom the measure's chances for passage. Nonetheless, one can argue that under-prescription can prove just as dangerous, as it can tempt lawmakers to wander into the weeds and produce a law far different than what locals had wanted.
But wandering or not, and with Cuomo's waivers history, the zoom-rooms must close for the moment and the in-person meetings must resume. TCCOG's changes can't take hold until the State Legislature next meets. And by TCCOG's best guesses, the summer recess won't end until perhaps September.
Board members, get used to wearing dress pants to meetings again, not cut-offs.
###
Greenlee wins Democrats' nod in Legislative District 8
by Robert Lynch; Tuesday, June 22, 2021; latest update, June 23rd @ 12:41 PM
Small turnout elections can produce stunning results. And this one did.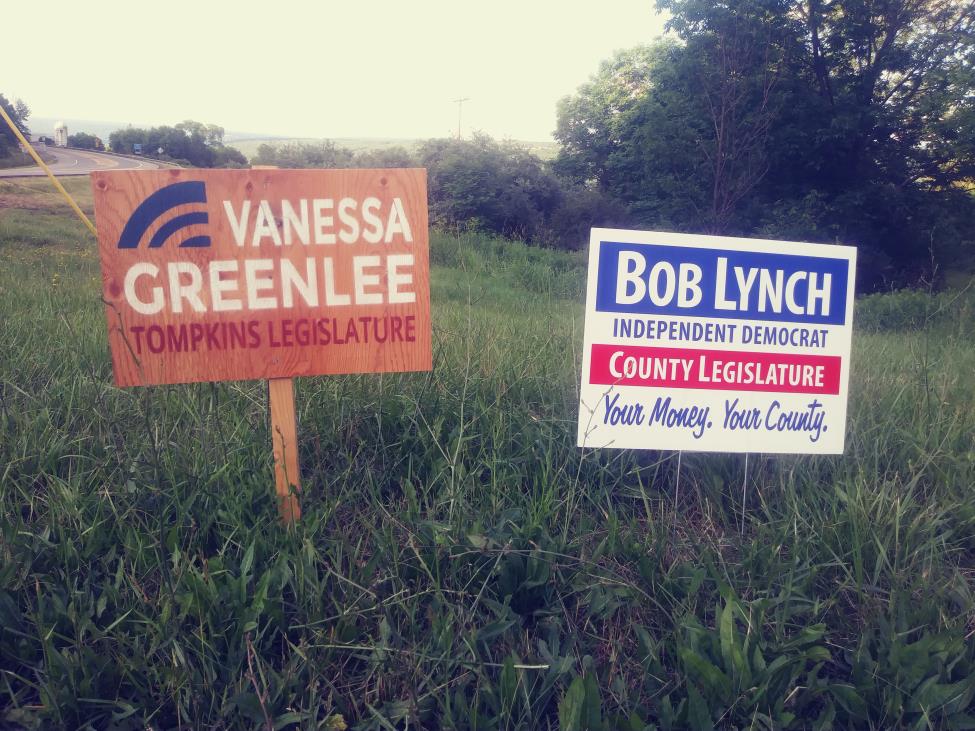 With just an even 300 same-day machine ballots cast Tuesday in both Enfield and Newfield, Vanessa Greenlee scored a commanding win to secure the Democratic nomination to succeed the retiring Dave McKenna in the Tompkins County Legislature.
With the Tompkins County Board of Elections now adding eleven early votes to the same-day machine totals earlier reported here, Newfield's Greenlee won a combined 241 (77.5%) votes to competing candidate Robert Lynch's (this writer's) 69 votes (22.2%).
As the Democratic nominee, Greenlee will go on to face Republican nominee Randy Brown in the November election. Lynch, an Enfield Town Councilperson, already has secured a line on the November ballot to run as an Independent, should he choose to exercise that option. Lynch said that for now he will delay any decision on whether to pursue an independent candidacy.
Lynch's term as Enfield Councilperson continues through 2023.
The unofficial same-day machine totals broke down this way:
In Newfield, Greenlee's home turf, Greenlee won 144 votes to Lynch's 37. Meanwhile, in Enfield, where Lynch lives, Greenlee scored 86 votes to Lynch's 32.
All eleven early votes went to Greenlee. Three of the early votes were cast by Enfield residents, the remaining eight by those in Newfield.
Shortly before 10 PM Primary Election night, Lynch called Greenlee to concede, leaving on her voicemail a message of congratulations.
At mid-morning Wednesday, Greenlee and Lynch exchanged private comments by telephone in which Lynch congratulated his fellow candidate on her win and Greenlee commended Lynch on the campaign's tenor and focus. No decisions were made as to the campaign's future or Lynch's involvement in it.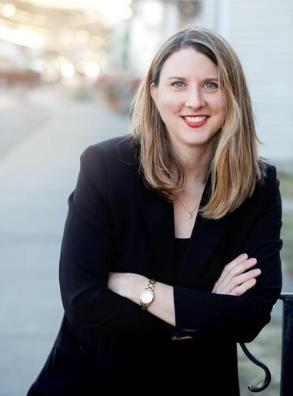 As of early Wednesday afternoon, the Democratic nominee had not issued a formal victory statement. But in Tuesday night comments via her Facebook page, Greenlee said to those who supported her, "[P]lease accept my FULL GRATITUDE for this amazing Democratic primary race for Newfield and Enfield. I am overwhelmed by the support that our community honors me with."
Commending her volunteers and staff, Greenlee added, " I thank each and every member of the campaign team– working so hard, planning, guiding, offering their spirit and amazing wisdom. You know who you are. Thank you to the poll workers. Respect! Thank you to the voters of this wonderful community we all share. I am humbled by you."
Though 52 absentee ballots were requested by and mailed to voters in the Eighth County Legislative District, the absentee count would not alter Greenlee's victory even if all those votes swung in Lynch's favor. Absentee ballots must have been delivered to the Board of Elections or postmarked by Primary Day, June 22nd, and must be received by the Board through the mail by June 29th. Those absentee ballots will be counted June 30th.
Under New York State election law, Lynch reserves the right to withdraw his right to run as an independent candidate, but must make that decision by Friday, June 25th.
A wife and mother in her early 40's, Greenlee, according to her Cornell resume, serves as Deputy Director of the Cornell Alliance for Science within the university's Department of Global Development. Greenlee's a former grade school teacher. She and her family reside on Newfield's Shaffer Road.
****
In another County Legislative Primary contest Tuesday, Ithaca's Leslie Schill may be poised to lose her short-lived seat on the Legislature, the position she narrowly won only this March to fill the vacancy left when Anna Kelles resigned to join the New York State Assembly.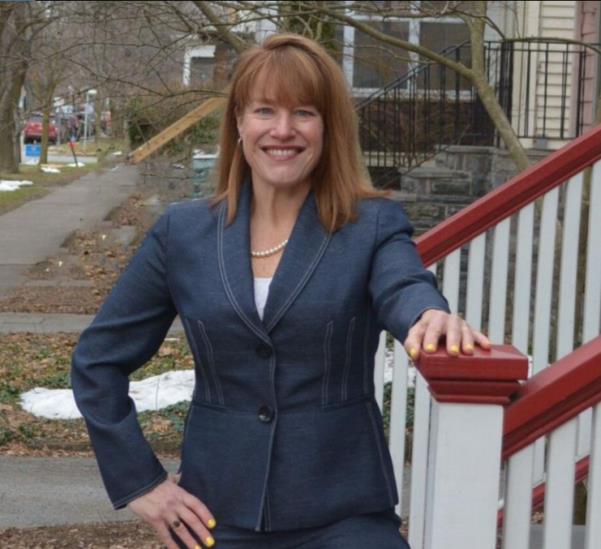 In a rematch of the March contest, which Schill had won by only five votes, challenger Veronica Pillar led Schill in same-day and early balloting by 31 votes, 291 to 260.
Schill could still win, since 65 absentee ballots have been sent out to voters in that City-based district. But to win, Schill would have to secure an overwhelming share of those absentees. With no Republican opponent in that contest, the outcome of the Schill-Pillar race would decide who takes that seat.
With absentee ballots uncounted, two other contested County legislative seats in the Democratic Primary remain, effectively, too close to call. In the City-based First District, Travis Brooks leads Nicole LaFave by 26 votes, with a large number (121) of absentee ballots circulating. In the western Dryden-based District 13, Greg Mezey leads Samantha Lushtak by 27 votes. Like Schill, Lushtak may find it hard to catch up with 51 absentee ballots circulating in that race.
****
Early Wednesday Morning (June 23rd) Robert Lynch released the following statement in response to his loss:
"Obviously, I'm disappointed. Actually, I'm stunned. But what stuns me most this night is not the loss, but rather the margin. Despite all the hard work, I earned just 22 per cent of the Democratic Primary vote. Something's going on here that I could not foresee or wrap my campaign around so as to overcome.
But in a low turnout election like this one—in any low turnout election, whichever side you're on—the activist base increasingly drives the results. I am not an activist. I made that point clear to anyone I'd meet. I'm a centrist, a moderate. I'm 'Joe Biden.' That's me. That's how I govern on the Enfield Town Board. And I've earned the battle scars to prove it. I cannot change who I am. I will not pander or be a phony. And as I traveled from house to house throughout this Great Tompkins-Southwest District, I often found my most enthusiastic support came from independent voters and conservatives, people who cannot vote in the Democratic Primary. They welcomed my message. They often embraced it. I must consider their support when I decide—later, not now—whether to pursue my earned right to an independent candidacy for the Tompkins County Legislature this fall.
I gave heart and soul—and yes, money—to this campaign. I self-funded. I did not solicit donations. I spent nearly full-time effort these past three months on this campaign. I clocked more than 1000 miles on my Ford Ranger pickup traveling door-to-door to meet perhaps upwards of 500 people in Enfield and Newfield. Over and over I found receptive voters to welcome my words. They said they liked my message of reform; of my call to 'Return the County Legislature to its Roots.' But I guess many didn't vote. Or else, they couldn't vote because they weren't Democrats.
I must weigh their sentiments as I contemplate; as I meditate as to my next move.
I commend Vanessa Greenlee for joining me in pursuing a positive campaign; a clean campaign without mudslinging; one in which we each focused upon issues, ideas, and ideals. I wish Vanessa well as she carries her message—a theme much different from my own—into the fall election. Vanessa's a good person, and her message, a message more progressive than mine, seems to have struck a chord with a progressive Democratic base. So be it.
I choose not to wear my religion on my sleeve in this, a secular context. But as I prepared this evening to travel to Enfield's Community Center to retrieve those unknown results, I prayed only that the Lord's Will be done. I believe it will be. Therefore, tonight I am content. I move forward."
Robert Lynch
###
Tompkins Legislature confirms new Director of Emergency Response
Reporting courtesy of Tompkins County Dept. of Communications and Public Information, June 16, 2021
From the Tompkins County Legislature's meeting of June 15, 2021: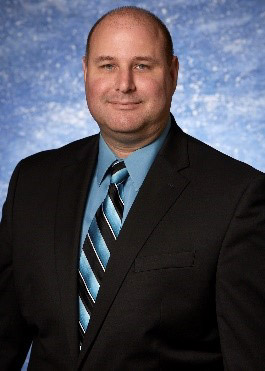 Tompkins County Interim Administrator Lisa Holmes welcomed Michael Stitley as Tompkins County's newly-appointed Director of Emergency Response. Holmes shared with the Legislature that Stitley has "worked in a variety of settings, and has served as an emergency manager during many situations including hurricanes and Superstorm Sandy in New Jersey." She continued with confidence that he will "advance the goals of the department given his work and lifelong commitment to this work… he has been in this line of work since joining a volunteer rescue squad at the age of 15."
Stitley thanked legislators for their confidence in his abilities and shared that he is looking forward to meeting the County's team and community. Stitley comes to Tompkins County having most recently been the Emergency Preparedness Coordinator & Interim Security Manager for Guthrie Health System. Stitley was confirmed unanimously (14-0).
Legislator Martha Robertson (D-Dryden) welcomed Stitley and thanked outgoing Acting Director, Brian Robison stating, "Brian served for two years in the position and did a tremendous amount – he had been a retired police officer and County Legislator and pulled the department through tough times and big transitions."
In other matters addressed by the County Legislature Tuesday:
The Legislature approved two positions to staff the Community Justice Center and implement the Reimagining Public Safety plan. The positions of Project Director and Data Analyst will be supported equally by the County and City of Ithaca and recruitment for candidates will begin shortly. The measure passed 13-1, with Lansing legislator Mike Sigler casting the lone dissent.
Legislator Leslie Schill (D-Ithaca) stated, "These are exciting new positions, for people in my district this is a really important issue and folks are very interested. They want to talk about how we change the face of public safety."
A resolution urging that New York State follow the borders of Tompkins County in the upcoming congressional redistricting process to include the entire County in the area represented by one Congressperson passed unanimously (14-0).
Regarding the recruitment for the next Tompkins County Administrator, Legislators unanimously opted for a hybrid approach retaining a recruitment firm for outreach, with the Human Resources Department managing processes screening and interviewing candidates. Various options were presented by Human Resources Commissioner Ruby Pulliam and considered by the Budget Capital and Personnel Committee and the full Legislature. The proposed search timeline would have the job description posted in late summer with the selection and offer before the end of 2021.
###
Fatal Car-Pedestrian Accident on NY 79 East of Miller's Corners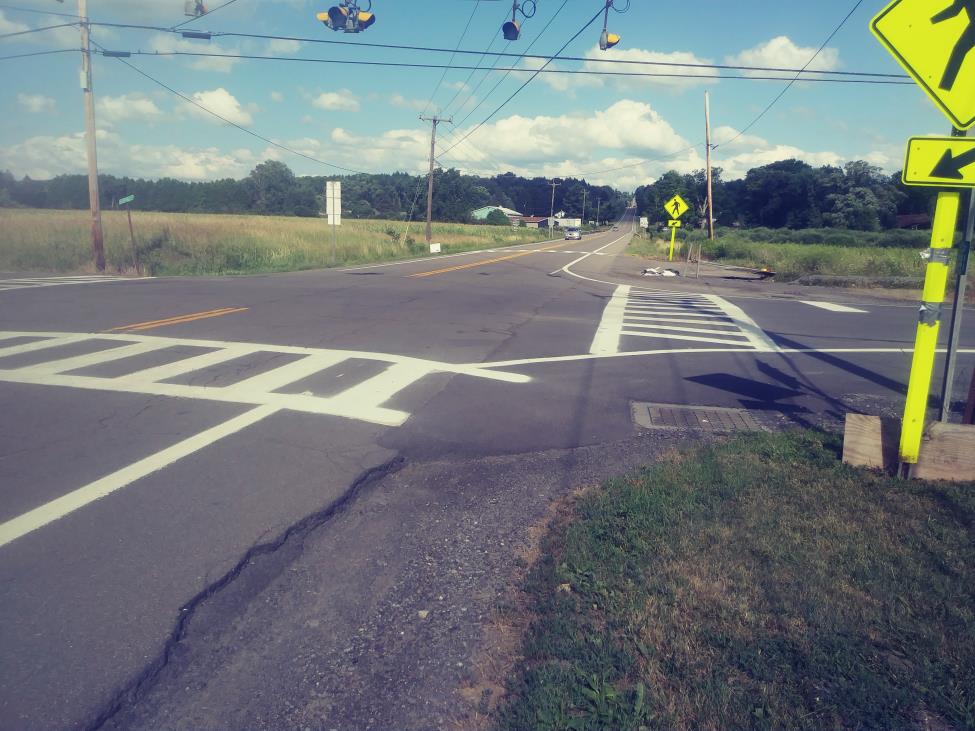 The following story was reported Thursday, June 3rd by the Ithaca Voice:
TOMPKINS COUNTY, N.Y.—One person is dead after being struck by a car on Mecklenburg Road Wednesday evening.
The Tompkins County Sheriff's Office released information on the collision, which took place near Halseyville Road around 7:45 p.m. Mecklenburg Road was closed between Enfield Main Road and Applegate Road starting around 8:15 p.m. Wednesday night.
Police said the pedestrian was located dead in the roadway upon officers' arrival, as well as a 2005 Ford Escape. Police claimed that through interviews and statements, they gathered that the Ford Escape had been traveling west on Mecklenburg Road when it struck a pedestrian who had entered the road.
The Sheriff's Office is withholding names as the crash is under investigation still. State police and the Enfield Volunteer Fire Company both assisted with the crash response scene.
****
Editor's footnote to this story: Although the story reported does not state with sufficient clarity the details as to how the car-pedestrian accident occurred, the owner of this website takes note that Enfield Supervisor Stephanie Redmond has previously stated her support for having the New York State Department of Transportation construct sidewalks along the north shoulder of Mecklenburg Road (NY Route 79) between the Miller's Corners intersection with Halseyville Road and the Sandy Creek Trailer Park, close to where this fatal accident occurred.
This website will report further details as the investigation proceeds.
###
Enfield Board reserves judgment on Norbut tax abatement plan
by Robert Lynch, June 1, 2021
A not-so-sweet formula for compensating Enfield and other jurisdictions for taxes lost for a new Applegate Road solar farm received the coolest of receptions from the Enfield Town Board Tuesday night (June 1st). Nonetheless, Board members acknowledged there may be little they can do to stop the so-called PILOT (Payment-in-Lieu-of-Tax) Agreement from winning the support of a key County agency.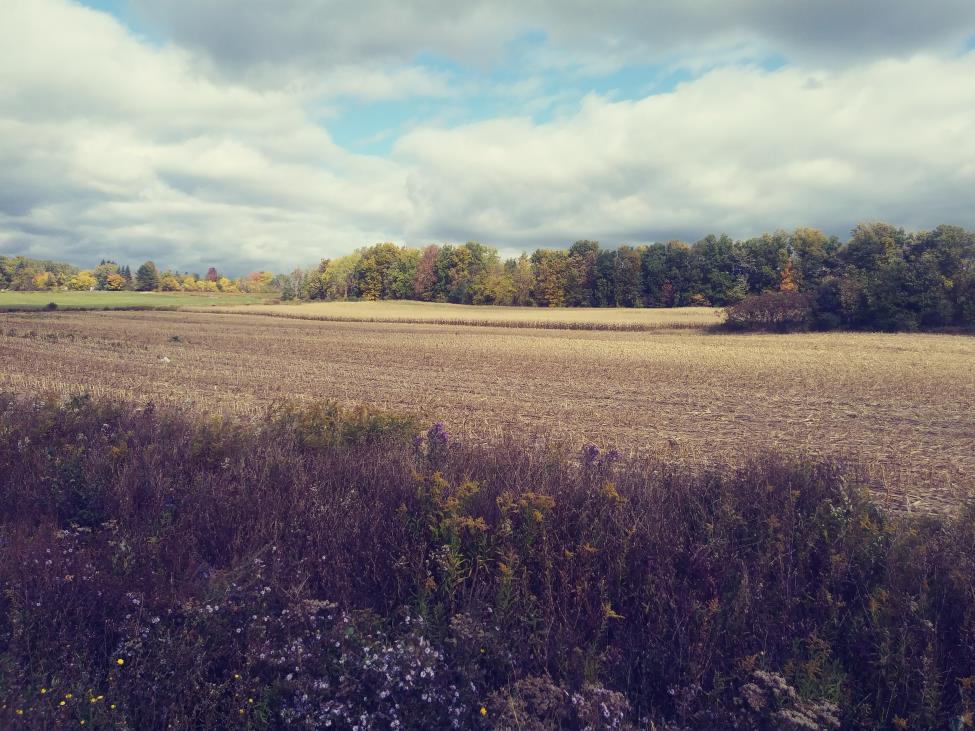 "You have no powers," proclaimed former Town Supervisor Beth McGee, permitted to weigh in with her opinion. McGee insisted members of the County's Industrial Development Agency will simply do as they please. Their members' goals, she said, "don't matter what Enfield's needs are."
In May, Norbut Solar, the Rochester firm proposing a $20 Million, 15-Megawatt solar farm east of Applegate Road, offered the Industrial development Agency (IDA) a meager $3,000 per Megawatt annual payment to launch a 30-year PILOT Agreement, one whose proceeds the IDA would split three ways—between the Town, Tompkins County, and the Ithaca City School District. The School District would receive the largest share; the Town a predicted 28 per cent.
IDA members at the time scoffed at the developer's stingy proposal and suggested they wanted at least $4,200 per Megawatt. The higher figure would likely gobble up moneys Norbut had proposed be shunted directly to Enfield via a Host Community Agreement.
After the IDA's meeting, the agency's administrator, Heather McDaniel portrayed the IDA's preferred higher funding level as an ultimatum. With the Host Community funds rolled into the PILOT and split three ways, the Town would get far less revenue. Councilperson Robert Lynch (this writer) calculated that the change would trim Enfield's first-year receipts from $30,730 to $17,820, a 42 per cent drop.
There's "not a lot we can do," conceded Town Supervisor Stephanie Redmond. "We can't force the IDA to [approve] a PILOT, and we can't enforce the Host Community Agreement.
Town Board members acknowledged they've been left with a take-it-or-leave-it dilemma. Their only leverage might lie in their refusal to send the IDA a letter approving the agency's favored PILOT. Councilperson Jude Lemke, an attorney, doubted refusal to sign would make any difference. Lemke's colleague, Councilperson Lynch, urged the Town play hardball; that it refuse to sign, and maybe put Norbut in a box.
"They're proposing a $20 Million project," Lynch reminded the Board. "If they went to the makers of solar panels and said 'State rebates are down, reduce the price of your panels,' they'd be laughed out of the room."
"Why, then," asked Lynch, "must municipal governments always be the ones to pay the price, the ones to have 'Patsy' written on their backs?"
Lemke responded that unfortunately that's what happens,
IDA rejection of a PILOT Agreement could kill the Applegate Road project altogether or at least delay its construction. Lynch insisted he wanted the Norbut project to go forward. Councilperson James Ricks asked him why. Lynch answered he supported the array so as to advance the Green Economy.
The IDA Board of Directors will likely revisit the Norbut taxing plan June 9th. Lynch urged Board members write the IDA to oppose the $4,200 PILOT without a Host Community plan. Others suggested the Town Board write as a group.
Relating to other aspects of the Norbut project, the Town Board Tuesday expressed its intent, probably within the week, to contract with a specialist, attorney Gary Abrams, to study whether Norbut's preference for a surety bond insurance policy to cover any future decommissioning costs stands in the Town's best interests. The Board will also ask its Planning Board to revisit—and presumably, toughen—procedures for resolving complaints about the farm's future operations.
In other business:
The Town Board authorized the Supervisor to sign a year-by-year contract to prop up the Enfield Valley Grange with Town funds. The Board had set aside five thousand dollars for the Grange in the Town Budget, approved last fall.
Answering the request of war veteran Ed Hetherington, the Board authorized buying six new American flags to replace worn and tattered ones now hanging from street lamps through Enfield Center.
And following a more than half-hour executive session, the Board voted to eventually release "in its entirety" a still-confidential "Report of Investigation" by arbitration consultant Ronald Mendrick, a study addressing recent management friction among Enfield officials, past and present. Earlier in the meeting, former Supervisor McGee, who'd urged the report's drafting, said the Board had "no legal standing" to shield Mendrick's findings from the public. "You're all trying to hide something," McGee alleged. Lynch's Resolution, approved by all Board members then attending, authorized the report's release, following a review first by Town legal counsel.
###