Second Acts Hinted for County-owned Buildings thought Doomed
by Robert Lynch, October 23, 2022
The idea may hold the lifespan of a crimson tree in October. Then, again, Lee Shurtleff may have stumbled onto something.
"I don't know that we have really looked yet at the potential of what the existing buildings might have for us over there on the corner," Shurtleff told a County legislative committee Thursday at a meeting called not to talk about the Key Bank and Wiggins Office Buildings near the corner of Buffalo and Tioga Streets, but rather the fate of a little old frame house down on the next block.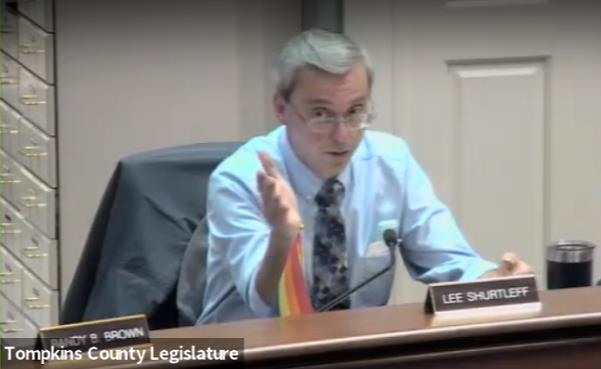 Up until now, the only future for the Key Bank and Wiggins buildings has involved their presumed close encounter with the wrecking ball. Tompkins County bought the properties last year. And once current tenants had vacated, plans have always envisioned razing both 1960's-era buildings and planting a Center of Government—County offices—in their place. No one has talked seriously about giving those structures on the Key Bank Corner a second life, or even a short-term reprieve. Not until Shurtleff suggested it this week.
"Could the bank building be used for the County Clerk's Office?" the Groton legislator opined. "It's probably a bigger space than what they've got today—and a lot nicer."
Shurtleff then wandered his mind's eye next door to the Wiggins' building.
"Could the law offices be used perhaps for the District Attorney's Office? Well, you look at the front of the building. There's 16 names of attorneys that are housed in the building. That tells me that there's at least 16 offices, support staff and conference rooms that have been good enough for Wally Wiggins over the decades. Perhaps that's a good place for the District Attorney?"
Shurtleff also said that "between the two" one might find "space for some of the offices and departments that are leasing downtown." That, in itself, would satisfy one prime rationale for a more pricey Center of Government.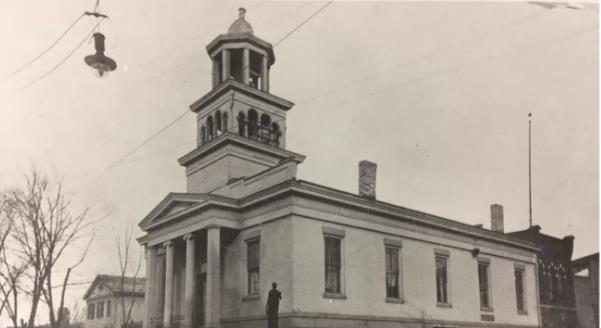 Lee Shurtleff was thinking creatively. It's something government officials are notoriously not known for. Slash, burn, and rebuild is more their style. Go back to Ithaca's elegant Old City Hall—you know, the one that lives today only in dusty photos at The History Center or in fading septuagenarian minds. With zero forethought, LBJ's Urban Renewal tore down old City Hall in 1966 to make way for nothing more elegant than a parking ramp. Tompkins County's Old Library was once eyed for government offices. Nope, the County sold it for a song, and down it came too.
When, late last year, after nearly 24 months of secret negotiations, Tompkins County closed on the Key Bank and Wiggins purchases, the only question became how soon those newly-bought buildings would become rubble, never whether they might remain standing.
The corner-lot purchases were Jason Molino's baby. The former County Administrator was known not to like the County's first-chosen Center of Government site, the so-called "Baker Dental Building" and its adjoining acreage that the dentists had arrogantly stripped bare of the homes that once stood there.
Molino wanted something better than what we'd bought. He found it with the Key Bank and Wiggins properties nearer to the Courthouse. Tompkins County had shelled out $1.8 Million for the Baker lot in 2019. With closing costs, buildings on the Key Bank Corner cost taxpayers another $3 Million. Molino left before the public ever learned of the latter purchase.
"Between the two areas we've got $5 Million invested here, and still probably a long ways away from a long term plan," Shurtleff told the County Legislature's Facilities and Infrastructure Committee Thursday.
Molino's successor, Lisa Holmes, admitted to the committee that constructive reuse of the bank and Wiggins buildings had never been studied. Shurtleff's idea may have caught her by surprise.
"We have not thoroughly looked into the square footage available in those spaces and the cost of renovating those, if necessary, as an interim step," Holmes told the committee.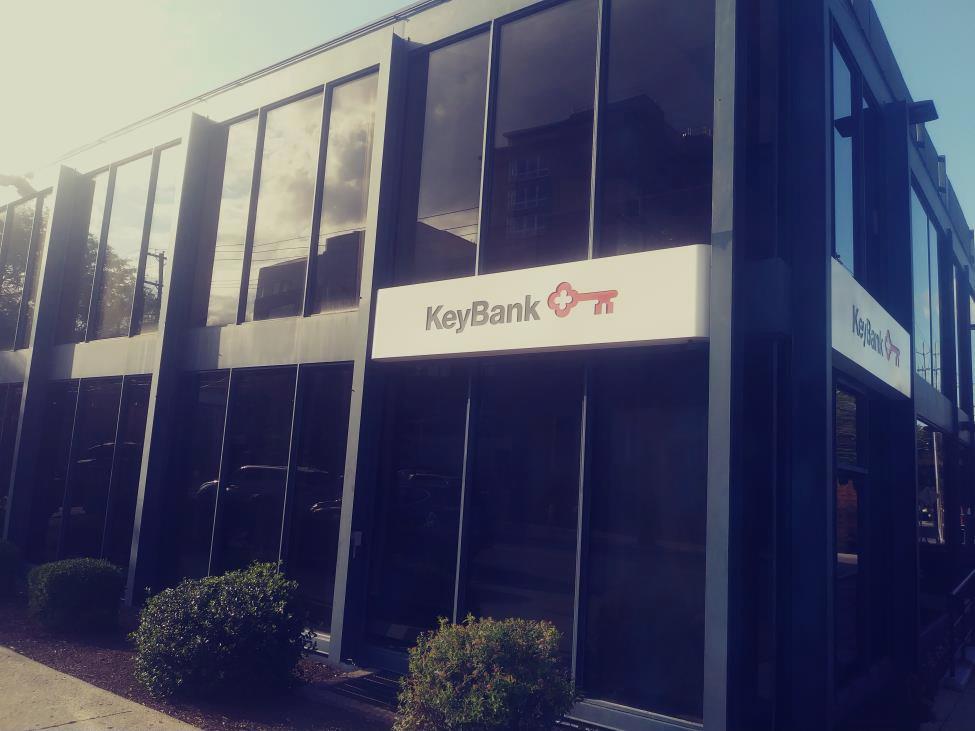 It was with good reason that Shurtleff had suggested the County Clerk and District Attorney as prospective tenants of the buildings always thought doomed. Even though County Government owns and maintains the Courthouse, the State Office of Court Administration gets to pull rank and is telling both the Clerk and D.A. to vacate. Up until now, a new Center of Government had been seen as those offices' next home. But with construction costs rising, and lawmakers facing an uncertain economy, no one dares set a timetable for that new, larger building's groundbreaking. If only as a temporary stopover, the bank and Wiggins' offices might become an expedient solution to an all-too-likely eviction.
Committee Chair Mike Lane described as an "interesting thought" Shurtleff's suggestion for relocating the County Clerk to the bank building. "Perhaps that's something that we need to discuss," he said.
And as a clear step back from Jason Molino's one-time, gung-ho, build-it-now enthusiasm, Lane, like many who currently populate the Legislature, stood reluctant to take that big gulp and move ahead with the Center of Government right now.
"I'm not seeing us building a Center of Government next year," Lane said. "I'm still worried, as so many of us are, about what the economy's going to do. That's a big project. That's a lot of money; over $20 Million."
Actually Lane low-balled the price. With land acquisition and design work, next year's Capital Plan pegs the Center of Government's total cost at $30.6 Million.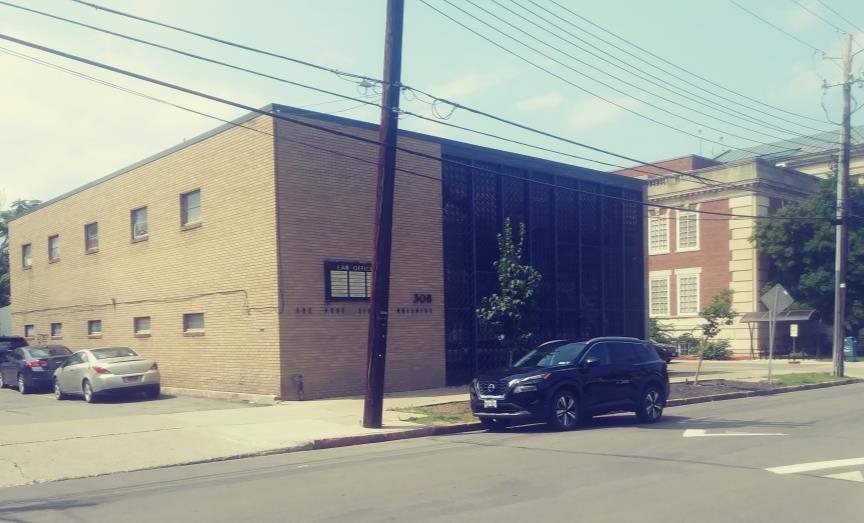 "It's always nice to have new offices if you can," Lane conceded. "But you know, we get along with what we have for now, and it can go on a little longer."
Though Lane showed initial interest in his Groton colleague's idea, it sparked little discussion from the five other legislators who, together with Shurtleff and Lane, attended Thursday's meeting. "As far as what Lee's talking about… I'm not ready to talk about that," Newfield's Randy Brown said bluntly.
****
The Key Bank and Wiggins buildings were never intended to be talked about by the committee Thursday. Instead, the "Red House" was. And the take-away from the committee's 45-minute discussion that morning was that County government should hold onto the two-story Victorian structure for now, mothball it for winter, and decide later whether to put it on the market, use it in some way, or ever-more-likely, simply tear it down.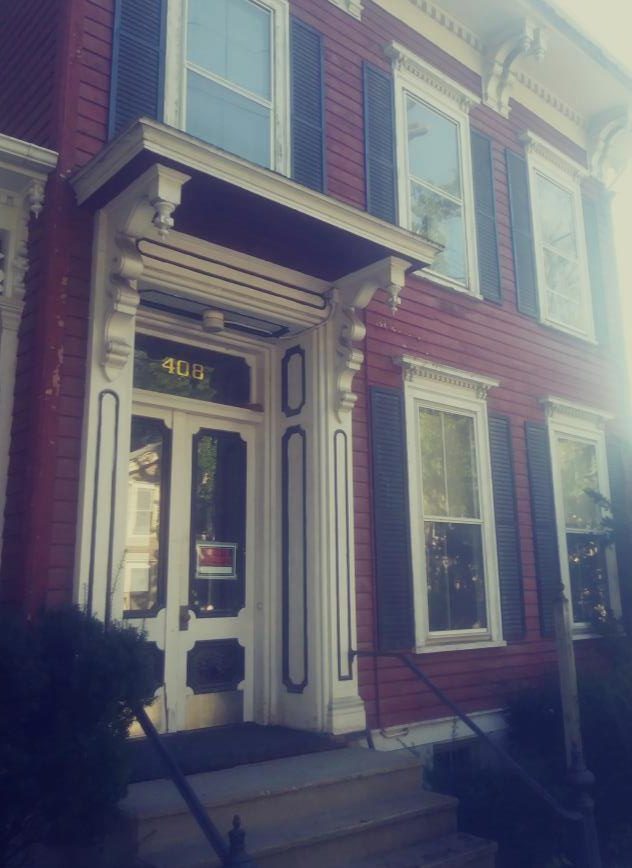 To Shurtleff, the Red House's future fits carefully into his "broader" view, one he stressed to the committee. Utilizing what already sits on the Key Bank Corner makes it more likely that a Center of Government will someday sit on the Baker site. And if the "Red House" portion of the Baker lot were to be split off and sold, there might be too little land left to build an office building on whatever remained.
"So it's really not about the house. It's about the land that it sits on," Shurtleff said. "And that's my concern. I don't want to see us make a quick move that removes that broader property from being an option for us to look at in the years ahead."
The "Red House," a residence-turned-offices at 408 North Tioga Street, has largely stood vacant since the County acquired it as part of the larger lot in 2019. Like any empty building, it's fallen victim to elements and animals. Renovation estimates have led legislators' jaws to drop. But facing reality, and failing to reach any consensus on a path forward, the committee agreed Thursday to do whatever little needs to be done to preserve the house until spring.
"You're going to have to mothball the house through the winter no matter what you do," Brown said.
Beyond winter though, the "Red House's" lifespan looks increasingly brief. A few months ago, the building's sale appeared to be legislators' preference. Now, however, they lean increasing toward demolition—that is, if preservationist interests will let them get away with it. The house does stand within the DeWitt Park Historic District.
"I'd like to see the (cost) numbers for deconstruction," Legislature Chair Shawna Black told the committee. "If we go through with plans to build a Center of Government, we're going to need parking…. If we were to deconstruct the building, we could actually start with a clean slate and figure out where we want to go from there."
Mind you, when Administrator Molino presented the Legislature three years ago as many as ten alternate design options for county offices on the Baker site, most had included, in one form or another, incorporating the "Red House" into the office design. True, since that time, legislators have sold off the rear, Sears Street portion of the larger lot for housing. But offloading one or more Sears Street lots had also been contemplated in some of Molino's scenarios.
Dryden legislator Greg Mezey would rather architects forget those earlier, Molino suggestions that would have attached an aging, wooden house to a more modern brick building.
"I think based on what we've seen for rehabilitation cost, I don't see how we can justify spending that much money of taxpayer dollars for such a small space to be renovated and preserved and salvaged. It seems cost prohibitive," Mezey said.
Ulysses-Enfield legislator Anne Koreman is among those whose mind is changing; moving away from sale and toward either expensive renovation or, as she called it, "careful deconstruction."
"The worst thing that we can do is to hold onto it and not take care of it," Koreman, a building inspector, warned.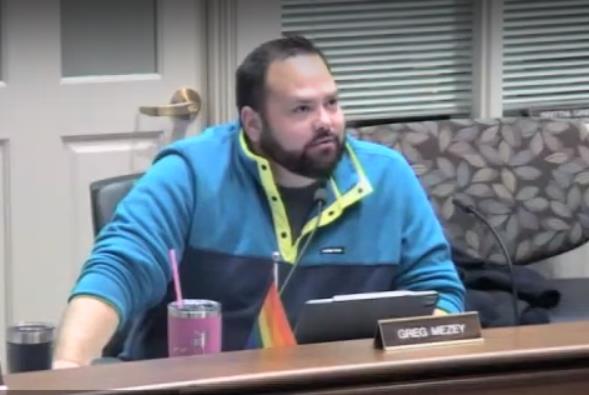 But expect a fight—maybe an intermunicipal one—should Tompkins County take sledgehammer in hand, pre-empt the City of Ithaca's Historic Designation, and dismember piece by piece the one-time home at 408 North Tioga.
"The idea of tearing down the Red House—I can understand that has some attraction for making the land more flexible for our own uses. But I also think we would get tremendous pushback from the historic preservation element in the city," legislator Rich John warned. His district includes the Red House.
"If we just tried to tear it down, we would suffer a lot of criticism," John predicted. "We should be prepared for that."
"We really shouldn't underestimate the viewpoint that we'll be seeing and hearing from the City-side in tearing town an historic building," John later cautioned.
Some, however, saw demolition as a risk worth taking.
"I think we have to weigh the benefit to the much broader community," legislator Mezey told the committee, "and the impact on the amount of tax dollars (renovation) will take."
To placate critics, County officials may schedule a Red House walk-through with representatives of Historic Ithaca. They may invite City officials along too.
Procedural obstacles also complicate demolition. State-mandated environmental assessments performed to date have always assumed the Red House would remain standing. County Commissioner of Planning Katie Borgella cautioned the committee that demolition would require yet another environmental review. "It's going to be a tricky one," Borgella said of any report that seeks to remove a slice of history.
Rich John, may be among the few who still favor putting the Red House onto the market. "Somebody could with a lot of love and care make this into a grand house," John predicted.
Not all agreed.
"I think we're a little naïve to think that it's going to be turned into some grand historic preservation project," Mezey remarked. "I don't see enough of that happening in the community."
"I don't see that house being purchased by a wealthy landowner who's going to move his family in there," Mike Lane added. "I don't think that's going to happen. Those kind of homes seem to be out in Lansing or up on the hills in some of the other parts of the county… or on the lake."
"We have to think about the county as a whole," Lane continued, perhaps tipping his hat, albeit reluctantly, to those who favor the wrecking claw. "And we have to think about what we're doing long-term, at least 50 years down the road, not just for what's tomorrow."
Insightful; but also atypical. Elected officials seldom think that way. Perhaps if they did, Ithaca's classic Old City Hall might still be on Tioga Street at East Seneca and not just in The History Center's archives.
###