Fund Balance deployment takes center stage in legislative debate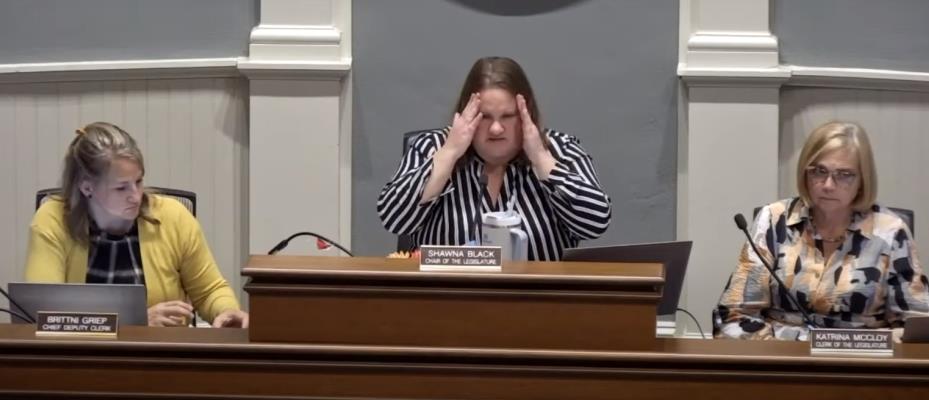 by Robert Lynch, September 22, 2023
Timing is everything, they say. So for Lisa Holmes, timing couldn't have been worse. Holmes, the Tompkins County Administrator, had to make her biggest presentation of the year Tuesday night. She'd need to detail Tompkins County's proposed 2024 Budget to the Legislature to which she answers. But Holmes couldn't show up in person. She'd just tested positive for COVID-19.
Holmes had to Zoom into the County Legislature's meeting from her home. And sadly, it wasn't a very good Zoom connection at that.
Nor was her financial outlook all that good. Due to circumstances largely beyond local control—blame the State of New York, once again—Tompkins County must spend more money. Mandated expenditures are growing. And Albany's assistance is all too absent. Despite a robust hometown economy and administrative efforts to pinch pennies everywhere possible, this could prove to be a very tough budget year for the 14 legislators we've elected to represent us in downtown's legislative chambers.
Holmes' 2024 Tompkins County Recommended Operating Budget projects total outlays at $245,218,628, just slightly less than a Quarter Billion Dollars. Depending upon the 2023 benchmark you select, that's up either ten per cent or 16 percent from the budget of the current year.
The property tax levy we face is just a small fraction of the overall total. Holmes' proposed levy is slightly over $53 Million. And to comply with an earlier springtime directive from the Legislature, the Administrator trimmed programs in her budget to keep the levy's increase at just two per cent.
Beyond those numbers, estimates of homeowner impact matter very little this early. This 2024 budget cycle may prove different, of course. But recent history has shown that by the time lawmakers finish fiddling with the numbers in late-October, they may simply dip into their Fund Balance, essentially County Government's bloated piggy-bank, to keep the tax levy flat.
"The overall cost of mandated services… we're going to see an increase by 5.5 Million (dollars) in 2024," Holmes warned," her voice cracking from COVID, but also couched with considerable caution. Even though state aid increases will offset the overall mandated burden a bit, there's still "a net increase of $2.2 Million in mandates," the Administrator warned. "That increase alone is equivalent to a 4.2 per cent tax levy increase," she stated.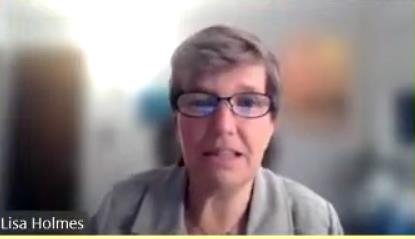 When it comes to those mandates, there's one ghoulish gremlin in particular. It's called "EFMAP," (Enhanced Federal Medicaid Assistance Percentage). Revealed earlier this year to everyone's dismay, EFMAP is better known by some as the self-serving effort by Governor's Office bean-counters—so far, successful—to intercept for greedy New York the money that we locals ought better to have. It would keep for the State's own purposes the millions in post-COVID medical assistance which many believe Congress rightfully intended to be passed down to counties. (See story, posted on this website February 21st, and archived.) Mind you, higher-ups demanded the Medicaid expansions. But counties must pay much of the cost. In Tompkins County's case, it's at least $1.6 Million next year tacked onto the budget.
Still, the Tompkins County Administrator was directed to set a two per cent tax levy increase and go no higher. So to meet her target, Holmes had to make cuts. First, she's proposed a "soft hiring freeze." There won't be layoffs. But nine or 10 open positions won't be filled. Ironically, one of those jobs is Holmes' Budget Director.
There's also an airport building that won't get built, a CDL driver testing site that won't happen, and a couple advanced phases of the "Green Facilities" energy initiative that have just become too costly to begin.
And though Holmes' budget still pencils it in, the Administrator urged the Legislature Tuesday to consider suspending Custom's screenings at the airport. Customs costs Tompkins County $220,000 a year to run, Holmes said. But with enplanements down at the struggling airport, screenings now only bring in $14,000.
The screenings only remain in the budget, Holmes said, "because there wasn't adequate time to fully consider the legal or economic ramifications of suspending Customs."
The easiest fix for Tompkins County's budget crisis is a remedy that some on the Legislature shudder to consider, yet others eagerly welcome. It's to tap the County's lofty, enviable, eight-figure Fund Balance; its savings.. Some see it as a symbol of prudent fiscal management. Others, like Newfield-Enfield's Randy Brown, view it as hoarded cash that government has no right to keep from the people.
"I realize costs are up, and the State… they're unpredictable at best, Brown told colleagues Tuesday. "But to not discuss our Fund Balance, and to make cuts to programs and to not fund things and to raise taxes on our constituents when the compounded inflation is about 20 per cent in the past two to two-and-a-half years, I'm struggling with that."
"And how do we go through a budget process where we're not going to talk about the Fund Balance?" Brown questioned. "And how can we raise taxes when we've got this money sitting in the bank, and it's not our money? It's our constituents' money."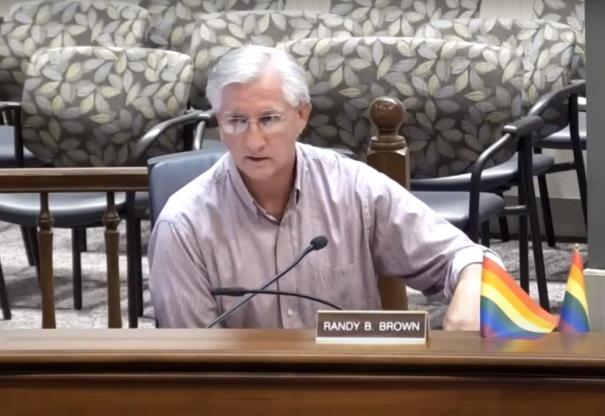 Current policy dictates the County hold 18 per at of the annual budget in its Fund Balance reserve. Burgeoning revenues—often from windfall sales tax receipts and casino proceeds—can inflate the Fund Balance, often without anyone's effort.
"I predict that our Fund Balance will increase eight-to-ten million dollars this year over last year," Brown told legislators, challenging them to prove him wrong. "We have a Fund Balance Policy that says we're going to carry 18 percent of our budget as unassigned Fund Balance ($43-44 Million). So to me, that's a problem."
But a higher-than-needed Fund Balance is no problem at all for Shawna Black. The Chair of the Legislature likes her government's fiscal cushion. For one thing, it provides a reserve for a pet project of hers that Black repeatedly favors with her words and with her votes: It's that pricey Center of Government, the now, ever-more-likely new Downtown Office Building.
"I know that we've talked about actually allocating a portion of our Fund Balance to our capital projects," Black responded to Brown's argument. "The Center of Government; who knows: It could be 20 Million. It could be 40 million. The sky's the limit!"
Those words may be just the nature of things for Shawna Black. But they're a bit more unsettling to the rest of us. Where's this thing going, anyway? Nonetheless, the Legislature's Chair continued:
"And so, if we have, let's just say, $40 Million in Fund Balance, I think mentally [Black put her hands to her head] we need to put 20 Million away knowing that—or 10 Million—however much we're going to spend on capital. While it looks like it's a ton of money in the bank, the reality is there's a lot of it that's allocated."
Allocated, in a sense; but assigned, of course, only if legislators choose to spend it on big buildings and things like that.
Budget Chair Deborah Dawson, Black's close legislative ally, next raced to the chairwoman's support. Dawson quite frankly lectured freshman legislator Brown—though he'd already been through the budget process last year—as to how things work in her chamber. Dawson said fussing with Fund Balance up front is putting the process backward.
"Now once we figure out the things that we have to add back in and the things we may deem desirable to add back in, then we're going to have the discussions about how we're going to fund the difference," Dawson lessoned her fellow member.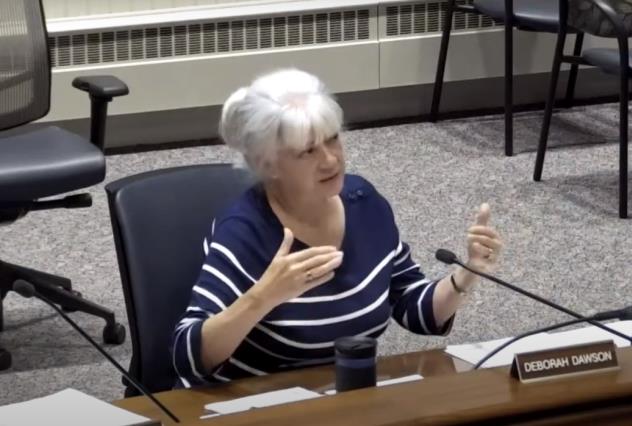 In response, Brown acknowledged he'd support a capital set-aside. He called it "untouchable money."
But Budget Chair Dawson, the Legislature's perennial pessimist, wasn't through. She suggested her body cast aside its current Fund Balance benchmark, arguing that the present percentage is just too tiny to placate the Moody's rating service that sets our county's standing in the bond market.
"Eighteen per cent is not going to cut the mustard," Dawson asserted. "We're going to have to figure out where the sweet spot is."
Oh, and though the County Legislature Tuesday adjusted its solid waste fee schedule in a way that will supposedly place more of the burden upon colleges, the proposed 2024 budget still proposes a $5 increase—up to $85—for the mandated yearly charge each of us pays to have the recycling wagon come.
Despite her COVID-compromised voice, Lisa Holmes labored through her Power Point and took questions thereafter for three-quarters of an hour. As she ended, Holmes sounded drained, yet prepared for the many rounds of meetings ahead and the inevitable horse-trading that always tends to occur as legislators promote their chosen causes and always find a way to find money for most of them.
"We have increases in mandate costs, and at the same time we want to keep our taxes as low as possible," Holmes said as she concluded her presentation. "So I understand the predicament that you all are facing. And I think these are the right questions to be asking about our levy and our Fund Balance."
Before the Legislature adjourned, it covered its budgetary hind side. Even though this year's tax cap Albany has placed on Tompkins County seems relatively generous, 3.54 per cent—by contrast, Enfield's tax cap is just two per cent this year—the County Legislature voted to hold a later hearing on exceeding its cap. Only Lansing's Mike Sigler, currently angling for State Senate, opposed holding the cap override hearing.
The County Legislature began its budget review the following night. On Wednesday, it entertained presentations by department heads in the first of three scheduled such sessions. After that, legislators will begin the line-by-line adjustments that often resemble attaching ornaments to an overly-decorated Christmas tree. The final vote's not until November. Only then will we truly learn how high our taxes will go or how much our government will spend.
###
Posted Previously; also from the Legislature:
CMC Crisis Center hits bureaucratic block
NYS balks at backing the Community Recovery Fund's top recipient
by Robert Lynch; September 20, 2023
Three Enfield agencies argued last year that the local hospital deserved funding less than they, themselves, did. But the hospital got the cash and the Enfield applicants got shut out. They'd all joined in a money grab from a well-publicized source, the Tompkins County Community Recovery Fund.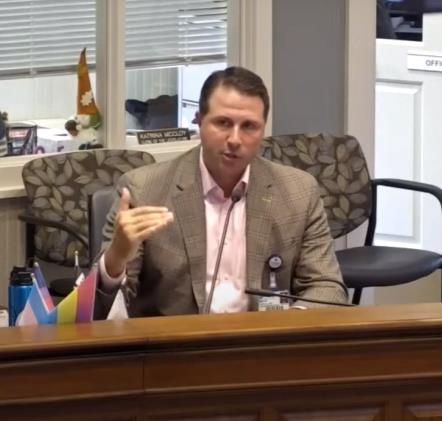 Only now, the Fund's luckiest applicant, Cayuga Medical Center (CMC) faces troubles of a different sort. New York State regulators won't let them build the kind of mental health treatment center they'd wanted to construct with the money awarded. And unless those regulators budge, and change their minds soon, CMC could forfeit its time-sensitive $1.5 Million Recovery Fund grant. It's money the Enfield agencies and others might then seek to divide among themselves.
The message might have gotten lost in the densely-packed, nuance-laden presentation Cayuga Medical's CEO, Dr. Martin Stallone, made to a Tompkins County legislative committee Monday. But that committee's chair, Danby's Dan Klein, got the message. Klein picked through Stallone's wiggle-words and delivered to the full Legislature Tuesday night the hospital CEO's bottom-line:
"As far as the planned Crisis Stabilization Center, there was not a lot to report on yet," Klein told the Legislature, based on Stallone's earlier assessment. "They have not been able to get the New York State approvals that they need, and they are attempting to explore options."
"I was hoping for more solid news on their progress,' Klein admitted, "But we will just have to wait for that."
We must wait, but for exactly for how long? CMC's set-aside from the Community Recovery Fund, part of a $6.5 Million pass-through to local agencies from the federally-financed American Rescue Plan, sets clear time limits for its spending. Recovery Fund Program Guidelines called for large-dollar projects, like Cayuga Medical's, to be "obligated/awarded" by December of next year, and the funding spent by the end of 2026.
With CMC's Crisis Stabilization Center now tied up in regulatory knots, no one can be sure whether the hospital corporation could meet those deadlines. And if this biggest recipient were to forfeit its funding, any of the also-ran applicants who'd earlier applied for the County program,—only
eventually to be denied—could renew their funding appeals.
"The County granted one-and-a-half million dollars for this project," Klein reminded the Legislature. "So we will continue to pay close attention to how this project develops."
The Community Recovery Fund Advisory Committee, which Klein also chairs, doesn't meet again until November sixth.
Three Enfield applicants; the Enfield Community Council (ECC), the Enfield Volunteer Fire Company (EVFC), and Enfield Food Distribution, operator of the Enfield Food Pantry, had each applied for Community Recovery Funds last October. They'd joined some 230 other agencies, businesses, and local governments in search of support. Enfield Town Government itself was among those other hopefuls. Enfield's only success came when the County Legislature last spring allotted the Town just over $26,000 to buy new Highway Department radios. The Town and its agencies have gotten nothing else.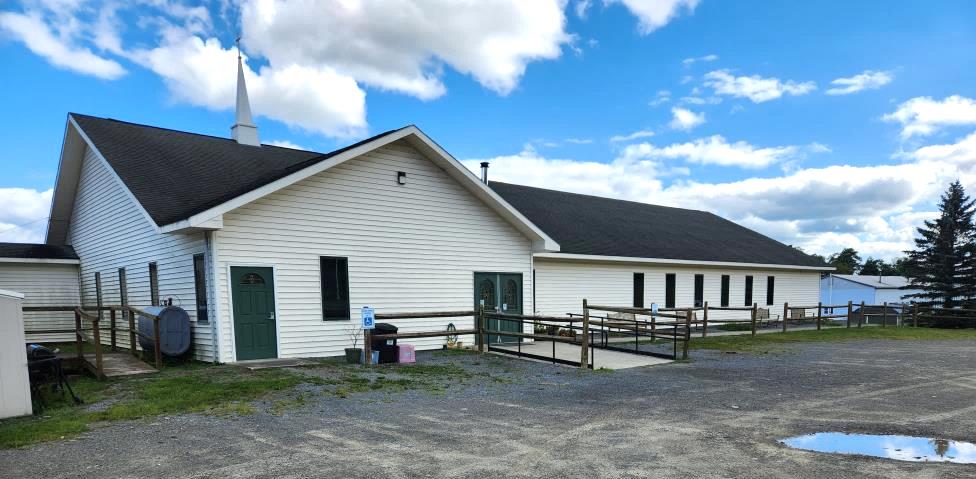 When the County Legislature awarded the vast majority of Recovery Funding last December, the CMC application proved the most controversial. Newfield-Enfield legislator Randy Brown spearheaded an unsuccessful effort to exclude the Crisis Stabilization project from the recommended list. While he endorsed the project's mission, Brown maintained Cayuga Health, a well-heeled hospital corporation, had many other funding sources to draw upon. Most competing applicants, he said, had little or no alternative funding.
On the Recovery Fund's most-recently compiled backup list of sorts, the Enfield Fire Company ranked highest among Enfield's so-far unsuccessful Recovery Fund aspirants, those that might become newly-eligible should others drop out. The Fire Company would use its minimum $50,000 request for a capital improvement project that could begin construction on a "bunk room," sleeping quarters for volunteers.
Down the list a ways, the Community Council seeks a minimum $146,000 to tack a Mental Health and Community Services Wing onto its Community Center. In a much more ambitious endeavor, Enfield Food Distribution has asked the Recovery Fund for $1.1 to 1.6 Million to construct its new Enfield Food Pantry off Bostwick Road. The Recovery Fund committee zeroed-out Enfield Food Distribution early-on in its deliberations. The other two Enfield agencies initially fared better during early multiple-rounds of review, but have still to receive any County cash.
Just why New York State Mental Health bureaucrats so resist the kind of Crisis Stabilization Center CMC proposes remains unclear. And to that point, CEO Martin Stallone provided little clarity during his 30-minute, wide-ranging briefing to the County Legislature's Health and Human Services Committee Monday, the report addressing many mental health services. In fact, Stallone's message was so generalized, provisionalized, and laced with medical therapeutic nuance that it required a keen ear to detect that the Crisis Stabilization Center had been denied approval at all.
"All of this is in the programmatic process of being defined," Stallone stated regarding current negotiations that impact State approval. "We're having ongoing conversations with the Office of Mental Health, both at the state and regional level, in conjunction with Tompkins County Whole Health [the local Health Department] about the model that is available to us and dually works for what the community needs."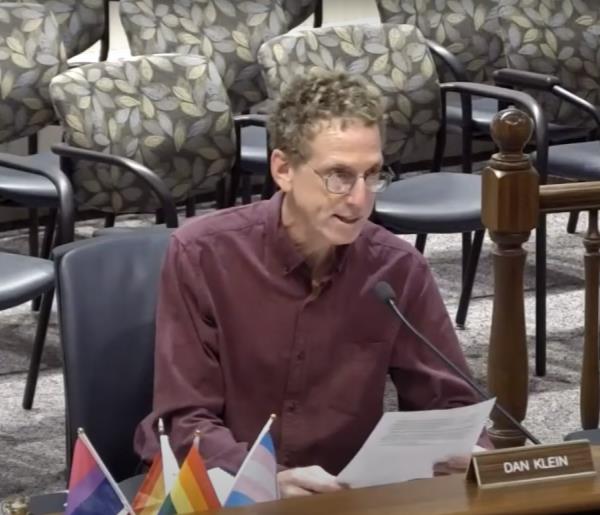 "We haven't decided on the exact model," the hospital chief continued. "We've applied to an intensive crisis stabilization model and separately (to) a supportive-level model. Neither of those applications were successful with the State."
One attempting to wade through Stallone's camouflaged, jargon-filled, never-concede-defeat roundabout narrative might finally have shouted at this point, "Bingo! That's it. We've got a problem here."
"There is now a third model," CMC's CEO went on. It's "called 'CPEP,' (a Comprehensive Psychiatric Evaluation Program), which is a stand-alone psychiatric emergency room." CPEP appears to be CMC's current offer to the State. Yet, here too, Stallone voiced caution:
"That's (CPEP) got challenges based on the nature of existing care infrastructure in our community," the administrator warned.
Pressed later by committee Chair Klein to explain, Stallone conceded that this third purported option is not really anything like CMC had initially asked Tompkins County to back financially.
"The third was not a Crisis Stabilization Center," Stallone acknowledged. "It's more intense. It's a full-blown psychiatric emergency room."
So, if the only thing that New York State may approve is nothing at all like what CMC sought from Tompkins County funders a year ago, would CMC lose its standing in the now-completed Community Recovery Fund awards process? That is one question that Dan Klein hasn't posed either in committee or on the Legislature's floor. It's a question that deserves to be asked… and answered. And it's a question that Martin Stallone has so far not addressed. It's a question very clearly reserved for another day.
The CMC request, first recommended in committee and then fully-funded by the Legislature last December, directed the $1.5 Million toward an "Intensive Crisis Stabilization Center for Tompkins County," not for a mental psychiatric emergency room, nor for anything else.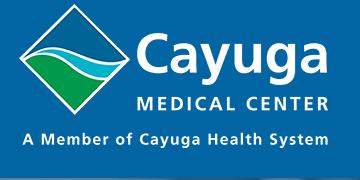 What CMC asked of the Recovery Fund was money to retrofit a piece of the Shops at Ithaca Mall for a facility that would help the hospital bridge the gap between inpatient and outpatient care for those with mental illness or substance abuse issues. A psychiatric emergency room is a much different animal. Yet it may be the only animal that Albany will approve. And common sense suggests it's unlikely any such specialized beast would make its home in a shopping mall.
"Sometimes you need to avail yourself, if you're an organization, of the programs that the State is encouraging, based on funding and licensure," Stallone advised the committee. "To be clear, it's not Crisis Stabilization. It's a level above that."
And perhaps a funding level far different as well. The $1.5 Million Tompkins County assigned the Crisis Stabilization Center only accounted to about 16 per cent of the project's total cost. At the time CMC applied, it estimated the center's total cost at over $9 Million.
****
To the most cynical among us, last year's competition for Community Recovery funding resembled a flock of vultures picking away at a very ample carcass. And now, if CMC's biggest-of-the-big funding award should fall through, expect that carcass to reappear. And if it does, expect the birds to return as well, including maybe a few from Enfield.
###
Posted earlier, from the Town Board:
Smart Step or Sellout?
EVFC ARPA grant may see unwelcome Town Board tweak
by Councilperson Robert Lynch, September 17, 2023
A Town of Enfield $20,000 appropriation to its Fire Company, funds originally intended to buy training gear and perhaps take the first steps toward a volunteer bunk room, would be redirected to the unglamorous task of paying legal fees, according to a proposal by one Enfield Councilperson, advanced at a Town Board meeting this past week. And some in the Enfield Volunteer Fire Company (EVFC) don't like the idea.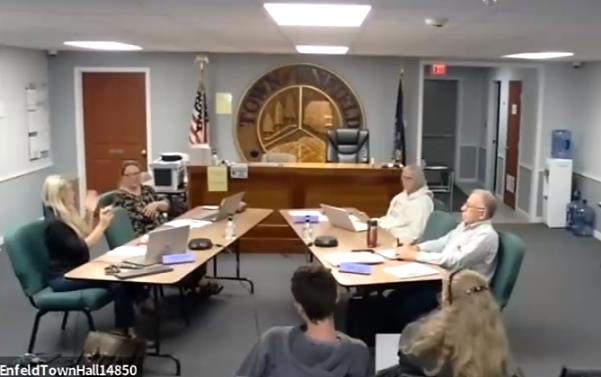 "I definitely do not think it's appropriate to pay (attorney) Brad Pinsky with those funds," EVFC Secretary, firefighter and EMT Ellen Woods said Saturday. "We applied for them, just like the Community Council and Food Pantry, with specific vital service projects in mind."
"This definitely needs some detailed discussion for sure," Fire Company President Dennis Hubbell wrote in an email Thursday, his comment in response to this writer's inquiry.
But the problem's more complicated than it first looks. At least Enfield Councilperson Jude Lemke thinks it is. And that complexity, Lemke insists, was brought on by the Town Board's transfer of fire service oversight to a Fire District and its Board of Commissioners this past summer.
The $20,000 Fire Company set-aside the Town Board approved in May was to pass through a slice of nearly $350,000 Enfield received from the federally-funded, but paperwork-burdened American Rescue Plan (ARPA). And Lemke told the Town Board Wednesday that the Town's decision in June to transfer fire service governance imposes a new wrinkle that she and Fire District attorney Brad Pinsky "brainstormed" to solve.
"It would appear that because the Fire District is a separate governmental entity, they would be required to actually set up their own ARPA account and do all their reporting," Lemke informed the Town Board. "And it is a pain in the neck," she said. "For $20,000, it doesn't make any sense."
With the clear support of Town Supervisor Stephanie Redmond, Lemke Wednesday advanced a controversial work-around. Lemke proposed the Town Board "revoke" its May decision to appropriate the $20,000 to meet the EVFC's equipment and facilities' needs. The Town, instead, would keep the ARPA money in its own coffers to pay the legal bills Pinsky has racked up in guiding the fledgling Fire District into formation.
But the Pinsky/Lemke collaborative idea never came to a vote Wednesday. And it didn't get there largely due to this writer/Councilperson's objections.
"I'd like to hear what the representatives of both the Fire District, that is the Board of Commissioners; and the Fire Company, which is a separate legal entity, have to say about this first," Councilperson Robert Lynch said to the Board.
"OK, we can postpone," Supervisor Redmond answered with a sigh.
This latest turn of events is just the latest in a many months-long struggle by the Enfield Volunteer Fire Company to get added Town Board help in both meeting its needs and keeping its volunteers safe.
Last fall, the EVFC requested the Town budget an additional $25,000 to cover replacement "Turnout Gear," protective outerwear, for its firefighters. Despite packed volunteer attendance at an October budget hearing, the Town Board's majority—with Lynch the only supporter—declined to amend the budget and reopen the multi-year fire contract to fund the equipment. Instead, the Town Board designated ARPA money for that purpose.
But then, this May, when tentative plans called for granting equal ARPA awards, of $45,000 each, to the Enfield Food Pantry, the Enfield Community Council, and the EVFC, Councilperson Lemke succeeded in subtracting from the Fire Company's allotment the Turnout Gear money previously pledged. It left fire volunteers with the mere $20,000 ARPA grant that's now at issue.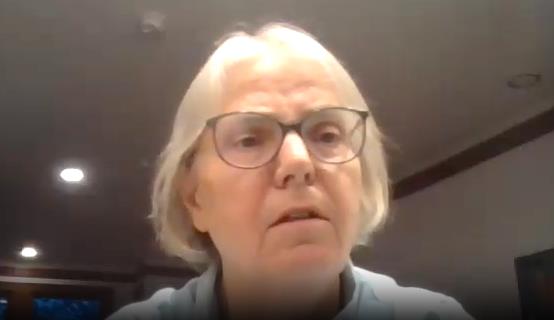 Yet with Lemke's current revision, anything that stood on the Fire Company's wish list— including planting seed money for an ambitious and much more expensive bunk room project—stands in jeopardy. There's no assurance that if the Town Board redirects the ARPA funds to pay Pinsky's legal bills that the EVFC's new funding overseer, the Board of Fire Commissioners, will ever replenish the facilities' funding that the ARPA cash would have brought.
"If the Fire District and the Fire Company are satisfied with this, that's fine," this writer, Councilperson Lynch, remarked, as the Town Board prepared to park the Lemke plan in the corner for the night. "But what I don't want to do is make a decision and be badgered by certain people from the Fire Company saying, 'You sold us out again.' OK?"
There's an additional question yet to be answered. Who actually owes Brad Pinsky his money? The Town Board in March authorized the Supervisor retain legal counsel to study the Fire District's potential formation. The Town Board granted a further authorization in April. Pinsky's contract quoted a $15,000 fee. But in subsequent meetings, the attorney himself indicated that the Fire District, not the Town, would pay those fees, and not likely do so until the District, itself, sees money coming in early next year. Even the Town Bookkeeper said Wednesday she remembered it that way. Yet Supervisor Redmond recalls it differently.
"So what he told us, too, is that if we did not pay for that $15,000, after the Fire District was formed, that $15,000 then becomes the Fire District's responsibility," Redmond told Wednesday's meeting. "So we could choose to walk away, leave them with that $15,000 and still give them that $20,000 for the ARPA funds as a separate thing, and they could go through all that headache of all that reporting."
"That's what I recommend we do," I responded.
"I don't think you understand how bad the reporting system is," the Supervisor rebutted. "I would pay $20,000 not to have to do the reporting," Redmond quipped. She's already had to shoulder reporting for the Town's other ARPA appropriations.
"It's a wash," Lemke maintained. "And then they (the Fire Commissioners) won't have to go through the hassle of setting up an account and doing all the reporting."
"But I think the Enfield Volunteer Fire Company wants things. They don't want legal bills paid," I responded.
"They'll already have to pay the legal bills, anyway," Redmond insisted.
"The Fire Company doesn't, the Fire District does," I said. "That's a different entity."
"But we're not going to give the money to the Fire Company, and they give it to the Fire District," Lemke asserted. "And so it makes better sense to do this and help them out to avoid the hassle."
And here's where it gets very puzzling for any layperson not steeped in New York Fire Service Law. The EVFC is a chartered, independent, non-profit corporation. The Fire District is the oversight arm of government. It assumes the role previously held by the Town. At least, logic would lead to that conclusion.
"Are we sure we can't give the money to the Fire Company, not the Fire District?" I questioned. "Has somebody made a legal determination that we can't give the money to the Fire Company for things?"
"Why would we do that, because they're going to turn around and sell those stuff (sic) to the Fire District," Lemke asked, bewildered by my question.
"They don't have to, do they?" I replied.
"Yes, they do," Fire District Treasurer Cortney Bailey corrected me.
"Well, they don't have to. It can be donated," Highway Superintendent Barry "Buddy" Rollins, the only appointed Fire Commissioner in the room, qualified the Treasurer's statement.
"It can be donated," Bailey acknowledged. "Either way, these things become the Fire District's."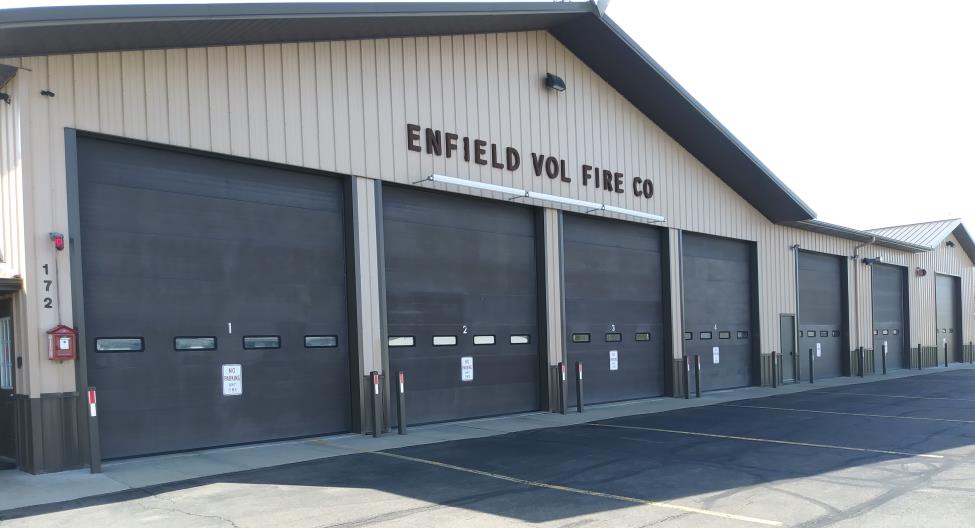 Of course, the Fire District and the EVFC can negotiate any kind of deal they want. But I find it hard to believe that the Fire District, unlike the Town Board, can just swoop down and snatch assets from the Enfield Volunteer Fire Company short of exercising its independent legal right of Eminent Domain. And that requires going to court.
The EVFC owns its trucks, its hoses, and its building. Pinsky has previously said the District may choose to lease, rather than buy, the trucks. And Commissioners have made it clear they have no intent to buy the Enfield Company's fire house. For one thing, if they did, they'd have to pay contractors New York State's prevailing wage anytime someone fixed a leaky faucet.
But of course, anyone can see why Brad Pinsky would like ARPA's funding reassignment. That way, he gets paid his fees now, rather than later.
"Our ARPA request said nothing about money to pay an attorney," EVFC President Hubbell said in a statement to this Councilperson Sunday. "Our requests were for certain items just like every other organization that applied," the Company President added. "We already got $25,000.00 deducted from our ARPA request for items not requested, but for items the Town Board chose to reduce the budget." (Hubbell was referring to the 2022 Turnout Gear.)
Yet Councilperson Lemke's belief in near- total Fire Company subservience to the will of the Fire District took an interesting twist Wednesday when talk turned a few minutes later to why the District Commissioners do not want to quarter their administrative office within the EVFC's fire station. And because they don't, the Town Board will allow them to set up temporary quarters in an unused cubbyhole office just off of the Town Board's meeting room.
"Why can't the Fire Commission have offices over at the Fire House?" I asked.
The Secretary and the Treasurer could find themselves in an office with no Commissioners present, Bailey replied. "(It) means that your Treasurer and your Secretary are open to being trapped into a conversation that they shouldn't even be in in the first place. It just leaves—there should be a division."
"How's Lansing do it? How's Dryden do it?" I asked. Those communities have fire districts too.
"I don't know," Bailey admitted.
****
Cortney Bailey donned two hats at Wednesday's Town Board meeting. Minutes before she assumed her Fire District Treasurer's role, she also guided to approval a $45,000 ARPA appropriation to the Enfield Community Council, an organization she oversees as President.
Back in May when the EVFC appropriation was initially approved, the Town Board designated the ECC money as well. But the fine details were never worked out. Exactly how would the Community Council use the cash?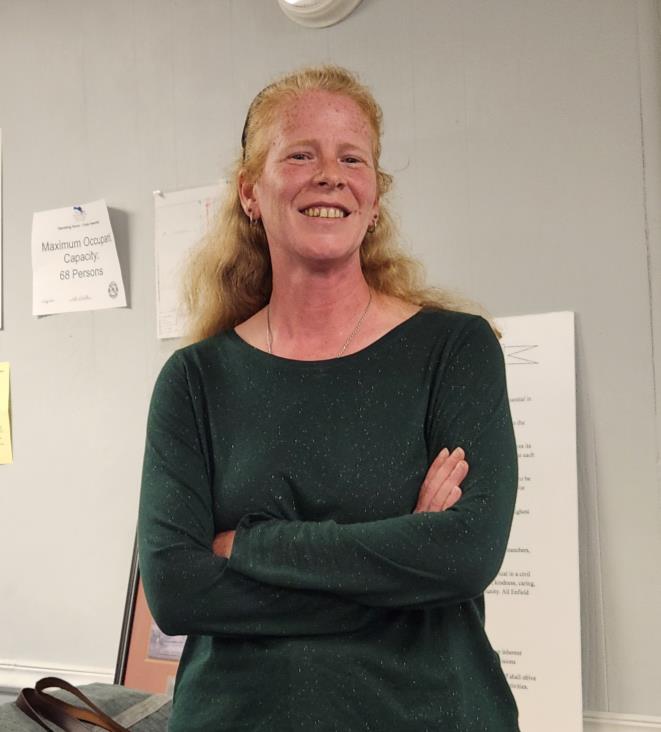 The final plan, approved by all four attending Town Board members (Councilperson James Ricks was excused) would carve the money into three annual installments and designate it to fund "community programming" to benefit "youth, family and individuals of all ages." The earlier May Resolution had listed only youth programming.
"We asked questions. Who wants to see what?" Bailey said in describing how ECC staff fine-tuned their current recommendations. And she said the agency found the previous youth-only target too restrictive.
"What our people actually need is to be brought back together as a community," Bailey told the Town Board. "Because COVID definitely pushed us all into our little holes," she observed, "and we want to pull them back in and say, no, we're all one community."
Examples Bailey gave of possible ARPA deployment would be to fund family field trips to baseball games, or the construction of a skating rink or a "gaga pit."
Among other Enfield Town Board business Wednesday:
The Town Board awarded Lambert and Sons' low bid to pave the basketball court behind the ECC's Community Center. It's a court once constructed by its former owner, the Living Water Church, but long left abandoned and since overgrown by soil and turf. Tompkins County awarded the Town a $5,000 grant to repave the court, but quotes this summer came in higher than expected. And the overrun delayed the project's award for months. Wednesday's approval came after Town Highway Superintendent Barry Rollins agreed to provide—and the Town Board authorized—Rollins' staff to assist in site preparation. That agreed-to teamwork, along with the grant money, should contain the Town's own projected outlay to $3,000.
And the Town Board approved, in concept, revisions in the Town's Personnel Manual. Its principal change will, for the first time, qualify part-time employees working 20 hours or more per week for paid health and dental insurance. Prime beneficiaries of this change will be the Town Clerk, Town Supervisor, and the Code Enforcement Officer. The policy change will likely take effect with the New Year.
###
Posted Previously:
Enfield Fire Spending Props Pass
by Robert Lynch; September 12, 2023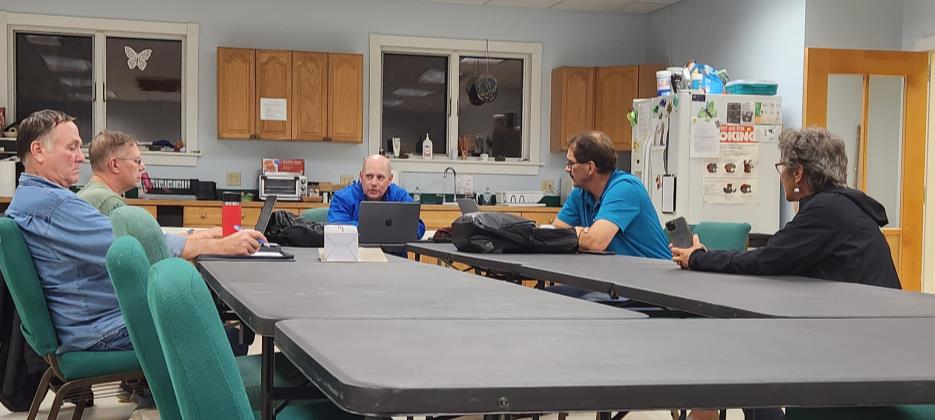 Ellen Woods, former Town Clerk, an Enfield firefighter and EMT, let out a shriek of delight as the tellers announced the results. To her and to many in the Enfield Volunteer Fire Company (EVFC) as well as to those on the newly-created Commission that oversees it, the Enfield fire service had just dodged a bullet.
By a margin that was comfortable, yet not overwhelming, Enfield voters Tuesday approved a trio of financial resolutions affecting fire service spending. The principal measure will raise a state-created spending limit, that if left unchanged, could have seriously crimped the EVFC's finances next year. The Enfield fire service never previously had to fall within that limit, but now must do so because the Fire Company serves under a Fire District and no longer answers directly to the Enfield Town Board.
In a heavier-than-usual turnout for a special election of the sort, the ballot resolution to raise the Statutory Spending Limit for the Fire District to $575,000 won approval Tuesday 102 votes (56.7%) to 78 (43.3%). Two other ballot propositions, those to establish capital reserve funds for the purchase of trucks and equipment, passed by slightly greater margins.
Following the tallying of 180 paper ballots and the announcement of the results, the five-member Enfield Board of Fire Commissioners convened briefly. They accepted the results, thanked the three volunteers who oversaw the referendum, and then adjourned to address other business at a meeting later this month.
Had the ballot referenda failed, however, one can imagine Tuesday night's meeting would have been far longer. Commissioners would have seen the need to ponder their resolutions' defeat and plan alternative strategies.
By estimates that have ranged wildly, failure of the spending limit proposition could have limited the Fire District next year to spend as little as $220 – $275,000. Under the final year of its current Town Board-approved contract, EVFC allocations already top $377,000. And the recent addition of an expensive new pumper engine to the Fire Company fleet could add an estimated $112,000 to next year's debt service.
At a Public Hearing September 6th, Jim Matthews, Chair of the Board of Fire Commissioners, had warned attendees that the referendum's failure by voters "would be pretty disastrous for a lot of reasons." Possibly, the Chairman said at the time, "We would have to get rid of apparatus. "
Neither Matthews nor anyone else on the Board of Fire Commissioners took time at their brief meeting Tuesday to comment on the three ballot measures' passage. All members were probably relieved that they'd just avoided a major financial obstacle.
A tally of Tuesday's votes indicated that most of those who rejected the resolution to raise the Statutory Spending Limit also opposed the capital reserve measures that accompanied it on the flip side of the ballot. Yet a few of those who opposed the spending limit's increase approved the reserve funds' creation.
By almost identical margins of 65% to 35%, Enfield voters approved the establishment of a vehicle purchase, replacement, improvement, repair and maintenance fund (117 votes to 62); and also a reserve fund to purchase, repair, and maintain equipment (117 votes to 63).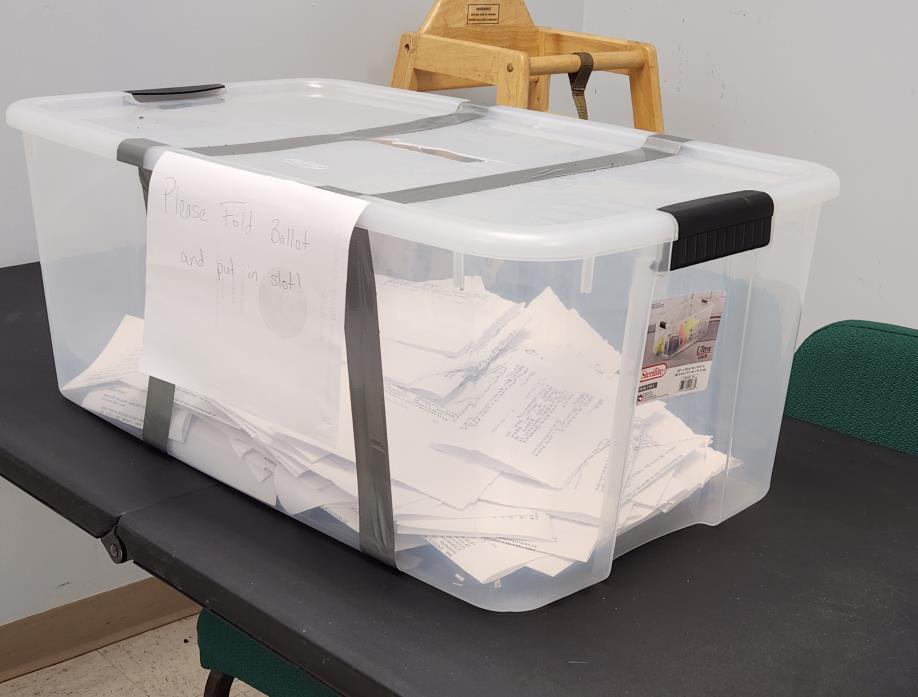 The Board of Fire Commissioners has yet to decide how large those new reserve funds will be or how close the 2024 Enfield fire budget will creep to the new $575,000 statutory spending cap. Commissioners and their attorney have stressed that setting the higher limit doesn't necessarily mean they'll come close to it next year. Opponents to the increase have never been so sure.
The Board of Fire Commissioners must rough-in a next year's budget by late-September. That budget will later face a Public Hearing, but will not go to referendum.
The Fire District's next election, scheduled for December 12th, will focus on people, not money. Voters will then choose permanent replacements for the five interim Fire Commissioners whom the Town Board appointed in August to get the Fire District's governance going.
The Enfield Town Board decided in June to transfer fire service oversight to a Fire District, and appointed Commission membership later in the summer. The District took hold August first. A prime complaint registered by some who trooped to the polls Tuesday was that the Town had given the public too little notice regarding the District's creation or the need for the spending limit resolution that they'd been asked to decide that day.
Two Enfield Councilpersons—this writer and Councilperson Jude Lemke—along with Fire District Treasurer Cortney Bailey, provided unpaid oversight for Tuesday's six-hour referendum. The Board of Commissioners Tuesday thanked the trio of election officers as well as Town Clerk Mary Cornell for volunteering their time. "We could not do the referendum without it," Matthews said.
###
Previously on this story:
Framing a Fire District's Future
Contrasting opinions punctuate Pre-election Hearing
Reporting & Analysis by Councilperson Robert Lynch, September 9, 2023
Greg Stevenson, Enfield's Fire Chief, called it "one of the many quirks of Fire Districts in New York State." And because the Enfield Town Board opted last June to transition its oversight of fire services to a Fire District run by a Board of Commissioners, Enfield inherited that "quirk" when it did.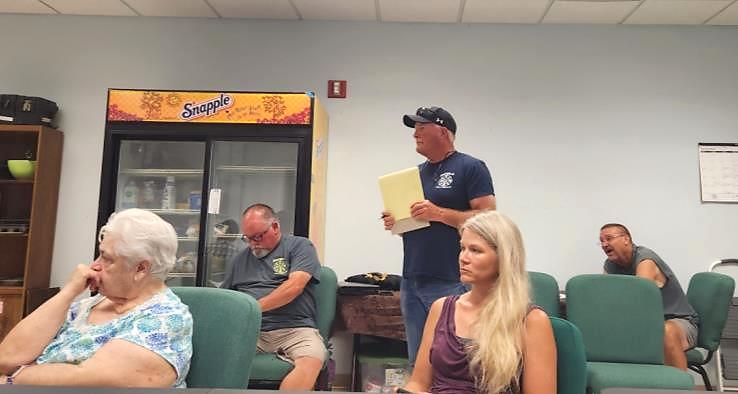 Tuesday, September 12th, voters must decide whether to increase the Enfield Fire District's "Statutory Spending Limit." It's a hard-number spending cap that's keyed to the aggregate assessed value of properties in the town. And because Enfield is a relatively poor town when it comes to assessments, the Albany-set spending limit is low as well.
Voters can elevate the spending limit, if they choose. And Tuesday they'll be asked to do just that. The proposition to be put before the electorate in just days would elevate the annual spending cap to $575,000. It would be a figure good for each of the next five years. It's about double what the Enfield Fire District would be able to spend without voter approval.
Also on Tuesday's Enfield ballot are propositions to establish two capital reserve funds for the Fire District; one for vehicle purchases and replacement, the other to buy equipment.
"If we do nothing, that (state) formula would arbitrarily force us as our first official act as a District to cut the Fire Company's existing budget nearly in half," Jim Matthews, newly named Chair of the Enfield Board of Fire Commissioners, cautioned attendees at a Public Hearing last Wednesday. Matthews employed the hearing to frame his best case for voting "yes" in the upcoming referendum. Refusing to increase the limit, he warned, "would be pretty disastrous for a lot of reasons."
Worst case, Matthews informed the hearing, "We would have to get rid of apparatus. You're basically having to shed obligations in order to get under that cap."
When our Town Board contracted with the Enfield Volunteer Fire Company (EVFC) for fire protection—as it has under an agreement that will end this December— the Statutory Spending Limit did not apply. But had it done so, the current EVFC contract would have spent well beyond it.
Numbers bandied about at Wednesday's hearing varied. But this we know. The Town Budget allocated $377,685 to the EVFC for 2023. The spending cap's adherence could have constrained allowed spending to just $273,000, or maybe lower. That's a theoretical 28 per cent reduction.
Yet raising the limit nearly $200,000 above current Fire Company spending did not rest well with some at the Commission's hearing. Applegate Road's Diane Aramini, arguably Enfield's most outspoken critic of the EVFC, found it excessive.
"I just kind of feel the public was misled from the get-go," Aramini said at the hearing. Aramini has argued at past meetings that transition to a Fire District was sprung onto the citizenry with too much haste and too little discussion. Aramini may have a point. Current Town Board members didn't even talk about forming a Fire District until March of this year. And this writer/Councilperson's efforts to slow the process fell on deaf ears.
Fairfax County, Virginia is where Jim Matthews, a relatively recent transplant to Enfield, served for many years as a firefighting volunteer. And he says he loved every minute of it. But as he moderated Wednesday's 45-minute Public Hearing—before he took it upon himself to gavel it closed—Matthews became a frustrated man. His patience wore thin. And it showed.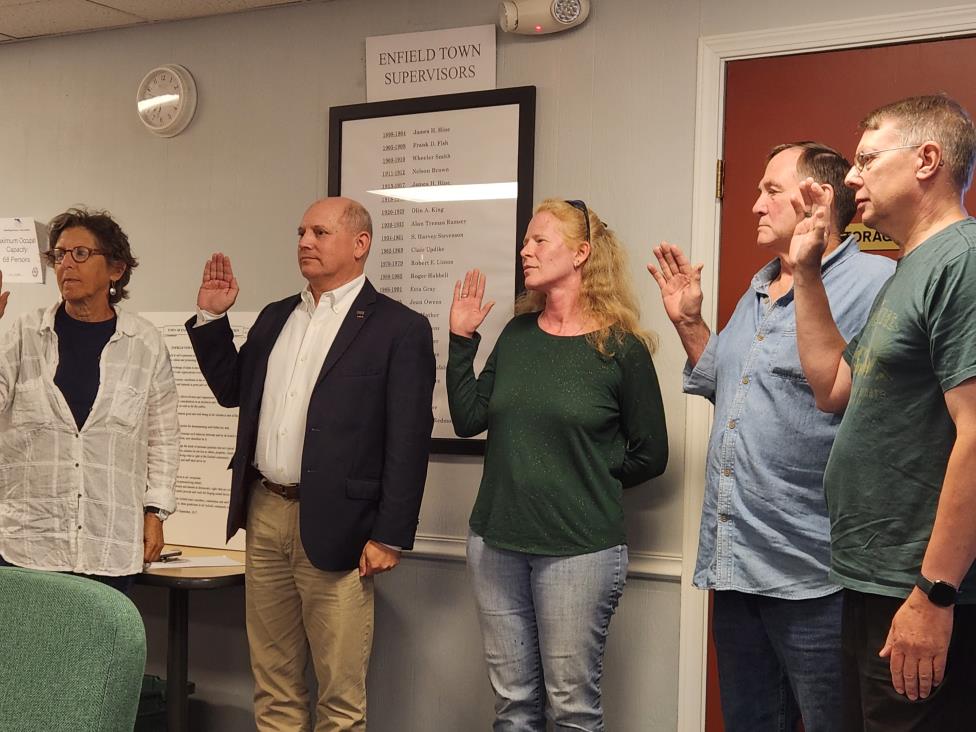 Our Fire Commissioner's Chairman quickly learned that fire service spending in Enfield is perhaps the hottest of hot-button issues in this town (aside, perhaps, from fracking and windmills). And with Fire Company supporters and critics drawn to their respective corners Hearing night, the referendum's outcome remains anyone's guess.
"Many people opposing the Fire Company in general have a direct financial interest in the [Town's] Highway budget," Ellen Woods, a volunteer firefighter, EMT, Fire Company officer and former Enfield Town Clerk, alleged. "As the Clerk, I know there is very little money in the Town," Woods continued, "and Fire and Highway fight over it."
Woods supports raising the spending limit. Aramini opposes doing so. The two traded verbal barbs across the room at one point. Chairman Matthews had to rein them in. Aramini and Woods were the most vocal of the approximately 20 residents who attended that night. Many attendees were known members of the Enfield Volunteer Fire Company (EVFC). Most of them remained silent.
Over and over, Matthews sought to pull back the conversation to just one issue: whether to raise the Statutory Spending Limit. But those in the room sought to enlarge the issue. Critics wanted to encompass Fire Company spending in general, including an $850,000 newly-purchased pumper truck's impact. That truck's financing could add as much as $112,000 to next year's EVFC outlay.
"It's not a tax increase," Matthews insisted regarding what'll face the voters. "We're not asking anybody to pay more taxes. We're not going to raise the budget of the Fire Company. We are trying to make the math match what the Fire Company already has. That's the objective."
"It's just a limit," Commissioner Robyn Wishna pleaded to the room's skeptics. "We're not going to use that limit per se. And we're hoping not to use it for even five years."
"We don't want the Fire Company to default on its loans," Matthews pointed out. We don't want the Fire Company to have to dip into whatever savings they had (they have little) to try to avoid default. And these are all really terrible outcomes and deeply unnecessary."
"And how can it not raise taxes?" Aramini pressed the Commissioners.
"Because this is the budget that already exists," Matthews answered, "and these are the moneys that already exist."
"It's not," Aramini pushed back. "They were not getting that money from the Town."
Aramini was right. Town appropriations for the EVFC never came close to $575,000. With the referendum's passage, they could.
But as Public Hearing attendees continually doubled-back on budgets and fire trucks, and as the Commissioners' Chair persistently attempted to steer the hearing's travel back to his own preferred lane, one could objectively argue that those at the head table, at times, didn't get it. They failed to sense the linkage that some in the audience clearly saw.
One man in the back of the room took his turn to speak:
"So if the cap is 575, or whatever; but you're not going to use it, the potential is there every year to reach that level, right?"
"If something were to happen, yes," Matthews conceded. But then, he quickly added, "It doesn't happen automatically. The Fire Company wouldn't be able to just decree it. That's what we're here to do as a Fire District; to oversee that process."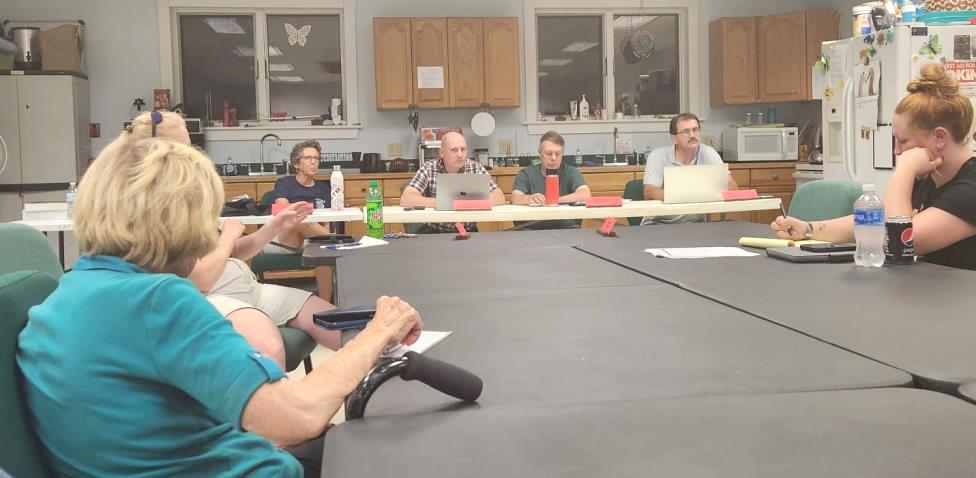 But the Fire District's Commissioners have yet to draft a budget for next year. And unlike school districts, the public doesn't get to vote on a Fire District budget. They only decide the spending limit. Next Tuesday's referendum provides them their only veto opportunity. And use it they may. For those who doubt the Enfield Volunteer Fire Company's frugality, that veto is their weapon. It's power.
"This has nothing to do with the taxes, period," Fire Commissioner (and Highway Superintendent) Barry "Buddy" Rollins insisted as Aramini pressed the Commissioners on whether tax rates were in play.
"And do we get to vote on the tax rate?" Aramini questioned. "I'm assuming no?"
"You don't get to vote on the tax rate," Matthews interjected. "The tax rate is going to be whatever the tax rate is."
Technically correct, yet misleading. The budget's size sets the tax rate. And the spending limit bridles the budget. They're all interconnected.
The hearing brought errors along the way that can easily disturb the skeptical mind.
"Right now, the budget of the Fire Company today is over $500,000," Chairman Matthews said five minutes into the hearing.
No, I corrected him a few minutes later, budget papers in front of me. This year's appropriation is 377 thousand.
"That did not include the purchase of a new truck, to replace an old truck that needed to be decommissioned," Board member Geoff Hollister qualified, Hollister attempting to wriggle the Commission out of a glaring factual misspeak.
But the fire truck's expense doesn't kick in until 2024, I noted, "so the people don't get the impression that our Town Board last year approved a $500,000 budget."
At Town Board hearings, we typically allow each speaker three minutes to make his or her point. Matthews ran his hearing more like a seminar. Nobody's remarks were timed. A record of who spoke—and who might have chosen to speak, if only called upon —was never kept, or acknowledged.
"I have zero clue legally whether I can adjourn the hearing and let it go informally after," an increasingly- frustrated chairman said after some 36 minutes of back and forth. "I don't know, but I think that's what we need to do" (namely close it down).
About ten minutes later, Jim Matthews gaveled the hearing to a close. Some attendees would rather have kept talking.
In its purest sense, Wednesday's "Public Hearing" wasn't really a "Hearing" at all. Usually, a hearing comes before a public entity's decision to put something to referendum. In this instance, the ballot is already set. No one can change it. Nothing that anyone said at the hearing could have altered what'll go before voters. If majority consensus had called for a lower spending limit, no one could have revised the numbers. More correctly put, Wednesday's was an informational meeting. The law requires a hearing. Was it legal? Probably. But the attorney, Brad Pinsky, was nowhere to ask. Counsel, I was told, was tied up in trial.
Fire Chief Stevenson rendered brief comments near the hearing's end. He supports the referendum's passage. "The attorney and the Board, they hashed it out," Stevenson said. "They agreed upon it. It's good business. I support doing it."
Equally supportive is EVFC President Dennis Hubbell, though he acknowledged seeing stumbles along the way.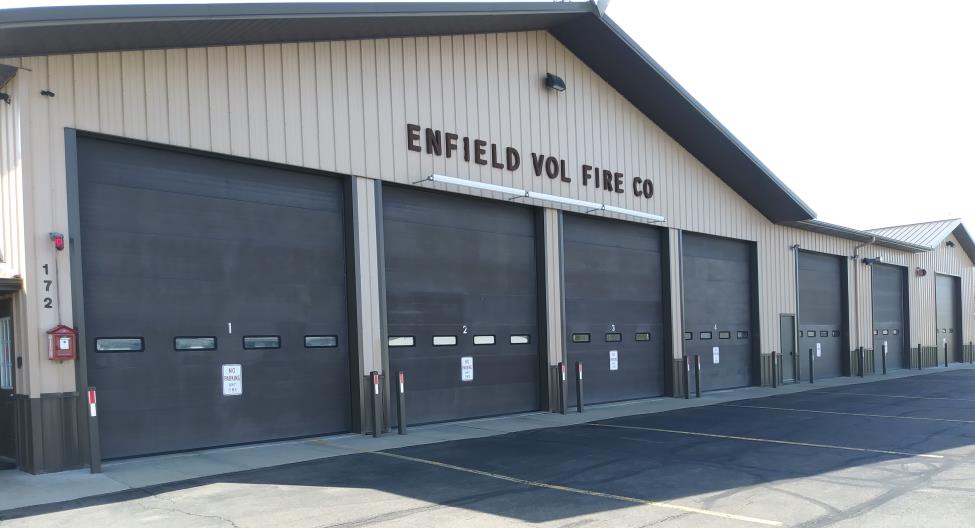 "Even though the water seems to be a little rough at this time," Hubbell said, "I think the Town and the Fire Company made the right decision by going to a Fire Commission."
Though they expressed informal support, Fire Commissioners declined later that night to officially extend voting hours for Tuesday's referendum without first consulting their attorney. By Thursday, they had and they did. As now revised, voting will take place at the Enfield Community Center Tuesday, the 12th, beginning at 3 PM and ending at nine that night.
One final note: Please allow me, your Councilperson, the comfort of neutrality. I'm a Town Board member. I'd rather not tip the scales either way with my opinion. Moreover, I'll be a volunteer overseer of the election that day. When you drop your paper ballot into Jim Matthews' makeshift ballot box, neither you nor I should know our respective preferences.
Please make an informed choice. I hope this reporting helped you decide.
###
The Die is cast
$40M Center of Government project clears pivotal vote
[And my own views on the Center of Government, expressed to the Legislature that night, follow this story.]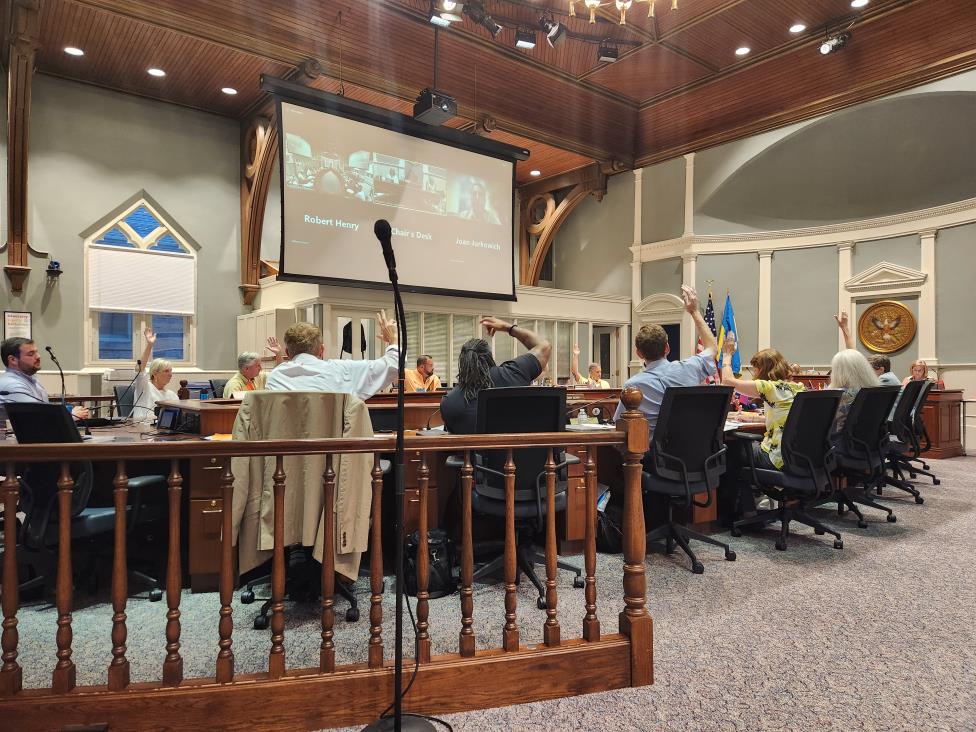 by Robert Lynch, September 7, 2023
Tompkins County lawmakers Tuesday took their most significant step in two years toward replacing the former Key Bank building at the corner of Buffalo and Tioga Streets and its adjacent law office with a mammoth new building, the "Center of Government." The multi-story structure would consolidate most County departments under one roof, but at a price of $40 Million, or maybe more.
"I don't want to see options come off the table," Groton's Lee Shurtleff told his legislative colleagues Tuesday. "But to me, passing this Resolution casts the die."
By a 12 to 2 vote, and following 35 minutes of discussion that swept up issues ranging from governmental priorities to downtown crime, the Tompkins County Legislature approved a Resolution "to proceed with Space, Architectural, and Engineering Plans for a Center of Government" at the Tioga and Buffalo Street site.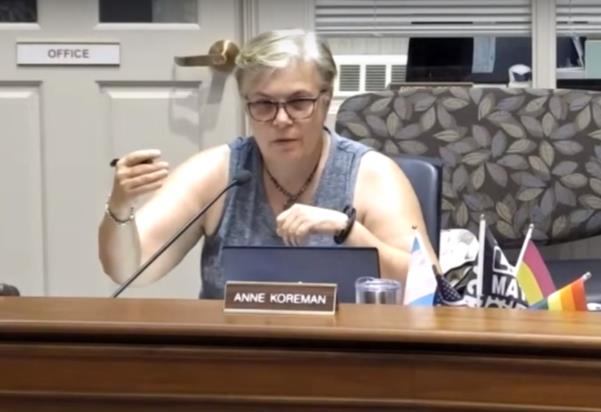 The adopted measure falls short of a final commitment. On its face, it spends no money. Nor does it order immediate demolition of the bank building or the former Wiggins Law Offices next to it. But the resolution expresses a will to move forward, something Tompkins lawmakers have found themselves unable to do since they bought the two 1960's-era buildings for nearly a combined $3 Million in 2021. To those in charge, that purchase always had a multi-story new office building as its goal.
Lee Shurtleff was one of the two legislators who opposed this week's Resolution that moved the Center of Government forward. Dryden's Mike Lane was the other.
"I think we ought to delay it," Lane, Chair of the Legislature's Facilities and Infrastructure Committee, said of the Resolution. Lane maintained that two of his committee colleagues, Greg Mezey and Deborah Dawson, had "leapfrogged" Tuesday's Resolution over what Lane had hoped would have been a more "serious discussion" of the former bank building's possible re-use.
But its core, Lane's misgivings focused on how a Center of Government might compete for scarce resources and legislative will with an equally-vital—and comparably-expensive—priority that Lane favors, namely the renovation and partial replacement of the 40-year old Public Safety Building, the county jail.
"I wish we had as many advocates for a jail project that we have for a County Office Building," Lane remarked.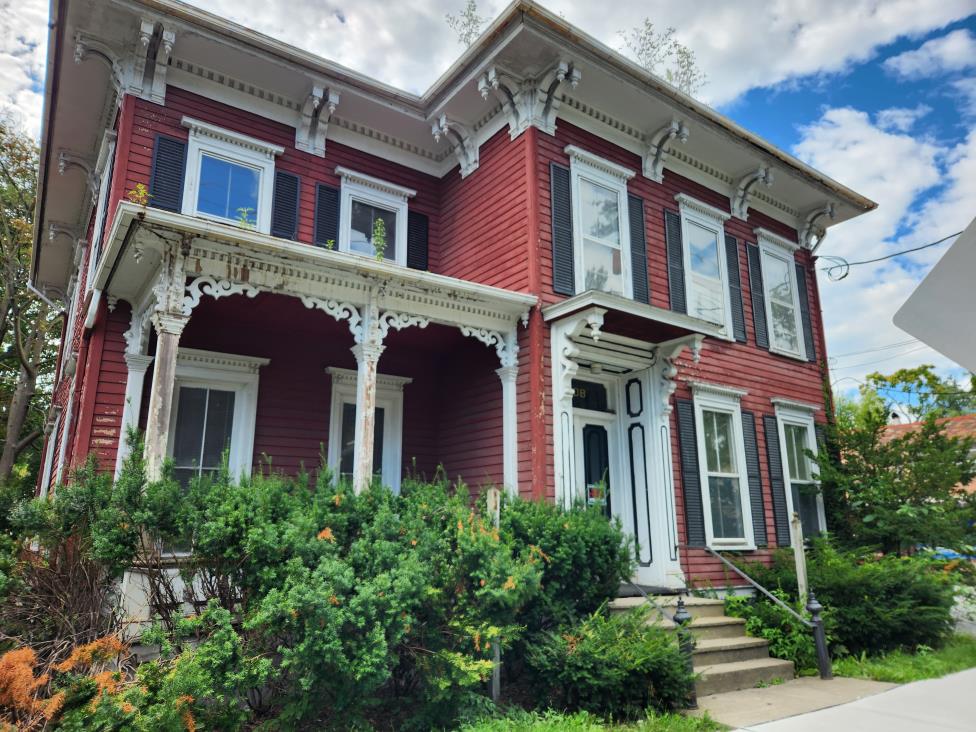 Tuesday's County Legislature meeting also saw a second long-simmering facilities issue addressed and moved forward, this one with greater finality. Legislators agreed to offer for sale—rather than demolish— the so-called "Red House," a two-story, Victorian one-time residence at 408 North Tioga Street, standing one block away from the Courthouse. Only Shurtleff opposed placing the Red House with a realtor or an auctioneer.
The "Red House" was part of a larger tract Tompkins County bought in 2019 as its initially-preferred Center of Government site. But shortly after the County spent $1.8 Million to buy the land, secret talks commenced that ended in the purchase the Key Bank and Wiggins properties. The negotiations consumed nearly two years. And as soon as lawmakers divulged their plans and laid their money down, the corner properties quickly eclipsed the Red House land as the Center of Government's favored footprint.
But the implied preference left the Red House and its adjoining barren real estate as a pricey lot lacking a clear purpose. Some lawmakers favored razing the Red House so as to expand employee parking. But historic preservationists and Ithaca City officials balked. And Tuesday's vote resolved the Red House's fate in a way preservationists' favor.
Enfield's two County representatives, Randy Brown and Anne Koreman, joined in backing the Resolution that moves the Center of Government forward. After Mike Lane refused to put the measure onto the table, Brown did. But he did so with measured frugality.
"I want to make it as small as possible; as cheap as possible," Brown said of whatever high-rise might replace the former bank and law office. Brown acknowledged that constraints imposed by the City of Ithaca tie legislators' hands a bit, since the properties stand close to DeWitt Park.
"We bought this property, own it, and can't tear it down until we have a plan for what we're going to have," Brown cautioned.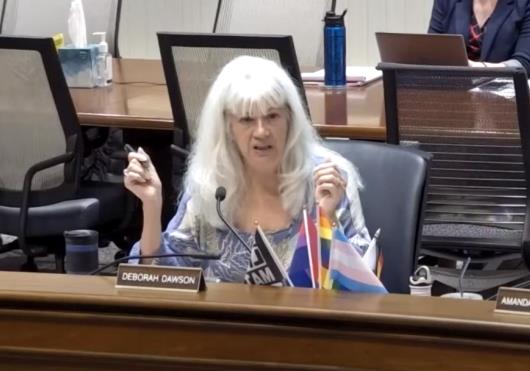 "I look at this as a goal," Anne Koreman said of the prospective office building. "We need more space for our many, many departments," Koreman added. "And so this is a step in getting us there."
"This really starts the ball moving from discussion to planning," Greg Mezey echoed. Mezey challenged Lane on the building's projected $40 Million price tag. Is it "a factual number or an estimate?" Mezey asked. Lane conceded it's an estimate. But Legislature Chair Shawna Black sought administrative clarity on the well-recognized tug-of-war between a Center of Government and the county jail rebuild. They're both big-ticket capital competitors.
"At this point in time, could we take on both projects in our budget?" Black quizzed County Administrator Lisa Holmes.
"It will be tight," Holmes answered. It "will take some prioritization," she acknowledged.
Black drilled down. "Could we start both of them tonight?"
"We couldn't start them both tonight," the Administrator conceded. "But we could start one of them this year. We could start another around 2028-2029."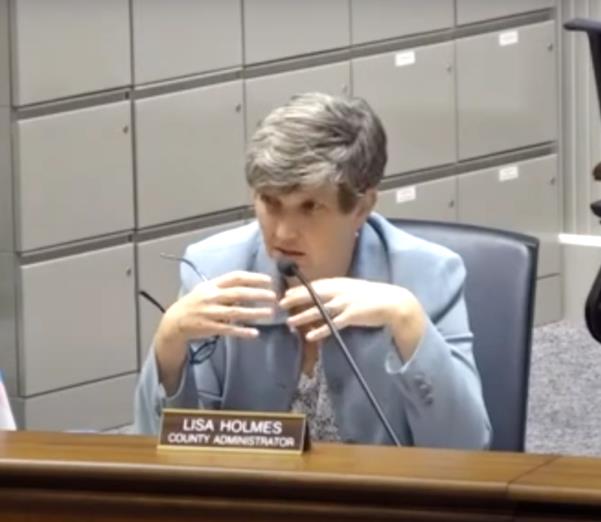 And that's precisely Mike Lane's fear. Legislative haste toward a Center of Government could put the Public Safety re-building on hold for at least another half-decade. Lane doesn't want that.
But it was another kind of public safety concern that prompted Lee Shurtleff's resistance. Maybe it's best symbolized by the omnipresent ring of off-color graffiti scrawled upon the Wiggins building's façade. Ithaca's getting less safe; more crime-ridden.
Shurtleff rattled off recent incidents. There were shots fired two weeks earlier within view of legislative chambers. Police apprehended a man brandishing a meat cleaver near Aldi's, a mere 200 feet from the Motor Vehicle Bureau. And most famously, Shurtleff referenced a pair of shootings prior to Memorial Day weekend 2022 just steps away from the Human Services Building's main entrance.
"I'm not comfortable going back to my constituents and saying with a straight face that I truly believe that this is the safest move in the interests of our constituents, and our clients, and our personnel," Shurtleff said of planting a new office building downtown. "I don't think it's the safest thing for us to build."
"Wow, this discussion seems to be getting more and more complicated," Ithaca's Rich John responded.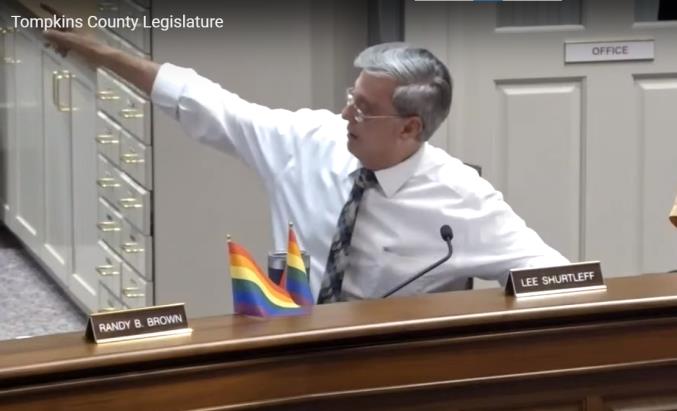 John voiced less pessimism; more hope. He saw Ithaca's crime problems as potentially—eventually— correctable. Yet he conceded, "There are things happening in our county that are not trending in the right direction."
Rich John voted for the Resolution. He wants the Center's planning to proceed. But he requested—and obtained—a one-word softening of the Resolution's language. The revision clarified that any design documents commissioned now would only be preliminary, not "final."
The measure the Legislature adopted Tuesday carries no timetable. It does, however, direct Administrator Holmes to play a bit of "musical chairs" to figure out which departments would best be relocated to a Center of Government. A few of those staffers, no doubt, would migrate from Holmes' own trappings at "The Old Jail," the repurposed lockup next to the Courthouse. It's a building where County Government's rapidly-proliferating professionals find themselves packed in like sardines.
One of the Resolution's authors, Lansing's Deborah Dawson, took due note of the predicament.
"We've got people working in closet-size offices with no windows," Dawson complained. "We talk a good game in this Legislature about how valuable our staff is," she said during the debate's closing moments. "It's time for us to put our money where our mouths are."
Yes, lots of money, Deborah. $40 Million worth… and climbing. And, oh yes, don't forget the jail. Talk can be cheaper than action.
###
Now, here's what I told the Legislature about the Center of Government:
"Think Before You Act" (They didn't)
Posted September 6, 2023
Enfield Councilperson Robert Lynch, addressing the Tompkins County Legislature, at the start of its meeting, September 5, 2023: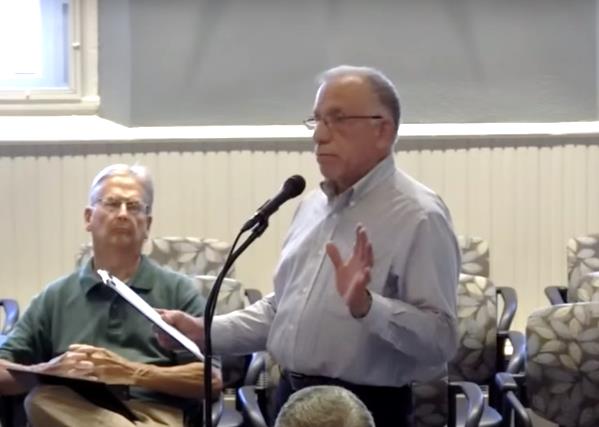 "I've spoken on this topic before. I'm going to address it again tonight. And it's concerning the Center of Government that you're proposing. There's a Resolution on your agenda tonight which says that the County should proceed with plans for a Center of Government Building and allocate funds for design; architectural, engineering, for such a building.
"I would recommend that you not do it. It's not that you shouldn't do it ever. It's just that you shouldn't do it right away. It's premature to act tonight, I believe. And I think I have sound reasons behind that.
"I'm going to draw an analogy that may seem kind of strange, but I think it fits. Down in Washington, some members of Congress are thinking about drafting a Resolution for an Impeachment Inquiry of President Biden. And they don't really know why they want to impeach him. They don't really know the grounds for it. But, 'Why not go ahead and do it anyway, and we'll see what happens.'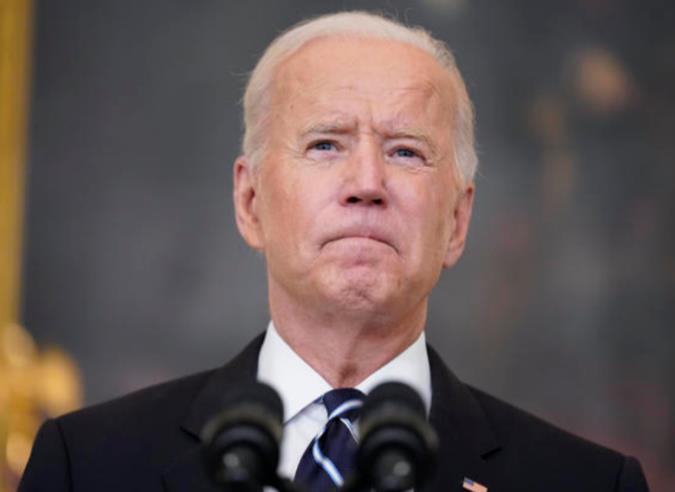 "Wise observers have said that once you go down that path, it's hard to turn around. That if you have an Impeachment Inquiry, pretty soon you'll get to have an Impeachment vote. Pretty soon you've got an Impeachment. And I would argue the same is [true] here. Because what'll happen is you'll do the design. Well, you're down that chute, and the chute gets narrower and narrower. And it's harder to turn around. And you'll say, 'Well, I guess we better go ahead and build the building.' And I would argue that if you approve this resolution tonight, it's only a matter of time that you better believe you'll be building the building.
"I think there's a good reason to have second thoughts about this because a lot of people in this county don' t really know what's being planned. I've campaigned along with Randy Brown two years ago down in Enfield and Newfield for County Legislature. And most of the constituents I met said, 'What, you're planning an office building?' And back then it was $20 Million. Then last year, it got to be 32 [Million]. Now they're talking 40 Million. And I bet 'ya by the time you build it, it's going to be 50 or 60 Million Dollars, if not more.
"And I think there are creative alternatives. One, for example, the Shops at Ithaca Mall. CMC [Cayuga Medical Center] has seen fit to retro a little bit of that building for its use. Why couldn't the County do the same? Or Harold's Square? I understand there's a lot of unused space there. Maybe that would work?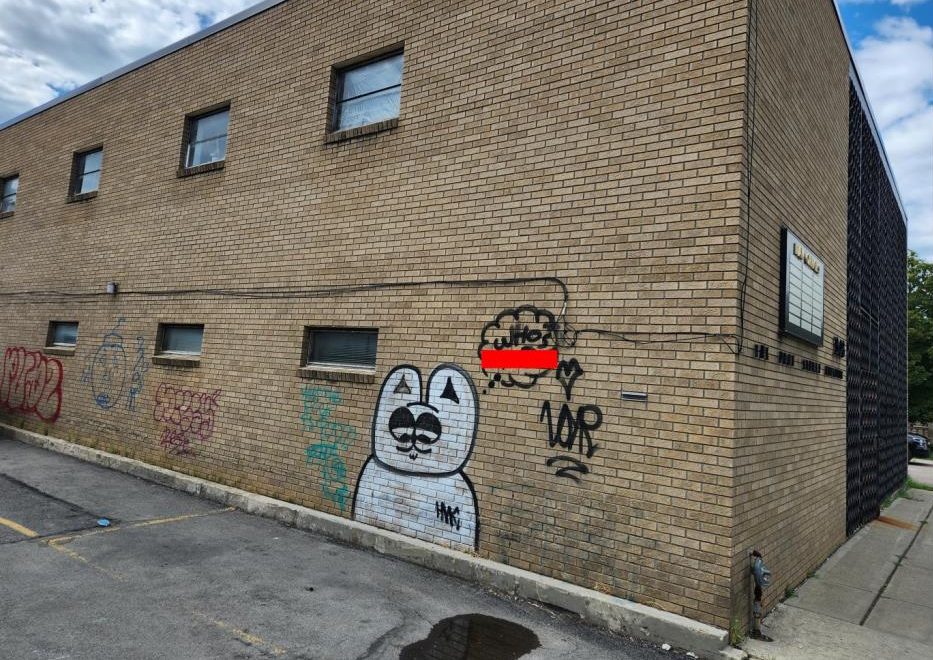 "One thing more before I leave. And this is a plea. Please, to your Facilities Department and to you as a Legislature: Please do something about taking that obscene graffiti off the side of the Wally Wiggins building. It's an insult to this county; it's an insult to the reputation of an attorney I very much respect, Wally Wiggins. And you really should clean up that building to clean up your own county's image.
"Please, please think before you act on this Resolution tonight. And I wish you well. Thank you."
****
Hours later, the Tompkins County Legislature voted 12-2 to adopt its "Resolution to Proceed with Space, Architectural, and Engineering Plans for a Center of Government." No, the Legislature did not delay action. Lawmakers did not step back and give the matter more thought.
Perhaps this Councilperson's words fell on deaf ears that night. But I'm glad I spoke them. I believe the passage of time will prove that I was right.
Bob Lynch
###
Posted Previously:
Tomorrow's Enfield, Today
Coming soon to a mailbox near you… The Breezy Meadows sales pitch: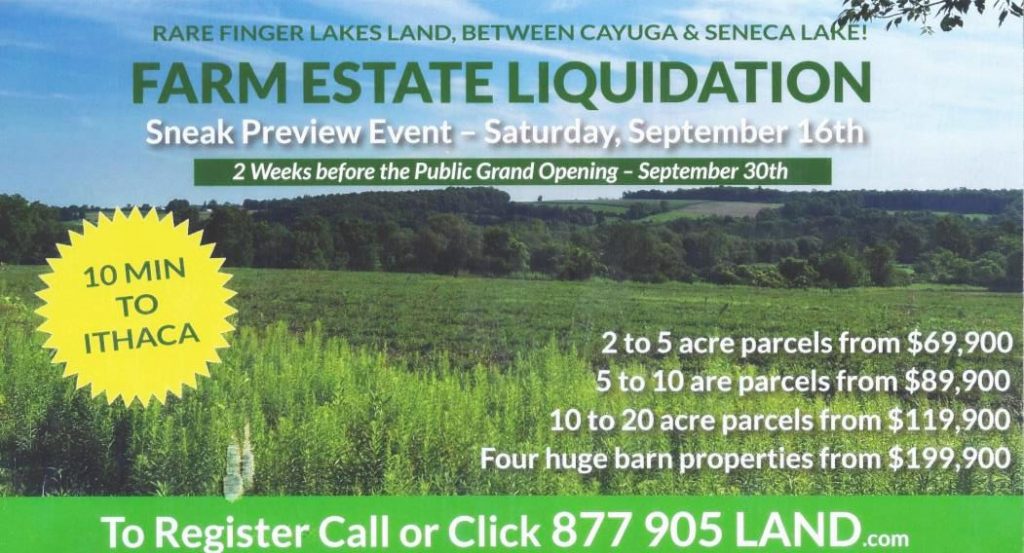 Yes, one picture is worth 1000 words. And the words they choose sound so good.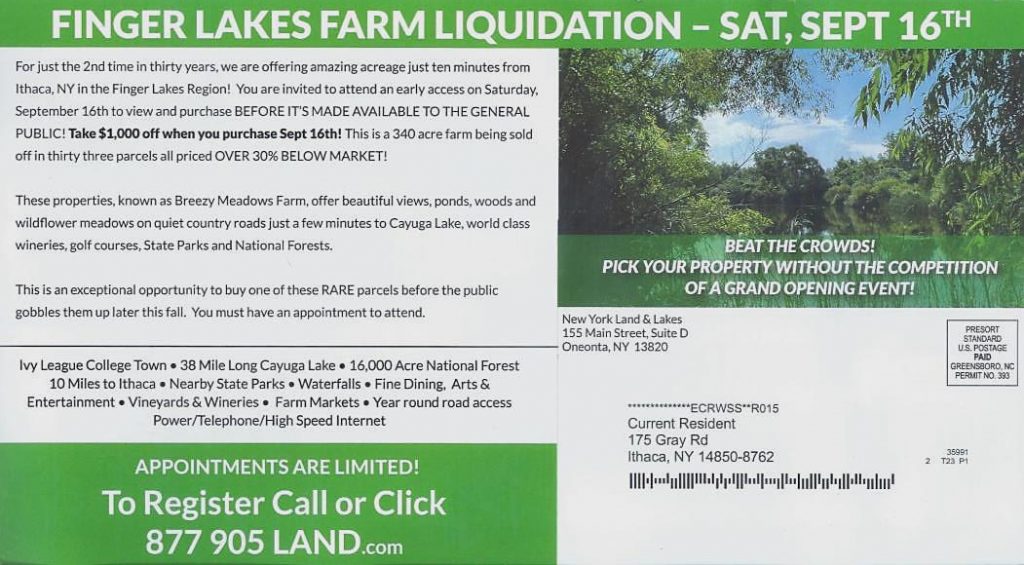 I guess when you buy a farm for $1.6 Million and then seek to sell it for $4.1 Million; you can afford a lot of postage.
Note that Land & Lakes makes no promises about well water. Because it can't. And the "quiet country road" talked about (presumably, Tucker Road) won't be that way after the first 20 houses get built.
Good Luck, Enfield. We're in for change. Not all of it good.
Robert Lynch
###
Posted Previously:
Mike Sigler to challenge Senator Webb in NY-52
by Robert Lynch, August 30, 2023
Mike Sigler, the four-term Tompkins County legislator who attempted in 2022 to secure a seat in Congress in two separate congressional districts only to withdraw his candidacy in each, will challenge freshman State Senator Lea Webb for re-election. The Republican aspirant's decision comes more than 14 months before Democrat Webb will face the electorate in her bid for a second term in the 52nd State Senate district, a district reconfigured last year by the courts following the 2020 decennial census.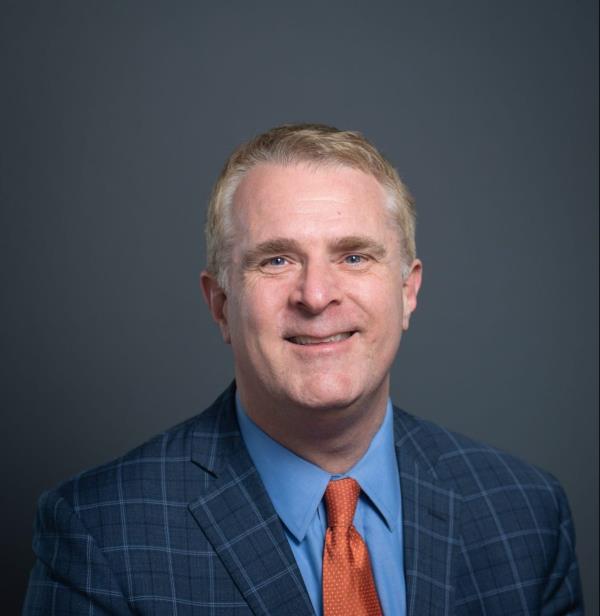 "I've been asked to run for the New York State Senate, and I've decided to run; the election is in November 2024," Sigler proclaims in the introductory paragraph of a fundraising letter his campaign mailed to prospective donors in recent days.
"I believe I've been an effective and honest public servant and I want to be that in Albany," Sigler continued in his letter.
Mike Sigler, who's represented Lansing in the Tompkins County Legislature on and off for nearly 18 years, has yet to officially announce his candidacy for the State Senate. As of this writing, no known media has reported Sigler's most recent initiative.
Yet Sigler has already taken important and necessary steps. His candidate committee, Sigler for Senate, filed its required application with the New York State Board of Elections on July 21. And the candidate has repurposed his campaign website, votemikesigler.com, from its previous use as a vehicle for his failed congressional campaigns so as to reflect newer ambitions.
The revamped website, as of this story's posting, had been updated with graphics to reflect a State Senate run. It contains a donate button, but otherwise stands devoid of informational content. This writer's attempt to confirm Sigler's interest, emailed to the candidate's stated website address, went unanswered.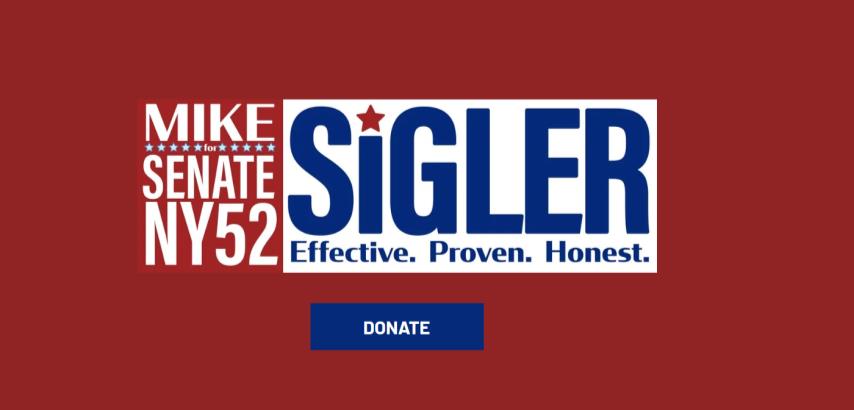 In 2022, after New York Senate districts were initially redrawn by the State Legislature amid a highly-contentious and politically-infected atmosphere, Sigler chose to run for Congress in the new 22nd District. That district was then envisioned to stretch from Ithaca and Newfield northward to beyond Syracuse.
But when legal challenges prompted a judge to order new district lines be drawn, Tompkins County was cut out of the 22nd. . And Sigler's new home district, the 19th, our current one, found Republican Marc Molinaro as the party's shoo-in nominee. With a home district candidacy effectively foreclosed, Sigler opted to compete in the western Southern Tier District where Congressman Tom Reed had represented us until Reed's sudden retirement earlier that year… and then redistricting.
But Sigler found problems there, too. When State Republican Chair Nick Langworthy entered the NY-23rd District contest, Sigler sensed overwhelming odds and again pulled out. Sigler focused the rest of his 2022 efforts on advancing the candidacies of Lee Zeldin for Governor and Marc Molinaro to Congress. Zeldin lost; Molinaro won.
With Molinaro currently seated in Sigler's home district, GOP Congressman Brandon Williams in the Syracuse-centered 22nd, Langworthy representing Reed's former territory, and Trump loyalist Claudia Tenney firmly ensconced in the district now immediately to Tompkins County's north, all Washington opportunities for Sigler find themselves foreclosed. Thus, the only remaining hopes for the obviously ambitious Sigler run only through Albany. And they target Webb's Senate seat.
Lea Webb, a former Binghamton City Councilperson, won her 2022 inaugural race for State Senate only narrowly. About 2400 votes separated her last November from her GOP opponent, former Binghamton Mayor Rich David. Webb can credit her victory in that three-county district race to the lopsided majorities she piled up in Democrat-dominant Tompkins County. Webb lost her home county, Broome, and also Cortland County to David. But she secured a better than two-to-one victory margin over David in Tompkins County (72% to 28%). Districtwide, Webb won the race by just over two percentage points.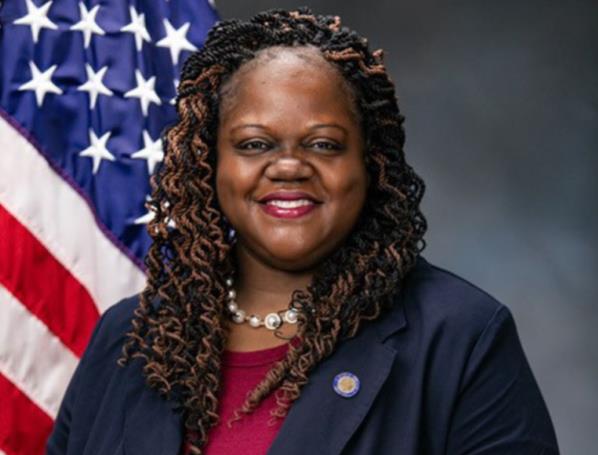 Given those results, it's safe to say that the currently-drawn 52nd Senate District remains competitive. What's more, Sigler's name recognition and legislative standing in deep-blue Tompkins County, as well as his positioning as a Republican moderate, could draw independent local voters to his side in ways Rich David could not. Tompkins County legislators do not face re-election until 2025. Mike Sigler's legislative seat is safe for now.
Astute observers could have spotted Mike Sigler's State Senate aspirations months ago. His social media posts have increasingly focused on Binghamton-area events as well as his efforts to buck up support for Congressman Molinaro, who also represents the area.
As to the issues driving his campaign, Mike Sigler takes first aim at a hard-to-correct decision by Democratic Governor Kathy Hochul's administration. It costs localities dearly. Hochul's staff this year withheld from counties the distribution of federally-enacted Medicaid post-pandemic assistance. New York is one of the few states nationally that forces county governments to bear a share of medical assistance for the needy. Critics maintain that Washington intended a portion of its supplemental aid to funnel down to New York's counties. Hochul's staff, instead, chose to retain the money for state use.
"The state made decisions this year that made me want to run including withholding the Federal Medical Assistance Percentage, FMAP money, from the counties," Sigler stated in his fundraising letter. The candidate continued, "For Tompkins County, that is a $1.5 Million hole in our budget that will either mean a loss of services or a property tax increase. The state was supposed to act as a pass through, but instead, Albany kept it," Sigler lamented.
Mike Sigler wasn't through:
"Tie that with the state's governing by crisis when it comes to energy, healthcare, infrastructure and crime, and I decided I need to do more," Sigler wrote.
Mike Sigler, a sales representative for the Park Outdoor billboard advertising firm, holds a resume with past broadcast media experience. He first won election to the Tompkins County Legislature in 2005, then lost re-election to Democrat Pat Pryor in 2009 by just nine votes. Sigler won the seat back four years later, and then won re-election in 2017 and 2021, the most recent time running unopposed.
Lea Webb, African-American, has proven herself a consistent supporter of the State Senate's Democratic majority in this, her first year in office. She opposed the elevation of Judge Hector LaSalle to become Chief Judge of the New York Court of Appeals, supported appointment of the more-liberal Rowan Wilson to that chief judgeship, and backed a controversial bill to move most town and county local elections to years viewed as more favorable to her majority party. This latter bill currently awaits Governor Hochul's signature or veto.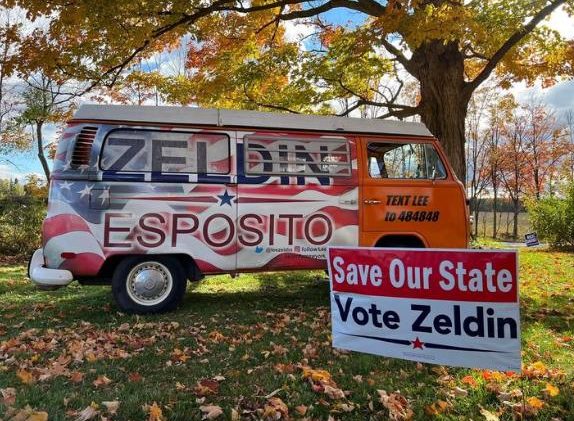 Since taking office, Webb has championed consumer, environmental, and minority rights. She's supported efforts to preserve the Ithaca Carshare vehicle-rental service, fought massive rate hikes by her district's electric utility, NYSEG, and most controversially, backed state legislation to set up a commission to study potential reparations to the descendants of former slaves.
To date, no other candidates have stepped forward to challenge either Mike Sigler or Senator Webb for their respective party nominations.
There's one element of the Mike Sigler 2022 campaign that you're not likely to see this time. Sigler procured "Bette," a refurbished VW microbus, emblazoned it with his name, and drove it to campaign events last year. Sigler eventually repainted the vehicle to promote Lee Zeldin. But neither "Bette" nor Zeldin survived the 2022 campaign. Zeldin lost the election. And "Bette" died an accidental death, from a car fire, reportedly in the Shops at Ithaca Mall parking lot.
****
Correction; September 3, 2023: As to "Bette," the Sigler campaign's signature VW microbus, Mike Sigler informed the writer this date that the vehicle was not purchased explicitly for the Sigler campaign, but rather was acquired by Mike 10 years earlier for his personal use. Furthermore, Sigler states that he never actually got to wrap the vehicle in "Sigler for Congress," but did so only for the Lee Zeldin campaign. All other aspects of this story stand. / R. Lynch
###
Posted Previously:
Call it "Money Meadows" now
Land & Lakes seeks huge profits on Enfield subdivision, sales papers reveal
By Robert Lynch, August 21, 2023
Breezy Meadows, the 337-acre, 33-lot subdivision that weathered neighborhood opposition earlier this year and glided its way through Enfield Town Planning Board review with minimal pushback, seeks to market its lots for a combined $4.1 Million, according to a "preliminary" lot price list mailed to the Tucker Road subdivision's neighbors earlier this month. Its mailing came in a solicitation for those neighbors to purchase lots before the project hits the public market in mid-September.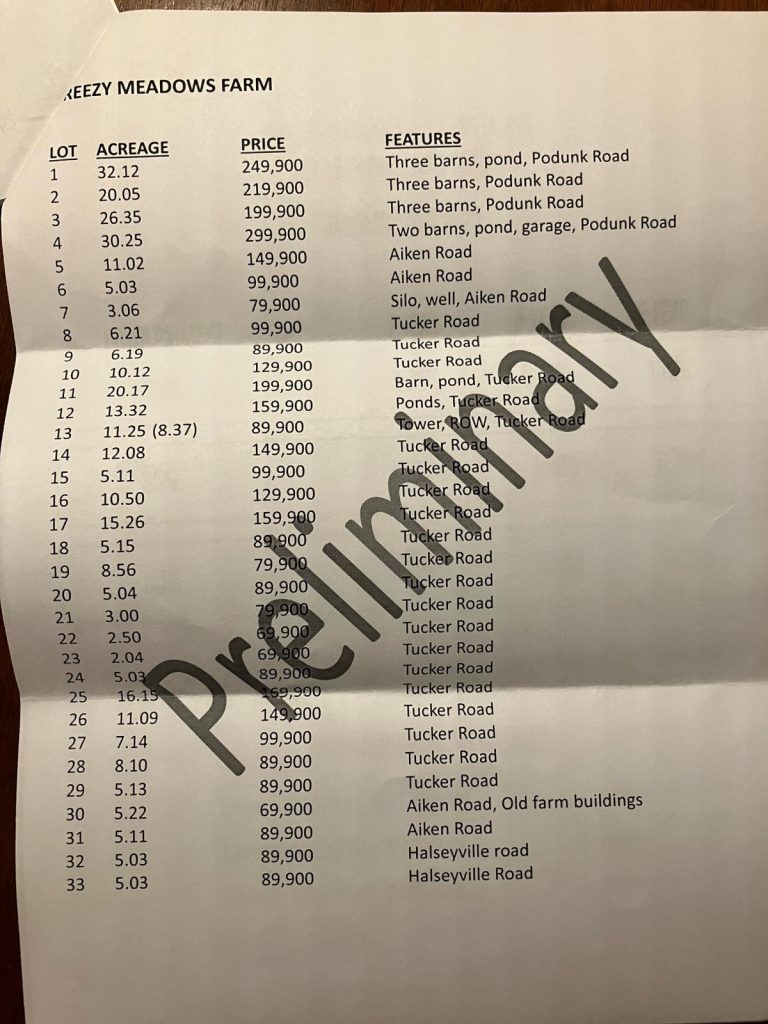 Presuming the pricing holds, the subdivision's owner, New York Land & Lakes Development LLC, would receive more than $2.5 Million in profit (157%) over the price it paid for the long-abandoned former chicken and hog farm that it purchased from the John William Kenney Credit Shelter Trust in June for $1.6 Million.
"As many of us working people feel in America lately, we are being cut out of the housing market. And this is another example," Aiken Road resident Andrew Waye, one of the Breezy Meadows neighbors the developer contacted, wrote the Enfield Town Board Sunday.
"Many of us around here feel as if we have been cut out of the opportunity to purchase the land because developers swoop in and quadrupled the price and provided nothing in return but raising our taxes even more," Waye added.
"As a courtesy to our neighbors, we are offering you the opportunity to purchase any of these properties before they are made available to anyone else," Tammy Kruger, Director of Sales, for New York Land & Lakes, wrote Waye in a letter dated August 11th and that Waye shared with the Town Board Sunday by email. "This opportunity has been greatly appreciated by neighbors of other properties that we have sold over the years," Kruger's letter continued regarding the solicitation.
But the one-page Breezy Meadows Farm pricing list that Kruger attached, one stamped "Preliminary" across its face, signals more than anything else that no building lot in Breezy Meadows will come cheap.
Ranging by size, location and (purported) improvements, Land & Lakes has priced lots in Breezy Meadows ranging from $69,900 (for each of a pair of 2-2.5-acre lots off Tucker Road) to the developer's most expensive lot, priced at $299,900. That latter lot, among the project's largest, totals 30.25 acres and includes two of the long, low, dilapidated former Babcock Poultry Farm barns off Podunk Road.
According to the pricing list forwarded the Town Board., Land & Lakes would sell the lots in Breezy Meadows for an average $12,201 per acre, It paid just $4,742 per acre for the overall tract, according to deed documents on file with the Tompkins County Clerk.
To earn its huge markup, Land & Lakes did little. The speculator surveyed the land, and the Oneonta developer's representatives attended several meetings of a highly-compliant Enfield Town Planning Board. That's it.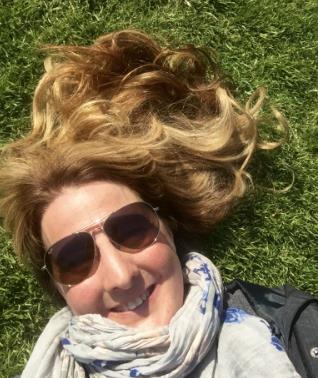 The Planning Board granted New York Land and Lakes final subdivision approval for Breezy Meadows on June 7th. The developer's purchase deed was recorded in the County Clerk's Office five days later. By its purchase, Land & Lakes acquired more than 300 acres of mostly-untilled, largely overgrown weed fields between Podunk and Halseyville Roads in Enfield's northwest quadrant. Most notably, the former John William Kenney farm includes as many as 13, sprawling, one-story metal-sided barns, once used by Babcock Hatcheries, and more recently in the nineties by a hog farmer. They've been vacant and abandoned for decades. Some are filled with junk. Others are falling in.
The subdivision's neighbors first caught wind of the developer's plans when an anonymous critic stuffed a proposed site map—one that turned out to be amazingly accurate—into neighborhood mail boxes late last year. Residents filled seats at the Planning Board's early-December meeting to voice their concerns when Land and Lakes' Project Manager Alan Lord first came calling to detail the firm's sketch plans.
But those concerns did little to impede Enfield Town planners from moving the subdivision forward quicker than some would have liked. Planners waved off a trio of concerns that focused on the project's reduction in Enfield's tillable farmland; the development's impact on the now lightly-traveled, gravel-surfaced Tucker Road; and most importantly, the project's potential to draw down neighborhood well-water supplies.
Town Planners rejected Enfield Councilperson Robert Lynch's (this writer's) request that the Planning Board condition subdivision approval upon Land & Lakes' assurance that any purchaser's later-drilled water well would pump enough supply to meet the buyer's needs.
"I think in principle, it has a lot of merit," Planning Board member Mike Carpenter said of Lynch's idea at the June 7th meeting. "But… in actual practicality, I think it probably really won't work." Carpenter cautioned.
In his email to the Town this past weekend, neighbor Waye's critique focused more on economic issues: namely the cost of the lots that stand a short distance from his residence, their perceived unaffordability, and the money Enfield Town Government may have to sink into accommodating development that stands beyond his own personal reach.
"Many of us have lived in this community for generations and have paid high property taxes to maintain roads and services in this community," Andrew Waye wrote the Town Board. "And this development will require upgraded roads and utilities which will most (likely) be paid for by us, the taxpayers, again," he added. "While the developer takes in… millions in profit."
The Breezy Meadows pricing sheet shared with Town officials carries its share of anomalies. Some of the highest-priced properties, large tracts with two or more barns on them, carry among the lowest prices per-acre. For example, "Lot 3," a 26-acre tract with three of the low-slung barns on it, while pricey at $199,900, is actually the cheapest per acre ($7,586). "Lot 1," including another three barns, is similarly low-priced when its $249,900 is divided among 32 acres.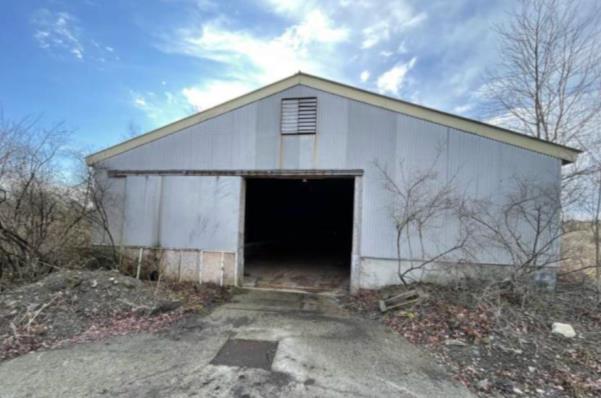 A skeptic would conclude that some, if not all, of the ailing Babcock structures contribute little to a lot's overall value.
The Land & Lakes solicitation, sent to Waye, and presumably to others, states that all lots in the 33-parcel subdivision will go on sale to the public beginning September 16th.
"Unlike general real estate, when we begin to market our properties, they sell very quickly, usually within a matter of days," the Land & Lakes' Director of Sales stated in her letter.
Kruger included with her letter a loan financing brochure. Pinefield Financial Services, Inc., presumably a preferred financier, would offer purchasers with good credit a 7-year purchase loan at 8.75% interest with a 25 per cent down payment. Pinefield made other terms available.
Enfield Town Board reaction this week to the Aiken Road neighbor's concerns took various forms.
"I share your concern," this Councilperson, Robert Lynch, responded to Andrew Waye Monday morning. "And the record will show that I was at times the only person in Enfield Town Government to stick my neck out and express these concerns during the approval process," he added.
"I have sensed nothing but fear, anxiety and opposition from the Enfield community regarding Breezy Meadows," Lynch stated. "This development will not be good for Enfield. But sadly, we have little to stop it. We forfeited those options during the approval process."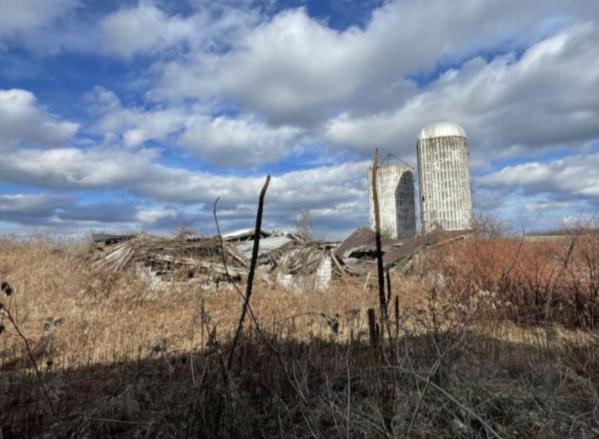 "I understand your concern," Enfield Supervisor Stephanie Redmond responded to Waye in her separate email Monday afternoon, "Unfortunately, land prices are skyrocketing throughout the county but especially it seems in our neighborhood," she added.
"Yes, these parcels are listed by a developer, but all land prices are at that scale throughout Enfield," Redmond continued, "It was a rapid inflation of property values, and given the trend, one I don't see reversing any time soon."
The Supervisor invited her Aiken Road constituent to share with her his ideas about "how we can reduce the pressures of gentrification in Enfield," and how her Town can protect low-income residents from housing displacement. Councilperson Lynch, for his part, invited Waye to share his frustrations about Breezy Meadows at the Town Board's next monthly meeting in September.
###
To Tompkins County Government:
Committee Proceeds toward $40 M Center of Government
Planning recommendation paired with call to sell the "Red House"
By Robert Lynch, August 17, 2023; Expanded Reporting at 11:45 PM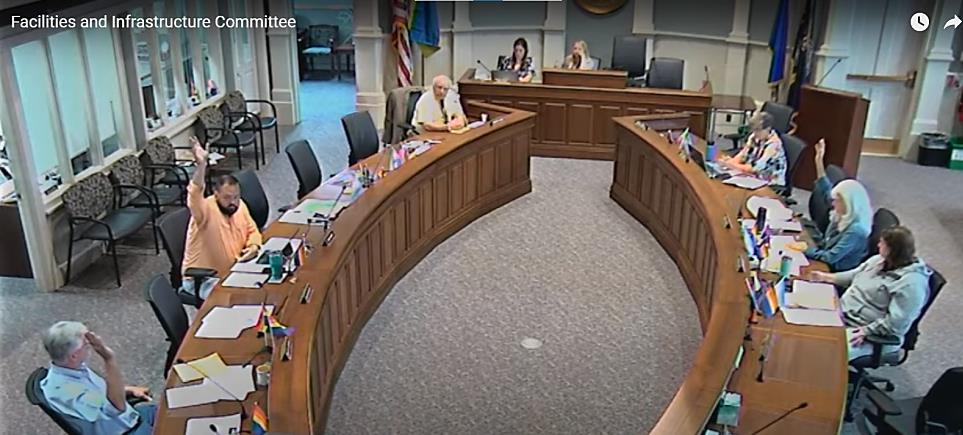 In an action-filled Thursday morning meeting, a committee of the Tompkins County Legislature voted 3-1 to "proceed with plans for a Center of Government building" on the site of the Key Bank and Wiggins' Law Office Building adjacent to the Courthouse.
The committee also voted by that same margin to resolve a long-standing community controversy and to proceed with selling the so-called "Red House" at 408 North Tioga Street, a property Tompkins County purchased in 2019 as part of its first-preferred site for the Center of Government.
The committee's companion resolution to target the Key Bank Corner for the massive County office building—now officially projected to cost $40 Million—would affirm long-held legislative intent that the "Red House" site, one block away, would not be used for the new building. While some legislators had called for deconstructing (tearing down) the Red House and using its site for parking as part of a larger, County-owned parcel, Fall Creek neighborhood residents, historic preservationists, and some Ithaca City officials have urged that the Victorian mansion, currently in a state of disrepair, remain standing.
"There has to be some action," Legislature Chair Shawna Black told the committee Thursday in support of moving ahead with Center of Government designs on the Key Bank corner. "The longer that we sit on our hands and do nothing, the more scrutiny we're going to receive from our public and rightfully so."
"We're not maintaining them," Black said of the bank building and law office structures Tompkins County bought for a combined nearly $3 Million, largely for the value of the land on which they sit. "We're not doing a great job of (maintenance) because we don't know what we're doing, we don't know where we're going with these buildings, and so they're just sitting there."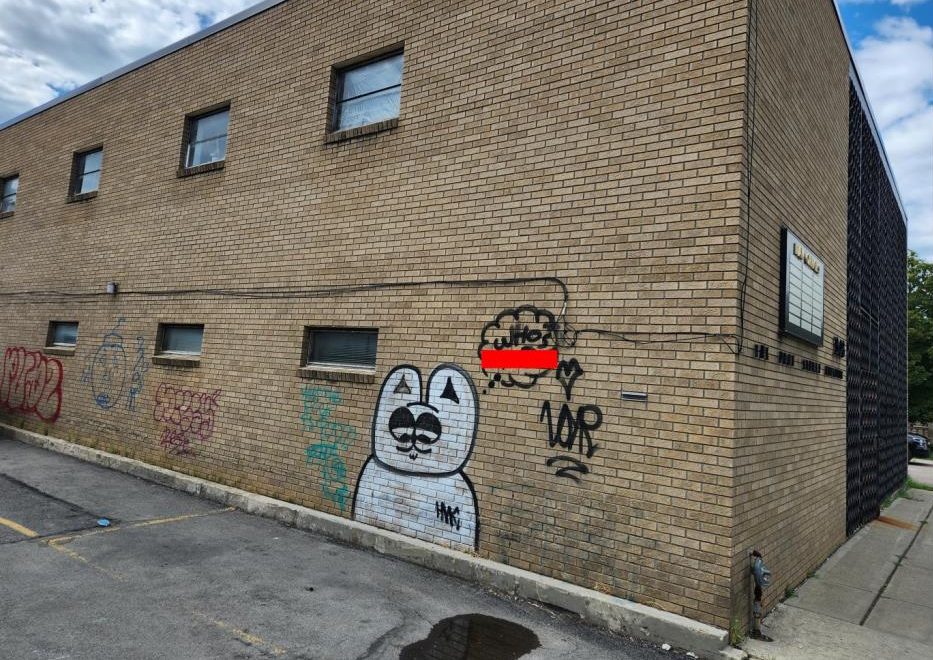 "I think we've heard loud and clear from the community, from Fall Creek, that they're an eyesore; they're a nuisance," Black said. "And we do have to take swift action."
"I know there are folks that are impatient," Infrastructure Committee Chair Mike Lane responded. "But please don't say it's because we have sat on our hands."
Lane noted that Tompkins County, which bought the Key Bank and Wiggins' parcels in 2021, couldn't raze either building until now because the bank's lease hadn't run out until last month and some leases in the law building still have time to run.
Thursday's recommendations set the stage for a vote by the full County Legislature, perhaps as soon as September 5th, on moving ahead with plans for the Center of Government, as well as with sale of the Red House.
Thursday's pair of motions relating to the "Red House"—the first of declaring the site no longer needed for governmental use; and the second placing the house on the market—were surprise additions to the committee's agenda. Members indicated their introduction followed a recent closed-door executive session of the full Legislature, one that likely came at the end of its meeting two days earlier. The minimal discussion over either of the "Red House" resolutions recommended in committee likely signals that legislators agreed to spare and sell the building during their prior executive session.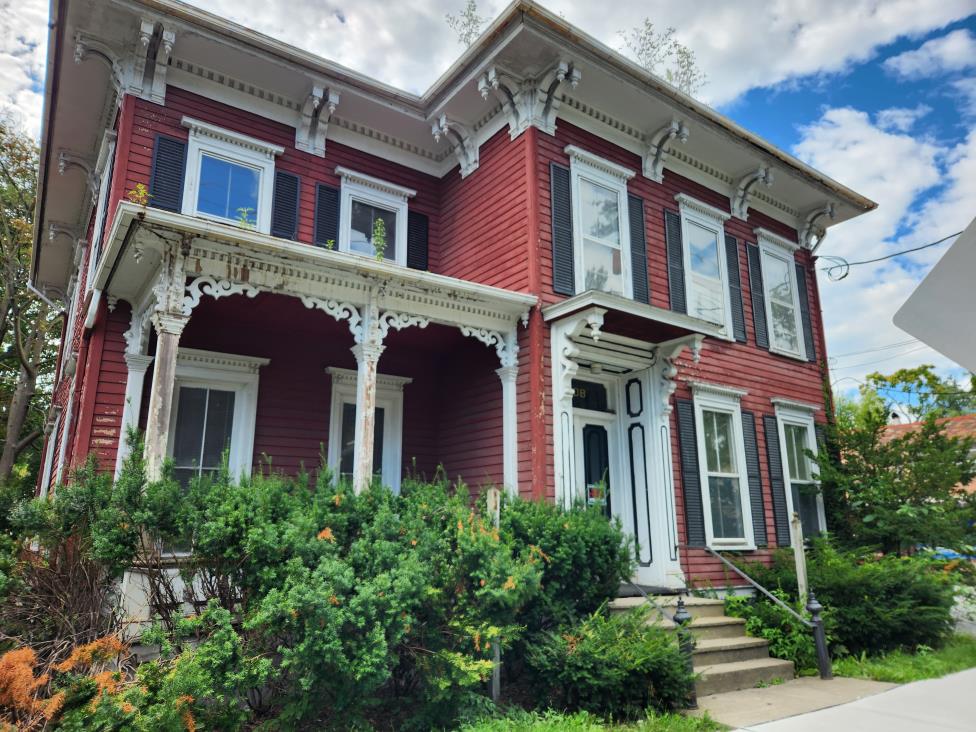 Dryden legislator Mike Lane cast the lone dissent on both the Center of Government and "Red House" sale resolutions. Committee members Randy Brown, Deborah Dawson, and Greg Mezey supported the motions. Committee Vice-Chair Lee Shurtleff did not attend.
Though their names were never explicitly attached to the document, not was their specific sponsorship mentioned at the meeting, Dawson and Mezey were the two who drafted the "member-filed Resolution" that brought the Center of Government Issue to the floor, according to the Legislature's clerk. In so doing, the duo bypassed Chairman Lane's reservations.
"If this member-filed Resolution passes, then it's basically a foregone conclusion that we're going to have to destroy the Key Bank building right away," Lane surmised. Other committee members were not so sure. But should the full Legislature pass on what the committee recommended, it would likely set procedures in motion toward the wrecking crane.
"I see no use for any of our vacant downtown facilities unless we have a plan to move forward with a Center of Government," Greg Mezey said. "I don't think repurposing them is cost-effective or efficient. I think it takes way too much to upfit and retrofit a building than it does to reconstruct one in an energy-efficient, sustainable way."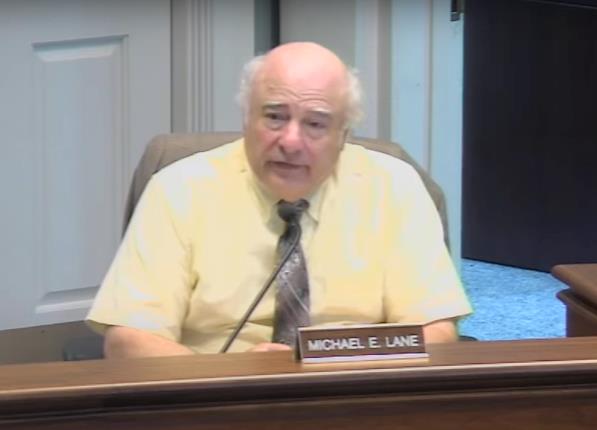 Committee members have shown little interest in repurposing the two 1960's-era structures that each stand in the Courthouse's shadow. A County Facilities Director's projection in May—perhaps erring on the side of pessimism—estimated that retrofitting the Key Bank building alone would cost $4.9 Million.
"I don't think it's wise for us to rehab these buildings," Newfield's Randy Brown observed. And because of the fact they stand in an historic district, and in light of past Ithaca City concerns, he said, "We can't technically knock them down unless we have a plan going forward."
But if the old buildings come down, what takes their place? What would a Center of Government look like? Preliminary sketches in the past have suggested a building four, five, even six stories tall. It would occupy the footprint of the former bank, the law building, and maybe even part of the Assessment and Board of Elections' building too.
Committee members specifically substituted the word "qualifications" for "quotes" in their Thursday resolution, making it clear that the design firm employed up until now on the project, Ithaca's Holt Architects, would not necessarily secure the final contract. Dawson suggested the County establish a "process to audition" for picking the winning architect.
"I remember several years ago, somebody brought forward a design of this very modern building that just would look crappy sitting in the middle of the downtown area adjacent to the historic buildings that we have," Dawson said, employing her plain-spoken bluntness. "I'm really hoping that if we go forth with this that we will build something that resonates with the surrounding buildings."
Brown described the current quest for a building to consolidate County government offices as a "once in a 100-year event."
Given that magnitude, it was Mike Lane—and really only he—who threw down the caution marker during Thursday's meeting. Perhaps others will join him—or maybe not—when the full Legislature reviews the Dawson-Mezey Resolution next month.
"I think a $40 Million project deserves a lot more consideration," Lane said. "There is nothing wrong with Tompkins County preserving the area of its campus," he added. And Lane defines that "campus" broadly, extending across Court Street, leapfrogging over the synagogue, and going on to include the County-owned land where the Red House sits.
And as to the Center of Government Resolution, Lane stood his ground. "I don't think we're ready for it at this point," he insisted.
What's more, the project's cost keeps rising. Just two nights earlier, Tuesday before the full Legislature, County Administrator Lisa Holmes, in a PowerPoint summary of capital projects, had tagged the Center of Government's price tag at $35 Million. (It had been priced at $30.6 Million in 2022.) But in a fresh PowerPoint presented the committee Thursday, in what was called a "Project Approval Review" covering all departments, Holmes projected the Center's cost at a full $40 Million, a figure some legislators in recent months had suspected as its true cost.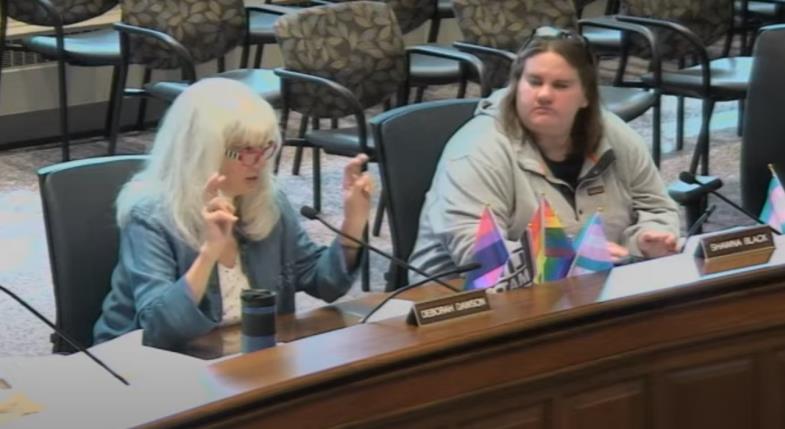 Holmes explained that the new total reflected both land acquisition and design expenses, moneys that the earlier capital plan had omitted. She explained that the land has already been bought, and that design work was proposed to be paid from existing fund balances.
"There's a lot more projects out there than there is money," Mike Lane warned. And he voiced frustration that those pushing forward expeditiously toward a Center of Government often show less interest in building a new Public Safety Building, a facility that could rival the downtown office building in cost.
Considering that it's gotten a full vetting behind closed legislative doors, expect the Red House to be put on the market soon, even over Mike Lane's objections. Moving forth with a far more mammoth undertaking, namely the Center of Government, could prove the greater challenge. And if the Dawson-Mezey Resolution doesn't pass, then what?
"I think if the Legislature does not move forward, I think we should consider selling those buildings," Deborah Dawson told the committee. "We're not in a position to maintain an empty building."
###
Commentary, Previously posted:
No Idea's a Dumb Idea
"Newbie" Fire Commissioner Matthews seeks clean slate; sets tone of transparency
[And Posted After: The Updated, Expanded story]
****
Posted by Robert Lynch; August 13, 2023
Jim Matthews, a neighbor you may not know, was elected Chair of Enfield's newly-created Board of Fire Commissioners August 9th. His election by fellow Commissioners came at an organizational meeting held moments after the Enfield Town Board officially appointed all five Commissioners to their interim positions. It's all part of our town's transition to a Fire District to govern emergency services. The appointees will serve through year's end, when Commissioners chosen at a December election will assume permanent responsibilities.
After they transacted a flurry of organizational business—that you will read about elsewhere on this website—Matthews offered each Commissioner the opportunity for closing remarks. Some spoke briefly; others not at all. Jim Matthews spoke the most. And we in Enfield can only hope that the tone he set that night will carry forth into the future:
****
Jim Matthews:
I am probably the person who has lived in this town less than anybody else here. [Fellow Commission member Robyn Wishna suggested she'd lived in Enfield a slightly shorter time.] I've lived in the area for a long time. But we only moved into Enfield in 2018. I only formally established residency last year…. So I'm the newbie. Everyone's talking about being in 'learning mode' here. I'm in 'extra-learning mode' because I'm the newbie. I have a ton to learn.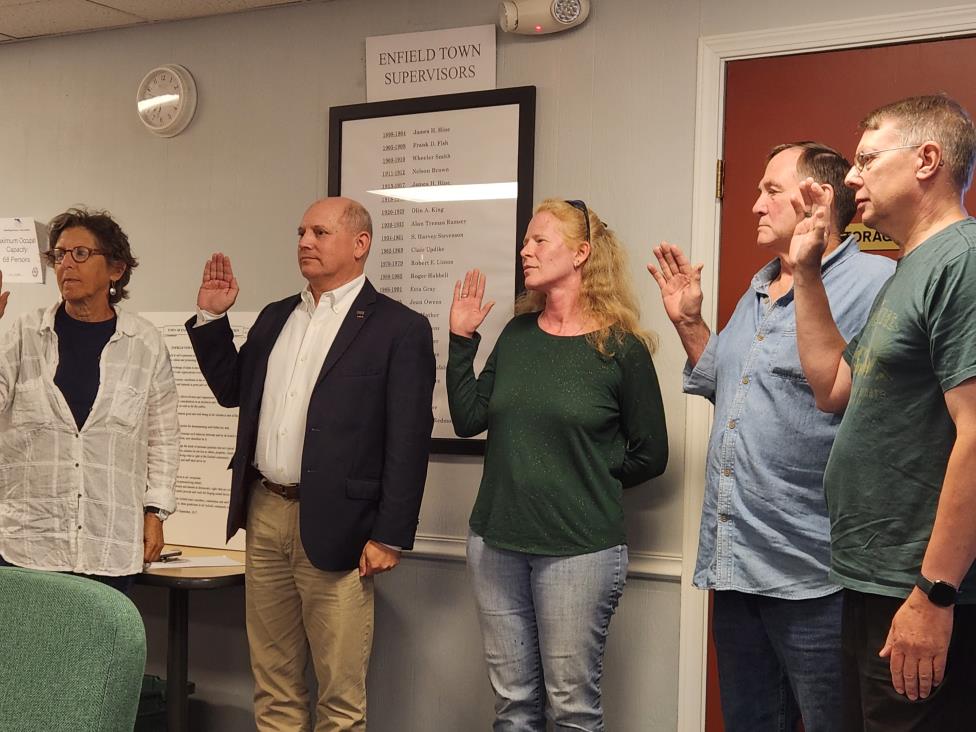 At the same time, I think I have some stuff to bring to you, too. I spent 13 years in the fire service in Fairfax County (Virginia). I have 15 years' of experience of executive leadership…. I have nine years of experience in public policy at the federal level. I feel like I can help, and that's really what I want to do.
"My favorite thing that I ever did in my life was join the Fire Department; (learning) everything about it. So I feel like this is my opportunity to kind of do something for the fire service and to do something for the town where I live.
"I really, really think it's important that we all start this process in this sort of an open and positive way and not in a 'Wow, this is a dumb idea' kind of way. And I know there's been a lot of stuff swirling around us. I think we have an opportunity in a way for kind of a clean slate in some ways with the creation of the district. And I think everyone in the town will benefit if we can do this in an open, transparent, and positive way, which is really, I think, incredibly important, having lived through some of the stuff in this town….
"My wife said to me, 'Jimmy, is this a good idea?'
"(My reply): 'I raised my hand for this.' We'll see. Maybe it was; maybe it wasn't. But I want to try."
****
Yes, give it a try, Jim. Good start. You'll serve us well. And Enfield, let's hope and pray that Matthews and his colleagues will help still the waters, quell the controversy, and bring our townspeople and its emergency volunteers together for the good of us all. Peace. / Bob Lynch
###
Now, the Story about the Meeting:
Updated: Fire Commissioners Confirmed; Treasurer Picked; Limit Set
Enfield voters asked to OK $575k Spending Cap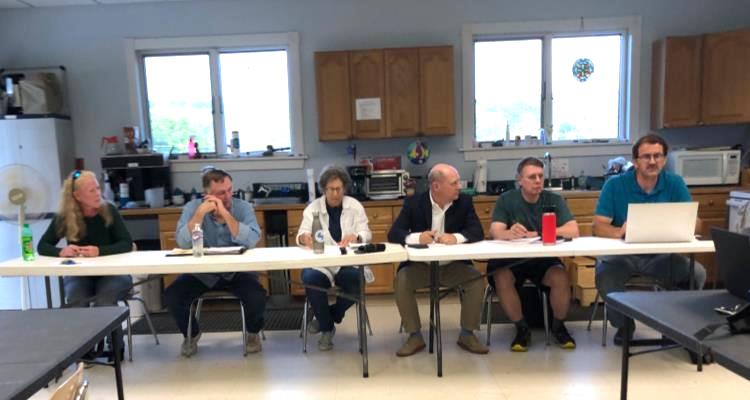 by Robert Lynch, August 9, 2023; Additional reporting August 15, 2023
Newly-appointed and elevated Enfield Board of Fire Commissioners Chair Jim Matthews set the tone at his first meeting. "I think we have an opportunity in a way for kind of a clean slate in some ways with the creation of the district." Matthews told the Commissioners' organizational meeting. "And I think everyone in the town will benefit if we can do this in an open, transparent, and positive way, which is really, I think, incredibly important, having lived through some of the stuff in this town."
Wednesday night, August ninth, was a busy night in Enfield Town government.
In twin meetings, each devoid of drama, the Town of Enfield set into motion all that needs be done at the moment to place an elected Board of Fire Commissioners, rather than the Town Board, in charge of its fire protection services.
First, at its regular monthly meeting, the Enfield Town Board confirmed all five applicants it had tentatively tapped last month to serve as Fire Commissioners. By so doing, the Town Board's majority beat back one Councilperson's attempt to replace the Commission's most controversial nominee, Highway Superintendent Barry "Buddy" Rollins, with a long-time Enfield firefighter.
Then, in what became the meeting's most surprising moment, Enfield Community Council President Cortney Bailey, a write-in candidate for Town Supervisor in 2021, was nominated to become Fire Commission Treasurer. The Town Board quickly confirmed Bailey without opposition.
Deputy Town Clerk Alice Linton next swore Bailey and all five Commissioners into office.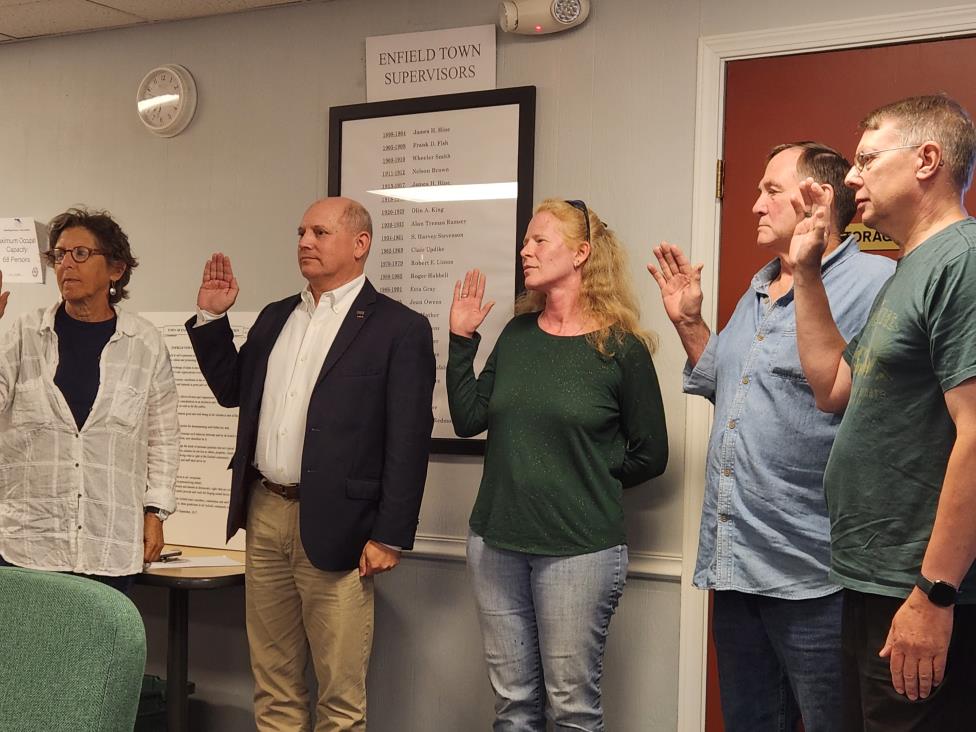 Just 40 minutes after Supervisor Stephanie Redmond had called the Town Board to order, the Commissioners, Bailey, and the attorney who's guided the transition, Brad Pinsky, adjourned to a second meeting just up the road in the Enfield Community Center's kitchen. During a two-hour session there—again, absent of any drama—the Board of Fire Commissioners organized, chose Jim Matthews as its chairman, reappointed Greg Stevenson as Enfield Fire Chief along with his assistant chiefs and deputies, and most importantly, set a referendum for early-September when they'll ask voters to authorize a fire service spending limit higher than anything anyone has previously suggested.
The Commissioners will seek to increase the Fire District's statutory spending limit to $575,000. It's approximately $200,000 higher than that of the current fire budget. And it's far above the $400-450,000 spending limit Pinsky had tossed out at an informal first-meeting of the likely Commission designees only one week earlier.
Commissioners intend the spending limit to hold for the next five years. Pinsky has stressed that a Fire District need not spend as much as the heightened statutory ceiling permits. But without the public's approval, the district might only be able to spend slightly more than $200,000. The limit's based on a state formula derived from the district's combined property values.
The Fire Commissioners' election of Jim Matthews as their Chair came quickly and unanimously. An Enfield resident since 2018, Matthews served as a firefighter in Virginia, but has never fought fires locally.
"My favorite thing that I ever did in my life was join the Fire Department; (learning) everything about it," Matthews said at the close of the Commissioners' inaugural meeting. "So I feel like this is my opportunity to kind of do something for the fire service and to do something for the town where I live."
The Fire District's immediate needs dominated Commissioners' first meeting. And the Commission's new presiding officer took the lead in calling for a special September 12th referendum to raise the otherwise-restrictive Statutory Spending Limit. He also sought to set the spending cap high, more than $100,000 above what the attorney had suggested little more than a week earlier.
"This is just saying how big a check is the Department allowed to write," Matthews reminded his audience. It's not a budget figure. It's not a tax hike, he said. But it does recognize that inflation will push fire service spending upwards over time.
"You don't want to be in a position where you have to get rid of a fire engine because you're not allowed to write a check," Matthews warned. "We could have $50 Million in the bank and if the spending cap is what it is, we can't spend it and we can't pay for the truck, and out it goes. So to me, that feels like an artificial restriction," Matthews reasoned.
Jim Matthews will sit alongside four others confirmed as Fire Commissioners by the Town Board August ninth. They each were first designated as likely appointees by the Town Board in July.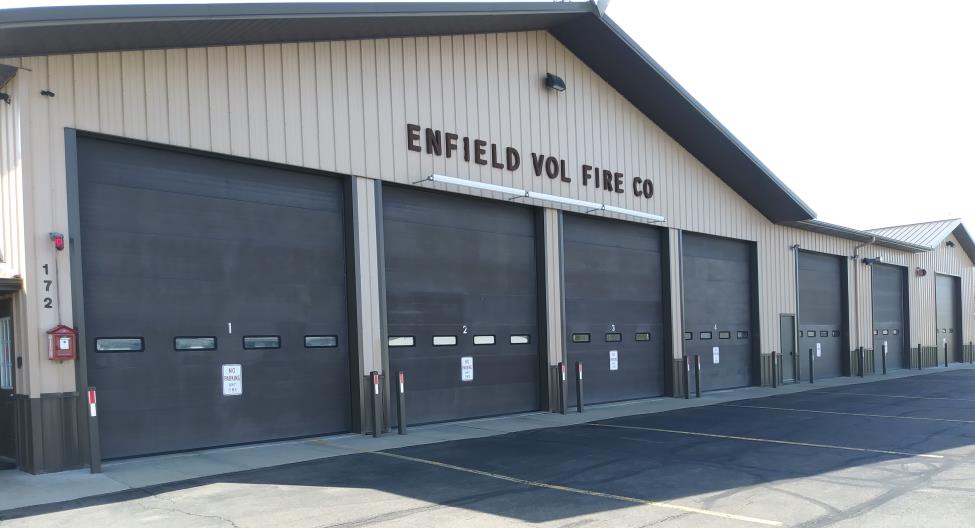 Most notable among those appointees is Enfield Highway Superintendent Rollins, whose tentative designation as Commissioner drew criticism at the July meeting. Objection came principally from Enfield Volunteer Fire Company (EVFC) officers and supporters. But Rollins confirmation drew no public comment at either the Town Board's or the Fire Commissioners' August meetings, even though Councilperson Robert Lynch (this writer) had sought that night to designate someone else.
Though the controversy passed quickly, the Town Board brushed off Lynch's effort to replace Rollins with Larry Stilwell, a 61-year volunteer firefighter who's spent most of his firefighting years with the EVFC.
Lynch momentarily secured a second to his amended roster of Commissioners. But the second was then withdrawn, leaving the amendment unable to advance. The withdrawal gave its sponsor no opportunity to explain why he'd sought Rollins' replacement. Lynch later stated that he agreed with others that a Highway chief doubling as Fire Commissioner amounted to conflict of interest.
Rollins appointment had become a flashpoint at the close of the Town Board's mid-July meeting. At that meeting, EVFC President Dennis Hubbell had described the Town Board's tentative selection of Rollins as a "bad move" and alleged Rollins had "a huge conflict of interest."
Joining Matthews and Rollins as Fire Commissioners upon the August vote are Enfield firefighter and EMS responder Robyn Wishna, former Richford Fire Commissioner Geoffrey Hollister, and Enfield resident Marcus Gingerich. Wishna is the only current EVFC member on the Commission.
Each appointee will hold office until year's end, after which those chosen in a special December 12th election will succeed the Commissioners named August ninth. Any or all of the appointees could, themselves, run.
Cortney Bailey's nomination for Treasurer remained unannounced prior to Wednesday's meeting. Councilperson Lynch placed Bailey's nomination before the Town Board after securing the Gray Road bookkeeper's consent to serve several days earlier. Bailey currently works with the firm that handles the EVFC's books. But the appointee promised to recuse herself from future assignments for the Fire Company so as to remove any conflict of interest.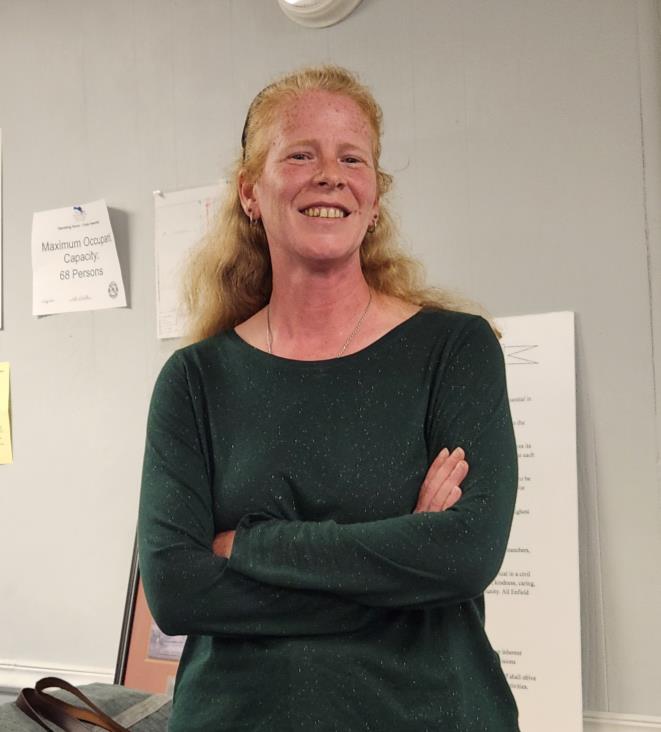 "Cortney Bailey… stands duly qualified for the office," Lynch wrote in his resolution advancing the nominee's appointment as Treasurer.
Only Councilperson Jude Lemke abstained from the treasurer's appointment. Lemke insisted she first wanted to review Bailey's resume. Two other Town Board members joined Lynch in supporting Bailey's appointment, thereby providing her a bare majority of support. (The fifth Town Board member, Councilperson James Ricks, reportedly recovering from recent surgery, was excused from Wednesday's meeting.)
Consuming more Town Board time than did either the Commissioners' confirmations or Bailey's appointment, the Town Board discussed, but then cast aside, yet a third Lynch motion. It had sought to undo lawyer Pinsky's earlier efforts to make the treasurer's position permanently appointive. Otherwise, the treasurer could be elected every three years, as state law specifies as a default position.
"The reason that I'm opposed to having an elected Treasurer is because it is sort of one of those things that you really want a good resume for, Town Supervisor Stephanie Redmond explained in support of her no vote. "A lot of damage can be done in the course of two years for someone that may not be able to be competent in that position," Redmond argued. "And it is nearly impossible to try to remove someone who has been elected."
Councilperson Jude Lemke agreed with Redmond, as did attorney Pinsky. Councilperson Lynch looked at the issue differently.
"People in Enfield like their democracy," Lynch said, reminding Board members of a failed initiative, rejected decisively at the polls three years ago, to make two high-profile Enfield offices appointive.
"There are enough problems with moving to a Town Fire District right now," the Councilperson continued. "I get complaints from a lot of sources about the fact that we did it at all, and the people that we're appointing to be Commissioners. And it would be a lot easier, and I think it would dispel concerns about cronyism and self-dealing and graft, to have an elected Treasurer to oversee, to be a watchdog, for the Board of Fire Commissioners."
"The problem is good treasurers know how to steal," Brad Pinsky countered. "My personal opinion is if you want a watchdog, the Commissioners, because they can go to jail, are the watchdog," the attorney reasoned.
"I have no particular objection to Cortney," Commissioner Matthews said, referencing the Treasurer-designate. Nonetheless, were the Treasurer an elective office, "I think as a matter of process, I would have a hard time serving on the Board in that capacity (as Commissioner) because of the level of legal exposure," he added. "It doesn't mean I wouldn't, but I'd have to think pretty long and hard about it."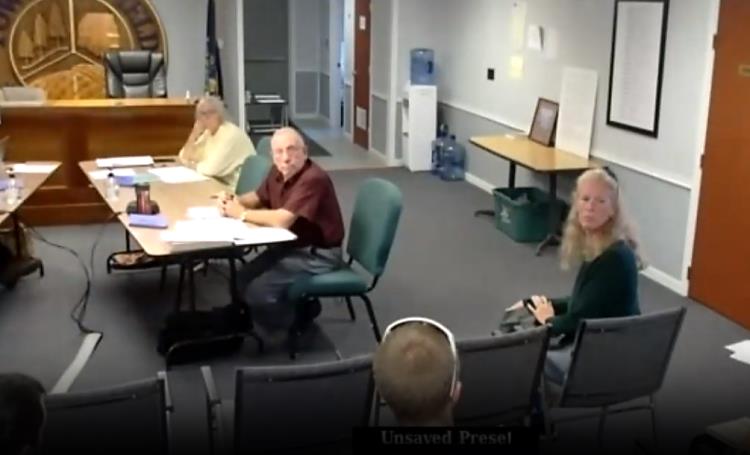 For now, Matthews won't have to worry. When the final vote was called, only Councilperson Lynch supported his own move for an elected Treasurer.
Cortney Bailey raised the point that, perhaps herself aside, qualified bookkeepers are few and far between in Enfield. Appointees can be drawn from beyond the town line. Elected treasurers must be home-grown.
"We have a very hard time getting anyone in the Town to run for anything," Bailey observed. "And if it's an elected position, you have to get someone from the Town of Enfield. So your pool of applicants is going to be very, very tiny."
****
Much work lies ahead for the newly-organized Enfield Board of Fire Commissioners. It will next meet August 23rd. A Public Hearing will come September 6th on its referendum the following Tuesday to raise the Statutory Spending Limit. It'll be coupled with two other requests.
In addition to asking Enfield voters to authorize boosting the Fire District's spending limit to $575,000, Fire Commissioners also decided Wednesday to seek voter approval to create two capital reserve funds; one for vehicles, the other for equipment.
Additional financial questions await answers. But the Commissioners held off some decisions their first night. They postponed action on whether to seek voter approval for measures that would bond the purchase of major fire apparatus. And they declined to decide whether the EVFC should sell its trucks to the Fire District in order to make bonding possible. Fire Commissioners have little interest in buying the fire house, itself.
And another bit of housekeeping the Fire Commissioners left for another day. The Board tabled its hiring of a secretary. It did so for a simple reason. No one's interested in doing the job for free. And until they have a budget, they have no money to pay.
(Marcia Lynch, this Councilperson's sister, assisted in the reporting of this story .)
###
Related, my commentary spoken the same night:
Democracy, Clinging by a Thread
This Councilperson, Robert Lynch, addressing the Enfield Town Board during privilege-of-the-floor at the start of its meeting, August 9, 2023:
Four weeks ago, this Town Board tentatively selected five people for our Town's new Board of Fire Commissioners, preferences our Board will act on tonight. One day later, our Fire Chief, Greg Stevenson, stated, and I quote:
"I'm pleased that the Town of Enfield has named the five initial fire district commissioners. I look forward to working with them, as I have with the Town Board in the past, to assure that Enfield and its residents and visitors receive the best emergency fire and medical services possible."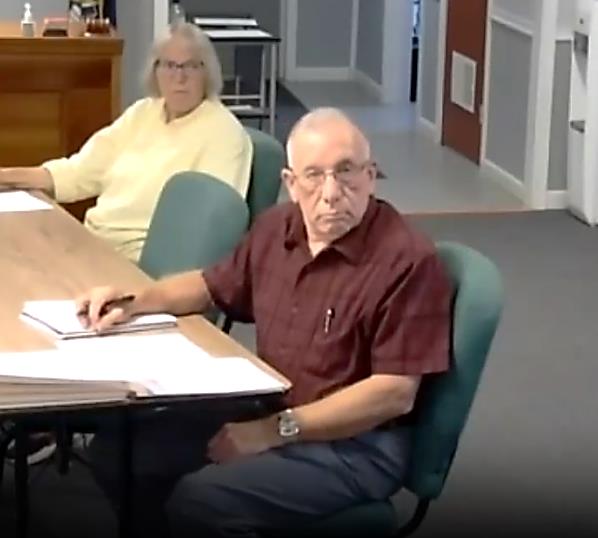 A few hours after we made our decision last month, I wrote the following:
"I cannot legally or ethically divulge the substance of the Town Board's executive session discussions…. [I] will only state that the private deliberations were collegial and civil; and that Board members reached their decision through collaboration and compromise; each member preferring the Board to speak with a common voice."
Some disapprove of our choices. They've criticized our appointees. They've criticized us. They've criticized me. I must remind everyone that each of us on this Town Board that night held just one vote out of four. Each had 25 per cent control. There were Commissioner candidates not chosen that night whom I would have appointed. I still hold that right to exert my independence.
But to those in this community who see us as the problem, I have some advice:
First, if you think we're not representing your preferences, then please, vote us out of office. Yet in the elections two years ago, no one chose to oppose any of our Councilperson nominees. And only one person ran as a write-in candidate against our current Supervisor. She, that opponent, has not voiced an opinion on our choices.
Looking ahead to this year's elections, neither the Supervisor, nor any Councilperson faces opposition on the ballot this fall. Some would say democracy clings by only a thread.
Secondly, There is yet a second election coming up, a special election for the Board of Fire Commissioners' permanent membership. It'll be on December 12th. Any resident can run. If you don't want our Highway Superintendent, or anyone else, as a Commissioner, run vigorously against him or her. It's the ballot box, not the Food Pantry's closed-door commodities room, where our choices should be made. Please make these choices, Enfield. Please run. And please vote.
###
Previously Reported on our fire service's transition:
A Meeting, but Not a "Meeting"
Money matters dominate first Fire Commissioners huddle
by Robert Lynch, August 1, 2023
In the eyes of the law, it never happened. But of course, it did.
For an hour and 50 minutes Tuesday, the five people the Enfield Town Board tentatively chose last month to populate its newly-created Fire District's Board of Commissioners met together for the first time. They convened along with a score of onlookers—most of them Fire Company volunteers—as well as two Town Board members and the attorney selected to guide the Fire District's formation.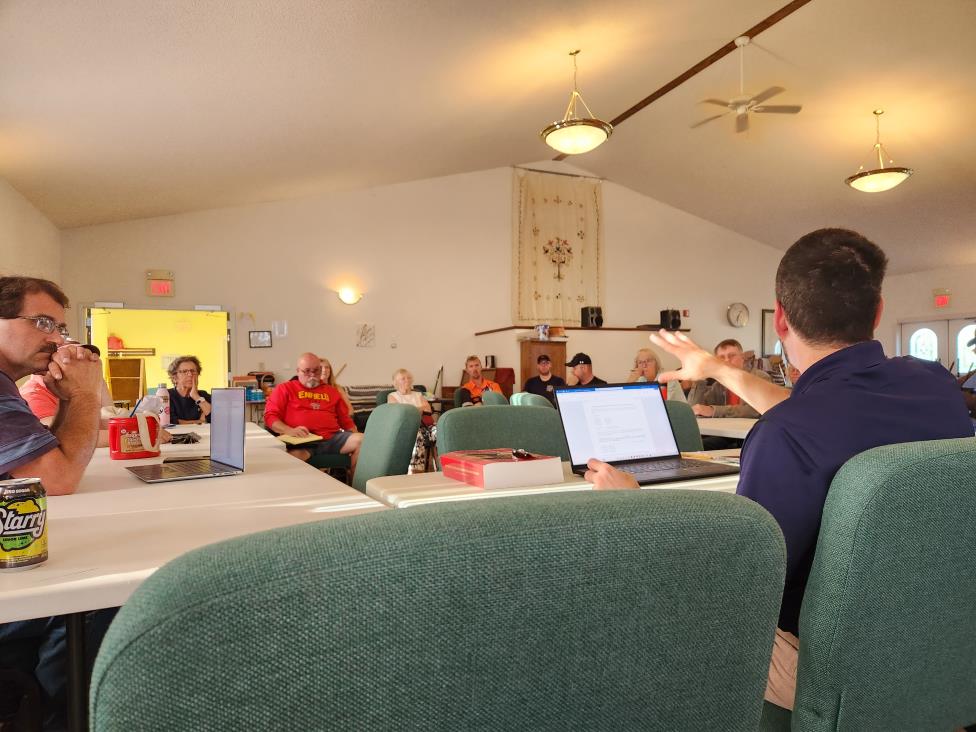 "This is not a meeting of the Fire District. This is not a public meeting," lawyer-specialist Brad Pinsky said at the meeting's outset. "There of lots of almost-decisions to be made tonight," Pinsky said. The attorney expects those "almost decisions" to become official in just about a week, as soon as the Commissioner designees become more than just placeholders on a Town Board wish list.
Though the Enfield Town Board voted in mid-June to change from a Town-administered "Fire Protection District" to a "Fire District," a legal entity governed by the Board of Fire Commissioners; and even though the Town Board announced its Fire Commissioner choices following an executive session July 12th, the Town Board could not officially appoint the five Commissioner designees until this month. And it chose to delay its official appointment until the Town Board's regular monthly meeting, August 9th. Until their official appointment, those designees remain powerless to act. And in Pinsky's opinion, Tuesday's session at the Enfield Community Building was no more than an unofficial gathering to discuss what lies ahead.
The Town Board's tentative choice of Town Highway Superintendent Barry "Buddy" Rollins as one of the five Commissioners had drawn intense public criticism at the close of July's Town Board meeting. But none of that prior opprobrium spilled into Tuesday's more recent session. In the past, Rollins has been critical of Fire Company spending. And some volunteer firefighters allege he is hostile to their efforts.
Yet Rollins sat quietly at the corner of the meeting table Tuesday. He asked few questions. And attendees steered their inquiries more toward the Fire District transition's financial challenges. No one ever addressed the new board's composition.
"We have a ton of things to do," Brad Pinsky told the five Commissioner designees and others in the room, as he dominated Tuesday's discussions. Foremost among the young Fire District's challenges, he said, will be setting next year's budget and at the same time asking Enfield's voters to raise the District's spending limit above an assessment-driven, state-set ceiling. The current default ceiling won't even support the fire service's current budget, let alone future increases.
"This is not an issue to raise taxes," Pinsky repeatedly drove the point as he urged the new Commissioners to schedule a public referendum as soon as they can—the likely voting date is September 12—to push the Fire District's Statutory Spending Limit well above what the Fire District could otherwise spend were the limit not increased. No limit applied when the Town Board oversaw the fire service under its Fire Protection District.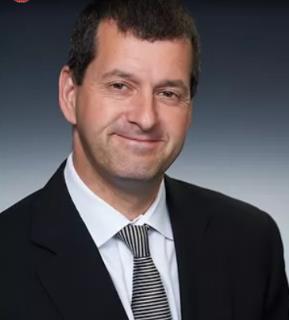 If a surprise was to be had meeting night, it was the level to which Pinsky would hike the new spending cap. Whereas without the referendum, state law might cap spending at $200,000 or just a bit higher, Pinsky suggested raising the limit to $400,000 or $450,000. His rationale held that raising the limit once is better than doing it repeatedly and piecemeal.
"It might as well be done once, and leave it for 25 years," Pinsky stated. Apparently, as the attorney implied, raising a financial ceiling remains good for more than just the current year.
But Town Councilperson Robert Lynch (this writer) questioned Pinsky's rationale. He countered that raising the limit in "smaller increments," spread out over several years, might prove "more palatable" to the voters.
Before the discussion ended, Pinsky had backed off his initial idea.
"We don't have to go out 25 years on the statutory spending limit," Pinsky said upon further reflection. Maybe we should address the limit over two years, he remarked. "Maybe that's a better way to do it."
A second major change in the attorney's thinking involved how he would handle existing fire apparatus. Enfield's fire trucks are now owned by the Enfield Volunteer Fire Company (EVFC), a separate non-profit corporation. Without outright ownership, the Board of Fire Commissioners would need to contract with the EVFC and lease the trucks.
Back on June 19th, five days after the Town Board had authorized the current change in fire governance, Pinsky had told the Town Board he'd advise against the Commissioners' assumption of existing Fire Company debt through the Commission's purchase of the fire trucks and then converting the EVFC's bank loans to municipal bonds. Pinsky had earlier suggested just such an action as a money-saving move.
"The loans are at very good rates (4%) and are close to being paid off in the next 3-8 years," Pinsky had written the Town Board on June 19th. "Therefore, refinancing the loans into bonds would not serve the taxpayer," he'd maintained.
But Tuesday night, Pinsky did an about-face. He said he now favors bonding for most fire apparatus debt, especially for the Fire Company's newly-bought pumper truck, priced at more than $800,000. The attorney further posited that it might make sense to roll over other truck loans, nearly paid off, into bonds as well.
"Bonds make sense for the public," the attorney insisted.
But there's a catch. The EVFC must play ball. It must agree to sell the Fire District the rolling assets that it already owns. It doesn't have to. It's not a certainty. It would demand Commissioner-EVFC negotiation.
Worst-case scenario, Pinsky warned, is if three bad occurrences happen nearly simultaneously: 1) The Fire Company refuses to sell; or 2) The voters reject the new bonding; and/or 3) The voters also refuse to raise the statutory spending limit.
"Either we raise the statutory spending limit, or we bond it." Pinsky told the meeting. "If all three go down, then we have to dissolve the district," he warned.
Put another way during the meeting: "Fire trucks alone blow your statutory spending limit out of the water. If we don't raise the limit, then bye-bye trucks."
But the message that dominated Tuesday's meeting was the sense of urgency. Indeed, Councilperson Jude Lemke, the second Town Board member in attendance—Supervisor Stephanie Redmond did not attend—suggested that to make the schedule work best, the Town Board could move up its scheduled August ninth appointment of Commissioners and call a special meeting for a few days sooner.
But more likely, the August 9th appointment date will hold. Instead, as soon as five Commissioners secure Town Board confirmation that night, they'd be sworn in immediately thereafter and whisked down the road to the Enfield Community Center to convene for their own organizational meeting. As each board meets, it would fail to learn what the other is doing.
And even before the members' own confirmations, Commissioner designees Geoff Hollister and Robyn Wishna have volunteered to meet with Enfield Fire Chief Greg Stevenson and EVFC President Dennis Hubbell to begin next year's budget discussions.
But those who feared Highway Superintendent Rollins might become the contrarian in the room as a Fire Commissioner found little in Tuesday's meeting to support their suspicions.
Brad Pinsky at one point asked the five Commissioner designees whether any opposed raising the statutory pending limit. No one, not even Rollins, raised his or her hand.
"I don't know for sure," Marcus Gingerich, another Commissioner designee, qualified his position a few moments later. Gingerich admitted he needed to learn more about the issue.
Gingerich and the others will need to decide that crucial question as soon as the night they're sworn in. A decision on whether to proceed to a referendum could come as soon as next week. Bonding for any apparatus would need to be done by December. A budget must be adopted by November fourth. Much work. So little time to do it.
###
To the Tompkins County Legislature:
Lawmakers pull Landfill Resolution from the trash; recycle it
by Robert Lynch; August 2, 2023
When it comes to the Tompkins County Legislature, old messaging resolutions never die; they just wait for more support another day.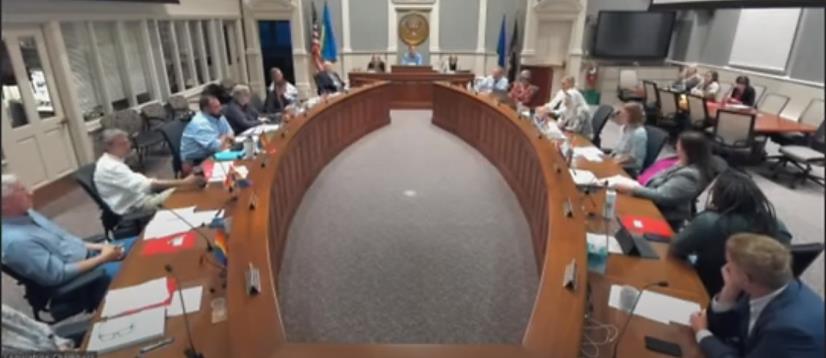 Tuesday night, exactly two weeks after it had first fallen just short of winning majority support, a resolution of questionable impact; one to recommend against expansion and long-term continuation of the giant Seneca Meadows landfill near Waterloo, was revived by a member who'd missed the last meeting. She, Legislature Chair Shawna Black, called for the resolution's reconsideration. She got a revote. And the measure passed, just barely, by a margin of eight votes to six.
"I was somewhat shocked at the way that people voted for (or more appropriately, voted against) the resolution," Black told her colleagues Tuesday. On vacation, she'd monitored the meeting remotely, but could not attend to vote. "I felt very strong… that we really should be supporting this resolution," Black said.
The New York State Department of Environmental Conservation has before it a request by Seneca Meadows, Inc. (SMI), the landfill's Texas-based operator, to extend Seneca Meadows' operational permit from 2025 through 2040. SMI also asks DEC permission to expand the 191-acre landfill by another 47 acres and to raise the giant mountain of trash by 70 feet.
"Mount Trashmore," as its critics call it, is purportedly New York State's largest landfill. Much of its refuse comes by truck from New York City. Tompkins County ships its own garbage elsewhere.
By the County Legislature's rules, once a measure is brought back to the floor, the matter's considered as though its first vote had never happened. One legislator who'd opposed the Seneca Meadows resolution the last time, July 18th, made sure that the earlier meeting's minutes would preserve what he'd said. They will. So debate on the resolution was shorter this time than last. Still, reconsideration consumed as much as 20 minutes near the end of the Legislature's three-hour Tuesday session.
Calling the roll brought little drama. Everyone voted the same way this time as they did last. Shawna Black cast the eighth vote to push the earlier plurality support to a fully-legal majority. Both of Enfield's legislators, Anne Koreman and Randy Brown, voted in the resolution's support.
Though Shawna Black deserves the credit for pulling the earlier-rejected Seneca Meadows recommendation from the fire, she spoke very little about it other than her comments already quoted. Other attendees assumed much of the heavy lifting, including several activists who spoke at the meeting's start during public privilege of the floor.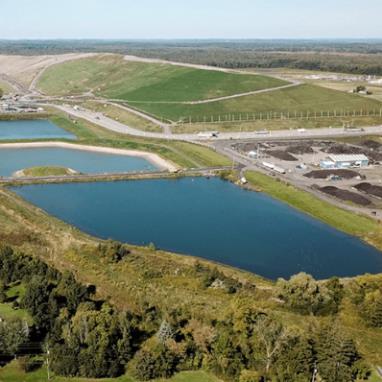 Yet, the meeting's strongest words came from a resolution opponent. Lansing's Deborah Dawson read a four- minute prepared statement explaining why she'd oppose sending the Department of Environmental Conservation any advice on Seneca Meadows' future. In part, she said, it's about "comity," respecting the home rule rights of Waterloo, Seneca Falls and Seneca County, municipalities whose residents see—and smell—the landfill most directly.
"I do not believe that Tompkins County has the right to tell other counties or municipalities what to do," Dawson said.
Yet, Dawson gave a second reason. She said that slighting Seneca Meadows' operation and wishing for its closure misdirects attention away from the real problem, one that policy makers refuse to address. It's that too much garbage gets produced in the first place.
"While I agree that the landfill is a blight and a health hazard to the Finger Lakes region," Dawson stated, "it is also simply a symptom of our underlying solid waste problems, and the state's failure to address them."
Anne Koreman thought differently. A message to state regulators may actually do some good, she said. "It doesn't do everything; no, I agree," Koreman replied to Dawson. "But this is part of it," meaning part of addressing the larger issue.
Ithaca's Veronica Pillar, sitting beside Koreman in legislative chambers, agreed.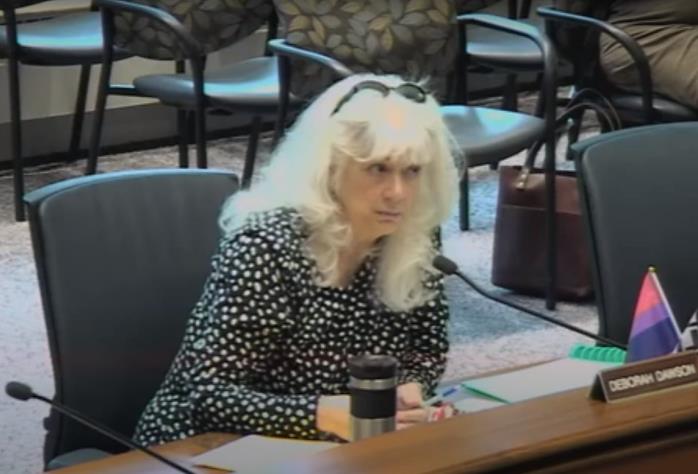 "Closing a landfill is the kind of impetus that can lead to other upstream changes in our waste management system statewide," Pillar said.
The County Legislature's resolution, adopted on its second outing Tuesday, concedes that "Tompkins County is not named as an interested party" in the DEC's permitting process. Yet the Legislature still maintains Tompkins County holds standing to comment.
"Traffic to and from the existing Landfill site impacts the Finger Lakes community beyond the Towns of Seneca Falls and Waterloo," the Legislature's adopted resolution insists. In addition, it states, Seneca Meadows "presents visual blight upon entering the Finger Lakes area from the Thruway," making the landfill "incompatible with the community character of the region…."
What's more, the Legislature's resolution, scripted in somewhat politer language, said the landfill stinks, all to the detriment of everyone living nearby.
But fellow Ithacan Rich John begged the question that best separated the aspirational from the practical in Tuesday's re-run debate over Seneca Meadows' lifespan and growth.
"If this closes," John said of Seneca Meadows, "where does the garbage go?"
###
My Important Message; Posted Earlier:
I am Impatient. They are Hungry
Posted July 28, 2023
Enfield Councilperson and Tompkins County Council of Governments (TCCOG) representative Robert Lynch, speaking to TCCOG July 27, 2023, following a nearly hour-long presentation of the "Tompkins County Food System Plan; Roadmap for the Future." Its presenter was Don Barber, Chair of the Tompkins County Food Policy Council. My comments followed: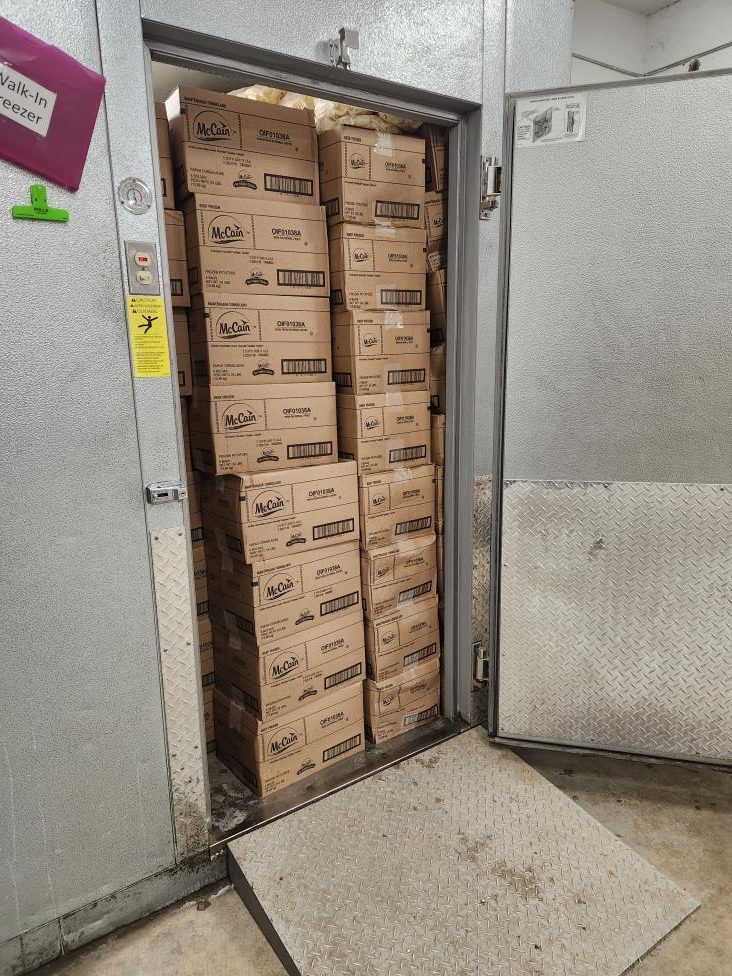 "Thank you very much, Don, for your report. It's very helpful.
"We're looking at a roadmap for the future. I'm getting impatient. I'm wondering when we're going to start driving and riding the road.
"I say that because I volunteer once a week at the Enfield Food Pantry. Our pantry is serving often more than 600 families a week. Multiply that by three, four, five people; and you see the thousands that we serve.
"We're operating out of a cramped 1948-era fire house converted for it. We don't have enough space. We don't have enough freezer space, refrigerator space. I know that for a fact. I tried to stuff as much stuff into the freezer and refrigerator this week, and there was not enough room for everything.
"We've got the customers, the shoppers. We also have been blessed with the supply. But we're having an infrastructure problem. That's the weak link right now.
"Our Town Board in Enfield spent $45,000 in ARPA money for helping the Enfield Food Pantry buy the land for its new site. We've had limited cooperation from other levels of government. And I won't go into that today; it's well-known—my advocacy on that. But I'm a little impatient. I want to see something that will actually be more than nice words and aspirations, and maybe something that'll actually make some progress."
****
Don Barber's reply:
"Well, I would have to say that your impatience is shared by me….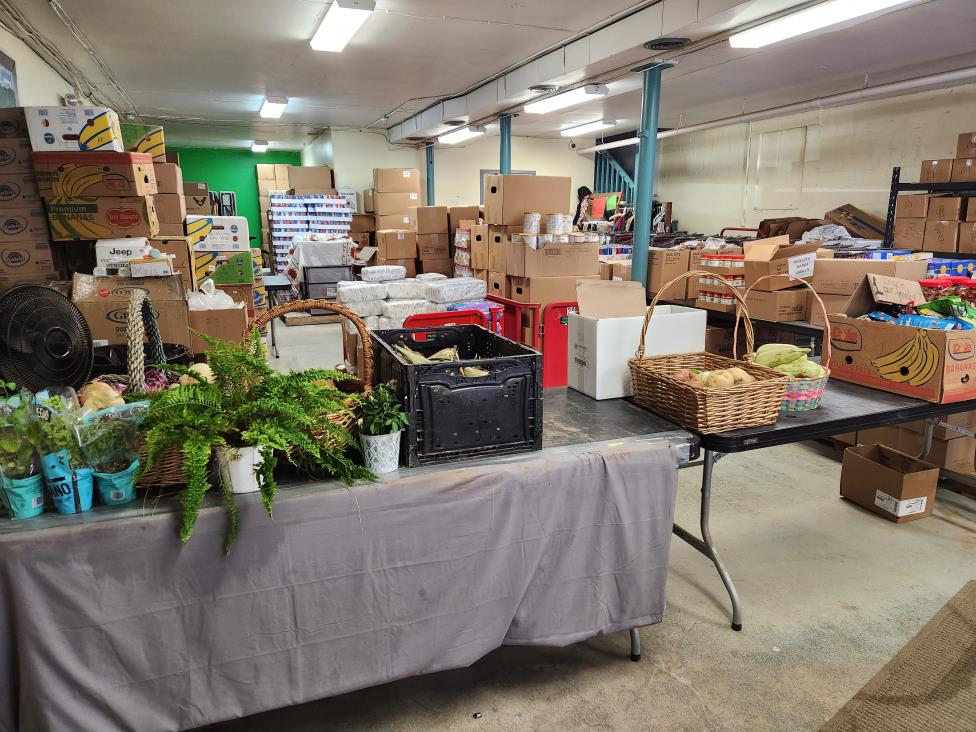 "We've identified 15 priorities for 2023, and working with the food pantries is one of them. We get reports out about every two-three months on the activities that are taking place. So I know there's a grant that's been applied to support the food pantries. But it's not the infrastructure or support that you are asking about. But we're very much aware of it….
"Our system is somewhat broken, and we need to really be focused on changing the dynamic."
Don Barber invited this Councilperson to attend the Food Policy Council's once-monthly meetings. I said I would.
(The Tompkins County Food System Plan is a two-year study, funded in part by the Tompkins County Legislature. It seeks to study "local food system challenges, vulnerabilities, and opportunities." The study's six, equally-weighed "baseline" components are: Production, Infrastructure, Food Environment, Food Access and Security, Consumption, and Waste. Its aspired outcome is defined a "Community Food System Plan with vision, directions, goals and recommendations for future action." You can learn more at http://www.tompkinsfoodfuture.org)
###
A "Garry-mander" Redo
Democrats Engineer Revisit to NY Congressional Redistricting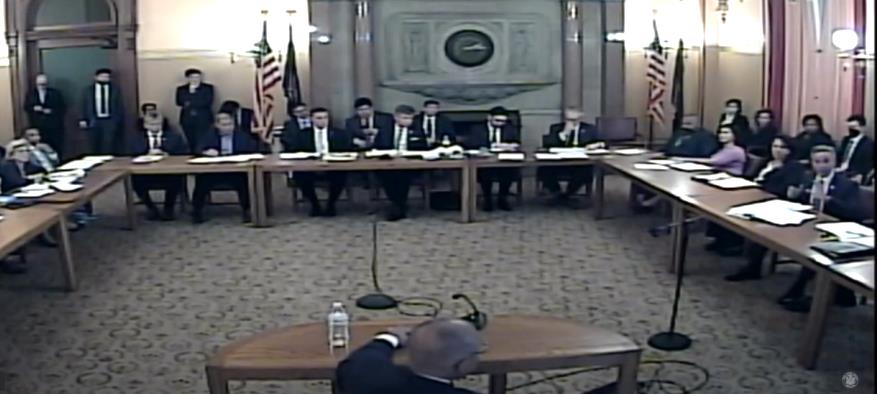 by Robert Lynch, July 29, 2023
If you wonder why State Senate Democrats worked so hard to keep centrist Judge Hector LaSalle off New York's Court of Appeals last winter and then moved so quickly to elevate, instead, the more liberal Rowan Wilson to become Chief Judge, here's why.
In a narrow 3-2 ruling, with its majority opinion written by our own Sixth Judicial District's Judge Elizabeth Garry, a mid-level state appellate court took steps this month that would cast aside the carefully-crafted, court-engineered New York Congressional Districting maps of last year. Judge Garry's ruling directed an independent commission to go back and redraw those House maps in time for the 2024 elections.
And the Appellate Division, Third Department's July 13th decision that orders the commission's revisit could inevitably place redistricting, once again, into the hands of the New York State Legislature, the partisan body whose 2022 Democrat-friendly gerrymander attempt was thwarted only by a Court of Appeals Chief Judge who no longer presides. Chief Judge Janet DiFiore is gone. Rowan Wilson has taken her place. Judge Wilson, with a little help, could tip redistricting's scales in gerrymander's favor.
Many of the political and judicial moving parts would need to fall into place just right to make the Democrats' game plan work. But it could happen. And crafty politicians always strategize.
Moreover, we may very well find ourselves voting in newly-redrawn Congressional districts this next time around. During the past week, Nick Langworthy, the Republican who now serves in Tom Reed's old Southern Tier district, sent me a campaign mailer. He's no longer my Congressman. What does Langworthy know that I do not?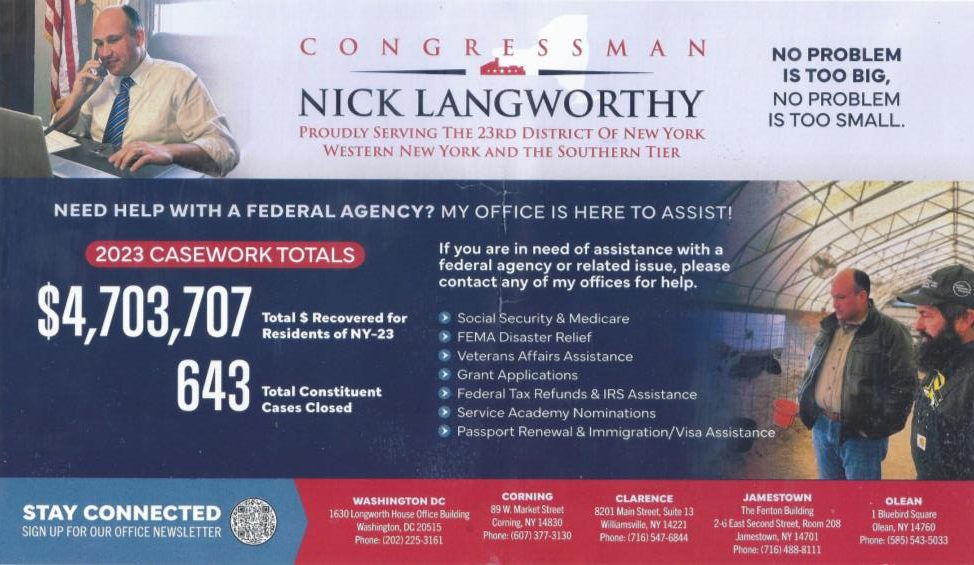 "New York Democrats are attempting a blatant partisan power grab thinly disguised as a court case," Jack Pandol, the National Republican Congressional Committee's communications director, said in a statement given to The Washington Post and other news outlets shortly after Judge Garry's decision came down. "Republicans will appeal to protect the will of the voters of New York, and we will fight to hold the line in the Empire State," Pandol said.
That they have. This past Tuesday, July 25, the Republican intervenors in the Democrat-initiated lawsuit filed a Notice of Appeal to move the redistricting case to the Court of Appeals. Five members of New York's Independent Redistricting Commission—exactly half its membership—filed notices of appeal as well. The Independent Redistricting Commission (IRC) stands evenly split between Democrats and Republicans.
Any immediate appeal to Judge Wilson's Court of Appeals would not redraw district lines. It would only decide whether Judge Garry's slim Third Department majority got it right. The question at hand: Were last year's Congressional district lines, drawn by a court-appointed special master, good for only one Congressional term, or good for a full decade?
If the Court of Appeals affirms Judge Garry's determination that the IRC must draw lines for all four future elections of this decade, then the IRC must get to work. And if the Commission deadlocks— like it did last year—then the State Legislature might intervene. And if the Legislature does, then the courts, including Chief Judge Wilson's Court of Appeals, would likely step in.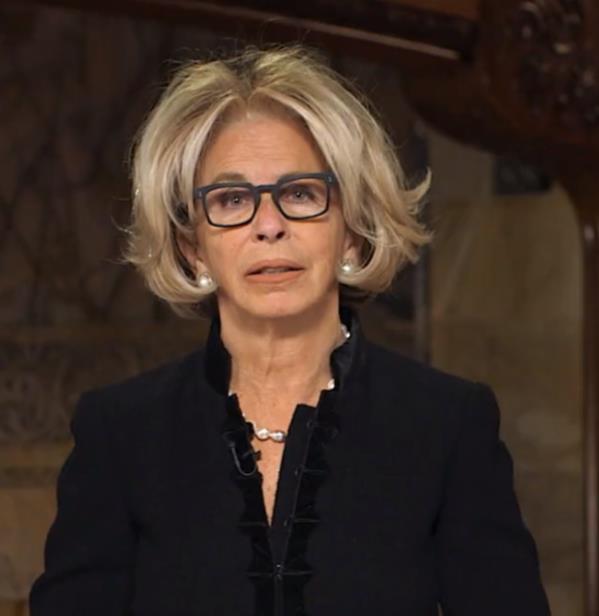 And if so, it would be that second Court of Appeals go-around where Judge Wilson's leadership— and the Court's new composition—could prove pivotal. After the IRC last year deadlocked, legislative Democrats then drew their own partisan maps. The New York courts then ruled those legislative maps unconstitutional. And on their final review, the Court of Appeals split 4-3 to affirm their unconstitutionality. Chief Judge DiFiore cast the deciding vote to approve the court's supremacy over the redistricting process.
But Judge DiFiore resigned in August under an ethical cloud. Judge Rowan Wilson, then an associate judge on the Court of Appeals, had written the dissent in that contentious redistricting suit, named Harkenrider v. Hochul. And the wisest observers subsequently speculated that when the State Senate sought to confirm Chief Judge DiFiore's successor earlier this year that any nominee's opinions of Harkenrider would bear heavily on legislators' decision on whether to confirm the judge.
The Senate rejected Governor Hochul's first nominee, Second Department Judge Hector LaSalle, a perceived moderate, on a near party-line vote. It followed a buzz saw of a hearing, but one in which little was said about redistricting. Hochul's second choice, Judge Wilson, breezed to approval, gaining overwhelming support from the Senate's Democratic supermajority. On Harkenrider, of course, Wilson's stance was a known commodity.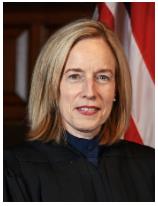 The unanswered question now involves where the Court of Appeals' newest justice stands. Governor Hochul appointed Caitlin Halligan to succeed Wilson as a Court of Appeals associate. The Senate quickly confirmed her last April. To anyone's knowledge, she's never offered an opinion on Harkenrider or on the constitutionality of legislative redistricting. Maybe no one's ever asked her. And again, as with DiFiore, Halligan's vote could prove decisive.
Other associates on the Court of Appeals are already on the record. Judges Anthony Cannataro, Madeline Singas, and Michael Garcia had joined Chief Judge DiFiore in holding the legislative redistricting unconstitutional. Judges Jenny Rivera and Shirley Troutman had joined Judge Wilson in dissent.
The current case is Hoffmann v. New York State Independent Redistricting Commission. And to label Judge Elizabeth Garry's majority opinion as a "Garry-mander" may employ a linguistic twist that's semantically cute, yet substantively misplaced. The Presiding Justice's majority opinion for the Appellate Division's Third Department in its July 13th holding dealt neither with the boundaries of New York's Congressional districts, nor with the State Legislature's authority to draw them. Instead, it addressed, narrowly and strictly, the permanence of the district maps that Judge Patrick McAllister had directed a special master to carve out last year once the IRC had deadlocked and the Legislature had strayed beyond the State Constitution. Did the IRC leave work undone, this case asked? Judge Garry's Third Department majority concluded that it had.
"The IRC had an indisputable duty under the NY Constitution to submit a second set of maps upon the rejection of its first set," the Presiding Justice wrote. Article III of the State Constitution "makes clear that this duty is mandatory, not discretionary," Judge Garry continued. "It is undisputed that the IRC failed to perform this duty."
In the debate surrounding the State Legislature's 2022 redistricting muddle, our area's former State Senator, Tom O'Mara, famously stated that the IRC's bipartisan structure was "pre-ordained to fail." And likely it was.
Voters in 2014 created the Independent Commission as a constitutionally-mandated vehicle intended to remove politics from redistricting. It didn't. IRC membership was split equally between the parties. And the system granted state lawmakers limited veto power. Furthermore, legislators passed laws to attempt to give for themselves even more of an upper hand.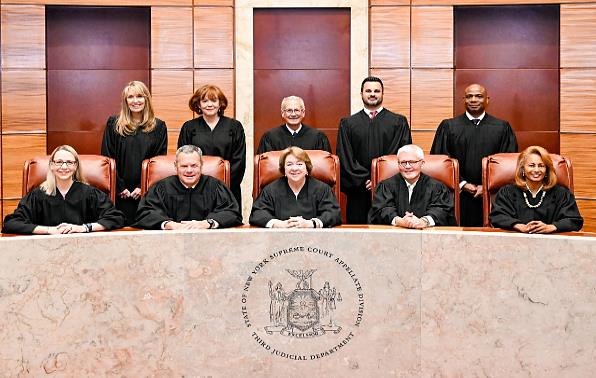 At the beginning of last year, the IRC's evenly-divided partisans produced two sets of Congressional maps. The State Legislature, as the Constitution allowed it, rejected both. The Constitution then called upon the IRC to produce a second set of maps. The IRC refused to do so. That's when the Legislature—and subsequently the courts— intervened. The courts notwithstanding, Democrats in Hoffmann now argue that the IRC should draft its second-round of maps, admittedly long overdue, and employ them for House elections during the remainder of this decade.
True, those maps were supposed to have been completed in February of last year. But to Judge Garry and the Third Department's majority, the delay doesn't matter.
"To hold today that the passing of the deadline leaves petitioners [the Democrats] with no remedy would render meaningless the distinct constitutional command that the IRC create a second set of maps," Judge Garry wrote. "The right to participate in the democratic process is the most essential right in our system of governance," she continued. "The procedures governing the redistricting process, all too easily abused by those who would seek to minimize the voters' voice and entrench themselves in the seats of power, must be guarded as jealously as the right to vote itself…."
Remember, of course, that the Third Department stood closely divided. Just one vote made the difference. In his dissent, Judge Stan Pritzker said he wouldn't even have chosen to hear the case. He argued the plaintiffs had waited too long to file. He calculated the short, four-month statute of limitations window differently than did the majority.
But on the merits, Judge Pritzker and his dissenting colleague maintained that the time for line-drawing by the IRC has passed, at least for another decade. And he said that Judge DiFiore's Court of Appeals majority had intended it that way. "[W]e do not believe that, presently, the IRC is duty bound to perform any act until the next census, let alone a ministerial act," Judge Pritzker wrote.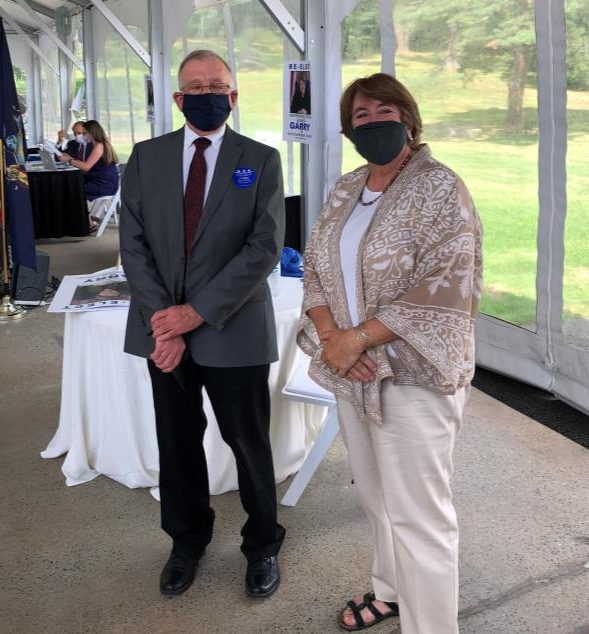 Gerrymandering is "cheating," the dissent reminded its opinion's readers, Pritzker stating that creation of politically-competitive maps was "the raison d'etre [reason for being] behind the 2014 constitutional amendments."
"It is our view that the judicial remedy cured the IRC's failure to act by lawfully establishing a redistricting plan for the ordinary duration, leaving no uncured violation of law and thus foreclosing mandamus," Judge Pritzker wrote. "Although it is not unreasonable for petitioners to wish for a different remedy, this bald desire falls well short of the standard required to mount a successful mandamus proceeding."
Though the Notices of Appeal filed last Tuesday will prompt a Court of Appeals review of Judge Garry's Third Department holding, those notices did not explicitly request a stay in Judge Garry's order. The ambiguity leaves unanswered whether the IRC must—or can—get back to work, or whether a stay in the proceedings should simply be presumed.
John Faso, the former Hudson Valley Congressman and GOP point-person in the redistricting dispute, thinks the newly-filed appeals block further Commission action. Others are not so sure.
"Right now, the commission is under a directive by the Appellate Division to get back to work," New York Law School professor and redistricting expert Jeffrey Wice told the Queens Daily Eagle. But Wice expects the IRC's partisan split, and also the September Jewish holidays, to push any Commission map-drawing into October or beyond. Wice also predicts the IRC will hold hearings.
As for the Court of Appeals, its summer recess will delay its review of the case until September.
Still, Democratic petitioners remain eager to move forward. One day before the appeals were filed, the petitioners sent the IRC a letter stating, "Over a week has passed since the Appellate Division's Opinion and order was entered… Yet the IRC has not made the public aware of any steps it has taken in that time to commence its duties despite the Appellate Division's instruction that it do so 'forthwith.'"
"We're looking forward to getting back to work," Karen Blatt, the IRC's Democratic co-executive director, told the New York Post following the appeal's filing. "And we're looking forward to working with our Republican side as well."
Court-drawn congressional redistricting last year took Tompkins County out of the western Southern Tier district of Representative Tom Reed (now Nick Langworthy's district) and made our county the western anchor of a sprawling new 19th District stretching through Binghamton and on to the Massachusetts border. Republican Marc Molinaro narrowly beat Democrat Josh Riley in last year's House race in NY-19. Riley's seeking a rematch in 2024.
On the other hand, had the Democrat-dominated State Legislature's redistricting map prevailed, Tompkins County's congressional attention would have been drawn toward Syracuse, and a district whose partisan balance would have been far more favorable to the party of FDR.
But back to where we began: namely with Chief Judge Rowan Wilson; alongside new Court of Appeals colleague Caitlin Halligan. If redistricting- revisited, with its déjà vu process, wanders through a deadlocked IRC, then through a State Legislature bent on gerrymandering, and next on to the courts; what then? Can we expect a different outcome this time? Maybe a ruling consistent with Judge Wilson's dissenting opinion in Harkenrider last year?
Or maybe not?
During Rowan Wilson's confirmation hearing for Chief Judge last April 17th, Long Island State Senator Jack Martins asked whether Wilson thought the issue last year in Harkenrider had been decided?
"Yep," Judge Wilson replied to his Republican questioner. He said it not once, but twice.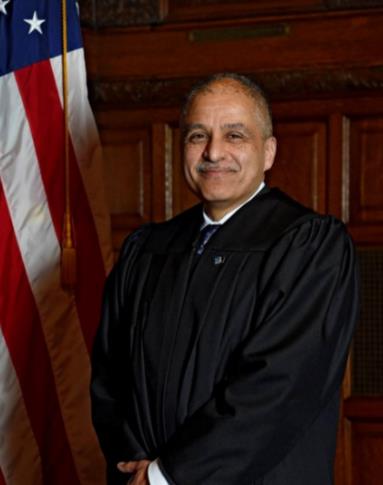 "And," Martins asked, "if a similar case were to come before the court again, would you be inclined to go with the majority opinion that was decided or something else?"
"Similar is kind of a loaded word," Wilson answered. "But let me answer it this way: It doesn't matter to me whether a decision is 7-0 or 4-3; it's a decision of the court, it's stare decisis. It controls the issues that were raised in that case."
The Chief Judge nominee went on, giving as an example the "Regina Metropolitan" rent control case. Wilson had dissented in Regina, but applied its majority opinion, contrary to his own, in a later, similar case brought before the Court of Appeals.
"We decided 6-0 it's controlled by Regina," Judge Wilson told Senator Martins. "So the fact that I think the Regina decision is wrong, but it's now the law and I'm bound to follow it."
Cynics say judges apply precedent, only until they choose not to. So all promises aside, don't be surprised if Nick Langworthy's begging for your Enfield vote in November of next year.
###
Posted Previously:
Balance or Bias?
Rollins' route to Fire Commissioner draws mixed reviews
by Robert Lynch, July 21, 2023
At its next meeting, August ninth, the Enfield Town Board, the governing council on which this writer sits, will perform its last major act of oversight with the Enfield Volunteer Fire Company (EVFC). And when it does, like in so many other instances from decades past, controversy will follow it all the way.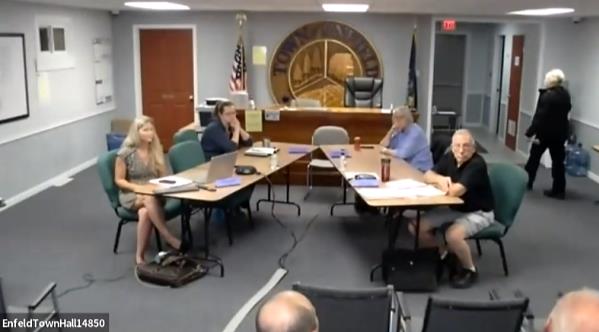 With approval likely, the Town Board next month will confirm to its newly-authorized Board of Fire Commissioners the five people it tentatively tapped following a closed-door confab near the end of its mid-July meeting. One of the five is Highway Superintendent Barry "Buddy" Rollins. To many, he is the problem. And there lies the controversy.
"He's been against the Fire Department, and I have known the man," Rollins' former subordinate (and now his re-election challenger) Chris Willis complained during floor privileges minutes after the Town Board made its July choices public. "And now you're giving him the ability to choose and make decisions for the Fire Department? That's just so wrong."
Wrong perhaps; but also legal. A 1980 New York Attorney General's Opinion gave the green light to highway superintendents pulling double-duty as fire commissioners.
"We've gotta' have balance. That's the one thing that I realize," Enfield Town Supervisor Stephanie Redmond replied to Willis, Redmond repeating a talking point she would employ several times during the July meeting's closing minutes in defending the Town Board's Commissioner choices.
"There's no balance at all," Willis rebutted.
"If we don't have someone that shows that aspect of it—referring, presumably, to hard-nosed, fiscal skepticism—then everybody else…." Redmond never got to complete her thought.
"Oh, it's his Fire Department now," Willis said of Rollins. "You're giving him charge of the Fire Department…."
"We've given him one person on a five person Board," the Supervisor rebounded.
For Willis, and for those like him, one vote out of five on the new Enfield Fire District's Board of Fire Commissioners is one vote too many.
"We cannot have everybody in there completely in the pocket of the Fire Company," Supervisor Redmond stated during one telling exchange, countering Willis' criticism of Rollins and stressing her desire for representational balance.
[EVFC membership records indicate, and the Company's president confirms, that Chris Willis is not currently an EVFC member. A source reports that Willis applied. for membership subsequent to the meeting.]
"We have a lot of awesome candidates, and it was a very hard choice," Redmond said moments earlier, just as she prepared to unveil the Town Board's list of chosen nominees. "We really tried to get some balance and you know, try to honor everybody who is both for and against this change by giving a lot of variety within the people we've picked."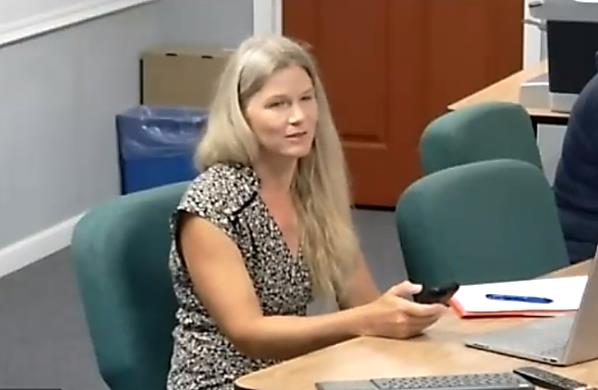 If you were to ask any of our Town Board's five members, each would give a different reason behind the Board's mid-June unanimous decision to abolish Enfield's long-standing, Town Board-supervised "Fire Protection District" and replace it with a "Fire District," a change under which public control of the fire service's operational and budgeting decisions will shift from the Town Board to a Board of Fire Commissioners. With that change, state law directs the Town Board to appoint the initial five Fire Commissioners. The public will vote this December on whether to keep the people the Town appoints, or replace some or all of them. The Fire District, itself, with appointed Commissioners, takes control August first.
Yet unless Rollins, after appointment, mends fences and changes minds, and also assuming that those in the Town Board's visitors' gallery represent the prevailing Fire Company sentiment, the Highway Superintendent could face an uphill battle retaining his Commissioner's seat in the December Fire District election. You see, based on behavior elsewhere, volunteer firefighters and EMS personnel comprise a Fire District election's most likely voters.
"Bad move. Bad move," long time Fire Company President Dennis Hubbell said of Rollins' tentative appointment. "I think Buddy is a big conflict of interest, a huge conflict of interest. I'm very disappointed with that one."
But while the Fire Company's business side may object to the Highway Superintendent's appointment, Enfield Fire Chief Greg Stevenson has refused to join the chorus. Stevenson did not attend the Town Board's July 12th meeting, but he issued a written statement one day later:
"I'm pleased that the Town of Enfield has named the five initial fire district commissioners," Stevenson stated the afternoon following the meeting. "I look forward to working with them, as I have with the Town Board in the past, to assure that Enfield and it's residents and visitors receive the best emergency fire and medical services possible," the Chief continued.
The Town Board had as many as nine Fire Commissioner applicants to consider at its July meeting. It could name only five. According to Hubbell, only one of those appointed is a current EVFC member.
Enfield firefighter and EMS responder, Robyn Wishna, among those tapped, would be joined by Superintendent Rollins and also by Geoffrey Hollister, a former Fire Commissioner in Richford and a past EVFC Board member; Jim Matthews, a 13-year firefighter and medic in Fairfax County, Virginia, and the current President of the Washington-based Rail Passengers Association; and Marcus Gingerich, a Rumsey Hill Road resident once-active in Enfield's Black Oak Wind Farm debate.
Hubbell expressed concern that most of the tentatively-tapped Commissioners were unknown to him. Hubbell said he knew Matthews, but claimed that Matthews' interest in the EVFC never extended beyond his picking up an application.
What became evident as July's meeting ended was that the persons some rank and file most wanted on the Board of Commissioners the Town Board had overlooked.
Most prominently among the four passed over, EVFC Secretary, firefighter, EMS Director, and former Town Clerk Ellen Woods, made her concerns well known that night. Others not chosen include former Fire Company President, Trustee, and 40-year member Roy Barriere, a former Town Supervisor; 61-year volunteer firefighter Larry Stilwell, and another former Supervisor and firefighter, Frank Podufalski, not presently a Fire Company member.
Although Podufalski's name was among those forwarded to the Town by the EVFC Board of Directors one day earlier (without explicit recommendation), Podufalski's own application, if there was one, never reached Town Councilpersons before their meeting.
During the July session's closing moments, Secretary Woods offered a nearly 250-word critique of Rollins' selection. She then walked out five minutes before the Town Board adjourned.
"I'm very disappointed in someone who has the privilege of being handsomely paid for their service to the Town, and who gets to pay every single person who works for them for every single minute of their time, was put on the Fire Commission," Woods began her statement. "Superintendent Rollins has made public statements, openly hostile toward the Fire Company," Woods maintained, contending that EVFC volunteers must answer most of the calls about fallen trees, while Rollins' Highway Department staff stand available, yet unused, even during working hours and are better-trained at chain saw work.
"We serve the Town for free. His people serve the Town for pay," Woods concluded. "And he has been very, very hostile to the Fire Company recently. So I'm very disappointed that he was put on this Commission, and I'm going to be open about that."
On social media, Woods denied she'd walked out of the meeting "in anger," prior to adjournment, as this writer had earlier implied. "I simply left because the meeting was over," Woods posted on Facebook.
Public criticism of the Rollins appointment consumed only seven minutes of the Town Board's two-and-a-half-hour meeting. But much was packed into those final moments. And the public discontent affirmed that any attempt by Town Board members to strike middle ground with both EVFC membership and the larger Enfield community had failed to accomplish its objective.
At this writer/Councilperson's urging, and with the hope of protecting applicant privacy, the Town Board vetted candidate qualifications privately in an executive session. For just over 20 minutes, Board members spirited themselves apart from the public, employing the Enfield Food Pantry's first floor commodities room as a makeshift, confidential retreat.
Four Town Board members conferred on the matter that night. Councilperson James Ricks was excused from the meeting. Town Board members did not discuss their selection rationale after the executive session had ended. Apart from Redmond's plea for balance, all stayed mum.
As stated earlier: "This writer, Councilperson Robert Lynch, cannot legally or ethically divulge the substance of the Town Board's executive session discussions that led to its Wednesday decision. He will only state that the private deliberations were collegial and civil; and that Board members reached their decision through collaboration and compromise; each member preferring the Board to speak with a common voice."
Yes, Supervisor Redmond did tip her hand a bit before the executive session was called. She remarked that Roy Barriere's plans for travel away from Enfield both in September and over the winter could preclude his appointment.
"I think that Roy would be an amazing Commissioner," Redmond said in praise of the applicant later not chosen. "But I do think that he's going to be gone for a part of the year, and it will be a little tricky for him to participate at that level."
"And it's unfortunate," Redmond added, "because I do think he would actually be a (great) Commissioner."
Still, without doubt, it was Rollins who drew the focus of attention and public critique. And it is he, the Highway Superintendent, whose likely appointment could complicate what might otherwise have become a smooth transition to Commission governance of Enfield's fire service. The pro- and anti-Rollins divide could polarize decisions relating to fire budgets, volunteer certifications, and the contractual relationships between the Fire District's Commissioners and the EVFC. The Fire Company still owns its building, its fire trucks, and the loyalty of the volunteers needed to fight fires and to answer EMS calls.
Buddy Rollins has his supporters, to be sure. Diane Aramini, the Applegate Road resident who was the only person to oppose transition to Commissioner oversight during the Town Board's Public Hearing in June, supports Rollins' appointment. To his defenders, the Highway Superintendent's municipal management experience becomes a plus; a resume enhancer. Simply put: Buddy Rollins knows how to handle big trucks and also big bucks.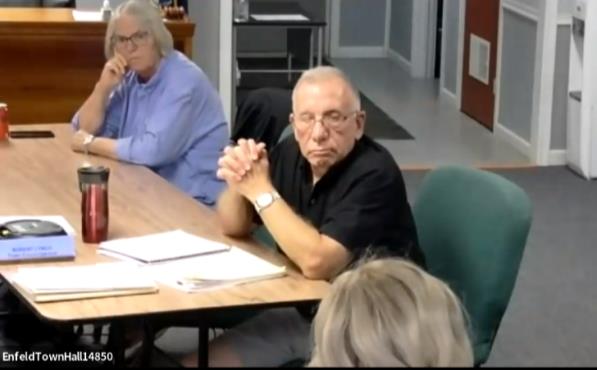 He's also not a predictable "Amen" vote for anything and everything the EVFC wants. Moreover, in his June 17th application for membership—Rollins was the first to file for Commissioner—the Highway Superintendent made it clear that a Board of Commissioners stacked with Fire Company members would not serve Enfield and its taxpayers:
"I feel that if it stays the way it was presented at the board meeting (that is, with perhaps at least three volunteer firefighter Commission members), that it would be a waste of a community member's time," Rollins wrote the Town Board. "As the fire personnel would have the majority of the votes… community members would never have an equal vote."
Fairly or unfairly, Rollins' presumed appointment has touched a nerve with some in the Fire Company. They see him as an adversary. And perhaps also as a rival for the tax dollar.
"He would be in control of purchasing of the Fire Department," Chris Willis complained during his late-meeting exchange with Redmond, Willis suggesting that Rollins would hold the purse strings for not one big Enfield budget, but two.
And while the Supervisor countered that Rollins' would only hold one vote among five, and while Fire District governance divorces fire services from direct Town control, a critic could still argue that the two budgets compete for the taxpayers' limited resources, and that one less fire truck to buy could make one more dump truck easier to purchase.
"On the glass-half-full side," Councilperson Cassandra Hinkle remarked, in one of her few comments during the July meeting's closing moments, "if in five months, the Fire Department thinks this is a terrible idea, this never should have happened, you will have the ability to change it."
"Remember, there's an election in December," I echoed Councilperson Hinkle. "And the voters will have the determination. They'll make the final say in December."
That they will. But much must be done during those brief five months between when the appointed Fire Commissioners take office in August, and when their successors, whoever they are, get sworn in next January. Contracts must be written; leases struck; rules made. Some worry that the wrong people—one person in particular—may be calling the shots; casting the votes.
There's one final concern: It involves the speed of it all. Aside from a brief flirtation with the idea back in 2007, talk of transition to a Fire District wasn't even discussed by the Enfield Town Board until this March. Given the dearth of local media and their general inattention to Enfield unless there's a pie fight, this major transformation of Fire Company oversight slipped past the eyes and ears of most in Enfield until now. That bothers those who fear that the Town Board may have put something over on them. Even Chris Willis reportedly was not aware of it until meeting night.
"I've heard nothing about this changing," Willis complained to the Board. "There's no notices in the mail or nothing. How long has it been out there?"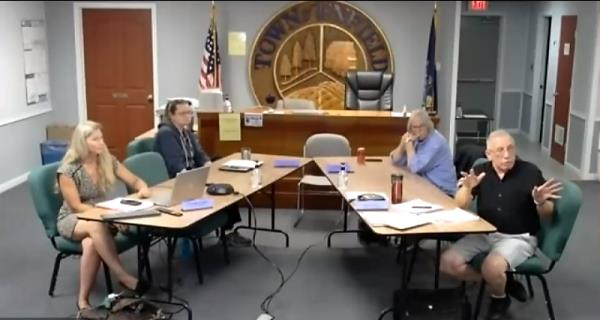 Actually, there were legal notices, for those who bother to read them or who still subscribe to The Ithaca Journal. There's the Town website. There's this website, too. Yet people are busy.
"And this is like our fourth meeting about it. We had a Public Hearing talking about it," Redmond replied. "I would love to be able to go to everybody's door and knock on their door and inform them about everything that's happening every month. But that doesn't happen. So people actually have to take the time to engage."
Easier said than done. Expect engagement to resume at the Enfield Town Board's August meeting. And no matter how well he performs, no matter how hard he works to build bridges, expect Buddy Rollins to remain in the hot seat as Enfield's newest chapter in keeping its residents safe moves forward.
###
And now, to the County Legislature:
Amanda Champion's "Enfield" Landfill… Not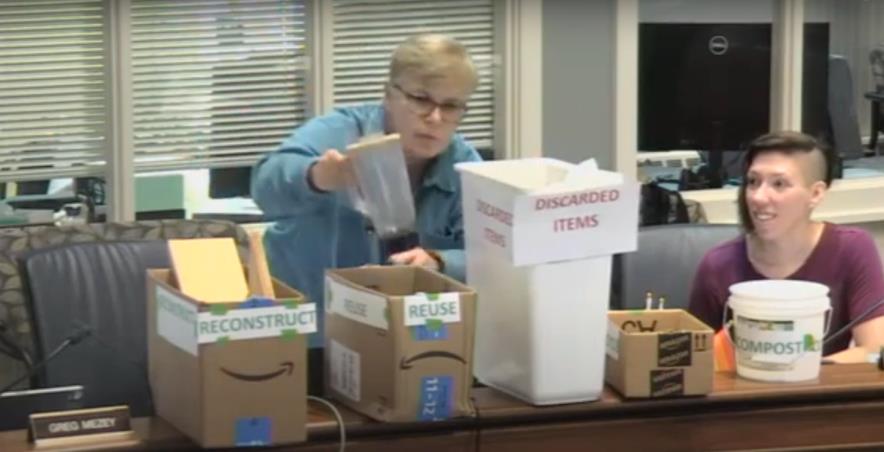 by Robert Lynch, July 22, 2023
Enfield Supervisor Stephanie Redmond's worst environmental nightmare got some fresh talk-time this past Tuesday at the Tompkins County Legislature. Some might regard it as no more than an offhand, throw-away remark. But Redmond and many of her neighbors here in Enfield may take it more seriously.
"We're sending our waste to somebody else's back yard, the Town of Ithaca's Amanda Champion told her fellow legislators at their Tuesday, July 18th meeting. "So personally I think if we want to deal with the problem ourselves, we should have our own landfill and figure out where we're going to put that in our county. And then we're all going to be responsible for our trash."
"Is that a motion?" Danby's Dan Klein, the evening's presiding officer, asked.
"I'm pretty sure that would not pass," Champion smiled back.
And there Champion's idea pretty much ended.
Admittedly, Amanda probably broached the prospect of a local landfill half in jest. But casual words can speak to heartfelt convictions. That's how seeds get planted for ideas yet to grow.
Champion's suggestion arose as a sidebar to a more substantive resolution before the County Legislature Tuesday night. It would have begged New York State neither to extend the life of the giant Seneca Meadows landfill north of Waterloo nor to grant the landfill operator's request to pile it taller. The resolution won a plurality of legislator support, but lost for lack of a single, eighth supportive vote. With Legislature Chair Shawna Black excused—likely stuck in an airport somewhere, heading back from foreign travel—her vote could have made the difference. Black could potentially return Tuesday's Resolution for a revote at some future meeting.
But Champion's casual talk of a new landfill, apart from showcasing the legislator's lack of institutional memory, may sound alarm bells for those in Enfield. Before our county decided decades ago to close its local dumps and transport all of our garbage to its neighbors, it briefly bandied about the idea of a new landfill site off Enfield's Bostwick Road. Add to that the common recognition that landfill sitings often find their way to the bottom of any county's economic food chain. And that, for us, would be Tompkins County's poorest town, our little Enfield.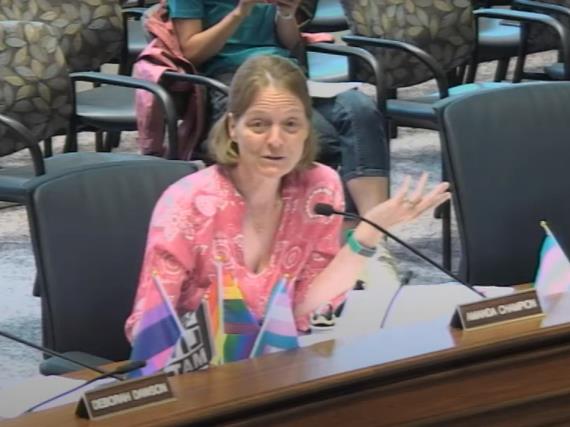 It was only last summer when Supervisor Redmond raised the prospect, seemingly out of nowhere, that if Seneca Meadows were to close—and current regulations say it must close by 2025—its owners, or commercial operators like them, could target Enfield and build the Waterloo landfill's successor here.
"I would not like to see a landfill anywhere in our town," the Supervisor emphatically told her Town Board at its meeting in July of last year. "The one up at Seneca Meadows is noxious; fumes for miles around; it smells terrible."
That it does. Reportedly, it's the largest landfill in New York State. Seneca Meadows, now operated by a Texas-based company, spreads its rotten-garbage odor for miles in all directions. Travel to the Del Lago casino or to the Waterloo Outlet Mall, and you'll smell it. Take pity on the locals who must whiff the stuff constantly. And critics told the Legislature Tuesday that cancer rates have ticked up in that region.
Redmond had raised her remarks last year as she'd cast aloft a short-lived trial balloon for a potential zoning law in Enfield, one that might prohibit landfills and also restrict solar farms. Since then, she's settled on more modest land-use control, with no more landfill talk.
Yet while most of us in Enfield take no joy in what Seneca Meadows has inflicted—and continues to inflict—upon the northern part of our adjacent county, we in Enfield may hold a valid ulterior motive for keeping New York State from closing it down. To the point: Better it stay there than come here.
"Amanda, you scared me to death," Dryden legislator Mike Lane replied to Champion regarding her idea for a new, local landfill. "Please, almost 35 years ago, we went through all of this," he recalled.
Lane, perhaps unlike Champion, remembered the protracted local debates that led to the closing of Tompkins County's small-scale, ground-polluting landfills off Hillview and Caswell Roads, the latter landfill in Lane's own Town of Dryden. "They were small, rinky-dink places," legislator Mike Sigler described them both at the meeting.
Enfield's two legislators, Anne Koreman and Randy Brown, each supported sending New York's Department of Environmental Conservation a message that it deny Seneca Meadows' request to extend the landfill's life by 15 years, namely to 2040; or to allow it to increase the garbage mound's height by 70 feet. "Mount Trashmore," as locals call it, is already as high as a 30-story building, environmental advocate Evonne Taylor reminded lawmakers.
To advocate for adoption, Enfield-Ulysses' Koreman brought "show-and-tell-time" to the Legislature Tuesday. She set upon her desk a basket and several boxes to demonstrate how much of what we call "garbage" can be held back from the landfill with only a bit of thoughtful planning and constant discipline. Lumber can be repurposed; uneaten food composted; worn-out electronics recycled, she said.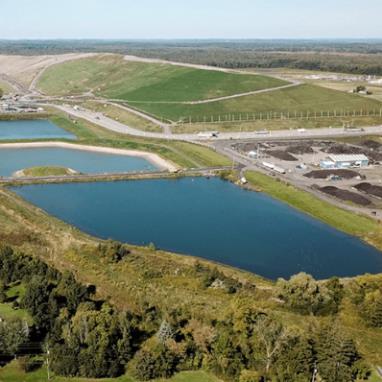 "So really what's left is not much," Koreman concluded. By then, the garbage basket she'd relabeled "Discarded Items" sat nearly empty. (Koreman spared us the visual of sprinkling before us any spent litter from her beloved pet cat.)
But Koreman's demonstration underscored an important point: Tuesday's Seneca Meadows debate dealt with not one, but two at times conflicting objectives; one aspirational, the other grounded, immediate, and practical. Yes, in the long-term, try to reduce the garbage stream altogether. But in the short run, how do you get rid of the mess you've just made today?
First, to the future: "I actually think we can be more ambitious" than current plans propose, Koreman said. She'd set a goal of reducing waste reduction by "80-90 per cent. " She'd "create a circular economy."
But waste reduction at that level would impose economic hardships and probably require a much more intrusive government.
Take building waste: "We get charged by the ton, and construction debris is very heavy," Koreman reminded us, as she pulled from her "discarded items" basket a short, clean plank and plunked it in a repurposed Amazon carton labeled "Reconstruct." Yet contractors will tell you they must toss perfectly good, once-used lumber into the dumpster because it costs too much to pay workers to pull out the nails.
And it would also take an overbearing army of garbage police, armed with books of pricey appearance tickets, to force homeowners to sort methodically their throwaways so as to meet the Ulysses legislator's exacting standards.
"We should really be aggressive in trying to move the needle on our citizens taking this up as an important part of addressing climate change that can be addressed within people's lives," legislator Rich John said in agreement with Koreman's aspirational goals.
But in the end, Rich John got practical. He voted against the Resolution to intervene in the DEC's Seneca Meadows review.
John bluntly described Seneca Meadows this way: "It is gigantic and it doesn't smell great. It's imposing. It is a landfill." But, he added, "I don't know we are addressing the issue at all by saying close Seneca Meadows." Rich John would rather Tompkins County expend its energy—and its advocacy—pressing New York regulators to develop a plan to solve the garbage crisis altogether.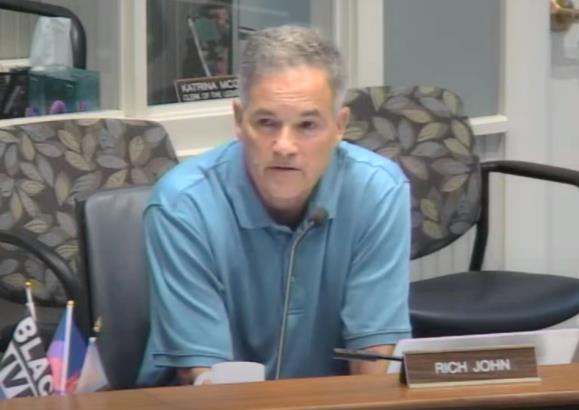 "I have some skepticism there given—pick your topic—of New York State trying to execute complicated things," John lamented. For example, he noted that New York first banned sending adolescent offenders to prison, but then couldn't find any other places to detain them.
As for Seneca Meadows' fate, John faced reality. "Our garbage will go to someplace else; that may be better, may be worse; we don't know."
"I think it's a matter of responsibility," Newfield-Enfield's Randy Brown argued in the resolution's support. "If we just continue to build these landfills, then we're not going to move forward and control our waste."
"No, Randy, I don't think it's responsible to call for the closing of something that is actually needed," Mike Sigler, Brown's fellow Republican, countered. "It's irresponsible, in fact."
And addressing Champion's home-based solution, Sigler's said, "Build your own landfill? I don't think there's any town in Tompkins that's going to get on board with that."
Certainly not Enfield, based on Redmond's last year's remarks.
Sigler also raised the economic argument to justify the regional landfill's continuation. The farther away the landfill gets, he surmised, the more it will cost to ship garbage there. And the greater the expense, the more likely the frugal will find work-arounds.
"You will find a couch in the forest… tires next to the side of the road," Sigler predicted.
Lansing's Deborah Dawson closed the nearly 40-minute Seneca Meadows debate with a dead-accurate observation:
"I think this landfill sucks," Dawson said of Mount Trashmore's behemoth of a stinky garbage pile. "But I don't think people are going to stop generating garbage, because if we close the landfill, I think that's putting the cart before the horse. I think we ought to be looking at things we can do."
Do what you wish, County Legislature and New York State. Just please, as Enfield's Supervisor would admonish you, don't build a second Mount Trashmore anywhere close to us.
###