"Newbie" Fire Commissioner Matthews seeks clean slate; sets tone of transparency
Posted by Robert Lynch; August 13, 2023
Jim Matthews, a neighbor you may not know, was elected Chair of Enfield's newly-created Board of Fire Commissioners August 9th. His election by fellow Commissioners came at an organizational meeting held moments after the Enfield Town Board officially appointed all five Commissioners to their interim positions. It's all part of our town's transition to a Fire District to govern emergency services. The appointees will serve through year's end, when Commissioners chosen at a December election will assume permanent responsibilities.
After they transacted a flurry of organizational business—that you will read about elsewhere on this website—Matthews offered each Commissioner the opportunity for closing remarks. Some spoke briefly; others not at all. Jim Matthews spoke the most. And we in Enfield can only hope that the tone he set that night will carry forth into the future:
****
Jim Matthews:
"I am probably the person who has lived in this town less than anybody else here. [Fellow Commission member Robyn Wishna suggested she'd lived in Enfield a slightly shorter time.]  I've lived in the area for a long time.  But we only moved into Enfield in 2018.  I only formally established residency last year….  So I'm the newbie.  Everyone's talking about being in 'learning mode' here.  I'm in 'extra-learning mode' because I'm the newbie.  I have a ton to learn.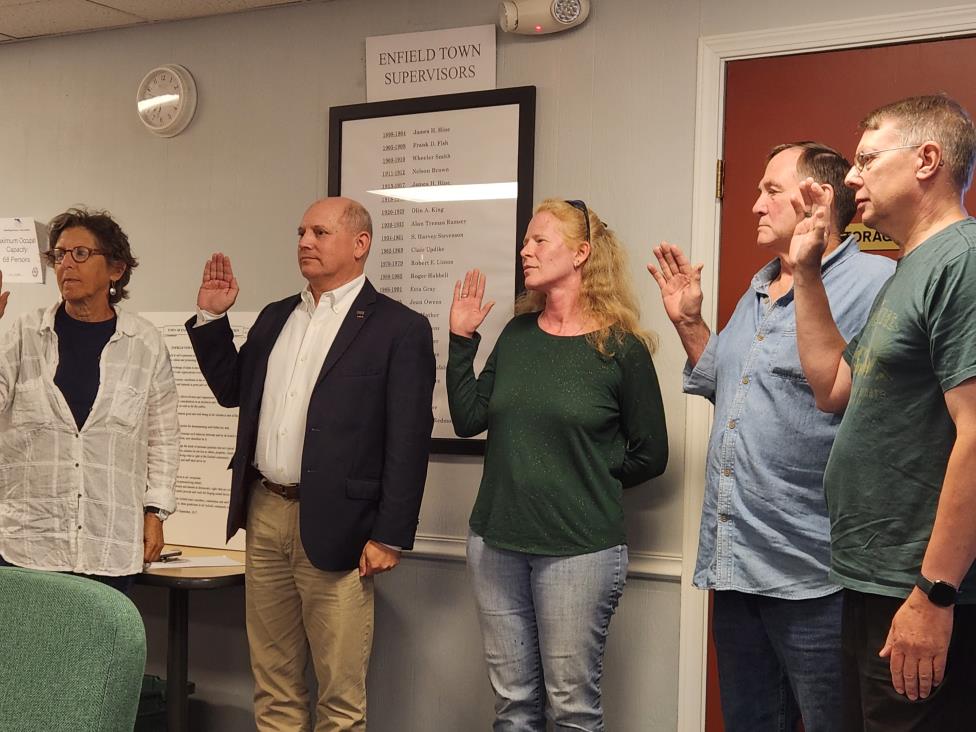 "At the same time, I think I have some stuff to bring to you, too.  I spent 13 years in the fire service in Fairfax County (Virginia).  I have 15 years' of experience of executive leadership….  I have nine years of experience in public policy at the federal level.   I feel like I can help, and that's really what I want to do. 
"My favorite thing that I ever did in my life was join the Fire Department; (learning) everything about it. So I feel like this is my opportunity to kind of do something for the fire service and to do something for the town where I live.
"I really, really think it's important that we all start this process in this sort of an open and positive way and not in a 'Wow, this is a dumb idea' kind of way. And I know there's been a lot of stuff swirling around us. I think we have an opportunity in a way for kind of a clean slate in some ways with the creation of the district. And I think everyone in the town will benefit if we can do this in an open, transparent, and positive way, which is really, I think, incredibly important, having lived through some of the stuff in this town….
"My wife said to me, 'Jimmy, is this a good idea?'
"(My reply): 'I raised my hand for this.' We'll see. Maybe it was; maybe it wasn't. But I want to try."
****
Yes, give it a try, Jim. Good start. You'll serve us well. And Enfield, let's hope and pray that Matthews and his colleagues will help still the waters, quell the controversy, and bring our townspeople and its emergency volunteers together for the good of us all. Peace. / Bob Lynch
###