Judge Poole Retires; Board ponders options
by Robert Lynch, December 14, 2022; additional reporting December 15, 2022
Judge Betty Poole, on the Enfield bench for 29 years, has retired, Enfield's Town Board disclosed publicly for the first time at its December monthly meeting Wednesday.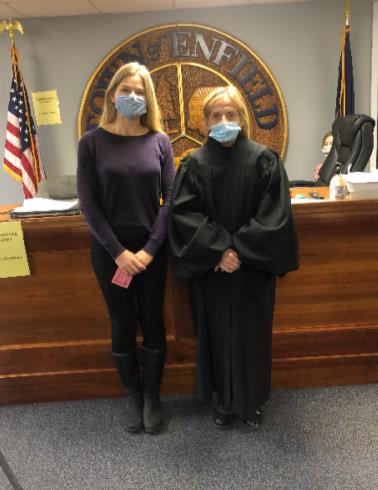 Poole, the Town's only Justice for the past decade, and one of the Town's two justices before that, her service dating back to January 1994, tendered her retirement notice, citing health reasons, to State officials in November. Although Town Board members knew of the impending judicial vacancy for several weeks, they withheld public disclosure of her retirement until Wednesday's session at the request of Supervisor Stephanie Redmond.
Amid low-key acknowledgement of the judge's decision, the Town Board adopted a Resolution of recognition Wednesday and circulated among its membership a retirement card to sign.
"We truly appreciate all the time, energy and expertise you have brought to the Town of Enfield," Supervisor Redmond wrote in a letter of appreciation Board members signed and then memorialized in their adopted Resolution. "Our community has benefited from your vast wisdom and selfless dedication," the letter continued.
Poole's retirement becomes effective at year's end. Officials acknowledge that Town Court in Enfield has not been held for several weeks.
Wednesday's announcement was coupled with Board discussion of judicial succession. The Town Board made no decision on selection of Poole's replacement. Instead, Board members weighed several options on how to move forward, aided in their discussion by Joshua Shapiro of the New York State Unified Court System. Among the options available to Enfield—and one enthusiastically advanced by Supervisor Redmond—is the potential consolidation of the Enfield Town Court with that of a neighboring municipality, such as Newfield, Ulysses, or the Town of Ithaca.
"I don't think we're in any position to make any decisions about that tonight," Redmond acknowledged as to consolidation. "But it's time for us to start educating ourselves about whether that's a move we would want to take as a Town; whether it would actually save us any money, or whether it is something that we need."
"My first reaction is hesitancy," Councilperson Robert Lynch (this writer) said in answer to the Supervisor's suggestion. "The second thing is we have to hear from the community because they've got to weigh in on it."
In addition to calling for a "community conversation" about the Town Court's future, Lynch offered a third reason for reticence Wednesday. "Really, tonight is not the appropriate time to discuss it further," he said of consolidation. "We are celebrating Judge Poole's service…. She has served us well, and we are very disappointed that she has to retire, that she chose to retire, more properly put."
"This town has to realize we're at a crossroads," Lynch concluded. "We have several options open, and I think right for the moment we just have to let the community speak."
Those options, Joshua Shapiro advised the Board, are several. Think of them as consolidation-heavy and consolidation-light.
"No municipality can ever truly 'close' a courthouse, as all Towns must maintain a court under the New York State Constitution," Shapiro wrote Redmond in a November 29th email, its contents shared with the Board. "However there are several legislative options available that allow you to share court space and judges with other municipalities," Shapiro wrote. Some options, the judicial administrator told the Board Wednesday, could take one to two years to implement.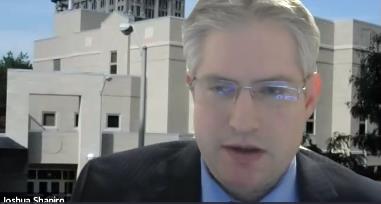 Simplest, Shapiro told Board members, would involve individual Town Justices from separate towns meeting at a common location and sharing costs between them. Municipalities would only need to sign a shared services agreement to implement that change.
But a "true consolidation," Shapiro warned, would entail far more. Adjoining towns would first need to adopt joint resolutions to study the concept. Then there'd be hearings, followed by a request to the State Legislature for Home Rule legislation. Voters in both municipalities would elect the merged court's judge. But Shapiro said there'd be no need for a referendum to make the merger happen.
"If we want to do it, now's our chance." Redmond remarked as Shapiro spelled out the options. "We have this one year that we have available to think about it until our next election cycle…. I think we should at least review it. We may not choose to consolidate. But we should at least look at our options."
But with Poole's year-end departure looming large, "We need have to have a judge somehow," Lynch reminded the Board. "We would have to have somebody to cover us."
The Town Board turned to Eugene Faughnan, Administrative Judge for New York's Sixth Judicial District, in order to escape any legally-prohibited lapse in Enfield court functions after January first. The Board agreed to have Judge Faughnan appoint one or more Town Justices from other local municipalities to sit temporarily in Enfield while the Board weighs its choices.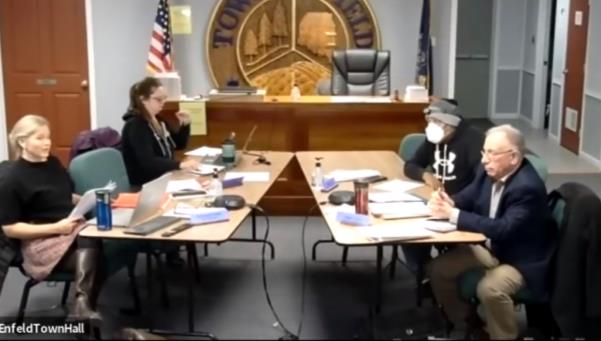 Betty Poole, a Republican, was first elected Enfield Town Justice in 1993. She was then re-elected seven times to successive, four-year terms. Her most recent reelection was last year, when she was cross-endorsed by Democrats. Had she not retired, Poole's term would have run through 2025.
Prior to her election as Enfield Town Justice, Poole served as court clerk for the Town of Ithaca, in all giving over 33 years of service to the local judicial community.
"She's one of the good ones," Josh Shapiro said of Judge Poole. "So she's got big shoes to fill."
Should the Town of Enfield retain its Justice Court as now constituted, the Town Board could appoint an interim Town Justice, whose term would run through next year, the appointee then subject to a November election to a shortened term. Candidates for the November election would petition next spring.
As for an interim appointment, Shapiro advised Board members that any appointee would either need to be a licensed attorney or else first complete a State-mandated judicial training course. But that course for lay justices, Redmond warned the Board, will not be conducted until the spring.
When Judge Poole tendered her retirement notice, her own court clerk, her daughter, Tiffany Poole, also announced her resignation, also effective at years end. The Town Board agreed Wednesday to post the clerk's job opening, which Shapiro advised the Board need not necessarily be filled by an Enfield resident.
"Thank you, Judge Poole, for your service," Councilperson Lynch closed the Board's half-hour discussion that addressed both Poole's judicial legacy and talk of what lies ahead.
"Always professional, sweet, and knowledgeable," Supervisor Redmond echoed. "She will be missed."
###