A first-thought 5.5% levy rise cut by nearly half two days later
by Robert Lynch, May 4, 2023
Credit Newfield/Enfield District 8 legislator Randy Brown and his cross-county Republican colleague Mike Sigler for getting it right. On Tuesday, May 2nd, they voted against a hurriedly-submitted, flimsily-forecast projection that Tompkins County's next year's property tax levy might rise by a full 5.53 per cent, more than two percentage points above the County's anyone-can-guess New York State tax cap.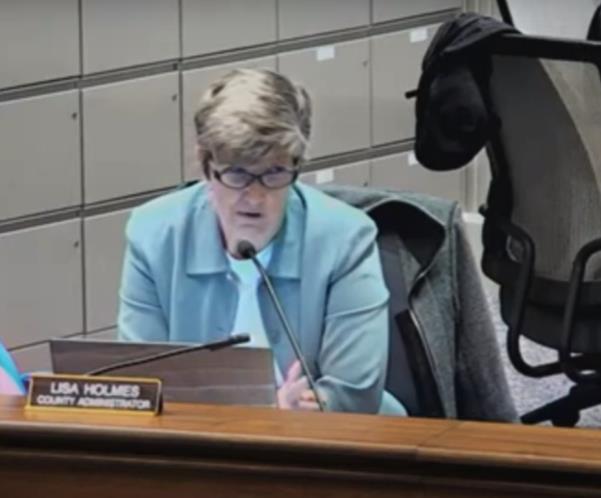 "The number's so alterable, it ought to be written in erasable ink," this writer wrote at the time. I, too, was correct. Two mornings later, Thursday, May 4th, the number was gone.
Tompkins Government's projected 2024 budget shortfall is "about a Million Dollars less than in our original forecast," County Administrator Lisa Holmes told a monthly Zoom conference call of local municipal leaders Thursday at breakfast time. By the revised estimate, she said, the County would face only a $1.9 Million tax levy rise for 2024, not the $2.90 Million written into Tuesday night's "County Financial Goal" Resolution, adopted 12 votes to two.
Using middle school math, the lesser levy rise would translate into a 3.62 percent revised levy increase, much closer to the 3.35 per cent tax cap—a now penalty-free metric—that Albany announces each summer to encourage counties and municipalities to hold the line on taxes.  This year's true cap won't be known for months.
The initial 5.5 per cent projected local levy increase grew out of an April 25th legislative "budget retreat." It's a meeting state law requires the County Legislature to make public, but that lawmakers do everything within their power to keep private. On the night of the retreat, New York State budget talks remained in limbo, and two financial obstacles stared local fiscal planners in the face.
First, judicially-mandated increases in Assigned Counsel fees for attorneys who represent indigent defendants could hike the local cost for that service by $1.1 Million.  More importantly, a decision by Governor Hochul's financial wizards to keep for Albany's own use millions of dollars in post-pandemic federal Medicaid assistance could grow that program's burden on local taxpayers by another $1.6 Million.
As New York's budget takes shape, and as Hochul's bean counters sense the wrath of politicians beneath them, fiscal prospects have trended in Tompkins County's favor. In fact, Holmes advised the County Legislature of the encouraging news the same night as lawmakers later adopted their gloomy fiscal forecast.
Holmes said that for the Assigned Counsel mandate, it now appears the State will shoulder "up to 50 percent of the cost"—at least, the increased cost. And as to the hefty, Medicaid hit, the County Administrator has learned it's still happening; "only more gradually than we had anticipated." Holmes has been told the State will "intercept" (a real cute term for steal) only 25 per cent of the federal money next year; 50% in 2025; but all of it in 2026.
Some still hold out hope that an act of Congress could stop the steal and pass all of the Medicaid funds back to the counties.
But despite the County Administrator's new glimmers of hope, legislative Budget Chair Deborah Dawson, a perennial financial pessimist, charged ahead later during Tuesday's meeting and thrust onto the floor, without advance public notice, her Resolution for "Establishment of (the) 2024 County Financial Goal."  Her measure targeted the 5.53 per cent tax levy increase so as to provide a "maintenance-of-effort budget," one that keeps County Government humming about the same as at present, with no major cutbacks.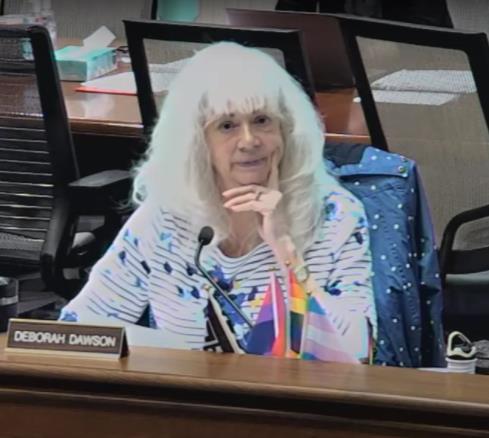 Though one could argue that the targets Dawson set had already become outdated by the time of the vote, the legislator said her fiscal projections were "influenced by our desire to prepare ourselves for the worst possible outcomes in the state budget."
"I urge you to resist the temptation to back off and lower the levy goal just in case things don't turn out as miserably as we might expect it," Dawson cautioned.
Republican legislators Brown and Sigler cast the only dissents to Dawson's Resolution.  But other voices on the Legislature sensed it would be better to wait until Albany's waters calmed. 
"I'm surprised to see this now," Ulysses-Enfield's Anne Koreman remarked. "I thought at our budget retreat, we had said we were going to wait a month to come up with a target." Koreman thought the retreat's only direction to Holmes was to work with department heads toward the maintenance-of-effort budget, not hazard a guess about taxes.
Sigler said the late-filed Resolution surprised him too. "It just seems like we don't have enough information to do this," he said.
But Newfield's Randy Brown took the strongest stance against the kind of levy increase Dawson's forecast envisioned.
"I guess I'm an optimist," Brown said. "And I believe that our revenues are good and will continue to increase, and our fund balances are more than significant." And of the projected 5.5% tax hike Brown added, "I think anything close to this increase would be ridiculous and not right to do."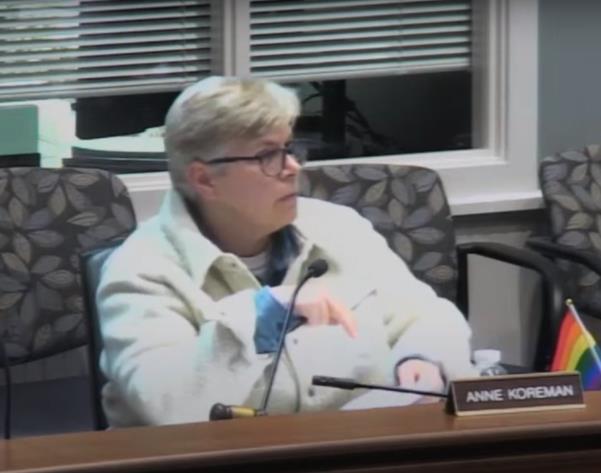 Dawson stuck to her guns though, defending her resolution as necessary to guide Holmes' talks with department heads as to how they should plan.  Sigler, meanwhile, revealed that those at the retreat had talked about a "soft freeze" in hiring if fiscal challenges loom too large.  A "hiring frost," some described the possible calm to hiring.
But looking back just one year may prove most instructive in concluding that anyone's predicting a tax increase a full six months ahead of a budget's adoption is just an exercise in futility, especially when dealing with image-conscious politicians who avoid a tax increase as though it were COVID-19.
Reports from last year indicate that at a similar retreat, with financial storm clouds not as dark, the same legislators took a "straw poll" and predicted a 1.88 per cent levy rise. But by budget adoption time in November, despite a flurry of last-minute spending additions, the County Legislature raided its fund balance a bit and cut the tax hike to zero.
Again, use erasable ink. It may be needed again. Keep that special pen handy.
###