Indecision, Disagreement mark meeting on T.C. Center of Government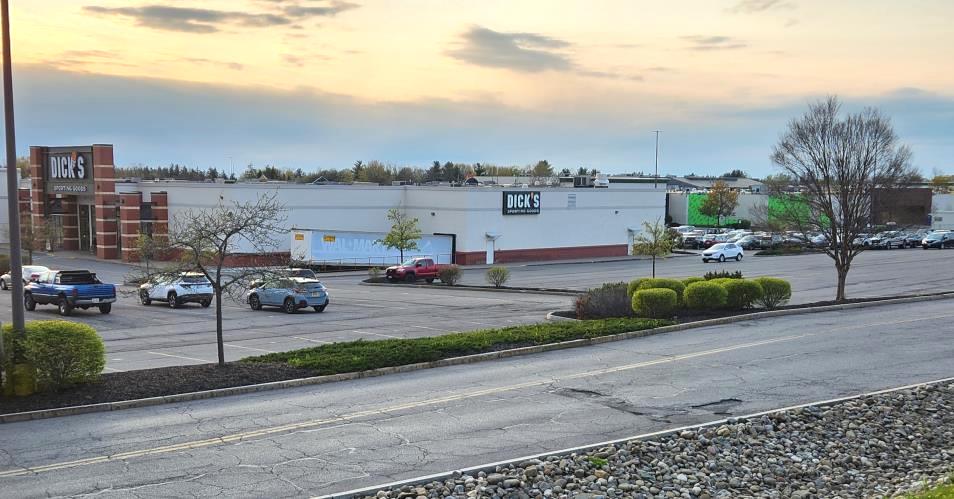 by Robert Lynch, April 25, 2023
No, a proposed $30-40 Million Tompkins County Center of Government isn't dead. Nor, really has the idea been put on life support. Better to consider it at the point where every legislative "physician" stands eager to render a second opinion. And some of the doctors offer radically different prognoses.
"There're a lot of different pages, and we're all trying to assemble them into one notebook," Chair Mike Lane observed, as he ended a two-hour long meeting of the County Legislature's Facilities and Infrastructure Committee Tuesday, a meeting ostensibly called to act on a draft resolution that would "deconstruct,"—an artful word for demolish—the former Wiggins Law Office Building adjacent to the County Courthouse, one of two structures the County bought in 2021 for a combined nearly $3 Million, legislators intending to put a new Center of Government office building in their place.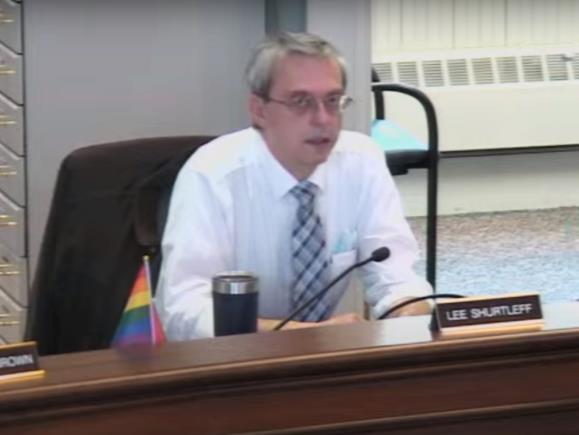 As it turned out, the deconstruction resolution never saw action Tuesday, though its draft may still appear on a future legislative agenda. Deconstruction, itself, remains tied up in a regulatory spat with the City of Ithaca. And Tuesday's meeting began with a more than 45-minute closed-door discussion addressing possible legal moves the County could take to overrule City Hall's authority. That portion of the meeting ended with nothing made public concerning the County's next move.
What the public got, instead, was an hour-long roundabout over how County Government should proceed in meeting its admitted need to find more and better office space. The Facilities Committee has five members. But nearly every other member of the 14-person County Legislature crashed the meeting and joined the discussion. Some called for building a new building as soon as practicable. Some would consider repurposing the structures that currently stand there. And at least one legislator toys with the prospect of moving most offices to Lansing.
"I guess it's time for me to lay my cards on the table," Groton Republican Lee Shurtleff told colleagues. "I keep looking back at the big picture. And if we're talking $30-40 Million to build a 30-40 thousand square foot building, I'm not there yet, and it's going to be a long time gettin' me there."
Partly in response to Shurtleff's reluctance, County Administrator Lisa Holmes agreed to broaden her sights and revise current plans to include short-term remedies that stop short of new construction.
"We have been proceeding with the notion (that) these issues are going to be addressed through the Center of Government," Holmes told legislators, concerning the problems of too little space. "So a plan could include interim solutions, if the Center of Government is not going to be built, or built farther in the future than we were anticipating."
The committee requested Holmes do more homework and prepare a broader range of options. Whether or not any legislator is a supporter of a big, new building, most at Tuesday's meeting conceded this fact: Building a Center of Government would take 3-4 years before anyone could occupy it.
"I would like to see two competing plans," Mike Sigler interjected. Option one, the Lansing legislator said, would tear down all three County-owned buildings on the site. The second, he said, would retain and renovate each of them.
"And maybe we go with a third option altogether," Sigler offered the committee. It was this: "And we don't do any of that, and we move to the mall."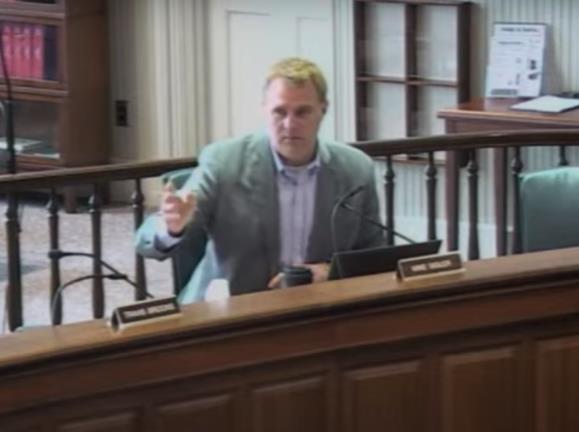 Lansing's Shops at Ithaca Mall, starving for tenants and seeking constructive reuse, has been hinted at before, though never terribly seriously. To date, most lawmakers have sought to consolidate offices downtown, close to both the Courthouse and to Legislative Chambers.
It "sounds like a crazy idea," Sigler said of his shopping mall alternative, "but that's where the hospital is going, and that seems to be a center of gravity for the county."
Cayuga Medical Center recently bought a portion of the Shops at Ithaca Mall, a complex which its current owners have subdivided into separate parcels under its single roof. And should a downtown office high-rise remain the Legislature's preference, Sigler laid down another wild card. He'd attempt to placate Ithaca's resistance to a big government building in the shadow of DeWitt Park by leasing a portion of it to the City to replace an aging City Hall that Ithaca, in Sigler's opinion, has "outgrown long ago."
"Hell, we're starting from a blank slate here," Sigler remarked. "And this will be your (the City's) only opportunity in an entire generation where it'll be one last thing for the City to worry about, if you're leasing space from us."
Sigler's City Hall idea got little more talk, other than when Mike Lane reminded members that a similar intermunicipal idea fell flat years ago, back when Tompkins County attempted to repurpose the now-demolished Old Library. But Sigler's move-to-the-mall option got ample pushback from the Lansing legislator in whose district the mall stands, namely from Budget Committee Chair Deborah Dawson.
"It would be a 'Homeowner's Association' kind of arrangement," Dawson pointed out. There'd be "collective responsibility for infrastructure." The parking lot is in rough shape, she observed. Furthermore, the legislator added, the "subsurface infrastructure, the water and sewer, has been a constant problem." Dawson alluded to questions that have dogged officials since even before the Village of Lansing was incorporated a half-century ago.
"We don't have any idea of what's under the ground, don't you?" Dawson said mall officials have asked village authorities.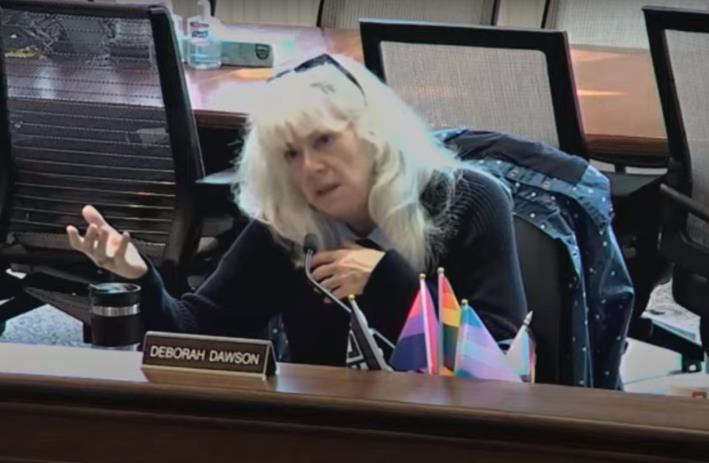 Dryden's Greg Mezey credited Sigler's mall option for raising what he called an "actual suggestion and a theoretical suggestion" to address one question, "Is there somewhere else outside of a very restricted, dense area" where government offices can go?
But Dawson would prefer that the option-weighing stop, and the decision-making begin. "I think it's time for us to put our money where our mouths are," she said.
Legislature Chair Shawna Black, a close Dawson ally, agreed. "Instead of adding options, we should be taking down options," Black said in response to Sigler's three-pronged decision point.
Black brushed aside any kind of "partnership" that might quarter City Hall in a County-owned building. "I'm not sure we would want to do any such partnership until there's stability there," Black said, the Chair perhaps making veiled reference to the troubled alliances surrounding "Reimagining" police reform.
The meeting's sharpest elbows emerged when Lane, Black, and Dawson sidetracked into the relative importance of building the Center of Government versus renovating the Public Safety Building and jail, another costly, Tompkins County eight-figure endeavor. The County's Capital Plan sets aside more than $30 Million for the office complex; but nothing of the sort for jail upgrades.
"Say something about the jail, folks!" Lane blurted out, the committee chair rapping the table, after Dawson urged that the Center of Government's building options move quickly out of committee and onto the Legislature's floor.
"Say something about the jail that's been 20 years that we haven't done anything," Lane continued, the generally soft-spoken leader showing perhaps the most anger and animation he's ever displayed in a meeting.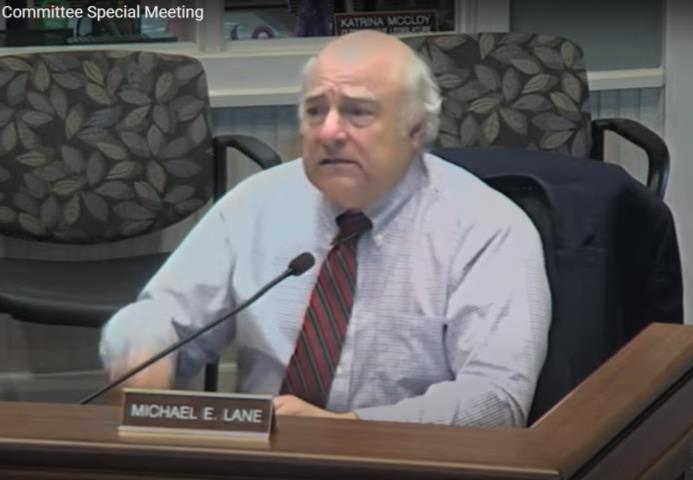 "I'm sorry if I'm getting indignant about that. Somebody ought to. Somebody ought to think about the people that are up there. Somebody ought to think about what we need to have and have ignored because it's not a sexy kind of project. And the jails never are. Certainly a Center of Government will be more so," Lane exclaimed.
"I don't think the jail has been ignored. I feel like it's in the background," Black responded, the Legislature's Chair claiming that Public Safety Building renovation decisions must await recommendations by a Jail Task Force. But she then surprised Lane by indicating that because of state bail reform and other factors, that task force may recommend no expansion of jail housing at all.
"I don't think it's time to invest in a jail," Black told the committee.
But back to the old Wiggins offices and a building on the brink of demolition: To that point, Newfield-Enfield's Randy Brown said that for him, too many questions stand unanswered. Brown requested a structural study be performed into the building's condition before the Legislature razes it to rubble.
"I'm a planner. I'm trying to look down the road, and I'm trying to check off things," Brown said. "There are a lot of moving pieces here, and we need to do it right," he continued. "The buildings may not be useful at all, and I want to know that."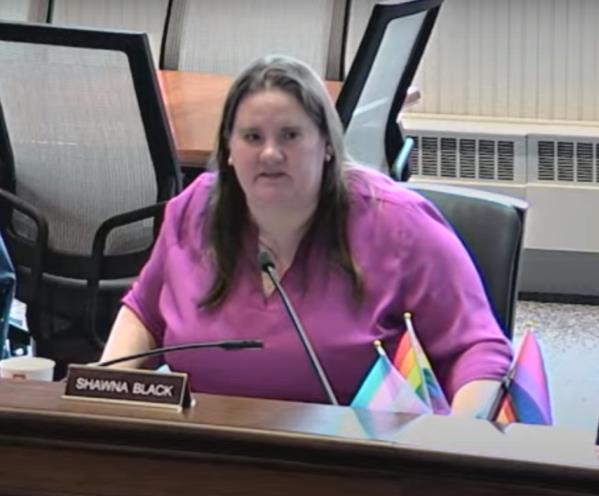 But there's something else Tompkins County needs to know. It's whether it can override City of Ithaca policies and ordinances and rip down the old law building, as well as structures adjacent to it, before City officials approve a site plan for whatever building would take its place.
"This is the land of the gray," County Attorney Bill Troy advised the Facilities and Infrastructure Committee as Tuesday's meeting began, Troy cautioning that an interpretation of municipal preemption prerogatives can rest on the narrowest of grounds, and the legal precedents are few. Though never explicitly stated after Tuesday's executive session ended, the committee probably directed Troy to recruit a specialist to guide his path.
"I will be the first to tell you I've done these types of cases, but not where we're at this level of granularity," Troy told legislators. "I would like to run this by somebody with real experience, even if it costs a few bucks."
One could say those bucks constitute chump change, with a $40 Million office building at stake. That building's a dream in the mind of some legislators, but not all. Doctors often disagree.
###