It's "Progress," So They Say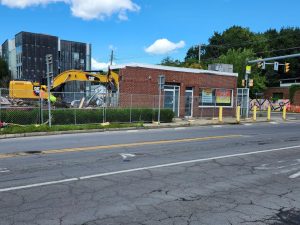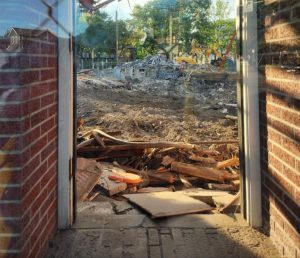 What little remained of Joe's Restaurant at mid-afternoon, Friday, Aug. 11.
A boxy, nondescript, 80-unit, 5-story, tax-abated, "market-rate" monster of an apartment house will take its place.
Ithaca, do you care? Do you even notice?
###
August News Briefs:
Inflation: 3 Times Local Tax Cap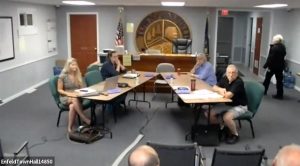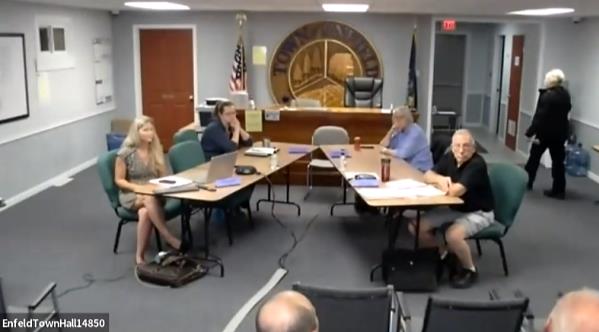 (Aug. 31): It makes no sense. But then, it comes from Albany.
Every year, the State Comptroller's office sets the so-called "tax cap"—effectively a meaningless number aside from its persuasive power—that puts a percentage limit on how much municipal budget tax levies should rise. The Comptroller couples the "cap" with an "Inflation Factor." That's the estimate of how much prices have risen on things governments buy.
The State's newly-released Inflation Factor for Enfield's next year's budget is 6.26 per cent. But the "tax cap" holds firm at an impossibly-frugal two per cent. I know, it ain't fair. Prices are rising at 313% of what the tax levy supposedly can.
You see, the "tax cap" is always a ceiling; never a floor. It's a political beast. Pandering Albany types designed it that way to make them look good with the taxpayer. Honest: the only time a tax cap usually changes is when it goes down, when inflation is low. It last did so in 2021.
There can be local adjustments; often propelled by a rising tax base. They can push the tax cap higher. But town bookkeeper Blixy Taetzsch reported Thursday "Enfield does not have any adjustment factor" this year. "So the cap is 2%," she says. Taetzsch says this year's only sort of adjustment comes from severing the new Enfield Fire District's levy from that of the Town.
The Enfield Town Board in July voted to override the tax cap.  It can do so.  Quite frankly, there's no punishment for a town's exceeding the cap and no longer any state-funded rebate for a town's keeping within it. / RL
###
Redmond: Close the Mine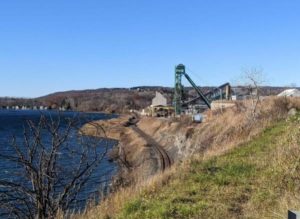 (Aug. 31): Enfield Supervisor Stephanie Redmond's "other job" is as an environmental activist. And this week, she made news.
The Ithaca Times reported that Cargill is planning to divest itself of its massive Lansing underground salt mine that we're told provides a full 50 per cent of New York's road salt.
Divestiture does not necessarily mean closure. But Redmond wishes it did. She's Program Manager for the advocacy group, Cayuga Lake Environmental Action Now (CLEAN). And the Times quoted Redmond as supporting the mine's abandonment.
"We believe it is imperative to ensure that the Cayuga Salt Mine is appropriately decommissioned, and that adequate measures are taken to safeguard our environment, in particular the mined area under Cayuga Lake," Redmond said. CLEAN would rather Cargill not just sell off its long-held mine to the highest bidder as it seeks to extricate itself from the salt extraction business.
Environmentalists fear salinization of Cayuga Lake and other environmental dangers. They fault Cargill for refusing to complete an Environmental Impact Statement (EIS).
I know, the obvious question gets asked: Why didn't Redmond similarly support my efforts to force an EIS for Enfield's Breezy Meadows subdivision? Water—your well water—is at risk there, too. / R. Lynch
###
Dems, Practice what you Preach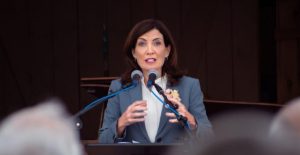 (Aug. 26): Tompkins County Democrats held their "Summer Party" fundraiser this week. Governor Kathy Hochul spoke. I, a Democratic office-holder, was not invited. I did not attend. I'm glad I did not. And for this reason:
The Ithaca Voice's reporter was turned away at the door, he writes. The party fundraiser was "private," county Democratic Chair Linda Hoffman reportedly told him. A Republican spy snuck in. He recorded Hochul's words. Of what little the governor said got reported, it may have come through him.
I'm embarrassed for my party's conduct. Democrats stand among the first to criticize when the likes of Justices Samuel Alito and Clarence Thomas reveal their private musings at closed-door conclaves of conservative fat cats. Last Wednesday provided a prime opportunity for my own party to showcase its message. It should encourage—not stymie—media coverage. Our Democratic Committee should advance openness and transparency, not felinity and entitlement.
If Kathy Hochul ordered the press be barred, shame on her. If local Democrats did, shame on them. /RL
###
Floor Funding… Finally!
(Aug. 24): "Yaaay, the $30,000 came in!" Enfield Community Council President Cortney Bailey exclaimed at the ECC's Board meeting Thursday. "The floor is officially paid for."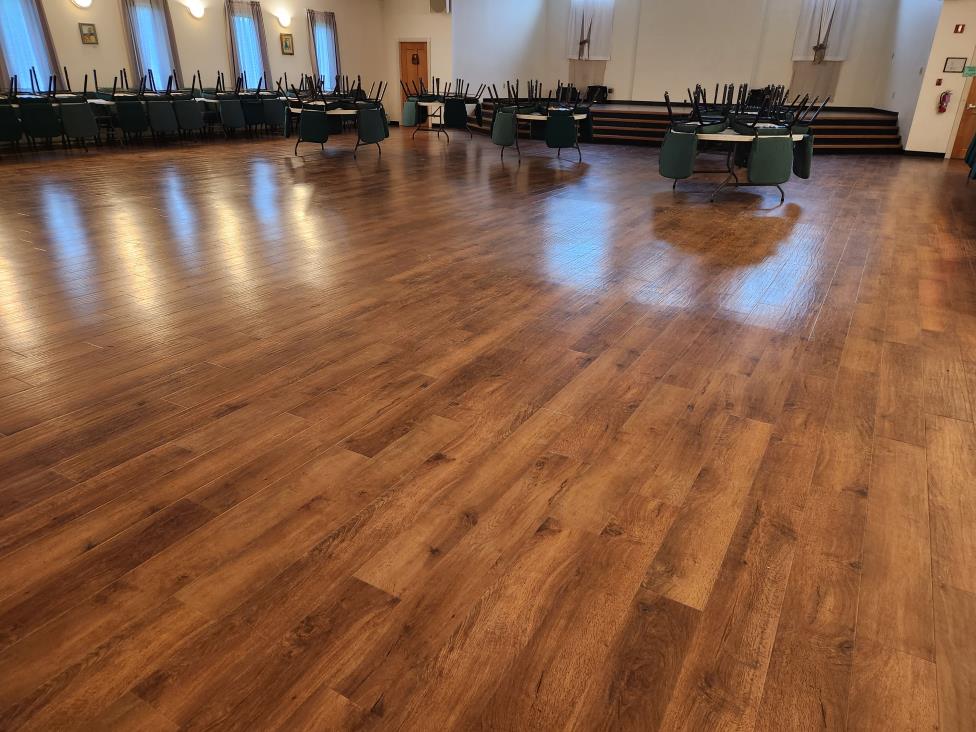 Bailey cheered final receipt of grant money for the shiny hardwood floor installed in the ECC Community Center's "Great Room," its entertainment venue, nearly two years ago.
Assemblymember Anna Kelles successfully secured member funding for the floor replacement in June 2021, Bailey recalled. But one tangle after another kept the check tied up Albany's bureaucracy from then until now. ECC had paid for the improvement long ago and had to carry the financial burden while awaiting the promised payment.
Onward, though: Bailey talked Thursday of other needs. "We need a place that's HIPAA compliant," she said, noting that federal rules set certain health and privacy requirements before mental health and addiction counselors can serve clients permanently in ECC space. That'll take new construction.
Also needed, Bailey said, is a generator and a commercial kitchen. Why? "So we can be an emergency shelter for Enfield," the agency's president explained.
Tompkins County Legislator Randy Brown, in attendance, said he'd do what he could to help.
###
Done in a Day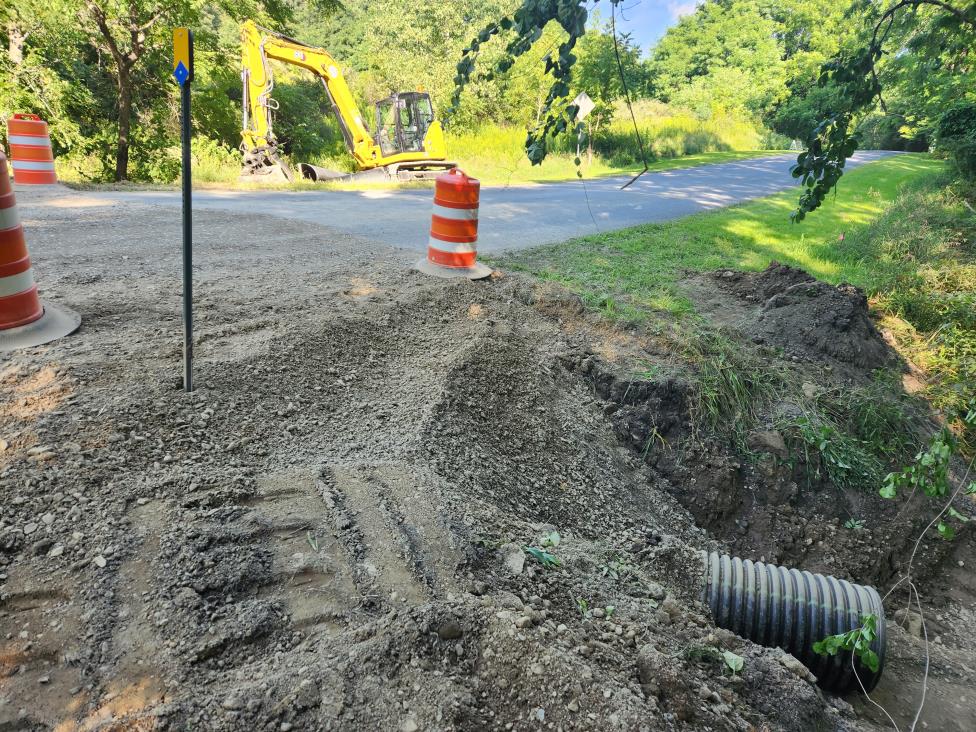 (Aug. 22): For the second time in as many years, another culvert failed last fall under Gray Road. And today, just a tenth of a mile from my home, the Enfield Town Highway Department dug it up.
Highway Superintendent Buddy Rollins' team knows their stuff. The crew replaced the old, collapsed pipe with a new one in just one work day. By day's end, only the road's surface at the location required repaving. Gray Road is back open and drivable.
Of note, the road crew used Enfield's newly-purchased mini-excavator for the job.
Good work! / RL
###
Where Goes Josh?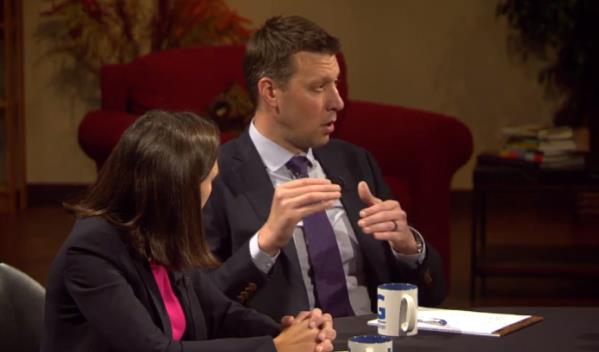 (Aug. 22): Politico has brought us a good analysis of the political turmoil brought about by the New York court's chosen reconsideration our current congressional maps.
It predicts the court case challenging the state's 2022 redistricting may not be decided until Thanksgiving, and that final districts may not be set until next spring.
It puts Democrat Josh Riley in a districting dilemma. Does he look east… or north? And for that matter, must we?
https://www.politico.com/news/2023/08/21/new-york-redistricting-2024-elections-00111914
###
Enfield, You Get us Cheap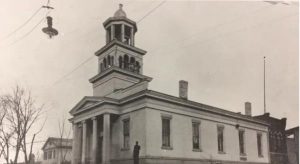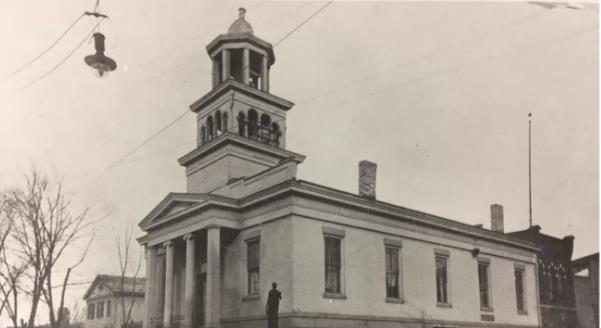 (Aug. 18): I greeted with a mix of disdain and amusement an Ithaca Voice story this week that reported members of Ithaca Common Council recently voted to give themselves 30 per cent ($4,000) annual raises next year. https://ithacavoice.org/2023/08/common-council-members-approve-4k-raises-for-2024/
If they follow through on their plans, each Alderperson will earn $17,191. The mayor's salary would drop by more than half. But that's because the transition to a City Manager government relegates the mayor, some would say, to holding gavels and kissing babies.
We Enfield Councilpersons earn the sinful salary of $3,672. Our Supervisor—considered to hold a more than half-time job—earns $25,500. We each got 2 per cent raises this year. Two of us plan to give the raises back. A third Councilperson works for free.
Oh, and the Ithaca lawmakers also can opt into paid health insurance. We Enfield Councilpersons have none of that—and won't.
Ithaca Council members say they want to induce the common man and woman to step up and serve, to treat City Hall like a part-time job. But to me, they've got it all wrong. You run for, and serve in, local government not for the money, not for the glory, but for the honor to contribute to your community.
Those downtown claim—don't believe it—that Alderpersons work 20 hours per week. We on Enfield's Town Board, I would submit, work just as hard. We just know better why we do. And we don't whine. / RL
###
News Briefs:
Gothic Beauty or Ithaca Ale House?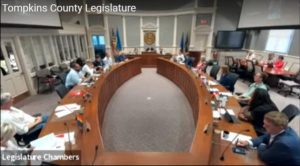 (Aug. 15): The historic Gov. Daniel D. Tompkins Building was built in 1854. Tompkins County remodeled it as its legislative chambers a couple decades ago. Now the County Legislature is about to muddle it up.
With only Dryden's Mike Lane dissenting, the County Legislature voted Tuesday to replace two large projector screens that descend from the chambers' ceiling only when needed with four, if not five, video monitors scattered about the room, including a monster that will invade the off-limits oval around which legislators sit in their $110,000 conference desk.
Why the change? The ceiling projectors wore out. And buying monitors is a whole lot cheaper than replacing what's there now.
"I mentioned (in committee) I thought it would make it look like a sports bar," Lane said before he cast his dissent. "I'm sorry if people find that offensive, but I do. I don't think an historic chambers like this should be overpowered, the architecture should be overpowered by glitz."
Ulysses-Enfield's Anne Koreman welcomes the change. "Because these screens are going to be removed, we're going to see the architecture better of the room, which is a plus," Koreman remarked.
Of course, the projector screens can be rolled up; monitors cannot. / RL
###
Ukrainian Flag Fatigue?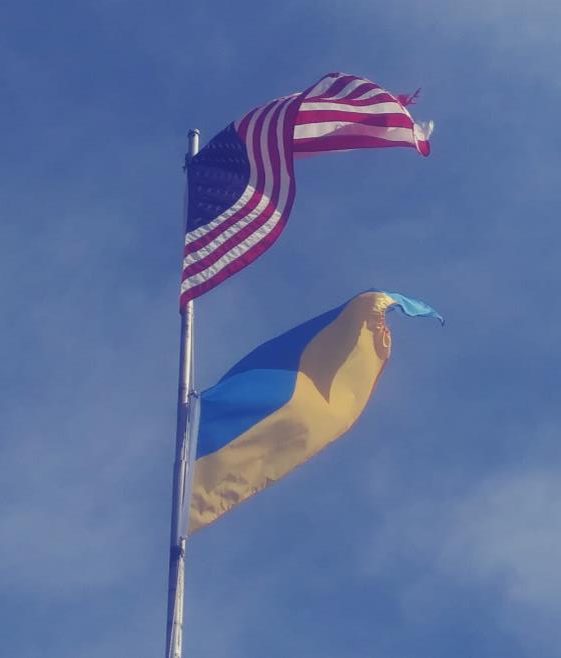 (Aug. 15): Nearly 18 months ago, when the war in Ukraine broke out, Tompkins County legislators rushed to embrace the Ukrainian people's fight to remain free. They found a flag and flew it in chambers. Now, at least a few who represent us are asking how long it should remain there.
"It's a nasty war, and Russia's awful," Enfield-Newfield legislator Randy Brown acknowledged Tuesday. Yet Brown joined two of his colleagues in opposing a Resolution that would keep the flag displayed in chambers for another year, and revisit the "issue statement" annually "so long as the conflict continues."
The "Resolution in Support of Ukraine" passed 10-3. Legislators Greg Mezey and Travis Brooks joined Brown in opposition.
The war "has decimated Ukraine," Brown acknowledged. "Millions of people have fled that country. Some have come here, which is fine," he said. But "there are so many places on this Earth where wars are happening… and we don't talk about them because it's not Russia."
Mike Lane, long the County Legislature's point-person on Ukraine, said he's "very proud" that the Ukrainian flag flies beside the stars and stripes in chambers. "We are spending a whole lot of our treasure in supporting a democracy," Lane said, "which is something that we're supposed to do as a country because we are the most important democracy and probably the one that the world looks at when things happen."
###
T.C CEDO Tapped… Again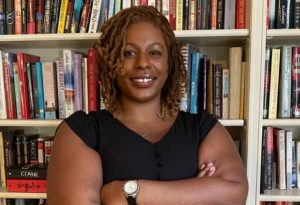 (Aug. 15): Coincidental as it may be, two "Holmes," unrelated, will soon hold jobs in Tompkins County Administration.
After an exhaustive search that's taken over a year, County Administrator Lisa Holmes announced to the County Legislature Tuesday that Charlene Holmes has been offered, and has accepted the long-vacant post of Chief Equity and Diversity Officer (CEDO). Charlene fills the post last held by Deanna Carrithers, Tompkins County's first CEDO, who left in late-June 2022 to pursue opportunities out of state.
Lisa Holmes told the Legislature the appointee comes from the Albany area, has been CEO and President of Imana Borena, a diversity consulting firm, has served as an Associate Director of Development for the YWCA of Northeastern New York, and has held a diversity post at a college in Massachusetts.
"She has expertise in the diversity, equity, inclusion framework development and execution realm," Lisa Holmes said of Charlene. "She has great people skills, and definitely a passion for the work."
The County thought it had a hire for Carrithers' job once before, but the candidate dropped out.
Charlene Holmes is set to start work locally September 5th.
###
Zeldin: Leave Election Years Alone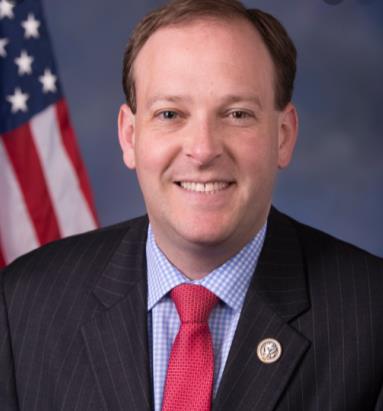 (Aug. 13): Last year's Republican gubernatorial nominee, Lee Zeldin, who came surprisingly close to beating Kathy Hochul—and won majorities in many rural upstate counties—weighed-in this week to urge Hochul's veto of a bill adopted by legislative Democrats that would switch local town and many county-wide elections from odd-years to even-years, when races for President or Governor are at stake.
"There will be people who will become county executives, town supervisors, town councilman, county legislators, town clerks, county sheriffs, district attorneys based on who they're voting for president of the United States," Zeldin said at an Albany event August 8th. "I want those voters who are going out there to vote in these local races to know more about their candidates for that local office."
Both local legislators Lea Webb and Anna Kelles voted for the election year change last June. But the Democrat-dominant Tompkins County Legislature voted 10- 4 June 20th to urge Hochul veto the bill. The Enfield Town Board, despite this Councilperson's advocacy, declined to urge a veto. /RL
###
Health Care for (Almost) All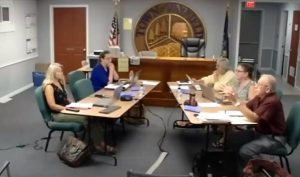 (Aug. 10): The Enfield Town Board inched forward Wednesday toward extending health insurance benefits to several key part-time employees, including the Town Clerk and Supervisor.
For some 45 minutes, the Board waded through the Town's 66-page Employee Handbook, now undergoing revision by Bookkeeper Blixy Taetzsch and the Board's Personnel Committee. A key change would qualify for paid health insurance part-time staff and elected officials who work at least 20 hours per week. Those who work fewer hours—including Town Councilpersons—would not qualify.
The committee shied away from an alternative that Highway Superintendent Barry "Buddy" Rollins had advanced in July that would have given part-timers less-generous benefits than those received by full-time employees like himself.
Yet the committee's draft plan would still require part-time staff to pay the full cost of dental coverage. Councilperson Robert Lynch (this writer) persuaded Board colleagues to "be consistent."
"Remember how this all started," Lynch recalled, referencing his last year's initiative to extend health care to the Clerk. "I thought that there should be parity between what the Town Clerk gets in terms of benefits and what the Highway Superintendent gets."
"And I believe that if we're going to provide full health insurance coverage for part-timers that work more than half-time… we should extend that to dental," Lynch said.
The Town Board may finalize Enfield's extended employee benefits as soon as September. / RL
###
It's Back… Sort of
(Aug. 12): So maybe you thought it was over. Wrong!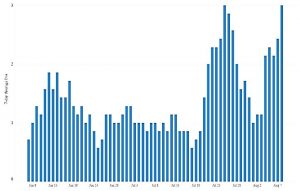 Tompkins County Health officials sounded the alarm Thursday about a recent uptick in local COVID-19 cases. But the numbers now reported pale to those reported just a few months ago or at the height of the pandemic.
What concerns authorities is an early-August spike. It began in mid-late July, subsided a bit, and then bounced back. Yet keep in mind, the (provided graph's) high point is only three new cases per day, based on a 7-day rolling average.
Don't worry. There have been no official calls for renewed mask mandates or social restrictions. Just the usual: The Department "encourages community members to consider being proactive by wearing high-quality masks when indoors and consider personal risk when gathering with others," authorities say.
As of August 10, only four people were hospitalized locally with COVID, and only four more residents have died from the disease since March.
There's no longer a mall sampling site. So PCR tests must be done at CMC's Immediate Care, Guthrie, Well-Now, some pharmacies, and doctors' offices.
###
Fire Meeting Canceled; Now What?
(Aug. 23): "Where, Oh Where has my Little Meeting Gone?" I wrote.
Maybe it's the price we pay for our newly-created Enfield Board of Fire Commissioners not yet having a Secretary.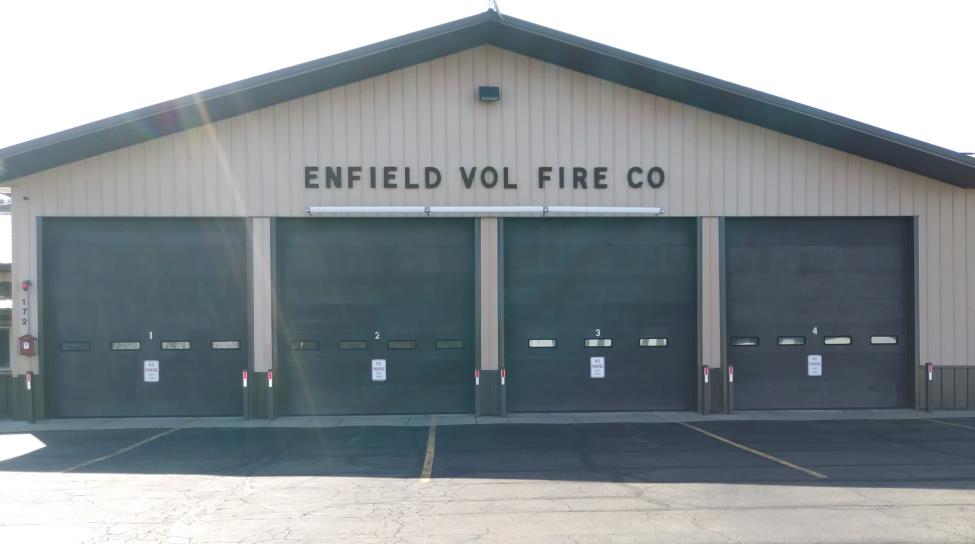 Based on what we were advised August 9th, the Board was supposed to meet again tonight, Wednesday, August 23, for its second official session. It didn't. And despite a mountain of business yet to transact, and in very little time, the Commissioners may not meet again until September 6th, just six days ahead of an important spending-related referendum.
I had assumed tonight's meeting was on. But its location remained undetermined. The Town Clerk had heard nothing. And neither had I. The Town website made no mention. Clerk Cornell asked around. So, too, did I. By mid-afternoon, we got answers.
"We decided to reschedule because of too many travel and other conflicts," Fire Commissioners' Chair Jim Matthews wrote me. "We made that decision in what we thought was enough time for the Town to publicize the cancellation. I'm sorry if that didn't happen."
Matthews has promised transparency. And when meetings get canceled and the word fails to get out, the unaware become inconvenienced… maybe angry.
Matthews apologizes. "We are still getting organized ourselves and have no facilities or abilities at the moment," he acknowledges.
But my own concern runs deeper. We have much to do before that referendum. I hope we have time to get it all done." / RL
###
TCAT: No Free Launch
(Aug. 12): At a Riders Advisory Committee meeting July 10, the Manager of Communications and Marketing for Tompkins Consolidated Area Transit (TCAT) had suggested there'd probably be a "grace period" of fare-free service while the system converts to new, modernized fare boxes.
Not so. That manager, Patty Poist, confirmed Friday that management had scuttled a fare-free transition. "That was just one option staff floated, but it was deemed fiscally imprudent considering our budget needs," Poist responded in an email.
TCAT did announce Friday that the new fare boxes will go live Tuesday, August 15. But there'll be growing pains. That's the reason a fare-free hiatus was first considered.
"Pardon some of our dust," Poist advised riders. The bus hardware may be in place, but some of what users need to pay their fares is not. Smart cards and mobile pay options can't be used yet. Cornell students must swipe, rather than tap their university-subsidized ID cards. TC3 ID's won't work at all. Neither will fobs. TC3 students will need to buy Tcards, but can do so at discounted rates.
The old 2009-era fare boxes got worn out, and became outdated and unreliable. They were designed locally. The new ones come from Illinois. They cost TCAT $1.5 Million. Federal pandemic relief funds and state money helped pay for their purchase.
###
Newfield Talks Budget Challenges
(Aug. 10): Enfield can't lay claim to it. But apparently Newfield can.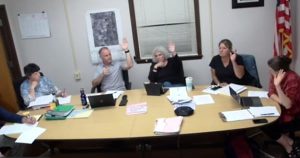 "We have never been over the tax cap," Newfield Supervisor Mike Allinger told his Town Board Thursday night. Nonetheless, just to be safe, the Board followed an annual ritual and passed the required Resolution that permits Newfield to override the commonly-called "two percent tax cap." The Board's action permits a greater percentage rise in the local tax levy, should the budget adopted this fall require it. No one spoke to the cap at the Public Hearing that preceded the unanimous vote.
"We know this will be a challenging tax year," Allinger warned the Board. He noted this year's need for both labor contract negotiations and the writing of a new contract with Newfield's fire company.
The state's misnamed tax cap is not always two per cent. It fluctuates based on a complicated Comptroller's formula. Last fall, Enfield's more than eight per cent tax levy hike overshot the cap by multiples.
In other business, the Newfield Board appointed Matt Watros as its new Code Enforcement Officer. Watros succeeds Alan Teeter, who will remain Code Officer in Enfield, but announced in late-April an intention to relinquish his Newfield duties. Newfield leaders see the change as an opportunity to step up code enforcement in the town.
###
Going Generator Shopping
(Aug. 10): We in Enfield Government, remember the one that got away.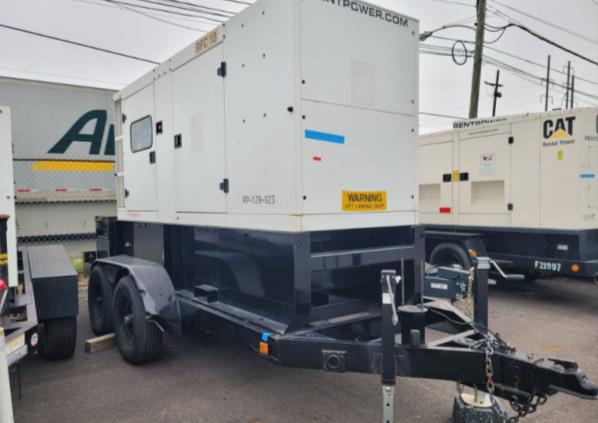 Last December, happening in real time while we were meeting, our Town Board authorized purchase at auction of a hardly-used standby generator for the Highway Department. We thought we'd bought it that night, but later learned our $30,000 bid fell short. A heartbreaker.
But we asked Highway Superintendent Buddy Rollins to keep looking. Prior to our meeting August 9th, Rollins shared with us four quotes. They ranged as high as $90,000. And that's a problem, because we've only set aside $50,000 in American Rescue Plan funds for the purchase.
But wait: There's one good prospect. Maybe not as lucky a find as last December's, but worth a look. Witmer's Electric, Seneca Falls, has for sale a 2006, 100-128 kW, trailer-mounted generator for $40,900. "This is a very nice unit with 1296 hours on it," the salesman says.
State law likely demands we invite competing bids. Wednesday, our Board directed the Supervisor to proceed.
As the saying goes, "Why buy new, when used will do." / RL
###
Congratulations, Cortney
(Aug 10): For a while, it seemed as though our newly-formed Enfield Fire District, by which governmental oversight of the fire service transfers to an independent commission, would lack someone it needs: namely a Treasurer. Not now.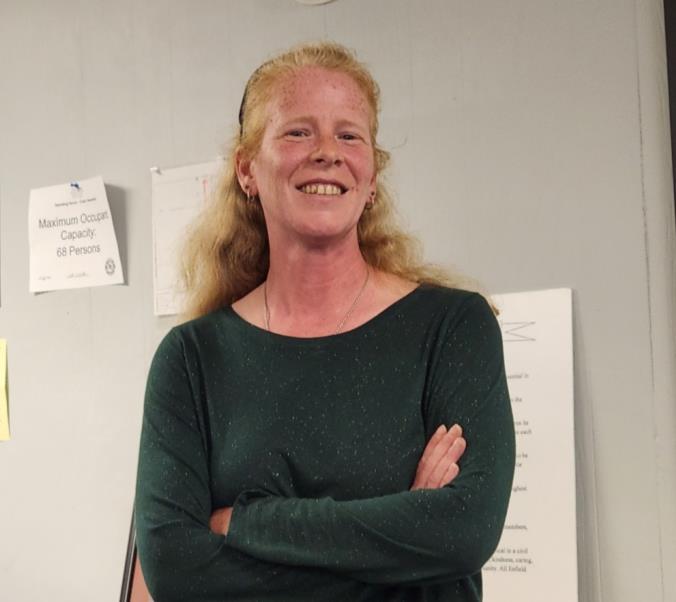 Last night, August 9th, I was proud to introduce and nominate for appointment as Treasurer, Cortney Bailey, current President of the Enfield Community Council, a 2021 candidate for Town Supervisor, and a well-experienced professional bookkeeper.
Cortney will serve the Fire District at least through year's end. State law requires our Town Board to appoint a treasurer for this transitional period.
Though I'd have preferred the treasurer be elected thereafter, our Town Board decided last night to keep the office appointive. So Cortney's service beyond this December rests with the Commissioners themselves.
Cortney Bailey will serve our Fire District well. And though she's also running this fall for Town Justice, legal opinions have held there's no conflict of interest.
Congratulations, Cortney. / RL
###
Seneca Meadows See-Saw
(Aug. 2): The wisest among us could see this coming.
Two weeks earlier, at its last meeting, the Tompkins County Legislature voted 7-6—a plurality, but not a legal majority—on a motion opposing the extension of life and the expansion of Waterloo's Seneca Meadows Landfill, purportedly New York State's largest.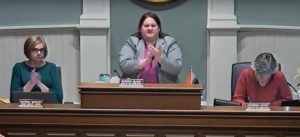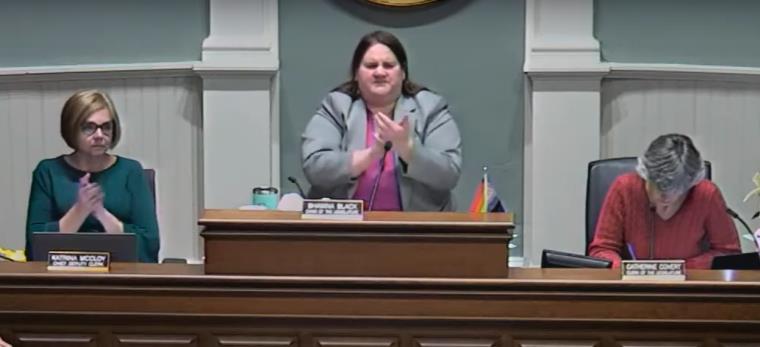 But returning from her absence of last meeting, Legislature Chair Shawna Black Tuesday night requested the resolution's reconsideration. She got a revote. And with her added support, the messaging measure squeaked out a bare majority.
The resolution, now adopted, would oppose efforts to extend Seneca Meadows' life by 15 years, through 2040, and raise its height by 70 feet.
Black, herself, spoke little on the topic. But Democrat Deborah Dawson said she'd resisted intense lobbying and remained in opposition.
"While I agree that the landfill is a blight and a health hazard for the Finger Lakes Region," Dawson said, "it is also simply a symptom of our underlying solid waste problems and the State's failure to address them."
Both Enfield's legislators, Anne Koreman and Randy Brown, supported the resolution, as questionably effective as it may be in convincing state regulators.
###