$40M Center of Government project clears pivotal vote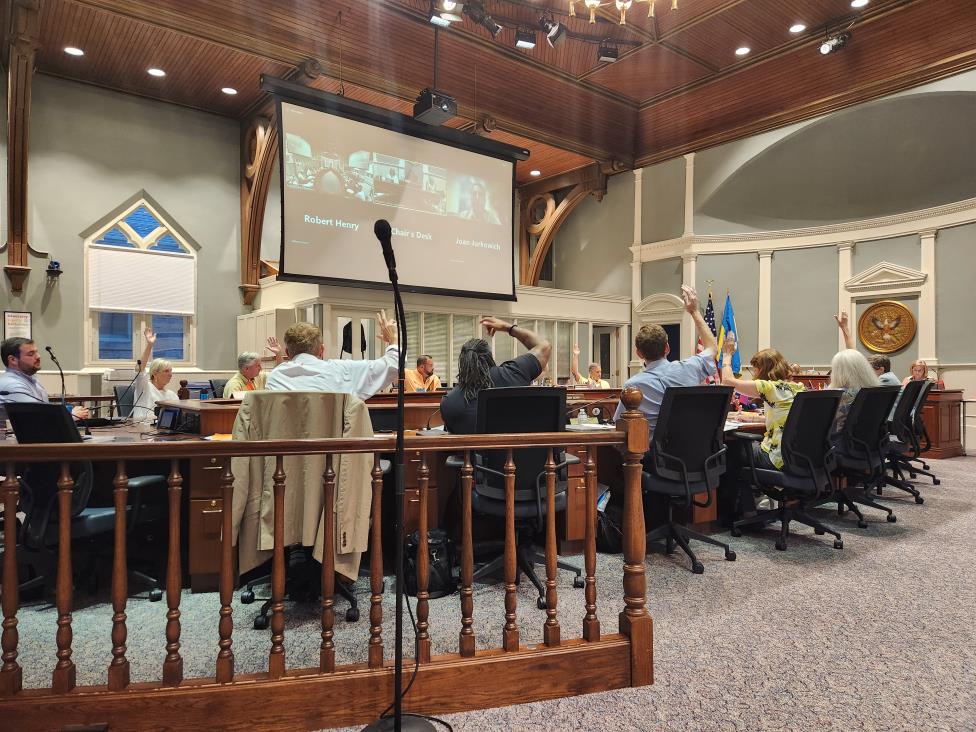 by Robert Lynch, September 7, 2023
Tompkins County lawmakers Tuesday took their most significant step in two years toward replacing the former Key Bank building at the corner of Buffalo and Tioga Streets and its adjacent law office with a mammoth new building, the "Center of Government." The multi-story structure would consolidate most County departments under one roof, but at a price of $40 Million, or maybe more.
"I don't want to see options come off the table," Groton's Lee Shurtleff told his legislative colleagues Tuesday. "But to me, passing this Resolution casts the die."
By a 12 to 2 vote, and following 35 minutes of discussion that swept up issues ranging from governmental priorities to downtown crime, the Tompkins County Legislature approved a Resolution "to proceed with Space, Architectural, and Engineering Plans for a Center of Government" at the Tioga and Buffalo Street site.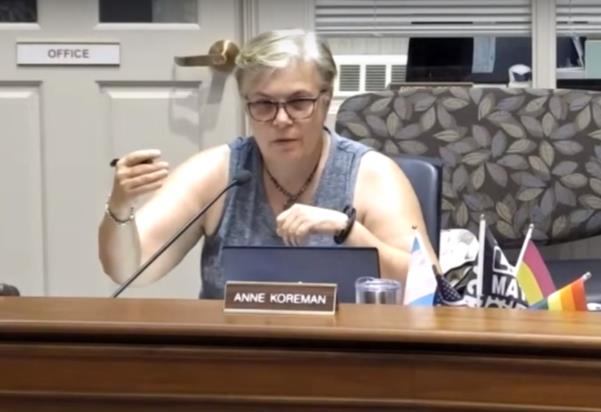 The adopted measure falls short of a final commitment. On its face, it spends no money. Nor does it order immediate demolition of the bank building or the former Wiggins Law Offices next to it. But the resolution expresses a will to move forward, something Tompkins lawmakers have found themselves unable to do since they bought the two 1960's-era buildings for nearly a combined $3 Million in 2021. To those in charge, that purchase always had a multi-story new office building as its goal.
Lee Shurtleff was one of the two legislators who opposed this week's Resolution that moved the Center of Government forward. Dryden's Mike Lane was the other.
"I think we ought to delay it," Lane, Chair of the Legislature's Facilities and Infrastructure Committee, said of the Resolution. Lane maintained that two of his committee colleagues, Greg Mezey and Deborah Dawson, had "leapfrogged" Tuesday's Resolution over what Lane had hoped would have been a more "serious discussion" of the former bank building's possible re-use.
But its core, Lane's misgivings focused on how a Center of Government might compete for scarce resources and legislative will with an equally-vital—and comparably-expensive—priority that Lane favors, namely the renovation and partial replacement of the 40-year old Public Safety Building, the county jail.
"I wish we had as many advocates for a jail project that we have for a County Office Building," Lane remarked.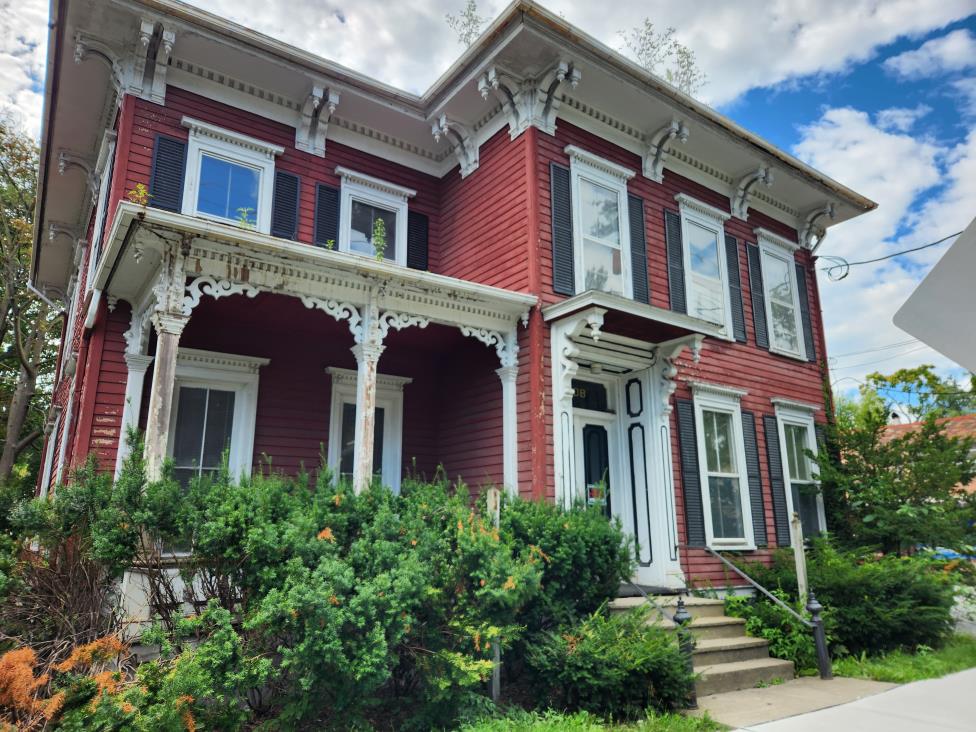 Tuesday's County Legislature meeting also saw a second long-simmering facilities issue addressed and moved forward, this one with greater finality. Legislators agreed to offer for sale—rather than demolish— the so-called "Red House," a two-story, Victorian one-time residence at 408 North Tioga Street, standing one block away from the Courthouse. Only Shurtleff opposed placing the Red House with a realtor or an auctioneer.
The "Red House" was part of a larger tract Tompkins County bought in 2019 as its initially-preferred Center of Government site. But shortly after the County spent $1.8 Million to buy the land, secret talks commenced that ended in the purchase the Key Bank and Wiggins properties. The negotiations consumed nearly two years. And as soon as lawmakers divulged their plans and laid their money down, the corner properties quickly eclipsed the Red House land as the Center of Government's favored footprint.
But the implied preference left the Red House and its adjoining barren real estate as a pricey lot lacking a clear purpose. Some lawmakers favored razing the Red House so as to expand employee parking. But historic preservationists and Ithaca City officials balked. And Tuesday's vote resolved the Red House's fate in a way preservationists' favor.
Enfield's two County representatives, Randy Brown and Anne Koreman, joined in backing the Resolution that moves the Center of Government forward. After Mike Lane refused to put the measure onto the table, Brown did. But he did so with measured frugality.
"I want to make it as small as possible; as cheap as possible," Brown said of whatever high-rise might replace the former bank and law office. Brown acknowledged that constraints imposed by the City of Ithaca tie legislators' hands a bit, since the properties stand close to DeWitt Park.
"We bought this property, own it, and can't tear it down until we have a plan for what we're going to have," Brown cautioned.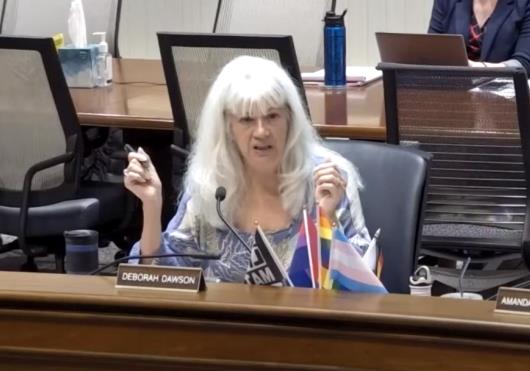 "I look at this as a goal," Anne Koreman said of the prospective office building. "We need more space for our many, many departments," Koreman added. "And so this is a step in getting us there."
"This really starts the ball moving from discussion to planning," Greg Mezey echoed. Mezey challenged Lane on the building's projected $40 Million price tag. Is it "a factual number or an estimate?" Mezey asked. Lane conceded it's an estimate. But Legislature Chair Shawna Black sought administrative clarity on the well-recognized tug-of-war between a Center of Government and the county jail rebuild. They're both big-ticket capital competitors.
"At this point in time, could we take on both projects in our budget?" Black quizzed County Administrator Lisa Holmes.
"It will be tight," Holmes answered. It "will take some prioritization," she acknowledged.
Black drilled down. "Could we start both of them tonight?"
"We couldn't start them both tonight," the Administrator conceded. "But we could start one of them this year. We could start another around 2028-2029."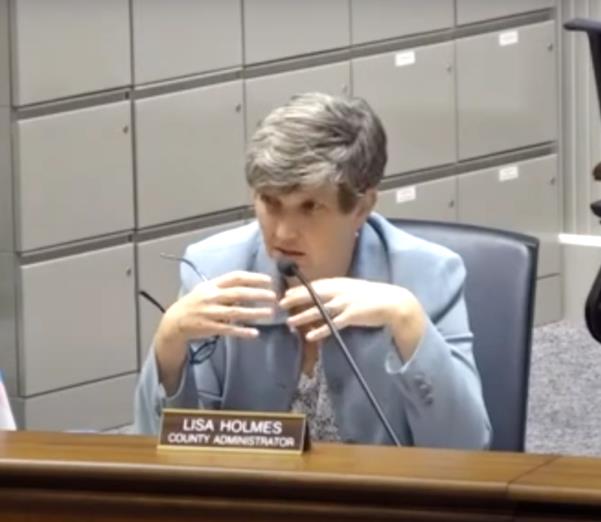 And that's precisely Mike Lane's fear. Legislative haste toward a Center of Government could put the Public Safety re-building on hold for at least another half-decade. Lane doesn't want that.
But it was another kind of public safety concern that prompted Lee Shurtleff's resistance. Maybe it's best symbolized by the omnipresent ring of off-color graffiti scrawled upon the Wiggins building's façade. Ithaca's getting less safe; more crime-ridden.
Shurtleff rattled off recent incidents. There were shots fired two weeks earlier within view of legislative chambers. Police apprehended a man brandishing a meat cleaver near Aldi's, a mere 200 feet from the Motor Vehicle Bureau. And most famously, Shurtleff referenced a pair of shootings prior to Memorial Day weekend 2022 just steps away from the Human Services Building's main entrance.
"I'm not comfortable going back to my constituents and saying with a straight face that I truly believe that this is the safest move in the interests of our constituents, and our clients, and our personnel," Shurtleff said of planting a new office building downtown. "I don't think it's the safest thing for us to build."
"Wow, this discussion seems to be getting more and more complicated," Ithaca's Rich John responded.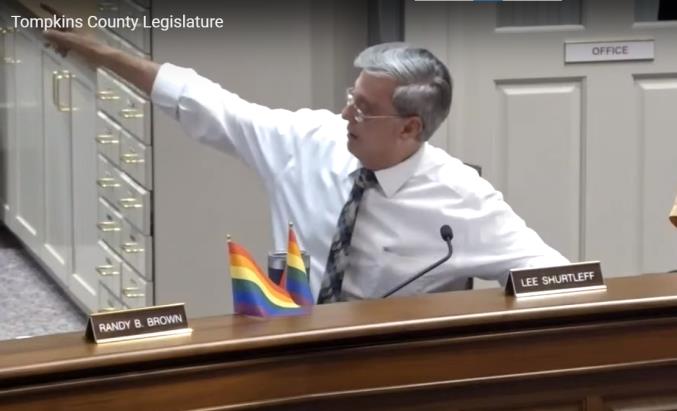 John voiced less pessimism; more hope. He saw Ithaca's crime problems as potentially—eventually— correctable. Yet he conceded, "There are things happening in our county that are not trending in the right direction."
Rich John voted for the Resolution. He wants the Center's planning to proceed. But he requested—and obtained—a one-word softening of the Resolution's language. The revision clarified that any design documents commissioned now would only be preliminary, not "final."
The measure the Legislature adopted Tuesday carries no timetable. It does, however, direct Administrator Holmes to play a bit of "musical chairs" to figure out which departments would best be relocated to a Center of Government. A few of those staffers, no doubt, would migrate from Holmes' own trappings at "The Old Jail," the repurposed lockup next to the Courthouse. It's a building where County Government's rapidly-proliferating professionals find themselves packed in like sardines.
One of the Resolution's authors, Lansing's Deborah Dawson, took due note of the predicament.
"We've got people working in closet-size offices with no windows," Dawson complained. "We talk a good game in this Legislature about how valuable our staff is," she said during the debate's closing moments. "It's time for us to put our money where our mouths are."
Yes, lots of money, Deborah. $40 Million worth… and climbing. And, oh yes, don't forget the jail. Talk can be cheaper than action.
###