Assemblywoman Barbara Lifton announces she'll retire at year's end
by Robert Lynch, January 31, 2020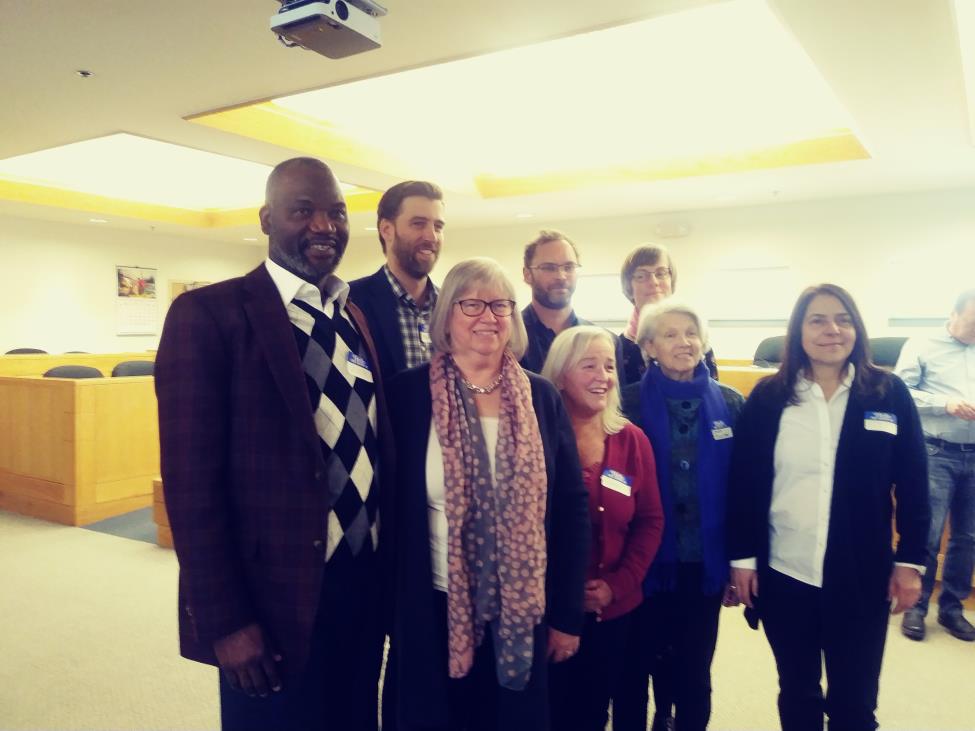 Any lifelong Enfield resident still too young to vote has known by one local New York State Assembly representative, Barbara Lifton.
That will soon change.
At an impromptu meeting with lawmakers, Democratic Committee members and local media, scheduled on less than one day's notice, the nine-term Lifton revealed Friday (January 31st) that she will be stepping down from her Assembly post when her current term expires this December.
"It is with more than a little sadness that I will not be seeking a tenth term," Lifton disclosed, as she commenced a 30-minute, emotion-laden speech at the Dryden Town Hall, a speech during which the 18-year Ithaca lawmaker found herself at times choking back tears.
Lifton, who in 2003 assumed the 125th District legislative seat from fellow Democrat, Marty Luster, for whom she'd previously served as his Chief of Staff, gave no precise reason for why she's chosen to retire. Lifton admitted she'd "wrestled with this decision." In the past, the long-time incumbent has made little fanfare with her political intentions. In 2018, she'd appeared before Tompkins County's Democratic Committee seeking its endorsement without ever having announced her reelection plans beforehand.
The heavily-Democratic 125th District includes Enfield and all of Tompkins County, plus southwestern Cortland County, including the City of Cortland.
No candidates, Democratic or Republican, have yet announced to succeed Lifton. The retiring Assemblywoman made no mention Friday of a preferred successor.
Lifton divided her half-hour retirement address into two parts; first touting her two decades of legislative accomplishments, and then congratulating her staff, to whom she said she was "deeply grateful." She hesitated and nearly wept as she mentioned the late Susan Pratt, her Ithaca community liaison, who died in September.
Lifton singled out three particular accomplishments during her long tenure; her battles for voting reforms, a relaxation of midwife licensing requirements, and most importantly, her efforts to ban hydrofracked gas extraction throughout New York.
Fracking was "a beast of a different sort," Lifton observed, noting the intense lobbying pressure in support of the practice from the gas-drilling industry.
Tompkins and Cortland were "at the epicenter of the drilling plan," the Assemblywoman maintained. And while a statewide legislative ban on the practice has never been enacted—though a bill to ban fracking has been introduced and may pass this year—Lifton took credit for having raised the issue and for encouraging Governor Cuomo to issue an Executive Order which she termed a "de facto ban."
One by one, local legislative notables, seven in all, took the microphone to applaud Lifton's two decades of leadership.
Martha Robertson, recent Chair of the Tompkins County Legislature, drew applause when she congratulated Lifton for realizing that "raising income taxes on the wealthy is a really great idea."
Ithaca Mayor Svante Myrick, praised Lifton, a former instructor, as "a true friend" and "a teacher through and through."
"Bridges will crumble," and "plaques turn to dust," the Mayor cautioned. But, for Lifton, "Your true legacy will live on in the lives you've touched." And predicting the future, Myrick told the retiring lawmaker, "You will continue changing the world in your image."
Ithaca environmental activist Walter Hang, who'd joined Lifton in her anti-fracking efforts, commended the legislator for her "low-key, self-effacing way" of addressing problems. Hang said he owed Lifton "an immense debt of gratitude."
Those who seek to succeed Lifton in the Assembly will petition in February and March to compete in a June 23rd party primary; and then, the November General Election.
###
Tompkins' Democratic leaders endorse Mitrano, who stays mum on POTUS pick
by Robert Lynch, January 30, 2020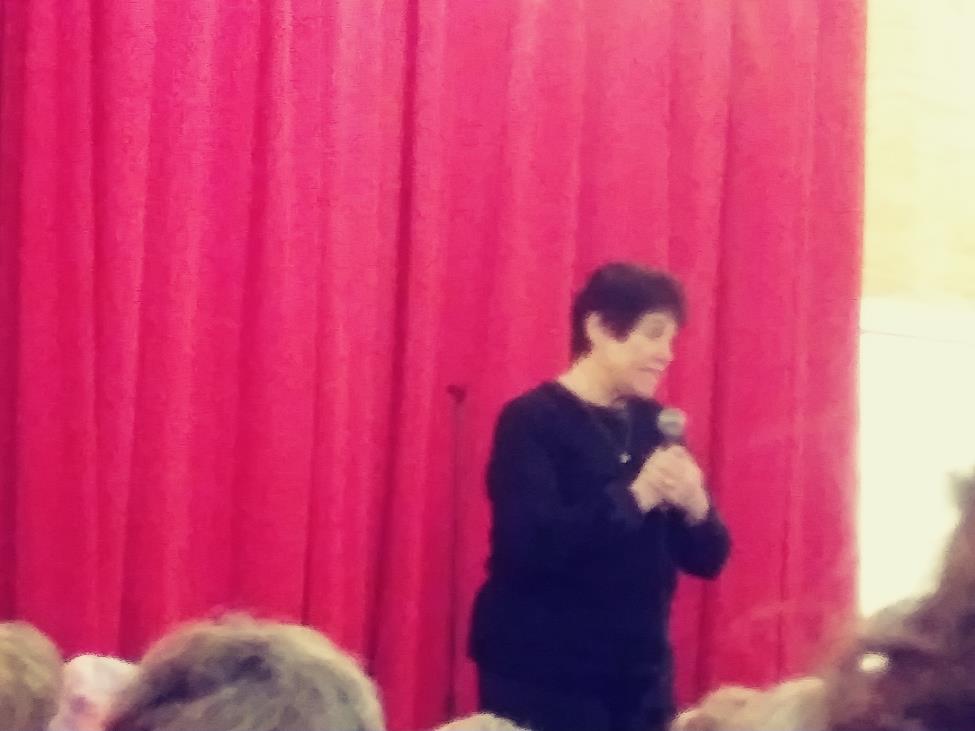 By a lopsided margin that may further solidify her role as the presumptive nominee, former Ithacan Tracy Mitrano secured the endorsement of the Tompkins County Democratic Committee Tuesday night (Jan. 28th) in this, her second successive bid to unseat Republican Congressman Tom Reed.
In a secret vote, conducted chaotically by passing a ballot box person-to-person around an over-packed meeting room, Mitrano overwhelmed her only declared opponent, Ithaca oral surgeon Dr. Scott Noren, 102 votes to seven. Seven additional Committee members either abstained or left their ballots blank.
"I do not take for granted the trust you put in me, the work you have done on behalf of our campaign, or the generous contributions you have made to keep us going," Mitrano said in a prepared statement to the local Party Committee the day after her endorsement. "I commit to continue working my heart out over the next nine months to make you proud of what [we] have built together."
Tuesday's endorsement came nearly a full month before Mitrano, or Noren—or anyone else for that matter—can legally begin to petition for the 23rd District Congressional seat. And both this year's party endorsement and Mitrano's surprising lack of 2020 intra-party opposition stand in stark contrast with two years ago, when Tompkins County's Democratic Committee withheld any early endorsement, and Mitrano had to claw her way past as many as six contentious opponents to secure the Democratic nod.
Mitrano that year edged out Owego's Max Della Pia to win the Democratic nomination by the narrowest of margins, but then lost to incumbent Reed by nearly ten points in the fall.
Dr. Noren, this year's other declared Democrat, has unsuccessfully reached for several high-profile political offices in the past, most recently attempting, yet failing, to secure a 2018 Primary ballot line against U.S. Senator Kirsten Gillibrand.
As they stood upon a makeshift stage at Ithaca's Cherry Arts Theatre Tuesday, Mitrano and Noren fielded questions that at times put both candidates—and perhaps also their questioners—on the spot.
Most pointedly—and controversially—the first question, posed by this writer, drew boos from a fraction of attendees even before either candidate had the chance to answer. The question:
Has either of you decided upon a Democratic candidate to support for President, and if so, who is he or she?
Noren said he'd done some petitioning work for Bernie Sanders, and indicated he was leaning Bernie's way.
Mitrano's answer, by contrast, followed nervous hesitation and appeared more packaged and calculating:
"I was told not to share that kind of information," Mitrano responded, as she appeared to take audience cues from her handlers.
The final question also drew a contrast. Asked whether each would support the other should their opponent win, Mitrano enthusiastically said she'd back Noren should he become the nominee.
But the oral surgeon did not similarly commit.
"I have to feel really strongly about somebody before I would support them, even after a nomination," Dr. Noren said. "That doesn't mean that I wouldn't fight for the party, and that doesn't mean that I wouldn't fight for other races, but I can honestly say, I'm being transparent, the answer would be no."
After Noren stunned the room with his non-commitment, the question was called and the ballot box passed.
In statistics shared with the Democratic faithful, Mitrano stated that she's raised $423,000 for the campaign so far, and engaged more than 2,300 donors.
Dr. Noren conceded that his war chest dwarfs by comparison—in the $10,000 range—his campaign largely self-funded.
Democratic Party volunteers will circulate Designating Petitions throughout the Southern Tier and Finger Lakes District starting February 25th in preparation for the June 23rd Democratic Primary.
No candidates other than Mitrano and Noren have so far indicated their interest in the race. Party leaders know of no one else waiting in the wings.
Note: This writer, Robert Lynch, is a member of the Tompkins County Democratic Committee, one of Enfield's seven current representatives.
The Ithaca Voice contributed to this story.
###
Forget "Centrally Isolated;" County lawmakers pressed to back Downtown Conference Center
by Robert Lynch. January 24, 2020
Promoters of a Downtown Ithaca Conference Center, in two separate meetings this week, lobbied Tompkins County Legislators to put their support—and most likely, also public money—behind their $31.5 Million project, and to do so before a key development meeting February sixth.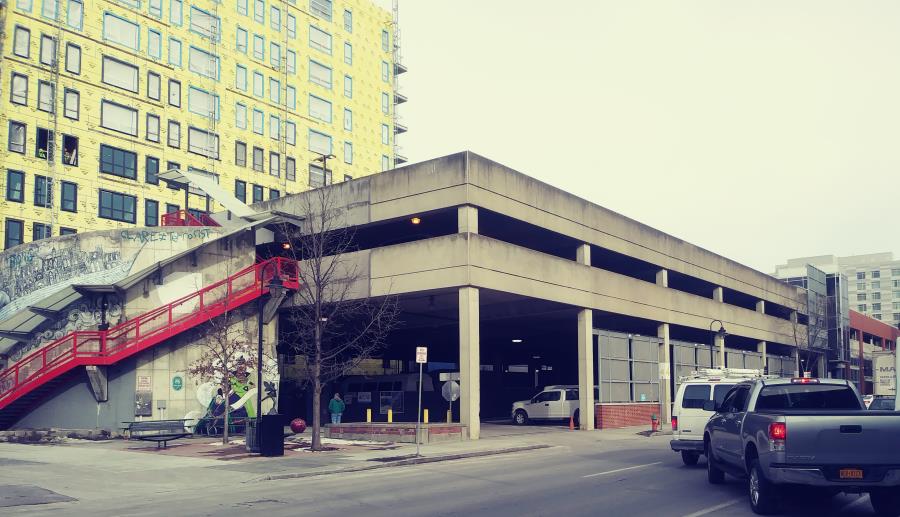 "We don't have a document for you to sign today," Gary Ferguson, Executive Director of the Downtown Ithaca Alliance, cautioned members of the County Legislature's Housing and Economic Development Committee, Thursday (Jan. 23rd.) Rather, Ferguson said later, developers need only for legislators to "signal their support."
Ferguson, Jennifer Tavares, President of the Tompkins County Chamber of Commerce, and other key project players made their financial pitch to the Development Committee two days after presenting a more general PowerPoint presentation to the full Legislature Tuesday night. The proposed Conference Center, which received a $5 Million Economic Development grant in December, would occupy the bottom two floors of the Vecino Group's proposed affordable housing project, a high-rise that would replace Ithaca's Green Street parking ramp.
Both legislative presentations this week were flush with optimism, but lean on hard numbers in terms of local governments' exposure. Apart from legislative lip service, Conference Center promoters seek commitments from both the County Legislature and Ithaca's Common Council to guarantee public money to cover construction and operating losses should the center prove less successful than hoped.
"Banks are amazingly conservative in their approach," Ferguson warned the full Legislature Tuesday.
Pinned down by this reporter after Thursday's financial presentation, Ferguson estimated total financial guarantees could reach a combined $800,000 annually, split perhaps 50/50, he said, between the County and City.
"I don't know if we'd want to split liability with the City," County Administrator Jason Molino cautioned the Development Committee Thursday.
Though county legislators may place some sort of supportive Resolution on their February 4th Agenda, the committee failed Thursday to adopt any firm recommendation or draft any language.
The Legislature's early-February session would mark the final opportunity for County lawmakers to act prior to a make-or-break February 6th meeting between Vecino and the Ithaca Urban Renewal Agency. Parties would likely decide then whether to proceed. Ithaca's Common Council will be asked to give its own commitment February 5th.
Support should be "as tight as possible," Ferguson advised the County committee.
The Conference Center itself stands in some eyes as a risky, grandiose leap of faith.
It's a "once-in-a-generation opportunity," Ferguson gushed to the County Legislature Tuesday. "We are building a community asset, a large place to gather as a community."
And large it would be. The Conference Center would occupy over 49,000 square feet, spread over two floors of the Green Street project. It would include a 12,000 square foot Grand Ballroom, the "third largest upstate," boasts Ferguson. It could seat 1,100 conferees, and draw more than 62,000 persons annually to events after a slower predicted rollout during its first four years. It would employ an estimated 60 people, many at low-end wages.
But optimism must be tempered with reality. And after Thursday's meeting, this reporter pressed Ferguson to address the potential downsides:
1. Ithaca's "central isolation," situated scores of miles from any expressway:
Ferguson: Ithaca's "an interesting and dynamic place," and it's "geographically central." Statewide conferences would find Ithaca less far-flung; more reachable than cities like Buffalo.
2. Ithaca's notorious lack of downtown parking:
Ferguson: The Conference Center would be adjacent or near 1,000 garage parking spaces. And while Ithacans may often find the ramps full, many of the ramped spaces are reserved for the hotels at which, Ferguson assumes, conferees would stay during their visits.
3. Why couldn't conferences be held, instead, at Cornell or Ithaca College?
Ferguson: The colleges will book their comparable meeting rooms no more than two-to-three months in advance; whereas conference planners want to nail down space one-to-two years ahead of an event. With Cornell, "it's education first," Ferguson lectured the Legislature Tuesday.
But some lawmakers remain skeptical.
"I don't know where the economy's going," warned Legislator Shawna Black, Tuesday. "I feel like the next five years, we could see a recession."
"During recessions, the one area that has seen growth is tourism," responded Peggy Coleman, Vice President of the County's Convention and Visitor's Bureau.
And pressed by Black's colleague, legislator Henry Granison, Ferguson had to admit fiscal reality:
"Conference centers, generally most all of them—not 100 per cent, but I would say, over 90 per cent of them—do not cover their costs. They need another stream of income to help with that…. But that is a normal model."
And then there's also the Conference Center's footprint, and that of the Vecino project overall.
Ferguson said Vecino's current plans—they've been known to change—call for a 12-story building, one equal in its number of floors to the adjacent, and under construction, Harold's Square apartments, the target of many local complaints that it's become an overly-tall, out-of-place downtown eyesore. By contrast, among other recently-built high-rises, City Centre stands a mere eight stories, and the Marriott Hotel ten. When does another 12-story building become one high-rise too many?
What's the county taxpayer's exposure to the financial guarantees requested?
"Potentially nothing," responded Ferguson.
Yet "potentially" is a word to arouse worry.
As prospective funding lifelines, Conference Center promoters suggested Thursday that the County could hike its hotel room tax another one per cent, an act that would require State legislation. They also alluded to actions that would capture untapped Airbnb income.
A worst-case risk analysis presented the committee Thursday, one which projects no more than a $200,000 annual hit to both the City and also the County, stated that with protracted shortfalls, municipal guarantors "would be likely to consider options for increasing revenues from lodging-related sources to meet the larger than expected gap." The text failed to elaborate.
Developer Vecino, all admit, builds affordable housing, not conference centers, and it stands here as a fish out of water. Therefore, plans call for Vecino to own the building, lease it to the Downtown Ithaca Alliance, a non-profit corporation, which would then run the Conference Center, presumably through a specialized management firm.
Financing also stands as a strange duck. Most communities, Ferguson advised the Development Committee, use general obligation municipal bonds to build conference centers.
"But we don't do general obligation bonding," Ferguson said, referring to past local practice. Instead, Vecino plans to finance through Mesirow Financial, a Chicago-based investment bank; hence the financial skittishness and the need for governmental guarantees.
Pressed later as to why locals stand reluctant to use municipal bonds, "That's just the way we've always done it," answered Ferguson.
Uniquely Ithaca, perhaps. And in so many ways, this whole Conference Center may be born of home-grown Ithaca Exceptionalism. It's the kind of wide-eyed, best-case enthusiasm that accentuates the positives and diminishes any taxpayer liabilities, and also asks local lawmakers for financial guarantees that promoters say they may never need to tap… until they do.
And it's that same Ithaca Exceptional mindset that prompts Center cheerleaders to proclaim "interesting" and "dynamic" as deal-clinching attributes—that Ithaca Falls, the Cornell campus, and Moosewood will be such draws—that conferees will gleefully travel those many miles of winding, two-lane roads from I-88 or -86 just to pay Ithaca's overpriced hotel rates… but first, to find a place to park.
Your money; your government. The County Legislature meets February 4th.
###
Higher minimum wages to push up ECC youth camping fees
by Robert Lynch, January 23, 2020
Attendance fees for the Enfield Community Council's popular summer youth camping program will rise this year by as much as 34 per cent, the Council's Board of Directors decided Thursday (January 23rd).
Citing both the higher minimum wage and shrinking enrollment, the Board raised attendance fees for the six week program from $445 to $600 for Enfield resident youth, and from $545 to $660 for those living outside the town.
The fees, which would charge $100 per week for town residents, would still keep the program a bargain, said ECC President Cortney Bailey. She noted that the alternative, a summertime baby sitter, would likely cost parents at least $150 per week per child.
Six-week rates for the program's before-camp and after-camp supervision services for resident youth would remain unchanged from last year, at $195 and $270, respectively.
The ECC Board raised the rates reluctantly, members arguing they had little choice as they sought to close a five-figure budget gap. The budget itself, of which the rate increase is a part, will be adopted later this winter.
Last year, the ECC summer camp program had budgeted $42,000 in camping fees, but collected less than $34,000.
Meanwhile, estimated camp wages, budgeted last year at $39,000, are projected to rise to nearly $46,000 this year, due almost entirely to New York's higher mandated minimum wage. Bailey cautioned yet another round of minimum wage hikes will occur in 2021.
Youth attendance at the ECC summer camp was down last year. Fifty resident children participated in the 2019 program, as well as 18 more from outside town limits.
ECC leaders were at a loss Thursday to explain a reason for the attendance drop. Some speculated it might reflect diminishing birth rates or an exodus of young families from New York State.
Bailey, however, did not expect the higher 2020 fees to cut enrollment still further. One person in attendance Thursday suggested Enfield's six-week program might cost no more than what Ithaca's Sciencenter or the Cayuga Nature Center charges for just one week of camp.
A preliminary 2020 Budget, presented the ECC Board Thursday, put total projected expenses at $153,790, up from about $132,000 in 2019. Under a five-year contract with the Town of Enfield, up for renewal this year, the Town will contribute $49,430 toward ECC operations.
Despite the immediate funding challenges, ECC members Thursday credited their summer camp as one of the region's best.
###
Town Board rejects Enfield Garage solar bids; will revise and re-advertise project
by Robert Lynch, January 22, 2020
"They're apples and oranges."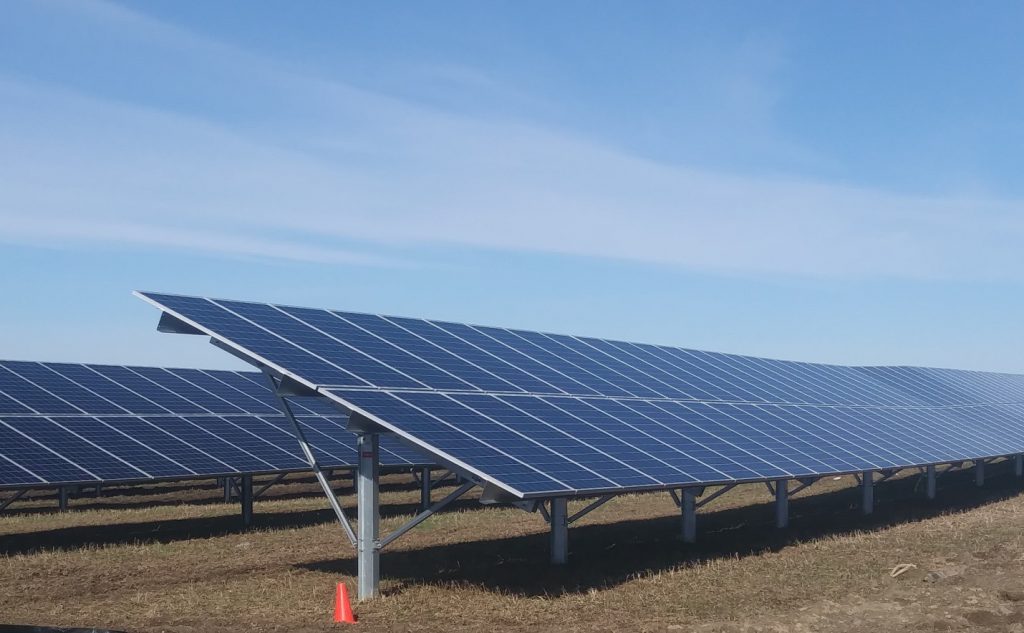 That fruit-based cliché found itself most commonly mentioned Wednesday (January 22nd), as the Enfield Town Board rejected all bids opened earlier this month to build a Town-owned small solar array near the current Highway Garage at 475 Enfield Main Road.
In bids opened January 7th, Renovus Solar and Fingerlakes Renewables Inc. both of Ithaca, proposed competing, yet contrasting solar installations, to be funded in large part by a State grant. The solar panels would help the Town offset commercial electrical consumption at the highway barn. A battery system would also provide emergency back-up power, something the Department currently lacks.
Board members expressed unanimous agreement Wednesday that the Renovus and Fingerlakes proposals differed too much to allow members an intelligent choice.
State law customarily obligates a municipality to accept the lowest qualified and responsible bid. On the surface, that rule would have favored Renovus, whose base bid for the solar array alone, after rebates, totaled just over $41,000, some $8,600 less than Fingerlakes' competing offer. The Town had targeted a $50,000 price tag.
But the Renovus installation would have been much less powerful, only 24.84 kW, compared to Fingerlakes' nearly 30 per cent beefier 34.56 kW. installation. Recent state laws permit many municipal contracts to be awarded on a "best value" basis. But Enfield officials had failed to advertise this project under "best value," leading legal counsel to caution that the low bid should prevail.
A third company, Premier Solar Solutions, of Deer Park, NY, had also bid on the Enfield project. But Premier's base bid of $175,000 was more than four times that of Renovus'.
Beyond their base bids, and to the Board's disappointment, all bidders had projected the cost of a battery back-up system to be much higher than the Town had forecast, leading one Board member to suggest that his colleagues had good grounds for an across-the-board rejection.
Newly-elected Councilperson Stephanie Redmond volunteered to re-draft the Solar Request-for-Proposals (RFP) for Enfield's second round of bidding. The other new Councilperson, Robert Lynch (this writer) will assist her.
Meanwhile, Supervisor Beth McGee will check on the applicable deadlines for approving bids and constructing the project. Had the original bids been accepted, the Town Board had hoped to have the solar array installed by the end of June. A re-bid will likely delay that timeline.
In its second round of bidding, the Board expects to strip away the battery back-up option, both because of its higher-than expected cost and also its limited applicability to Highway Department operations.
Highway Superintendent Barry (Buddy) Rollins has warned that batteries could only power his operation for as little as four hours. Councilperson Lynch remarked Wednesday that what's needed is long-term electricity at the garage; power to support operations through a multi-day storm, a time when residents need road maintenance the most.
Lynch, Councilperson Mimi Mehaffey, Supervisor McGee and others indicated they'd favor a more traditional generator at the highway site. Rollins has estimated he could procure a good used generator for as little as $6,000, much less than a battery-based system would cost.
###
New meeting; same deadlock. County Legislature again fails to elect Permanent Chair
by Robert Lynch, January 21, 2020
A two-week hiatus has failed to end the ongoing deadlock toward electing a permanent Chair of the Tompkins County Legislature.
Tuesday night (January 21st), the same seven hands that were raised a fortnight earlier were raised again as Dryden's Mike Lane and Ithaca's Anna Kelles each drew even numbers of votes in their contest to succeed former Chair Martha Robertson in leading the 14-member Legislature.
Both Lane and Kelles are Democrats. All three Republicans on the Legislature voted for Kelles, despite the fact that many see her as the more progressive candidate of the two.
In the interim, Lansing Republican Mike Sigler continues as Temporary Chair. Legislators elected Sigler to the normally short-lived temporary post January 7th, most expecting Sigler would surrender his ceremonial appointment as soon as the permanent Chair was elected. But since legislators split evenly on four separate chairmanship ballots that night, Sigler ran the entire meeting then, and ran this later session as well.
"We'll keep things the way they are," Sigler remarked as he guided the Legislature toward Tuesday's adjournment.
Legislative staff indicated that should the Legislature remain deadlocked on its leadership choice for 30 days beyond its initial balloting—a deadline that would extend slightly past the body's next meeting February fourth—legislative rules call for County Clerk Maureen Reynolds to replace Sigler with her own choice, an interim Chair, who'd preside over meetings until members resolve their impasse.
The procedure holds out the possibility that lawmakers could ballot meeting after meeting during their biweekly sessions, continuing uncertainty into the spring or summer, or perhaps for the balance of the year.
With Sigler holding the gavel, Tuesday's legislative meeting was otherwise uneventful. But near its conclusion, immediately after the divided, and now fifth, vote for Chair, Lansing Democrat Deborah Dawson, a Lane supporter, moved to reconsider Sigler's appointment as the temporary leader. Dawson maintained an appointment extending as long as it has warrants a person drawn from the body's lopsided Democratic majority.
"It's nothing personal," assured Dawson, but "I've been contacted by several in the Democratic Committee who ask, 'Why do we have a Republican serving in the Chair position?'"
But like so many other leadership votes the Legislature has taken this month, Dawson's reconsideration motion also lost in a tie, with most—but not all—of Lane supporters favoring the switch, and most Kelles partisans opposing it.
Several members indicated that should Sigler be deposed as Temporary Chair, Ithaca Democrat Leslyn McBean-Clairborne would likely be tapped to succeed him.
With most legislative committees continuing under last year's membership, and with a couple of advisory board liaison positions having fallen vacant, Sigler assured members that he would not make any appointments in his temporary role as leader.
Former Chair Robertson said she saw no purpose in changing short-term leadership, especially since the County Clerk, a Democrat, could next month change leaders again.
"Mike, you're doing a great job," Robertson remarked. "This is not a permanent position."
###
Two local firms low bidders for Enfield solar project
by Robert Lynch, January 20, 2020
A pair of local companies has tendered apparent low bids to construct a small solar farm that would stand beside and help power the Enfield Town Highway Garage, offers the Enfield Town Board will consider later this week.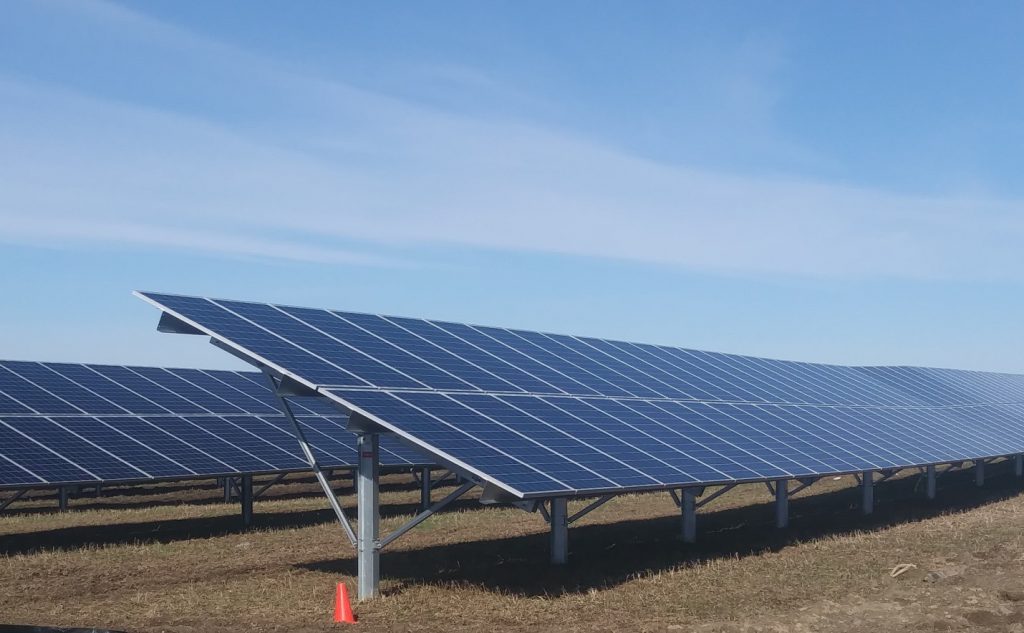 Renovus Solar of Trumansburg Road and Fingerlakes Renewables Inc. of Bostwick Road each submitted bids, opened earlier this month, which would provide ground-based solar panels for a Town-sponsored solar initiative funded in part by a state grant. The Town has targeted completion of the project by June 30th of this year.
At first glance, the Renovus bid appears lowest. After grant incentives, Renovus' 24.84 kW PV solar system would cost the Town $41,130. The competing, but more powerful, 34.56 kW. Fingerlakes' proposal would cost the Town $49,766.
A third bidder, Premier Solar Solutions of Deer Park, NY, bid much higher. Its 52.5 kW system was offered the Town for $175,000, more than four times Renovus' bid.
Town of Enfield bid specifications had targeted cost for the solar array and its components at approximately $50,000, after incentives.
By law, a town is generally expected to award contracts to the lowest responsible bidder. However, two factors complicate the Enfield Board's review.
First is the power differential between the two lowest offers. Fingerlakes' system, though 21 per cent more expensive, would be 39 per cent more powerful. But perhaps more importantly, the Town's request for a backup battery system, to provide emergency power to the Highway Garage in times of commercial outages, complicates the analysis.
Renovus would provide the battery backup for $13,750, a figure much higher than the approximately $8,000 the Town's Request for Proposals (RFP) had estimated. Fingerlakes' bid document, meanwhile, evaded costing out the battery add-on. Yet in an accompanying email, Fingerlakes' owner Rebekah Carpenter stated that the kind of battery Enfield requested "would hit $15,000 at a minimum…."
"There's simply no way to design a quality back up using renewable energy that will get close to the $8,000 range," Carpenter wrote.
With battery backups included, the Renovus system would top off, after incentives, at $54,880. Based on Carpenter's rough projection, the Fingerlakes' system, including battery, would reach $64,766. The Town's RFP had targeted a total project cost, minus incentives, at no more than $58,000.
The differences in expense, power, and projected battery cost overruns have left the Enfield Town Board with uncertain choices. When they opened bids January 8th, members indicated they needed time to weigh their options.
The Board will again take up the solar offers at a special meeting Wednesday (January 22nd). Members have indicated they may either accept one of the two lower offers, or reject all bids and rebid the project, perhaps with greater specificity.
###
Enfield Board declines to revise Privilege procedures; delays taking up Food Pantry support
by Robert Lynch, January 8, 2020; revised January 11, 2020
Meeting procedures governing the Enfield Town Board's sometimes-contentious Privilege of the Floor will remain virtually unchanged following the Board's refusal Wednesday (Jan. 8th) to revise those procedures at the request of one of its newest members.
None of Councilperson Robert Lynch's (this writer's) colleagues would offer a second to Lynch's reform motion that would have lengthened speaker's time at Public Hearings, limited Board member's ability to interrupt speakers during their statements, and set aside separate opportunities for Board members to speak, without those members having time limits. [See clarification below.]
Lynch said he sought to segregate member speaking time in an attempt to conform Enfield's rules with those of the Tompkins County Legislature. County Lawmakers allow members to speak after public comments are completed, limited only by a seldom-enforced request that legislators "strive to be equally concise."
Supervisor Beth McGee rejected Lynch's proposal for separate member opportunities, saying she doesn't want to hear "unruly, lengthy long diatribes."
Speakers could "ramble on for 20 minutes," the Supervisor warned.
Councilperson Mimi Mehaffey agreed, arguing members should limit their time like everyone else.
"It's not the campaign anymore," Mehaffey admonished.
Mehaffey said she's striving to adjourn meetings earlier, perhaps by 9 PM.
The multi-point amendment Lynch advanced without success would also have extended speaking privileges at Public Hearings from three to five minutes, prohibited Board members from interrupting speakers during their remarks, and direct that public comment time limits are to be "liberally construed," with the presiding officer discouraged from stopping a speaker in mid-thought.
Meanwhile, on a separate issue, the Board declined, again for lack of seconding support, to add to its agenda a Lynch-sponsored resolution that would have reaffirmed Board support for the Enfield Food Pantry and also clarify the Pantry's contractual obligations to the Town.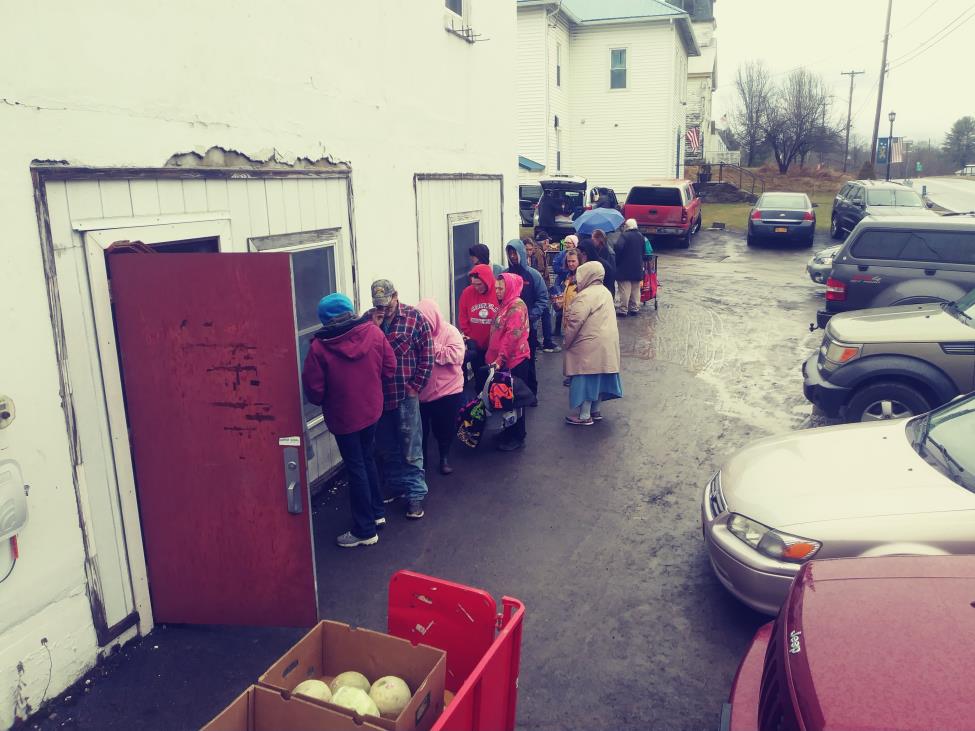 Lynch's lengthy Resolution would make clear that the Pantry's 5-year License Agreement with the Town permits, and indeed, encourages, Pantry patrons to wait in a newly-refurbished "community room" adjacent to the Pantry's distribution area. The Resolution would also hold that the Town will not subject the Pantry to fines or eviction should patrons track "dirt, dust, mud, or debris" onto community room floors or mark, scuff or wear away paint through normal "wear and tear."
In recent weeks, Food Pantry operators have kept patrons waiting for their distributions outside in inclement weather, fearing that community room damage might void their agreement.
Though the Board refused to place the Pantry resolution onto Wednesday's agenda, Supervisor McGee indicated the Resolution could be brought up at a later meeting, if filed with her sufficiently in advance.
In still other action, the Town Board appointed recently-departed Councilperson Mike Carpenter to the Enfield Planning Board. In so doing, the Town Board denied incumbent Stephen Givin a new term, though it invited Givin to remain as an alternate.
Councilperson Lynch cast the lone vote for Given's retention saying his incumbency should be rewarded.
But all others favored Carpenter, Councilperson Mehaffey crediting her former colleague for his work on Enfield's recently-passed Wind and Solar laws, and remarking that Mike "thinks of things that others do not."
Clarification (Jan. 11, 2020): A review of Board Meeting Minutes indicates that the Lynch initiative to revise Privilege of the Floor speaking procedures was rejected through two separate actions. On the motion to add an unlimited-time Privilege of the Floor for Board members, Supervisor McGee seconded Lynch's motion for discussion purposes, then joined all other members, except Lynch, in rejecting his motion. On the companion broader initiative to relax speaking requirements, Lynch's motion failed to gain a second to be considered in whole or in part.
###
Tompkins County Legislature deadlocks in electing Chair; four ballots leave two Democrats tied
by Robert Lynch, January 7, 2020
The Tompkins County Legislature now officially stands leaderless, probably for at least the next two weeks.
In four separate ballots Tuesday night (Jan. 7th)—two at their organizational meeting's start, and two more near its end—the County's 14 legislators deadlocked seven to seven, torn between the same two Democrats seeking to lead their body for the next 12 months.
Despite parliamentary maneuvering and repeated efforts to dislodge the stalemate, nobody budged as the same hands rose each time the names of Dryden's Michael Lane or Ithaca's Anna Kelles were called.
Lane, who's represented Dryden's District 14 for two separate periods since 1993, previously chaired the Legislature between 2014 and 2017. Kelles, whose tenure began in 2016, has served previously as Legislative Vice-Chair, but never as Chair.
Last year's Chair, Dryden's Martha Robertson, announced in December she'd relinquish the leadership post at year's end.
Until the Legislature makes its permanent choice, Lansing Republican Mike Sigler will officiate meetings. Legislators elected Sigler as their Temporary Chair as Tuesday's meeting began. Customarily, the Temporary Chair relinquishes the gavel as soon as a permanent Chair is chosen. But with lawmakers deadlocked, Sigler presided over the rest of Tuesday's agenda. He will also convene the Legislature when next it meets.
Sources indicate seeds of Tuesday's standoff were sown in a Democratic Party caucus weeks ago. But when Kelles, a relative progressive, snared the support of the Legislature's three Republicans, the battle lines were drawn.
Enfield's two County Legislators split their preferences. Democratic District 5 (Northern Enfield) Legislator Anne Koreman backed Mike Lane, while District 8 (Southern Enfield) Republican David McKenna backed Democrat Kelles.
At times during Tuesday's ordeal, even efforts to call a truce to the conflict fell short. Following the first two tied votes, a motion to recess failed when it, too, produced a tie. Legislators then gave up for a while, conducted routine regular business for two hours, and then returned to the main issue at hand.
But two more votes put legislators right back to where they'd started. Robertson, a Kelles supporter, moved to adjourn. It failed by a tie. Members toyed for a time with electing a Vice-Chair, a presumably less-controversial position, before they elected their Chair. But members from the Kelles faction balked, arguing someone might nominate the loser of the Chair's election to become the Vice-Chair.
When Lane supporter Anne Koreman defected to oppose any immediate decision on Vice Chair, the drama ended and members hastily adjourned.
In placing Mike Lane's name into nomination, Danby-Caroline Legislator Dan Klein credited Lane as a man who "did not let politics get in the way of his leadership."
Seconding Lane's nomination, Ithaca's Henry Granison called Lane "a first among equals."
Meanwhile, departing Chair Robertson, in nominating Kelles, signaled it's time to pass the torch.
Crediting Lane and his prior accomplishments, Robertson remarked, "He was fine then. But it was a different time." Instead, Roberson asked, "What does the County need now?"
Lauding Kelles leadership in the New York State Association of Counties as well as her environmental activism, Robertson praised her nominee as someone "who walks the walk."
"She's very well engaged," Robertson said of Kelles. "Leadership really matters. Who represents the Legislature really matters."
The balloting for Chair will likely resume at the Legislature's next meeting January 21st, though members could reconvene in special session sooner.
###
Long-delayed meeting fails to shed light on County office plans
by Robert Lynch, January 3, 2020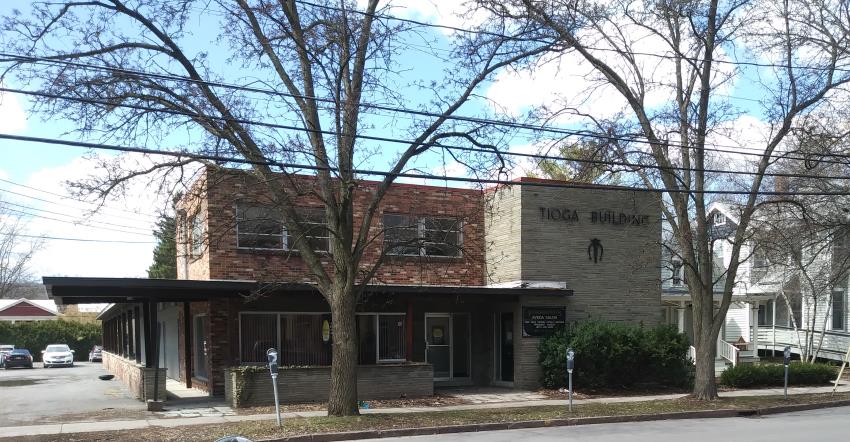 A rookie mistake for any cub reporter is to begin a story's lead by writing that a municipal board "met last night." (Yes, I did that myself.) The meeting's scheduling isn't news. The meeting's substance is.
But here, perhaps, the budding journalist gets it right.
For the first time in nearly five months, the Downtown Facilities Committee of the Tompkins County Legislature convened Thursday (Jan. 2nd). Yet the committee provided little news on its prime mission; namely how to redevelop a newly-purchased parcel between North Tioga and Sears Streets, less than one block from the Tompkins County Courthouse, repurposing it for government offices, parking, and maybe, housing.
That lack of information prompted two residents of the area to address the committee at meeting's end and criticize the lack of transparency.
"You've given us zero updates since August," Sears Street resident Corrie Moreau complained.
"It takes a long time to do something like this," responded County Legislator Mike Lane (D-Dryden). "Sometimes things just happen to move slowly."
Lane blamed, in part, the over-budget and under-funded terminal renovations at the County's Airport, investments that demanded legislators' attention.
In mid-April, the County Legislature authorized purchase of the so-called "Dental Associates" property, consisting of a two-story brick office building at 412-414 N. Tioga Street, an historic converted house at 408 N. Tioga, and an adjacent gravel parking lot. A feasibility analysis presented at the time would demolish the 1960's era dental office and replace it with a three-or four-story structure to house County departments. Nearly all plans called for the older historic building's retention. Some options would subdivide the Sears Street side of the lot for housing.
April projections placed the new office building's cost as high as $14.5 Million; rising to as much as $19.5 Million when land cost and renovation to other County offices are included.
Since summer, however, silence has replaced progress. County officials, without explanation, repeatedly cancelled monthly Downtown Facilities Committee meetings from September through December. Legislators declined to offer details of an October Executive Session, where they purportedly discussed the project. They've failed to give public updates.
Committee member Rich John (D-Ithaca) Thursday cited "internal conversations," as having delayed progress on the parcel's redevelopment. John assured Moreau and others that there's been "no action behind the scenes" that would alter what residents were told earlier last year.
Moreau and her Sears Street neighbors argue that a large office building and its associated parking lots would compromise the neighborhood's residential character. Most favor new housing instead.
Committee discussion Thursday focused almost exclusively on an interim plan to assign the newly-purchased parking spaces off Sears Street to County employees to help alleviate a parking crunch at the Courthouse complex.
The decisions did not assuage the fears of Moreau, the neighborhood activist.
"You're talking only about short-term parking," Moreau told the Committee. Our concerns, she said later, are longer range. They involve the new building's size, height, and placement; the crush of cars the building's staff would bring in; and most importantly, the ongoing silence from County officials.
Committee member Rich John confirmed that he plans to meet with neighbors to discuss the Tioga-Sears project in late-January.
County Director of Assessment Jay Franklin, assigned to coordinate much of the Downtown Facilities redevelopment, told the Committee a repeatedly-delayed property closing on the parcels is scheduled for today (Jan. 3rd), one day after the buildings' final tenant vacates.
###