by Robert Lynch; August 2, 2023
When it comes to the Tompkins County Legislature, old messaging resolutions never die; they just wait for more support another day.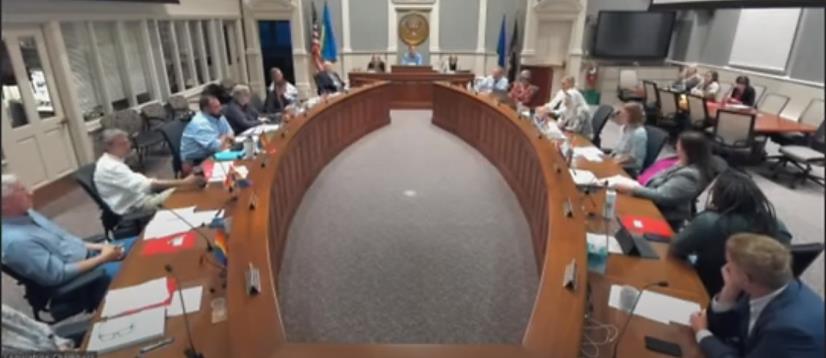 Tuesday night, exactly two weeks after it had first fallen just short of winning majority support, a resolution of questionable impact; one to recommend against expansion and long-term continuation of the giant Seneca Meadows landfill near Waterloo, was revived by a member who'd missed the last meeting. She, Legislature Chair Shawna Black, called for the resolution's reconsideration. She got a revote. And the measure passed, just barely, by a margin of eight votes to six.
"I was somewhat shocked at the way that people voted for (or more appropriately, voted against) the resolution," Black told her colleagues Tuesday. On vacation, she'd monitored the meeting remotely, but could not attend to vote. "I felt very strong… that we really should be supporting this resolution," Black said.
The New York State Department of Environmental Conservation has before it a request by Seneca Meadows, Inc. (SMI), the landfill's Texas-based operator, to extend Seneca Meadows' operational permit from 2025 through 2040. SMI also asks DEC permission to expand the 191-acre landfill by another 47 acres and to raise the giant mountain of trash by 70 feet.
"Mount Trashmore," as its critics call it, is purportedly New York State's largest landfill. Much of its refuse comes by truck from New York City. Tompkins County ships its own garbage elsewhere.
By the County Legislature's rules, once a measure is brought back to the floor, the matter's considered as though its first vote had never happened. One legislator who'd opposed the Seneca Meadows resolution the last time, July 18th, made sure that the earlier meeting's minutes would preserve what he'd said. They will. So debate on the resolution was shorter this time than last. Still, reconsideration consumed as much as 20 minutes near the end of the Legislature's three-hour Tuesday session.
Calling the roll brought little drama. Everyone voted the same way this time as they did last. Shawna Black cast the eighth vote to push the earlier plurality support to a fully-legal majority. Both of Enfield's legislators, Anne Koreman and Randy Brown, voted in the resolution's support.
Though Shawna Black deserves the credit for pulling the earlier-rejected Seneca Meadows recommendation from the fire, she spoke very little about it other than her comments already quoted. Other attendees assumed much of the heavy lifting, including several activists who spoke at the meeting's start during public privilege of the floor.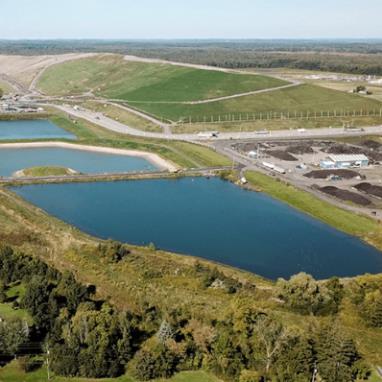 Yet, the meeting's strongest words came from a resolution opponent. Lansing's Deborah Dawson read a four- minute prepared statement explaining why she'd oppose sending the Department of Environmental Conservation any advice on Seneca Meadows' future. In part, she said, it's about "comity," respecting the home rule rights of Waterloo, Seneca Falls and Seneca County, municipalities whose residents see—and smell—the landfill most directly.
"I do not believe that Tompkins County has the right to tell other counties or municipalities what to do," Dawson said.
Yet, Dawson gave a second reason. She said that slighting Seneca Meadows' operation and wishing for its closure misdirects attention away from the real problem, one that policy makers refuse to address. It's that too much garbage gets produced in the first place.
"While I agree that the landfill is a blight and a health hazard to the Finger Lakes region," Dawson stated, "it is also simply a symptom of our underlying solid waste problems, and the state's failure to address them."
Anne Koreman thought differently. A message to state regulators may actually do some good, she said. "It doesn't do everything; no, I agree," Koreman replied to Dawson. "But this is part of it," meaning part of addressing the larger issue.
Ithaca's Veronica Pillar, sitting beside Koreman in legislative chambers, agreed.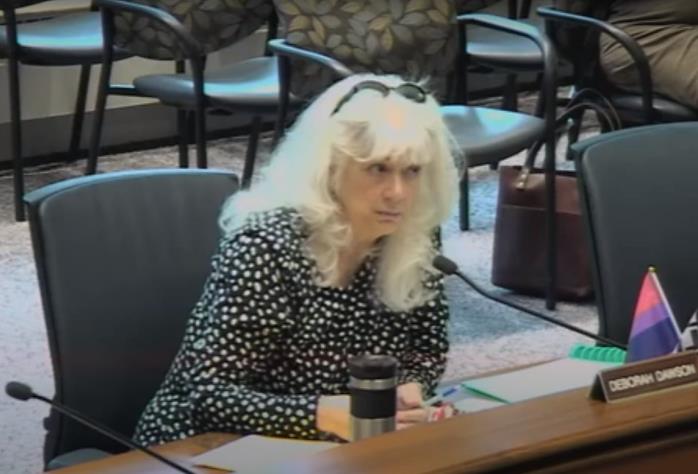 "Closing a landfill is the kind of impetus that can lead to other upstream changes in our waste management system statewide," Pillar said.
The County Legislature's resolution, adopted on its second outing Tuesday, concedes that "Tompkins County is not named as an interested party" in the DEC's permitting process. Yet the Legislature still maintains Tompkins County holds standing to comment.
"Traffic to and from the existing Landfill site impacts the Finger Lakes community beyond the Towns of Seneca Falls and Waterloo," the Legislature's adopted resolution insists.  In addition, it states, Seneca Meadows "presents visual blight upon entering the Finger Lakes area from the Thruway," making the landfill "incompatible with the community character of the region…."
What's more, the Legislature's resolution, scripted in somewhat politer language, said the landfill stinks, all to the detriment of everyone living nearby.
But fellow Ithacan Rich John begged the question that best separated the aspirational from the practical in Tuesday's re-run debate over Seneca Meadows' lifespan and growth.
"If this closes," John said of Seneca Meadows, "where does the garbage go?"
###