Enfield voters asked to OK $575k Spending Cap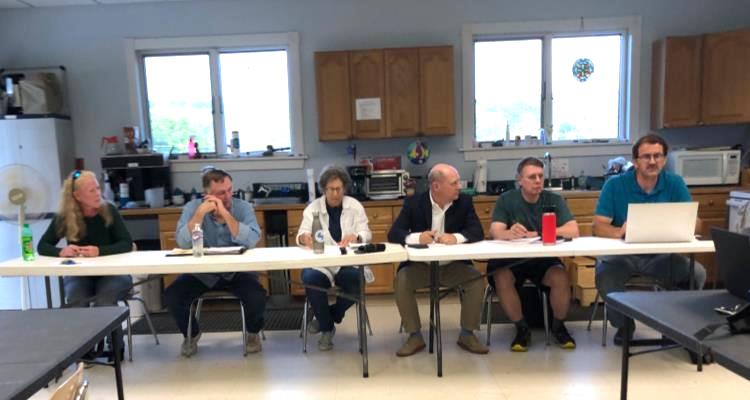 by Robert Lynch, August 9, 2023; Additional reporting August 15, 2023
Newly-appointed and elevated Enfield Board of Fire Commissioners Chair Jim Matthews set the tone at his first meeting. "I think we have an opportunity in a way for kind of a clean slate in some ways with the creation of the district." Matthews told the Commissioners' organizational meeting. "And I think everyone in the town will benefit if we can do this in an open, transparent, and positive way, which is really, I think, incredibly important, having lived through some of the stuff in this town."
Wednesday night, August ninth, was a busy night in Enfield Town government.
In twin meetings, each devoid of drama, the Town of Enfield set into motion all that needs be done at the moment to place an elected Board of Fire Commissioners, rather than the Town Board, in charge of its fire protection services.
First, at its regular monthly meeting, the Enfield Town Board confirmed all five applicants it had tentatively tapped last month to serve as Fire Commissioners. By so doing, the Town Board's majority beat back one Councilperson's attempt to replace the Commission's most controversial nominee, Highway Superintendent Barry "Buddy" Rollins, with a long-time Enfield firefighter.
Then, in what became the meeting's most surprising moment, Enfield Community Council President Cortney Bailey, a write-in candidate for Town Supervisor in 2021, was nominated to become Fire Commission Treasurer. The Town Board quickly confirmed Bailey without opposition.
Deputy Town Clerk Alice Linton next swore Bailey and all five Commissioners into office.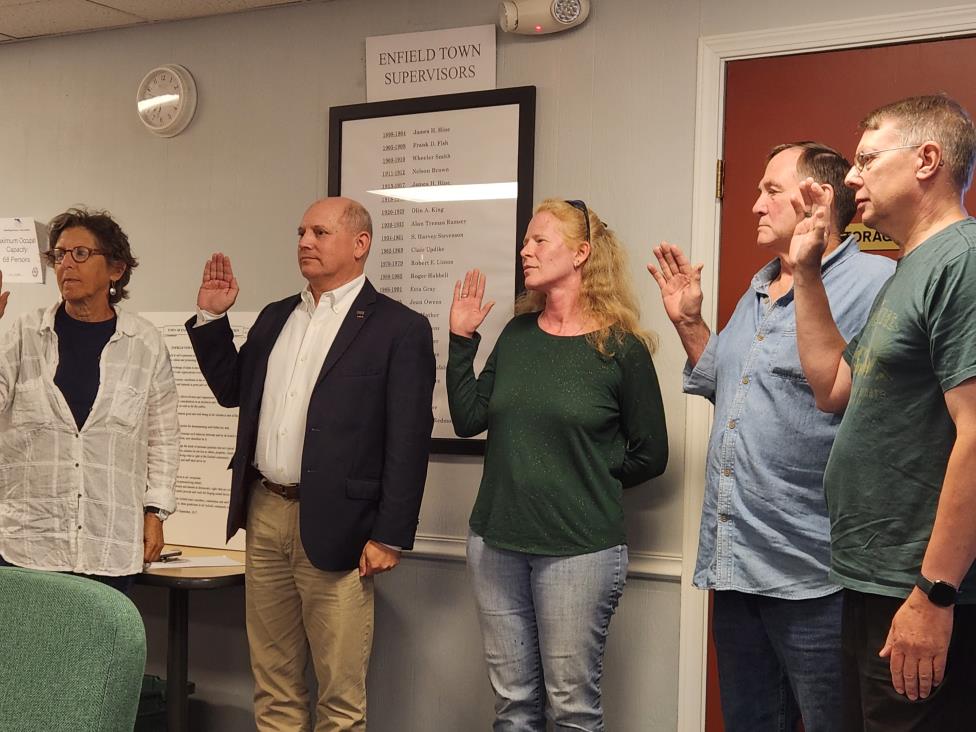 Just 40 minutes after Supervisor Stephanie Redmond had called the Town Board to order, the Commissioners, Bailey, and the attorney who's guided the transition, Brad Pinsky, adjourned to a second meeting just up the road in the Enfield Community Center's kitchen. During a two-hour session there—again, absent of any drama—the Board of Fire Commissioners organized, chose Jim Matthews as its chairman, reappointed Greg Stevenson as Enfield Fire Chief along with his assistant chiefs and deputies, and most importantly, set a referendum for early-September when they'll ask voters to authorize a fire service spending limit higher than anything anyone has previously suggested.
The Commissioners will seek to increase the Fire District's statutory spending limit to $575,000. It's approximately $200,000 higher than that of the current fire budget. And it's far above the $400-450,000 spending limit Pinsky had tossed out at an informal first-meeting of the likely Commission designees only one week earlier.
Commissioners intend the spending limit to hold for the next five years. Pinsky has stressed that a Fire District need not spend as much as the heightened statutory ceiling permits. But without the public's approval, the district might only be able to spend slightly more than $200,000. The limit's based on a state formula derived from the district's combined property values.
The Fire Commissioners' election of Jim Matthews as their Chair came quickly and unanimously. An Enfield resident since 2018, Matthews served as a firefighter in Virginia, but has never fought fires locally.
"My favorite thing that I ever did in my life was join the Fire Department; (learning) everything about it," Matthews said at the close of the Commissioners' inaugural meeting. "So I feel like this is my opportunity to kind of do something for the fire service and to do something for the town where I live."
The Fire District's immediate needs dominated Commissioners' first meeting. And the Commission's new presiding officer took the lead in calling for a special September 12th referendum to raise the otherwise-restrictive Statutory Spending Limit. He also sought to set the spending cap high, more than $100,000 above what the attorney had suggested little more than a week earlier.
"This is just saying how big a check is the Department allowed to write," Matthews reminded his audience. It's not a budget figure. It's not a tax hike, he said. But it does recognize that inflation will push fire service spending upwards over time.
"You don't want to be in a position where you have to get rid of a fire engine because you're not allowed to write a check," Matthews warned. "We could have $50 Million in the bank and if the spending cap is what it is, we can't spend it and we can't pay for the truck, and out it goes. So to me, that feels like an artificial restriction," Matthews reasoned.
Jim Matthews will sit alongside four others confirmed as Fire Commissioners by the Town Board August ninth. They each were first designated as likely appointees by the Town Board in July.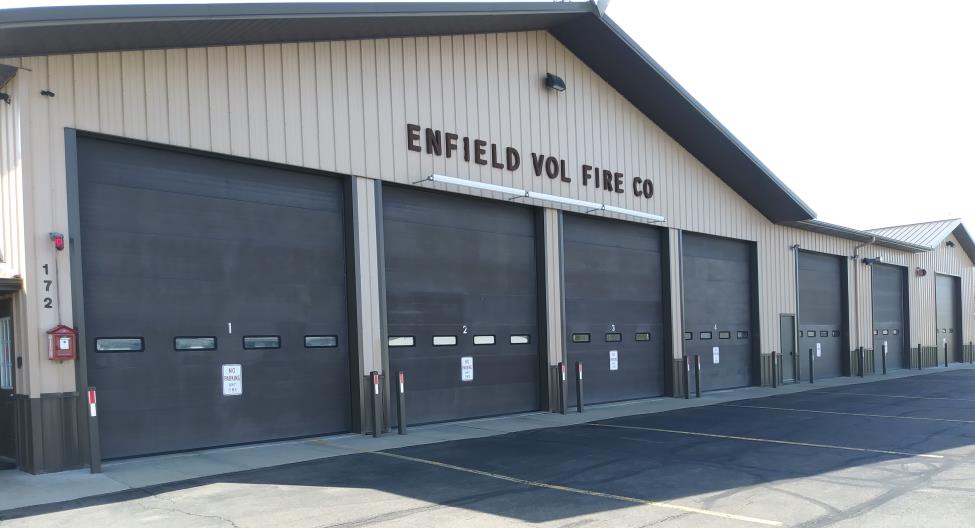 Most notable among those appointees is Enfield Highway Superintendent Rollins, whose tentative designation as Commissioner drew criticism at the July meeting. Objection came principally from Enfield Volunteer Fire Company (EVFC) officers and supporters. But Rollins confirmation drew no public comment at either the Town Board's or the Fire Commissioners' August meetings, even though Councilperson Robert Lynch (this writer) had sought that night to designate someone else.
Though the controversy passed quickly, the Town Board brushed off Lynch's effort to replace Rollins with Larry Stilwell, a 61-year volunteer firefighter who's spent most of his firefighting years with the EVFC.
Lynch momentarily secured a second to his amended roster of Commissioners. But the second was then withdrawn, leaving the amendment unable to advance. The withdrawal gave its sponsor no opportunity to explain why he'd sought Rollins' replacement. Lynch later stated that he agreed with others that a Highway chief doubling as Fire Commissioner amounted to conflict of interest.
Rollins appointment had become a flashpoint at the close of the Town Board's mid-July meeting. At that meeting, EVFC President Dennis Hubbell had described the Town Board's tentative selection of Rollins as a "bad move" and alleged Rollins had "a huge conflict of interest."
Joining Matthews and Rollins as Fire Commissioners upon the August vote are Enfield firefighter and EMS responder Robyn Wishna, former Richford Fire Commissioner Geoffrey Hollister, and Enfield resident Marcus Gingerich. Wishna is the only current EVFC member on the Commission.
Each appointee will hold office until year's end, after which those chosen in a special December 12th election will succeed the Commissioners named August ninth. Any or all of the appointees could, themselves, run.
Cortney Bailey's nomination for Treasurer remained unannounced prior to Wednesday's meeting. Councilperson Lynch placed Bailey's nomination before the Town Board after securing the Gray Road bookkeeper's consent to serve several days earlier. Bailey currently works with the firm that handles the EVFC's books. But the appointee promised to recuse herself from future assignments for the Fire Company so as to remove any conflict of interest.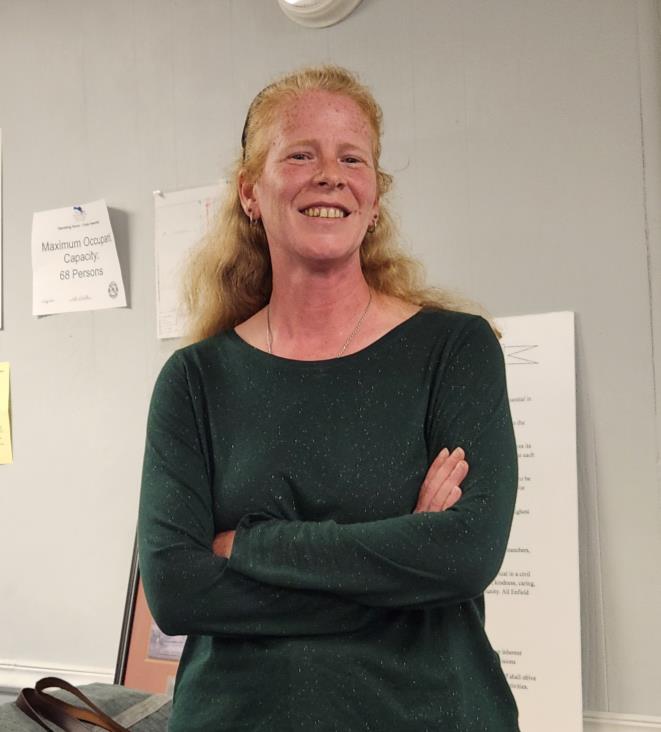 "Cortney Bailey… stands duly qualified for the office," Lynch wrote in his resolution advancing the nominee's appointment as Treasurer.
Only Councilperson Jude Lemke abstained from the treasurer's appointment. Lemke insisted she first wanted to review Bailey's resume. Two other Town Board members joined Lynch in supporting Bailey's appointment, thereby providing her a bare majority of support. (The fifth Town Board member, Councilperson James Ricks, reportedly recovering from recent surgery, was excused from Wednesday's meeting.)
Consuming more Town Board time than did either the Commissioners' confirmations or Bailey's appointment, the Town Board discussed, but then cast aside, yet a third Lynch motion. It had sought to undo lawyer Pinsky's earlier efforts to make the treasurer's position permanently appointive. Otherwise, the treasurer could be elected every three years, as state law specifies as a default position.
"The reason that I'm opposed to having an elected Treasurer is because it is sort of one of those things that you really want a good resume for, Town Supervisor Stephanie Redmond explained in support of her no vote. "A lot of damage can be done in the course of two years for someone that may not be able to be competent in that position," Redmond argued. "And it is nearly impossible to try to remove someone who has been elected."
Councilperson Jude Lemke agreed with Redmond, as did attorney Pinsky. Councilperson Lynch looked at the issue differently.
"People in Enfield like their democracy," Lynch said, reminding Board members of a failed initiative, rejected decisively at the polls three years ago, to make two high-profile Enfield offices appointive.
"There are enough problems with moving to a Town Fire District right now," the Councilperson continued. "I get complaints from a lot of sources about the fact that we did it at all, and the people that we're appointing to be Commissioners. And it would be a lot easier, and I think it would dispel concerns about cronyism and self-dealing and graft, to have an elected Treasurer to oversee, to be a watchdog, for the Board of Fire Commissioners."
"The problem is good treasurers know how to steal," Brad Pinsky countered. "My personal opinion is if you want a watchdog, the Commissioners, because they can go to jail, are the watchdog," the attorney reasoned.
"I have no particular objection to Cortney," Commissioner Matthews said, referencing the Treasurer-designate. Nonetheless, were the Treasurer an elective office, "I think as a matter of process, I would have a hard time serving on the Board in that capacity (as Commissioner) because of the level of legal exposure," he added. "It doesn't mean I wouldn't, but I'd have to think pretty long and hard about it."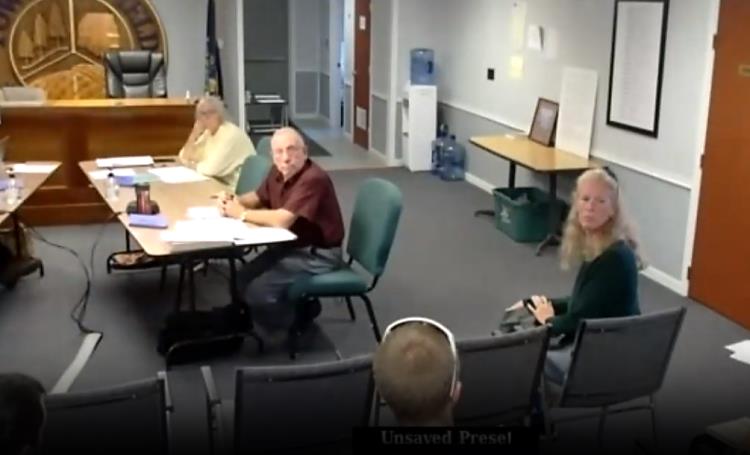 For now, Matthews won't have to worry. When the final vote was called, only Councilperson Lynch supported his own move for an elected Treasurer.
Cortney Bailey raised the point that, perhaps herself aside, qualified bookkeepers are few and far between in Enfield. Appointees can be drawn from beyond the town line. Elected treasurers must be home-grown.
"We have a very hard time getting anyone in the Town to run for anything," Bailey observed. "And if it's an elected position, you have to get someone from the Town of Enfield. So your pool of applicants is going to be very, very tiny."
****
Much work lies ahead for the newly-organized Enfield Board of Fire Commissioners. It will next meet August 23rd. A Public Hearing will come September 6th on its referendum the following Tuesday to raise the Statutory Spending Limit. It'll be coupled with two other requests.
In addition to asking Enfield voters to authorize boosting the Fire District's spending limit to $575,000, Fire Commissioners also decided Wednesday to seek voter approval to create two capital reserve funds; one for vehicles, the other for equipment.
Additional financial questions await answers.  But the Commissioners held off some decisions their first night.   They postponed action on whether to seek voter approval for measures that would bond the purchase of major fire apparatus.  And they declined to decide whether the EVFC should sell its trucks to the Fire District in order to make bonding possible.  Fire Commissioners have little interest in buying the fire house, itself.
And another bit of housekeeping the Fire Commissioners left for another day. The Board tabled its hiring of a secretary. It did so for a simple reason. No one's interested in doing the job for free. And until they have a budget, they have no money to pay.
(Marcia Lynch, this Councilperson's sister, assisted in the reporting of this story .)
###