Knutsen-King wins Justice; other leads hold
by Robert Lynch; November 15, 2023; further updated November 16, 2023
Update (Nov. 16): A Board of Elections spokesperson said Thursday that an additional hand-counting of certain ballots will occur Thursday with results announced when the counting will be determined "official." Those ballots hand-counted will be those that "did not scan," according to the spokesperson. She could not say whether any Enfield ballots were among those requiring a hand-count.
Heather Knutsen-King, clerk of the Enfield Justice Court since early this year, will don the robes of Town Justice herself at the start of 2024.
Knutsen-King, the Harvey Hill Road Republican nominee for Justice, continued her lead over Independent candidate Cortney Bailey in updated General Election results released late Wednesday by the Tompkins County Board of Elections.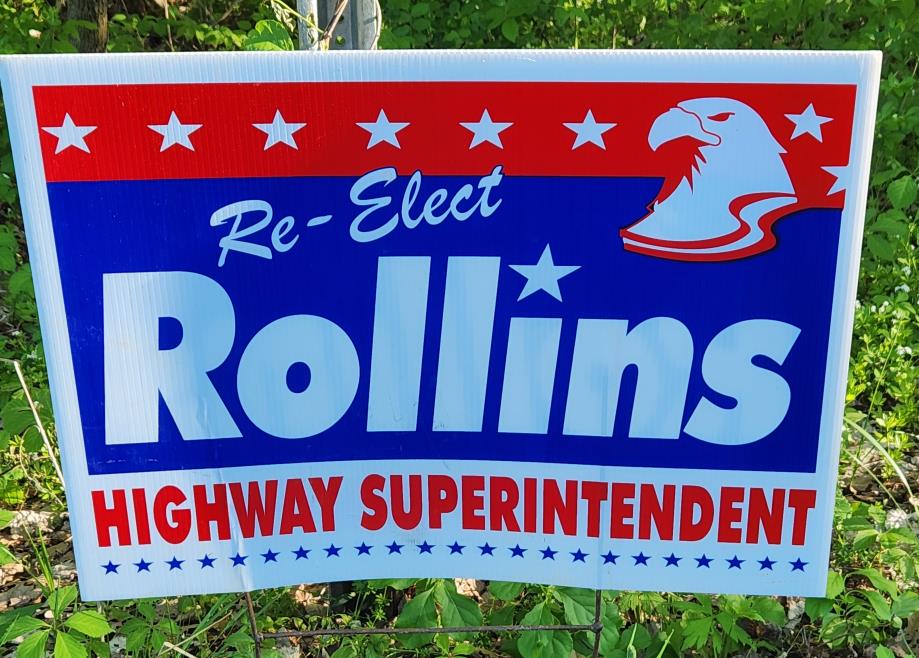 The updated count, which includes absentee ballots mailed by Election Day, yet not received by the Board until several; days thereafter, shows Knutsen-King winning the open Justice position with 305 votes (53.0%) compared to Bailey's 271 votes (47.0%). No Enfield voter wrote-in any other candidate's name for the office. 93 voters left the Enfield Justice column blank.
The Enfield Town Board late last December appointed Knutsen-King as court clerk to succeed Tiffany Poole, who'd resigned that month concurrently with the retirement of her mother, former Town Justice Betty Poole, who'd served on the Enfield bench for 29 years.
When the Town Board appointed Knutsen-King, she sought the appointment with a novel resume, having served for 31 years as a veterinarian's assistant in Oneonta. Marriage brought her to Enfield. Knutsen-King told the Town Board her knowledge of the Justice position grew from her father's service as a Town Justice in the Town of Schoharie. She'd told the Board she'd consider seeking the judicial office she's now earned the right to hold.
Judge Thomas Schlee, one of the Town of Ulysses' two sitting Justices, has presided over the Enfield Town Court following Judge Poole's retirement. Whether Knutsen-King could move into the position prior to year's end remains an open question.
In the race for Enfield Highway Superintendent, the results first reported election night held firm through the post-election absentee ballot count. Seven-term Republican incumbent Barry "Buddy" Rollins, running with Democratic cross-endorsement, won in a landslide over independent Republican Chris Willis. Updated returns gave Rollins 471 votes (71.8%) to Willis' 184 votes (28.0%).
Highway Superintendent may have been the marque race in this year's Enfield elections. Very few people—just 15—left the ballot line for Highway Superintendent blank. Just one voter wrote in another person's name.
All ballot-listed candidates for the Enfield Town Board ran unopposed, and there were no write-in surprises. Incumbent Democratic Supervisor Stephanie Redmond secured her second, full, two-year term with 438 votes (220 others left the Supervisor's blank). Incumbent Town Councilperson Robert Lynch (this writer) won his second, four-year term with 459 votes. He'll be joined by Democratic Councilperson-elect Melissa Millspaugh, who secured 399 votes. A total of 52 voters wrote in other candidates' names. The Wednesday tallies did not reveal those candidates' identities.
The biggest winner in the Enfield elections was incumbent Town Clerk Mary Cornell. 620 of the 673 Enfield voters in this year's election cast their ballot for Cornell, who ran unopposed with both Democratic and Republican Party endorsement.
Wednesday's results, which will likely constitute the final vote count, must still be certified. If any further ballots add to the totals, they will likely be few. No challenges to the results are expected, making certification otherwise routine.
###