Local COVID Tests: Still just for some, not for all
by Robert Lynch, May 28, 2020
How soon may we all get tested for COVID-19?
It's a question on many people's minds. It was raised Thursday morning (May 28th) in the latest weekly conference call between Tompkins County leaders and municipal officials. But those in charge found themselves hard-pressed to supply an easy answer.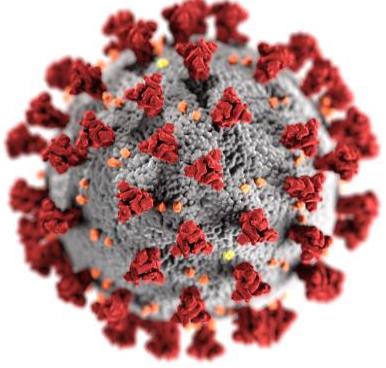 "When will there be testing to anyone who wants it?" asked Freeville's village representative on the 40-minute call. "We could find thousands of asymptomatics," he said.
Tompkins County Public Health Director Frank Kruppa acknowledged massive public testing—not just for selected groups, but for everyone—is still not possible, or perhaps even doable.
Kruppa assured conferees that his staff is having "conversations" with those at Cayuga Medical Center concerning broadened testing criteria, rules still tightly restricted by the State. But still, he cautioned, obstacles arise, one financial; the other logistical.
There's a reimbursement issue. If COVID testing remains free, said Kruppa, will the hospital still get compensated for those not showing symptoms or doing essential work?
The second factor, the Director raised, flows from Governor Cuomo's recent order mandating that all nursing home staff be tested twice-weekly. Kruppa alluded to the possibility that those required to be tested have overwhelmed the system.
"We need to get a couple of weeks under our belt," the Director said regarding the surge of health worker testing.
Under present gubernatorial rules, only the symptomatic, those with known exposure to a COVID patient, and essential employees, including health care workers, generally qualify for the drive-by tests.
Perhaps because of those mandated tests, or perhaps due to other factors, the number of identified local coronavirus patients has ticked upward in recent days. A Thursday conferee, Caroline Supervisor Mark Witmer, brought it to his colleagues' attention. Whereas the total number testing positive in Tompkins County appeared to plateau two weeks ago at about 136, that number has since grown, reaching 154 on May 27th.
A closer look at the data, however, prompts encouragement. The number of patients who have not yet recovered from COVID-19 still stands in the low twenties. Only one local person remains hospitalized with the disease. And those testing positive comprise only about two per cent of the total whose test results have been returned.
Kruppa called the uptick "not significant." County Administrator Jason Molino reassured conferees that a rise in new cases would not trigger a retreat from the current phased reopening of commerce and government, or necessarily block further relaxation.
The "trigger," Molino said, are hospital admissions, not positive tests. There's "no metric for positive case increases," he said.
County leaders spoke only some 24 hours before Governor Cuomo was supposed to "graduate" Tompkins County and the rest of the Southern Tier to Phase Two of post-COVID reopening. What commercial opportunities would that entail, town and village leaders asked? Molino could not answer.
Holding their cards close to the vest, the Governor and Albany bureaucrats had yet that morning to post online "guidance"—government-speak for micro-managed rules—as to what can open and what cannot… or when.
County officials could only speculate: Chicken barbecues; currently curbside only, but allowed nonetheless. Flea markets; not right now. High school graduations; still up in the air. For the latter, Molino said some have suggested a "drive-by" ceremony, or perhaps an outdoor event with "proper spacing." Only Albany can make the call, he said, and Albany has kept quiet.
###
Enfield Board approves mowing contract; hires bookkeeper
by Robert Lynch, May 23, 2020
Maybe the Enfield Town Board should always meet Saturday mornings. It seems to mellow the mood.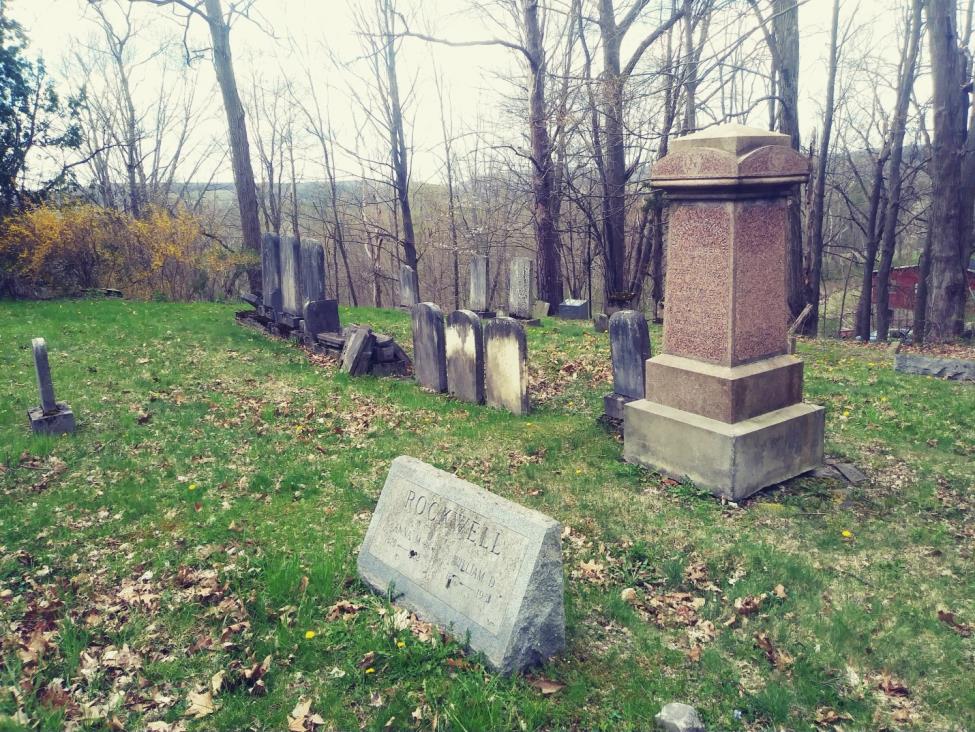 In an hour-long special meeting atypically devoid of the tension of late, the Enfield Board Saturday (May 23rd) approved a contract for mowing Town cemeteries for the remainder of the year. It also unanimously ratified Supervisor Beth McGee's selection of Brian McIlroy as Bookkeeper, replacing Deborah Kelly, who resigned earlier this month.
McIlroy, who was born in Enfield, grew up in Newfield, and now resides in Vestal, said he handles bookkeeping duties "soup to nuts," overseeing payroll, preparing financial statements, and assisting with budget preparation. As an independent contractor, McIlroy currently assists several towns with keeping their books. A decade ago, he served as the Dryden Town's bookkeeper and personnel clerk.
During the Board's Saturday discussion with the new hire, McIlroy and the Supervisor confirmed that McGee would retain her responsibilities as Town Budget Officer, a responsibility she had indicated two months ago she wanted to relinquish. McIlroy also promised to look into reported errors in the accounting of Highway Fund encumbrances, a recent source of irritation between McGee and the Highway Superintendent.
As for the cemeteries, the Board unanimously approved the lone submitted bid for monthly mowing, that of Matt Lincoln, who also serves as the Town's Burial Coordinator. Lincoln mowed cemeteries last year. And as with last year, Lincoln will charge the Town $900 per month, or likely $4,500 from June through October.
Thanks to volunteers, the Town will save a trifle on mowing this year. Cemetery mowing in May, meeting a self-set Memorial Day deadline, is being performed by volunteers.
At the Saturday meeting, Cemetery Committee Chair Sue Thompson reported two families have shared mowing of Christian Cemetery, another family Presbyterian Cemetery, both near Enfield Center. Councilperson Robert Lynch (this writer) said he began the prior day mowing Rolfe Cemetery on Applegate Road. Weather permitting, Lynch said he plans soon to finish Rolfe and also mow Gray Road's Budd Cemetery. Lynch has already removed debris at both.
Also, Saturday, the Town Board proposed adjusted compensation for Burial Coordinator Lincoln so as to make it worth his while to continue in that role. As first proposed by Councilperson Lynch, then modified by Supervisor McGee and approved unanimously, the Burial Coordinator would receive a newly-established $400 annual base compensation, with the per-burial coordination fee raised from $300 to $350.
The current burial coordination contract has expired, with Lincoln saying he'd have been reluctant to continue, since a single burial had failed to cover tax preparation costs for his service.
###
Semantic Standoff stymies Enfield Highway staff's return
by Robert Lynch, May 21, 2020
If it quacks like a duck by compensating for lack of work, is "partial unemployment" really just layoff by a different name?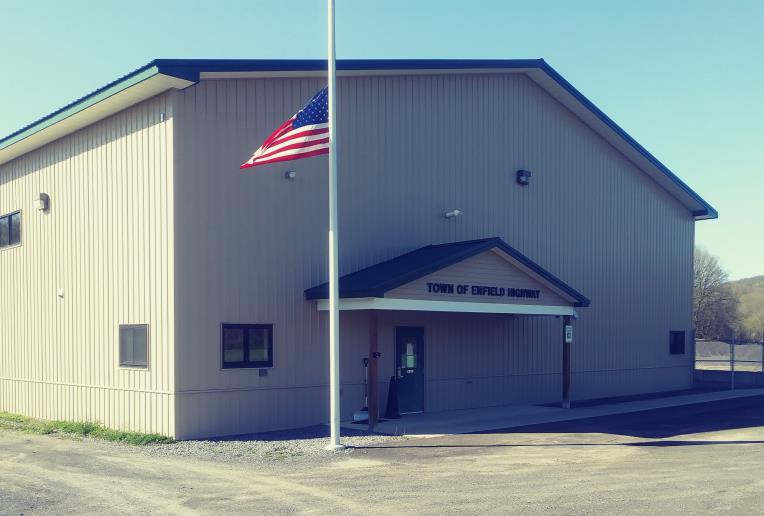 Enfield Highway Superintendent Barry (Buddy) Rollins believes they're one and the same. His Town Board's majority insists the terms differ. And because of their battle over a definition, five Enfield Highway Department employees remain most days idled, now two months after Rollins closed his Department in mid-March amid fear of the coronavirus.
"I'm waiting for the Board to bring 'em back," Rollins said of his workforce, addressing the Town Board Wednesday, May 13th. "The Board laid 'em off."
"No, actually the Board didn't," replied Town Supervisor Beth McGee in a lecturing tone. "We asked you to schedule them at the times that you needed them scheduled."
McGee also said her Board had demanded from Rollins a work plan so that the Board, "can have an idea of what work is gonna' get done and how many people should be on and how many hours need to be worked." Rollins has declined to supply such a schedule.
At no time in recent memory has the Enfield Board demanded from its independently-elected Highway Superintendent a day-by-day micromanaged work schedule. What's more, the demand could run afoul of State law. New York's Highway Law requires only that the Superintendent prepare, and then Board members annually approve, a so-called "284 Agreement" a document that outlines how the Highway Department intends to spend budgeted money and what roads it will improve. Enfield Board members signed Rollins' latest 284 Agreement January 22nd.
The mid-May standoff marked only the latest chapter in a months-long power struggle between the Board's majority and Rollins, one that's led some privately—and occasionally, publicly—to describe Enfield government as "dysfunctional."
On March 18th, as the flurry of COVID-related lockdown orders blew down from Albany, Rollins closed operations and sent his employees home, though for a while they continued to draw regular pay and remained on-call, as needed. Then on April 15th, a four-member Town Board majority demanded, over Rollins' objections, that his workers claim "partial unemployment" for days not worked.
The latest tussle May 13th centered over whether day-on, day-off partial unemployment equates to layoff. All but one Board member insisted no layoff was intended. Buddy disagreed.
In Rollins view, the issue is cut-and-dried; either employees are working full time or they're laid off. The Board's majority, meanwhile, took a more nuanced, day-by-day approach; preferring not to pay employees with Town funds when workers could be tapping state and federal benefits instead.
Attempting to break the May meeting's semantic logjam and call the workers back from unemployment, Councilperson Robert Lynch (this writer) attempted resolution:
"The point is whatever happened in the past is irrelevant," Lynch said.
"It is absolutely relevant," shot back Deputy Supervisor Stephanie Redmond. "We never laid them off. We just said we could not pay for them not to work. Please just tell us when they went to work. Let them work and we will pay them for the hours that they've been working."
Lynch then advanced a Resolution stating the Town Board "endorses" Superintendent Rollins' "decision to bring his highway workers back to work," effective Monday, May 18th, a target date the Superintendent had set. Only Rollins, though not a Board member, impermissibly seconded the motion. Lacking a valid second, the motion failed.
Amid the indefinite impasse, Rollins indicated two days later that only "two or three" of his five employees—which perhaps includes himself—report to work on an average workday. Highway personnel remain on-call for emergencies. Rollins claims some men work only one day per week.
At the May meeting, Supervisor McGee voiced frustration the Department was not back to full force—under her rules.
"I'm hearing from (other) Highway Departments that they couldn't stand to be out of work," McGee claimed. "I know people that are out of work right now who are going stir crazy, that would love the opportunity to be back at work."
Friction then arose between Rollins and the majority. At one point, the highway chief accused the Board of spending General Fund revenues "like a bunch of drunken sailors," Rollins alluding to the majority's decision in April to apply $9,200 toward expansion of Redmond's newly-designated Deputy Supervisor's post; that decision followed by a unanimous vote one week later to boost Deputy Town Clerk's pay by $3,000.
Rollins stated that, by contrast, his Department's finances are solid and face minimal impact. "My budget is there!" he told the Board. The only (highway) budget that's really going to be affected is if we don't get our CHIPS money (a State aid program), and that's just not paving one road," he said. "It's not a big deal if we don't get it."
For its part, Tompkins County earlier this month sidelined as many as 96 employees, placing 37 of them on partial unemployment. County Administrator Jason Molino defined the cuts as "furloughs," but told his County Legislature, "Furloughs and layoffs I'm using interchangeably. They're the same words in this case."
A further flash point between Rollins and the Town Board will wait its turn for another day. For lack of time May 13th, the Board postponed until June discussion of new laws which would abolish the elected positions of Highway Superintendent and Town Clerk and make those jobs appointive.
###
Masks, yes; Thermometers, No
Tompkins leaders confront tight rules, gaping holes in post-COVID reopenings
by Robert Lynch, May 21, 2020
When it comes to municipal reopenings, perhaps it's best to play President Trump's campaign theme, You Can't Always Get What you Want.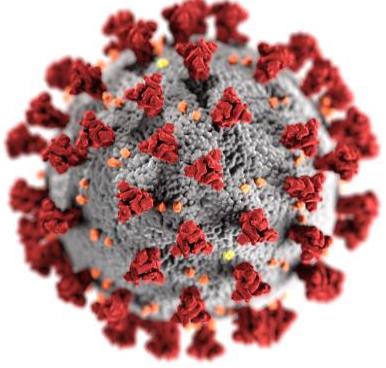 Tompkins County's municipal leaders and the County Administrator acknowledged during their weekly conference call Thursday (May 21st) that they'd like Albany to provide more guidance and fewer surprises as they seek to comply with a four-phase reopening of business and government, institutions held in virtual lockdown since mid-March to stem the spread of COVID-19.
"The questions are coming quicker, and the answers are coming slower," lamented County Administrator Jason Molino, observing that State bureaucrats, who hold tight rein on the reopening process, are now more reluctant to predict requirements—or to provide guidance—than they were when they shut down commerce at the pandemic's start.
For example, while the State permitted Tompkins' Southern Tier region to launch Phase One of its reopening last weekend, Albany's rules still do not permit all those in affected businesses to receive coronavirus tests. Only those who are symptomatic, have been exposed to a known COVID-19 patient, or work in essential services presently stand eligible.
But added Molino, "I fully expect in the next two weeks the Governor will open up testing to anyone who wants it."
Also not likely for returning workers will be frequent temperature checks.
Devices used for mass temperature screenings, such as infrared thermal cameras, "can be inconsistent and not a great measurement," the Administrator cautioned. What's more, they're "in high demand" and may not be available.
What Molino stressed will be required are masks, for every worker working almost everywhere.
The Village of Lansing's conferee asked Molino about two of his employees who work in a "very large building." Must they be masked?
"Only," answered Molino, if there's "a 100 per cent guarantee they won't run into anyone."
State directives, said the Administrator, require customers in stores to be both masked and socially-distanced. Rules put the burden on the merchant to enforce compliance.
Even though Governor Cuomo's initial executive order had required customer masking only if social distance could not be assured, Albany's penchant for caution appears to have supplanted the word "or" with the word "and" to now mandates both distance and face covering.
State micromanagement even extends to Memorial Day. Molino reported that the Governor consented to Memorial Day ceremonies, such as those veterans hold in cemeteries. But strict gubernatorial rules will limit attendees to number no more than ten, participants and observers combined.
As further advice, somewhat in jest, Molino added, "but a barbecue in your back yard is not an official ceremony."
Molino counseled the mayors and town supervisors that the county will continue to use appeals to "personal responsibility" to gain compliance. But if needed, civil penalties, even business closings remain arrows in the enforcement quiver.
"We hope it doesn't happen; we don't see it happening." Molino said of heavy-handed tactics. "But we have this authority."
As for a different sort of authority, Molino doubted government employers could demand their employees be COVID-tested, even if State-eligible.
"Talk with your municipal attorney, Molino told Caroline Supervisor Mark Witmer. "I don't think you can mandate it."
Ulysses Supervisor Nancy Zahler raised concern about testing opportunities in nursing homes. Whereas Governor Cuomo has ordered all nursing home staff be tested twice-weekly, no similar mandate applies to patients. Many want it, said Zahler, but lack opportunity to visit a test site, and no testing technician visits them.
County Public Health Director Frank Kruppa held out hope for on-location tests at places like Ulysses' Juniper Manor. "But it could be another week or so before we're there," he said.
New State orders will now permit governments to return to full staffing May 29th, more than a week earlier than was previously permitted. Tompkins County government offices, Molino said, will begin reopening June 1st. Supervisor Rod Howe disclosed his Town of Ithaca will reopen for half days beginning, Tuesday, May 26th. Molino said the Motor Vehicle Bureau is targeted to reopen the first week of June.
###
Tompkins Legislature buys COVID-19 test machine to speed one-day results
by Robert Lynch, May 20, 2020
"Tompkins is the best county," crowed Dryden legislator Mike Lane. "Here is a perfect example."
On sudden notice and without dissent, the Tompkins County Legislature Tuesday (May 19th) approved funding to underwrite Cayuga Health System's purchase of an analytical machine to increase one-day COVID-19 testing capacity at the local hospital.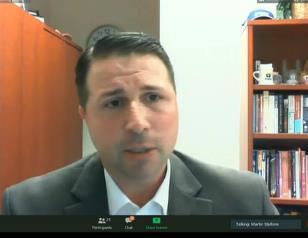 Dr. Martin Stallone, Cayuga Health's President, addressing the Legislature before its vote, said he'd hope the County-purchased Rheonix Encompass MDx Workstation would become one of as many as seven such devices his facility would have at his disposal. Stallone predicted they'd be able to process test samples from thousands of people daily.
"The promise is that our lab team, which is already working on the problem, will accomplish the ability to pool samples and multiply (the number of persons contributing to a single test) to bring our daily capacity into the thousands which is likely what's needed to support things like school reopening and other larger scale economic reactivation in a deliberate way," Dr. Stallone said.
Though not mentioned during Tuesday's legislative debate, the Rheonix machine purchased with County contingent funds, will cost $55,000. Though he could not predict with certainty, County Administrator Jason Molino told legislators the purchase is "likely" to be reimbursable with federal funds, which would reduce the County's share of the cost to just 12.5 per cent, or about $7,000.
Voicing her support, Legislature Chair Leslyn McBean-Clairborne said, "The community feels safer when they know that our government as well as our health systems are working in tandem with each other."
In late-April, Cayuga Medical officials jumped the gun, proclaiming that the Rheonix tests were already available for essential workers and community volunteers. They then had to backtrack, staff admitting they lacked the needed test kits. Today, a scheduler indicated Cayuga Medical Center is now performing Rheonix one-day tests, but that "due to the high volume of demand," the hospital is "prioritizing" their use for surgical patients, all of whom must first be tested for coronavirus.
Dr. Stallone advised the County Legislature that Cayuga Medical purchased two of the Rheonix machines itself even before FDA approval. He encouraged Ithaca's Common Council to follow the County's lead to likewise underwrite a machine's purchase. Stallone said the Rheonix workstation's advantage is that, by being onsite, it can analyze a test sample in four hours, whereas off-site analysis entails a several day turn-around.
"This is not the only platform we rely upon," said Stallone, "but frankly, it's the most promising."
Stallone said he hopes to gain State approval by early June to "pool," COVID-19 testing, whereby one test would be analyzed based on samples from multiple persons clustered together in a "low prevalence environment." If the test proved negative, all common contributors would be cleared. Only if the test returned positive would each person require individual testing.
During Tuesday's discussion, Administrator Molino acknowledged that he, himself, had been tested, presumably eligible under newly-expanded criteria which include essential workers. "I can attest that it's a pleasurable experience by staff," he said of the Cayuga Health test, though quickly adding that the "process and procedure" was not so enjoyable.
For more than 40 minutes, Molino briefed the Legislature and fielded questions concerning COVID-19 preventive initiatives and implementation of the first phase of the State's authorized reopening process, underway locally since last weekend. Three later phases of relaxation could unfold, each two weeks apart. The timetable prompted Ithaca legislator Anna Kelles to question whether an uptick in COVID-19 cases could reverse the process. Molino doubted it.
"Right now, there hasn't been any discussion about reversal of phases," said the Administrator. "It's probably more been about prolonging the ability to move to the next phase… to prolong the inevitable."
###
Municipal leaders voice concerns as county plans for phased reopening
by Robert Lynch, May 14, 2020
"Albany doesn't really understand how small municipalities work."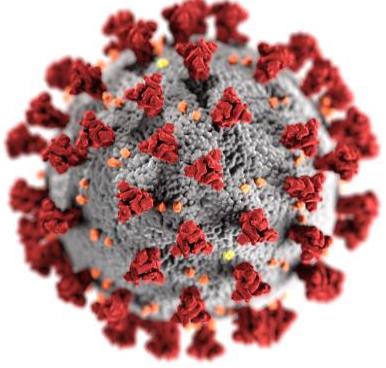 Trumansburg Mayor Rordan Hart's complaint drew no disagreement from colleagues Thursday (May 14th) as Tompkins County's mayors and town supervisors convened with top County officials for their weekly conference call to discuss the COVID-19 crisis, this week specifically addressing the process toward municipal reopening.
County Administrator Jason Molino confirmed to the officials that Tompkins' Southern Tier region stands as one of four statewide to qualify for Phase One of New York's highly-micromanaged four-stage reopening of stores, services, and governmental operations. Phase One, which Molino said will begin locally Saturday, May 16th (Governor Cuomo's website suggests a start one day earlier) will limit itself to construction, manufacturing, agriculture, and some retail operations, the latter of which will be restricted to curbside pickups only.
If COVID-abating criteria remain satisfactory, a second phase could commence two weeks later, but not one day before. Phase Two would reopen professional services and in-store retail.
But the State's heavy-handed control of municipal reopening stood most on local leaders' minds Thursday. Molino cautioned that even though the State is permitting some economic sectors to reopen, Albany will hold firm to Governor Cuomo's earlier Executive Order that demanded municipalities limit their on-premises workforce to no more than 50 per cent of full strength through June 7th.
The dictate drew Mayor Hart's pointed criticism, reminding Molino that a disproportionate number of his own village's employees are deemed essential, serving in public works, EMS, and police, and thus leaving too few remaining to work at home.
"I'm not cutting any of that," Hart said of Trumansburg's essential personnel.
Administrator Molino acknowledged the problem, urging Hart merely to attempt his best.
"Sometimes you have to do the best you can and work within reason," Molino counseled the T-Burg mayor.
Town of Ithaca Supervisor Rod Howe voiced similar concerns, predicting that reawakening construction will require more code inspections; difficult, he said, with a department at only half-strength.
"You have to give a best effort," answered Administrator Molino.
One new-found practice likely to remain a fixture for now is the municipal online meeting. In-person sessions will likely still run afoul of ongoing gubernatorial restrictions.
"It's probably no different than a mass gathering," Molino surmised.
Just the evening before, Enfield Planning Board Chair Dan Walker had urged his Town Board return Planning Board meetings to Town property, noting that some on his Board lack adequate broadband to participate in virtual sessions.
Ulysses Supervisor Nancy Zahler asked whether all workers returning for Phase One reopenings would be tested for COVID-19. Molino responded they would not.
"A healthy member of the public going back to work will probably be denied being tested," he warned. Molino said testing remains restricted to the symptomatic, those found in contact with a known COVID patient, nursing home personnel, and those undergoing elective surgery.
Other matters discussed during the 70-minute conference call:
Molino announced that the State has provided Tompkins County 17,000 additional masks, the latest to be distributed through municipalities to the general public. The new arrivals bring to 72,000 the number of State-supplied masks received locally to date.
Molino could not predict whether local colleges would welcome back students this fall, suggesting State dictates would heavily influence the decision.
Responding to Mayor Hart's concerns, the County Administrator acknowledged Airbnb rentals often stand in "unregulated" non-compliance with business lockdown rules. He urged Airbnb's to follow the State's guidance for hotels, but conceded Airbnb is "a difficult area to regulate."
As for the layoff of 96 Tompkins County workers in recent days to meet a COVID-spawned budget shortfall, Molino's only comment was, "considering the circumstances, the process was relatively smooth."
###
Enfield Board takes first step toward water resource regulation
by Robert Lynch, May 13, 2020
In what could mark a first step toward water source regulation, the Enfield Town Board Wednesday (May 13th) authorized creation of a Water Resources Advisory Committee, its membership yet to be determined.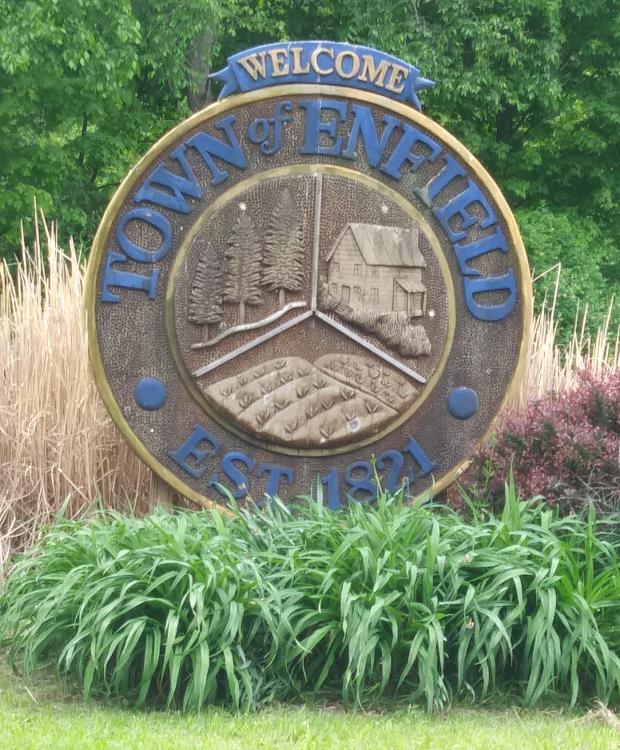 "It's a big deal and a long time in coming," said Councilperson Mimi Mehaffey of the Committee's authorization. "Instead of reacting, we are acting," she stated after the vote. "Water is the new oil."
The Board's unanimous decision to create the committee followed a detailed presentation of what's best known as the Enfield Aquifer Study, a multi-year investigation by the U.S. Geological Survey in conjunction with local officials. It's been an effort to identify the sources, characteristics and quality of the "unconsolidated aquifer in the Enfield Valley," the official name for an underground water table that narrowly traverses a path from just south of the Ulysses town line to Treman Gorge, the aquifer snaking through Enfield Center and past the present Town Highway Garage.
For nearly 90 minutes, three USGS scientists presented their findings to the Board in what often more resembled a college geology lecture than a municipal meeting. Their conclusions, compiled in a 38-page appended report, released in December and now available on the Town's website, failed to find any dire impairment in the aquifer's water quality. However, the geologists did note that test well data taken during the study often found abnormally high concentrations of naturally-occurring methane, a gas which might require some users to treat their water or leave wellheads open so as to avoid ignition.
"Water quality in surface water generally met State and Federal drinking-water standards," the written document concluded, although some trace elements, including iron, "dissolved solids," and methane gas, exceeded those thresholds. At two of the deeper test wells drilled by USGS at mid-decade, groundwater quality was found to be "unpotable without treatment."
In response to questioning by Enfield Councilperson Robert Lynch (this writer), the USGS' Paul Heisig, said he doubted the dissolved solids the study referenced were from septic effluent, since, he observed, the solids were more often found from wells at lower depths, rather than from those more shallow.
The Water Resources Advisory Committee, long-supported by Enfield Environmental advocates, would begin as a study group, its mission initially defined in only general terms. Its members would work with the New York Rural Water Association to hold a source water protection workshop, identify "water supply resources and potential threats," and only later "review and approve a source water protection plan."
Councilperson Stephanie Redmond, likely to serve as the Town Board's liaison to the Committee, suggested as a hypothetical example that if Nestle wanted to locate in Enfield and drain a portion of the Town of its groundwater, a water protection plan could serve to stop it.
At Councilperson Lynch's urging, the Town Board ensured that at least one Town Board member, as well as a member of the Planning Board, and also a full-time farmer would each have a seat on the Committee. Lynch's amendment provided that the Town Board will appoint remaining members "so as to ensure diverse representation of the Enfield community, drawing from the membership ranks of applicable community groups, and also from the general public."
TheTown Board expects to select the committee's membership at a future meeting.
###
Grass will grow; so we will mow.
Enfield Board agrees to contract cemetery mowing for second straight year
by Robert Lynch, May 9, 2020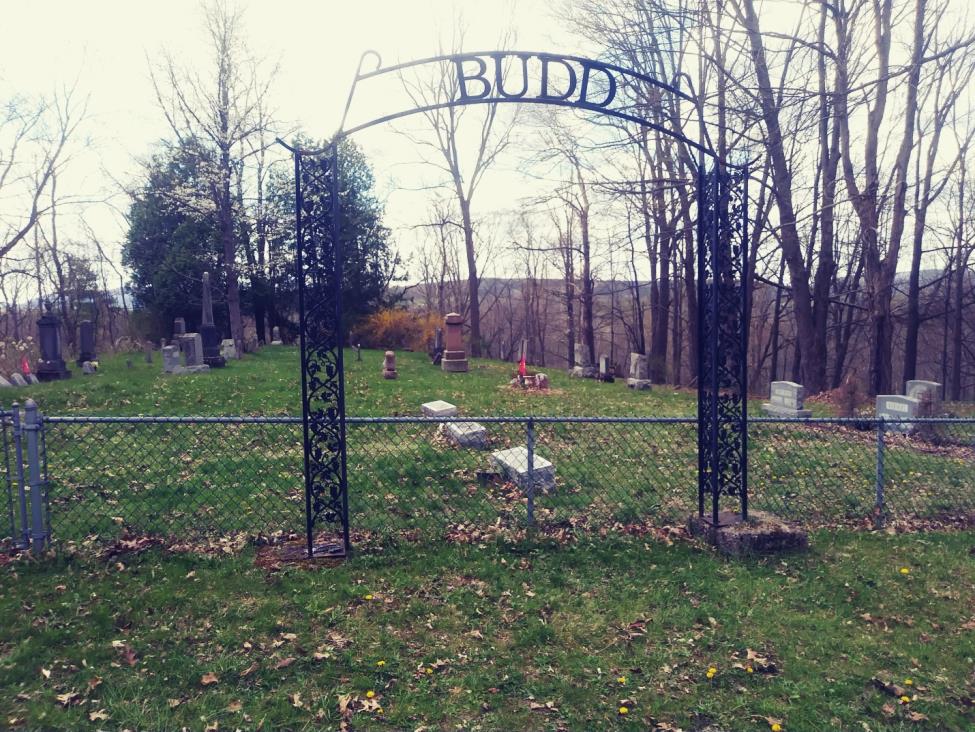 Seeking to avoid a repeat of last year, when Town cemeteries went unkempt until nearly June and residents loudly complained, the Enfield Town Board voted Wednesday (May 6th) to advertise bids for professional services to mow its four Town-owned graveyards.
The Town's Request for Proposals (RFP), endorsed unanimously Wednesday, calls for each cemetery to be mowed at least once monthly, the first mowing prior to Memorial Day.
By its vote, the Board acknowledged failure in its initial effort to secure volunteers to mow the cemeteries this year as a cost-cutting measure, one taken to address financial uncertainties brought on by COVID-19.
"As much as I hate to spend the money, I guess probably we've got to have, basically, an insurance policy to make sure they're being mowed," said Councilperson Robert Lynch (this writer). "I don't want them overgrown like they were last year. Everyone on the Town Board, myself included, are going to get blamed for it," he added.
In 2019, an election year, many constituents grumbled to campaigning candidates about the lack of cemetery maintenance during the wet, grass-popping spring. All four locations went unmowed until nearly Memorial Day. One contractor performed one mow, then withdrew. The higher bidder, Matt Lincoln, who also serves as the Town's burial coordinator, finished the year. Together, both firms cost the town $5,100.
Town Clerk Ellen Woods acknowledged that one mowing volunteer, Gabe Newhart, had stepped forwarded, agreeing to groom Christian Cemetery, north of Enfield Center. Councilperson Lynch stated he'd agree to mow Gray Road's Budd Cemetery "because it's convenient and it's neighborhood," he said.
Before Wednesday's vote, Lynch asked Cemetery Committee Chair Sue Thompson, whether she thinks any volunteers might still step up.
"The only way that you possibly might get people," answered Thompson, "excuse me for saying this, is if you just don't mow the cemeteries. The people will see them and they will complain."
Once completed, the mowing RFP will be posted on the Town's website. The Board designated bidders to contact Councilperson Lynch, the Board's Cemetery Committee liaison. Bidders must respond by May 22nd.
A second cemetery issue may soon confront the Town Board. Burial coordinator Lincoln has indicated reluctance to continue in that role since the few number of burials in Town cemeteries brings him too little revenue. Lincoln has said a single burial in a year doesn't even pay him enough to have his taxes done for the work.
Though Supervisor Beth McGee initially suggested the Board merge mowing services with burial coordination, members later discarded that option, agreeing that decoupling the tasks would elicit a greater number of bidders for the mowing alone. Board members raised alternative remedies including raising burial coordination rates or setting a minimum annual compensation for the coordinator.
###
Locals beg for State guidance in lifting the COVID-19 lockdown
by Robert Lynch, May 7, 2020
Albany, where are you?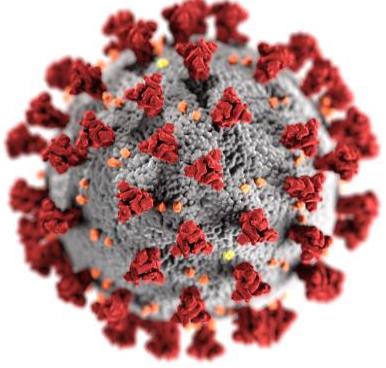 Frustration dominated the hour Thursday (May 7th) as Tompkins County Administrator Jason Molino shared with local mayors and town supervisors his difficulties in eliciting guidance from State officials toward reopening the local economy and government from restrictions earlier imposed to stem the spread of COVID-19.
"Four to five weeks ago, we were getting directives every 30 minutes from the State," Molino reported during his weekly intermunicipal conference call. "But now we're not getting it."
Tompkins County sits in an enviable position toward relaxing Governor Cuomo's COVID-related constraints. Two days earlier, the Administrator revealed to his County Legislature that Tompkins, itself, has satisfied all seven of the Governor's key criteria—"metrics" in new-age speak—goals that should permit the first steps toward reopening. But Albany demands reopening occur by region. And on two of the seven metrics, other counties in the Southern Tier region drag Tompkins down. They fall short on both COVID testing and contact tracing. Tompkins satisfies each.
Asked Tuesday by Legislator Anna Kelles as to whether the local county might ask the State to go it alone, Molino then answered, "I have not asked the question. But the regional approach is probably the right approach." Molino doubted whether Albany would entertain any county-specific reopening.
Thursday morning, meanwhile, Molino fielded municipal leaders' inquiries concerning how fast doors could open and people could return to work.
Trumansburg Mayor Rordan Hart put it most bluntly, reporting businesses have contacted him, itching to open.
"They're telling us 'Hell, we're opening.'" Hart said. "'And if the Health Department and Sheriff's Department want to come get us, let them get us.'"
Administrator Molino responded that if he and his staff don't get some reopening guidance from state bureaucrats soon, "we may have to issue some general guidance" ourselves.
Molino said he realizes State officials want to maintain control and discourage individual initiatives. He further predicted that his county's region will likely satisfy all seven gubernatorial metrics in the next ten days.
Admitting it was merely his opinion, the County Administrator suggested reopening directives would probably come, as did the earlier shutdown commands, through State executive orders.
On another subject, Molino revealed that State Parks officials have imposed new social distancing restrictions at their facilities. They've prohibited camping through month's end, including during the Memorial Day weekend. They're attempting to route one-way travel on some trails. And they reportedly "shut some people out" of Robert H. Treman Park the prior weekend after it became too crowded.
###
Tompkins Legislature furloughs 96 to help close multi-Million COVID budget gap
by Robert Lynch, May 6, 2020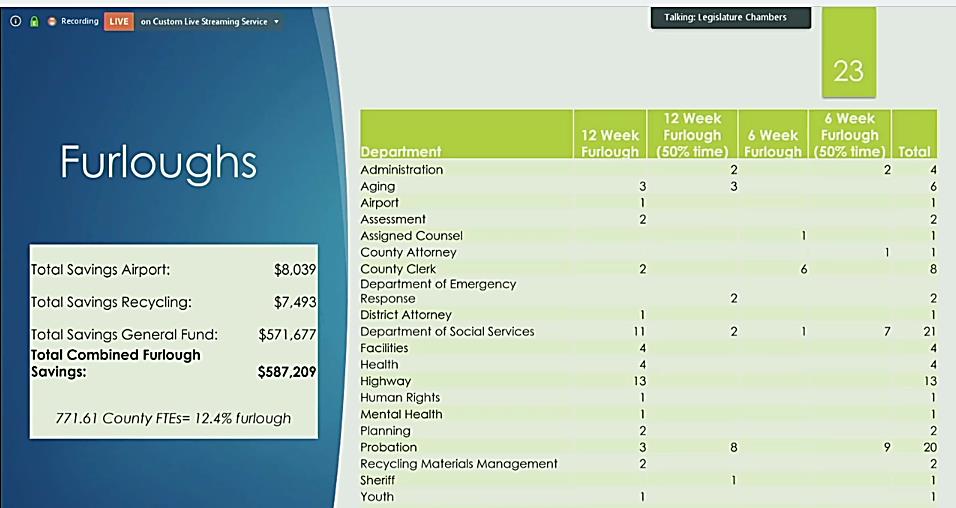 Barber shops may be closed. Nevertheless, Tompkins County Government is taking a haircut, a big one, to cope with COVID-19. It's a financial shearing that will sideline nearly 100 County employees, many for as long as 12 weeks.
The Tompkins County Legislature Tuesday (May 5th) quickly and unanimously endorsed County Administrator Jason Molino's newly-disclosed plan that would trim personnel expenses by nearly $600,000 from now through late-July to help close a predicted minimum $7 Million COVID-induced budget deficit from now through year's end.
"This is really, really painful," Ithaca Legislator Rich John said of the furloughs, which would hit virtually every governmental department to some extent, but would impact two departments the most.
The County Highway Department will face the largest number of 12-week full-time layoffs, 13. But the Department of Social Services will follow close behind with 11 long-term furloughs. With short- and long-term, full-and part-time pink tickets tallied, Social Services will actually take the largest hit, with 21 employees sidelined. Probation will also be hit hard with 20 furloughs, but with most of its layoffs half-time only.
In all, 51 of the County's some 770 employees will lose work full-time for the full 12 weeks. Another 18 will face half-time furlough for the same period. 27 will be laid off, either full- or half-time for just six weeks. In all 96 workers will be affected.
"I'm happy to say that nearly every single impacted employee position on this list are (sic) going to make the same gross weekly income for the most part," Molino assured legislators, noting that by tapping the federal government's Enhanced Unemployment Benefits, those laid off will find their traditional unemployment checks supplemented by $600 weekly payments from Uncle Sam.
The Enfield Town Board relied upon a similar benefit-sweetener when it put its own highway workforce on partial unemployment in April.
Under the Molino plan, the County will pay 80 per cent of a laid-off employee's' health insurance premiums. But those furloughed will lose full or partial service credits toward their retirements. Generally, junior employees will be furloughed rather than counterparts with greater seniority. But senior workers could "volunteer" to take another's place, should they choose.
The Administrator first outlined his dire financial forecast to lawmakers in a public, though poorly-publicized, quasi-retreat one week earlier. At that time, Molino forecast as much as an $11 Million revenue shortfall for 2020 alone, producing a $7 Million deficit once economies were factored in. But Tuesday, Molino described those earlier numbers as only a "mild" impact. A "severe" impact, he warned, could lead to a more than $18 Million revenue drop-off, producing a more than $13 Million deficit.
Without drastic cost-cutting, Molino warned, the more severe impacts would translate into a 35 per cent increase in property taxes.
The Administrator's furlough plan extends only through the end of July, when, coincidentally, the federal unemployment supplements are set to expire. Beyond that date, Molino hesitated, acknowledging that "significant uncertainty remains" as to the pace of a restart, and that "additional epidemic waves… could require re-introduction of health measures interrupting recovery."
"There's no joy in what we're having to do in respect to our employees," lamented Dryden legislator Mike Lane, who offered his colleagues the most emotional, realistic, yet hopeful observation of the night.
"This is not the end of the world as we know it," said Lane. "Let's remember that this recession that we're into now was self-induced. And the reason it was self-induced was to protect people from dying and to stop having our medical system overwhelmed by this COVID catastrophe."
"We have to be somewhat optimistic," Lane concluded. "This thing has happened in 12 weeks. It won't restore us in 12 weeks. But we'll get there."
###
Health Chief urges increased masking as COVID-19 stats show local Millennial spike
by Robert Lynch, May 6, 2020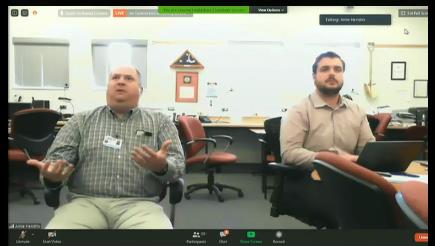 "I guess the main message is, when in doubt and you can't ensure that there's no way you'll bump into somebody, you should probably have a mask on to prevent unexpected exposures."
That was Tompkins County Public Health Director Frank Kruppa's message given to his county's Legislature at its Tuesday evening (May 5th) online meeting, as Kruppa and County Administrator Jason Molino released for the first time demographic data that shows a disproportionate number of millennials, ages 20-29 having been diagnosed locally with COVID-19.
The statistics, which Kruppa had declined to release previously for fear of jeopardizing personal privacy or giving certain age groups false confidence, indicate that a full 31.5 per cent, or 42, of the 133 Tompkins County positive COVID-19 cases tallied through Tuesday were of twenty-somethings, though the group comprises only 24 per cent of the county's overall population.
Also disproportionately represented among positive cases were those ages 40-49. Of those, 20 persons, or 15 per cent of the total, were diagnosed positive, even though the demographic comprises just nine per cent of the county's population.
By contrast, senior citizens, those most endangered by the coronavirus' effects, were diagnosed positive relatively in line with their share of the population. Only two of the 133 total cases were of people over age 80.
Kruppa took a collective victory lap over the low number of older infections, calling the results "heartening." He reasoned that "the work we've done as a county to stay home has protected our most vulnerable citizens."
The high percentage of young adult infections led Legislator Martha Robertson to conclude that the particular age group is "disparately at risk." But Robertson's colleague, Anne Koreman, got Kruppa to acknowledge that sampling flaws could weaken any inferences drawn from the millennial spike. For example, if twenty-somethings disproportionately sought tests, the results would over-weigh their propensity to contract of the disease.
"Drawing too many conclusions about the data is dangerous," Kruppa conceded.
By community, nearly 60 per cent of Tompkins County's positive COVID-19 cases, a total of 79, were of those living in either the City or Town of Ithaca, the numbers about evenly divided. Only two of the 133 positively-identified persons reside in Enfield.
The Health Director used both the new statistics and lawmakers' concerns to renew and strengthen his call for people to wear masks whenever possible, both indoors and out, to avoid exposure during a chance encounter with someone who might invade social distance.
Kruppa made his warning while sitting in the County's Emergency Response office less than six feet away from the County's Communications Director. Similarly, at Legislative Chambers, Administrator Molino sat throughout the meeting directly across a narrow table from the Legislature's Clerk, Cathy Covert. None wore masks.
Meanwhile, online from home, Legislator Robertson complained, "I was out on Sunday, and I saw no masks on the Cornell campus and only a few downtown. It seems like people are still delusional, I guess."
Governor Cuomo's state-wide marking rules, imposed April 15th, demanded only that the general public wear facial coverings "when in a public place" and when " unable to maintain, or when not maintaining, social distance." Authorities generally define proper social distance at six feet.
But whether walking trails, sidewalks, or to the office bathroom, Kruppa urged all persons to give chance the benefit of the doubt.
"You might be walking on the sidewalk and get all the way where you're going and never see another person," the Director cautioned. "Or you might pass people and it might not be possible to stay six feet away."
Sitting by yourself in your office, Kruppa continued, you needn't likely wear a mask. "But if you get up to go to the bathroom or you go to the breakroom or something like that, you don't know if you're going to run into somebody else in the hallway or in the bathroom or the breakroom. So having the mask on prevents those unexpected exposures."
Or perhaps, the skeptic might add, when sitting beside your colleague at Emergency Response.
###