August 2020:
Municipal leaders push for unique, new State funding for rural EMS
by Robert Lynch, August 28, 2020
"There's nothing like a pandemic to highlight that emergency health care is A-1," insists Trumansburg's mayor, Rordan Hart.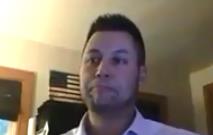 And with that strike-while-the-iron-is-hot attitude, Hart persuaded his colleagues on the Tompkins County Council of Governments (TCCOG) Thursday (Aug. 27th) to urge the Tompkins County Legislature, and in turn, State Government, to allocate Albany moneys directly to municipalities to fund rural EMS services; paid services, much like his.
Hart's Resolution, which TCCOG hurriedly adopted with limited debate—a thunderstorm threatened to cut members' online meeting connection—left many realities unaddressed, including, perhaps most importantly, whether municipalities can ever squeeze another dime from a COVID-starved, cash-strapped New York State to fund a new local entitlement.
TCCOG's Resolution asks each Tompkins County village and town board to request the County Legislature to lobby Albany for action. The Enfield Town Board will likely consider TCCOG's Resolution September 9th.
But is Rordan Hart's Trumansburg model right for every locality, including Enfield? Since 2007, the Trumansburg Village has operated its own, paid 24/7 paramedic-run ambulance department. Enfield, by contrast, draws service from a totally-volunteer rescue corps run within its Enfield Volunteer Fire Company. EVFC's volunteer EMT's are supplemented by Ithaca's privately-run Bangs' Ambulance service.
But the TCCOG measure leans heavily upon T-Burg's paid-service model. Thursday's Resolution states in an introductory paragraph that "[E]fforts to increase volunteerism, particularly in EMS, while noble, are neither sustainable nor effective enough to make a meaningful impact."
Some within the EVFC's ranks might disagree, one member privately commenting to this Town Councilperson (and TCCOG member) that when defining EMS as an essential state service, towns should not be "running down volunteers in the process." Rescue and transport EMS crews are complements, not competitors, that member stressed.
T-Burg's Hart takes a dimmer view of volunteerism's future, arguing that tougher State certification requirements for EMT's prompt fewer people with full-time jobs to step up.
"The standard answer we get from a lot of places is there must be something more we can do to try to put the genie back in the bottle [to stem] the loss of volunteerism," Hart told TCCOG, but then added, "I don't believe that. I believe that once volunteerism has been lost, particularly on the EMS side of things, it's impossible to get back."
As a counterpoint to the mayor's conclusion, an EVFC source reports Enfield's rescue corps has as many as ten Emergency Medical Technicians and one Certified First Responder within its ranks. At least one such person responds on every call, and all Fire Company members are certified in CPR, the source said.
In the wake of Thursday's action, multiple members of the Enfield Town Board have stressed that any Resolution brought to their September meeting should adapt itself to Enfield's needs and unique attributes and should provide, as one member's put it, "a mechanism for not only Village and City services, but for volunteer services in Town Fire Protection Districts."
Thursday's TCCOG Resolution suggested the State support rural EMS services similar to the flexibly-allocated Consolidated Local Street and Highway Improvement Program (CHIPS) for local road maintenance; or the New York State Operating Assistance (STOA) model. Albany might allocate moneys on the basis of call volume or coverage area. Mayor Hart suggested that municipalities, like Enfield, without their own ambulances, could contract with others, like his.
And Hart urged local government to use the COVID-19 pandemic as a lever to sell Albany on the need for immediate action.

"Convince the State that EMS is not fire," he said. "EMS is health care. That is the political hook."
###
New federal guidelines may impact COVID reimbursements; but not testing
by Robert Lynch. August 27, 2020; updated August 28, 2020
Critics who hate the Insurance Industry describe its business plan this way: "Money goes from you to them; not from them to you."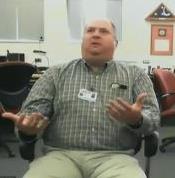 With that adage in mind, Tompkins County and Cayuga Medical Center officials have good cause to lament the latest Centers for Disease Control and Prevention (CDC) guidelines about who should get tested for COVID-19 and who need not.
In a little-publicized, yet significant break with its prior urgings, the CDC announced Monday (Aug. 24th) that even if you've been in close contact—within six feet—of a known coronavirus sufferer for a quarter-hour, but still show no symptoms, "You do not necessarily need a test unless you are a vulnerable individual or your health care provider or State or local public health officials recommend you take one."
True, the CDC-designated "local public health official,"—in our case, Tompkins County Public Health Director Frank Kruppa—still recommends that you, the asymptomatic, yet exposed, individual, receive a COVID-19 test. Kruppa renewed that recommendation in a conference call with local municipal officials Thursday morning, three days after the CDC released its revised guidance. But will Kruppa's advice cut it with insurance providers? Remember that those insurers have been busy in recent months "clawing back" testing reimbursements previously given Cayuga Health Systems, the local hospital's parent corporation.
"I don't know why they changed the guidance the way they did," a puzzled Kruppa told Thursday's conferees. "It doesn't make a lot of sense."
Yet when one of Enfield's County Legislators, Anne Koreman, questioned whether the CDC's about-face might impact insurance companies' willingness to pay, the Health Director hedged.
"Reimbursement is a bigger conversation," Kruppa answered.
Nonetheless, to County administrators and lawmakers, Koreman's remains an important question. Last week, the County Legislature transferred up to $300,000 in contingency moneys to underwrite a mere one-eighth to one-quarter of the cost for testing local residents otherwise ineligible for insurance reimbursement. The payments would not only allow Cayuga Health to sample the general public, but also to test "essential workers" whom the State encourages be sampled, but whose reimbursements most insurance providers now will not pay.
Up until now, those tested after exposure to a known coronavirus patient have had their tests reimbursed without question.
Cayuga Health officials claim they've lost up to $1 Million in denied or "clawed-back" reimbursements since the hospital's drive-through sampling site began operation last spring. When County lawmakers agreed to contract for the testing August 18th, Legislator Deborah Dawson remarked, "We don't really have a choice." She asserted local leaders cannot in good conscience deny constituents the site's free, life-saving service.
"We will not change our recommendations" Kruppa reassured municipal leaders Thursday, saying he still believes testing the asymptomatic holds benefits, especially for those with known exposure to a COVID carrier. He termed the CDC's change "nuanced."
"I am confident that today we are doing everything that we can do to manage this disease in our community" the Health Director wrote August 20th in a lengthy, open letter to the community.
The CDC's rationale for the revised testing guidelines remains largely unexplained. Research has shown the pre-symptomatic can spread the disease to others days before ever showing symptoms themselves. Although less certain, some scientists speculate COVID germs can be exhaled by those who never, ever show signs of the disease.
"This is potentially dangerous," Dr. Krutika Kuppalli, an infectious disease physician, told the New York Times in its story published Tuesday. She added that by restricting testing to only those who show symptoms, "you're not looking for a lot of people who are potential spreaders of disease. I feel like this is going to make things worse."
"I think it's bizarre," Daniel Larremore, an infectious diseases modeler at the University of Colorado Boulder also told the Times. "Any move right now to reduce levels of testing by changing guidelines is a step in the wrong direction."
A federal Health and Human Services spokesperson, delegated to speak on behalf of the CDC, responded to the paper with only generic boiler-plate. "We revised the guidance to reflect current evidence and the best public health interventions," the spokesperson said.
The CDC's online "Testing Overview," which Monday revealed the new guidelines, carried a bold heading cautioning, "This document is intended to provide guidance on the appropriate use of testing [for COVID-19] and does not address decisions regarding payment for or insurance coverage of such testing." Nonetheless, the guidance document gave no "guidance" as to how much testing insurers should now compensate.
"We're working to finalize the contract," Tompkins County Administrator Jason Molino assured local mayors and town supervisors in his Thursday conference call, predicting that the free, local, hospital-run, ten-week testing program for asymptomatic residents will likely meet its earlier-set target start-up date on or near September first.
Update: On Thursday, August 27th, CDC Director Dr. Robert Redfield clarified his agency's revised guidance, stating, "All close contacts of confirmed or probable COVID-19 patients" may consider testing. However, the CDC did not immediately alter the published guidance on its website. (Source: NBC News.)
###
The Wild, Wild West End?
City Committee tables DOT plan that could snarl Enfield's commute
by Robert Lynch, August 19, 2020
Imagine you're driving home from Cornell or Downtown Ithaca. You're taking West Buffalo Street to Route 96. Under a State Transportation Department plan, not well-publicized, but now being rushed through Common Council, you'd need to turn right at what was Joe's Restaurant, travel north one block, turn left onto Court Street, and then turn again… and again… to finally head up West Hill.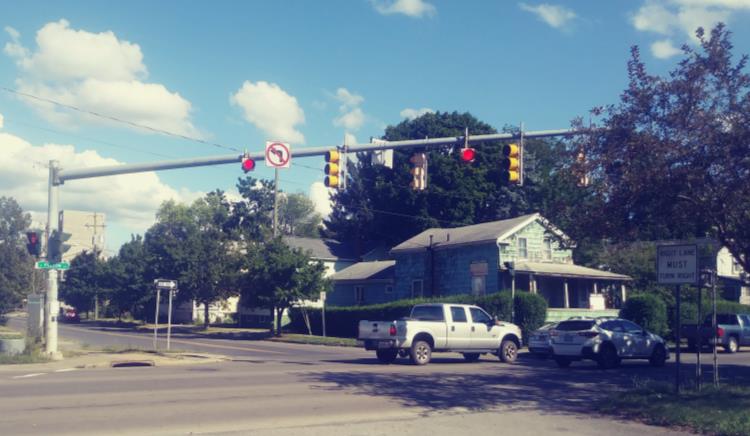 This so-called "West End couplet" of parallel, but opposite, one way traffic on Buffalo and Court Streets—yet only for just one block—hit a bump in the road Wednesday night, as a key City committee tabled the concept for a month to permit further study, and especially, more community input.
"It would be horrible to move it to (Ithaca's Common) Council without notification of business owners and (others)," said Ithaca Alderperson Donna Fleming.
The approval time frame is "aggressive," observed Fleming's colleague Laura Lewis, who joined all others on Council's Planning and Economic Development Committee in not only tabling Wednesday's scheduled vote, but also inserting an amendment that would require the State to seek Council's approval not just at this, the concept stage, but also later when the State finalizes its plans and gets ready to build.
The State seeks realigning West Buffalo and Court Streets between Meadow and Fulton into a "couplet" as a requirement before it will sign-off on other Route 13 traffic changes, those intended to facilitate development of vacant parcels along Cayuga Inlet, the so-called "Waterfront" projects.
But for West Hill commuters, including those from Enfield, the change could cause headaches.
"I, frankly, don't think it will work," said Enfield Councilperson Robert Lynch (this writer), in his written comments read at the Committee's online meeting. "I believe that it will snarl traffic, particularly during the evening outbound commute, and may actually increase, rather than diminish, the likelihood of accidents. It needs more study."
To many, including Tompkins County lawmakers, the DOT's suddenly-revealed plans come as an unwelcome surprise.
"I don't know. It doesn't sound good for West End. But whatever," lamented Tompkins County Legislator Amanda Champion Tuesday night. Champion, whose West Hill constituents stand most affected, voiced her frustration with colleagues, many of whom first learned of the State's plan when an Ithaca Councilperson's monthly report was read at the Legislature's meeting.
The State DOT had hoped to fast-track the couplet concept through Common Council in September, finalize designs next year and then implement the West End changes in 2023.
City Planning Committee members voiced concern Wednesday when their Director of Engineering, Tim Logue, acknowledged that once Common Council endorses the project in concept, it might not get a second chance to change it, thereby prompting the Committee's amended language.
For those with long memories, this latest "couplet" plan bears resemblance to one of the more aggressive designs the State had advanced decades ago to reroute West End "Octopus" traffic. But the former plan had called for additional bridges and railroad overpasses and was rejected by City officials partly on aesthetic grounds. The current plan seeks none of that.
"In my opinion, the only way the one-way plan would succeed is to construct additional bridges to carry westbound West Court Street traffic across Cayuga Inlet and the Flood Control Channel, a financial and practical impossibility," Lynch wrote the Committee. As Transportation Subcommittee Chair of the Tompkins County Council of Governments (TCCOG), Lynch proposed calling State traffic planners before TCCOG to explain themselves.
The DOT plan bears a second similarity, namely to the current Meadow-Fulton one-way pair of streets that's transformed the West End's landscape, as well as its traffic, in recent decades.
"Fulton Street was destroyed," opined City Alderperson George McGonigal. "People don't live there anymore," he said. "And businesses didn't make it because people couldn't pull into their driveways."
And sensing human nature's tendency to outsmart the traffic engineer, Alderperson Cynthia Brock worried that wily drivers might access Court Street farther east and thereby override the "Bike Boulevard," cycle-friendly amenities the City has put in place near Court Street's Greater Ithaca Activities Center.
Drivers will "game the system and seek roundabout routes," wrote Lynch.
###
Tompkins lawmakers OK funding deal for local surveillance COVID testing
by Robert Lynch, August 19, 2020
After four separate meetings spanning nine days, sessions which sometimes left final passage in doubt, the Tompkins County Legislature late Tuesday (Aug. 18th) approved funding to allow local residents, even without symptoms, to receive free COVID-19 testing at the Cayuga Health Systems' Lansing sampling site.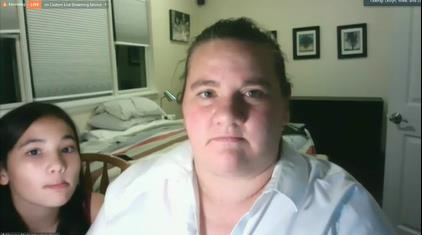 "No one's going to do it for us. That's the reality," said Ithaca Legislator Shawna Black, whose pivot to support the funding measure at a Tuesday afternoon committee session proved decisive toward the plan's adoption.
"I was apprehensive," Black said later to the full Legislature. "It's a lot of money, and this is one of the worst times to spend a lot of money. But I think we can all see what testing has done for our community. We've been able to flatten the curve."
Under the joint arrangement negotiated between Tompkins County's Administrator and state and federal funders, the county could pay as little as one-eighth of the per-patient expense for any person not deemed "medically necessary" for testing and thus otherwise covered by insurance. Medical necessary stands narrowly defined as showing COVID systems, being exposed to a known carrier, or awaiting surgery. The joint agreement would cover all others. Cayuga Health prices each test at about $100.
First disclosed at a County Budget Committee meeting August 10th, the funding deal walked a rocky path, failing to even be considered by legislator Black's Health and Human Services Committee one day before Tuesday's vote. Black's turn-around helped prompt the full Legislature's unanimous support.
"We don't really have a choice," remarked legislator Deborah Dawson Tuesday. "We can't in good conscience deny people access to surveillance testing." But Dawson, a persistent budget hawk, cautioned, "This is going to mean that we cut something somewhere else in our budget."
Under Tuesday's approved funding plan, County Government would redirect $300,000 from its Contingent Fund to underwrite its share of the 10-week trial program, set to begin September first. Though the deal was originally sold to lawmakers as costing locals a one-eighth share of each sample's expense, equal that of the State, County Administrator Jason Molino warned Tuesday that he fears Albany is ever-more-likely to back out.
"Obviously, the State is not committing to anything right now," warned Molino. "I'll be honest. I'm not overly optimistic they're going to come on and be able to do their share."
The $300,000 set aside forecasts a worst-case of no State money. If Albany pays, the local outlay would be cut in half.
Some lawmakers, particularly Enfield-Ulysses representative Anne Koreman initially urged the County to reduce its share by demanding a nominal copay, even just a few dollars. But Molino beat back that argument, noting that any co payment would only reduce the test's total cost, not just the County's fraction. Moreover, he said, "Charging a fee creates a barrier, and we don't want to create barriers to people being tested."
"Could we ask for a donation?" questioned legislator Dan Klein.
"That becomes complicated," responded Molino.
In committee, Koreman had suggested a copay might reduce frivolous demand spawned by the service's otherwise no-cost feature.
But alluding to the test's notorious unpleasant procedure, Dryden's Martha Robertson quipped, "This is not like handing out lollipops."
###
Tompkins lawmakers to ponder, not pounce on a seven-to-one COVID testing deal
by Robert Lynch, August 17, 2020; updated August 18, 2020, 10:42 PM
Late Breaking: Capping a nearly five-hour meeting, the Tompkins County Legislature Tuesday evening (August 18th), endorsing the recommendation earlier that day of its Budget, Capital, and Personnel Committee, unanimously voted to underwrite the local share of free, local surveillance testing utilizing a $300,000 appropriation from the County's Contingent Fund. Funding would cover a ten week period beginning in early September.
Though the arrangement was earlier presented as incurring only a one-eighth cost share to County taxpayers, officials expressed to the Legislature increasing doubts of State matching money, thereby placing the County's share at as much as one-quarter of the total cost. Nonetheless, the budgeted $300,000 outlay assumes a "worst case" scenario, and administrators expect their total costs will be covered.
A more complete version of this story will be posted later.
If someone offered you seven dollars for every one dollar you'd spend on something you want and need, would you take the deal? Tompkins County lawmakers may not.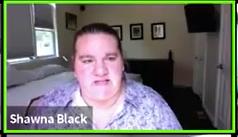 An Enfield Councilperson (this writer) Monday afternoon (Aug. 17th) urged the Tompkins County Legislature's Health and Human Services Committee to support adoption of a proposed seven-to-one funding plan that would underwrite the cost of free, locally-based COVID-19 testing for asymptomatic patients.
The plan, negotiated by County officials with state and federal funders, would prevent those local residents without symptoms from having to travel to New York's larger cities, the closest Binghamton or Syracuse, to receive free tests, or else pay the $99 Cayuga Medical Center now assesses for a local test.
But skittish about how the deal might deepen this year's projected deficit, Committee members delayed action. They declined to put Councilperson Robert Lynch's recommendation on its agenda, let alone give it a vote.
"It's not that we don't want to do it," said Committee Chair Shawna Black. "Absolutely, we would love to do it….. (But) with us focusing on (perhaps an) $11 Million deficit, I think we're just trying to make sure that the money that we spend moving forward is really going to be frugal."
Under the County proposal that Lynch labeled the "One-Eighth Option," County Government would fund one-eighth (12.5%) of the cost of each locally-performed asymptomatic test, medically referred to as "surveillance testing." The Federal Emergency Management Agency, FEMA, would pay three-quarters of the cost; New York State a one-eighth share, equal to that of the County.
Cayuga Health Systems pegs the one-eighth's cost of each COVID test at $10.63 and estimates that 150-300 asymptomatic patients would seek the test each day. Doing the math, County Administrator Jason Molino last week projected the plan could cost County Government between eight- and 15-thousand dollars weekly; a figure that multiplies to nearly $200,000 per quarter, or $780,000 per year should the pandemic persist.
Should the State back out of its funding share, however, the County's costs would double.
"It's not that we wouldn't want to do it," Black emphasized. But instead, the price tag "is just a conversation we need to talk about a little bit more."
Tompkins legislators, however, have given themselves little time to talk. The Legislature's Budget Committee, on which Black also sits, the group which first heard of the funding plan one week ago, will reconvene Tuesday afternoon, presumably to consider a recommendation. It would then present its request to the full Legislature just 90 minutes later. The funding resolution already occupies a placeholder slot on the larger group's agenda. Nonetheless, amidst lawmaker uncertainty, adoption remains far from certain.
Members left Monday's committee meeting with Molino promising them firmer figures before the Legislature convenes.
"It's a tremendous bargain for us," Councilperson Lynch told the Health Committee Monday. "We can afford it," adding, "This is the committee charged with Public Health. So speak to Public Health."
Though the economic impacts from COVID-19 could inflict upon County Government the $11 Million shortfall of which Black worries, this year's County Budget, as adopted last fall, projects a more than $34 Million General Fund balance, a spending cushion that comprises a full 18 per cent of the budget's total.
"Our Fund Balance is there for a reason, an emergency," said Lynch. "And to speak the obvious, COVID-19 is an emergency. Universal surveillance testing is a real community need."
###
Supervisor, Enfield Board argue over policy, personalities and power
Analysis by Robert Lynch, Enfield Councilperson, August 14, 2020
With tempers that matched the August heat, Supervisor Beth McGee and the Enfield Town Board Wednesday (Aug. 12th) sparred on issues ranging from Fire Company contract negotiations to budget policy to how much freedom the Supervisor and other officers should have in calling the Town's lawyer.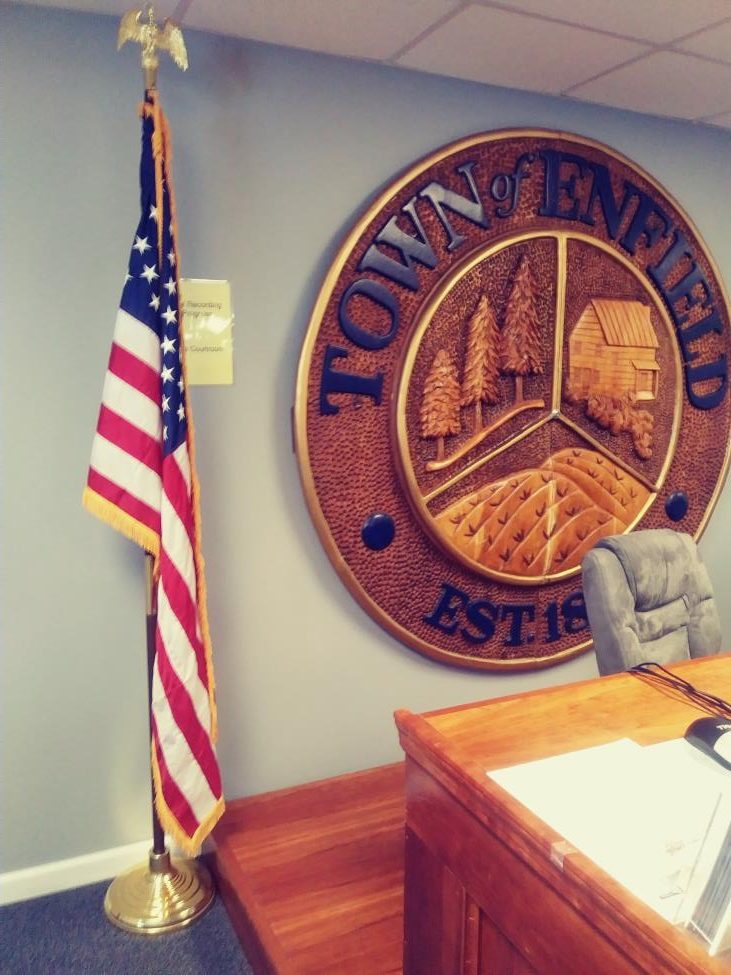 In the end, the Board talked much, but acted little on the items in dispute. It was not the Board's finest hour… make that three-and-a-half hours.
Example: Supervisor McGee spotted on the Agenda a motion Councilperson Robert Lynch (this writer) had sought to submit. She didn't like it. Without asking members to weigh in, McGee took control:
"A Resolution for you and (Councilperson Stephanie Redmond) to meet with the Fire Company isn't necessary. The Board is going to negotiate the (new fire) contract. The two of you are not."
With Lynch, it struck a nerve:
"Beth, you are not the mayor of Enfield… You are not the County Executive of Enfield. I can put forward this Resolution and you can vote it down 4-1."
The Supervisor stood down. Lynch read his Resolution, then argued it would help cure a "strategic negotiating imbalance," one whereby Fire officials can structure their contract strategies in secret, but the Town must always lay its cards on an open table.
"I don't feel comfortable with even having that authority myself," responded Redmond, rejecting any newly-accorded power. Others agreed. Nobody seconded. Lynch's motion died.
In each of the past two years, the Town has increased Fire Company spending by two per cent. Fire officials have said they expect at least another two per cent in any new contract next year. McGee said she couldn't promise that much new money, yet still hoped next year's Town budget would fall within the State's (largely symbolic) property tax cap, a figure yet to be set. Lynch jumped in with his self-described "straight talk:"
"We're not going to be able to stay within the tax cap this year. And I'll stake my record on that one. We're going to have a tough year coming up… a real tough year; and the taxpayers had better get used to it, because it wasn't our fault. We didn't bring this pandemic to Tompkins County or New York State. And we're just going to have to suffer."
"Wow. That wasn't my perspective on this budget year at all," responded McGee. The Supervisor sounded stunned, even though she's told department heads to propose budgets that would either hold the line on spending or cut it by 12-20 per cent.
"Tough times lie ahead, tough times," Lynch repeated.
"Well, all right. You heard it here folks," McGee answered with a smile, perhaps surmising that Lynch had trapped himself politically. It was that kind of night.
****.
Despite this writer' admitted reluctance, an otherwise-unanimous Board (Councilperson Mimi Mehaffey was excused) adopted a five-page policy for managing Enfield's town website. Town Clerk Ellen Woods, who now administers that site, worried the policy might impose more unpaid work for her. McGee, meanwhile, insisted the policy has been in the works for at least two years and stressed a current need to keep the site non-political.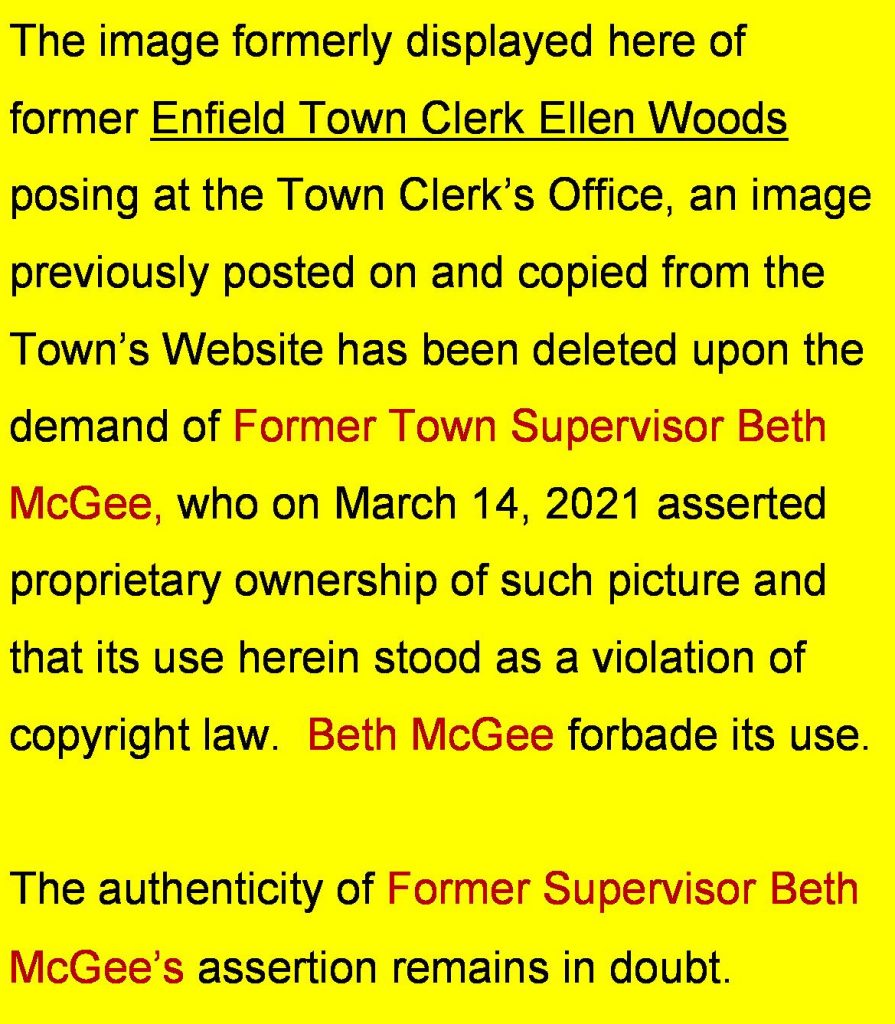 But on that latter point, Lynch questioned whether it was Woods' picture on the Town Clerk's web page, a photo since replaced, one whose graphic resembled the Clerk's 2019 campaign mailer, that prompted the current rush to adoption. McGee had strongly complained about the graphic in earlier Town emails.
"You taught yourself how to manage the website?" McGee questioned Woods with seeming amazement. (The Supervisor claims to have built the site herself from the ground up.)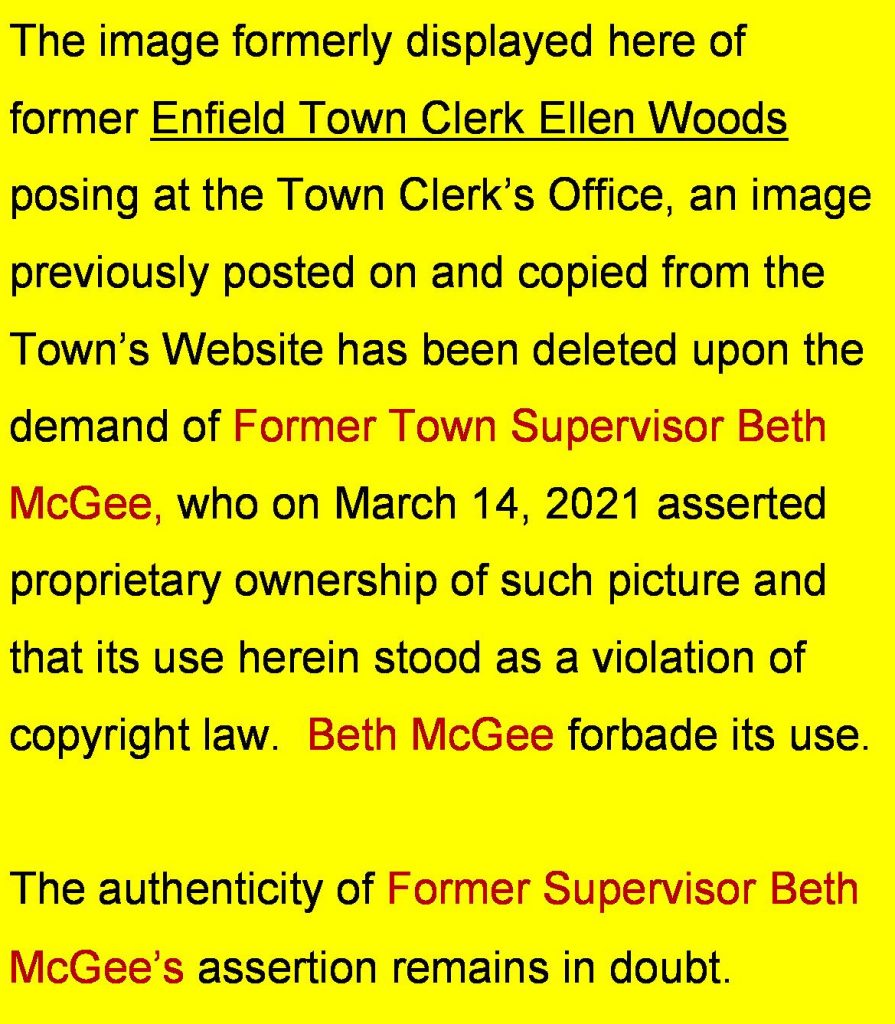 "Of course, I did," responded Woods. "Did we meet together in my office ever to discuss how to manage the website, because I don't think so? Oh, tell me the training I received, Beth?"
"I don't need to do this with you," the Supervisor annoyingly retorted.
Lynch prefaced his own affirmative vote on an assurance that the new policy "will never be used as a political hammer by any person, present or future."
****
Which brings us to the night's hottest button pushed; a different policy, one seeking to restrict access to the Town's legal counsel, Guy Krogh.
McGee and Lynch had offered conflicting drafts. In the end, neither won adoption; only argument, followed by an exhausted concession to delay action for another month.
McGee's plan was briefer, just six short paragraphs. But her draft assured herself virtually unfettered access to Krogh's services "as is necessary to complete the tasks relating to town legal matters." All other officers, including the Town Clerk and Highway Superintendent, with whom McGee has frequently sparred, would either rely on free, outside counsel or appeal to the Town Board for a waiver.
Lynch, the Board member actually tasked with the policy's drafting in July, put all Town Officers on a more level field.
"[T]his Policy recognizes the principle that all elected and appointed personnel within Enfield Town Government serve as a governing team, working together for the entire Town's benefit, and therefore stand equally entitled to access qualified legal advice, as necessary, to perform their varied, publicly-assigned responsibilities in conformance with controlling law," Lynch wrote as part of the 850-word draft's "Guiding Philosophy."
Additionally, under Lynch's version, the Supervisor, herself, like other officers, could not stray beyond "his or her individual elected supervisory, administrative, or operational duties" in accessing counsel absent explicit Town Board consent.
"I prefer mine because mine is many, many less words and simpler to follow," said McGee, defending her submission.
"My policy regards the Supervisor as one of equals," countered Lynch. "The Town Highway Superintendent and the Town Clerk should not be second-class citizens or second-class administrators. The Town Supervisor should not have special authority that the other elected officials do not."
To that, McGee rebutted: "The Town Supervisor does not have special authority. The Town Supervisor has special responsibility that other Board members do not have," McGee perhaps missing the point that Lynch's comparison was to other Town administrators, not to Board members.
"Robert's policy does not address the issue that we're having with larger conversations with the attorney that are causing larger bills," Redmond interjected, the Councilperson opting to impose the Board as gatekeeper to everyone except the Supervisor in getting taxpayer-paid legal advice.
But logic soon yielded to emotion. What followed those civil exchanges was a 20-minute lecture—its tone falling somewhere between monologue and tirade—McGee's strident assertiveness coupled with Redmond's rapid-fire concurrence, each upbraiding Lynch and Highway Superintendent Barry (Buddy) Rollins, and alleging an "abdication of responsibility" that required the Board's spending thousands in legal fees to shore up McGee's and Redmond's own preferred policies during the COVID crisis.
McGee to Lynch: "We signed off on a $4,000 legal bill (actually $2,722 for April) because your Highway Superintendent doesn't know his job. And he created months of walking off the job and creating issues for his employees during a State of Emergency…."
McGee continuing: "It's the Town Supervisor's responsibility to be a steward for the fund of the Town. If you don't know that that is the job of the Town Supervisor, I hope that you don't run for the job…. This Board was so indecisive during that State of Emergency, someone had to get legal recommendations from the attorney."
Lynch, in response: "If I ever serve as Town Supervisor, I will never act like a king…"
McGee: "You abdicate your responsibility on this Board all the time, Bob. So don't you tell me what you will or will not do…."
Then, McGee (later): "You just showed up last February and decided all of a sudden you know everything about Enfield's local government and you don't." [Note: This writer has lived in Enfield for 51 years, beginning one year after McGee was born.] "Your choice is that you just think everybody knows how to do their job and you just let it happen abdicates your responsibility to oversee that and understand where the money is going. It's an embarrassment."
Lynch (calmly, in response): "I don't want to be a micromanager, and I never will be."
McGee also faulted Superintendent Rollins for failing to attend Wednesday's zoom meeting, asserting the Board had questions to ask.
"That's totally unacceptable," chimed in Councilperson Virginia Bryant.
"Maybe because he doesn't like being belittled," Lynch observed.
Join us next month. The Town Board meets September 9th. Advice: Wear body armor.
###
Citing filing defect, Enfield Board rejects better-value solar bid
by Robert Lynch, August 13, 2020
Ending one of its more collegial discussions during an exceedingly contentious online meeting Wednesday (Aug. 12th), the Enfield Town Board awarded Renovus Solar a nearly $50,000 contract to construct a long-delayed, energy-saving solar array adjacent to the Town's highway garage.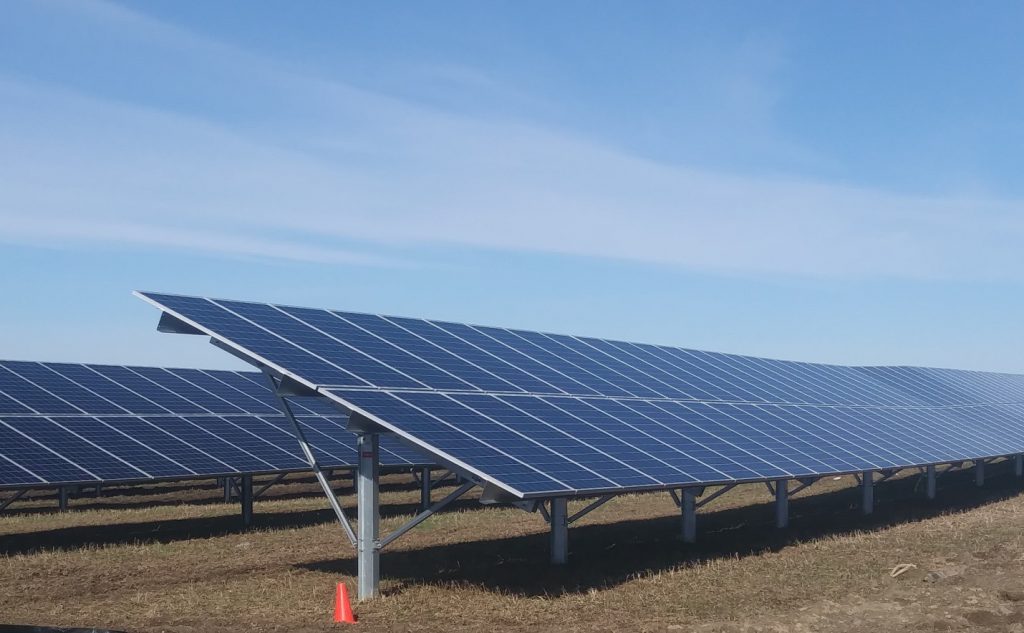 By so doing, the Board rejected a late-filed bid by Enfield's Fingerlakes Renewables, a bid which on its face would have provided the better value.
"We're not looking at apples and oranges, or even apples and apples, because we're looking at only one bid as far as I'm concerned," observed Supervisor Beth McGee in moving to accept the Renovus offer and waiving away one Councilperson's request to delay action to permit further study.
"You might be able to review these things and approve contracts on the spot," Councilperson Robert Lynch (this writer) counseled his colleagues. "I can't do that," he added. "I don't buy a car that way. I don't buy a solar project that way."
Lynch noted that at its July 8th meeting, McGee had instructed Board members to keep online bid documents sealed until the Town's attorney had determined their legality. Bids were not officially opened until moments before Wednesday's vote.
The competing bid the Board rejected, tendered by Fingerlakes Renewables' owner Rebekah Carpenter, would have provided the Town more bang for its buck. Though slightly more expensive, Carpenter's offer would have supplied the Town a 30.4 kilowatt solar system, as compared with Renovus' 24.8 kilowatt package, a 22 per cent power advantage.
When the Town Board bid out the project earlier this year, it structured its proposal around a target $50,000 price tag—dictated by an expected State grant—and then asked bidders how much energy generation they could supply in return.
Supported by counsel's advice, the Board rejected the Fingerlakes Renewables' bid because it was submitted late, some eight days beyond the once-extended July first deadline. Renovus tendered its offer on time.
"I hate to be a nitpicker," said Councilperson Virginia Bryant, concurring with her colleagues that Carpenter's tardiness fatally doomed her submission. "It sounds really harsh, but that's the way business is done."
The Enfield Board has kicked around the solar project for more than a year. It first secured the State's NYSERDA funding. It then rejected an initial round of bids in January citing its own imperfections in stating what it wanted. Next, the closures dictated by COVID-19 postponed the original deadline for bid resubmission. Both Renovus and Fingerlakes Renewables have bid on the project previously.
"Are we tying our hands?" Lynch asked, the Councilperson's questioning the Board' consideration of just one bid Wednesday. He suggested the Board reject both offers and advertise yet again, hoping such a third time to attract at least two valid offers.
"I think rebidding it could be irresponsible and unethical," countered Supervisor McGee, because "you are telling a business that has already abided by all of your criteria that you want to give somebody else another chance."
McGee also indicated that NYSERDA officials have told her they're eager for the Enfield project to proceed. "I know they're ready for us to move on this," she said.
With Councilperson Mimi Mehaffey excused, the Board then approved the Renovus offer 3-0; Councilperson Lynch abstaining.
The Town's timetable calls for construction of the solar project at the Town Garage site to commence this fall and potentially be completed by late-November.
###
The New One-Eighth Option: Tompkins eyes free, local, asymptomatic COVID testing
by Robert Lynch, August 13, 2020; updated August 14, 2020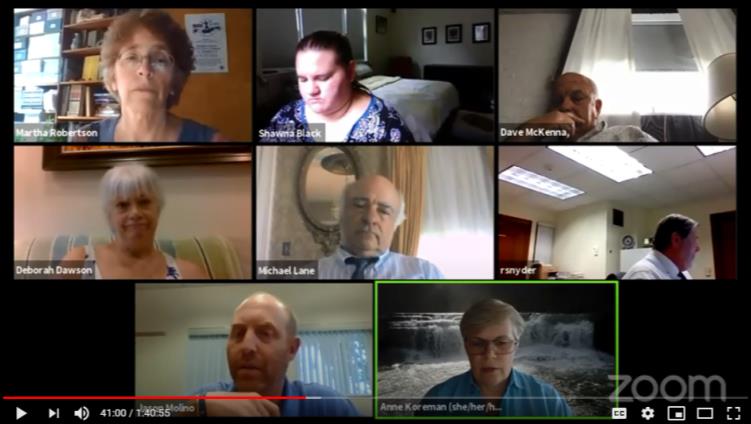 Clarification: On Aug. 14, 2020, in reply to this writer's inquiry, Joel Malina, Cornell's Vice President for University Relations, clarified the University's policy on assessing potential student fees for COVID-19 testing. The Cornell administrator's statement corrects a comment made by T.C. Legislator Deborah Dawson at the August 10th committee meeting referenced in this story. Mr. Malina stated:
"There is no cost to students, faculty or staff participating in Cornell's surveillance testing program. Testing for cause through Cornell Health is covered by insurance.
"There may be a cost if an asymptomatic student gets tested in their home state prior to their arrival in Ithaca, and test costs and availability differ drastically around the country. While we encourage students to get tested before arrival, if possible, it is not required."
Our original story:
Assuming local lawmakers consent, Tompkins County residents may soon escape the long drive to Syracuse or Binghamton to obtain free—or nearly free—asymptomatic surveillance testing for COVID-1
First disclosed at a never-reported-on Tompkins County Legislature committee meeting Monday, and then shared by County Legislator Anne Koreman with the Enfield Town Board Wednesday night (Aug. 12th), local, state and federal authorities would, under the new proposal, team up to allow any local resident not otherwise reimbursed by insurance to obtain free coronavirus testing at the Cayuga Health Systems sampling site in Lansing.
"I feel like we want people to be tested; we want to encourage people to be tested, and facilitating that, I think, is a very important goal," said former County Legislature Chair Martha Robertson, addressing her Budget, Capital, and Personnel Committee Monday. Robertson endorsed what could become known as the One-Eighth Option, a plan whereby County Government would pay 12-and-one-half per cent of the per-person testing cost, with Albany and Washington paying the rest.
Robertson and her colleagues may bring the governmental reimbursement idea to the County Legislature Tuesday, Aug. 18th.
In a morning conference call with local municipal leaders Thursday, County Administrator Jason Molino, who revealed the funding arrangement to Robertson's Committee, voiced caution, saying "We're not at a point for agreement to a set path forward."
Indeed, the cost of so-called "surveillance testing," a practice recommended by many health experts, has made a few local legislators jittery. Worst case, especially should the State back out of its portion, the local cost could top $1 Million a year, Koreman warned Wednesday.
Molino advised the Committee that Cayuga Health has already incurred more than $1 Million in unreimbursed costs performing tests on those without symptoms. While Governor Cuomo has long proclaimed that essential workers stand eligible for testing regardless of other circumstances, Molino pointed out that insurance companies will not reimburse the hospital's cost unless a patient shows actual signs of the disease, has been exposed to a known carrier, or is being prepped for surgery.
Under a policy instituted last week, Cayuga Health began charging $99 for any non-reimbursable test. To obtain a test for free, those deemed "non-medically necessary" must travel to a State-run site, the nearest in Syracuse or Binghamton.
Dr. Martin Stallone, Cayuga Health's CEO, has estimated between 150 and 300 asymptomatic subjects would likely use his sampling site daily. Given that the hospital pegs the one-eighth share of each test at $10.63, Molino projected that the County's funding could stand between eight- and 15-Thousand Dollars per week, a figure that multiplies to nearly $200,000 per quarter, or $780,000 per year should the pandemic persist.
And if the State backed out of its equal one-eighth funding—and Molino warned Albany could renege—local costs would then double.
The Federal Emergency Management Agency (FEMA) would pay the lion's share in any event, 75 per cent of the total.
At Monday's meeting, cost-conscious lawmakers raised the prospect of requiring those tested to contribute at least a nominal copay, even as little as a one or two dollars.
"It seems to me that we shouldn't be offering these tests for zero," reasoned Dryden legislator Mike Lane, "Otherwise you're just going to get everybody saying, 'Oh, it's free. Let's go do it.'"
Lane's colleague Shawna Black suggested a $10 copay, a figure that would cover almost all of the County's initial share. Legislator Deborah Dawson agreed, and further alleged that Cornell is charging students for the University's mandated twice-weekly testing. Therefore, she concluded, free community testing might lure students off campus to save money.
"I'm so annoyed enough at Cornell to not want to see any us assume the expenses for their decisions," Dawson complained.
Member Robertson argued no one should be charged, suggesting the hospital would spend more money the collect the copay than the charge would bring in.
Molino told the committee he'd want any joint funding agreement to bar access by those with other testing options and to limit availability to Tompkins County residents only.
The Administrator, who's been tested, also doubted those lacking symptoms would flock to the sampling site weekly. "It's reaching up, stretching your brain," Molino said. "It's not a pleasurable test."
###
Testing for Townies? Cornell open to possible use of its labs for off-campus COVID screening
by Robert Lynch, August 11, 2020
"It would be great to take come-one-and-come-all," said Cornell Vice President for University Relations Joel Malina, during a zoom town hall meeting Tuesday morning (August 11th), "but we don't know how many tests we can do in a week."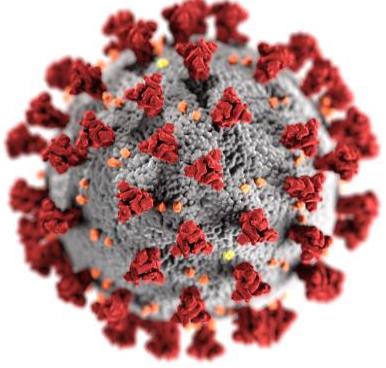 Malina's comment, made during a zoom forum with community representatives, sponsored jointly with Tompkins County's Chamber of Commerce, signaled the first time that a Cornell official had indicated the University's sophisticated laboratory facilities, expected to test thousands of students for COVID-19 twice-weekly, might be opened to accommodate local asymptomatic residents not affiliated with Cornell.
"We want to be magnanimous, to offer what we can to the general public," the administrator said. "It might be feasible."
But Malina made no promises. He cautioned that outside testing availability depends on whether the university's new testing lab, utilizing part of the Veterinary College, could handle the load.
And the load will be substantial. Some 20,000 students will return to Cornell within weeks. To fight the coronavirus, the university plans to sample each undergraduate, symptomatic or not, twice-weekly. Most graduate students, said Malina, will be tested once per week. Cornell will test faculty and staff every one-to-two weeks, depending upon an employee's degree of on-campus involvement.
While those at Cornell will find themselves not far from an up-the-nose swab, many in the greater Ithaca community lack similar access. And their worries have prompted many to urge Cornell and local lawmakers to keep students away this fall by restricting Cornell to online instruction only. University officials have rejected the all-virtual teaching option and dispute their critics' rationale.
Although Governor Cuomo in early-July proclaimed that asymptomatic coronavirus testing is free to everyone, he made those tests available only at state-run centers, the nearest of which is in Syracuse or Binghamton. Last week, Cayuga Medical Center began making asymptomatic so-called "surveillance" testing available at its Ithaca Mall sampling site. But Cayuga Health charges a $99 fee for an asymptomatic test to cover its unreimbursed cost.
Dr. Martin Stallone, Cayuga Health's CEO, in conversations with local officials, has predicted heavy off-campus demand for surveillance sampling.
"I have told (County Administrator) Jason Molino and (Public Health Director) Frank Kruppa that we can expect about 150-300 asymptomatic tests per day for county residents outside of students and large employers who have arrangements with CMC," Stallone said Monday to this writer.
Cornell bases its own intense sampling regimen on the argument that testing those without symptoms serves as one of the best ways to combat spread of the virus.
Malina also shared with Tuesday's town hall attendees a University medical consultant's new predictions that buttress Cornell's claim that a planned "hybrid" semester of mixing in-person and virtual instruction would actually keep the community safer. Cornell bases its argument on a survey of students that predicts as many as half will come to their off-campus dwellings regardless of whether Cornell conducts in-person classes. And with on-site instruction, said Malina, greater control of student behavior can occur.
Without in-person classes, he said, "We would have very limited levers." And he cautioned, "We wouldn't be able to keep students away."
As for the disease, Cornell's predictions, revealed by Malina at the Tuesday session, estimated that returning students would this fall spawn as many as 1,200 new COVID cases and 30 additional hospitalizations in the Greater Ithaca community were instruction to be held on-line only. However, with Cornell's chosen hybrid option, community-wide new COVID cases would be cut by more than three-quarters, down to only 250 additional cases, and local hospitalizations reduced to only ten.
Since the pandemic began in March, local COVID-related hospitalizations have remained few; either at only a handful, or as, at present, none at all. No local person has yet died of the disease.
Malina said he's been assured Cayuga Medical Center has "absolute sufficient capacity" to handle any added load of COVID patients that Cornell's fall semester is apt to impose.
One thing more: If you go to campus, take your mask. The Vice President advised Tuesday's attendees that big signs will soon be erected at all campus entrances warning that "masks must be worn at all times on campus." The rule would go beyond the mandate of New York State law, applying both indoors and out; socially distanced or not.
###
Regional Democrats tap Elizabeth Garry for new term as State Judge
by Robert Lynch, August 8, 2020; revised Aug. 9, 2020; updated Aug. 13, 2020
Updating this story (Aug. 13, 2020): Democratic Party sources disclosed Wednesday, Aug. 12th, that Sixth Judicial District Republicans, at their own nominating convention, declined to field a candidate to oppose Judge Elizabeth Garry in the November General Election. Therefore, Judge Garry will seek re-election unopposed and is virtually certain to secure a second term.
Additionally, sources indicate that Judge Garry will run on the third-party Independence Party Line as well.
Bob Lynch
We all wore masks. Even our speakers did. We sat far apart. We kept our headcount under 50. But we did our job. And yes, we recited the Pledge of Allegiance beforehand.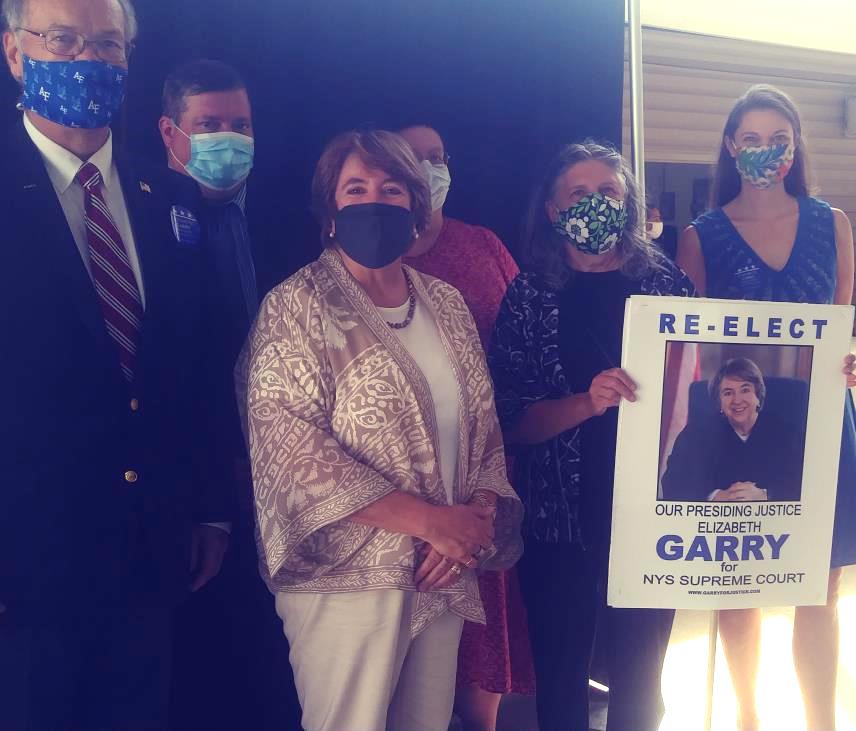 Saturday morning (August 8th), some 30 Democratic delegates from New York's Sixth Judicial District, which includes Enfield and all of Tompkins County, convened in Johnson City, outside Binghamton, and nominated 14-year incumbent Elizabeth Garry for a second term as New York State Supreme Court Judge.
This writer, an Alternate Delegate himself, and one who got to vote Saturday in two other delegates' absence, has attended similar conventions in each of the past two summers. Our gathering two years ago was the most contentious. Then, three women competed for a single judicial nomination. Last year, we had more openings than candidates; two were nominated without opposition. All of them later lost to Republicans.
This year, with Judge Garry, a Democrat, the incumbent, the outcome was never in doubt. The convention lasted only 40 minutes. It took this writer twice as long to drive to the venue than to do business. Our only roll-call vote was to select a temporary chair. We nominated Judge Garry by acclamation.
"Thank you, thank you, thank you for your support," Judge Garry exclaimed as she began her brief, five-minute acceptance speech. "There is so much this year at stake for our nation," she continued, Garry focusing more on pumping Democratic activist adrenaline than on articulating judicial themes.
State rules restrict judicial candidates from talking ruling philosophy on the stump or addressing particular issues. So Judge Garry kept it general.
We seek "fairness and equality under the law," the veteran jurist said. Our principles are "always worth fighting for, reaching and striving for."
As for her volunteers: "You are the folks who do politics; where the rubber meets the road…. Onward to victory!"
As recent history has proven, victory can elude Democrats in the 10-county, Republican-leaning Sixth Judicial District, one that hugs close to the Southern Tier from the Delaware River to west of Seneca Lake. In that regard, Judge Garry has been fortunate, perhaps a tribute to her ability. She's served on the State Supreme Court since 2006. Moreover, she's earned a special elevation to the State's Appellate Division, New York's mid-level appeals court. She also serves as one of just four Presiding Justices in the state. By that latter promotion, Judge Garry helps shape statewide judicial policy.
At least one delegate at Saturday's convention hinted that Garry might even be on Governor Cuomo's short list for elevation to the Court of Appeals, New York's highest court.
But if Judge Garry should lose the November election, not only her trial court position, but also those other appointments would come crashing down in a heap. It could happen, but not necessarily. Republicans have yet to select a candidate to oppose Judge Garry. They have tapped Otsego County Court Judge Brian Burns for a second State Supreme Court judgeship created by a retirement. Democrats have not chosen anyone for that second seat.
Saturday's convention, held in a giant tent on the grounds of a Broome County golf resort, was tougher to assemble than the business was to conduct. With COVID-19 rules limiting attendance, nearly half the delegate votes Saturday were cast by proxy. Of the nine delegates assigned from Tompkins County, only County Legislators Mike Lane and Shawna Black attended in person. Lane said he carried three proxies; Black as many as seven.
Of course, an early-morning Saturday run to Binghamton in August may not be the choicest political assignment. But the law's the law. The job got done. And Judge Garry won her nomination to a new term as State Supreme Court Judge.
Note: An earlier edition of this story had incorrectly stated that Judge Garry was seeking a 10-year term, not one whose legal length is 14 years. It also, based on misinformation, indicated that Judge Brian Burns would oppose Judge Garry, rather than seek a second available State judicial position. This writer regrets the errors.
###
Enfield Planners eye Applegate Road tract cautiously as potential solar farm site
by Robert Lynch, August 5, 2020
If someone someday chronicles how Enfield's next big solar farm came to be, the book's preface may have been scripted at the Town's Planning Board meeting Wednesday night.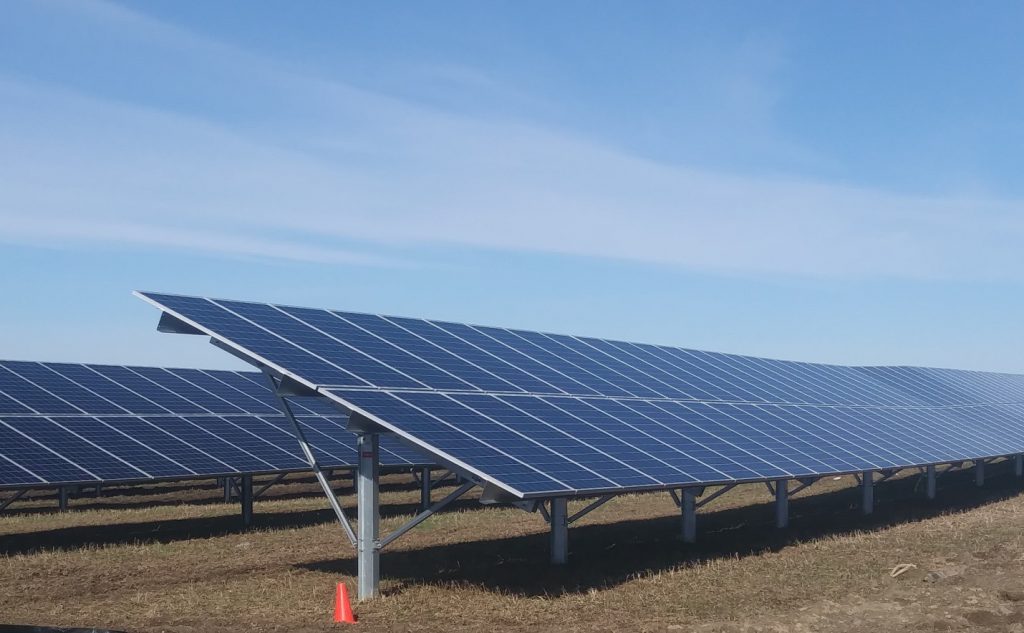 In a move which could have everything to do with the solar farm's future—or perhaps nothing at all—the Planning Board Wednesday (Aug. 5th) considered, but did not act, on an Applegate Road landowner's otherwise routine request to switch the orientation of existing subdivision boundaries. The large tract of vacant land near the southeast corner of Applegate Road and Mecklenburg Road (State Route 79), is owned by JRB Partners, an LLC closely affiliated with Enfield's Neno family.
"It's a possibility, but no confirmation," said Planning Board Chair Dan Walker, when Board members questioned whether the JRB land might be the site of a mammoth 20 Megawatt solar farm, one that's been rumored, yet not formally proposed.
The three combined JRB parcels, with their westernmost tract now facing Applegate Road and the two east of it currently almost landlocked, total slightly over 250 acres. Undeveloped, they carry a combined value of $726,800, according to Tompkins County Assessment Department records.
JRB's only request Wednesday was to reorient lot lines so that each parcel would maintain legally-required frontage along Applegate Road. Nevertheless, the largest proposed 100-acre lot's frontage would only be a sliver of a driveway. Reconfiguration of the lines would make the land more attractive for development. Walker predicted that any eventual 20 Megawatt solar farm, huge even by Enfield's standards, would require as much as 100 acres of land.
No representatives of JRB or the Neno family attended Wednesday night's virtual zoom Planning Board meeting.
Though Town planners might otherwise consider moving rural lot boundaries so routine as to negate the need for a Public Hearing, Walker said he'll recommend "full subdivision review" in this case. "Because of the size of it," and the land's "potential use," Walker cautioned, there's the need for a hearing to air public views.
"Someone down the road might pitch a fit," remarked Board member Ann Chaffee, warning of public pushback should the Board sidestep a hearing. People could say that "we might be a part of some nonsense."
The Planning Board took no action on the JRB request Wednesday. Members did ask that JRB representatives attend either the Board's September meeting, or potentially a special session called sooner, to answer their questions.
Walker acknowledged that building yet another Enfield solar farm, especially one with 20 Megawatts output, could tax the existing electrical transmission lines down Mecklenburg Road beyond their current capacity and limit the project's feasibility.
But "it's all a matter of money," Walker readily conceded. If the project attracts investors sufficiently, he said, its owners would pay to upgrade the line.
As discussion concluded, Walker raised a second concern: that a solar farm on JRB's land could remove it from agriculture.
"There is some decent farmland up there," the Planning Chair remarked. "We're trying to minimize the loss of farmland."
A newly revised Enfield Solar Law, enacted last year by the Town Board, states, among its provisions, that "the enclosed or fenced-in area of a Large-Scale Solar Energy System shall not exceed 60 per cent of the lot on which it is installed." The provision would keep nearly half of any new solar farm's land undeveloped, though not necessarily farmed.
###
NY 79 Project finishes early; Enfield detour ends
by Robert Lynch, August 3, 2020
The dreaded detour is over.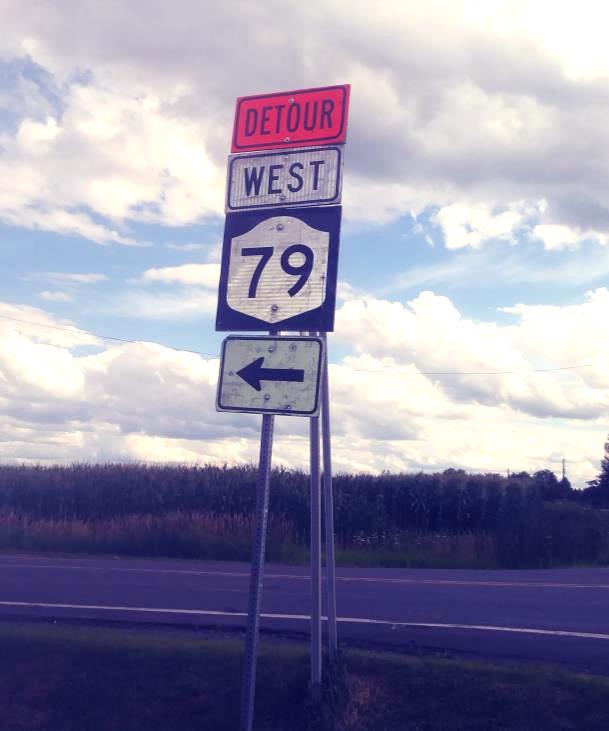 With a little-publicized ribbon-cutting Friday (July 31st), City and Town of Ithaca Highway Departments and their contract engineers finished the reconstruction of Hector Street (NY Route 79) from near the Ithaca City line to the west end Octopus intersection. And with that snipped ribbon, Mecklenburg Road, what we in Enfield call the Route 79 thoroughfare, permanently reopened to through traffic. And so, too, the State's hated and feared rerouting of highway traffic down Enfield's narrow and dangerous Hayts Road came to an end.
As of Monday afternoon, August 3rd, numerous detour signs remained, including one at the corner of Halseyville Road and Hayts. However, a spokesperson for the Ithaca Department of Public Works confirmed from her supervisors Monday that Hector Street work has been completed, the detour has ended, and crews should remove those remaining signs by week's end.
The City and Town, in consultation with the New York State Department of Transportation, closed NY 79 to through traffic April 1st and put the Hayts Road detour in place, rerouting traffic to Hayts Road as far west as Miller's Corners, the intersection with Enfield Main Road (NY Route 327) and Halseyville Road. The detour instantly drew resident concerns.
Several Hayts Road residents addressed the Enfield Town Board April 29th, nearly a month into the detour, complaining that Hayts Road's blind hills, particularly near the intersection with Van Dorn Road North, make the detour route unsuitable for heavy traffic, particularly large trucks. They reminded the Board of an August 2018 fatality when an 82-year old pedestrian, Carmen Jacks, lost her life near the intersection, Jacks hit by a car while crossing Hayts Road to reach her mailbox.
While the Town Board adopted a Resolution seeking the City or State to reroute Route 79 a shorter distance, via Sheffield Road, neither agency changed its plans, and the longer detour remained.
Nonetheless, Friday's finished construction came to some in Enfield as a surprise. The City of Ithaca's website had continued to list—and indeed, still lists as of this posting—a scheduled October first completion date for the Hector Street reconstruction. City officials were not immediately available Monday to explain why or how crews finished two months early. The DPW spokesperson said that her Department's lead engineer on the project, John Licitra, was on vacation.
"The detour may have ended, but the traffic hazard remains," emphasized Enfield Councilperson Robert Lynch (this writer). Lynch pledged to continue to work with Hayts Road residents and those nearby to provide "traffic calming" remedies for their dangerous stretch of roadway. Residents have mentioned reduced speed limits, a possible four-way stop at the Van Dorn Road corner, a "blind driveway" sign, and increased police patrols as potential remedies.
Lynch has told residents he will let them guide him and the Town Board in seeking the best alternatives.
###
See Descending Items on this tab for archived stories from prior months.