Robert Lynch Announcement: I'm Suspending My Campaign
Thursday, June 24, 2021
One must confront reality, not run from it. Tonight, during a Privilege of the Floor opportunity before the Newfield Town Board, I accepted the results of this Tuesday's Democratic Primary for District Eight's seat on the Tompkins County Legislature. I suspended my campaign. But I declined to go as far as some Democratic Party officials would have liked. I did not withdraw from the race completely. I did not remove my name as an Independent candidate on the November General Election ballot. My decision is final.
To have withdrawn my Independent candidacy, as State Election Law gave me until Friday (6/25) to execute, would have insulted the 151 Enfield and Newfield citizens who chose to sign my petitions. It would have told them that their signatures held no longer a shelf life than the duration of my impulse. But that said, I have no further plans to campaign to become Dave McKenna's successor. Yes, it hurts. But many things do in life. I move forward to confront the next challenge; the next one of many.
Nonetheless, I thought it appropriate to couple tonight's announcement with another, more positive one: namely that I will seek a second, four-year term as Enfield Councilperson, a race I will run in 2023. I now sense that serving on the Enfield Town Board is my political calling. Many Enfield constituents have told me they'd rather I represent them in their own town, as one legislator among five, than as one among 14 in a meeting hall they see as far, far away. I must acknowledge their preference.
I will have more to write later. [And yes, with time, this website will be reconstructed bit by bit to reflect our new reality.] But for now, here is what I said Thursday, June 24th to the Newfield Town Board:
****
Good Evening:
In The Road Not Taken, Robert Frost wrote:
"Two roads diverged in a yellow wood,
And sorry I could not travel both
And be one traveler, long I stood,
And looked down one as far as I could…" (You may remember the rest.)
As a Town Board member myself, I try never to mix partisan politics with governance. But, please indulge me this one time. I may make some news tonight.
These past months, I looked down a new road. I took it for a while. But this week I found rocks in my path. I'm turning back now; back home.
Tonight, I'm announcing to this Town Board, to your constituents—and to mine—that I am suspending my campaign for the Tompkins County Legislature.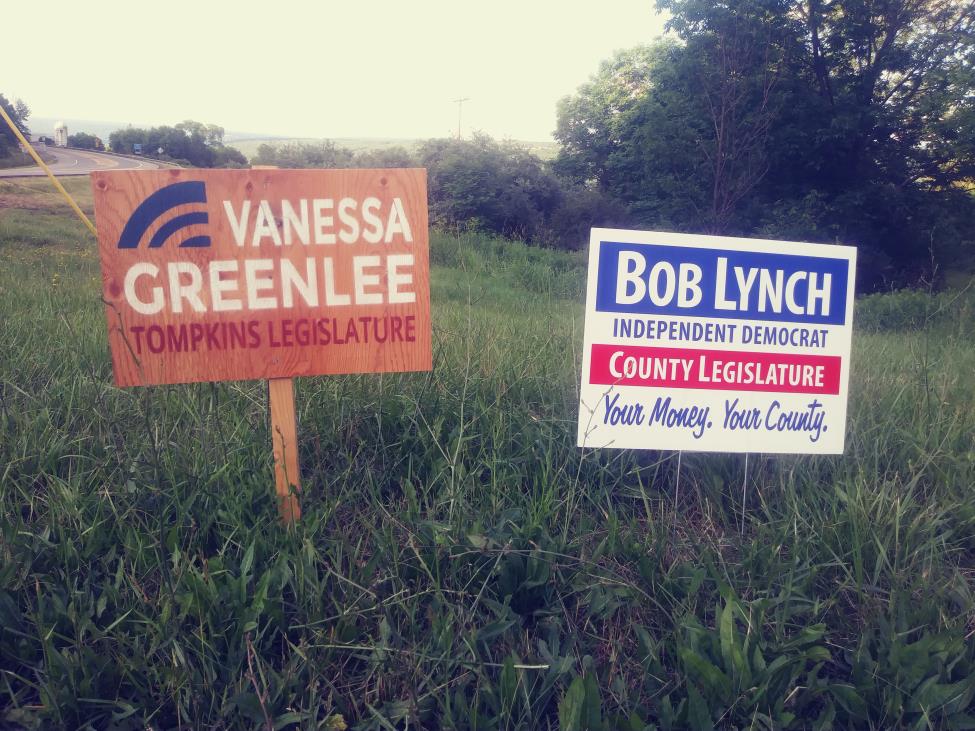 The voters have spoken. Tuesday, Democrats by a wide margin chose Vanessa Greenlee as my Party's nominee. I finished a distant second. Republicans earlier chose Randy Brown. Greenlee and Brown deserve to face each other, one-on-one, head-to-head, in November, without confusion.
Greenlee is a principled progressive; Brown a committed conservative. I, a political centrist, need not complicate matters and muddy the mix with a middle ground candidacy, fracturing the race, drawing away votes from one person or the other; leaving a less-than-decisive outcome with no one winning a majority. Democracy demands better.
I will not be your next County Legislator. I have suspended my campaign. I'm retrieving my yard signs. I'm curtailing canvassing. I'm stepping aside.
But I will remain on the ballot. I've labored too long, going road-to-road, door-to-door, to surrender those 151 nominating signatures on a whim. And I would betray the trust of those who've signed for me by canceling their preference with my one stroke of a pen. They have the right to vote for me—should they choose.
A second announcement: Tonight I announce my intention to seek reelection in 2023 to the Enfield Town Board. I intend to seek no higher office—now, or in the future.
The road I will take is the one I began two years ago; only now, with the added wealth of having come to know so many new friends, those of you I've met these past months here in Newfield—and that includes you, the members of this Town Board. Newfield and Enfield are twin sisters of a sort. So I will return for regular visits. When I do, I can learn, and maybe also contribute.
"Two roads diverged in a wood, and I—
I took the one less traveled by…"
And yes, Newfield, that has made all the difference—even though my journey was brief.
Now, I'm turning back. Back home. Thanks.
Robert Lynch
###