My Media Commentary of April 2022:
[Update on this essay; (April 13th): Tuesday night, April 12th, Rachel Maddow returned to MSNBC from hiatus. Maddow announced she would make a limited return to her program during the remainder of April and May. She said she will host her program four nights weekly, Monday through Thursday, for the rest of April. She will host once weekly during May. Maddow did not discuss her specific plans for months thereafter. / RL]
Posted April 2, 2022
It's time someone said it. Let it be me.
One of my "Undeniable Truths of Life"—yes, a catch-phrase I purloined from the late Rush Limbaugh—is that "Nothing is as short-sighted as a successful American business." The same can be said for gifted, highly-paid TV talent.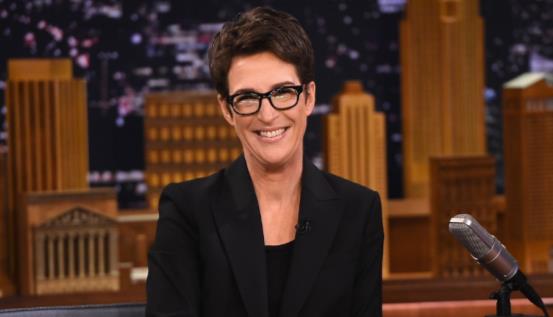 Sometime in mid-winter, Rachel Maddow went on hiatus from MSNBC. She said she wanted to work on special projects like a movie about a book she'd written. I recall she came back for just one night immediately after Russia first invaded Ukraine. But other than that, she's been absent; "finding herself," a cynic might submit. Rachel promised us she'd return to her program in April or May.
Rumors swirl about a contract rift with NBC. One online source hinted she might be gone—permanently—by summer. I'm sure the opportunity has not been lost on those at CNN+.
But the Peacock Network reportedly pays Maddow $20 Million a year. Maddow's 9PM ratings tumbled 30 per cent shortly after her hiatus began—and rightly so, given her replacements. Top talent tends to get prickly when paid beyond what's needed to live on. An economist would call it the law of diminishing returns.
Rachel Maddow can do as she pleases; live her remaining life on the beach, if she wants. Just never let her complain to the rest of us about why so many Americans follow Sean Hannity or Tucker Carlson. Rachel holds the talent, the opportunity and the reward to face them head-on. Yet for the moment, she sits on the sidelines, even as the world falls apart. The choice is hers. But it disappoints me.
Robert Lynch
****
Postscript, May 13, 2022:
I suspect Rachel Maddow is heading out the door at MSNBC. She now appears regularly only one night per week. Viewers are instructed to search for a show in that time slot by a different name the other four weeknights. Instinct tells me Ms. Maddow has become a lame duck of her own choosing. CNN+ is now a dead duck, not just lame. Where Maddow may go next none of us know.
Sadly, success can go to one's head. And as Scripture teaches us, don't hide your light under a bushel. Rachel has. Too Bad. / RL
###