Fund Balance deployment takes center stage in legislative debate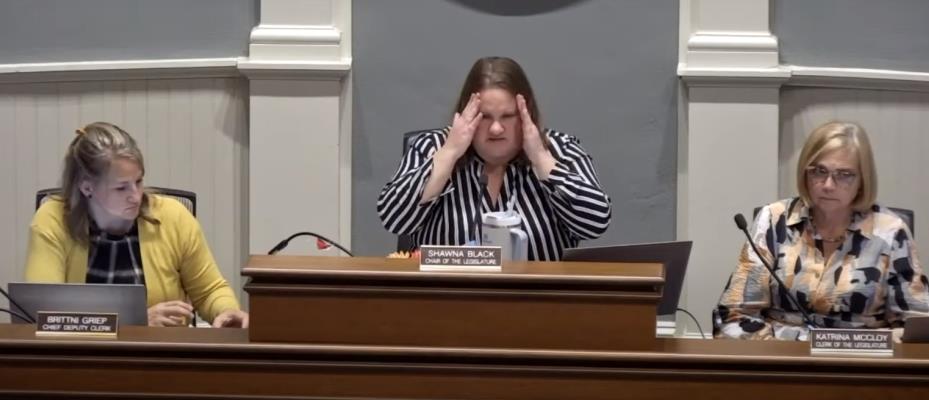 by Robert Lynch, September 22, 2023
Timing is everything, they say. So for Lisa Holmes, timing couldn't have been worse. Holmes, the Tompkins County Administrator, had to make her biggest presentation of the year Tuesday night. She'd need to detail Tompkins County's proposed 2024 Budget to the Legislature to which she answers. But Holmes couldn't show up in person. She'd just tested positive for COVID-19.
Holmes had to Zoom into the County Legislature's meeting from her home. And sadly, it wasn't a very good Zoom connection at that.
Nor was her financial outlook all that good. Due to circumstances largely beyond local control—blame the State of New York, once again—Tompkins County must spend more money. Mandated expenditures are growing. And Albany's assistance is all too absent. Despite a robust hometown economy and administrative efforts to pinch pennies everywhere possible, this could prove to be a very tough budget year for the 14 legislators we've elected to represent us in downtown's legislative chambers.
Holmes' 2024 Tompkins County Recommended Operating Budget projects total outlays at $245,218,628, just slightly less than a Quarter Billion Dollars. Depending upon the 2023 benchmark you select, that's up either ten per cent or 16 percent from the budget of the current year.
The property tax levy we face is just a small fraction of the overall total. Holmes' proposed levy is slightly over $53 Million. And to comply with an earlier springtime directive from the Legislature, the Administrator trimmed programs in her budget to keep the levy's increase at just two per cent.
Beyond those numbers, estimates of homeowner impact matter very little this early. This 2024 budget cycle may prove different, of course. But recent history has shown that by the time lawmakers finish fiddling with the numbers in late-October, they may simply dip into their Fund Balance, essentially County Government's bloated piggy-bank, to keep the tax levy flat.
"The overall cost of mandated services… we're going to see an increase by 5.5 Million (dollars) in 2024," Holmes warned," her voice cracking from COVID, but also couched with considerable caution. Even though state aid increases will offset the overall mandated burden a bit, there's still "a net increase of $2.2 Million in mandates," the Administrator warned. "That increase alone is equivalent to a 4.2 per cent tax levy increase," she stated.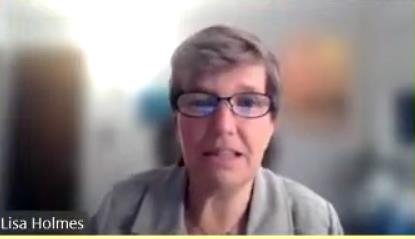 When it comes to those mandates, there's one ghoulish gremlin in particular. It's called "EFMAP," (Enhanced Federal Medicaid Assistance Percentage). Revealed earlier this year to everyone's dismay, EFMAP is better known by some as the self-serving effort by Governor's Office bean-counters—so far, successful—to intercept for greedy New York the money that we locals ought better to have. It would keep for the State's own purposes the millions in post-COVID medical assistance which many believe Congress rightfully intended to be passed down to counties. (See story, posted on this website February 21st, and archived.) Mind you, higher-ups demanded the Medicaid expansions. But counties must pay much of the cost. In Tompkins County's case, it's at least $1.6 Million next year tacked onto the budget.
Still, the Tompkins County Administrator was directed to set a two per cent tax levy increase and go no higher. So to meet her target, Holmes had to make cuts. First, she's proposed a "soft hiring freeze." There won't be layoffs. But nine or 10 open positions won't be filled. Ironically, one of those jobs is Holmes' Budget Director.
There's also an airport building that won't get built, a CDL driver testing site that won't happen, and a couple advanced phases of the "Green Facilities" energy initiative that have just become too costly to begin.
And though Holmes' budget still pencils it in, the Administrator urged the Legislature Tuesday to consider suspending Custom's screenings at the airport. Customs costs Tompkins County $220,000 a year to run, Holmes said. But with enplanements down at the struggling airport, screenings now only bring in $14,000.
The screenings only remain in the budget, Holmes said, "because there wasn't adequate time to fully consider the legal or economic ramifications of suspending Customs."
The easiest fix for Tompkins County's budget crisis is a remedy that some on the Legislature shudder to consider, yet others eagerly welcome. It's to tap the County's lofty, enviable, eight-figure Fund Balance; its savings.. Some see it as a symbol of prudent fiscal management. Others, like Newfield-Enfield's Randy Brown, view it as hoarded cash that government has no right to keep from the people.
"I realize costs are up, and the State… they're unpredictable at best, Brown told colleagues Tuesday. "But to not discuss our Fund Balance, and to make cuts to programs and to not fund things and to raise taxes on our constituents when the compounded inflation is about 20 per cent in the past two to two-and-a-half years, I'm struggling with that."
"And how do we go through a budget process where we're not going to talk about the Fund Balance?" Brown questioned. "And how can we raise taxes when we've got this money sitting in the bank, and it's not our money? It's our constituents' money."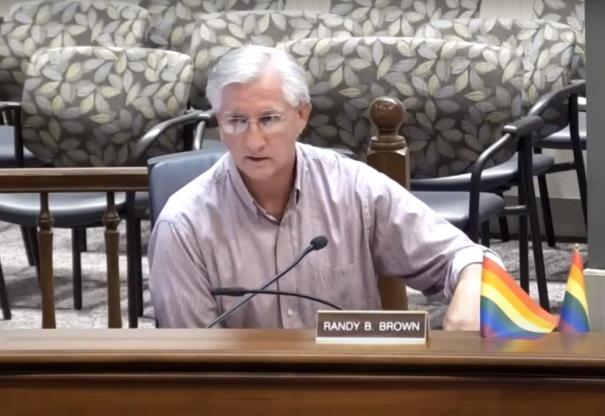 Current policy dictates the County hold 18 per at of the annual budget in its Fund Balance reserve. Burgeoning revenues—often from windfall sales tax receipts and casino proceeds—can inflate the Fund Balance, often without anyone's effort.
"I predict that our Fund Balance will increase eight-to-ten million dollars this year over last year," Brown told legislators, challenging them to prove him wrong. "We have a Fund Balance Policy that says we're going to carry 18 percent of our budget as unassigned Fund Balance ($43-44 Million). So to me, that's a problem."
But a higher-than-needed Fund Balance is no problem at all for Shawna Black. The Chair of the Legislature likes her government's fiscal cushion. For one thing, it provides a reserve for a pet project of hers that Black repeatedly favors with her words and with her votes: It's that pricey Center of Government, the now, ever-more-likely new Downtown Office Building.
"I know that we've talked about actually allocating a portion of our Fund Balance to our capital projects," Black responded to Brown's argument. "The Center of Government; who knows: It could be 20 Million. It could be 40 million. The sky's the limit!"
Those words may be just the nature of things for Shawna Black. But they're a bit more unsettling to the rest of us. Where's this thing going, anyway? Nonetheless, the Legislature's Chair continued:
"And so, if we have, let's just say, $40 Million in Fund Balance, I think mentally [Black put her hands to her head] we need to put 20 Million away knowing that—or 10 Million—however much we're going to spend on capital. While it looks like it's a ton of money in the bank, the reality is there's a lot of it that's allocated."
Allocated, in a sense; but assigned, of course, only if legislators choose to spend it on big buildings and things like that.
Budget Chair Deborah Dawson, Black's close legislative ally, next raced to the chairwoman's support. Dawson quite frankly lectured freshman legislator Brown—though he'd already been through the budget process last year—as to how things work in her chamber. Dawson said fussing with Fund Balance up front is putting the process backward.
"Now once we figure out the things that we have to add back in and the things we may deem desirable to add back in, then we're going to have the discussions about how we're going to fund the difference," Dawson lessoned her fellow member.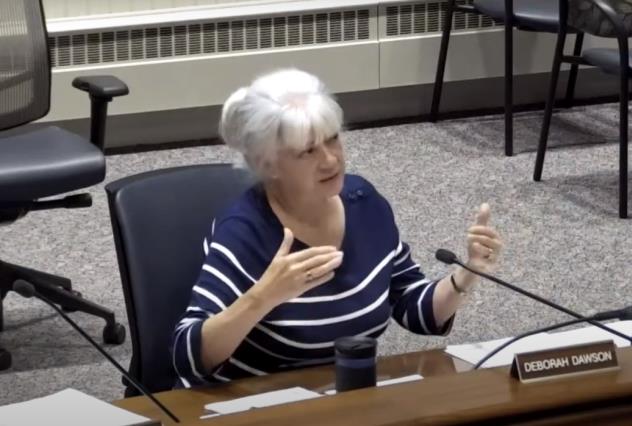 In response, Brown acknowledged he'd support a capital set-aside. He called it "untouchable money."
But Budget Chair Dawson, the Legislature's perennial pessimist, wasn't through. She suggested her body cast aside its current Fund Balance benchmark, arguing that the present percentage is just too tiny to placate the Moody's rating service that sets our county's standing in the bond market.
"Eighteen per cent is not going to cut the mustard," Dawson asserted. "We're going to have to figure out where the sweet spot is."
Oh, and though the County Legislature Tuesday adjusted its solid waste fee schedule in a way that will supposedly place more of the burden upon colleges, the proposed 2024 budget still proposes a $5 increase—up to $85—for the mandated yearly charge each of us pays to have the recycling wagon come.
Despite her COVID-compromised voice, Lisa Holmes labored through her Power Point and took questions thereafter for three-quarters of an hour. As she ended, Holmes sounded drained, yet prepared for the many rounds of meetings ahead and the inevitable horse-trading that always tends to occur as legislators promote their chosen causes and always find a way to find money for most of them.
"We have increases in mandate costs, and at the same time we want to keep our taxes as low as possible," Holmes said as she concluded her presentation. "So I understand the predicament that you all are facing. And I think these are the right questions to be asking about our levy and our Fund Balance."
Before the Legislature adjourned, it covered its budgetary hind side. Even though this year's tax cap Albany has placed on Tompkins County seems relatively generous, 3.54 per cent—by contrast, Enfield's tax cap is just two per cent this year—the County Legislature voted to hold a later hearing on exceeding its cap. Only Lansing's Mike Sigler, currently angling for State Senate, opposed holding the cap override hearing.
The County Legislature began its budget review the following night. On Wednesday, it entertained presentations by department heads in the first of three scheduled such sessions. After that, legislators will begin the line-by-line adjustments that often resemble attaching ornaments to an overly-decorated Christmas tree. The final vote's not until November. Only then will we truly learn how high our taxes will go or how much our government will spend.
###