Update (May 25, 2023 @ 2:18 PM):  Though Enfield Councilperson James Ricks has sought to withdraw his candidacy for re-election, Tompkins County elections officials indicate there's little they can do to honor his request.  Ricks' name, they say, must appear on the June 27th Democratic Primary ballot, the Primary must be run regardless of Ricks' request, and should Ricks win the Democratic nomination, he'd go on to the November General Election with virtually no way for even Ricks' vacancy committee to substitute the name of another candidate.
"It's too late to withdraw from the Primary," Democratic Elections Commissioner Stephen DeWitt told this writer (and fellow competing candidate) Thursday. "The only thing Ricks can do," DeWitt said," is to inform Enfield voters that he doesn't want to run and that they vote for somebody else."
DeWitt further explained that the three-person vacancy committee Ricks had designated on his Designating Petitions can only replace a candidate when that candidate becomes legally disqualified to serve. DeWitt gave examples of such legal disqualification as a candidate's death, his moving out of the town, or his conviction for a felony. None of those circumstances apply to Ricks.
Should Ricks lose the party primary, the matter would be settled, DeWitt noted. Then the two remaining candidates, as Democratic nominees, would proceed to the General Election (where, at present, they'd run unopposed). Should Ricks win the Primary, despite his reluctance, be listed on the November ballot, and subsequently win the General Election, the Commissioner said Ricks could always decline to take his oath of office and leave it for the Town Board next January to choose a replacement Councilperson.
[The earlier-posted original story follows]
****
By Robert Lynch, May 24, 2023
[Please Note: This story is written by incumbent Enfield Town Councilperson Robert Lynch, who, until Wednesday, was a Democratic Primary opponent of James Ricks and still could face a Primary contest for reelection should a committee designate a replacement candidate.]
James Ricks, believed to be the first African-American ever appointed or elected to the Enfield Town Board, will leave office at year's end and will not compete for reelection in the June 27th Democratic Primary, Ricks announced late Wednesday through a spokesperson. Ricks, who suffered a stroke earlier this year, cited health reasons for his decision.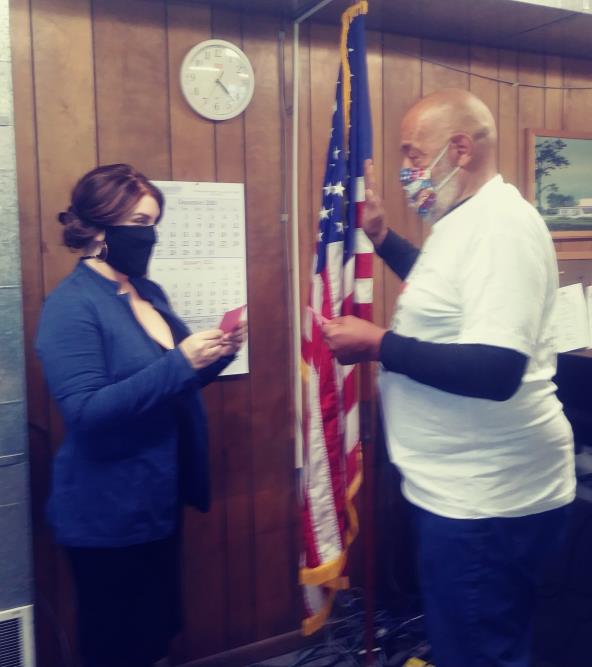 "After thinking this through and meeting with my support committee from the Anti-Racists in Enfield group, I, James Ricks, have decided to withdraw my candidacy for the Enfield Town Board," Ricks announced Wednesday evening through his associate, Enfield resident Thomas Joyce, who serves with Ricks in the Anti-Racists in Enfield (A.R.E.) organization. "I would like to focus on this for now and some other things in my life. I'd like to give myself this time to heal," Ricks' statement continued.
Though the decision, at least for the moment, removes any contest for either the earlier-scheduled June Democratic Primary for Enfield Councilperson or for any subsequent contested race in the November election, it incurs no immediate need for the Town Board to appoint a Councilperson replacement. Ricks' statement indicated he intends to serve out his current two-year term through year's end.
"As for my current town board appointment, I will continue to engage in Town Board activities when I am able to until the end of the year," Ricks stated. And addressing his ongoing advocacy for native American rights, especially those of the Cayuga Nation, Ricks continued, "I am dedicated to continue building the relationships with and recognition of the Gayogo̱hó꞉nǫ' people in Enfield."
James Ricks further indicated that he intends to remain active in A.R.E and work on the group's efforts "to draft a proposal of inclusion for the Town of Enfield."
Enfield Town Board members first learned of Ricks' medical condition at their March 8th monthly meeting when Supervisor Stephanie Redmond and Joyce revealed the reason for the Board member's absence.
"James had numerous small vessel strokes that may not necessarily heal and could get worse," the March meeting's Minutes quoted Joyce as reporting. "James is struggling with controlling his blood pressure," Joyce told the meeting.
The meeting's Minutes continued with Joyce remarking. "He (Ricks) is in good spirits and he does not appear to have any lasting complications."
Ricks subsequently attended the Enfield Town Board's April 12th meeting, but departed prior to its adjournment. He requested to be excused from the Town Board's most recent session, May 10th.
The Enfield Town Board appointed James Ricks as Councilperson in mid-December, 2020. The Board named Ricks to fill a vacancy left by the sudden resignation of then-Councilperson Stephanie Redmond. Redmond had departed the Town Board—but only briefly—one week earlier as part of her effort to secure the position of Town Supervisor, an office she now holds. The Ricks appointment transpired during a tumultuous flurry of Town Board departures and arrivals in the wake of former Supervisor Beth McGee's resignation in September 2020. As many as three new Town Board members were named during a three month period.
As state law required, Ricks stood for election in November 2021 to finish the remaining two years of Redmond's uncompleted Councilperson's term. He was elected to the shortened position unopposed.
But Ricks' sudden withdrawal now raises uncertainty as to the operation—or even the need—for a June 27 Democratic Primary, one in which three candidates (including this writer) had been expected to compete for two Enfield Councilperson's seats.
In March, Ricks had petitioned for reelection, his Democratic Party Designating Petitions circulated exclusively by his supporters, including by Supervisor Redmond, party leaders, and A.R.E members. When the second Councilperson incumbent, Robert Lynch (this writer) and political newcomer Melissa Millspaugh also filed for the positions, the candidate field required a primary to determine the party's nomination, one based on the primary's top two finishers.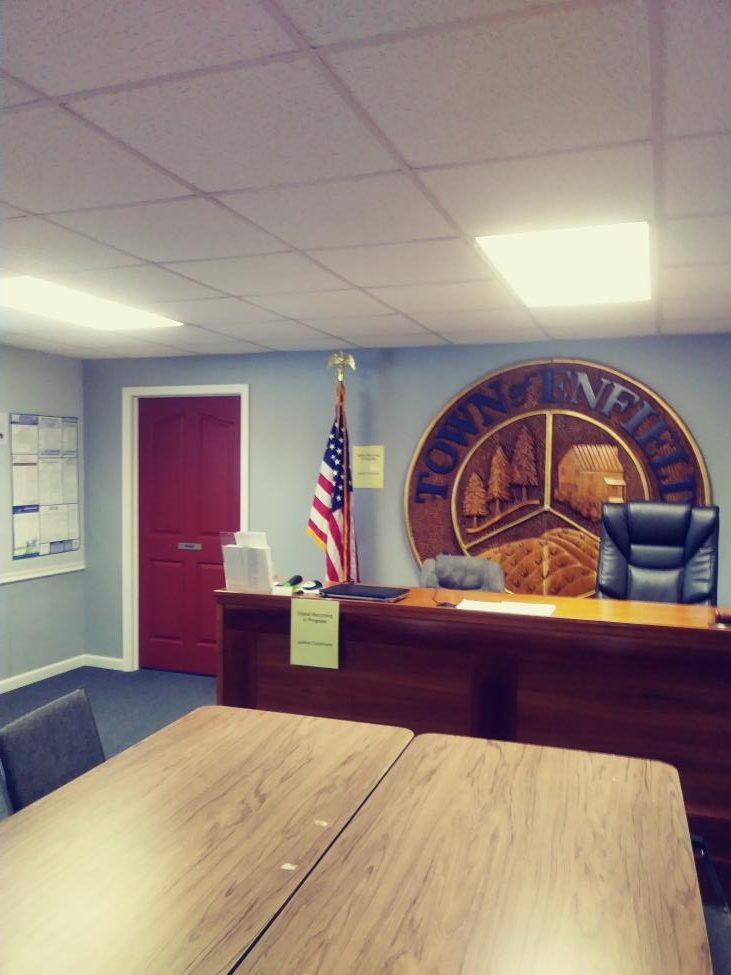 But Ricks' departure from the late-June contest leaves only two viable candidates at the moment, namely Lynch and Millspaugh. Yet the Primary Ballot has already been set, and state law may require a Primary be run, regardless.
"It's too late to cancel the primary," former Enfield Democratic Party Chair Barbara Sadovnic communicated to party members in the hours following Ricks' announcement. Sadovnic indicated that Ricks and Tompkins County Democratic Elections Commissioner Stephen DeWitt had already conferred.
"My best wishes to James as he continues his recovery," Councilperson Lynch wrote Joyce Wednesday in acknowledging Ricks' planned departure from the race, Lynch adding, "I trust we will see him (Ricks) at Town Board meetings soon."
As to the Primary, Lynch reminded Democratic leaders that Ricks' party petitions had designated a three-person replacement committee, one that would hold the power to designate a successor candidate should a vacancy arise. Enfield residents Susan Robinson and Martha Fischer sit on that committee, as does Ithaca resident Catherine Rossiter.
As of Wednesday evening, members of the replacement committee had yet to announce their plans, if any, to field an alternate candidate. Ricks' announcement, released through Thomas Joyce, made no reference to a replacement.
It also remained uncertain Wednesday whether a withdrawal at this late date, little more than a month before the Primary, could allow a committee-designated replacement's name to appear on the June ballot.
Up until James Ricks' unexpected withdrawal from the Councilperson's race, Enfield Democratic Party leaders had begun laying plans for a candidate forum in early- June, the forum's exact date undetermined. Following Ricks' announcement, party leaders voiced greater uncertainty about such an event's scheduling. The Councilperson's positions were the only ones subject to a Democratic Primary in Enfield this year. (Republicans will hold a two-way Primary June 27th for Highway Superintendent.)
"Given that a replacement is possible, I would urge that we continue plans for a candidate forum," Councilperson Lynch wrote Democratic leaders late Wednesday.
###