New Tompkins numbers show vaccinated majorities among recent deaths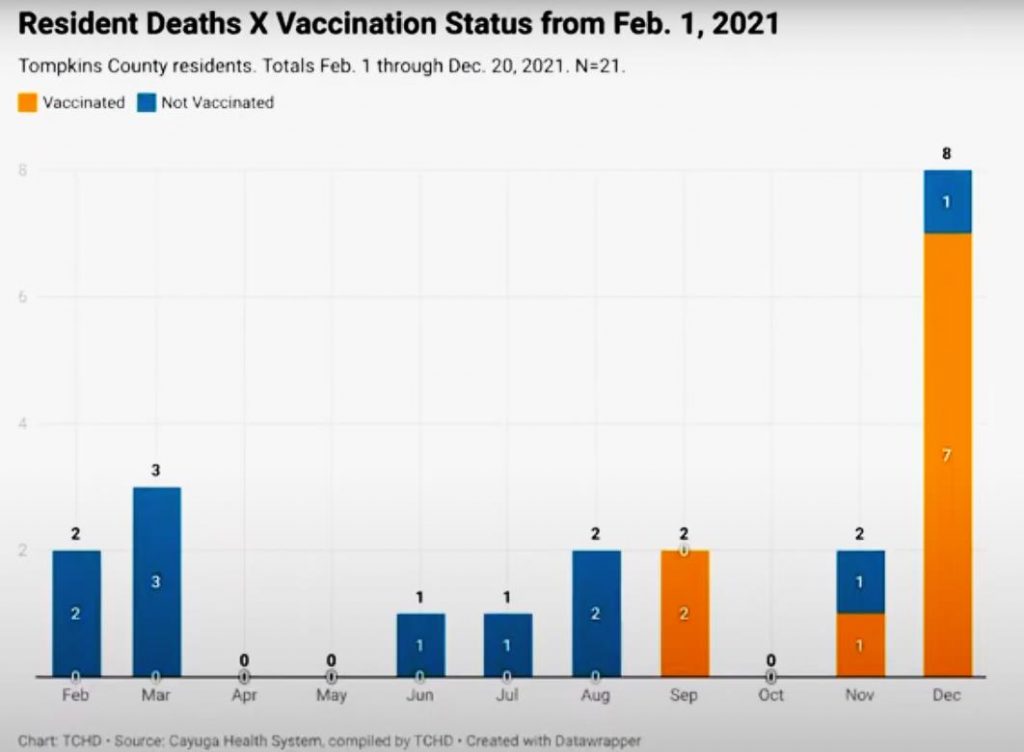 by Robert Lynch, December 22, 2021
It defies the national norm. And it runs contrary to what leaders from President Biden on down have told us. But new Tompkins County Health Department statistics, released just before the County Legislature's Tuesday evening (Dec. 21st) meeting—and then discussed at length during that session—show a sizeable majority of those who've succumbed to COVID-19 locally since September died despite being fully vaccinated.
Of the 12 local residents who've perished from COVID-19 since September first, as many as ten (83%) had been vaccinated, reported the Department. Only two of the 12 were not vaccinated. Meanwhile, prior to September, among the additional nine who'd died since February, not a single one had received the vaccine.
The local statistics also revealed the vaccine's decreased effectiveness in preventing deaths among the elderly. For the 18 persons age 60 and older who'd died locally between February and December 20th, as many as ten had already been vaccinated. On the other hand, of the three COVID casualties that occurred during that same period among those under 60—all between ages 50 and 60—none had been vaccinated.
The county's chief officer in the fight against COVID-19 Tuesday downplayed the weight one should put in the counterintuitive mortality data, noting the sample size is small, fatalities have been few, and Tompkins County's population is better-vaccinated than populations in most other places.
"The death number, while tragic that it is what it is, it's still relatively small, so it's hard to draw significant conclusions," County Public Health Director Frank Krupa told inquisitive legislators Tuesday.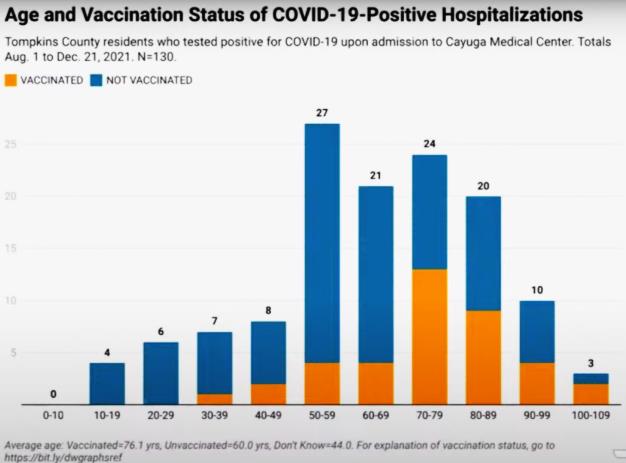 Instead, Kruppa placed greater weight on another set of numbers, namely the broader sample set of persons who've been hospitalized locally by the disease, but a population where most of whom have survived.
Only in the group of those over age 70 have vaccinated percentages among hospitalized patients approached or surpassed a majority. For example, while 13 of the 24 hospitalized patients (54%) between 70 and 79 years reported having been vaccinated, only three of the 21 patients (13%) between ages 60 and 69 had received the vaccine. In the largest hospitalized decennial age category, namely persons in their fifties, just three of 27 patients (5%) had been vaccinated. Rather than deaths, health officials would rather hang their hats on this larger patient statistic.
"Vaccination status certainly matters," Kruppa told the Legislature. "But as folks age, it (COVID-19) becomes more common in folks that are fully-vaccinated," the Director said. "As we age, we become more susceptible to all respiratory illness because our bodies are not as able to fight them off."
Acknowledging the continuing danger of breakthrough infections, particularly among the vaccinated elderly, the Director warned lawmakers, "There are still people in our community that are at risk even if they've done everything that we've told them to do. It's not surprising to see the data the way that it is."
In his written COVID-19 update, released less than an hour before the County Legislature's opening gavel fell, Kruppa parsed current and historical data about the disease as he'd never detailed it before. In addition to the vaccination breakdowns later shared with the Legislature, the Director revealed that of the 19 hospitalized COVID patients reported Tuesday, "four are in the ICU and one is ventilated."
The Tuesday release also stated that "The age of patients ranges from an individual in their early thirties to several individuals in their eighties and nineties." The statement continued, "The ages of current patients align with the trends published since August 1. Eleven are unvaccinated and eight are fully vaccinated. Eleven of the 19 patients are Tompkins County residents."
Indeed, the bar-graph statistics shown the Legislature Tuesday revealed that one of those who'd died was a (vaccinated) person over 100. And another revealed that of the seven who'd died in December, only one was unvaccinated.
As usual, legislators bombarded Kruppa with questions during his Tuesday evening briefing, a presentation that lasted ten minutes short of an hour. Most pointedly, Lansing's Deborah Dawson questioned whether the off-campus community has accorded local college students undeserved blame for their having spread the Omicron variant and raised the county's infection numbers to record heights.
"People seem to think that as soon as the students go home, everything's going to be fine," observed a skeptical Dawson. "I don't know if there's any reason to believe that there are far fewer asymptomatic cases of Omicron in the general population than there are among the college students. It's just that there's no protocol that requires the general population to be tested."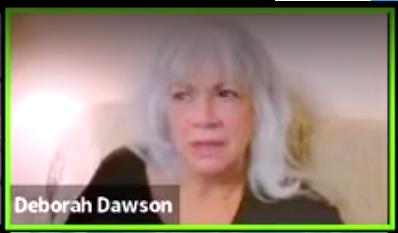 Kruppa responded that the student-go-home critics may have a point… but only for the moment.
"There are things that college students do, like communal living, communal meals, socializing that's a little bit different than for how the average person lives their day," the Health Director said. Nonetheless, he cautioned, "We're about to enter a two-week period where we (the off-campus community) start to act a bit more like the Higher Education student," with holiday socializing and family gatherings.
"Do I think it (Omicron) will spike in the same volume as it did with Higher Ed?" Kruppa asked himself. "I don't know for certain. But we are seeing the transmission occurring more readily, particularly in vaccinated people."
Based on present—though evolving—sampling numbers, Kruppa advised legislators that the Omicron strain appears less prevalent off campus than it has been seen among students. And revising past recommendations so as to ease the strain on Lansing's mall-based sampling site, the Director urged those who might test positive for COVID based on an over-the-counter rapid test not then attempt to confirm their finding with a follow-up test at the mall.
"We've become a victim of our own success," Kruppa told county lawmakers. "There's a lot of people getting tested at the mall so that they could have a holiday gathering. That's not what the mall testing was really intended for."
Following Kruppa's report and the questions it prompted, the Legislature gave the mall testing site a continued vote of financial confidence, funding its operation with County Government subsidies for another three months, through April first. (A second, COVID-related appropriation, $63,500 for additional assistance to the Human Services Coalition's 2-1-1 call center, despite clearing committee one day earlier, failed to reach the Legislature's Tuesday agenda, presumably delayed until a later meeting.)
Deputy Administrator Amie Hendrix reported that the County has requested the Federal Emergency Management Agency (FEMA) provide the County as much as $4.6 Million in reimbursements to date, some of it to fund the mall testing site's operations. Reimbursement has proven sluggish, she admitted. The County has received only about $2.8 Million so far.
###
More from the Legislature:
Jump-Started Sheriff's raise prompts legislator pushback
by Robert Lynch, December 22, 2021
The Tompkins County Legislature settled one-half of the problem Tuesday night. It voted a more than 34 per cent pay raise for whoever wins next year' race for Tompkins County Sheriff.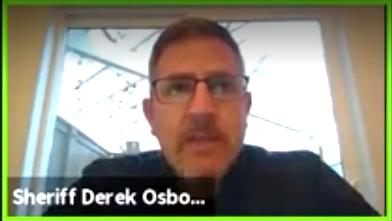 But the other half of the problem lawmakers kicked into the New Year; namely whether to award that same raise for the fourth and final year of Sheriff Derek Osborne's current term.
The first half of the discussion drew no controversy. The second part did, so much so that four of the 14 legislators didn't even want to bring the jump-started raise to a public hearing next month.
"I've served in elected office on the County Legislature now for 24 years, and served 12 years in village government," said Dryden legislator Mike Lane. "I've never seen an elected official's salary increased during the term of office…. I think it sets a terrible precedent."
Lane joined colleagues Rich John, Henry Granison, and Chair Leslyn McBean-Clairborne in seeking to deny the late-term raise the public hearing it would need to forward it toward final approval. Their effort failed. The hearing will move onto the Legislature's January 18th agenda, after which argument over the raise will likely continue.
What's driving the 34 per cent out-of-the-ordinary pay hike for the County's top law officer—other than purportedly lobbying by Osborne himself—is a desire for pay equity; the concern by some that the boss should earn at least as much as his underlings.
Sheriff Osborne currently earns just over $101,000. But the County's Human Resources Department recently bumped up pay for Osborne's second in command, Undersheriff Jennifer Olin, to about $111,000. And a newly-minted labor contract with road patrol deputies would place lieutenants' salaries at more than $103,000 next year, rising to over $112,000 by 2025, when a newly-elected Sheriff would only stand half-way through his term.
The equity argument won the day as the Legislature authorized a $136,000 Sheriff's salary to start his (or her) new term in 2023. But its sooner application as a mid-term increase was too much for some, most notably legislator Lane.
"Apparently the Sheriff has asked for a raise," said the 6-term Dryden Democrat. "I realize that other folks are out there wanting to get in good graces with an elected official," Lane asserted. "But I don't think that that's what we ought to be doing. I think an elected official should hold his or her position until the reelection by the voters."
"Any elected official can come to us now and say, 'Well, you did it for him. How about doing it for me?'" reasoned Lane. "I do not like that…. I realize the argument that says this is only scheduling a public hearing. But the underlying issue here is so anathema as far as I'm concerned to good government."
Others saw it differently, often reasoning that a hearing is only a hearing, not a final vote.
We're only "allowing the public to come in and speak their minds," countered legislator Shawna Black. Nonetheless, one could sense Black stood partial to giving Osborne the raise he wants.
"Law enforcement is truly about chain of command," Black said. "I don't believe we should have undersheriffs that are making more than our elected Sheriff."
Lansing's Deborah Dawson took a similar view, noting that she once favored making the Sheriff appointive, but that members of the the public came to a hearing and were "vehement" about keeping the office elective.
"I believe we owe it to that public, these voters, to hear what they have to say about this particular issue," said Dawson. "We can argue six ways from Sunday after we hear from them on how we're going to vote on the actual law."
In a separate vote, the Legislature, without dissent or much discussion, approved three-year labor contracts with both the County's Civil Service Employees Association and its White Collar Bargaining Unit, contracts retroactive to the start of this year and continuing through 2023. Though the Resolution's text failed to state it, County officials indicated the contracts carry annual raises of approximately four per cent and will increase County expenses by about $1 Million annually.
The agreements traditionally extend their terms to non-unionized confidential staff and also to elected officials, those which, it was noted, would include the Sheriff. Critics then questioned why the Sheriff should warrant a special increase, when he'd benefit from the four per cent raise in any event.
****
Tuesday marked the final meeting for five departing County legislators, including Enfield-Newfield's Dave McKenna, who consistent with his understated demeanor, spoke little of his final meeting. Others were more loquacious, most notably Chair Leslyn McBean-Clairborne who bid farewell with a 12 minute reflection on her 20 years of legislative service, and also on her vision for the future.
"It has been one of the most rewarding experiences outside of getting married and having my children that I have had in my life," said McBean-Clairborne, who's spent the last two years as legislative Chair. "If you're in this for ego or money," she counseled incoming lawmakers, "you're in it for the wrong reasons. You've got to come in here because you want to do something for people. You want to do something that's going to push our county to a whole new level; not just gold standard, but platinum standard."
"We lead in the State of New York," continued McBean-Clairborne, the Legislature's first African-American Chair. "And we want to continue to lead."
In recognition, fellow legislators honored McBean-Clairborne as the first recipient of a newly-established "Strength in Diversity Award," named in her honor.
###
County targets added spending to aid in COVID relief, while officials focus on hospitalizations
Update (December 21st): As expected, the County Legislature's Health and Human Services Committee Monday (Dec. 20th) gave each of the Resolutions referenced in this story unanimous approval. Each spending proposal moves on to the full County Legislature. / RL
by Robert Lynch, December 16, 2021
[Update with relevance to this story (Friday, December 17th): On Friday, the Tompkins County Health Department reported that local hospitalizations for COVID-19 had risen by four to now stand at 12; a number higher than in any recent day, though by far, not a record. Also, one additional COVID-19 death was reported, bringing the pandemic's local death toll to 46. / RL]
With a pair of spending Resolutions set for committee action Monday, Tompkins County lawmakers will put their money where their members' mouths often are, committing more government funds toward the seemingly never-ending fight against COVID-19.
Set for action by the County Legislature's Health and Human Services Committee December 20th, the Legislature would draw $63,500 from its Contingent Fund to underwrite what's termed "additional assistance" to the county's Human Services Coalition in operating its 2-1-1 call center. The Resolution specifically references the call center's COVID-19 response, and states specifically that the "New York State Mask or Vaccination Mandate will continue to increase the need for assistance from 2-1-1."
During Monday's upcoming session, the committee will also consider—and likely routinely send to the full Legislature for action the following day—a three-month extension of the County's ongoing contract with Cayuga Health Systems to provide free community surveillance testing for county residents at the Shops at Ithaca Mall sampling site. The extended contract would continue service through April first.
At the urging of key County Legislature and municipal leaders (including this writer) during the summer of 2020, back when the pandemic was raging and asymptomatic testing options were few, the Legislature first authorized the free testing service. Cayuga Health Systems launched the program the following month. Legislators have renewed the contract in January and September of this year, the latest extension expanded to include those employees of city, town, and village governments who might choose not to vaccinate against COVID-19 under their municipality's vaccine mandate.
The Enfield Town Board declined twice this autumn to institute an employee vaccine mandate. So the expanded County-funded program holds limited impact for Enfield's workforce.
The Cayuga Health contract extension carries no specific price tag. But past spending measures have generally tapped several hundred thousand local dollars from the Contingent fund each time, moneys for which County administrators have sought—and generally received—federal reimbursement.
The full Legislature has already listed the contract extension on its December 21st consent agenda, a placement that generally assures routine passage. Added funding for the Human Services Coalition has not yet reached the agenda's advance printout, but could be added before or during the meeting.
****
Meanwhile, in a likely preview of what he'll advise the County Legislature next Tuesday, Public Health Director Frank Kruppa told municipal leaders in a conference call Thursday (Dec. 16th) that he's "hyper-focused on the hospitalization number" to help determine whether this week's student-driven spike in local COVID-19 cases will drive Tompkins County to a more dangerous plateau of infection.
"Severity is the marker now," Kruppa told conferees.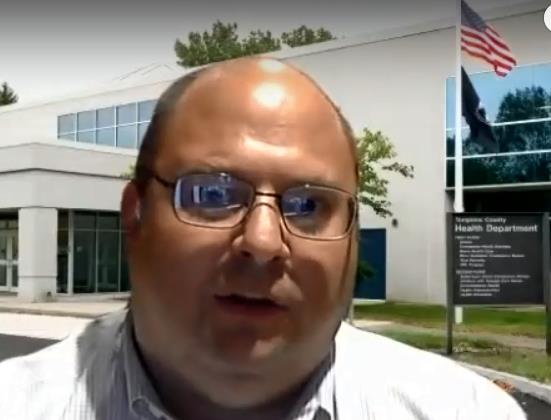 And that hospitalization metric, so far, has left the Director encouraged. Despite the rising case numbers of COVID infections, local hospitalizations have generally remained stable, at under a dozen. The Health Department statistics reported only eight COVID patients hospitalized Thursday, down one from the day before and down from 10 on the day before that. Hospitalizations had been as high as 32 last January 8th, before vaccines became widely available.
How high would hospitalizations need to go to make the Director worry? Kruppa said it depends not only on hospital capacity, but also on staffing availability, given current employment shortages. Kruppa tossed out a patient capacity number, but asked he not be held to it. Nonetheless, that number stands at several times the current COVID bed count. It's a number in line with last winter's record high figure.
The Public Health Director's comments fell on a day when Tompkins County witnessed its largest one-day tally of new coronavirus cases, 387. Thursday's figure topped the old record of 344 new cases, one set just four days earlier. Total active cases in the county also set a new record Thursday, 1,489. Whereas active cases surpassed the 1,000 mark on Wednesday, Thursday's number likely means the 1,500-case threshold will likely be met in just a day or two.
But the county statistics weigh heavily on the contribution from Cornell students and reflect the University's intense COVID testing regimen. The Big Red's fall semester is about over, and Kruppa was asked how greatly the student tests overwhelm those provided by off-campus residents. He couldn't provide a firm number, only a forecast.
"The mall site (testing) has picked up," Kruppa said. "Give it a week's time. In a week, students will be gone and it (the tests) will be all community."
In terms of Governor Hochul's new statewide masking mandate for indoor locations, County officials signaled during Thursday's conference call a middle-ground enforcement posture. For now, heavy-handed enforcement appears unlikely. But unlike officials in counties as close as Cortland, Tompkins officials are not throwing down the marker and refusing to enforce Hochul's new rules.
"We'll be taking an education approach, as we have in the past," Deputy County Administrator Amie Hendrix told Thursday's conferees. "Yes, it will impact our workload," she admitted.
"Yes, it'll be a stretch for us," added Kruppa. But "we've become fairly adept in adapting."
In a call summary released after the conference ended, officials stated, "We will be following up with businesses once complaints come in." And the 2-1-1 call center—now in line for a County Legislature funding boost—will likely provide the vital link between resident complaints and public response.
Governor Hochul December 10th masking order set maximum fines for masking offenses at $1,000 per violation, but it left enforcement to local health departments. Tompkins County officials gave no indication Thursday that they'd necessarily resort to handing out tickets.
In other comments during Thursday's conference call:
Kruppa said "the jury's still out" on the transmissibility of the new Omicron variant of COVID-19 among those already-boosted. But the early indication, he said, is that boosters are "not highly effective in preventing spread," but are, he said, "highly effective in preventing severity."
Kruppa also cautioned not to expect any further Health Department-sponsored, mall-based booster clinics for adults before January. The Director said current vaccination efforts remain focused on getting second shots for 5-11 year-olds, and that during December's last two weeks, "we'll be taking a break from vaccinations" to, as he said, "reallocate resources" back to tracking cases.
###
Students propel COVID infections to new heights
Cornell clamps down controls on exams, visits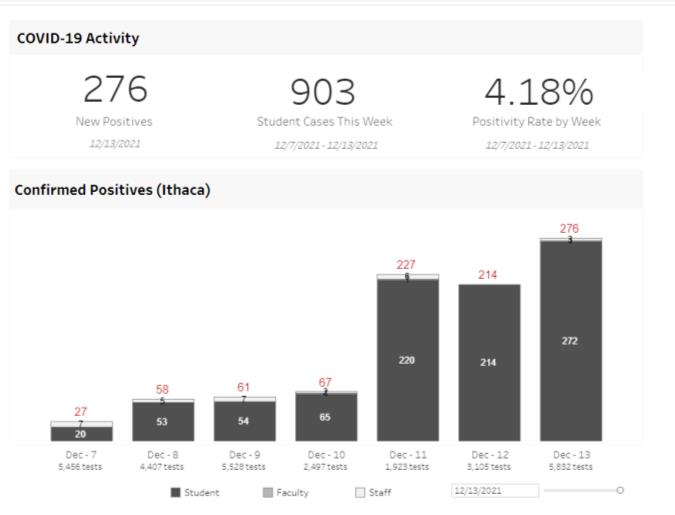 Update (Wednesday, Dec. 15th): Coming as no surprise given recent trends, Tompkins County's number of active COVID-19 cases climbed past 1000 for the first time on Wednesday. The County Health Department reported 1,102 active coronavirus cases Wednesday, up 216 from the previous record of 886 set the day before. The Wednesday number included 254 newly-diagnosed cases, likely including some of those recorded the previous day by Cornell. Wednesday, the Health Department reported no new deaths locally. Hospitalizations stood at nine, down one from the day before, yet in line with numbers reported during the past week. / RL
****
by Robert Lynch, December 14, 2021
All right, you know every "Townie" without money on the table is saying the same thing. It's just that I'm the only one who dares to print it. It's this: "Students, just please go home." And by the way, "Remember to ask permission before you come back."
COVID-19 statistics, released by local colleges and the Tompkins County Health Department Tuesday (Dec. 14th) confirmed the obvious; that spread of the coronavirus—including, most certainly, the Omicron variant—is centered amongst the student population. And one can easily infer that much of the spread has come from unmasked, un-distanced person-to-person contact both on-campus and elsewhere.
Of course, student transmission cannot account for all of our latest depressing pandemic problems. The students didn't invade the nursing homes where the Health Department reported three more COVID-related patient fatalities Tuesday. The local death toll climbed Tuesday by four, raising local deaths from the 21-month long pandemic to 45. All four, the Department said, were "older adults." Three of them resided at "long-term care facilities." The Department did not disclose in whose facility or facilities they resided, nor say whether any died at a common location.
Both the Health Department and Cornell confirmed Tuesday that the Omicron variant of COVID-19 remains somewhere in the mix—exactly how prevalent officials continue to hedge.
"While there is still more to be learned about the Omicron variant, we are confident in saying that it has spread rapidly amongst the 18-24 population in Tompkins County," County Public Health Director Frank Kruppa said Tuesday. But with a touch of cautious optimism, Kruppa added, "As we await more information on the variant, we can also say at this time that it has not caused an increase locally in severity of illness, hospitalization, or deaths."
Day-by-day, county-wide cases this week have shattered previous COVID-19 records. Tuesday, the Health Department reported 886 total active coronavirus cases locally, up from 748 on Monday, and a mere 340—which to us seemed like a lot back then—the week before. And one week prior to that, only 199 active cases graced the local record.
Based on the stop-and-go procedures Cornell University uses in dumping out data from its intensive testing regimen, University and off-campus infection numbers seldom match. But the trends tell the story. And because of those trends—and the dangers officials fear lie ahead—Cornell has taken its most drastic measures since it first closed the campus in March of last year, back when the virus first started to spread.
On Tuesday, administrators moved Cornell to "Alert Level Red," its highest stage of COVID-caution. Cornell faulted one media outlet for suggesting it had "shut down" the campus. But the Big Red's draconian measures have come pretty close to creating a campus on lockdown.
With one stroke of the pen, effective at Noon Tuesday, Cornell moved all remaining final examinations to an online format. It canceled "all university activities involving undergraduates." It denied December graduates a recognition ceremony. It closed libraries to students. And it barred any undergraduate from engaging in work study or lab work. Labs and offices may remain open, but most students cannot go there.
Alert Level Red heightens masking requirements, particularly tightening rules for those outdoors in cases where persons cannot assure social distancing. And Cornell effectively pulled up the drawbridge to outsiders. Under Alert Level Red, according to the University's dashboard, "Visitors are not allowed to access campus facilities without prior approval," and visitors, if approved to visit, must be masked when indoors, whether vaccinated or not.
Yet Tuesday's unwelcoming stance appeared to extend still farther. "Visitors and guests are not allowed on campus, with the exception of those picking up students for break," the latest statement said. And even they, said the statement, should "remain continuously masked while briefly on campus."
"It is obviously extremely dispiriting to have to take these steps" Cornell President Martha Pollack said Tuesday in a prepared statement. "However, since the start of the pandemic, our commitment has been to follow the science and do all we can to protect the health of our faculty, staff, and students."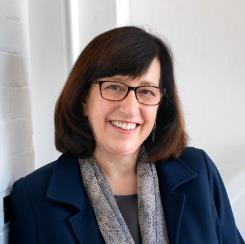 The University statement acknowledged that the more-contagious Omicron variant of COVID-19, first detected locally late last week, and disclosed by Cornell and the Health Department Saturday, remains in the mix of recent samples taken. Pollack did not indicate how many samples or percentages showed the Omicron strain. She would only state that the University's testing lab team identified Omicron "in a significant number of Monday's positive student samples."
The president also sought to tamp down any criticism that the University may have overreacted. "The fact that we have not experienced severe illness among our student population may lead some to ask why we are imposing such serious steps," Pollack said. She relied upon often-stated calculations of how a virus can spread exponentially through repetitive human contact to justify her deference to caution.
But what stands out from the most recent numbers is how disproportionately the student population has contributed to our community's latest problem. The University reported 276 new positive COVID-19 cases December 13. Of those 272 (98.6%) were found among students. Total student infections have topped 900 during the past week.
Fall semester exams are about over. The academic calendar lists Saturday, December 18th, as the last examination day.
The University's announcement made no mention of potential attendance or instructional changes for the spring semester. Spring instruction begins in late-January.
But if the current call is for students to get out of town as soon as they can so as not to infect one another or the rest of us, Cornell has chosen to raise one last pre-departure roadblock: First, it's said, students should get yet another COVID test, if he or she hasn't received a negative test result within the past two days. And then, please, it said, wait out the results. "Students are encouraged to stay in Ithaca, in their residences, until their test results are received," the statement advised, "and severely limit interactions with others during that time."
Most certainly, for those of us who see the McGraw Clock Tower only at a distance, that latter advice we'd welcome you to heed.
###.
Legislature raises solid waste fees; approves deputies' contract
by Robert Lynch, December 12, 2021
It's Tompkins County's most regressive property tax—only it's never called a tax. And it's rising again.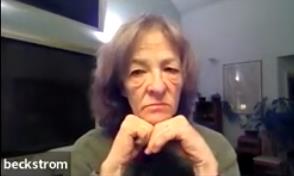 With little discussion and zero dissent, the Tompkins County Legislature December 7th elevated the annual solid waste fee paid by virtually every county property owner. In line with a multi-year schedule endorsed last year, the Legislature elevated the per-household charge next year to $75, up seven per cent from its current-year levy of $70. The fee was just $60 in 2020. But if the current plan holds, each household would pay as much as $90 by 2025.
"It's going to be a big bite again," admitted Dryden legislator Mike Lane, whose committee oversees the solid waste division. "But solid waste and materials management costs are rising," he explained, "because of the lower cost for commodities," namely the things you toss into your green bin.
One thing that may not be tossable for long is glass. Barbara Eckstrom, Director of Recycling and Materials Management, told lawmakers the market for recycled glass has dried up, and she hinted that as soon as sometime next year, you may have to separate your glass and drop it off by itself.
"The single-stream glass gets broken," Eckstrom said. "It's mixed with other recyclables, and it doesn't have a happy home."
In addition to hiking the waste fee—which charges a homeowner the same whether one lives in a hovel or a castle—the Legislature bailed out the solid waste division to the tune of three-quarter Million dollars, drawing about half that amount from the waste fees and the other half from the division's fund balance.
****
On another matter, which took observers by surprise, the County Legislature announced and ratified a new nine-year labor contract with the Sheriff's road patrol deputies, an agreement retroactive to January 2017.
The Resolution, adopted unanimously by legislators, did not specify precise salary increases. Nor did lawmakers that night indicate whether the rank-and-file has also approved the contract.
But Interim County Administrator Lisa Holmes called the agreement "good news."
"Both sides came to the table willingly to try to get this done," Holmes said. As to agreement itself, "It incorporates salary increases, changes to health insurance, changes to sick leave policy, and it received the widespread support among deputy Sheriffs," said the administrator. "Everyone came to the table on this."
In still other news from the December 7th meeting:
Offering added evidence of a roaring-back retail economy, County Finance Director Rick Snyder reported local sales tax distributions in October climbed 18.8 per cent over pandemic-plagued October 2020, and stood even 5.2 per cent higher than in pre-pandemic October 2019. With still two months to go on the year, sales tax receipts have already hit 96.6 per cent of budget, and could register $3 to $4 Million over budget by year's end.
Legislator Martha Robertson pushed the prediction even higher. She suggested a $5.5 Million over-budget figure. Having the State begin taxing Internet sales "saved our butts," she said.
Using somewhat different words, Snyder agreed. "Internet sales drastically changed the whole complexion of what's bought and sold in Tompkins County," the Director said. But a second component, he added, has been the rising prices of fuel and gasoline.
After nearly 90 minutes discussion, the Legislature, with just one dissent, stripped off most of the Sears Street side of the County's initially-chosen, but now superseded, downtown office building site. It sold the 68-foot deep tract to Ithaca Neighborhood Housing for construction of four single-family homes; or alternately, two duplexes. Legislators agreed to retain a narrow strip on one side of the parcel for a pedestrian walkway. (See separate story, posted here.)
And Dryden's Mike Lane informed members that Highway Director Jeff Smith, has "red flagged" and ordered closed the one-lane Freese Road Bridge in Varna. "There's no way to repair it," Lane said of the 1882 truss bridge spanning Fall Creek. Load limits, currently at six tons, can't be any lower, he reported. "Replacement of this bridge has taken much too long."
No plans stand in place for any bridge's quick construction. Several years ago, the County—which underwrites most bridge projects—proposed a two-lane bridge to cross the creek. Locals objected. The County bowed to pressure, and another one-laner will likely be built instead. But the County and the Dryden Town remain at odds over so-called "betterments" that a new bridge might include, like stop lights, sidewalks, and maybe a creek "viewing area." (See stories posted here April 21st and November 5th.) The bridge could remain closed for some time.
Getting in the last word, Varna's legislator, Martha Robertson, claimed that the Dryden Town, the Transportation Department and historic preservationists had come together on bridge design more than a year ago. But she complained, "The process at the state and federal levels has just been enormously time-consuming and has lagged forever…. It's really a shame."
###
To sell "Oklahoma"… or maybe not
Little flag lot nearly derails Sears Street sale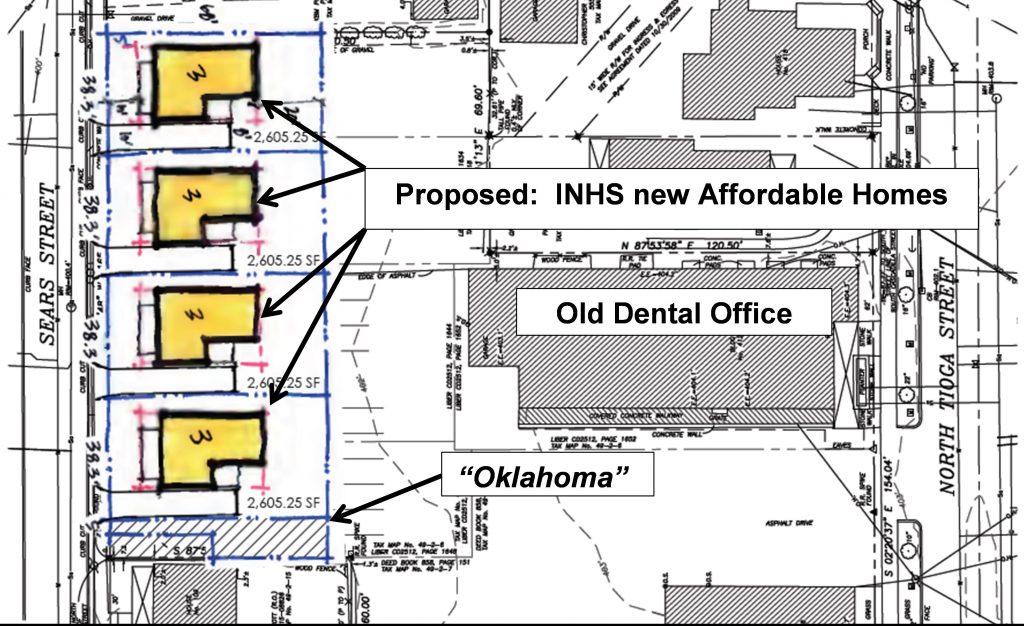 by Robert Lynch, December 11, 2021
Coincidental, yet ironic: The Tompkins County Legislature met on the 80th anniversary of Pearl Harbor, the date when in 1941 the Japanese sunk the USS Oklahoma, killing more than 400 sailors on board. Ironic because on this more recent December 7th, our elected legislators exhausted an hours' time and then some quibbling over a little chunk of downtown real estate they'd spontaneously christened with the same moniker, "Oklahoma," in this instance, because of its shape. And one wondered at times whether their incessant talk-a-thon would itself sink a real estate deal that any reasonable person could judge to be far more important. Certainly it provided a textbook case in how never, ever to conduct legislative business, especially when sleepy.
YouTube reported about ten of us watched the County Legislature's nearly five-hour meeting online that night. Unknown added numbers were eavesdropping via Spectrum TV. But I know that at least two of us, namely my sister and I, were staring at our respective screens and shouting ad-nauseam, "Get on with it!"
Little wider than a sheet of plywood in places, Oklahoma is a flag lot, a County-owned thimble of dirt on the east side of Ithaca's Sears Street. It's part of what Tompkins legislators paid $1.8 Million to buy two years ago, intending to build a new office building there. But then, as amply reported here, legislators changed their minds. They bought another building site. And they've faced increasing neighborhood pressure to resell the old parcel's Sears Street side to bring to it affordable housing. Ithaca Neighborhood Housing Services (INHS) made an offer. A committee unanimously recommended acceptance a week before the full Legislature met. The Assessment Director set $210,000 as the sales price. No one objected. (See story, posted here, November 30th.) The deal looked done.
As it firmed its plans, the committee recommended leaving Oklahoma in government ownership. The strip was only five to 12 feet wide. And part of it held an easement for a neighbor's driveway. The flag lot channeled foot traffic. It discouraged trespass. It preserved future options. Keeping it made sense—until, of course, the land deal reached the legislative floor.
"As the incoming County Attorney, I'm getting a bad feeling in the pit of my stomach that we can't agree on what it is we're talking about," said a bewildered Bill Troy, somewhere past the midpoint of the evening's roundabout discussion. The County recently promoted Troy to be its top lawyer. My sister says he's a good hire. So let us hope, after Tuesday, that the ink remains dry on his employment contract.
In the end, the committee recommendation held. INHS got its land. And Oklahoma remained in the public domain. But before that happened, a vocal—extremely vocal, if not petulant—minority of legislators got their well-intentioned, round-robin turn at the mic in a valiant attempt to build a mountain from a molehill. They sought to sink Oklahoma from its intended purpose; to deny its use as a walkway that employees might traverse to reach the parking lot County Government will probably build on the larger tract it will retain behind the new homes.
****
Let's first pause to frame the debate. And best we look not to gaggling legislators, but to a member of the public, one who spoke way back at the meeting's start. (No, not the rowdy spectator who refused to mask and forced a ten-minute delay in the opening gavel while police ushered him out—different story for a different time.)
A "Mr. Smith," a Sears Street resident, observed that the large, mostly-undeveloped dust bowl behind the newly-planned houses "provides an unsupervised public space for those that might not want to be witnessed." Relating a late-night screaming incident between presumed drug dealers there, discord heard by both him and his wife, Smith reasoned that "A cut through from Sears Street allows folks that might be doing something unpalatable to find their way to that parking lot, thereby avoiding the more brightly-lit sidewalks on Tioga Street, Cayuga or Court." Closing off the path through Oklahoma, he argued, might promote public safety.
Yet safety often took a back seat to urban planning when legislators got the microphone later. And some, most notably departing (and well-spoken) legislator Leslie Schill, saw the walkway as a means to an end, an end she did not like. Schill urged the County not waste precious downtown acreage on a daytime gathering ground for Fords and Chevys.
"This is not a walkway," asserted Schill, a professional planner. "It comes next to somebody's parked car." Comparing Oklahoma to something like Home Dairy alley off the commons, she said, constitutes "a false dichotomy."
But while Schill's concept for a perfectly-planned urban landscape resonated with some, it fell flat with others.
"Our employees, they have to park; they don't have a choice," said Deborah Dawson. She, like Newfield-Enfield's Dave McKenna, predicted even greater parking demand will arise if and when the County builds its ambitious Center of Government where Key Bank now stands.
"I think we have to really be careful that we are not promising our staff that we are going to provide them parking," responded Martha Robertson, who, like Schill, would offload Oklahoma. From her home thirty minutes away, I could hear my sister groan. She, a retired downtown County employee, had parted with all too many quarters during all too many workdays just to keep her Versa legal at curbside.
Taking the debate's other side, Shawna Black chimed in. People trample the flower beds at Wegmans to save ten steps, she said. Why won't they just cut across the new home's lawns? "That's what fences are about," Rich John answered.
And so it went. With each tick of the clock, legislator patience thinned. Robertson incessantly sought to retrieve the exact right map and delineate Oklahoma's most precise metes and bounds. She paused. She drew out her words. A business meeting devolved into a bull session. Robertson's Dryden colleague, Mike Lane, had had enough.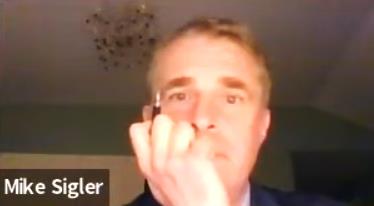 "We've let Martha go on here doing committee work for a long, long time," he said. Lane sought to cart the land deal back to committee for retooling. (Finally! I heaved a sigh of relief, as did my sister.)
Sorry, sis, close, but no cigar. Leslie Ackerman, the INHS representative, sounded the alarm, cautioning that a remand to committee could push the sale into a new year—and a new Legislature—with delays that could cripple the whole project. Lane quietly withdrew his idea. Slightly before, Amanda Champion had sought to call the question and bring Oklahoma's future to a vote. But a majority rebuffed her idea, too. So, back to talking it went.
But not forever. Like a locomotive running out of steam, Tompkins County's 14 legislators eventually exhausted all words to say, all questions to ask. The amendment saw its vote: Six in favor of selling Oklahoma, eight opposed. (Both west side legislators, Anne Koreman and Dave McKenna, supported Oklahoma's transfer. McKenna's vote had changed from committee and went contrary to most arguments he'd made.) Next, with only Danby's Dan Klein dissenting, the final motions passed. The Legislature first declared it had no public need for the four building lots. It then sold the 68-foot deep strip—absent Oklahoma—to INHS.
On the replay, I clocked the debate at one hour, 19 minutes, though it had seemed longer—much, much longer. Through it all, what may have stood most memorable was Mike Lane's recollection—his family once owned a house nearby—that Sears Street was once called "Goose Alley." Why? Because, he said, urban farmers used to drive their geese down to Cascadilla Creek for a drink.
But Lane had competition. In her failed attempt to bring matters to a vote, Amanda Champion's promise may have topped Mike's stroll down Memory Lane. She, like Lane, had won the war to keep Oklahoma a public path.
"I think that this sidewalk would be a lovely place to play hopscotch," Champion quipped, telling her colleagues, "I'd like to play a game of hopscotch with you when it's built."
Memo to our area's newest legislator, Randy Brown: Better practice your silly childhood games. Memo to Vanessa Greenlee and to me: Maybe it's best we lost the election.
###
Newfield joins Enfield in opting-in to cannabis sales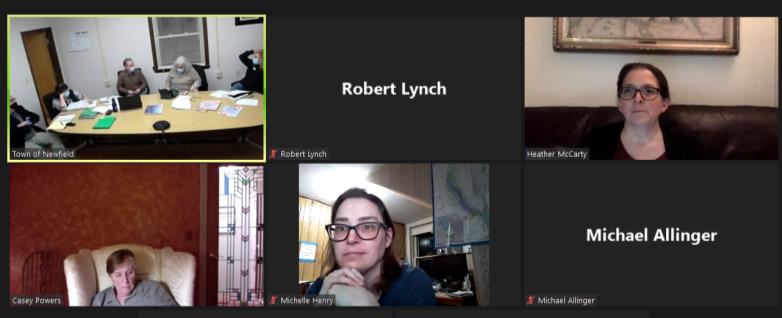 by Robert Lynch, December 9, 2021
One night after the Enfield Town Board declined to ban cannabis sales within its borders, the Town of Newfield did the same. And the margin of defeat was effectively identical.
Following a half-hour of civil debate where Board members raised more questions than voiced firm positions, the Newfield Town Board split as close as it could; three votes to two, to defeat a Town-wide opt-out law.
Board action means that Newfield, like its sister town to the north, will open itself to marijuana lounges and dispensaries as soon as New York State gets around to licensing them. If a town opts out of permitting marijuana retailing, state law requires it to do so before year's end. So Newfield, like Enfield, has slammed the door shut on any future retail ban.
"It bothers me seeing people walking down Main Street smoking pot," said Councilperson Christine Laughlin, who moved Thursday's unsuccessful opt-out motion. While her Town could not prohibit casual smoking of pot in public, Laughlin reasoned that those exiting a marijuana business would be more likely to continue puffing away after they stepped out of the store.
"I have an issue with New York State law that says you can smoke pot anywhere you can smoke cigarettes," Laughlin remarked.
As in Newfield Thursday, only two Enfield Board members supported Enfield's own opt-out law the night before. While an identical number of Enfield lawmakers supported opt-out as opposed it, supporters of opt-out fell short of a majority, and the Supervisor had said that a fifth Board member, excused that night, would have opposed the ban had he been present.
Likely more by coincidence than design, Newfield's opt-out vote Thursday split along party lines. Only Republican Laughlin and Independent Supervisor Michael Allinger voted in favor of opt out. Supporting future sales were Democratic Councilpersons Joanne James, Casey Powers, and Heather McCarty. McCarty has been the Board's most avid opt-out opponent in prior discussions.
Drawing memorable quotes from Thursday's Newfield discussion would challenge the best of reporters. Instead, Board members spent their 30 minutes sharing questions about potential revenue generation, asking how those moneys would then be apportioned, and seeking to learn what neighboring towns had decided. (This reporter, Enfield's Councilperson, was asked about his own Town's Wednesday vote.)
Though the Newfield Board had invited public comment concerning a possible opt-out law in October, the Board never rose to setting a formal Public Hearing. Had Thursday's show of hands gone the other way, presumably Newfield would have needed to scurry forth with a Hearing before year's end.
As with the Enfield Board's opponents of opt-out, most supporters of cannabis sales in Newfield focused on the prospective revenue stream.
"I don't know if I don't want to be on the bandwagon," said Councilperson Powers. Marijuana retailing, she predicted, "will generate a lot of money." Nonetheless, Powers acknowledged, "I'm not sure if a lot (will head to) Newfield."
Legal counsel advised the Board that local excise taxes, filtered through the County, would only go to those municipalities permitting sales. But "pro-rata" distribution, they were advised, would depend on cannabis sales generated within a particular community. "If you don't have any sales, you don't make any money," Board members were told.
Though supporting opt-out, Supervisor Allinger remained noticeably reticent during Thursday's discussions. Nonetheless, at an October meeting, he had expressed concern that marijuana dispensaries in Newfield might alter the "tone of the community," and that as a result, an opt-out law might protect the people.
But McCarty, supportive of sanctioning marijuana sales both then and now, held firm to her own earlier position. "I have no intent of opting out," McCarty said. Marijuana, she insisted, "is less harmful than alcohol." By opting out, she feared, "we might miss our chance."
###
Enfield Board splits, rejects marijuana opt-out law
by Robert Lynch, December 8, 2021; additional reporting December 9, 2021
Cannabis-R-Us, as one lawmaker jokingly described marijuana dispensaries Wednesday, now has a free and open path to come to the Town of Enfield once New York State starts licensing cannabis stores and pot-smoking lounges.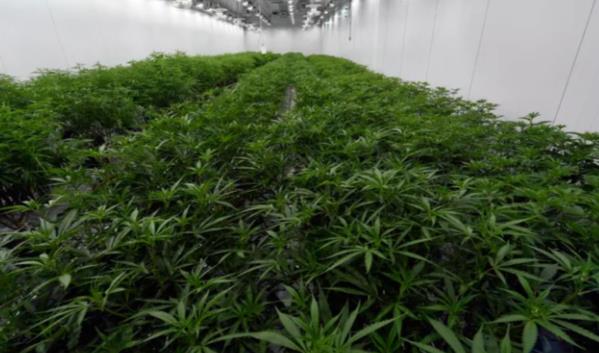 By a two-to-two vote, with one member excused, the Enfield Town Board Wednesday (Dec. 8th) rejected a Board member's initiative to prohibit marijuana marketing establishments, even though a last-minute amendment would have compelled the Board to revisit its action in as little as three months.
Though the state has yet to iron out the particulars of how retail sales under New York's new legalization law would work, Supervisor Stephanie Redmond, the Board's leading supporter of allowing the shops, brushed off any concerns. "There's nothing in State regulations I'd be offended by, unless it would be heroin," Redmond said with a laugh. The Supervisor has pressed for Enfield to encourage the opening of local cannabis stores so that her town might reap the sales tax revenue those locations could generate.
At Wednesday's monthly meeting, Councilperson Robert Lynch (this writer) moved the opt-out Resolution he'd drafted. Councilperson Jude Lemke seconded it. But they were the only two to vote in the measure's favor. Redmond and Councilperson Virginia Bryant opposed it. Though the Board's fifth member, James Ricks, was excused by illness, delaying the vote to await his presence would not have produced the third positive vote required for passage. Redmond claimed at the meeting's start that Ricks also opposed opt-out.
By deciding the issue as it did, Enfield slammed shut the door on prohibiting the sale of pot. Current state law requires any municipal board opting out to do so by December 31st. It cannot do so afterward.
"Opting out is simply the right thing to do," Lynch said in casting his vote, already aware that his and Lemke's support would fall short of a majority. Lynch described opt-out as an "insurance policy," making sure that Enfield protects its interests should New York's licensing efforts go terribly wrong.
Board action followed a well-attended, 45-minute Town Board public hearing on the opt-out law, with both new and familiar voices joining the zoom meeting discussion. Close to a dozen participants spoke.
"I'm on the side of freedom instead of government intrusion," said Henry Hansteen, a Town Planning Board member.
"I can't see a good reason not to opt out, said Marcus Gingerich, a frequent meeting attendee. "It would not hurt to slow down." Permitting of marijuana dispensaries, he said, "could come back to bite us at a later date."
"We have big dreams of things we want to fix," said Councilperson-elect Cassandra Hinkle, who'll join the Board in January and who has become one of the opt-out law's chief opponents. "The things are going to cost money," Hinkle said. Tax revenues from retail sales, she said could help pay for them.
But "there will be no revenue for a long time," responded Lemke, a lawyer, who maintained that money to the Town won't flow until dispensaries are licensed. And licensing won't happen until Albany writes the regulation.
Yet hemp farmer Jason Beizavi took issue with Lemke's logic. It'll be "very competitive to get licensed," Beizavi told the Board. He argued if Enfield were to opt out, licenses would simply transfer to those in other communities. So even if Enfield were to opt-out now, then opt back in later, the businesses—and their tax dollars—would be gone.
In a futile attempt to salvage their measure, Lynch and Lemke joined to put a qualified "sunset" of sorts on any Enfield prohibition. The two tried to amend their proposal so that the Enfield Board would review the opt-out law as early as March and possibly repeal it then. But the amendment, like the final (un-amended) Resolution drew only their own support, no one else's.
While Councilperson Bryant—Wednesday's meeting was her last—had earlier signaled support for opt-out when the Town Board took an initial action in November to schedule Wednesday's hearing, she switched her stance to strong opposition during and after the hearing itself. "There's no convincing reason to opt-out," she told the hearing, echoing Redmond's own words.
Barbara Sadovnic, Enfield's former Democratic Party Chair, noted that neither the Town of Ithaca, nor the Villages of Cayuga Heights or Trumansburg had chosen to opt-out. (Newfield's likely to make its decision Thursday.) Sadovnic also said Watkins Glen and Horseheads have opened the door to marijuana sales. "It's going to be all around us," Sadovnic counseled.
"I see no reason to delay this at all," Redmond said in dismissing the idea of re-visiting the opt-out law in three months after possible adoption.
In casting his vote, Lynch said there was much more he could say against selling pot in Enfield, but saw no value in doing so in view of the likely outcome. The Councilperson has previously warned cannabis sales could run contrary to the Town's Comprehensive Plan and affect Enfield's economic and community character.
"We needn't be bottom-feeders" Lynch said after Wednesday's meeting.
Wednesday's discussion of an Enfield opt-out law remained cordial and respectful. At meeting's end, members congratulated one another for keeping their composure.
By most estimates, the cannabis dispensaries and lounges that Enfield's action—or rather, inaction—encourages would not be turning the Town revenue until at least 2023.
****
Following a second Public Hearing that drew far less participation than the one over cannabis, the Enfield Board Wednesday hit the pause button on any new solar farms. The Board adopted a six-month moratorium on solar farm applications in an effort to squeeze more town revenue out of future commercial solar applicants.
Board members pushed for the moratorium after the Tompkins County Industrial Development Agency (IDA) last summer insisted on a Payment in Lieu of Tax (PILOT) Agreement for Applegate Road's Norbut Solar Farms that denied Enfield the opportunity to secure a separate Host Community Agreement that would have supplemented PILOT payments with separate compensation to the Town. Three taxing authorities split the PILOT revenue, with Enfield getting only about 28 per cent.
Sue Webster, one of the solar hearing's few commenters, spent less time talking about solar farm compensation than about solar farm appearance. Webster voiced concern that commercial solar arrays gobble up "huge plots of agricultural land."
After the hearing, the Enfield Board, with little discussion, adopted the short-term solar moratorium unanimously.
In other action:
The Town Board took its first major step toward building its long-talked about salt storage building behind the highway barn. It authorized the Town request bids for the project, setting specifications that call for a wooden building with a metal roof, not an arched canvas covering like some towns have built. The building, according to the Town's specs, must cover 9,000 tons of sand and salt and cost no more than $700.000. The Board set February 28th for the submission of bids.
And the Board' majority deflected further action on Councilperson Lynch's initiative, advanced last month, that would have Enfield join Seneca County in seeking a State Attorney General's investigation into violent actions during February of last year amid a leadership dispute within the Cayuga Indian Nation.
In November, the Enfield Board asked the Federal Bureau of Indian Affairs (BIA) to undertake "a thorough investigation into [those] recent affairs," and reassess "the competence and effectiveness" of Clint Halftown as the BIA's designated leader of the Cayugas.
In arguing for the A.G.'s intervention, Lynch maintained Wednesday that Seneca County authorities should have taken a firmer stance and intervened last year to block Halftown's destruction of buildings on Cayuga Nation land. After asking Enfield activist representatives whether indigenous citizens can vote for President and Governor, and being told that they could, Lynch argued that tribal leaders should also subject themselves to New York's criminal laws.
The activists and some Board members disagreed, contending the Cayugas remain sovereign and subject only to federal and tribal law. They said Seneca County's police and District Attorney may have had no choice but to stand aside. Lynch insisted the matter deserved the A.G.'s second opinion. But the Town Board informally agreed to postpone its further involvement until Attorney General Leticia James responds to Seneca County's request that she intervene.
###
First-round search for Tompkins Administrator comes up dry
Molino replacement pushed into '22
by Robert Lynch; December 2, 2021
Sometimes offering big bucks for a new hire doesn't do the trick.
Tompkins County tried that this year in its search for former County Administrator Jason Molino's replacement. But the enticement's failed to secure an acceptable candidate. Molino's interim successor, Deputy County Administrator Lisa Holmes, broke the news to the Tompkins County Council of Governments (TCCOG), Thursday afternoon (Dec. 2nd).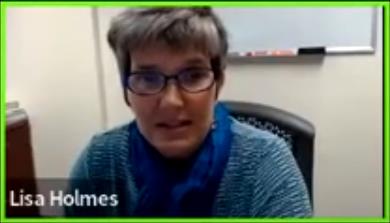 "The Legislature together with our H.R. (Human Resources) Department conducted a search, a nationwide search, which did not result in a candidate to bring forward," Holmes said in reply to Ithaca Town Supervisor Rod Howe's inquiry as to the executive search's status. "So the search effort was then paused for the remainder of 2021." Holmes told Howe. "When a new Legislature is in place in 2022, they will resume the process and try again."
By his reaction, Howe likely already knew what Holmes had told him. But many others at the meeting (including this writer, Enfield's TCCOG representative) were blindsided. Holmes' revelation served as the first public disclosure of the search's dead-end; an executive recruitment that's taken place behind closed doors and purportedly been aided by a high-priced national head-hunter.
To date, and as of this writing, the County's Communications Department had not yet posted word of the recruitment's failure on the County's website.
Former three-year County Administrator Jason Molino resigned in May, departing to take a municipal administrative job in Livingston County. He cited family reasons for what some viewed as a lateral professional move. Molino was well-liked by County legislators, top-level staff, and municipal officials. But upon his departure, a committee of the Legislature pumped up the pay of Molino's potential successor as members concluded they'd need to offer more money to get someone as good as the guy who'd left.
In mid-July, the Legislature's Budget, Capital and Personnel Committee set a potential salary for the new hire at $160,000, an 18.5 per cent increase over what Molino had been making. It's also a salary higher than that of any other County Administrator or elected County Executive in upstate New York. (See story posted on this website, July 19th; archived.)
As reported in July, the target salary stood in line with that of the elected County Executive in Westchester County; a county with nine times as many people as Tompkins.
Interim Administrator Holmes did not share with TCCOG the circumstances behind the County's inability to attract a qualified first-round candidate, despite the heightened pay assigned to the post. Holmes did tell the group she will "remain in the interim role in the meantime" until second-round recruitment efforts conclude.
Well-placed observers of County Government have no problem with Holmes' continuation, one former official terming her leadership skills "solid," especially in budgeting.
But other seasoned hands also observe the recruitment delay could frustrate one or more retiring legislators—five of 14 will leave at year's end—as they now will not have a hand in the final selection.
"We're looking for another transformative and committed leader to take the helm at Tompkins County," Legislature Chair Leslyn McBean-Clairborne, one of those five retiring lawmakers, had proclaimed in a September 9th news release that launched the Administrator search. "We tackle big problems here," she said.
That same September announcement also talked of the ideal replacement: "The County Legislature is seeking candidates who are consensus-builders and able to establish rapport, initiate and maintain an open dialogue with various stakeholder groups including legislators, department heads and community partners, alike."
Apparently, first-round efforts failed to find the perfect fit. Yet, as the saying goes, "The search goes on."
###
Locals face longer waits for COVID booster shots
by Robert Lynch, December 2, 2021
Well, here we go again.
With local COVID-19 infections climbing to their highest levels in more than 10 weeks and with the Omicron variant creeping into this country with a case in California, Tompkins County Public Health Director Frank Kruppa acknowledged Thursday morning (Dec. 2nd) that local pharmacies are running short on available appointments for COVID-19 booster shots. And for now, Kruppa conceded, the Health Department itself can do very little to help.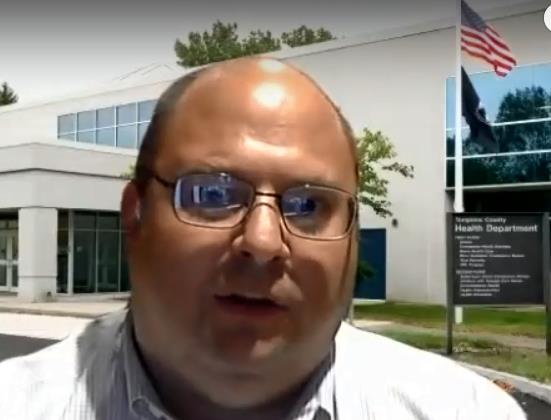 "The problem is particularly localized," Kruppa told a conference call of local municipal leaders Thursday. It's localized, he said, "because our demand is higher."
A Thursday check of local pharmacy websites confirmed Kruppa's claim. Kinney Drugs, last winter among the leaders in the vaccination rollout, had no appointments available for December at its locations in Ithaca or Trumansburg. A couple of appointment dates appeared available for late in the month at Kinney's Dryden pharmacy.
The Wegmans pharmacy website indicated no appointments within 25 miles of Ithaca were available seven days out from either this week or next. Walgreen's pharmacy gave its nearest available date and location as December 16th—two weeks out—but only at its location in Newark Valley, Tioga County.
In recent weeks, the County Health Department and Cayuga Medical Center have restricted their efficiently-run Lansing mall vaccination site to only children, administering thousands of first-time doses to newly-eligible patients between five years of age and 11. With first doses now mostly completed, the center's current priority stands at getting needed second shots into those little arms. But by wisely focusing on kids, the center has left adults—many of them now newly-eligible for boosters themselves—to surf the web for pharmacies stocking their chosen vaccine and offering timely appointments.
Kruppa acknowledged in Thursday's call that his department was caught somewhat off guard by the suddenly-lengthening local waiting lists. And he cautioned that government intervention to remedy the problem could be a ways off.
"We're considering alternative actions," the director assured local mayors and Town Board members Thursday. "I just don't have plans in place."
The day before Thanksgiving, a County Health Department spokesperson acknowledged to this writer that the mall location's youth-based focus remains the priority. As for adult booster availabilities, Samantha Hillson said at the time, "We will continue to assess the need and demand, and communicate to the public if there are additional clinics planned (at the mall site or pop-up)."
In part, Tompkins' local booster vaccine shortages result from too many of us doing the right thing. Director Kruppa indicated Thursday that pharmacy booster shot waiting lists are longer here because local residents appear more conscientious about getting boosters than do those in surrounding counties. As a result, he said, patients may find shorter waits at pharmacies outside Tompkins than within it.
Unlike last winter and spring, COVID-19 booster vaccine can be found for those willing to travel. The nearest New York-run vaccination site is at the State Fairgrounds in Syracuse. The Syracuse site's registration website, navigated Thursday, indicated several hundred available openings for boosters, appointments beginning in about a week.
Meanwhile, local COVID-19 cases continue to climb, reaching just three cases short of 250 on December 2nd. That number stood a full 37 cases higher than the day before and the highest local number of infections since September 19th. The Health Department reported six local hospitalizations Thursday. So far, 39 persons locally have died from COVID-19. The latest death occurred November 22nd.
Elsewhere during Thursday's conference call, the Ulysses Town Supervisor asked the Health Director whether a county-wide mask mandate might be under consideration. Kruppa responded he has no plans to do that, even though Erie County, which includes Buffalo, unilaterally imposed masking mandates at indoor locations just before Thanksgiving, doing so even absent a State directive.
"At the County level we're not considering that at this point," Kruppa told Ulysses' Nancy Zahler. "We don't have the resources to enforce it."
Moreover, said the director, the masking order could backfire and "create more animosity about the restrictions."
###
County slices, prices formerly-favored downtown office site
by Robert Lynch, December 1, 2021
Look at it this way. Suppose you buy a new car, but you don't trade in the old one. You've got two choices. Either keep the old clunker as a winter rat, or park it out front with a For Sale sign on it.
That, in essence, is the underlying dilemma facing Tompkins County lawmakers, the ones who bought a pricey plot of Tioga Street real estate two years ago as the site for a new County Office Building. But then, just this fall, those same legislators purchased a new building location, one they liked so much better, lying next to the Courthouse.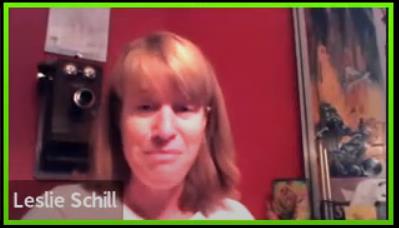 Tuesday (Nov. 30th), a key committee of the County Legislature took its first step toward charting the old land's future. It's a move bound to please the neighbors. Without dissent, the Downtown Facilities Committee recommended the County sell off more than one-quarter of the Tioga Street tract—the western side that fronts Sears Street—to allow Ithaca Neighborhood Housing Services (INHS) to build new affordable housing, constructing either four, stand-alone residences, or perhaps a pair of two-family duplexes.
Sears residents have long sought housing to grace the east side of their narrow street, left barren years ago when a former owner razed the houses to make way for a parking lot. For the neighbors, the INHS plan is a dream come true.
But what about Tompkins County's interests? Is the committee's recommendation—likely to be ratified by the full Legislature within days or weeks—wise or foolhardy? Does the sale begin offloading an unneeded burden while meeting a community need? Or does it foreclose future opportunity? Different legislators think differently.
"Housing has been long planned-for in this community," said Ithaca legislator Leslie Schill. "It is the most acute need countywide," she said. "I don't know how we could place any other priorities above that."
Most expect that if Tompkins County retains the remaining parcel—and likely demolishes the former dental office that rests upon much of it—the land would become an employee parking lot. Alternately, the County could put the Tioga Street tract up for sale.
"Definitely not parking," emphasized Schill, a planner by profession. Parking, she said, is "a very, very low land use; the lowest of land use." Referring to the impending sale, she added, "We have a real opportunity here to use the land in a live-walk environment with affordable housing. Let's not miss the opportunity."
But Danby's Dan Klein, not a committee member, but still attending Tuesday's meeting as did most other legislators, took a different view.
"This property was purchased for County purposes," Klein stated, "and I don't believe we have yet determined what our county needs are."
"Selling land is irreversible," the Danby lawmaker continued. "Regardless of the fact that housing is a good thing, adding three or four houses to the affordable housing market in this town is literally a drop in the bucket."
"I couldn't agree with what you're saying more," Dryden's Mike Lane told Klein. "But I believe the handwriting is on the wall here. " Lane predicted an overwhelming majority of legislators support Sears Street housing and that arguing for future flexibility is simply a lost cause. Lane supported the committee's Resolution, he said, "not because I think it's the right thing to do, but simply because I think there's a majority here that wants to do this."
County Director of Assessment Jay Franklin set the sliced-off parcel's selling price. $210,000, Franklin wrote the Legislature, is "the market value of this land when viewed as a development for for-sale low income permanent affordable housing."
Whether that's a fair price depends on how you view it. On one hand, the County is selling just over one-quarter of the land it paid $1.8 Million for more than two years ago. The INHS deal would return the County less than 12 per cent of its cost for 26 per cent of the land. But the land sold off is a vacant dust bowl, while buildings stand on much of what the County would retain. Using the Assessment Department's calculation of the land value alone, the $210,000 would actually turn government a profit, giving it perhaps a 74% markup. Ignore the fact that the dental building carries little value if the County eventually tears it down.
But land price never entered the committee's discussions Tuesday. Instead, legislators argued over potential leverage they might exert over Ithaca's Common Council to seek rezoning of the land they would retain, and possibly resell. While County Government could pre-empt City Hall's authority and use the land any way it pleased, a commercial buyer would lack similar clout. Thus, uniform zoning could sweeten the selling price. Lawmakers also weighed the value of keeping a narrow walkway off Sears Street for County employees to use in reaching their likely parking lot. A motion to delete the walkway died in committee for lack of a second. But it may resurface once the full 14-member Legislature gets its turn to vote.
Any sale of the Sears Street land to INHS will carry a stipulation that all homes built remain "affordable," To qualify, prospective buyers would need to earn less than 80 per cent of area median income. Current estimates put each home's expected purchase price at $159,000 or $189,000, depending on whether the home would have two bedrooms or three.
###