Speaking Up; Making a Difference
September 2021
I've long known that if there's something you want; something and need, you'd best ask for it.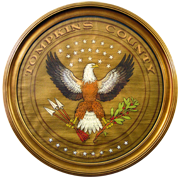 When our Town Supervisor raised a plausible concern in August against my proposed Vaccine Mandate—namely that a weekly COVID-19 test for an asymptomatic Town employee who chose not to vaccinate might break the Town's budget—I went to work. My path led me to contact Shawna Black, Chair of the County Legislature's Health and Human Services Committee, on August 16th. I explained to her Enfield's predicament and the political pushback given my well-intended vaccinate-or-test Resolution, one that mirrored newly-adopted Tompkins County policy. I wrote Legislator Black, in part:
"[H]as the County considered furthering public health by underwriting the costs of asymptomatic employee testing by participating municipalities? We, Tompkins County's Towns, lack the financial resources of County Government. Funding testing at the mall-based Cayuga Health Systems testing site would help keep our municipal employees, and the publics they serve, safe."
It brought action. The Health Committee and County staff wrote a Resolution that would expand the County-funded—and FEMA-reimbursed—surveillance testing at the Cayuga Health Systems' drive through sampling site to cover municipal employees of Tompkins towns, villages, and the City of Ithaca. Each municipality—including our own—sets its preferred policy. The County Resolution, adopted by the County Legislature September 22nd, keeps employee testing from breaking our bank.
I expected the testing expansion Resolution would clear the Health and Human Services Committee Monday (Sept. 20th). It did. The full Legislature adopted it one night later. But to underscore Enfield's encouragement—and our gratitude—I stated the following before Legislator Black's committee:
****
Good Afternoon, Robert Lynch, 175 Gray Road, Town of Enfield. I'm here as a representative of the Enfield Town Board and of myself
I suppose the Resolution that I come to endorse, which is the Resolution to extend the contract with Cayuga Health Systems for COVID-19 testing , I suppose that Resolution has a thousand parents by now because it's so popular in this county. I'd like to think I was one of the first back in the summer of 2020 when I talked with then-member Anna Kelles and other members of the Legislature and urged you to adopt it to allow asymptomatic testing for COVID-19 as an initial way to get our hands around this pandemic. And it's been very successful and I urge that it be continued with the Resolution that you have before you today.
I also particularly want to endorse the fact that you have requested that it be extended to cover municipal employees in Tompkins County. And as a member of the Enfield Town Board, I feel a particular attachment to that.
As you know, we've had some discussion out in Enfield, on the Town Board, regarding a vaccination mandate policy for vaccination of employees with an opt-out option for weekly testing. And when we first brought this up in August, there was some concern by some Board members that the expense of weekly testing even for one employee, or two, would be a budget-breaker for us. And at that time, I came to the [Health and Human Services] Committee, talked to [Committee Chair] Shawna Black and others and urged that we consider it, County funding through the Cayuga Health Systems' drive-through testing facility, for this kind of testing.
I'm glad that the Committee has been receptive to this. It'll work out. There are still other issues in Enfield that we have to resolve with regards to the vaccination policy. They're Enfield issues. I'm not asking you to solve them today. That's for us to solve. But at least the financial aspect will be rectified by this Resolution. And I urge its recommendation and adoption by the Legislature tomorrow.
Thank you.
And yes, thank you Tompkins County. Now, Enfield, let's act.
Bob Lynch