Josh Outpolled Governor despite losing NY-19 Race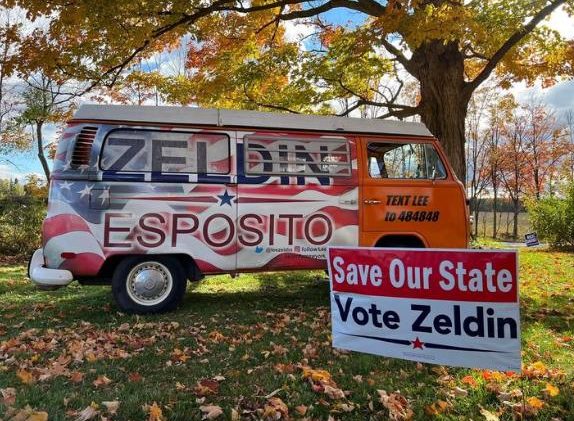 by Robert Lynch, posted November 11, 2022
Governor Kathy Hochul will take the oath to a new term of office January first. Congressional candidate Josh Riley will not. Both are Democrats. Both secured strong support of their like-minded base. But Riley's 19th Congressional District includes just eleven of New York's 62 counties, many of them rural—and red. Governor Hochul's running field encompassed all 62 of them, including Democratic-deep New York City. That made the difference.
Josh Riley fell short Tuesday in his bid for Congress. Republican Marc Molinaro beat him, unofficially, by more than 6,000 votes and by a couple of percentage points districtwide. The results surprised many a Democrat. But in retrospect, they shouldn't have. Molinaro had help; help from the political shadows. Most likely, he rode to victory by clinging to coattails, the coattails of Lee Zeldin.
But give Riley some credit. He cut those coattails a bit in county after county. In fact, based on State Board of Elections figures, Riley outperformed Governor Hochul, percentagewise, in each of the NY-19 District's eleven counties. Put another way, Marc Molinaro proved a weaker candidate for Congress in each of those counties than Lee Zeldin demonstrated as a candidate for Governor.
Lee Zeldin ran surprisingly well upstate. In eight of the NY-19's counties, Zeldin beat Hochul in the governor's race. And the Republican Long Island Congressman proved to be the most formidable opponent a Democratic New York Governor has faced in many election cycles.
"The Republican surge in New York, which also rattled Democrats' hold on state races, did not result in an upset in the contest for governor." Nicholas Fandos of The New York Times wrote the morning after elections. "But Gov. Kathy Hochul's five-point victory over Representative Lee Zeldin, a Trump-backed Republican, seemed paradoxically to have a coattail effect for Republicans, who won in areas where Mr. Zeldin performed well."
Those coattails may have pulled Marc Molinaro across the finish line. Yet the post-election tallies indicate some voters who circled the ballot for Zeldin just couldn't bring themselves to do the same for the Dutchess County Executive, now Congressman-Elect.
For starters, let's take Tompkins County, admittedly the bluest outlier of the NY-19 eleven.
Governor Hochul swept Tompkins County with lopsided majorities, Hochul winning 72.1 per cent of the gubernatorial votes cast. But Josh Riley did better. He gained 73.3 per cent of the county's vote in his own race, 287 votes more than Hochul, according to the state's numbers posted Thursday. That's 287 local residents who while voting for Lee Zeldin for Governor, just couldn't support Molinaro.
Similarly in Cortland: It went "Red" for Zeldin, who secured 57.8 per cent of the gubernatorial vote. But 503 fewer Cortland County voters supported Molinaro than those who did Zeldin. And 395 more backed Riley than voted for Hochul.
The underperformance of Molinaro, percentagewise—and usually in raw numbers—was repeated in county after county:
Broome County: Hochul, 43.5%; Riley, 48.4%
Chenango County: Hochul, 29.5%; Riley, 34.5%
Columbia County: Hochul, 53.7%; Riley, 54.0%
Cortland County: Hochul, 42.2%; Riley, 45.0%
Delaware County: Hochul, 34.8%; Riley, 37.9%
Greene County:   Hochul, 37.8%;   Riley, 38.4%
Otsego County (part)*; Hochul, 39.9%; Riley, 46.0%
Sullivan County: Hochul, 39.6%; Riley, 40.2%
Tioga County: Hochul, 32.0%; Riley, 36.7%
Tompkins County: Hochul, 72.1%; Riley, 73.3%
Ulster County (part)*: Hochul, 57.0%; Riley, 57.6%
*Part-County components of the 19th Congressional District show gubernatorial percentages for the entire county.
True, the Riley advantage may have shown only at the margins, but it proved consistent throughout the district. Draw this conclusion: Lee Zeldin ran better for Governor than Molinaro did for Congress. And Josh Riley may have lost Tuesday night only because of the political headwinds blowing across upstate.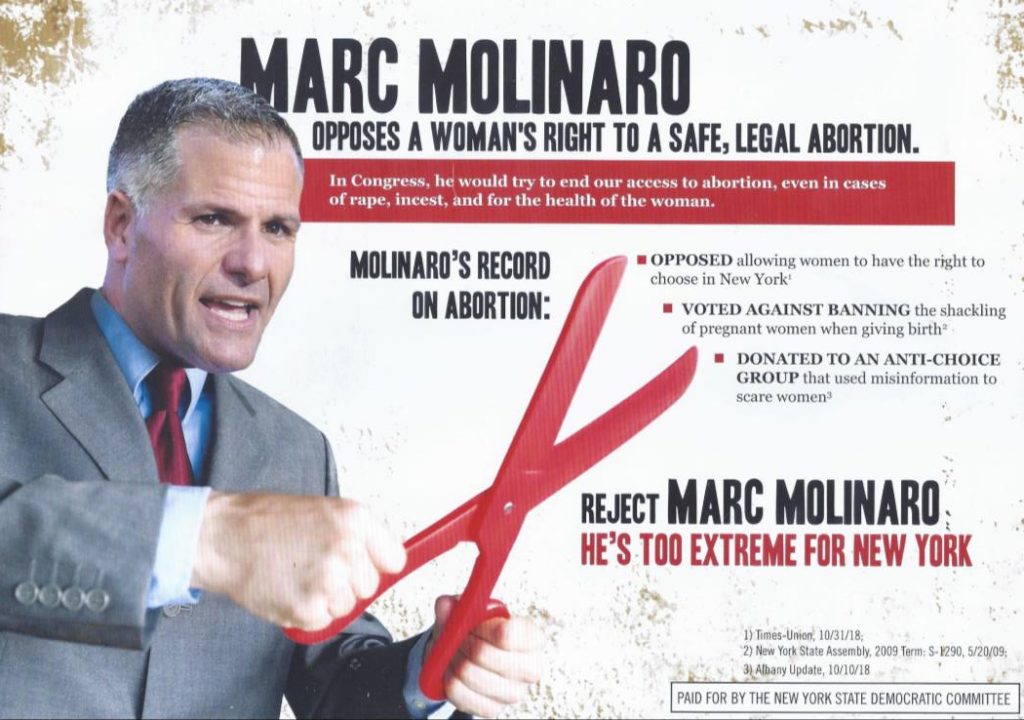 One additional observation: Josh Riley underperformed on his home turf. Despite its urban flavor, Broome County is not Tompkins. The results indicate a Binghamton-metro political culture that's more blended. Endicott-native Riley won less than half (48.4%) of the Broome County vote. Marc Molinaro polled at 51.6%. And Lee Zeldin won the county with 56.5 per cent of votes cast.
Democratic candidate mailings in the 19th District hammered Marc Molinaro on his alleged—Molinaro might question it—opposition to abortion rights. Lee Zeldin faced similar accusations. But Democrats' more single-issue focus against the Dutchess Executive may have driven pro-choice voters decisively to Riley's side.
****
After initially declining to concede the race until all unreceived absentee ballots had arrived at boards of elections, Josh Riley called it quits Wednesday afternoon, congratulating Molinaro on his win and declaring his quest for Congress over.
"With the ballots cast, votes counted, and campaign ended, it's important to set aside our divisions and do our best to unite. It's in that spirit that I wish Marc success as he goes to Washington to serve us and represent us," Riley's statement said, striking a conciliatory tone.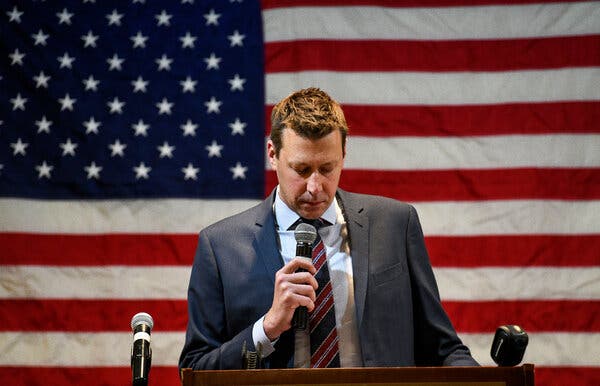 The statement continued, "This is not the result we had hoped for, and I'll be honest: I'm disappointed. But I'm not discouraged. In fact, quite the opposite: this campaign has inspired me. It has been the privilege of my career to build this campaign with all of you and take it across Upstate New York, meeting with so many people who have given me hope."
Perhaps seeking to draw the abortion fight to an end—or perhaps prodding Molinaro to live up to his promises—the defeated Democratic nominee extended his appreciation for Molinaro's "commitment to opposing a national abortion ban," as he did Molinaro's pledge to create "good upstate jobs," the issue that had stood as the centerpiece of Riley's unsuccessful campaign.
"I'm honored to have earned the trust of more than 100,000 voters, and I will work every day to be a worthy member of Congress for both those who did, and did not vote for me," Marc Molinaro said in a post-victory statement. District residents, Molinaro said, "just want to feed their families, heat their homes, and feel safe in their communities."
Molinaro's is a common Republican theme in this Empire State. And it sounds a lot like Lee Zeldin's.
The 19th Congressional District remains politically competitive. Last spring's tortured New York redistricting process made it that way. Marc Molinaro will likely face a tough reelection fight two years from now. At that time, a presidential nominee will top the New York ballot. Lee Zeldin will be only a political memory. And in 2024, the coattail effect from which Molinaro benefited this year will be anyone's guess.
###