Early Wednesday Morning (June 23rd) I, Robert Lynch released the following statement in response to my losing the Democratic Primary for Tompkins County legislator. One day later, Thursday, June 24th, I would suspend my campaign. My morning-after statement follows:
"Obviously, I'm disappointed. Actually, I'm stunned. But what stuns me most this night is not the loss, but rather the margin. Despite all the hard work, I earned just 22 per cent of the Democratic Primary vote. Something's going on here that I could not foresee or wrap my campaign around so as to overcome.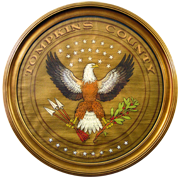 But in a low turnout election like this one—in any low turnout election, whichever side you're on—the activist base increasingly drives the results. I am not an activist. I made that point clear to anyone I'd meet. I'm a centrist, a moderate. I'm 'Joe Biden.' That's me. That's how I govern on the Enfield Town Board. And I've earned the battle scars to prove it. I cannot change who I am. I will not pander or be a phony. And as I traveled from house to house throughout this Great Tompkins-Southwest District, I often found my most enthusiastic support came from independent voters and conservatives, people who cannot vote in the Democratic Primary. They welcomed my message. They often embraced it. I must consider their support when I decide—later, not now—whether to pursue my earned right to an independent candidacy for the Tompkins County Legislature this fall.
I gave heart and soul—and yes, money—to this campaign. I self-funded. I did not solicit donations. I spent nearly full-time effort these past three months on this campaign. I clocked more than 1000 miles on my Ford Ranger pickup traveling door-to-door to meet perhaps upwards of 500 people in Enfield and Newfield. Over and over I found receptive voters to welcome my words. They said they liked my message of reform; of my call to 'Return the County Legislature to its Roots.' But I guess many didn't vote. Or else, they couldn't vote because they weren't Democrats.
I must weigh their sentiments as I contemplate; as I meditate as to my next move.
I commend Vanessa Greenlee for joining me in pursuing a positive campaign; a clean campaign without mudslinging; one in which we each focused upon issues, ideas, and ideals. I wish Vanessa well as she carries her message—a theme much different from my own—into the fall election. Vanessa's a good person, and her message, a message more progressive than mine, seems to have struck a chord with a progressive Democratic base. So be it.
I choose not to wear my religion on my sleeve in this, a secular context. But as I prepared this evening to travel to Enfield's Community Center to retrieve those unknown results, I prayed only that the Lord's Will be done. I believe it will be. Therefore, tonight I am content. I move forward."
Robert Lynch
****