I think it was Roone Arledge, the legendary former president of ABC News, who told his producers to prioritize this way: "Is my community safe? Is my nation safe? Is my world safe?" Notice where he placed first emphasis.
I state the same rule a bit differently; in mathematical terms. It's how I once ran a radio newsroom. To me, a story's importance stands inversely proportional to the square of the distance between you and it. If a threat looms half the distance from you, it becomes four times as important. It delivers four times the impact, or the fear.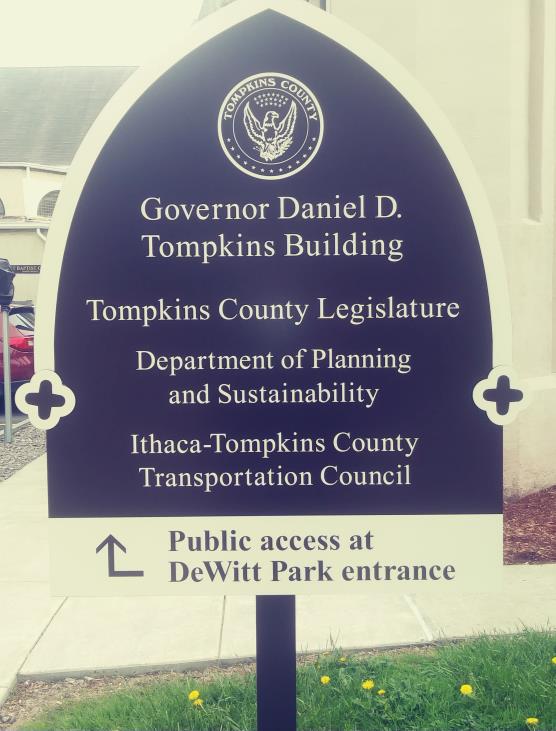 These past 18 months have brought twin dangers to Tompkins County. And the closer they touch us, the more we demand our leaders step in to help. I refer to the COVID-19 pandemic and the appeals for policing reform. And on both fronts—as both a private citizen and as an Enfield Town Councilperson—I've stepped up to offer my advice and my best efforts to lead. Did I have perfect answers? Of course, not. Indeed, you may argue my ideas, past and present, were and remain dead wrong. If so, then please right my course; press your case with effective persuasion. But right or wrong, at least I've taken a stand, advanced an initiative. I've placed my thoughts before the powerful. And I've done so speaking before the same Tompkins County Legislature where I now seek your permission to serve as one of its newest members.
****
To bring sunset to the pandemic, our first goal must be universal, voluntary vaccination. I've been fully vaccinated. If you have not already done so, I urge you to do the same. Not only does vaccination protect you against contracting this deadly disease, it also protects your family, friends and neighbors from your spreading the infection. Moreover, universal vaccination helps return our society to a state of normal. We need to get back to festivals, fairs… and yes, hugs. No one should compel you to vaccinate. You should take the initiative on your own. I, for one, am damned tired of wearing that mask. And we cannot always live our lives from under the bed.
July of last year now seems long, long ago given the COVID-19 pandemic's lightning-fast news cycle. But back then, case numbers were climbing. Our hospital began admitting more and more infected patients. Ithaca had lost its grip as an enviable oasis of safety. Local residents sought testing. Yet insurance companies refused to pay the cost unless the person seeking a test actually complained of symptoms. By necessity, Cayuga Health began charging $99 a test. The Governor's much-touted free testing existed only at State-run sites no closer than Syracuse or Binghamton. I sensed a need and sought a solution. I took to the County Legislature's virtual floor July 21st and called for action:
"Tonight I want to suggest something bold, something novel, yet something necessary.  Maybe nobody's thought of it yet.  Maybe someone has, but hasn't spoken up.  Maybe there are a million reasons not to do it.  But it's worth these three minutes, just in case….
"What's my bold idea? Why can't our government, Tompkins County government, reimburse Cayuga Health for universal testing, asymptomatic testing? Would it cost money? Of course. Wise initiatives always do. Can we afford it? Our County's Budget tops 190 Million Dollars. And while tough times lie ahead, this Legislature continues to pursue luxuries it could easily forgo. We have the means to do this. But do we have the will? We should."
By August 10th, County lawmakers had begun discussing free, "surveillance testing" in committee. On August 18th, after I spoke once again in its support, the full Legislature voted to tap the contingency account and bankroll the program's local share. County-subsidized free testing launched with a 10-week trial. It later became permanent. Administrators now expect President Biden's stimulus to fully reimburse the local outlay.
"I was apprehensive," an initially-reluctant Ithaca Town Legislator Shawna Black told her colleagues that August night. "It's a lot of money, and this is one of the worst times to spend a lot of money. But I think we can all see what testing has done for our community. We've been able to flatten the curve."
Amen. A problem tackled; a human need met. Do I deserve all the credit for this testing initiative? Of course, not. Like-minded leaders, not the least of whom was our future State Assemblymember Anna Kelles, helped pull the wagon as well. But sometimes, as it was for me, initiative comes—as it literally did—from sitting at the dinner table, spotting a problem, and thinking it through before anyone else may have happened to do so.
But it can't stop there. One must put thoughts into words and words into action. One must muster the courage to speak those words loudly and in the right places and to the right people. That's how I work. That's how I'd govern. Yes, I take the arrows at times. Certitude drags along its detractors. But like it or not, that's how I lead.
When vaccine came along, Governor Cuomo played games. That's my opinion. To supply the Governor's prized State clinics, he cut local vaccine supplies to the bone, one week denying Tompkins County any vaccine at all. While some local officials hesitated crossing our powerful Governor, I found myself fielding calls from anxious constituents whose elderly parents couldn't find vaccine and worried they never would.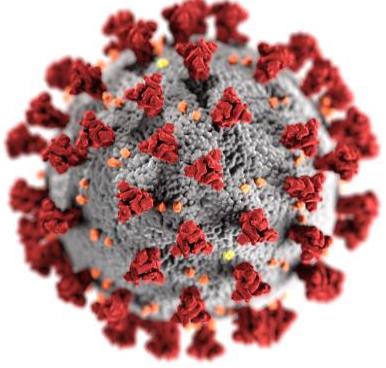 At my suggestion, and with my scripting, the Enfield Town Board on February 10th unanimously adopted a Resolution urging that "New York State authorities immediately and significantly relax their overly-rigid and unnecessarily-centralized control of coronavirus vaccine distribution so as to permit local Health Departments, including the Tompkins County Health Department, to prioritize vaccinations based on local conditions and needs…."
Our Resolution went further. It urged State authorities, "permit local communities to establish telephone-based and actively-staffed vaccine registration hotlines, and that those services be authorized to compile waiting lists of eligible vaccine recipients."
We sent what became known as the "Enfield Resolution" to County and New York State officials, even to Governor Cuomo. Other Tompkins County towns considered like measures. Following some initial County governmental reluctance, the Health Department established its local vaccine registry February 24th. It became wildly popular, attracting tens of thousands of registrants.
"I don't think you could have put together a better registry than what you've done," said Dryden legislator Mike Lane, who'd starting promoting a registry even before I did. And Lansing's Deborah Dawson, an earlier skeptic, one who'd asserted in mid-February that "the entire point in having a list is just to make people feel better," had reversed her position by March 2nd. "I stand corrected," Dawson apologized. Dawson said she and her husband had already registered on the site and that her better half had gotten his first shot.
Again, as with COVID testing, it takes a team of conscientious citizens and lawmakers to bring the public what it needs and demands. I did not act alone, but I'm glad I helped nurture the seed that others may have planted. I'm glad I stood on the right side of this issue. I hope you'll accord me the opportunity to do so again… and again.
****
Which brings us to police reform, the other main safety concern affecting our county.
Up front, let me be clear. No person of any color should die the way George Floyd did. Police officers in every American community, Tompkins County included, must recognize the distinction between law enforcement and acts of war. We employ police to undertake the former, not wage the latter.
I believe our Sheriff, Derek Osborne, understands and appreciates that difference. I trust him. I support him and the people of his department. In my opinion, our Sheriff protects us from crime while also respecting rights of the criminally accused. Under the department's leadership, I believe we in rural Tompkins County have little to fear; and little to correct.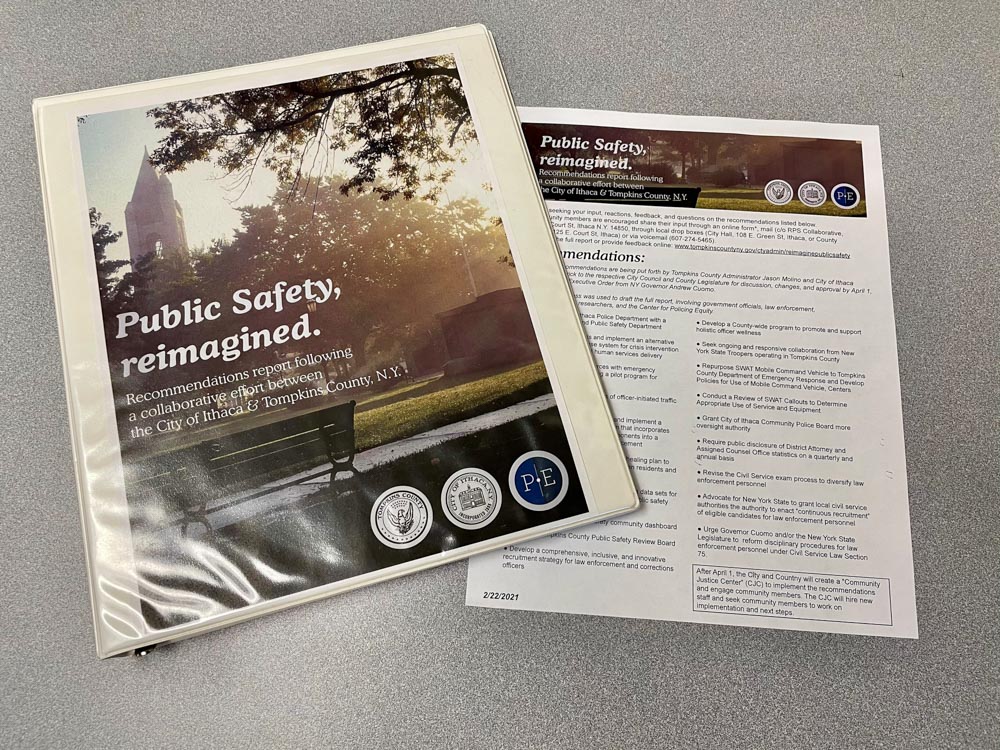 Nevertheless, Governor Cuomo, whether driven by honest compassion or opportunistic political instincts, last year demanded each applicable New York community "reimagine" its police force. He ordered we submit a report this past April. To answer that demand, Tompkins County compiled a report jointly with the City of Ithaca. To my knowledge, the County Legislature never voted to launch this City-County "Collaborative." Instead, City and County administrators and legislative leaders simply announced their pairing via a press release in September 2020. We, the voters, had no say, not even through those we elect.
I believe this Collaborative was a mistake. And I maintain the joint effort's submitted report veered too far afield in too many areas. It also neglected reform initiatives that could have accomplished the most good. Sensing the report's deficiencies, I took a stand. On March 30th, the night the County Legislature accepted the Collaborative's 98-page compilation of wandering words and lofty pronouncements, I went to the Legislature's floor to offer my critique. In my view, I said, our district's residents would rather we go it alone:
"In my opinion and in the opinion of many, the City-County "Collaborative" is an arranged marriage that should never have occurred. At every stress-point, the relationship strains. The general public did not create it. Voters did not endorse it. Many people in many parts of our county now feel they've been forced to accept it. They'd prefer a divorce….
"I've talked with scores of Enfield and Newfield residents at their doorsteps, in their kitchens and on their front porches these recent weeks, often discussing policing policy while the Reimagining Report stood percolating before this Legislature. Many are scared. They believe their safety has been sold out only to placate a politically-privileged constituency. They feel City politicians and interest groups have driven this debate. They sense the tail is wagging the dog. Many want no part of the Reimagining Plan. What plays so well so far away to the writers and readers of GQ Magazine fails so miserably in the minds of those living in the shadow of Connecticut Hill." [You can read the full text of my Privilege of the Floor comments elsewhere on this website.]
Just as Ithaca is not Minneapolis, Newfield and Enfield are not the City of Ithaca. Ithaca's problems remain its own. We in these rural towns deserve the right to script our own agenda.
Under the jointly-accepted Reimagining outline, the City of Ithaca would transform its police department into a civilian-run municipal bureaucracy. Meanwhile, both the City and County have begun to rebrand their joint SWAT team and its command vehicle so as to impose (supposedly) a less "traumatizing" presence to their critics. Yet to that one most critical element of policing reform where Black Lives (truly do) Matter most, the Collaborative's Reimagining Report falls so woefully short. As I told the Legislature that night, we need a zero-tolerance policy to snuff out even the faintest wisp of police violence:
"Please, legislators, listen—listen carefully— to the critical pushback our marginalized populations are giving this report. Their critiques underscore Reimaging's core weakness, one that they see, one that I see, but maybe you do not. It's the absence of true accountability, the courage to impose tough, tough rules upon those who wear the badge. Cast aside the arbitrators, the union contracts, and all the other options for excuse that can encourage timidity. Learn to say two little words in the face of police violence or racial bias in blue: You're fired!"
Had I sat on the County Legislature that night, I would have proposed amending the Reimagining Report to include a zero-tolerance plank. And if elected to represent you next year, I'd propose the same recommendation should policing reform return for a vote. I'd work with my colleagues to include it. I'd also listen to you.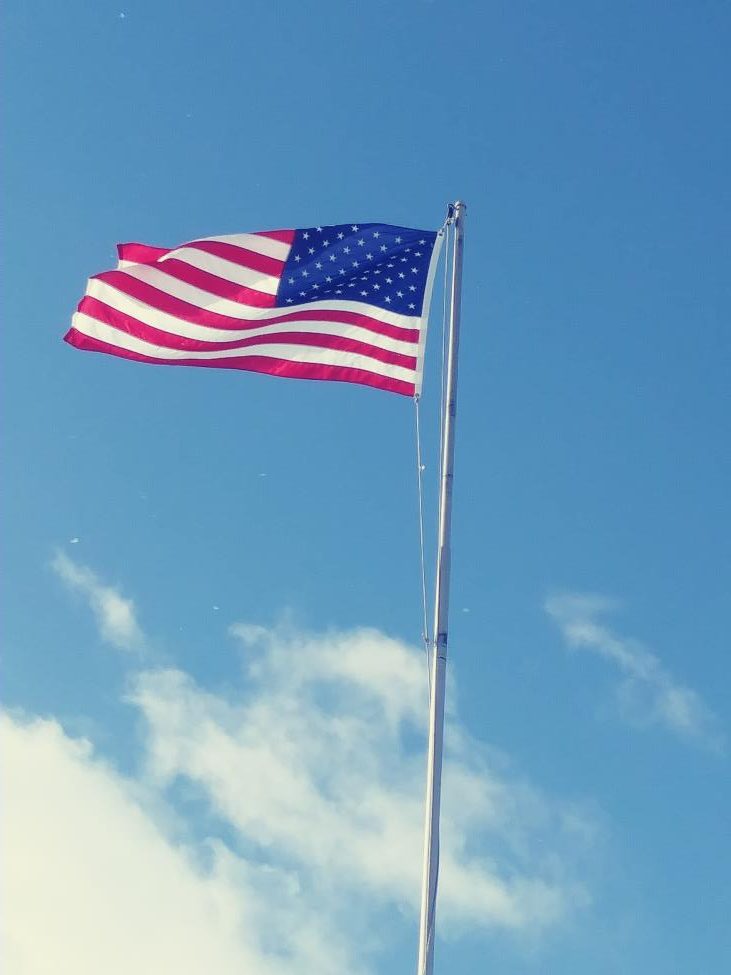 An Enfield constituent recently counseled me that in her opinion modern policing remains irreparably broken; that it must be torn down brick by brick and rebuilt from the bottom up. I'll continue to ponder her arguments, but I have yet to embrace her viewpoint. I believe we need a properly-equipped, adequately armed police force to keep us all safe. But our police must always respect the law's legal limits. I will never know what it's like to be a person of color. But at least I can listen. I can learn. Mere words fall so pitifully short of purposeful action. Every person in this county deserves—and must demand—the equal protection of our laws. Racism deserves no safe harbor even in our most educated community. But each of us must also demand that out families and their homesteads be kept safe. We can do both. We must.
Bob Lynch
Updated May 4, 2021