"If the broad light of day could be let in upon men's actions, it would purify them as the sun disinfects."
Louis D. Brandeis, Justice, United States Supreme Court, 1916-1939
Yes, as Justice Brandeis famously wrote, "Sunlight is said to be the best of disinfectants." I admit that when architect John Maurice designed our 167-year old former Courthouse, the Gov. Daniel D. Tompkins Building where our Legislature now meets, he should have cut windows a bit wider. But I assure you that narrow as they are, those 1854 panes can still flood our room with plentiful sunshine. State Law and the principles of Good Government demand that they must.
I, Bob Lynch, your candidate for the Tompkins County Legislature, believe in transparent government. I want maximum transparency, that degree of transparency that places the citizenry, the electorate—you—at the helm of local Democracy. Effective representation demands that we who stand in for you, our constituents, in the halls of government humble ourselves to your will. We who represent you must be servants, not kings.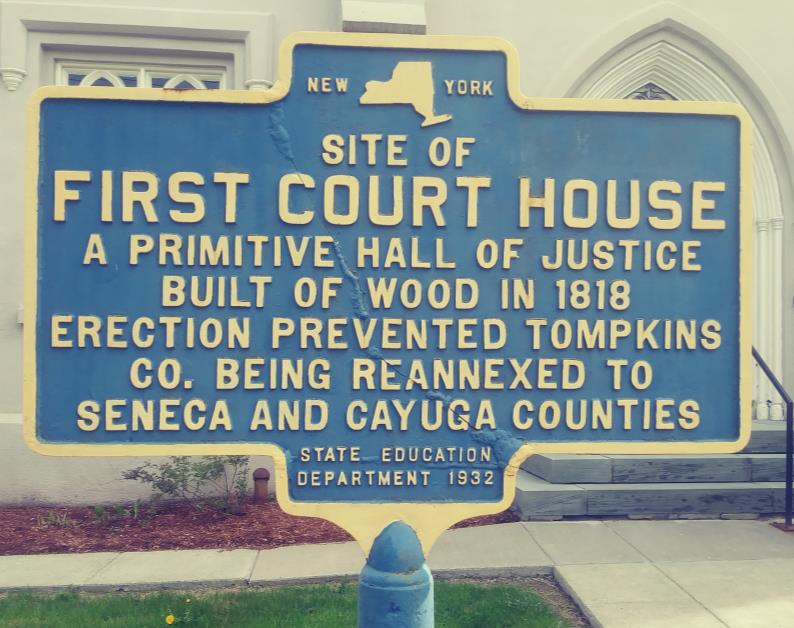 Given my half-century working knowledge of the Tompkins County Legislature, that forum earlier known to us as the Board of Representatives, I respect the deference our many leaders elected over the years have given to their oaths of office as holders of the Public Trust. Many legislators still do so today. But in recent times I've sensed a change. I've detected points of stress in that sacred bridge that links public to politician. Seasoned Solons depart. Aspiring lieutenants replace them. Traditions evolve as generations pass. And all the while, County Administration grows ever more influential, increasingly powerful. Those we appoint seek evermore to overshadow those of us who merely cast votes.
Modern reality can tempt today's lawmakers to step aside and let the professionals steer Tompkins County toward their hope of a brighter future. Yet taken to its extreme, those we elect, from their lofty perches on high, may also find themselves tempted to look with disdain upon us citizens and taxpayers; to treat us as little more than aimless children in need of a parent. They may view us as mere average souls, either too naïve, apathetic, or ill-informed to make critical choices affecting the direction of County Government. "Let us grownups decide," they may think to themselves, if not say out loud. "And let us do it," they may insist, "behind the locked door." It's so comfortable and efficient that way.
Ignore the troubling fact that, step by step, our Legislature's increasingly frequent executive sessions continue to creep to the end boundaries of New York's legal limits. Or that, worse yet, personal prerogatives or activist instincts may drive lawmakers toward political arrogance. Such hubris undercuts and dishonors the public trust that must underpin each legislator's cloak of authority in our ever-more-shrouded Democracy.
In April 2019, a full two years before my campaign for County Legislator launched, the Tompkins County Legislature took its first costly step toward building a new office building. With only two dissenting votes, the Legislature approved the purchase of partially-vacant land at 408 and 412-414 North Tioga Street as the site for a three- or four-story office structure. The land cost the County $1.8 Million, plus closing costs.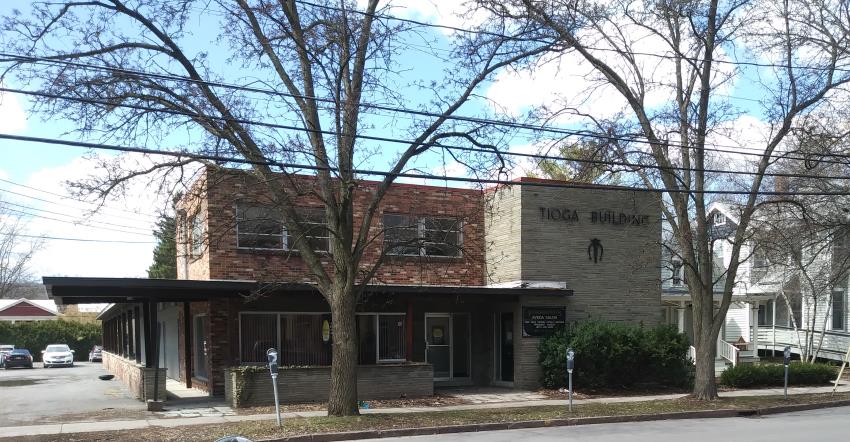 The Legislature's purchase Resolution (#8527) proudly stated, in part, that: "County Administration and County staff have investigated available sites including properties that the County currently owns, properties listed for sale, and properties identified by private developers, and have determined [the 408-414 North Tioga Street lot] to be the most desirable…."
Once land purchases and associated renovations were added in, Administrators priced overall construction cost at nearly $19.5 Million. An aggressive timetable predicted the site's major existing structure, a two-story commercial brick building, could be razed as soon as that July. The County would likely break ground for the new building shortly thereafter.
Now, two years later, the brick building still stands, the big, gravel parking lot behind it remains untouched, and legislators remain deafeningly silent about making any speedy or resolute moves forward.
Something's happening, though. I sense it. We on the outside can't see it. We're not permitted to do so. And when the "Downtown Facilities" project is ever discussed these days, more often than not, legislative doors are slammed shut in our face. If another site is planned; if the drawing board is to be wiped clean; if maybe that $1.8 Million was money not well spent, we cannot be told. We're left to guess. Government should not do that to us. But it may.
Closing on the Tioga Street property was delayed until the end of 2019. Yet beginning the summer before, a hush fell over all plans, proposals, and timetables.
After an executive session of the project's oversight group, the Downtown Facilities Committee, in August 2019, came silence. Downtown Facilities meetings in September… October… November… and December were abruptly and mysteriously canceled without explanation. No one would talk. The full Legislature met in a closed-door executive session October 10th to address the project. "You'll hear more about this; about where we stand, after the meeting," one legislator assured me as she visited our Enfield Town Board the night before their meeting. She predicted wrongly. No statement. No release. Just silence.
And throughout 2020 and into this year, it's been much the same. Aside from occasional, brief, and conceptual discussions of architectural alternatives or about how to provide temporary employee parking, silence has dominated. Monthly meetings either get canceled or else usher legislators quickly into closed session. Executive sessions to discuss unspecified "real estate matters" frequently follow the County Legislature's biweekly meetings. No summaries come forth.
This past April 8th, the Downtown Facilities Committee scheduled a session to discuss project "updates." After a perfunctory three minutes and five seconds where little of substance reached the floor, Committee Chair Dave McKenna moved into executive session, where those updates probably got ample airtime.
But before he did so, a somewhat apologetic committee member, Rich John, related what he'd said to placate an anxious constituent amid this irrefutable shroud of silence. "I provided assurance," legislator John said, "that we're trying to determine details of the overall project, and we're clearly not making development decisions in executive session."
"Robert Lynch would have something to say about that," Lansing's Deborah Dawson responded sarcastically.
To which I would rebut: Thanks, Ms. Dawson; thank you for thinking that I might choose to comment. Because, I do. For starters, I do not believe "project updates" or "trying to determine details of the overall project" fall within the legal exceptions covered under New York's Open Meetings Law; otherwise known as Article 7, Section 105 of the Public Officers Law.
Our Newfield-Enfield legislator, Dave McKenna, currently chairs Downtown Facilities. But I do not blame him solely for this. I blame the system, the current County Legislative System, a system that pays great deference—inordinate deference—to County Administration and a we-like-doing-it-our-way brand of secretive groupthink. This is not the Tompkins County Legislature's tradition, the tradition dating back to the Board of Representatives and the legislative titans I grew to know when I cut my teeth in local broadcast journalism five decades ago. We need change. Perhaps when we recruit a new County Administrator and complete a new legislative election this November we will find that change. I hope we do.
With all due respect to all our incumbents, the Tompkins County Legislature represents us… the people, the taxpayers. It is not a closed private club of 14, doing the public's business in the shadows of darkened secrecy. Please, my potential future colleagues, just talk to your constituents. They are the people who hired you. And they—my rural neighbors in the Great Tompkins-Southwest—are the people who will hire me, if you so choose to do so this election year.
Even if others choose to ignore your will, I will not. Transparency means too much to me. It may be the most important reason I'm running this race. That's a campaign promise I intend to keep.
Bob Lynch
April 27, 2021