"Watch the pennies and the dollars will take care of themselves."
Ancient adage; authorship in dispute
My mind thinks in pictures. I've been blessed with a brain that perceives potential when others see only an eyesore. I sense opportunity when they spot only an outmoded mess best left to the bulldozer. That's how it was with the Old Tompkins County Library.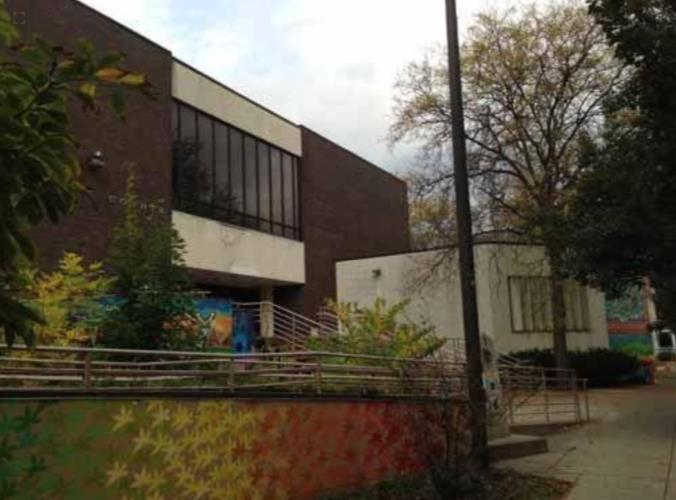 When I arrived to this community as a Cornell freshman in 1968, the then-new Tompkins County Library was a work in progress. The building opened in February that next year; its glass and brown brick edifice a most modern new landmark to adorn the corner of North Cayuga and West Court Streets, a quick walk across from DeWitt Park. The structure served its purpose well for some 31 years. An asbestos removal remediation in the mid-1980's became its only hiccup. Strained for space, the Public Library vacated the building in 2000, moving operations to its present home, the former Woolworth's store, across from City Hall.
Like offspring of a failing grandparent relegated to the nursing home, County Government found the Old Library too easy to forget. The entry stairs rotted. The roof began to leak. No one even raked the leaves around it. Itinerant County agencies came and left.
The County Legislature convened first one committee, and then another, to determine the Old Library's future. Veteran legislator Mike Lane—with one of the wisest minds in County Government—chaired the second panel. The Old Library Committee met monthly. It weighed numerous options for repurposing or replacing the structure. If I hold one regret today as I campaign to become a newest member of the Tompkins County Legislature it is that I did not take a more active role in that repurposing process. Perhaps if I had, I might have persuaded someone, perhaps legislator Lane, to give the Old Library a second life. If so, the building might stand today.
Early on, the first committee considered converting the Old Library into a multi-user Center of Government. But the seed never took root. Later, before the second committee was empaneled, a County Administrator attempted to resurrect the concept, but he couldn't make the numbers work. Worse yet, the City of Ithaca's reluctance to buy into the deal dissuaded collaboration. Eventually, legislators focused on the site's future use for housing. Prospects for municipal re-use never regained traction. I wish they had.
Tompkins County in 1967 paid $1.7 Million to build their new library. Inflation would multiply that cost nearly seven-fold, to $12 Million today. But in September 2017, after reviewing competing housing offers, the County Legislature sold the Old Library, land and building, to developer Travis-Hyde Properties for a mere $925,000. The Old Library then came down, ripped apart, seemingly stronger to dismantle than some had thought. Travis-Hyde's project started, and then stalled. Inexplicably, as I write this statement in 2021, as April slips into May, no shovel has turned at Frost Travis' corner lot for months.
I wasn't a candidate for office then; just an average citizen of this county. But here's, in part, what I told the County Legislature the September night in 2017 that the Old Library was sold and doomed to demolition:
"A few short years after the Old Library's cornerstone was laid, Joni Mitchell sang:
Don't it always seem to go, That you don't know what you've got 'till it's gone….
"The Old Library Building is too good to lose. It has many good years of useful life left. It deserves to be kept in the public's ownership and used for a public purpose….
"Governments grow. They always have. They probably always will. Not too many years from now, some future County Legislature, confronted with the reality of cramped quarters, will ask its taxpayers to bite the bullet; to bond and mortgage its future. What might it do? My hunch is that it would revive the center-of-government concept. Demolish "Building C", the County Annex; condemn the neighboring Wiggins' offices and Key Bank; and construct a Courthouse Complex addition with the price tag of 10, 20, or maybe 30 million dollars.
"'If only we'd spared the Old Library,' will be the cry. Too bad, the Old Library is gone. We'd offloaded a serviceable structure for a song. It could have bought us time; given us needed space. Remember, you don't know what you've got 'till it's gone!"
If you want to know how I, Bob Lynch, would safeguard your taxpaying investment as a Tompkins County Legislator, look no farther than this story of the Old Library, and of my latter-day involvement with it. The story tells you all you'll need to know.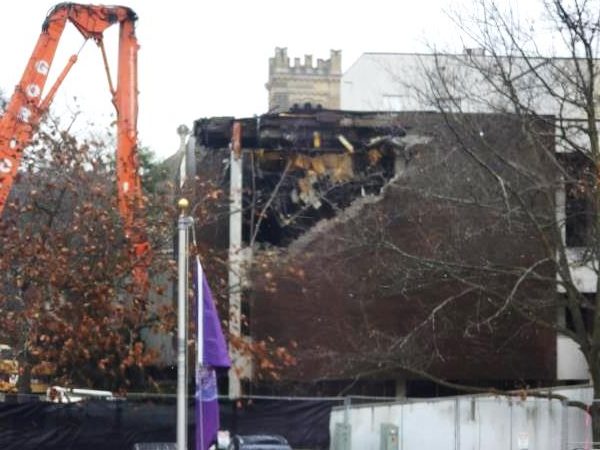 The money we, the public, pay in taxes and hand over to government, however reluctantly, remains ours, even after we write our tortured check. Once we remit those funds, our lever of control shifts to the doctrines of Democracy. We exercise control through the votes we cast and through the fiscal responsibility of those we elect. As a lawyer might say, those who govern serve as fiduciaries of the electorate, the term fiduciary legally defined as "a person who is required to act for the benefit of another person on all matters within the scope of their relationship" (Black's Law Dictionary).
I pledge, if elected, to be a fiduciary of the public, of you. I will spend and invest your money wisely, as if it were my own. That's because, in truth, a tiny—miniscule—percentage of that money is my own. I pay taxes too, and I don't like paying them any more than you do.
I believe that new initiatives—our best example the $20 Million Downtown Facilities office construction and renovation project legislators have considered (largely in closed session) over the past two years—must always pass the financial stress test. A business case must always be made before the bulldozers move dirt and the beams of steel go up.
Quite frankly, I've seen no business case made for our new office building. Yes, the State Court System each year, like a hungry lion, gobbles up more and more space in the County Courthouse so as to shove everyone else out, even the County Clerk. Some County offices find themselves scattered in rented quarters about greater Ithaca. Yet other County-owned real estate stands underutilized. I'd support a building project if only someone would crunch the numbers and justify them to me on paper. To my knowledge, nobody has. Please do the math.
More than a decade ago, the County Administrator could not make that business case for a Center of Government. But circumstances change, as do community leaders. Repeated attempts deserved attention. Fresh pencils could have been sharpened; new inquiries made. But by the time I'd raised my objections, attentions had turned elsewhere; re-use had become an empty slogan, a bumper-sticker best stuck elsewhere.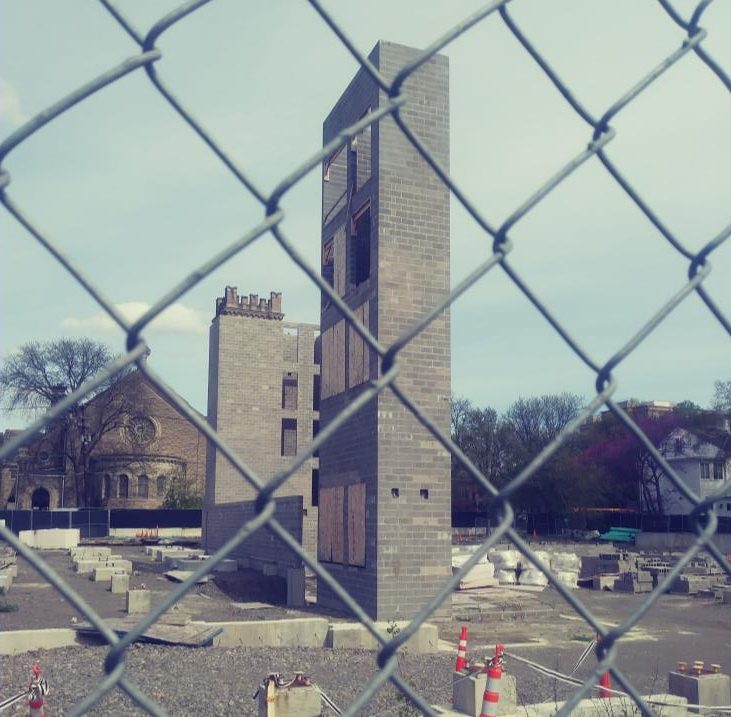 I would have left the Old Library standing. I would have found a public use for it. Remember, I have that visual mind. I saw potential. One former legislator complained that the building's center atrium—a mid-20th Century fad—crippled its functionality. But wait. What if the Old Library had become a new Ithaca City Hall, with that center atrium now a high-vaulted ceiling for Common Council Chambers? Or what if we had simply brought in some steel supports and closed-in the center space to increase usable area? My mind races with such wild ideas. Sadly, today they serve as mere flights of fancy. Again, "you don't know what you've got 'till it's gone!"
The Old Library's brown bricks are now buried in some landfill. And as they say, All the King's Horses and All the King's Men can't put the Old Library back together again. But we can learn from our mistakes, County Legislative mistakes. The Old Library was offloaded for a fire sale price, a mere $925,000, little more than the value assigned to the land ($700,000) on which it stood. Was a structure that sound and serviceable so truly dispensable just because legislators lacked foresight and creativity? Or was it cast aside because those with unlimited spending power could only see in their minds the shiny new object they sought to replace it?
There was something else I said to the County Legislature in my Privilege of the Floor comments that September night four years ago. I said, "Shortsightedness is a common trait with municipal governments. Businesses plan; politicians often respond only to the moment."
How true that is. Grandiose building projects and newly-minted administrative jobs with fancy-sounding names don't draw my attention half as much as do conservative budgeting and time-tested common sense. Remember, always: It's Your Money. And it's Your County.
"Good ideas, Bob," remarked one (now retired) Tompkins County Legislator, who took me aside that night after I'd spoken my words in favor of keeping the Old Library intact before it was to be ripped apart. "You just should have said them sooner," he counseled. "Get involved."
I have. It may have taken me four years to reach this point, but here I am. I'm involved. I'm eager. I've tested my skills in Enfield Town government. And now I seek to serve you in the Tompkins County Legislature. And I promise you, what I've just told you; what you've read—and what you've heard—is what you'll get. There may be future Old Libraries to preserve. There definitely will be future tax dollars to protect.
Let's get to work.
Bob Lynch
April 29, 2021